I absolutely love it when we get to feature the wedding of a friend, and today is one of those lucky days! The lovely Eliza (a talented Seattle wedding photographer) married her sweetheart Steve just last month, and it was a day filled with friends, family, fun, and a whole lot of the Seattle wedding community!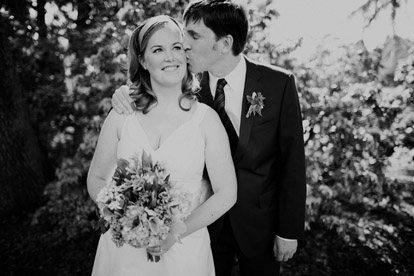 Eliza and Steve were amazingly thoughtful in their wedding planning choices, wanting an event that was simple, authentic, and with a great spirit of fun. On the big day, everything was relaxed and went according to plan- the super creative wedding coordinators of The Adventure School were on hand to take care of every detail, and photographer Sean Flanigan hit it out of the park with his stylish photos that totally captured the feeling in the air. Eliza got ready at home with her mother, sister and nieces, a girlfriend brought over a yummy brunch, and make-up artist Erin Skipley was on hand to help everyone get gorgeous. Eliza and Steve met up in Volunteer Park for family photos and then headed to Pravda Studios, the urban loft space/photography studio (so fitting!) for their ceremony and reception.

Eliza and Steve asked their friend Martha to be their officiant, and collaborated with her to create a ceremony that was just right. "We knew that the ceremony was the heart of the whole day, so we wanted to make sure that it really got at the core of who we are as a couple, and that it also included our whole community in it. So over the course of several weeks, we worked together to write the story of us as a couple, to create a list of what it was that we were committing to by getting married, why were getting married, and how we hoped all our friends and family would support us. Its rare in life to really verbalize all these things, but it ended up being so special and rewarding."

Everyone cheered when Eliza and Steve kissed and walked back up the aisle, which was the perfect start to their fun filled reception! A color palette of their favorite colors, gray and blue, was incorporated in their table settings with blue tablecloths and Eliza's extensive collection of silver trays holding groupings of candles, in their lovely flower arrangements by Christopher Flowers, and (my favorite) in Eliza's gray shoes. For dinner there was abundant food from Ravishing Radish, guests were given favors of salted caramels made by Eliza's friend Gene (a dentist!), and instead of a traditional wedding cake they served little sweet treats from Sugar Bakery and had a large sheet cake from Safeway, because that's Eliza's favorite kind. "Im a sucker for sheet cake!" With nearly 20 kids in attendance Eliza and Steve made sure to have activities available for them. A craft area was set up, as well as a ping-pong table, which ended up being used by the adults just as much as the kids! Eliza and The Adventure School crew crafted silver "disco piñatas" that hung above the ceremony area and acted as decor until they were broken open to offer up over sized blue tissue confetti, little paper crowns, big fake diamond rings, candy, and mini Makers Mark bottles. A little something for everyone!

Thank you so much for letting us tell your story Eliza and Steve, and CONGRATULATIONS!
To see more photos and learn more about this wedding, please visit our Real Weddings section!