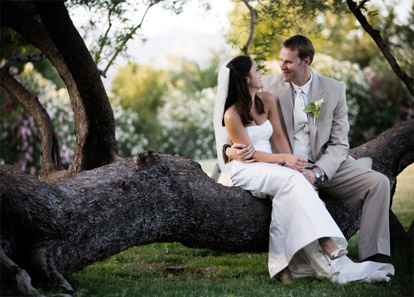 Annie and Zach hosted a weekend long wedding celebration that kept their guests entertained from morning 'til night! There was a website featuring their favorite things to do and places to eat in Tucson, a golf tournament and barbecue organized by the groom and father of the bride, a luxurious pool day at the Westin La Paloma resort, a rehearsal dinner hosted by the grooms parents, and a champagne brunch hosted by the grooms aunt and uncle the morning after the wedding. Their main goal was to make sure that everyone, including themselves, had lots and lots of fun!

The wedding ceremony took place in a mesquite grove at the Tucson Country Club and included their family and their strong faith. "The readings during the ceremony (by the Groom's mother and the Bride's Godfather) were beautiful and insightful and almost made a couple of the groomsmen lose it!" A mariachi band played festive music as a tribute to Annie's Mexican heritage, and flowers in their vibrant orange and green color palette abounded. I love their use of a beautiful antique wooden table at the altar!
After the ceremony Annie and Zach absolutely loved the time they spent together when their photographer Roberto Valenzuela whisked them away to a remote corner of the golf course for pictures just as the sun was setting over the Catalina mountains.

Annie and Zach met in grad school and flirted over their baseball rivalry of the Red Sox vs. the Yankees. In honor of this great passion they dedicated a room at the reception to ballpark themed decorations and late night snacks, including peanuts, Cracker Jacks and "local delicacies" Sonoran Hotdogs. (Hotdogs wrapped in bacon, covered in jalapenos, onions and tomatoes and packed in a soft, sweet bun! Wow!) Their guests, may of whom had flown in from Boston and New York, absolutely loved it! The night also included signature cocktails of prickly pear margaritas and favors of the prickly pear syrup they were made with. Toward the end of the night there was a surprise display of fireworks, which Annie and Zach watched on their own, a little bit away from the crowd, so they could enjoy being together and watching the delighted faces of their families and friends.


(All images by Roberto Valenzuela Photography)
Thank you for sharing your wedding day with us Annie and Zach! To learn more about all the professionals who helped create this amazing event, be sure to visit our Real Weddings section.