As one of the most respected and sought-after event producers in the world, Lisa Vorce sets trends and transforms spaces into spectacular weddings and unforgettable events. Whether she's designing a wedding in the jungles of Mexico, on a Caribbean island, or at an intimate private estate, she's right at home planning and executing every detail necessary for success. We're honored to call Lisa a Junebug member, and we've loved getting to know her over the past couple of years.
Today were thrilled to share with you a little about Lisa's work and how she got to the top of her field…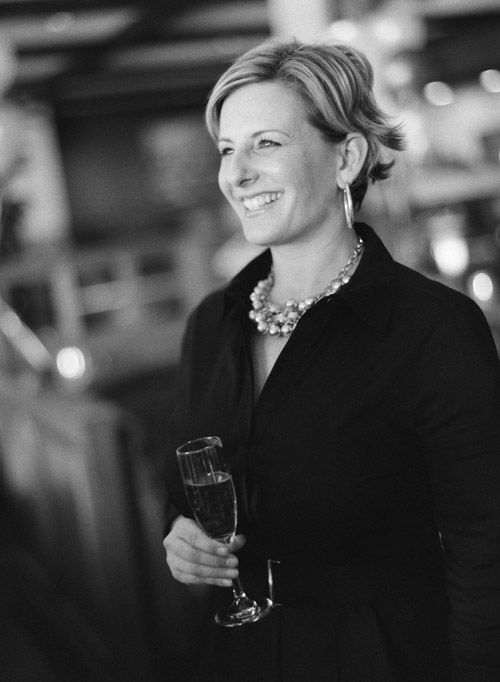 (Photo of Lisa Vorce by Kirsten Ellis from Beaux Arts Photographie)
Junebug: Lisa, as huge fans of you and your work, we're fascinated by the low-key approach you take to promoting your business. As a result, the work you do feels very intimate and almost secret. Can you tell us what your average day is like and what you love most about your job?
Lisa: I don't really have any average days! I would love to have some type of consistent schedule in my life, but that just isn't possible in this industry. My typical days range from being on a plane, to doing site visits, to a flurry of back-to-back meetings, to just plain office days. My work is my passion, and I love every aspect of what I do. I love to travel and learn about different cultures and traditions all over the world. More than half of the events that I design are overseas, so I'm constantly on the road and experiencing new locations. I have to admit I'm fairly spoiled by the people I get to work with and the places I get to see!
When I'm planning an event I want everything from the welcome gifts to the food to reflect the culture of the location. Well-publicized tourist areas or sought-after five-star hotels aren't what typically moves me. I love the undiscovered unique spaces and locations that reflect the personality of my clients and the place they have chosen to get married. When I travel, I'm more interested in meeting with the local bartenders than the concierges. The locals have all the great info and they are my speed track to great resources. At our events, my goal is to have every guest experience something truly extraordinary and memorable. I want to make sure they walk away from the event having experienced the soul of each location whether its Bali or Turks & Caicos, Aspen, Zacatecas, etc.
I do tend to operate in my own happy little bubble, simply because I'm quite busy and because many of my clients prioritize privacy. I try not to pay attention to what everyone else is doing, and I believe in being kind and gracious to everyone. I deeply care about my peers, and the professionals and clients that I work with. I know I can't succeed without great support and I have a brilliant, tightly run team that I've traveled all over the world with. They will do anything to make things work, no matter what they are challenged with.


(Bohemian chic California wedding images above by Jose Villa)
Junebug: What are some of the challenges involved in creating an on-location wedding away from any existing structures?
Lisa: From a production standpoint there is a long list of challenges, and even after 11 years, all challenges are not routine by any means. We're usually in a new location, so we're constantly faced with new and exciting scenarios. For example, bringing power up 12,000 feet to the top of a mountain for an event, or catering for 250 on a remote island, or fending off scorpions, mosquitoes, etc.
We just did an event at a private ranch where we set-up a 7,000 square foot tent. My client wanted the tent to be sub-floored in a beautiful residential dark wood flooring. In order to do this I needed to have a perfectly flat (like laser level flat!) surface to work with. The estimates to scaffold 7000 square feet were cost prohibitive, so we were faced with the reality of having to level my client's field. I couldn't bare the thought of cutting up their gorgeous field (nor could they) so we had to come up with an alternative solution. Using the minds of some of the fabulous local contractors, we decided to build a giant sandbox to level the field so that we could subfloor appropriately. We trucked in 500 tons of a special building material that mimicked sand, had it raked, leveled, and bulldozed and ended up with a perfectly flat surface for our subfloor. The field was spared and as an added bonus, our approach saved thousands of dollars as it was a fraction of the cost of our alternatives. I love that kind of challenge!


(Cowboy themed wedding celebration images above by Aaron Delesie)
Junebug: Can you share a wedding with us that really stands out for you in the last couple of years?
Lisa: Each event is special to me for different reasons. I'm truly amazed at what our team creates in each location. One of my recent favorites is the wedding we just did in Bali. Our client actually wanted to get married in the south of France and didn't particularly love the tropical elements that you find naturally in Bali. So…what a design challenge that was!


(Romantic French-inspired Bali wedding images above by Aaron Delesie)
Junebug: What stood to you about the wedding in Bali?
Lisa: When Mindy and I did the site visit for Bali, we were immediately attracted to the gorgeous capiz that is indigenous to Indonesia. We knew exactly what we wanted to do for the wedding capiz, capiz, capiz!!
The wedding was held at the absolutely stunning Amanusa Resort in Nusa Dua. The ceremony was slated to be held in their beautiful lobby. It reminded us of a simple chapel, and we both felt it must have church pews for seating. We had one of the local artisans build church pews for us that were perfectly fitted for the lobby. In the lobby, there is a really famous wood carving that typically serves as the backdrop for the ceremony. The wall showcases beautifully carved monkeys depicting good versus evil, but if you look at it closely, its fairly shocking to see what the monkeys are doing! We all nick-named it the "naughty monkey wall." My client did not want the naughty monkeys as the backdrop for her ceremony. In the past, most brides and grooms just hung a drape in front of the wall. Mindy and I were not happy with that idea, so we had another local artisan build a capiz wall that fit around the carving. It was THE most incredible backdrop for the ceremony: simple and ethereal. We hung two giant capiz chandeliers to flank the wall. That combined with the church pews created the most magically simply ceremony environment.
For the dinner reception, we had the same local artisans create all capiz vessels for Mindys florals, capiz chargers, and capiz spheres for the table-scapes. It was such an incredibly beautiful event. We were able to give our clients the romantic vibe they wanted from the south of France while stilling using Indonesian elements.
With that said…I still felt that guests needed a much higher dose of Indonesia! My clients were planning on hosting their rehearsal dinner at a fairly trendy local restaurant. I felt really strongly that they should have a more traditional rehearsal dinner and let their guests experience the beauty of the Balinese beaches, the Balinese food, and even the tropical fruits and flowers that they didn't want for the wedding. After a tough negotiation, we convinced them to let us throw a traditional Balinese BBQ on Amanusas private beach and the result was incredible!

(Balinese beach bbq images above by
Aaron Delesie
)
For décor, Mindy and I utilized our driver and his local connections, to find us banana trees and banana leaves for some dramatic displays on the beach. We had bamboo poles cut and fastened together with twine to create stands to hang Balinese sarongs. These were planted in the sand to mark the entrance to the event. We used sarong fabric for the linens, napkins, and all cushions. Women from one of the local villages created woven palm runners for us that were extraordinary. Mindy and I went to the downtown market and purchased local fruits, flowers, baskets, and pottery for the tables. Mindy created the most amazing table-scapes for the event. For food, Amanusa prepared an incredible traditional Indonesian BBQ and we hired a Jimbaran band and Balinese fire dancers for entertainment. As the guests entered the party, they were greeted by the most adorable Balinese flower girls who tossed petals as each guest arrived.
The weather (thanks to the rain stoppers that we hired) was perfection! The rehearsal dinner was so different from the wedding and provided the dose of Indonesia that I wanted for everyone. Both events were amazing in their own way and we were beyond thrilled with the outcome (as were our clients!).
Junebug: Of all of the places you traveled what places do you love the most?
Lisa: I love adventure so the next place is always where my heart is. South Africa seems to be calling my name. I haven't worked there yet and it's high on my list of places to explore!


(Colorado winter wedding images above by Aaron Delesie)
Junebug: Who are the people who work with you most often and the members of your amazing staff?
Lisa: In our studio, Laura and Sarah are my right and left arms. Laura is our task manager. She handles everything to do with timing, schedules, invitations etc. Sarah is our production manager; she ensures our events are built correctly from the ground up, and runs our productions like a well-oiled machine, I couldnt operate without the two of them!
At our events, in addition to Sarah and Laura, I have the most fantastic team of event assistants. They each have their own little specialty: Jaime and Christina are our bridal handlers, Megan M. and Megann N. are our groom and groomsmen handlers, Corinne will never let a linen go un-steamed, Greg and Melissa are both trained EMTs, so I always have great comfort when they're on board, and Jackie, Megan A, Katie, Lisa D, and Courtney all provide the man-power to make everything happen.
Vendors who work with me include Lewis Barker from Barker Décor Service. He is our primary set designer and does our flooring, sub-flooring, draping, lighting, dance floors, etc. There is nothing Lewis can't do for us, and when everyone else tells me no, Lewis will say absolutely yes! and he'll find a way to make whatever crazy thing I'm asking for to happen. Mindy Rice is my dear friend and one of the most talented women I know. From florals, to décor, to sketching, to sewing, to painting, to sculpting…she does it all. Shes even created wedding cakes for us in a pinch! We conceptualize every event together and I love collaborating with her. I also adore Rene and Niki from R. Jack Balthazar. They are both brilliant and utilize all their fabulous world travels in their décor inspirations. For food…Jerry from The Food Matters is my go-to guy. He has exceeded all expectations of even our toughest foodies. For linens, the gals at La Tavola always take care of us. So affordable and so many options! All my vendors walk on water in my book and I don't know what I would do without them!
Junebug: What photographers do you work with most often?
Lisa: Aaron Delesie, Elizabeth Messina, Yvette Roman, and Jose Villa are among my favorites. All are extraordinarily talented, and I love working with each of them.
Thank you so much your time Lisa, and for giving us a peek at what it takes to design events for the worlds most discerning clientele! Your insights and experience are truly inspiring.
For more information about Lisa Vorce and to see images from her spectacular weddings and events, be sure to visit her website!