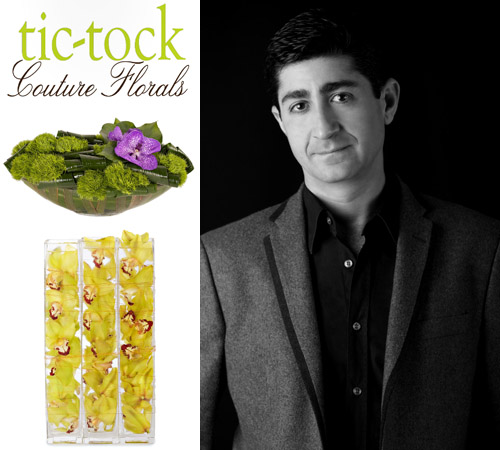 Los Angeles based celebrity floral and event designer, Eddie Zaratsian of tic tock Couture Florals, is a genius at creating one-of-a-kind design concepts for weddings and events, and we were so thrilled to get to work with him on our latest Fashion Report. As you can see by his work for that shoot, he consistently thinks outside the box to develop floral pieces that most other people couldn't even imagine. (That green hypericum berry necklace pictured below!? Brilliant!) We just can't say enough about Eddie and his intuitive creativity, so we recently sat down to ask him some questions about his creative approach to floral design and his advice to brides to be. Here is what he had to say, along with images from some recent beautiful weddings and events…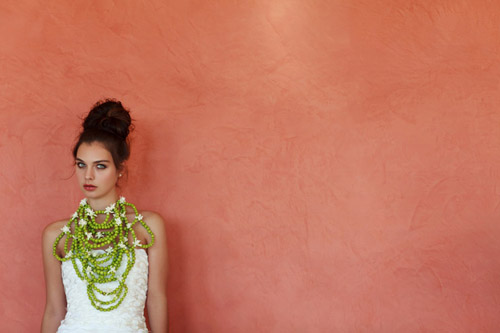 (hypericum berry necklace from Junebug's Fashion Report, photography by Apertura)
Junebug: When you design a weddings floral and décor, do you have a particular starting point with your clients or is it different for each celebration? What was the starting point for this particular wedding?
Eddie: This is a fabulous question and Im so glad you asked. We like to start with two things: the budget and the dream. A lot of brides dont understand at first why its so important that we know their budget in the beginning. After all, most things in life work on a this is what I want and it costs X but when we are designing a wedding, it is very much about the brides dream and creating something specifically with her in mind and its important to know what we have to work with to do that. Knowing early really helps make transforming dreams into reality simple and fun. On this particular wedding, we were working with our dear friend Wendy Rhodes and so for this one the jumping off point was really just an inspiration-filled conversation between friends about the bride vision.
Junebug: Tell us about the various parts of this weddings design and how it all came together to become what we see in these images?
Eddie: Well, one of the most important things to remember when youre designing is that your design should complement and *never* compete with the environment for which you are designing. This rings especially true when youre designing for a space that is as beautiful as the Huntington Library and Gardens. We all really knew that it was important that the architecture and landscape of the environment be reflected and honored by the design and the very best way to do that was to keep it very simple. Bill and Jennifer loved the romantic aspects of the gardens and we demonstrated that love by creating arrangements that were very loose and romantic and incorporating silver julep cups and mercury glass. The antiqued silver touches worked beautifully with the Early 20th century California architecture particularly when you consider the European influences of the Huntingtons design. This entire wedding came together very easily. When you look at what you are doing as a reflection of the love a couple feels and youre working with a couple like this not to mention a pro like Wendy it just comes naturally.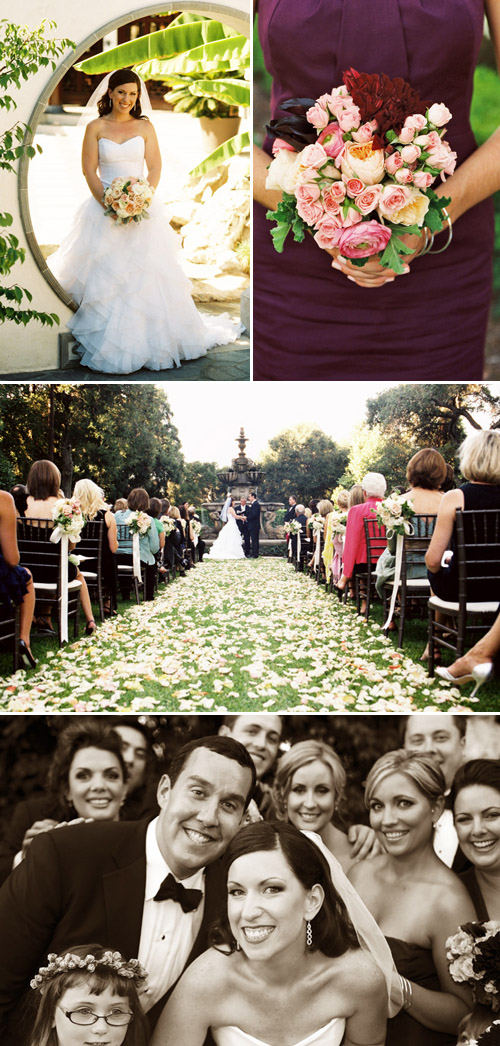 (wedding images by James Johnson Photography)
Junebug: Do you have a favorite detail from this wedding that you really enjoyed creating and seeing come to life?
Eddie: For this wedding, it was really about the entire thing! Brides have been wanting to have their weddings at the Huntington forever. Its been in so many movies and, I mean, the first ever private wedding at the Huntington Library and Gardens? That only happens once no matter how you look at it and so to be a part of what really is a bit of wedding history was amazing.
Junebug: If a couple is having trouble finding inspiration for the look for their wedding day, what would you recommend?
Eddie: That depends so much from couple to couple and I think that it all comes down to one question: What moves you? Is it fashion? Architecture? Music? Film? Literature? What are your favorite things? (Besides each other)! When you daydream, what do you imagine?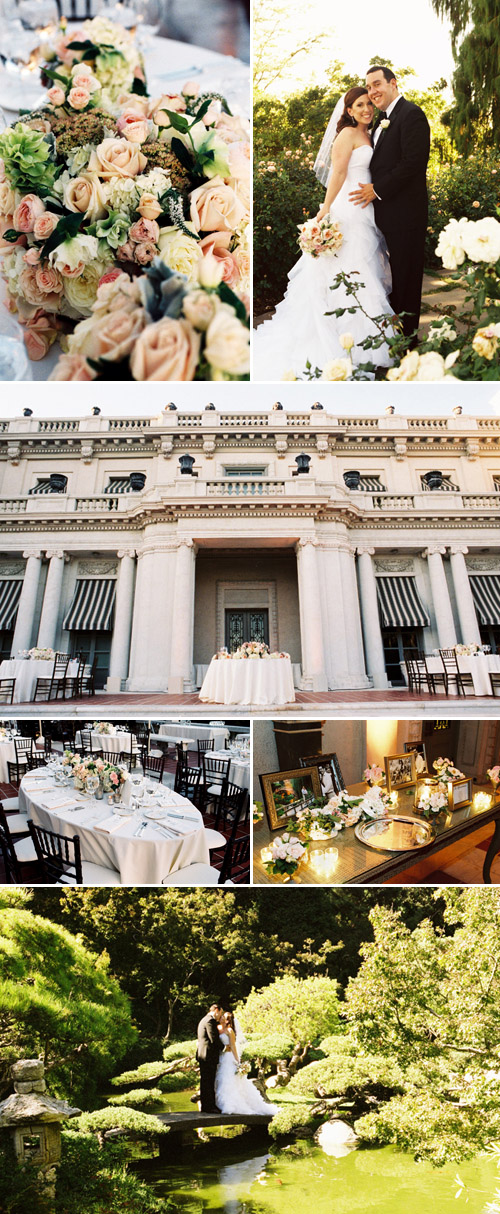 (wedding images by James Johnson Photography)
Junebug: Are there terms in a floral designers vocabulary that a couple might not have heard before but would be useful to understand?
Eddie: Most of its really pretty easy to understand. We use a lot of descriptive terminology and usually, the only term that raises eyebrows is pave (paw-vay), which essentially means tightly arranged (in the context of flowers)
Junebug: When working with any given venue, what are some limitations you often run into, and what are some wonderfully helpful details you love to find?
Eddie: Honestly, there are no limitations that good communication cant overcome. When the venue, the coordinator the vendors are communicating even the most complicated installations go smoothly.
Junebug: Is there one important piece of advice you always find yourself giving to your wedding clients as you work together? Or to yourself?
Eddie: For our clients its tough to say. But Id say to brides and grooms in general: take the time to find vendors you trustand then trust them. And as far as to myself I dont really know but the thing I find coming up all of the time with clients, friends, family and everyone else is simply Energy! Bring positive energy to every situation. You get what you give so make sure what youre giving is good!


("Tea with E" tea party images by by Marianne Lozano Photography)
Thank you Eddie! We adore you and your designs, and are honored to get to work with you.
To learn more about what Eddie and tic tock Couture Florals could create for your wedding day, be sure to visit their website and blog! And if you're in the LA area, don't miss the new Eddie Zaratsian Custom Florals and Lifestyle boutique inside the Beverly Hills Restoration Hardware Concept Store.