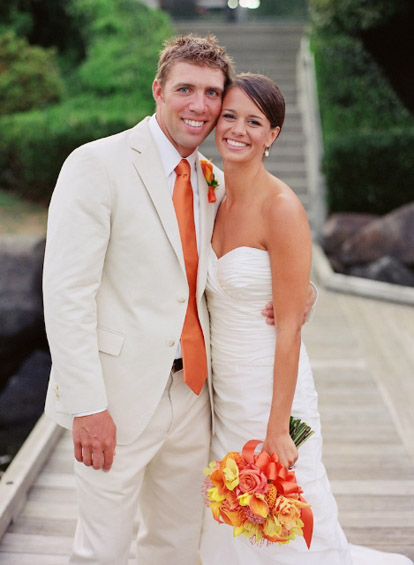 This darling and beaming couple, Nikki and Michael, were married last September at the Seattle Tennis Club, and I'm wild about their bright and fresh color palette, the stunning flowers by Romanza Floral, and these lovely photos taken by the wonderful Angie and Ashley of One Thousand Words Photography!

NIkki and Michael chose a wedding color palette of navy blue and orange with accents of yellow and white. I love the preppy style of all the wedding party fashion and how perfectly it matched their tennis club location. The bridesmaids' dresses were from JCrew, the Groomsmen's suits were from Banana Republic, and many of their accessories like the orange pashminas and neckties were from Nordstrom.

This couple has awfully special family bonds, because they met through Michaels brother Mark and Nikki's sister Britney, who are married to each other! Throughout the day, meaningful family moments were celebrated like the emotional family speeches during the reception, and Nikki getting to walk down the aisle with her great grandmothers sixpence. "My mom had it at her wedding, my older sister Britney had it at hers, and I had it at mine. Eventually it will be passed to my younger sister and someday to our own children!" During the reception they danced their first dance to Van Morrison- These Are The Days and at the end of the night they exited surrounded by friends, family and bubbles everywhere!

Thank you Nikki and Michael for sharing your wedding day with us!
To see all of the wedding professionals who contributed to this wedding, please visit our Real Weddings section.
To plan your own Seattle or Southern California wedding, check out our Plan Your Wedding hot list!