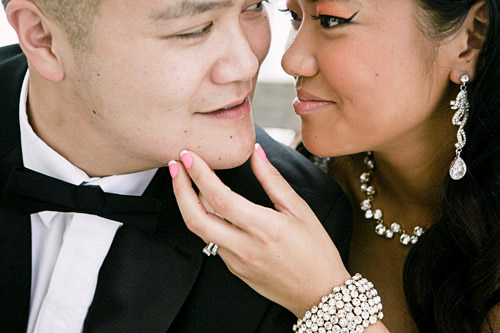 The couple: Annie and Richard
The wedding: 6.13.10 – Prospect Park Audubon Center, Brooklyn, NY
What three adjectives that best describe your wedding? Sophisticated, Playful, Unique.
What inspired your personal wedding style, and how did you incorporate your style and personalities into your big day? Rich and I are both free-spirited kids at heart. We have what you call a "Peter Pan Complex" but at the same time we adore classic, sophisticated looks. I work at Nickelodeon where creativity and breaking the rules is highly valued, and Rich is a tae kwon do instructor ­ he works with kids teaching a martial art that is very traditional and based on respect and humility. All this is integrated into our wedding day in subtle ways. Our center pieces and cake toppers were non-traditional and a form of self-expression, the candy themed tables and favors showed the inner child, and the time that we spent working on the custom dance that we performed was a form of honor and humility toward our friends, as neither of us knew how to dance.
We are big fans of Kidrobot and collect many of the figurines, so we spray-painted a collection of Munnys with our wedding colors and incorporated them into our grass centerpieces, and a personal friend and artist, Robert LaQuinta, created mini versions of Rich and I as cake toppers! Since our color palette was such an expression of our personalities we really tried to integrate it into every aspect of our day, even my makeup! I wore orange eye shadow and hot pink eyeliner and my nails were done in a hot pink and white French manicure. We also used our colors in the groomsmens pink ties and the bridesmaids dresses, and even in their lipstick.

Looking back, what are the moments, decisions or memories that you love the most about your wedding? I loved our dance! We did a 10 week customized dance course to prepare for our first dance. Every class we had was a blast and creating the whole routine was such an adventure. We even had to perform in a student showcase in front of a huge crowd! But performing as man and wife, on the day of our wedding, in front of all of our family and friends was truly amazing.
Planning our wedding and seeing all of our plans and visions come to life was a total dream come true. Rich and I have been together for 12 years. When I met him I was 15 and he was 17. It was love at first sight, in a weird way, as Rich never stopped trying to approach me when wed see each other around our neighborhood. He would literally scream my name and for a while I couldnt tell if he had a crush on me or was just making fun of me! We really grew up together even though we both went to different high schools and colleges. Our relationship was long distance for a full 4 years but we were both so in love and dedicated that we made any excuse to see each other. We went through a progression of transportation to see each other, starting with taking the bus, then driving and eventually (finally) hopping on JetBlue.
I also love that my maid of honor created a surprise video for us which incorporated the entire bridal party and all our dearest friends! My bridesmaids have been my closest friends since we met in junior high school. I knew them before I met Rich. They have experienced our relationship since day one and have seen it grow and evolve over the years. The four of us are virtually quadruplets and whenever we go out on the town, or even for Halloween, our outfits usually match or have some type of theme, so at the end of the night I changed into the same dress as my bridesmaids with a few bride details. What better way to keep that tradition alive and show my immense love for my friends? They are pretty much like sisters to me.
Wedding color palette: Hot pink and orange. The Boat House at the Prospect Park Audubon Center is an elegant space, beautiful in its simplicity. We wanted to use colors that worked with the space but at the same time really popped and added a lot of character. Our color palette symbolized who we are: happy, carefree, fun and always laughing.

The Wedding Team:
Photographer: Tammy Swales Photography
Ceremony and Reception Venue: Prospect Park Audubon Center
Officiant: Michael Liu
Invitation Designer: DIY
Catering: Moveable Feast
Florist: DIY/Judy Chein
Cake: Miriam Milord
Wedding dress: Alita Graham from Kleinfeld
Bridal accessories: Ann Taylor
Bridesmaids apparel and accessories: Betsey Johnson
Groom and groomsmen apparel and accessories: Men's Wearhouse and Calvin Klein
Hair and make-up: Terrance Welcher and Sissi Chan
DJ: TLC Entertainment
Dance instruction: 10 week customized dance course at Dance Sport!
Favors: Beau-Coup.com
Wow – thank you so much Annie and Richard! Your wedding was truly and perfectly, you!
To find inspiration for your our personal wedding style, don't miss our gorgeous wedding image gallery!
All images above by Tammy Swales Photography