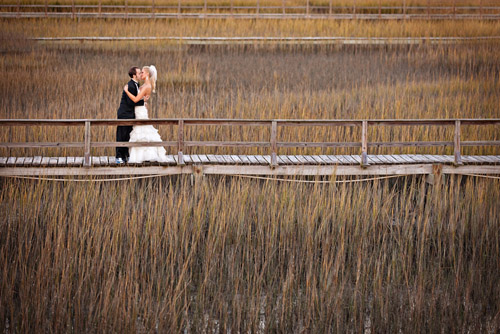 Bringing together friends and family from all over Canada and the US, and having a ball expressing their creative personal style, Caroline and Joe's South Carolina backyard real wedding was filled with fun in every detail! I hope you'll enjoy their wedding story and they vibrant wedding photos from Caroline Ghetes as much as I have!

The Goals: Having met in Sweden and being from different countries, Caroline and Joe were excited to bring together all the people they loved so they could get to know one another, as well as Caroline and Joe as a couple.They loved that everyone could come to visit their new hometown of Charleston, South Carolina and make a long weekend of it. Many members of their wedding party and a number of other friends rented a large house together which gave them even more time to connect. "In the house they all got to meet and hang out. We had a welcome party there the night before the wedding and I think the guests had an even better time the next day because they met a lot of people the night before."

The Design: To ensure that the wedding details and atmosphere really reflected Caroline and Joe's personalities, they got involved in creating lots of DIY details and invited friends and family members to utilize their talents to help as well. They set up a photo shoot with the help of a friend and used the images for their wedding invitations, Joe's aunt and Caroline's mother created the flower arrangements, Caroline and her bridesmaids made their own bouquets, and Caroline even made all of her bridesmaids' dresses!
The Look: Caroline's look was a true expression of her personal style – fun, modern, comfortable, and sparkly! She was sure to incorporate lots of bling in her accessories, and she chose a super funky surprise for Joe when it came to her wedding shoes. "I knew I wasn't going to wear heels because I'm already taller than my hubs, so I decided to surprise him by wearing a pair of Air Jordan's (he loves them!). The ones I chose were pink and gray. I gave him a peek of them when we were standing at the alter and he was so surprised and happy!"
Caroline decided to make all of her bridesmaids' dresses, which each had a similar silhouette but were totally unique and wildly playful! The groomsmen all had different ties (stripes, starfish, polka dots, etc.) in pink, purple and navy. Wow! So much fun.

The Moments: Caroline loved standing at the alter surrounded by their friends and family, dancing with her father who has been her biggest supporter in life, and seeing all the people from different parts of their lives getting to know each other. Mostly though, looking back their best decision was simply, "marrying each other!"
The Pros: To learn about all of the wedding professionals who helped create this wedding day please visit Caroline and Joe's page in our Real Wedding Library.

Thank you for sharing your wedding with us Caroline and Joe!
To plan your own Southern California or Seattle area wedding, check out our Plan Your Wedding Hotlists, and to find a dream wedding photographer for your wedding anywhere in the world, don't miss our World's Best Wedding Photographers Hotlist!
And a special opportunity for couples out there – photographer Caroline Ghetes is giving away wedding photography and videography services to one deserving couple this year – get more information on her blog!