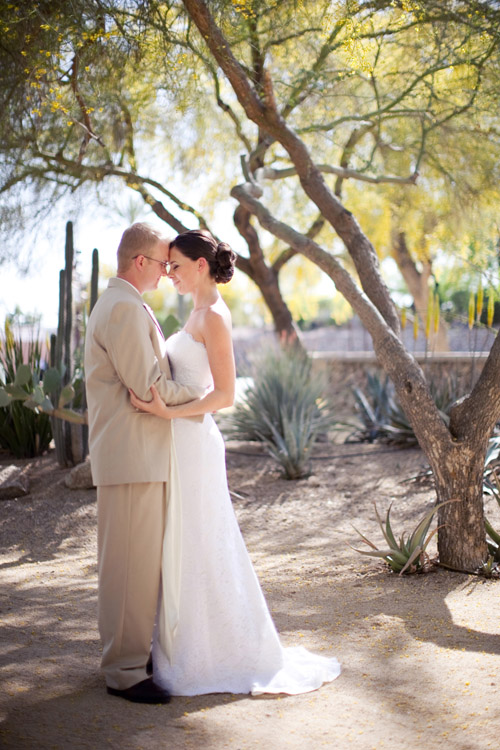 Ashley and Rodney's destination wedding in Scottsdale, Arizona, photographed by one of Junebug's incredible member photographers, Melissa Jill, was the ideal intimate affair, with just close friends and family gathered around to celebrate. We just love the way their bright colors pop in the desert landscape – so gorgeous! Check out all of the wedding day details below!

The Goals: Ashley and Rodney's main wedding planning goals were to keep the event small, with just a handful of guests, and to host a wedding away from home. Ashley and Rodney had just moved to Wisconsin, and with most guests coming from the east side of the country, a warm and sunny locale like Scottsdale, Arizona, was just the right place. So, the couple planned an outdoor ceremony at The Phoenician, followed by a low-key dinner with their 33 guests, showcasing their other important goal for the big day – amazing food!

The Design: Ashley chose a wedding color palette of raspberry and champagne, and carried the theme through many of the wedding details, like the paper, flowers and table decor. At the ceremony the aisle leading to the gazebo where the couple would say their vows was lined with deep magenta and white rose petals, and hanging from the gazebo were glass orbs filled with deep reddish-pink flowers.
After the ceremony, guests joined the couple for dinner at one long banquet table – a must for Ashley, since she wanted each guest to feel included. The banquet table was decorated with glass vases holding pink-hued peonies, tulips, orchids and roses, and the arrangements were kept simple and low so guests would be able to see and speak to each other across the table. At each place setting was a champagne colored charger with a printed menu of the evening's offerings, and scattered throughout the room were dozens of twinkling tea-lights.
The menu was filled with delicious treats, including prickly pear sorbet, miniature creme brulée, chocolate covered strawberries, chocolate mousse and raspberry and lemon tarts. And then there was the cake! A layer of yellow cake with vanilla filling and fresh raspberries, a layer of chocolate cake with chocolate mousse, and a final layer of chocolate cake with vanilla filling and fresh raspberries. Yum!
The Look: Ashley was radiant in a strapless lace gown from Antonio Fermin, accessorized with a silk belt and sparkling brooch. In a sweet personal touch, Ashley had a clutch made out of fabric from her grandmother's wedding gown. Rodney's khaki suit was casual but stylish, complete with a striped tie in the main color of the wedding day, raspberry.

The Moments: Just before going into their reception dinner, Ashley and Rodney were able to spend a few quiet moments together where, Ashley says, "we just had this moment of 'wow, we just got married'." The rest of the evening was pure celebration.
The Pros: To learn about all of the incredible wedding professionals who helped to make this wedding a reality, please visit our Real Weddings section.
Thank you so much for sharing your wedding with us Ashley and Rodney! Congrats!
If you're planning a wedding in Southern California or Seattle, don't miss our trusted Plan Your Wedding Hotlist, and to find your dream wedding photographer for weddings anywhere in the world, be sure to visit our World's Best Wedding Photographers Hotlist!