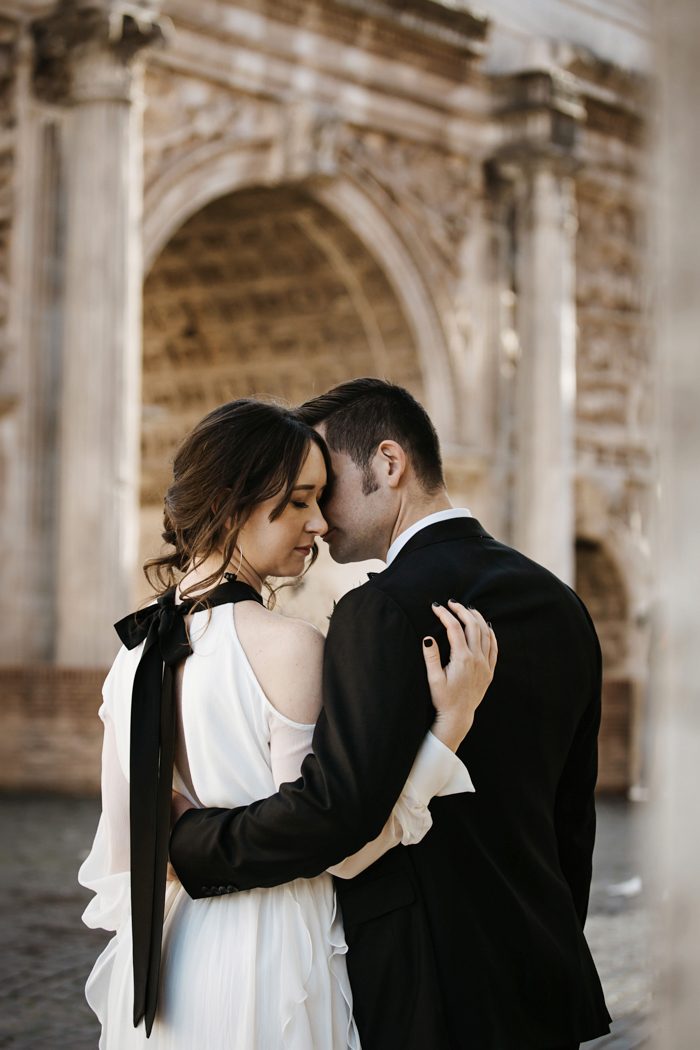 Is there a more romantic place to elope than the heart of Italy? After seeing these incredible photos Quince & Mulberry Studios captured from Sarah and Jack's elopement in Piazza del Campidoglio, we're keen to say no! The couple said "I do" inside the iconic red-hued Wedding Hall, which was designed by Michaelangelo himself, and then weaved their way through the streets of Rome, stopping for photo ops at all the historic sites, scenic overlooks, and even a pastry shop for a mid-afternoon treat. Once the sun had set, they joined their group of nearest and dearest for an intimate dinner at La Veranda, followed by a few final romantic photos in the moonlight. We simply adore that Sarah chose a black and white Manning Cartell dress in place of a traditional wedding gown and that Jack chose a classic black suit from George & King that he personalized with handmade cufflinks from his bride. Although the details were minimal, everything about this destination elopement had an air of timeless elegance.
The Couple:
Sarah and Jack
The Wedding:
Piazza del Campidoglio and La Veranda, Rome, Italy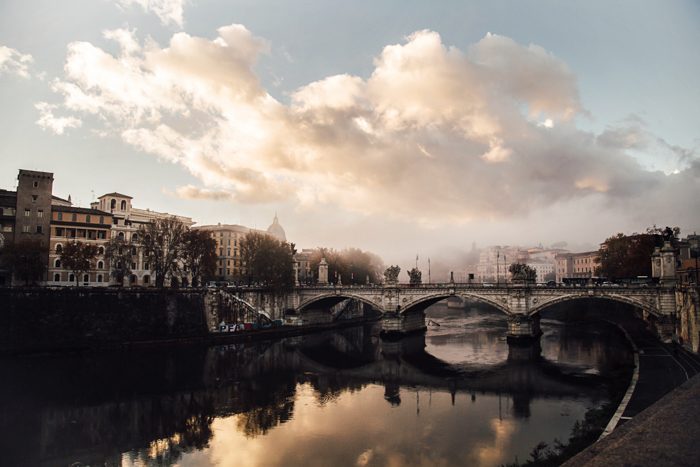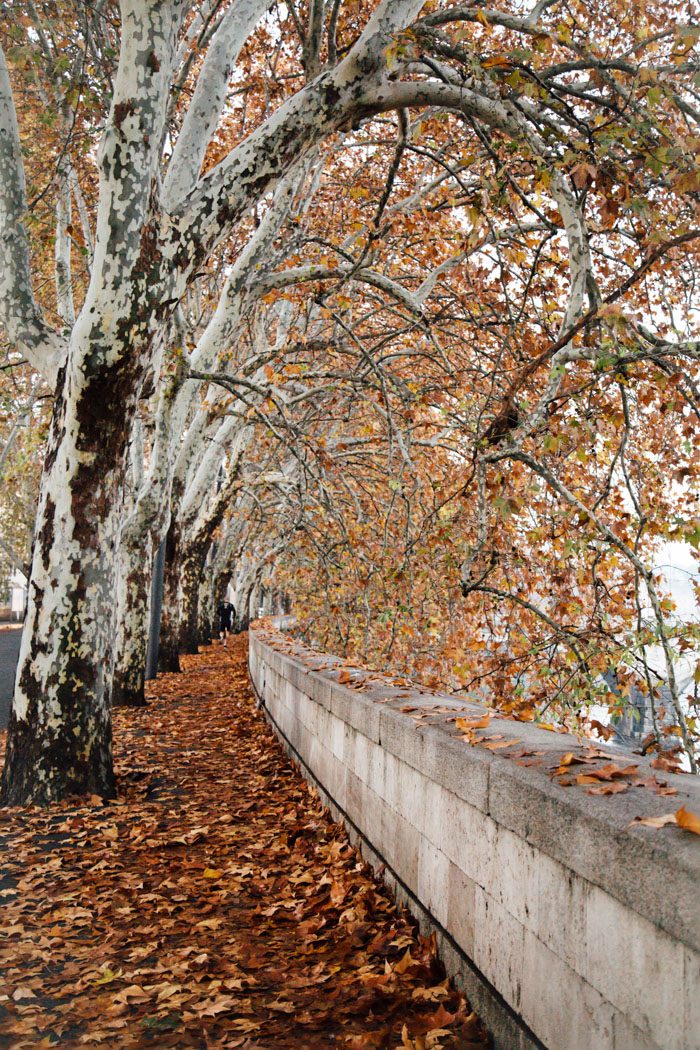 We had planned on going to Rome for our honeymoon and then just decided to get married while we were there instead. I had been before and had fallen in love with it, Jack loves history and I love art, so it was the perfect city for us. Both of us hate being the center of attention, so we wanted a quick ceremony that would still be legally recognized in Australia, to avoid any paperwork or additional ceremonies when we returned home. The fact that the Hall was designed by Michelangelo definitely helped make our decision so easy!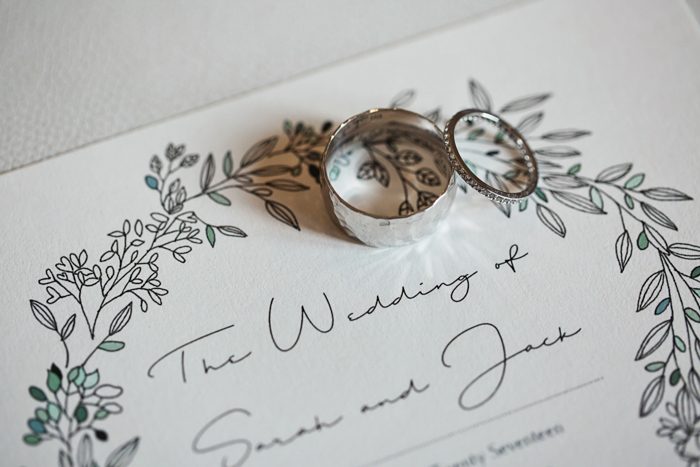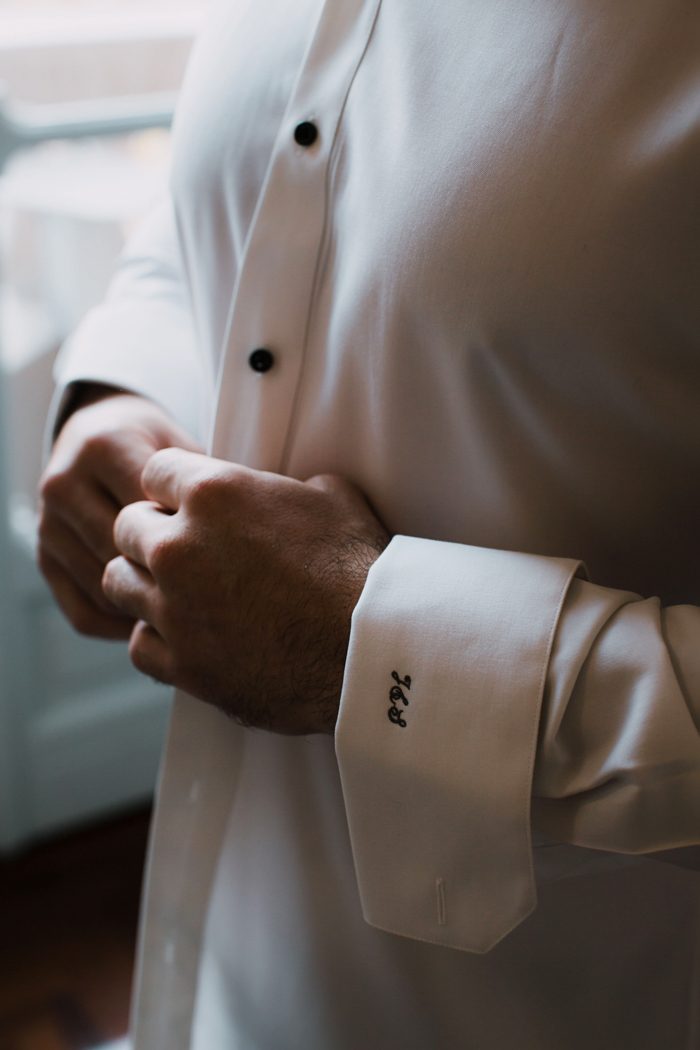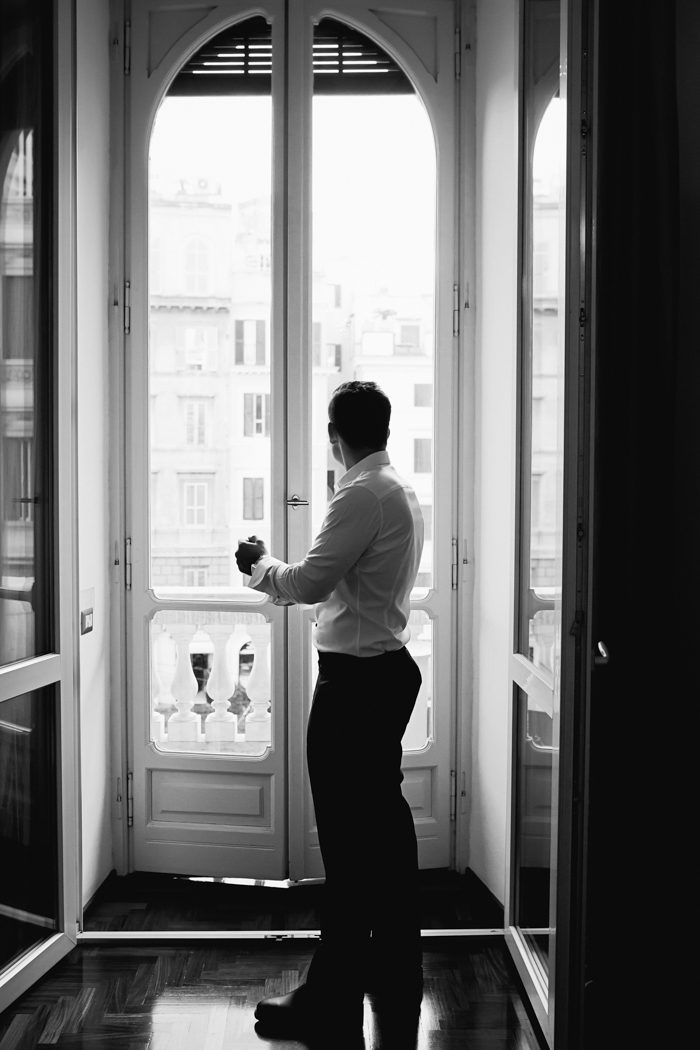 I made the invitations myself. I drew out the details and transferred it all into photoshop. We were doing most things on a budget, and so we printed them out and cut them ourselves, wrapped some twine around them and hand delivered them to our family members with a sprig of rosemary. I also made four sets of black clay cufflinks for the men of the day, Jack, his brother, my uncle and my dad. It's nice to have some things that are meaningful, that you can keep forever.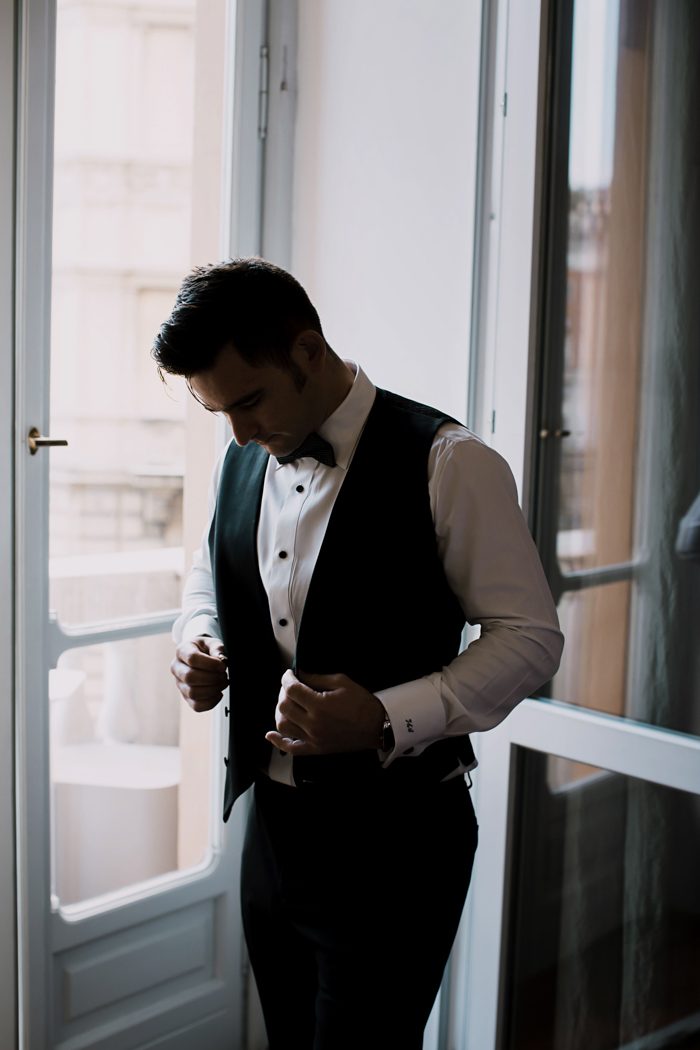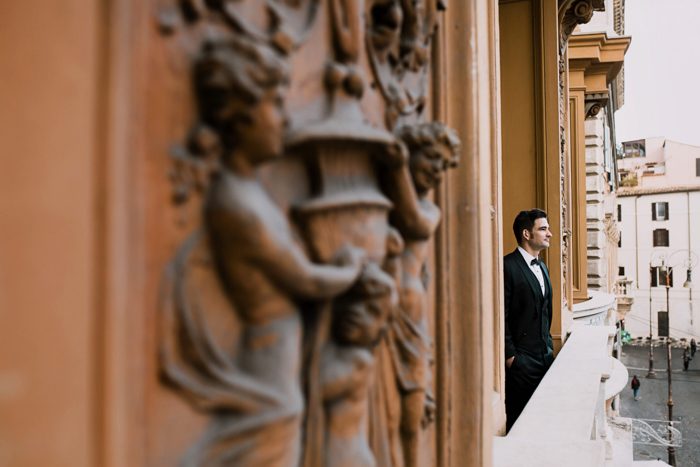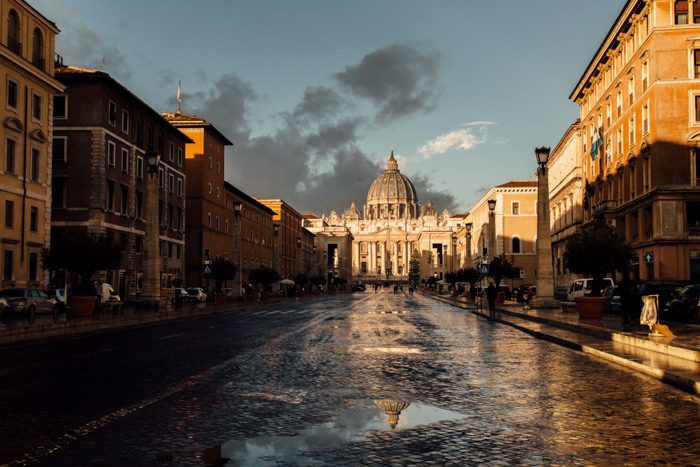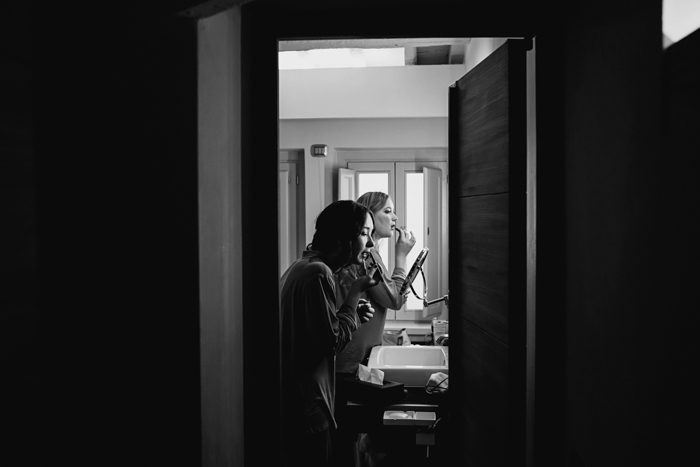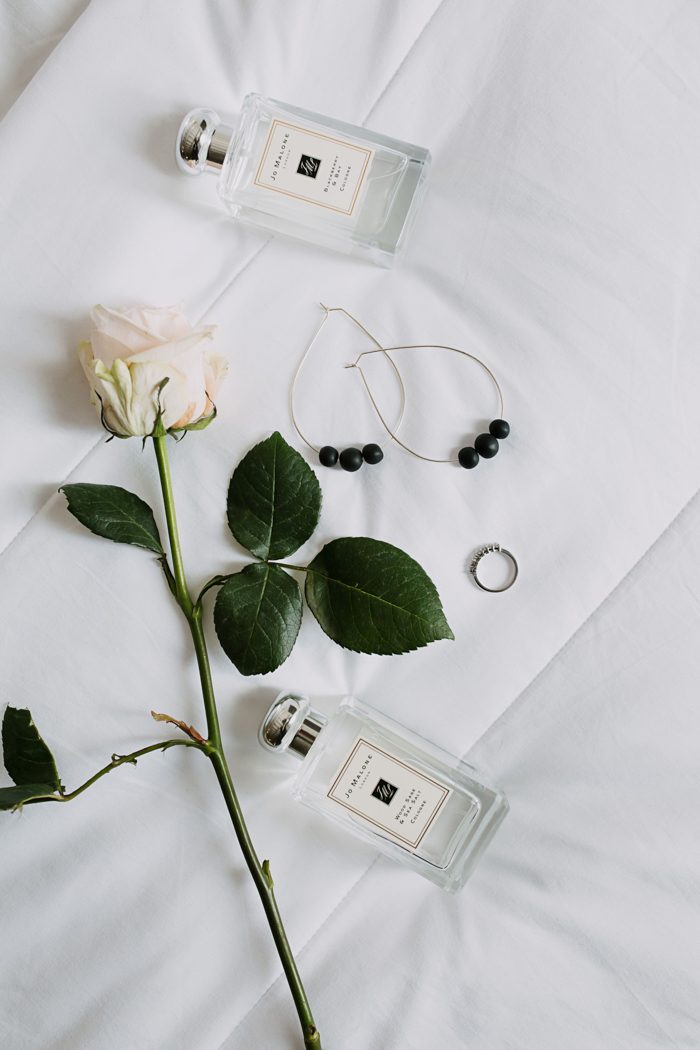 My dress was from Manning Cartell. It was on sale when I bought it, so it was definitely done on a budget, which was perfect for us. I walked past it when I was out with Jack and he stayed outside while I tried it on. It was a spur-of-the-moment purchase and totally unexpected because I was not out shopping for a wedding dress — and I actually already had one! I was really unsure about the one I had, so when I saw this one, I just had a feeling that I had to buy it. I really did not want anything over the top, with lace or beads. I just wanted a simple dress that had something a little bit different and non-traditional about it. I ended up having to get it lined with silk so that it was warm enough for a European winter and then grabbed a black woolen coat to wear over the top. I tried to buy things from shops that I would usually go to and not stray just for a special occasion. I always buy my shoes from Wittner, and I am obsessed with Dinosaur Designs jewelry.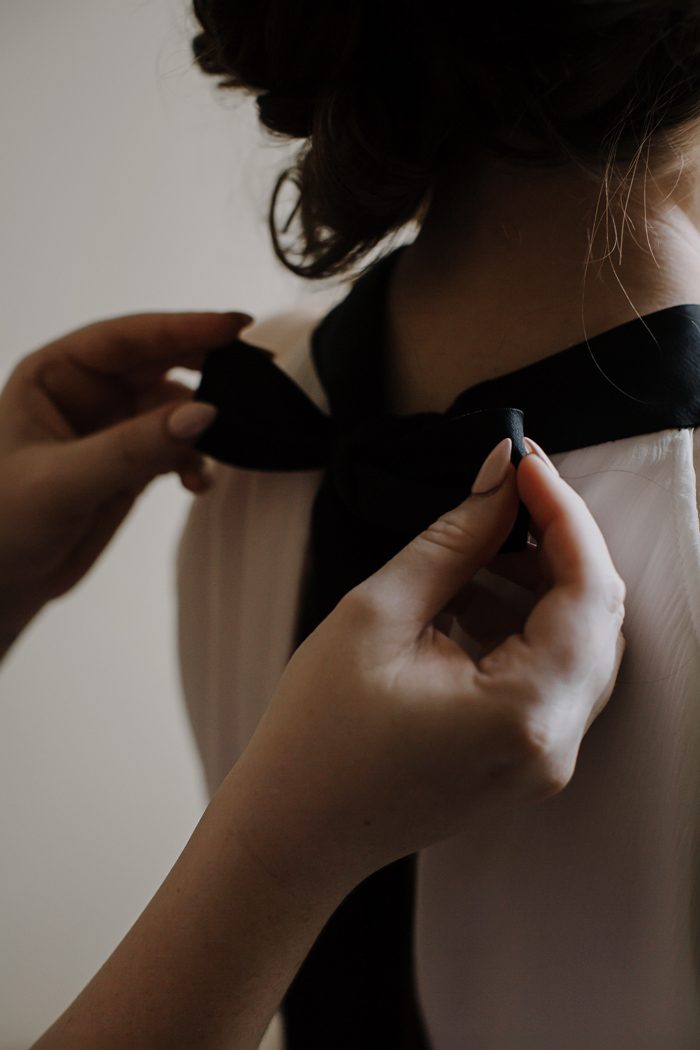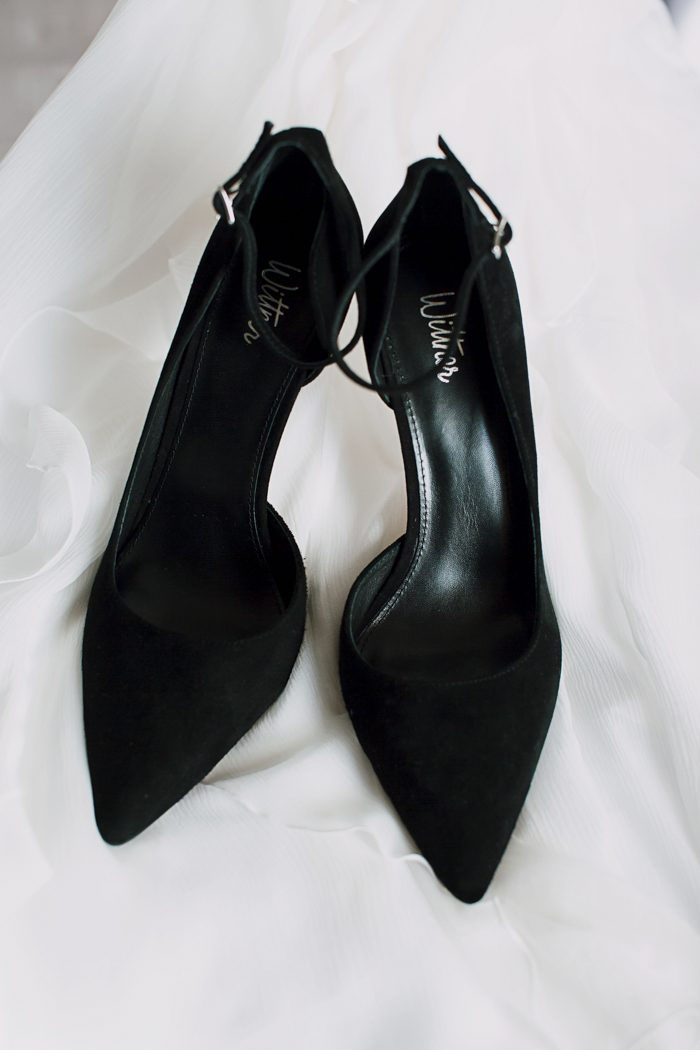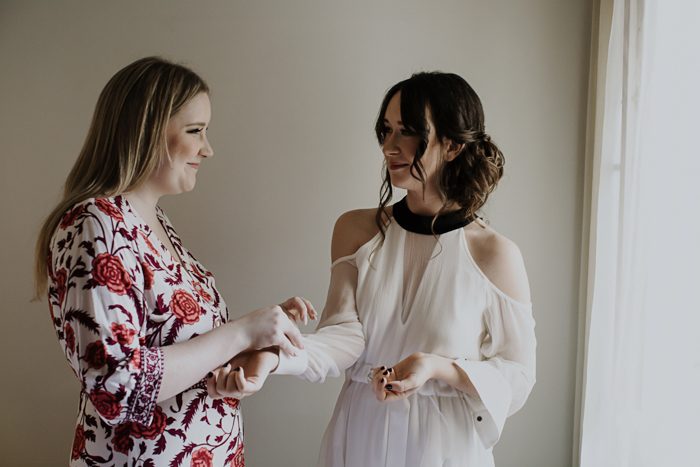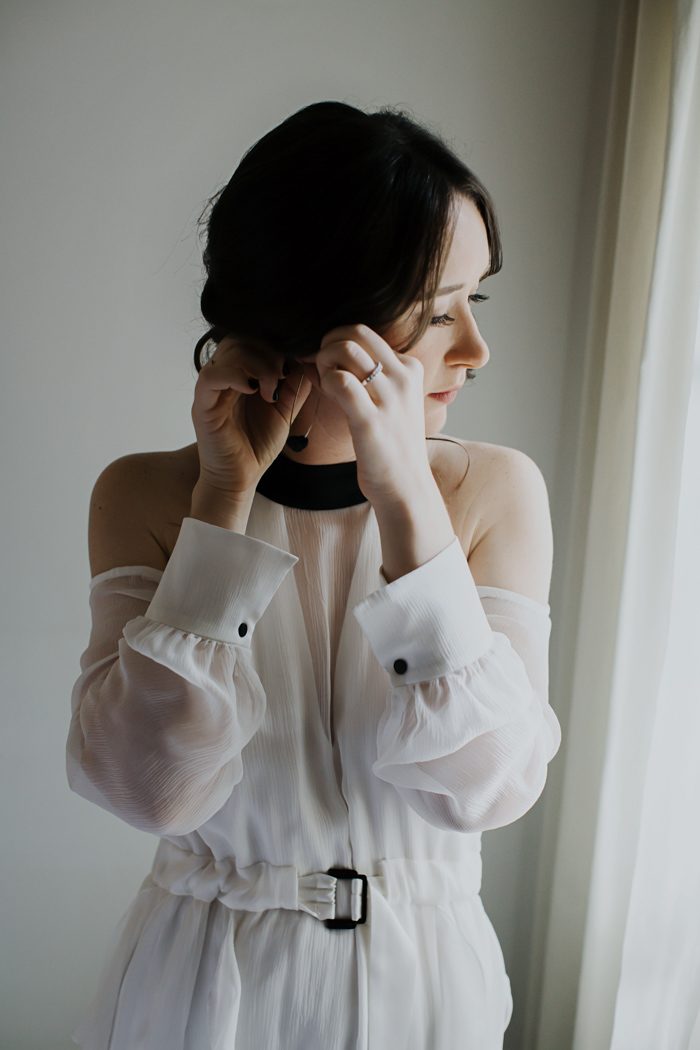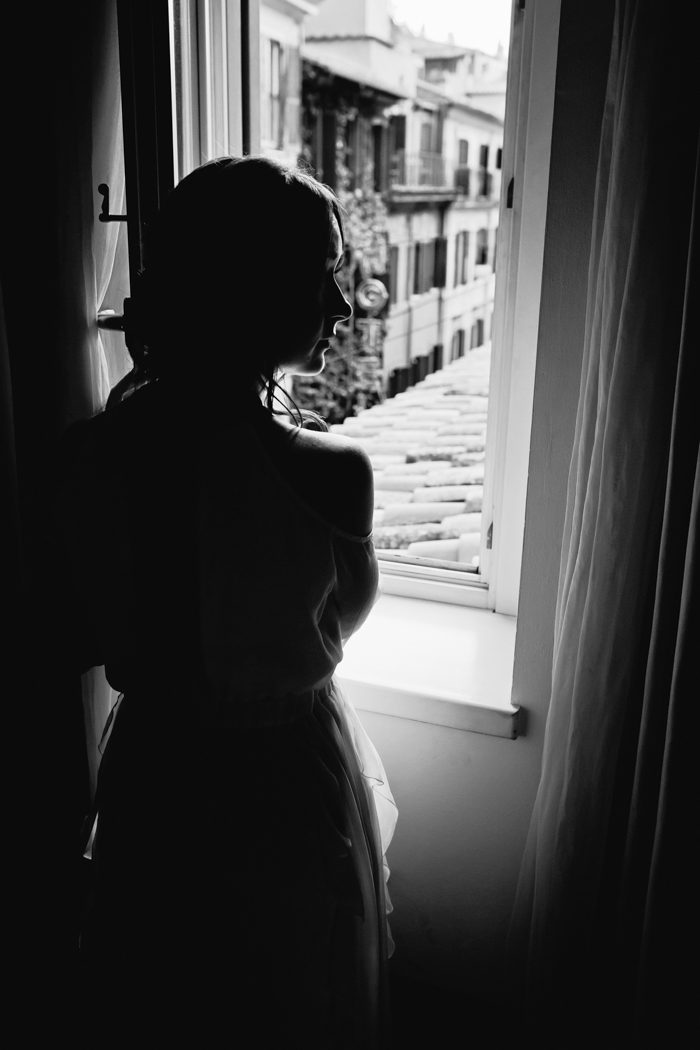 The only thing we tried to do that was really traditional, we completely failed at. We spent the night before the wedding apart, so we didn't see each other before the ceremony. However, being a romantic, Jack came around in the morning to leave me a rose. My maid of honor was apparently meant to open the door, but she was still asleep, so I opened the door thinking it was a delivery and we saw each other. It was one of those moments where we realized we had failed and laughed about it, but in retrospect, seeing each other for that one minute was so lovely and reassuring. We definitely wouldn't change it, if we could go back.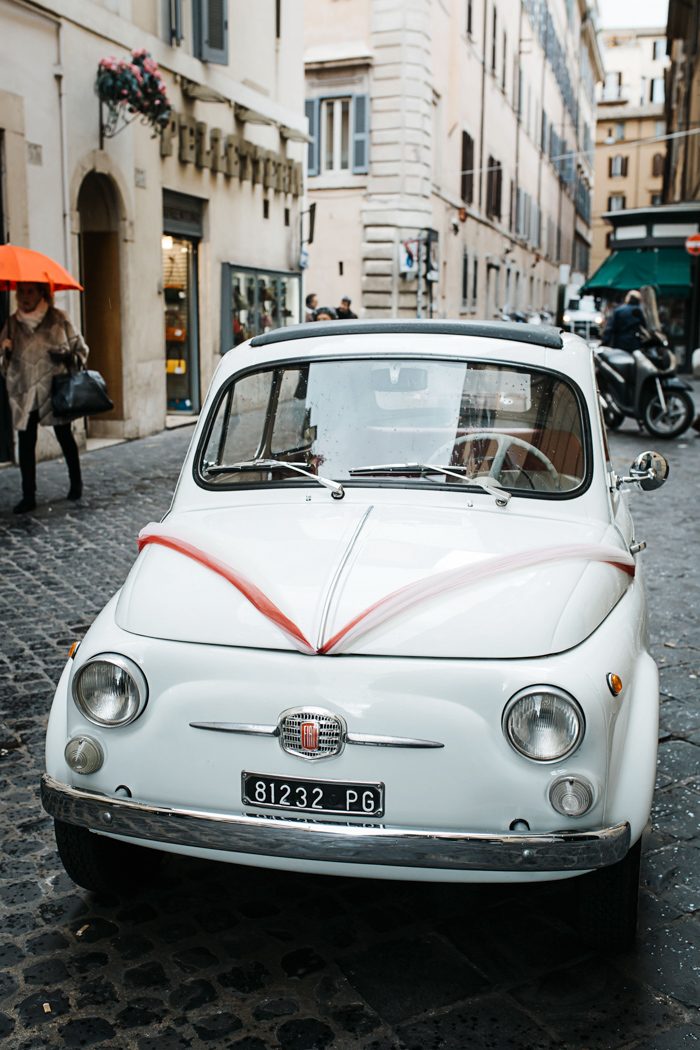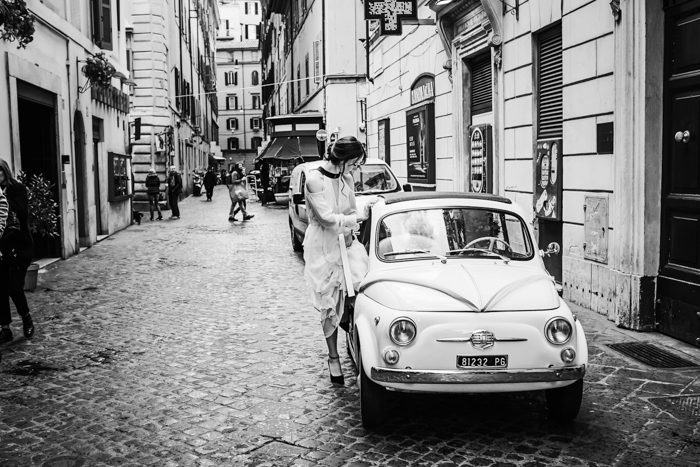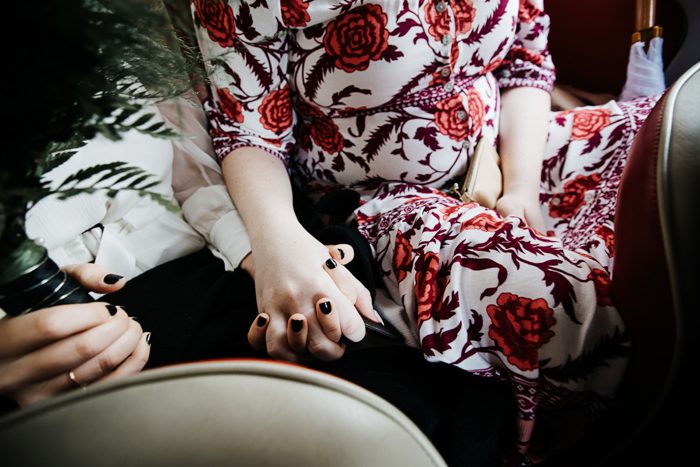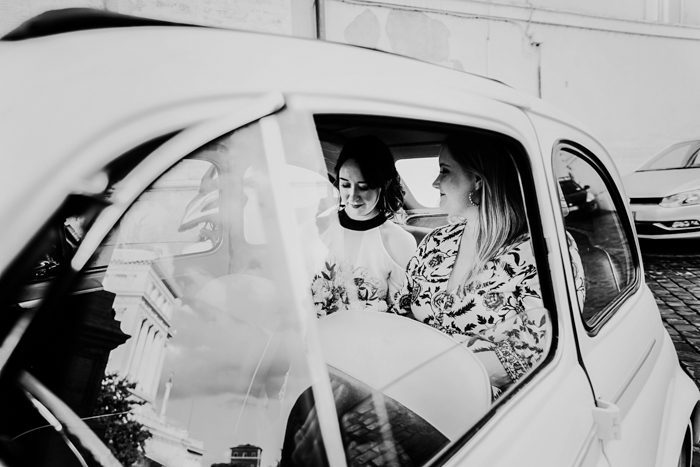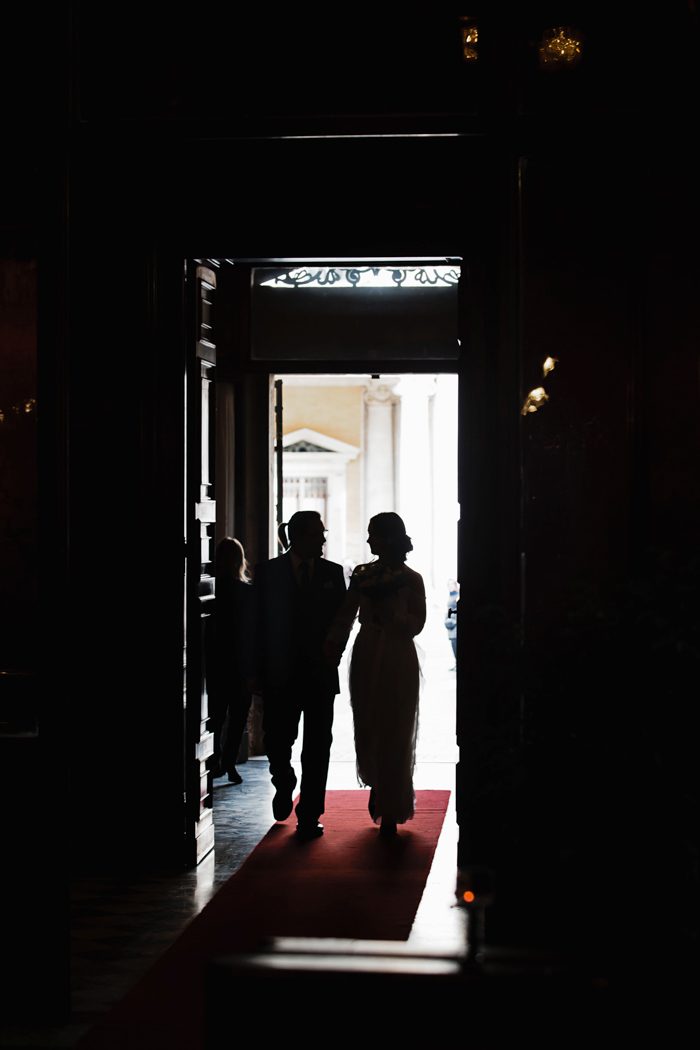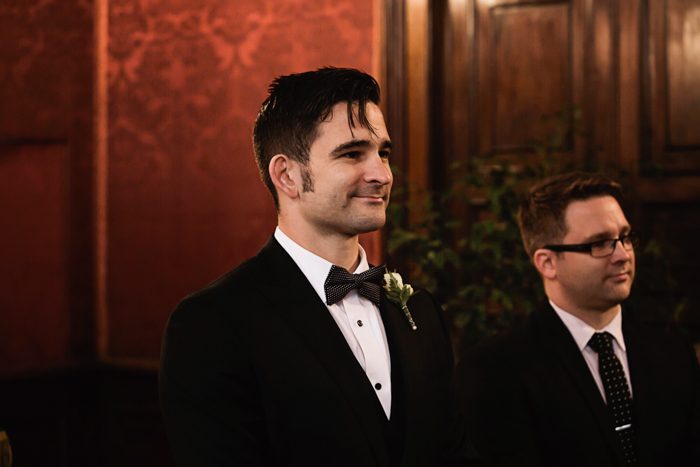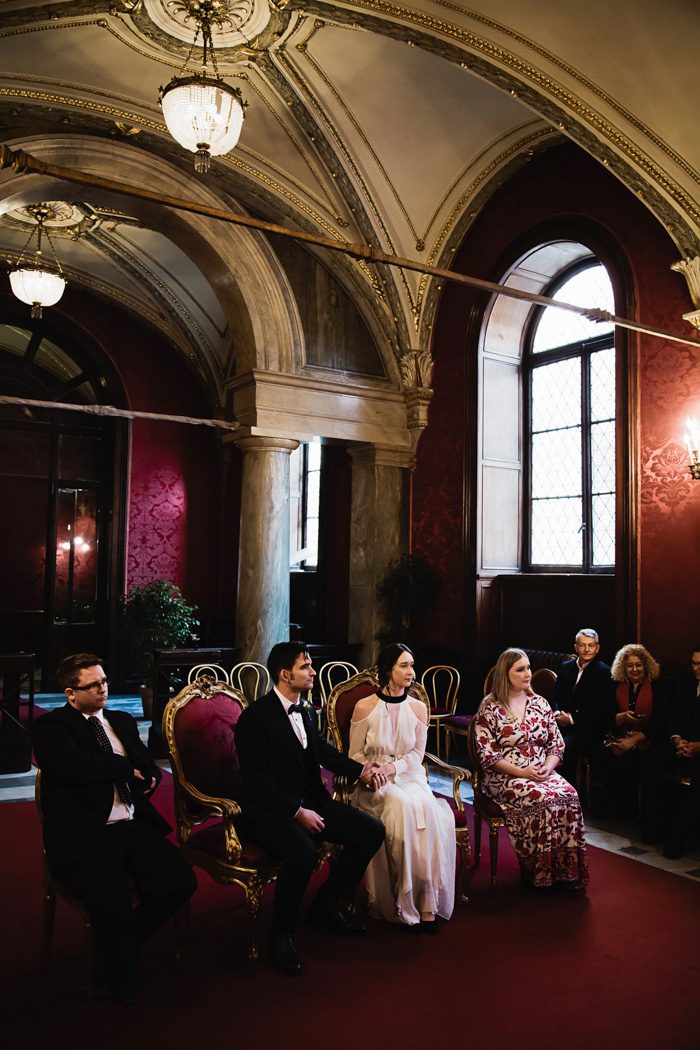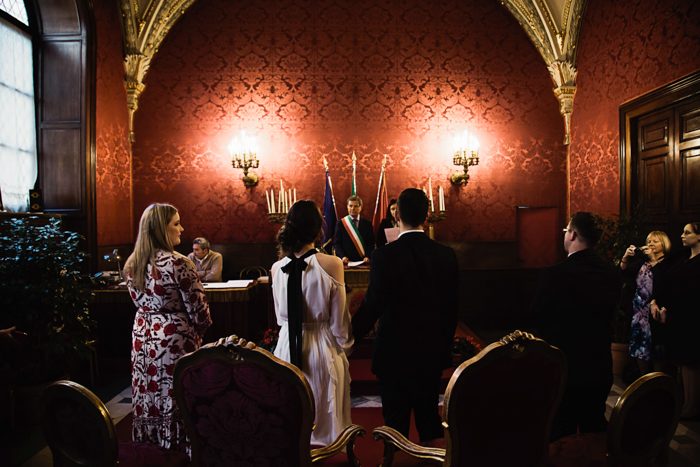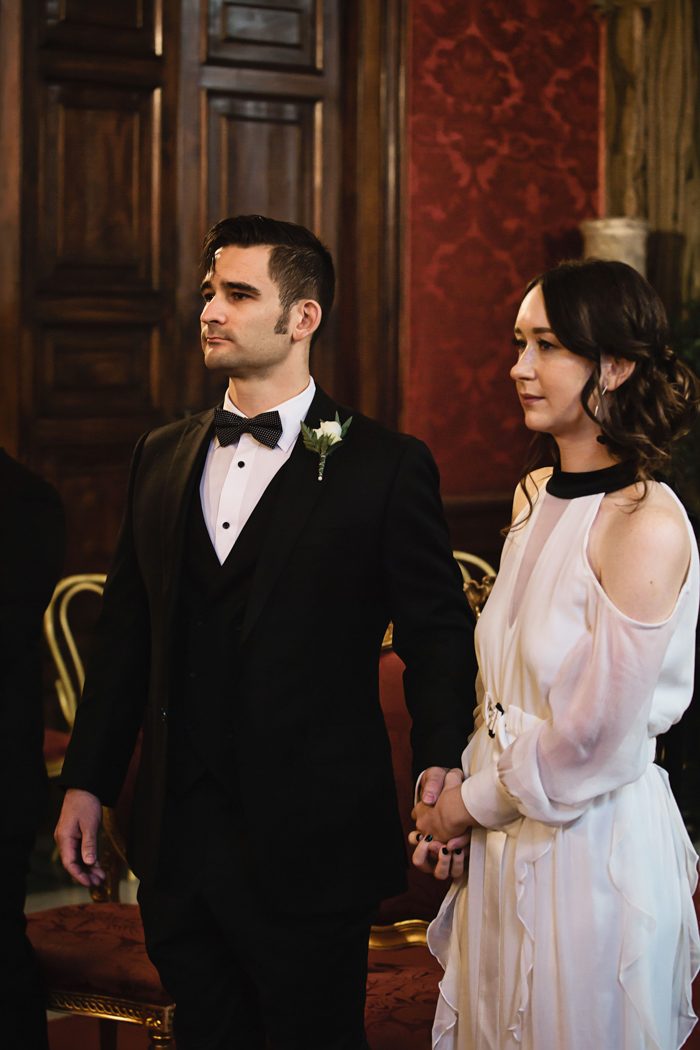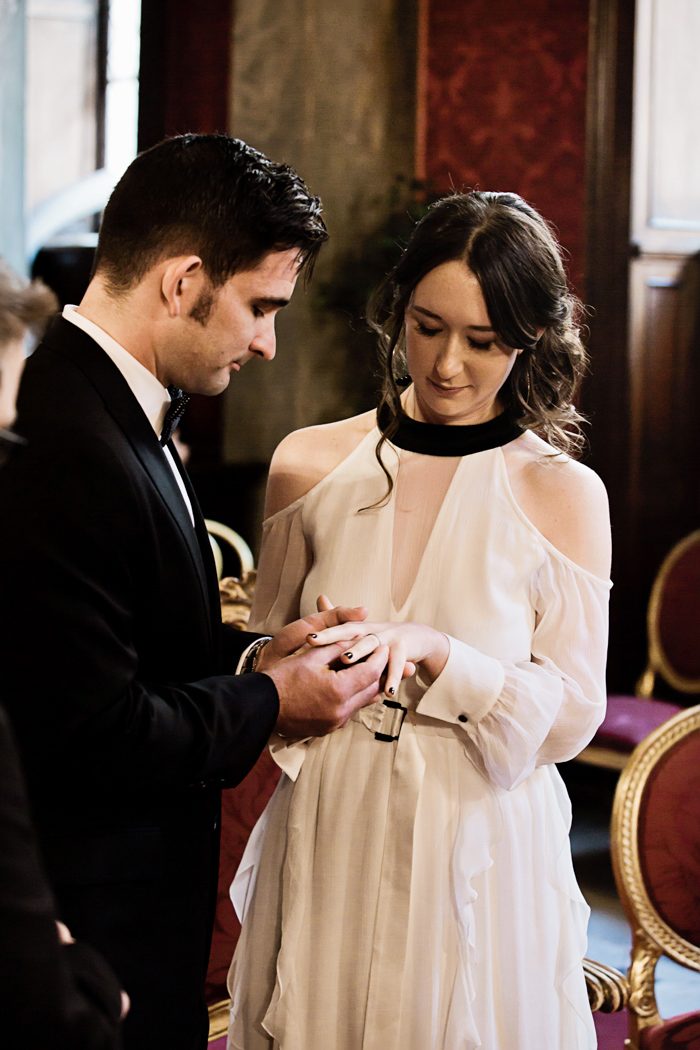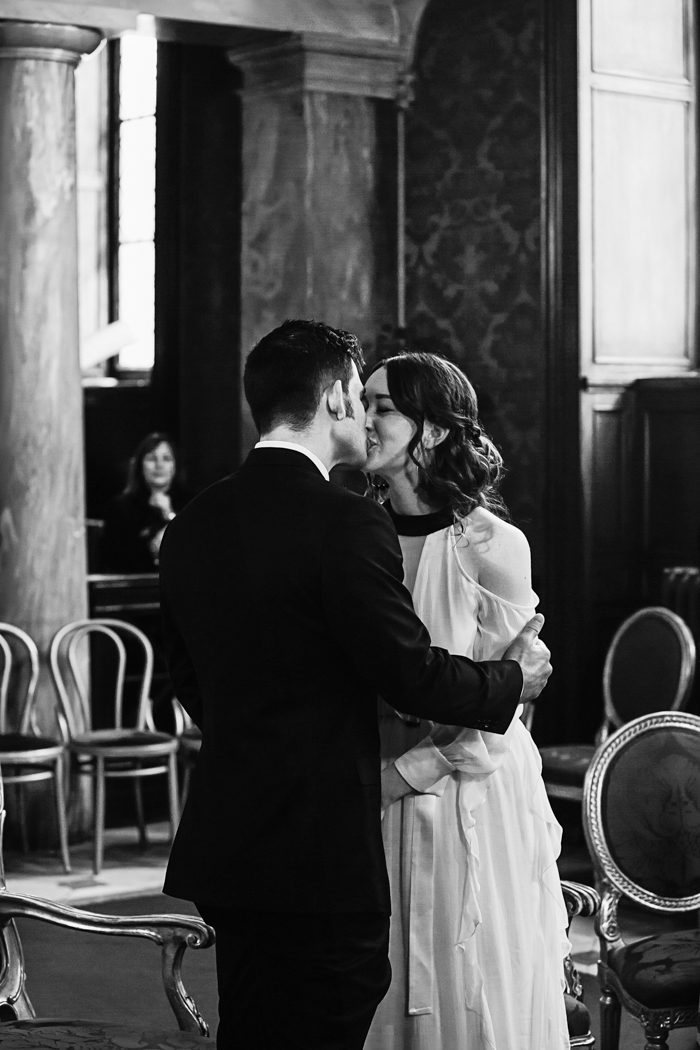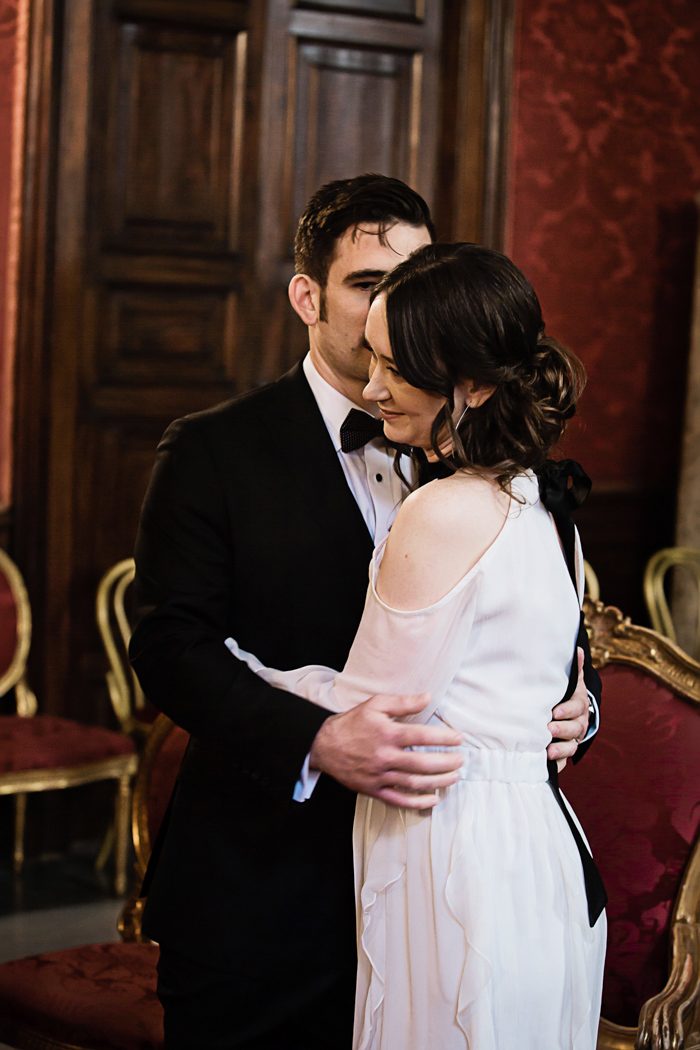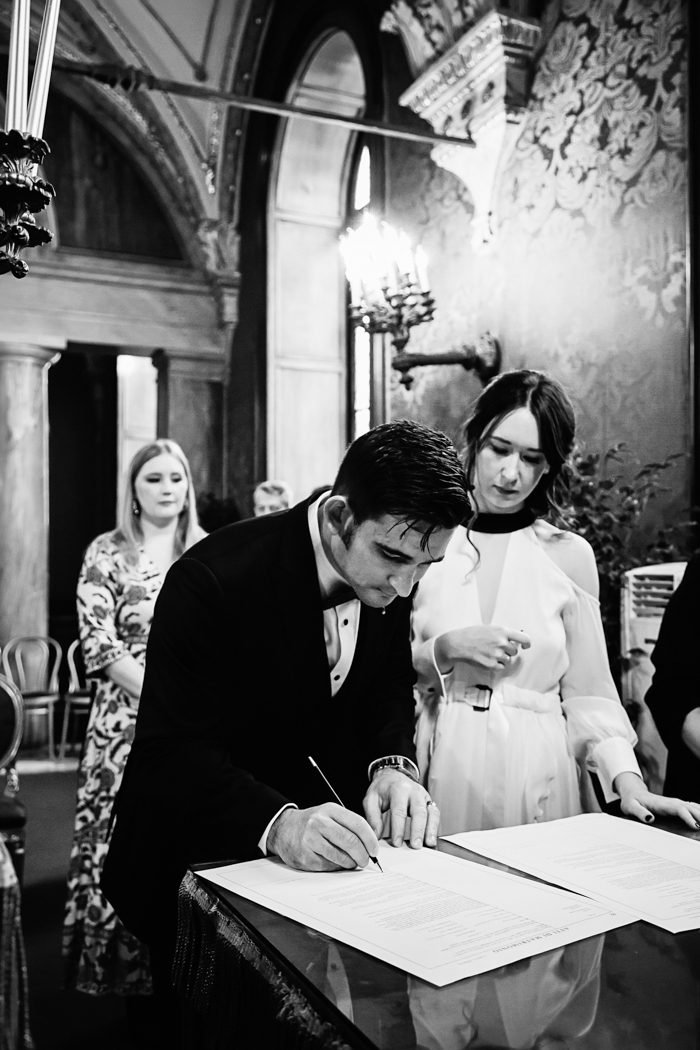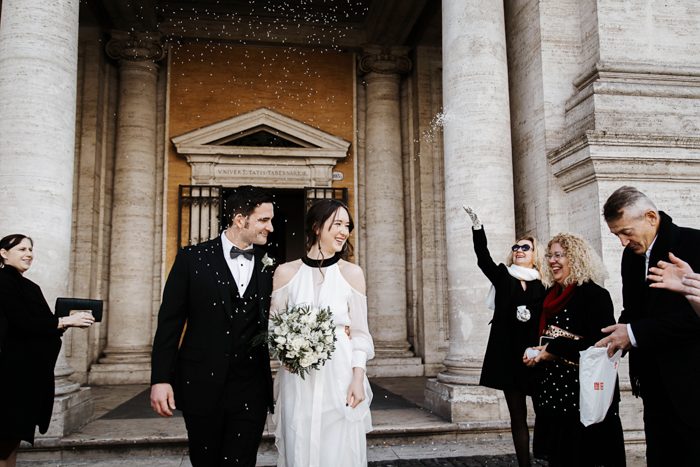 Our photographer, Kate, had photographed our engagement party and our close friends' wedding, so we knew how she operated. She is honestly just amazing! We hate posed photographs, and Kate had a way of putting us at ease and taking beautiful snapshots of candid moments in time. She's captured so many moments, from laughs and tears with our family to those little stolen moments with each other. She made us want to have a party every week just so that we could spend more time with her!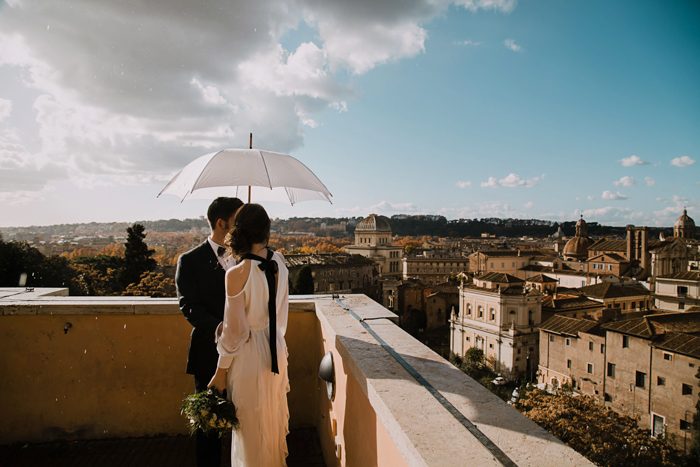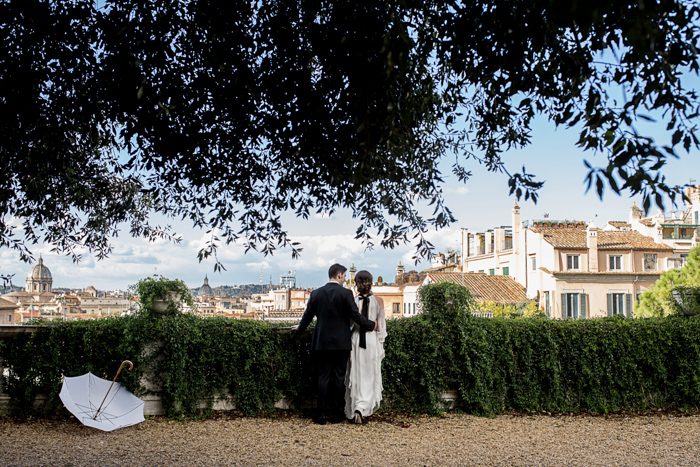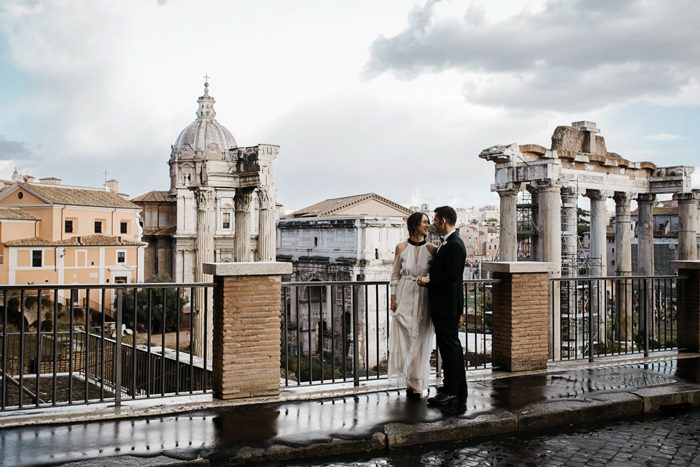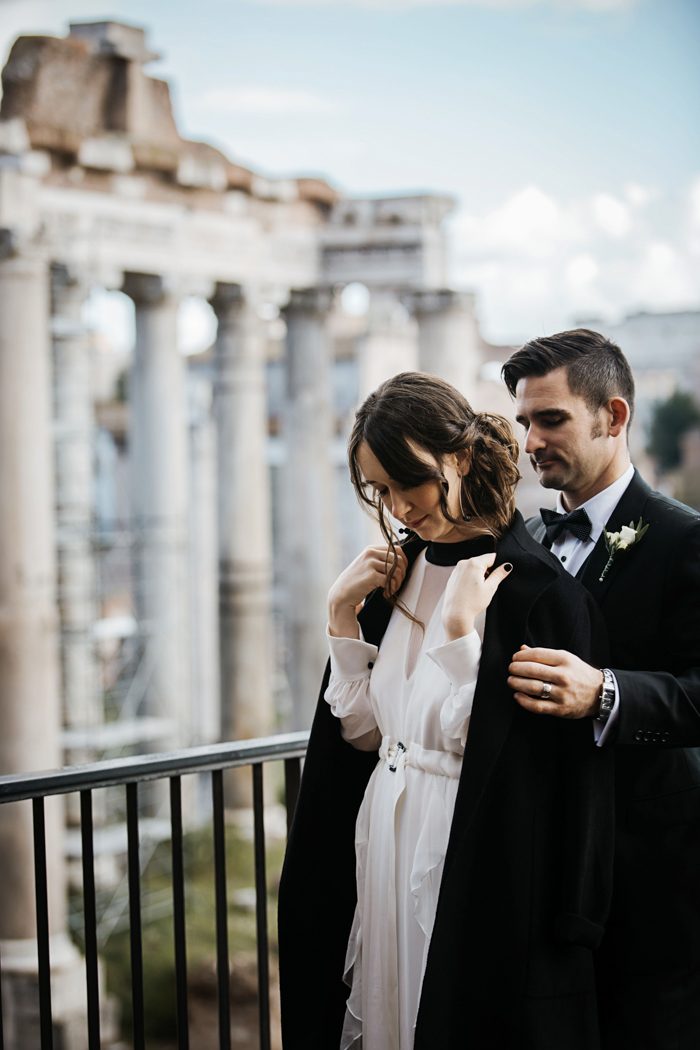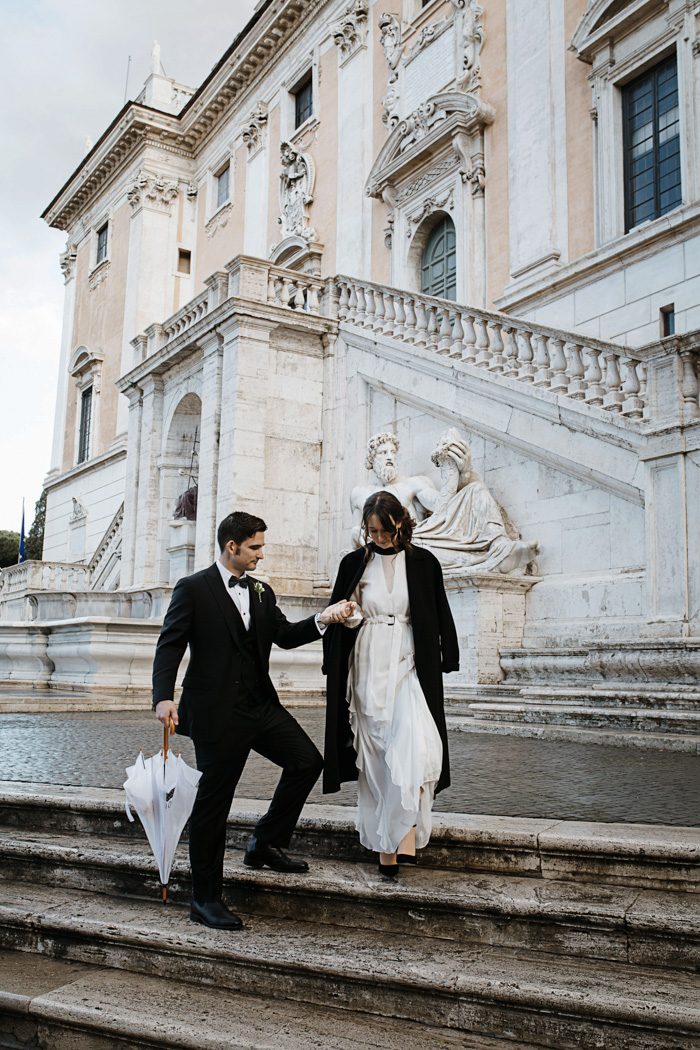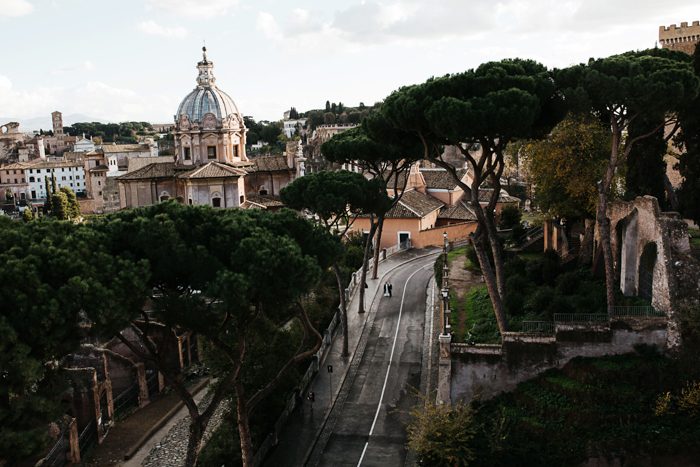 Our favorite moment of the day was honestly probably between when we stopped for beer and cannoli or when Andreas (our driver) pulled the bottle of prosecco out of the bonnet. We sat in the Fiat at the top of Rome (best view ever, by the way) and had a glass and just enjoyed being together. It was quite a whirlwind of a day, so it was nice to just stop, feel a little more normal, and just enjoy the beautiful place we were in — and obviously the food and drink!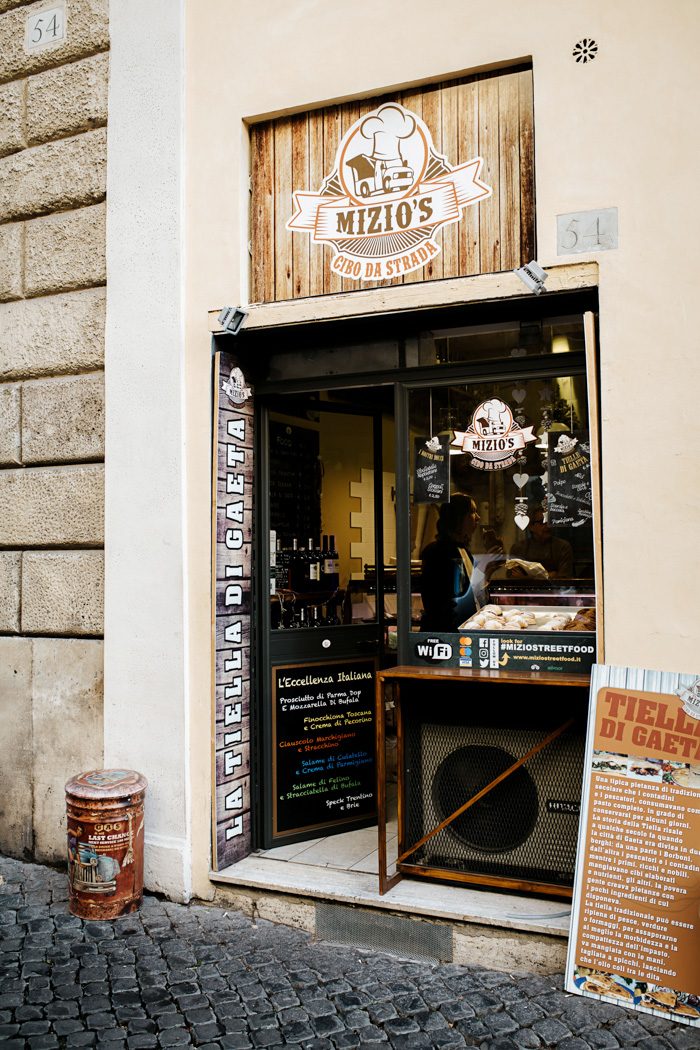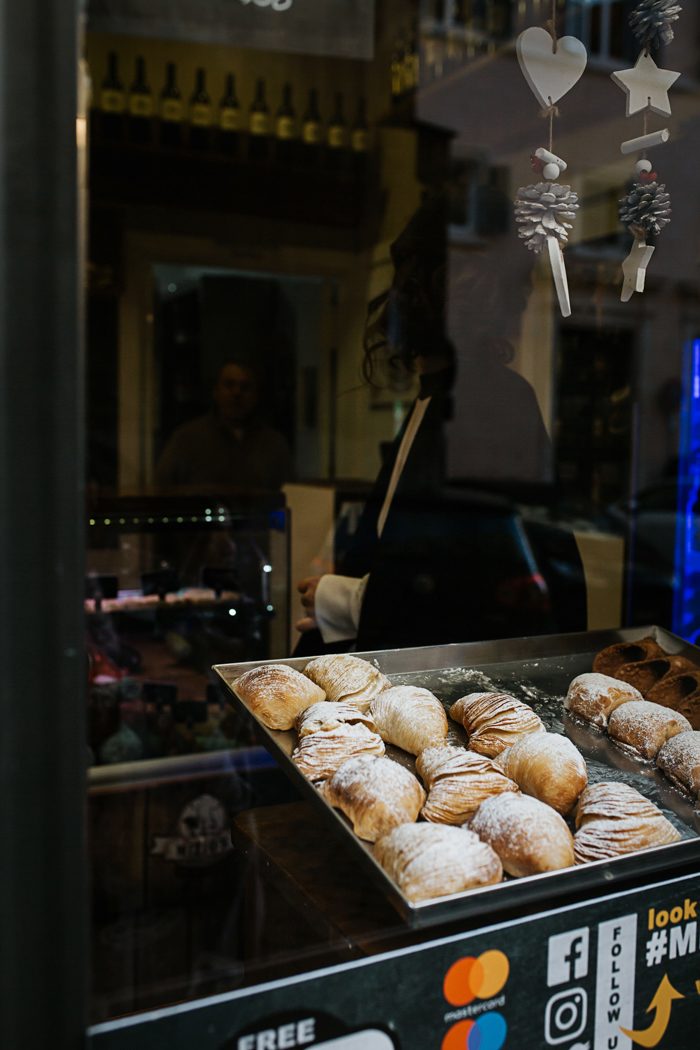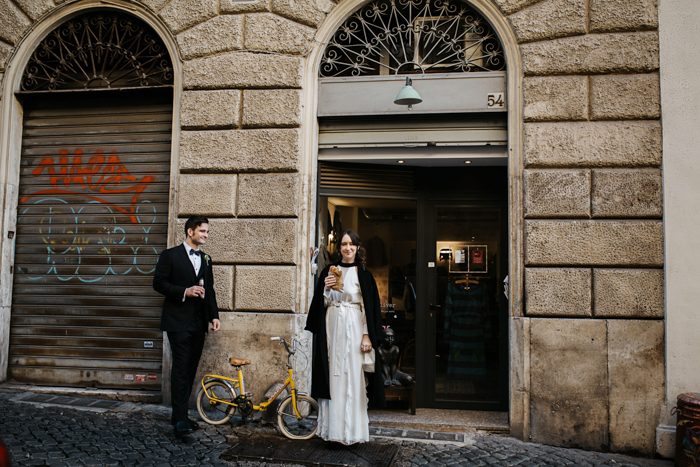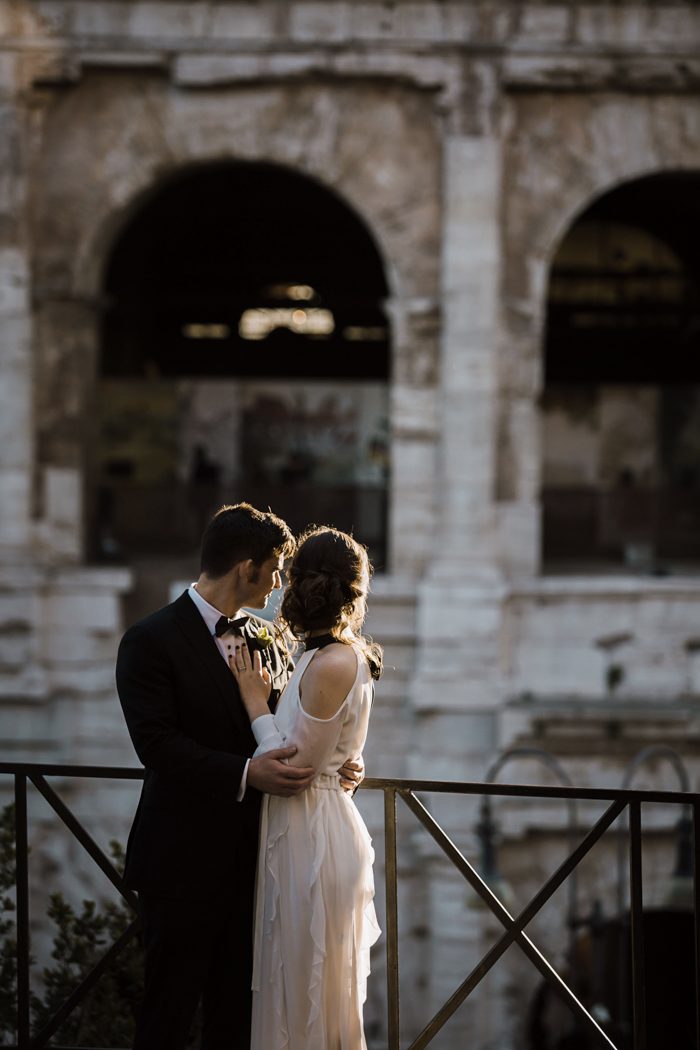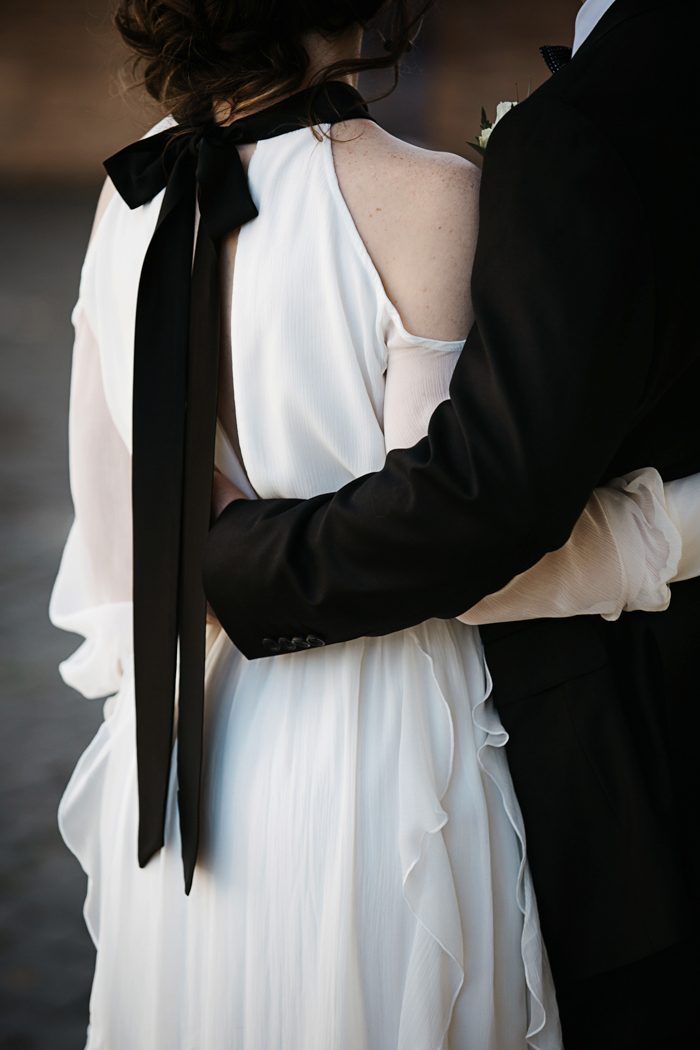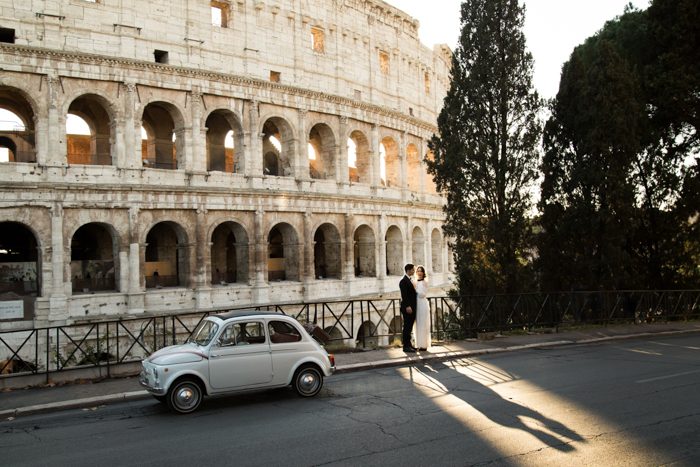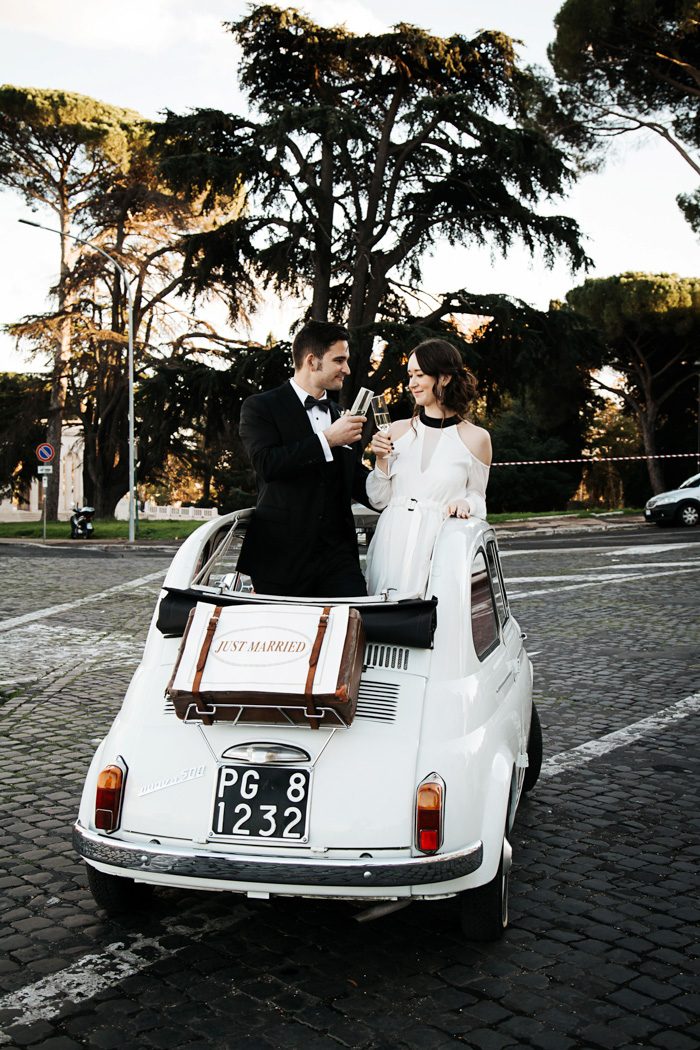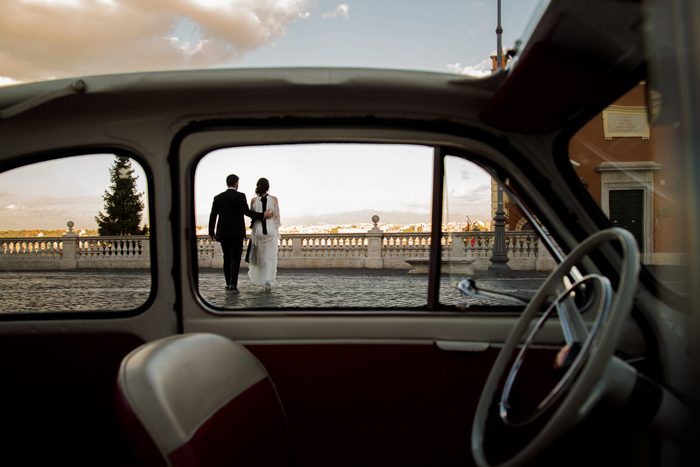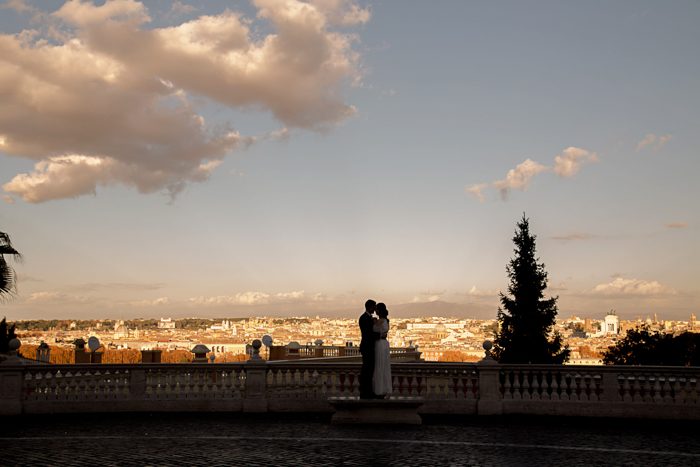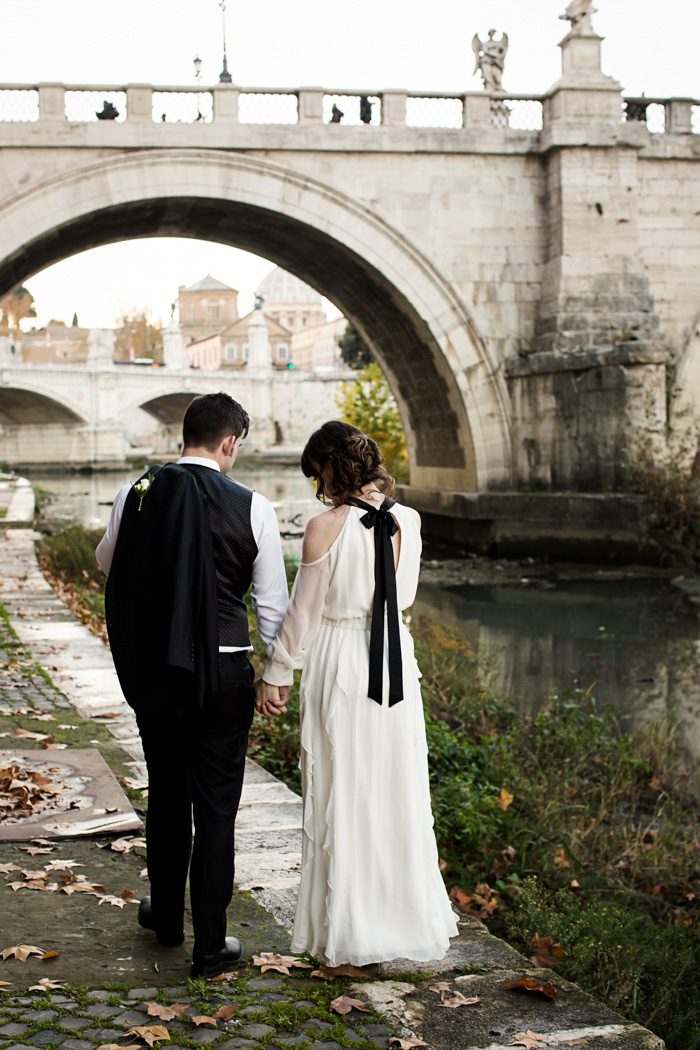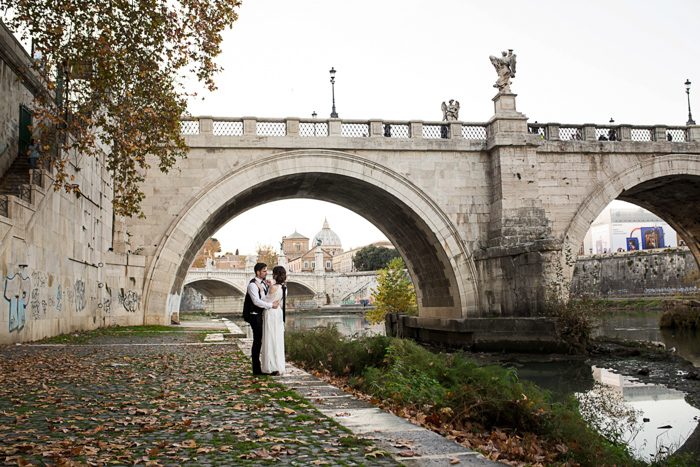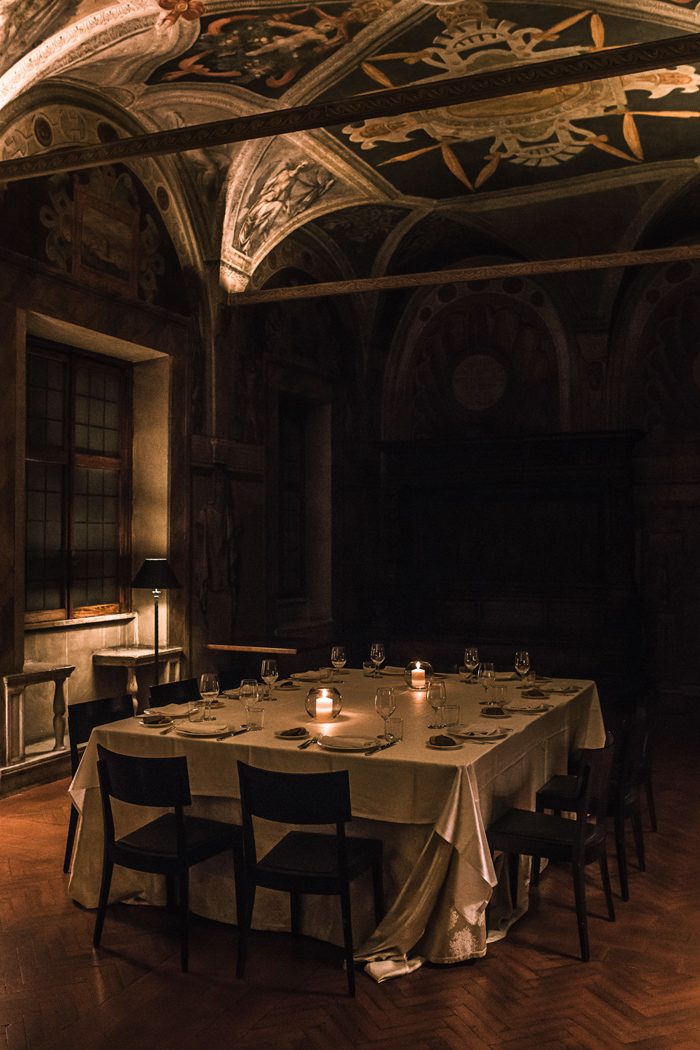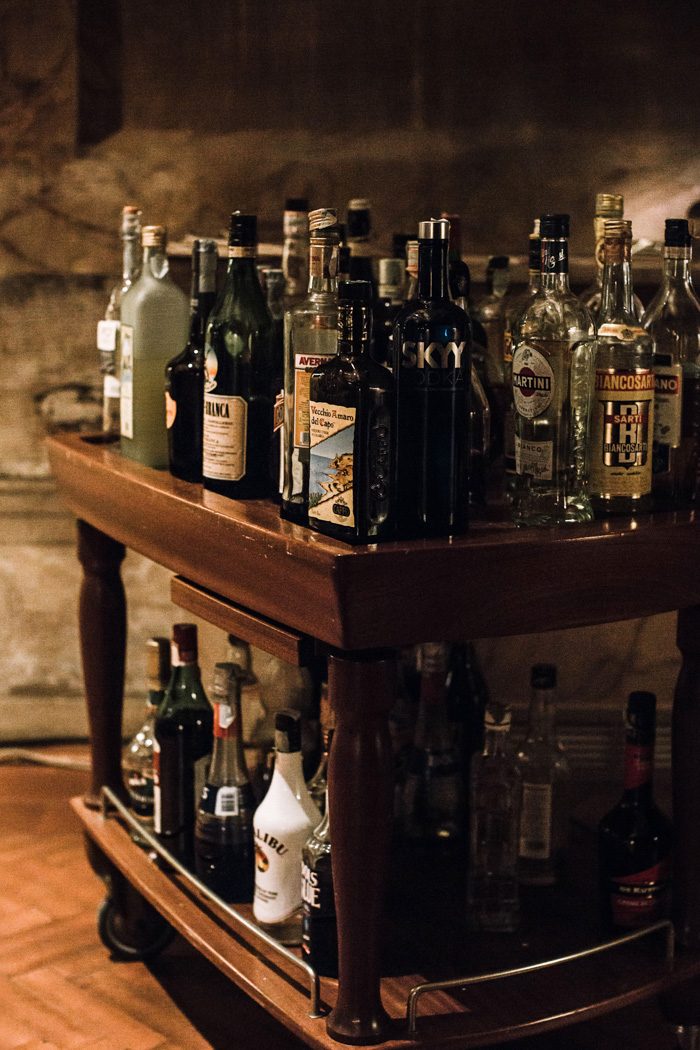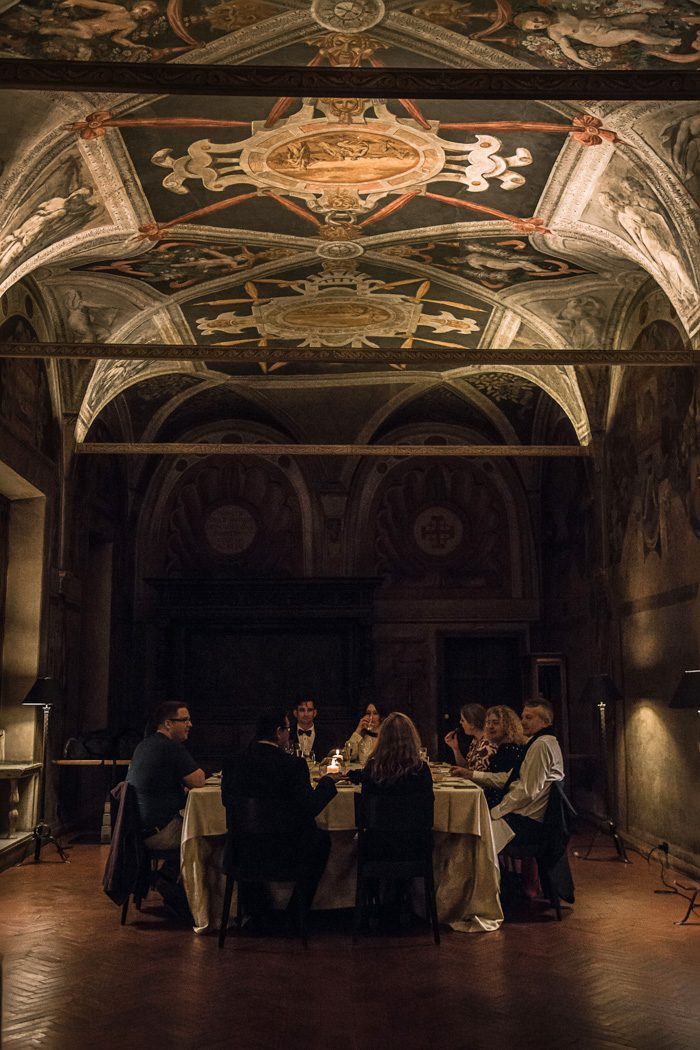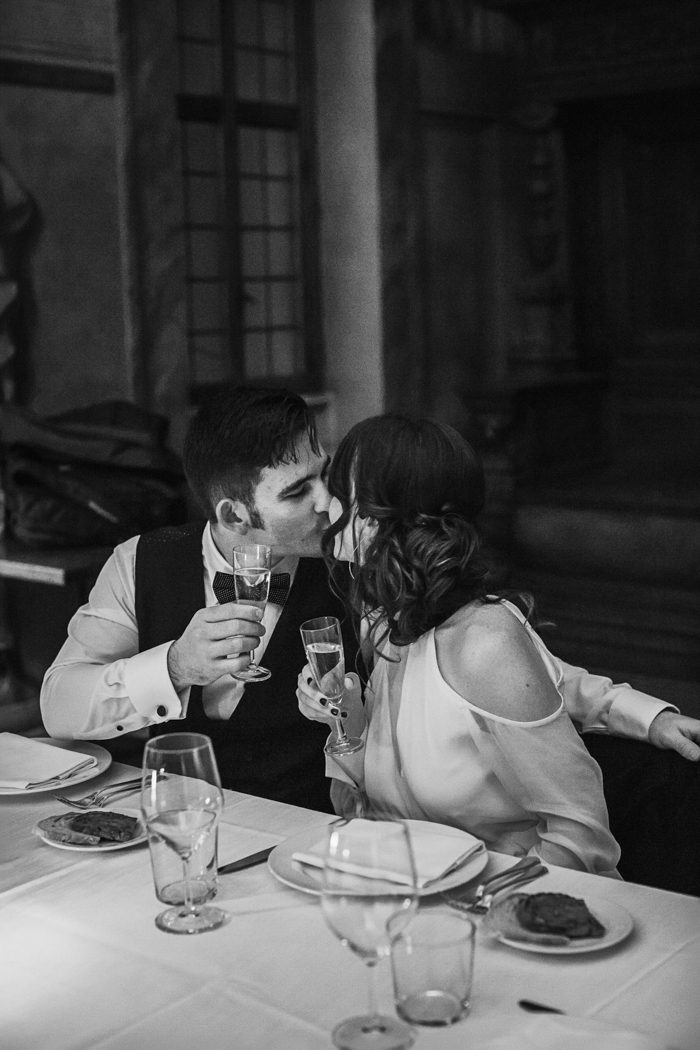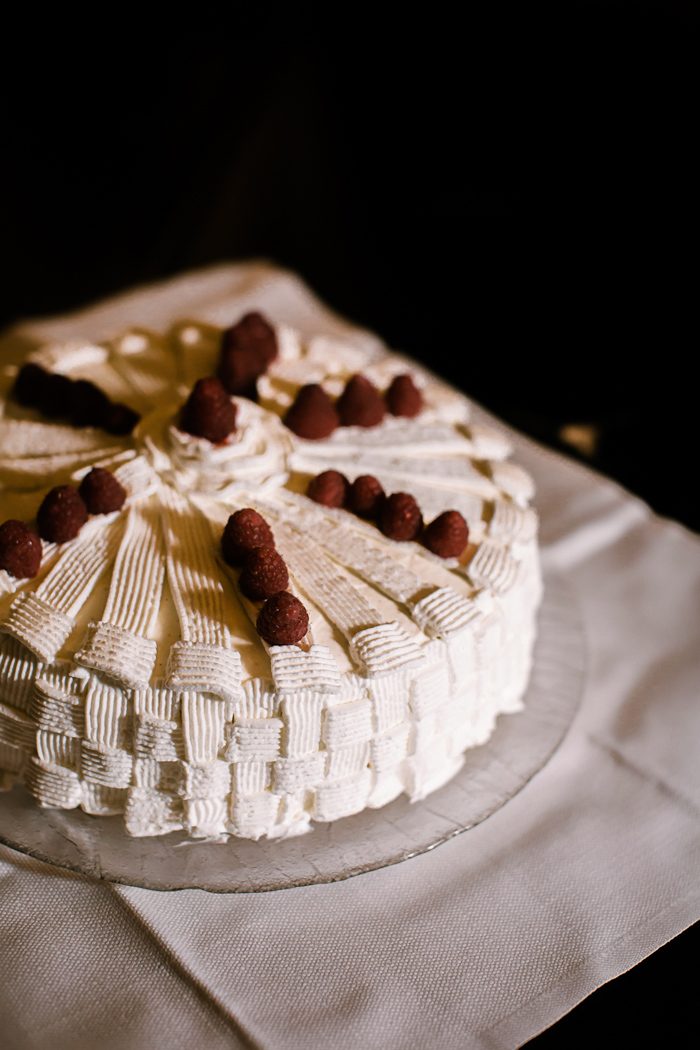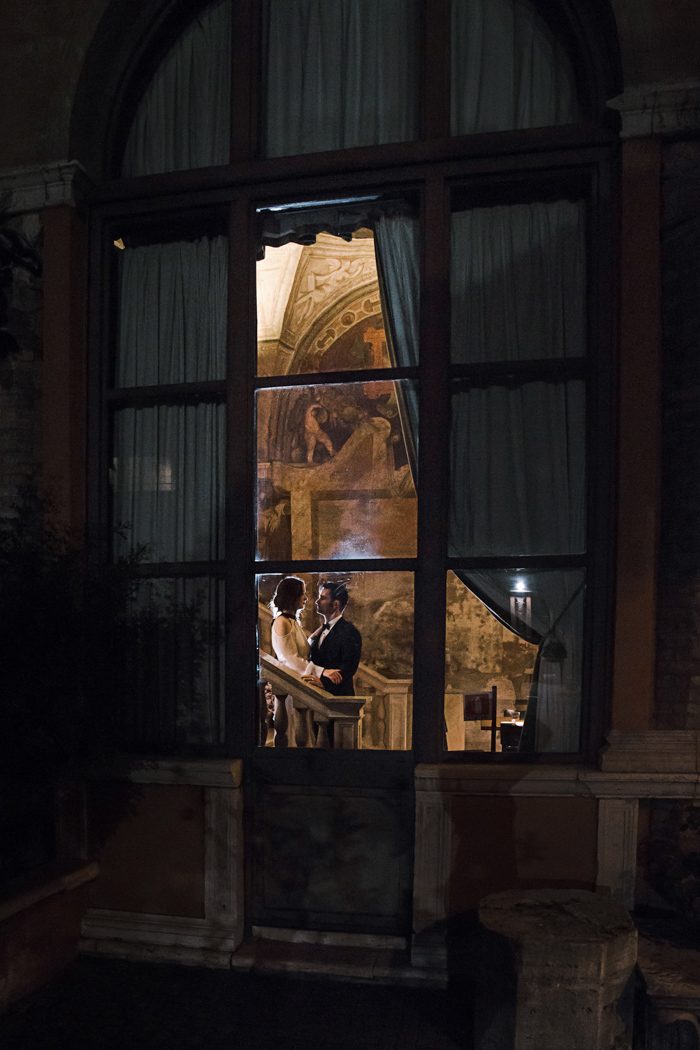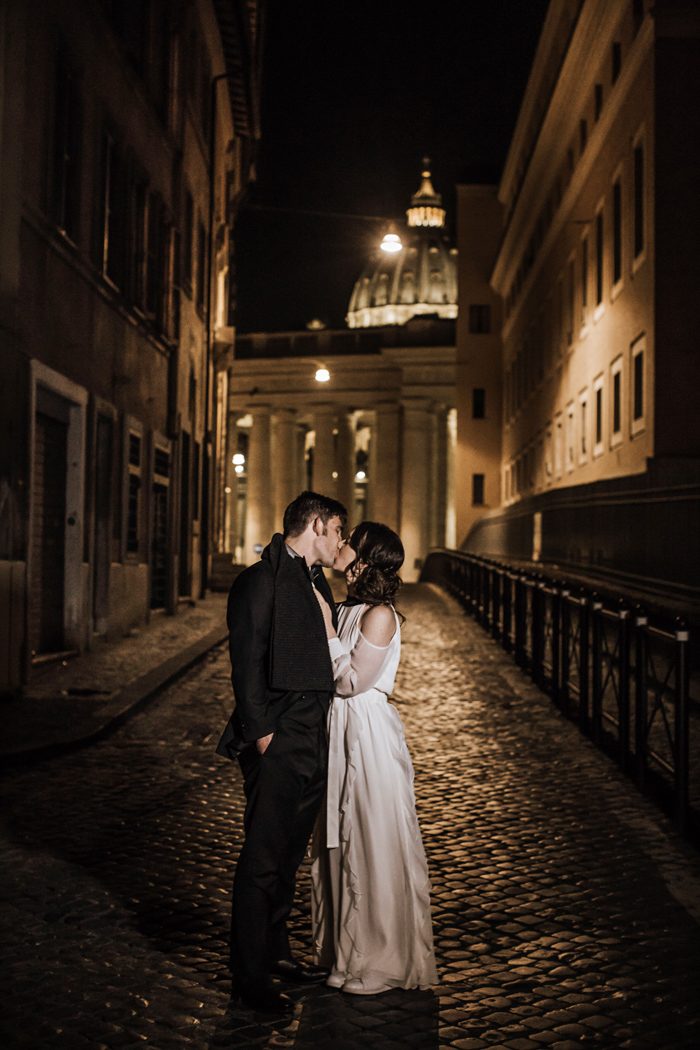 Our biggest congratulations to Sarah and Jack, and a warm thanks to Quince & Mulberry Studios for sharing this unforgettable Italian elopement in Piazza del Campidoglio with Junebug! Looking for more destination elopement inspiration? You're going to love this breathtaking Santorini elopement at Kapari Natural Resort!