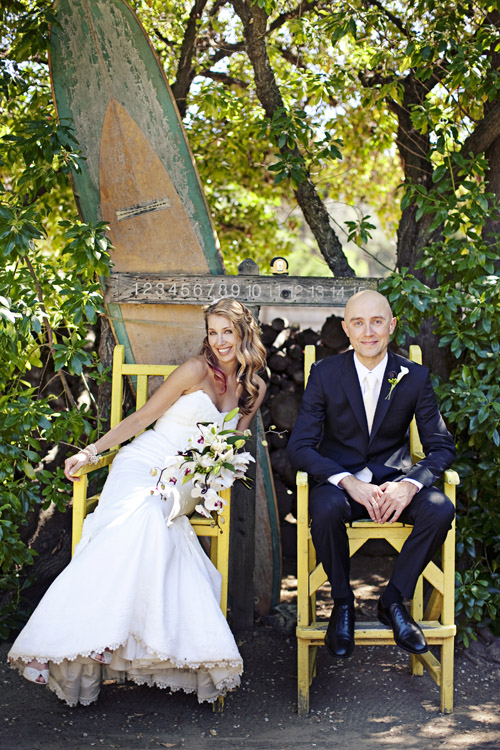 Today's real wedding, photographed by the fabulous Junebug member Meg Perotti, is a true, original, knock-out celebration! Normally I write about the weddings myself, but Alicia and Vlad put so much thoughtfulness and attention to detail into their day, there is just no way I could tell their story as well as they could. So this time I'm simply handing it over to the lovely bride, Alicia, so you can hear about their wedding experience in her own words…

The Goals: "Our main goals were to have a sacred ceremony with an inspired gathering of close friends and family, and to showcase great food and music.
We wanted a ceremony that would speak to our characters and our relationship with true intimacy and authenticity, and that was traditional yet non-religious, so we chose a close personal friend as our officiant. We included our views on the meaning of marriage, the importance of the commitment we were making, and the role the guests would play in supporting our lives. Our guests exchanged the greeting "may you be filled with loving kindness and peace," which really set the tone.
We chose to include a sand ceremony, explaining it as the embrace and acceptance of each other (all parts and history) and the merging of our two lives into one. We acknowledged the roles of key women in our lives with a surprise rose ceremony that completely delighted our mother-figures. Our friends read a poem by Mark Twain on marriage, first in English then in Russian, and my brother and his girlfriend performed a song (Lucky by Jason Mraz) about love. It was essentially a ceremony of love for a higher purpose without any particular religious affiliation. I spent a lot of time writing the ceremony, sharing it with Vlad, and then revising it with our officiant friend. I felt this was really the heart of the day and was certainly proud of it. It was actually my favorite part. After the wedding, a few of my friends told me it was the most intimate wedding they had attended, and they thanked me for making them part of it."

The Design: "One of our best decisions was having the wedding at The Holly Farm because of its beautiful and relaxed atmosphere, and because it gave us a location to bring our two families together for several days of celebration.
For the wedding color palette, I chose different combinations for each area. Our ceremony site was primarily white and cream with tiny accents of green and red. I wanted the ceremony area to be a sacred space; a fresh canvas for the start of our new life together. The Holly Farm in itself is so beautiful and lush that it doesn't need too much decorating, and we wanted its natural beauty to shine without too much extra fussiness. For the reception area, we chose brighter colors of orange and chartreuse green to generate a lively dynamic. Orange in particular is a happy color associated with creativity and sexuality which seemed apropos. We chose to display these colors with tropical flowers along side the Holly Farm's existing potted orchid plants, which was also an exotic treat for many guests from Eastern Europe who had never seen such wonders! For the dinner area, we swung to red tones, the classic color of romantic love. We selected various shades of red linens, and we lined the tables with dahlias, red calla lily, roses and other cut flowers from Kate Healey Flowers.
I selected wedding invitations from Wedding Paper Divas because of their floral element reminiscent of a Russian-motif. My husband is Russian and we wanted to celebrate that. Our wedding favors also honored Vlad's Russian heritage. I found nesting (matreshka) dolls that could be custom made from Golden Cockerel. I sent them photos of us for the first doll, and we included a ski mountain with a snowboard and skis (each of our favorite sports) on the second doll, and painted apples symbolizing fertility on the tiny third doll. I decided to keep them a surprise for everyone, including Vlad, and people were really delighted! My aunt made olive leaf pins with berries as a gift for all the guests to wear. I wanted everyone to feel part of the wedding so I enlisted her talents. Our wedding cake was European-style with two flavors – genoise cake layered with lemon cream and fresh raspberries, and genoise cake with chocolate mousse. It was excellent and our only criticism was that there was not enough for seconds! We can't wait for our first anniversary to order a fresh cake from Parker-Lusseau Pastries."

The Look: "I was going for a personal bridal look of natural beauty with enhanced features like beaming eyes, softly tousled hair, classic pearls and nude lips. I was moved by the style of old Hollywood glamor. It seems elegant and timeless to me, and something that could be achieved with grace. I wanted something real that reflected my own style on its best of days. The dress I found was linen with Venetian lace, with a sweetheart bodice and a sexy, classic overall shape from Priscilla of Boston. My something old was part of my hair clip, which was worn by my stepmother on her wedding day to my dad. My brother's girlfriend reworked it for me into something new, my something borrowed were earrings, and my something blue were sparkly "I-Do" rhinestones we stuck on the bottom of my shoes.
We had a very small wedding party, just one attendant each, my sister and Vlad's best friend. I wanted my sister to really stand out so I chose a red dress for her; it was long and classic in a crinkle chiffon, and she added a short-sleeve, cropped, beaded bolero jacket in a pale pink. The best-man wore a black suit with a red tie we chose for him, subtle yet funky reptile wing-tip shoes, and at the reception he also rocked his white sunglasses."

The Moments: "Some of the most memorable moments were speaking our vows during the ceremony, cutting the cake, and all the ways Vlad's family and friends enjoyed and participated in the event. The best man's toast was translated into Russian by another friend and it included at least twice as many words as the English version. Everyone thought he was embellishing, including the best man; it was hilarious! Being pronounced Mr. and Mrs. Vlad Volkov is an American tradition and the Russian guests found it very funny; they kept teasing us and we laughed about it throughout the night. A large group of Vlad's friends sang a Russian song "we wish you happiness in this large world" at the spur of the moment during the toasts and there were many chants of "Goika" during dinner which means for us to kiss, longer and longer each time!
I will never forget being presented a painting by Vlad's dad and step-mom as our wedding gift. It contained our likenesses on a giant peach (looking like figures on the cover of a romance novel) and Vlad's parents riding on a lobster. It's hard to describe and nearly overwhelming to take in on first look. It's somewhere between totally nuts and totally great!
The most sentimental moment was the kiss after being pronounced man and wife."
The Pros: To learn more about all of the wedding professionals who helped bring this wedding to life, please visit our Real Weddings section.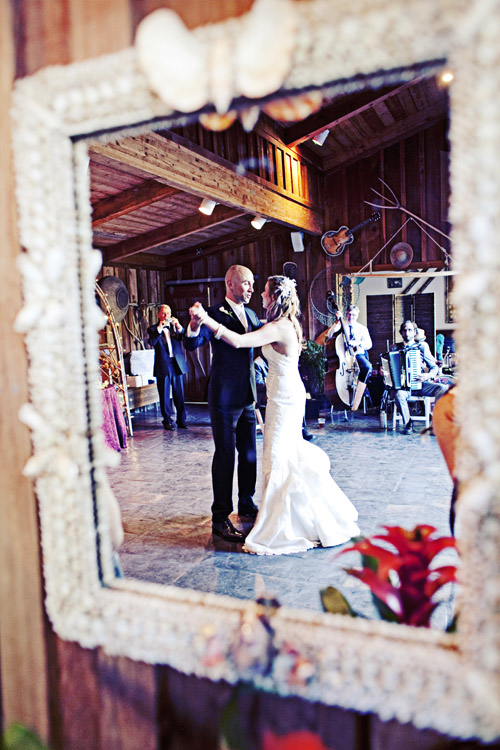 Thank you so very much Alicia and Vlad! What a wedding!
To learn more about Meg Perotti and many other top wedding photographers, don't miss our World's Best Wedding Photographers Hotlist!