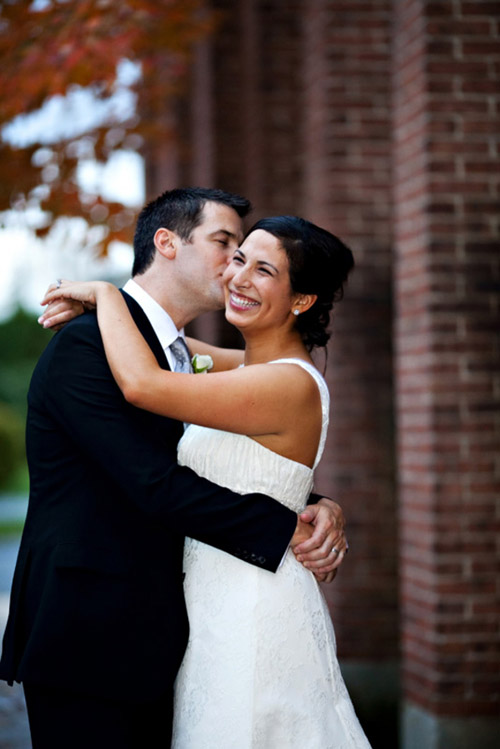 The couple: Kathryn and James

The Wedding: 10.24.09 – Carlisle Ribbon Mill, Carlisle, PA
What three adjectives that best describe your wedding? Personal, moving and fun!
What inspired your personal wedding style, and how did you incorporate your style and personalities into your big day? We wanted to incorporate my small town roots in Carlisle with a global and urban feel because of our travels around the world and life now in Atlanta. For our venue, we knew we were not hotel ballroom nor country club people. We looked at a few museums, B&Bs, a performance center and art gallery before deciding on the Ribbon Mill which is a historic space but also served as a blank canvas. The feeling we arrived at was "urban chic." Even though we were in a small town in a rural area, our reception could have been in a loft in any city. We also tried to bring some of the fall look inside especially with our branchy centerpieces. The space felt raw and unfinished and I wanted to play off that, not compete with it. I was insistent on the strings of car lot light bulbs, even though that was quite labor-intensive, and I think it added so much to the ambiance, complimented the high ceilings and photographed beautifully!
As far as the theme, our number one goal was to be personal and true to ourselves to the point that our guests would walk away having learned some things about us. That's why we incorporated New Orleans, also James' years in Miami (the lounge area was supposed to be South Beach-y) my Chinese heritage (the menu), our travels in Latin America, etc. I spent six years in New Orleans (attending Tulane and 3 years before and after hurricane Katrina) so I definitely have strong feelings about the city. We also had about 20 guests who have also lived in New Orleans at one time or another. The Second Line parade is characteristic of any big celebration and I knew it would be even more unique transported to PA. It did require some explanation in the program but I think people got really into it!
Other details: We also thought it would be fun to set up the photo booth with costumes and that turned out to be a huge highlight. Our signature drinks represented New Orleans, our home in Georgia and one non-alcoholic drink in light of the fact that the groom does not drink. We did not have a wedding cake but chose a pie bar for dessert instead. We felt there was no reason to include traditions that didnt resonate with us, so we veered off the path of whats expected quite a bit!

Looking back, what are the moments, decisions or memories that you love the most about your wedding? In the ceremony, we did a musical moment of remembrance for the brides sister and grooms father who have passed. Because it was raining and I couldnt enter the church from outside, I was huddled into a space in the choir loft listening to the preludes and waiting for my grand entrance. Surrounded by my father and my sister/maid of honor, we got to have a special quiet family moment together thinking about my sister Melissa who was with us in spirit.
Finally, I loved that everyone, all ages, danced all night. The music was a great mix, everything from oldies to some new stuff at the very end. Weve been to other weddings where the younger folks dominated the dance floor and the older people sat in the corner and just watched, so we really loved that everyone got to participate!
Wedding color palette: All very neutral – mostly ivory to match my lace dress.

The Wedding Team:
Photographer: Artstar by Laura Stone
Event Planner: Susan Moran of Weddings by JDK
Ceremony Venue: First Presbyterian Church
Reception Venue: Carlisle Ribbon Mill
Officiant: Rev. John Jack Larson
Invitation Designer: Jeannie Hayes, Invitations Galore and More, Roswell, GA
Catering: JDK Catering
Florist: Bouquets by Blooms, Centerpieces by Weddings by JDK
Cake: pie bar by Weddings by JDK
Wedding dress: Ceremony gown Mori Lee by Madeline Gardner from New Natalie's Bridal, Reception gown Nicole Miller from www.ruelala.com
Bridal accessories: Shoes Cole Haan, Earrings borrowed from a friend.
Bridesmaids apparel and accessories: Dress from Celebrity on Paces, Atlanta, GA
Groom and groomsmen apparel and accessories: Grooms suit Hugo Boss from Macys, cufflinks from Bluenile.com
Hair and make-up: Hair by Salon Didia, Carlisle PA, Makeup done by friend
DJ: Tim Delp and Bill Dietz booked through BRP Entertainment
Live music: Vivace String Quartet and Canal St. Jazz Band also booked through BRP Entertainment
Dance instruction: Amy Elliott of Mr. Twinkle Toes, Atlanta, GA
Favors: Second Line handkerchiefs
Rings: Shane Co.
Thank you so much Kathryn and James! Such a fun wedding!
To find inspiration for your our personal wedding style, don't miss our wedding image gallery!
All images above by Artstar by Laura Stone