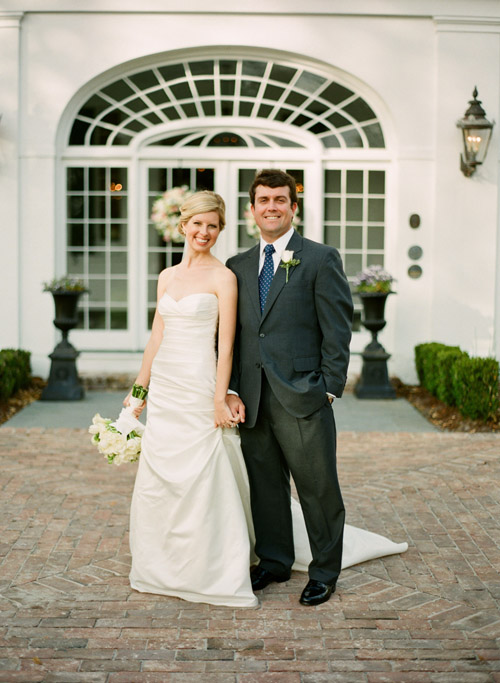 The Couple: Jessie and Jeremy
The Wedding: 3.5.11 – Lowndes Grove Plantation, Charleston, South Carolina

What adjectives that best describe your wedding? Low-country, elegant, timeless, natural.
What inspired your personal wedding style, and how did you incorporate your style and personalities into your big day? Jeremy and I both wanted to be on the water when we got married. We chose Lowndes Grove as our venue because it not only offered the coastal feel, but it provided traditional and historical appeal. I had a simple wedding style in mind–three staple colors of ivory, navy, and grey with pops of pale pink. This color scheme set against the backdrop of a river-front plantation sparked the ideas for the rest of the wedding. We showcased our happily married parents with their wedding photos on display in classic silver frames, served a low-country spread as well as Tex-Mex fajitas, and had a hint of our future Texas move. The ceremony was decorated with lanterns, a fire pit, and candles to elicit a soft-toned, yet comfortable vibe. From the silhouettes of our dresses to the entryway adorned with breathtaking floral wreaths, our wedding took on each of our personalities. Our happiness radiated throughout the ceremony and reception, especially when we were able to overlook the water, and there we were among our closest family and friends. What more could couple want for the start of their lives together?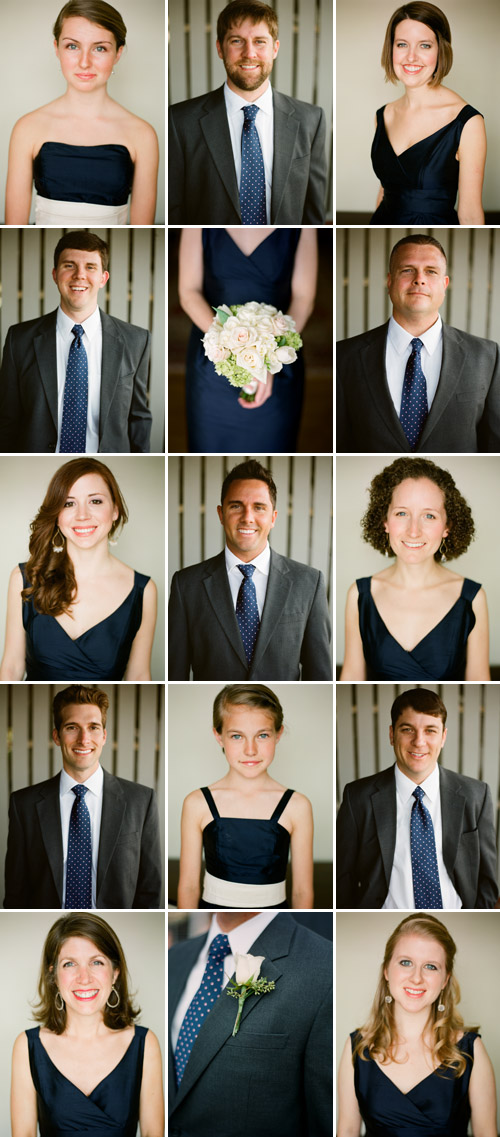 Looking back, what are the moments, decisions or memories that you love the most about your wedding? Our most cherished memories happened with our photographer present–taking the bride and groom portraits all over this estate really made us reflect on how special the day was– we would never be in such a setting again! Also, catching Jeremys eye for the first time as I walked down the aisle will forever stand out in my mind. His face mirrored the joy I felt in my heart. Jeremy and I wanted to keep the wedding to about 100 guests. This was probably our best and most important decision–after the ceremony, we spent the rest of the night celebrating with our closest friends and family; we were able to talk to everyone, eat a plate of food, and dance the night away!
What were your wedding colors? Navy, ivory, and grey with pops of pale pink.

The Wedding Team:
Photographer: Virgil Bunao – Fine Art Weddings
Event Planner: Sara Hosch of Southern Protocol
Ceremony and Reception Venue: Lowndes Grove Plantation
Officiant: Matt Letourneau (bride's cousin-in-law)
Invitation Designer: Crane
Catering: Fish Restaurant
Florist: Benny Campbell of Attalla Florist
Cake: Fish Restaurant
Wedding Dress: Jenny Lee
Shoes: Kate Spade
Bridesmaids dress: Lula Kate from Bella Bridesmaid
Groom and Groomsmen Apparel and Accessories: Joseph A. Banks
Hair and Makeup: Kimberly Rothamel Morgan of Bob Steele Salon
DJ: Skate Rink Jukebox
Live music: Charleston Virtuosi
Transportation: Charleston Black Cab Company
Favors: Southern Sisters Bakery
Thank you Jessie and Jeremy for sharing your beautiful memories with us!
If you like these wedding colors, you can find more navy blue wedding color ideas in our wedding photo gallery!