Liz and David's navy and pink garden wedding took place at the bride's adorable childhood home in Ohio. Vintage jewelry and antique furniture added to the whimsy and nostalgia, and I absolutely loved the way they transformed their garage into a sweet Southern Parlor where guests were served rum punch during the cocktail hour. All the charming details and relaxed glamour was beautifully captured Levi Ely of Ely Brothers. Trust me, you're going to love this one!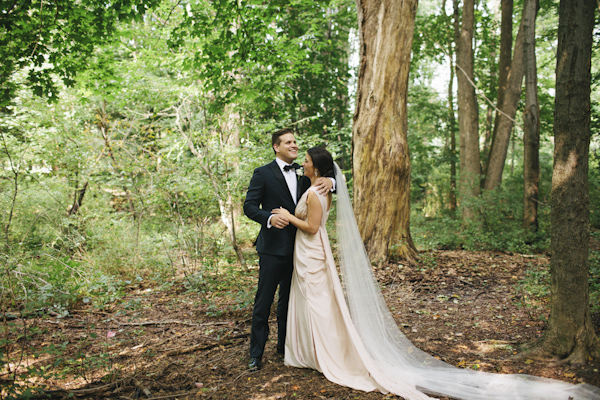 The Couple: Liz and David
The Wedding: 8.31.13 – The Church of St. Mary and Bride's Family Home, Chardon, Ohio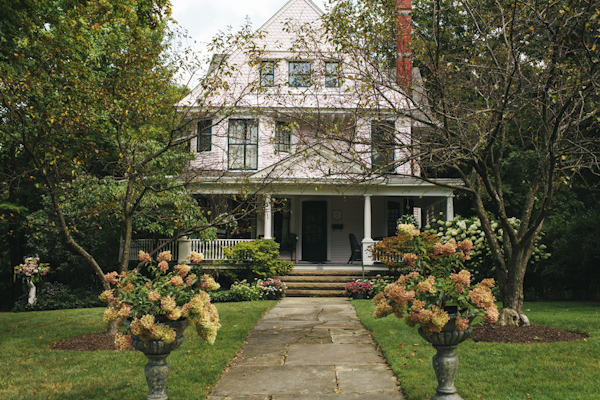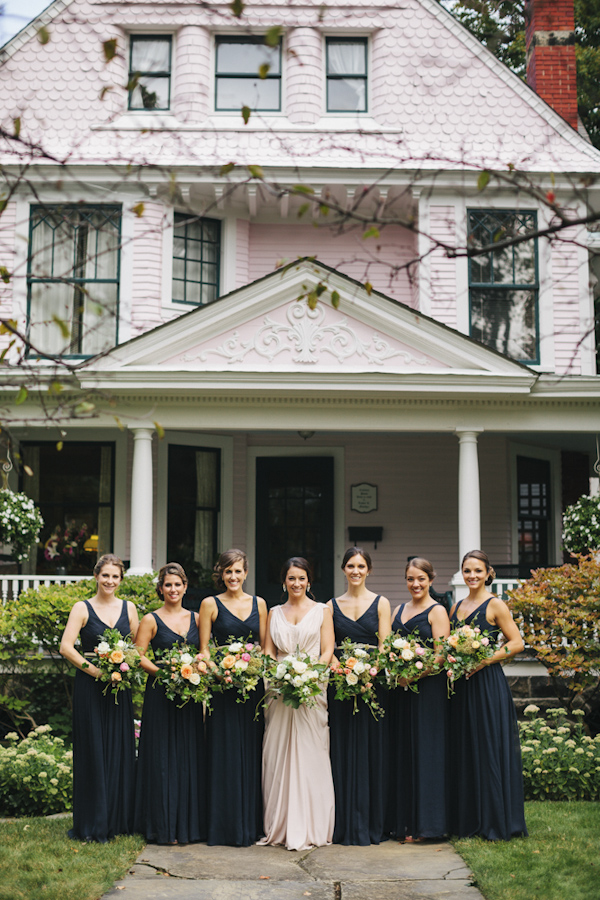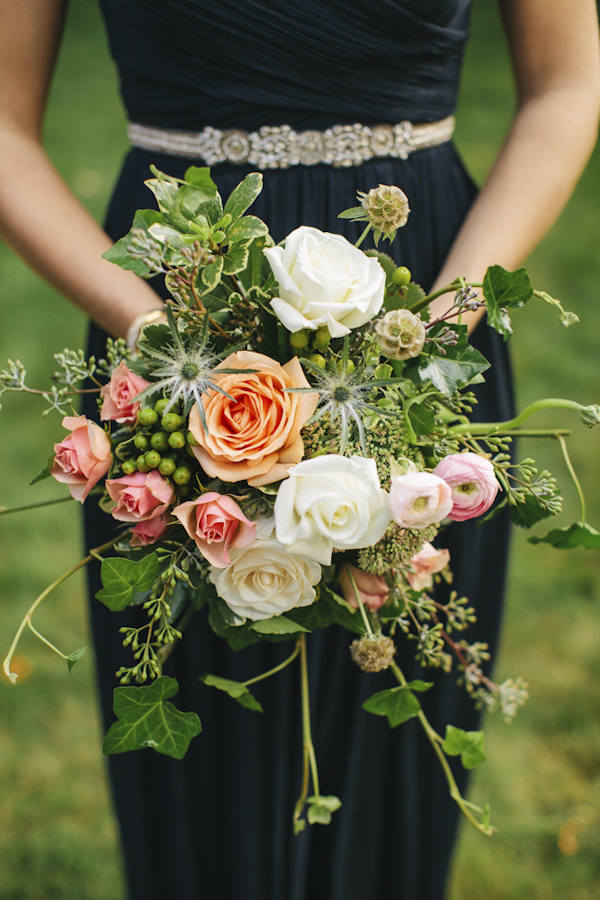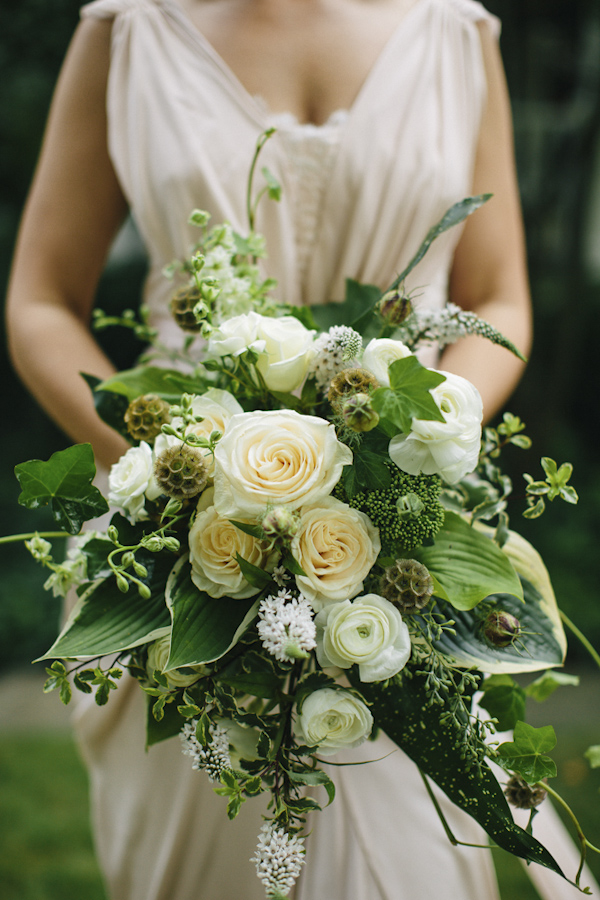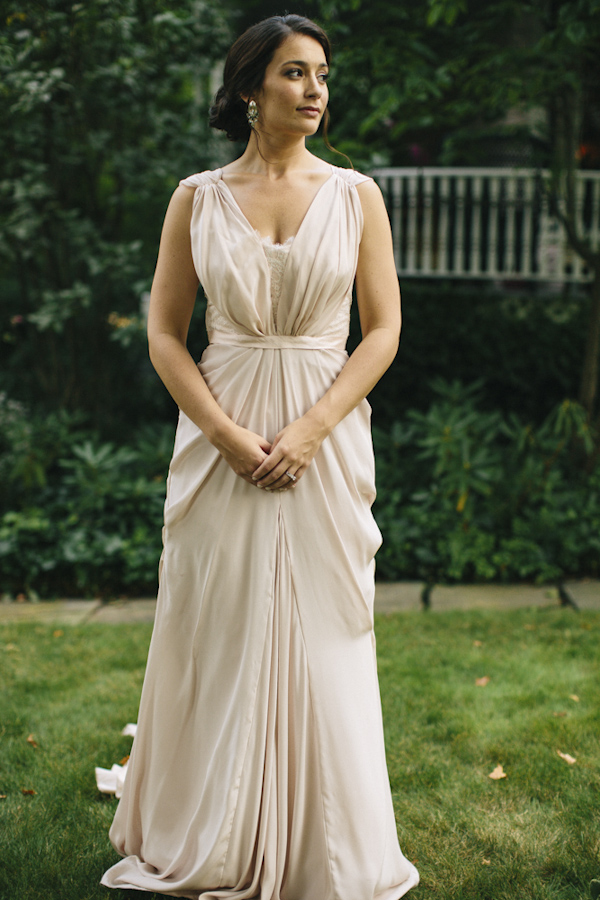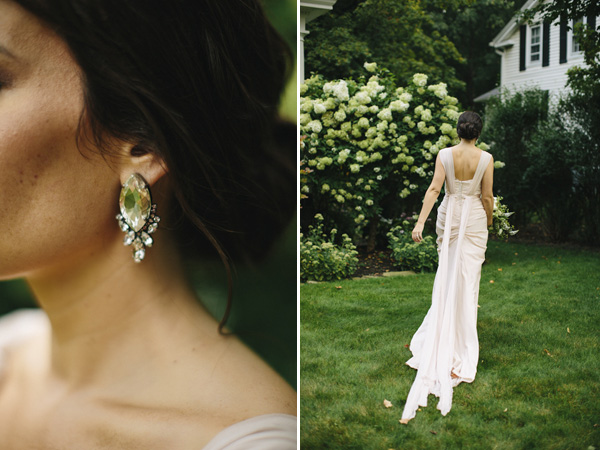 The Inspiration: For decor, we took inspiration from my family's childhood home. I was born and raised in this home which is located off of an old town square in a quaint little Ohio village. The Victorian house I grew up in was built in 1894 and my family is only the fourth family to ever live in it. My parent's have spent the past 30 years making it their own, apparently the process of renovating a century home never really ends. The color of the house is light pink with dark navy trim. I used these colors when designing my wedding stationary, which I sketched in ink and then was translated into a letterpress print by one of my bridesmaids. I also took much inspiration from my mom's garden. This is where she spends most of her time (when it is not snowing in Ohio). It is filled with perennial's from our great grandmother's gardens that have been passed down from generations. From there, wanted to take the vintage garden feel, and add an elegant (but not stuffy) garden party twist to it. The groom's family is from Alabama and Mississippi. We also added southern elements to our day to honor his family who was traveling so far to be there with us on our big day. Our signature drink was a bourbon version of St. Cecilia's punch which was a HUGE hit and was self serve from a punch bowl. We collaborated with my Aunt to create a mouth-watering, Southern-inspired menu that included grilled chicken, pulled pork with red AND white BBQ sauces from Big Bob Gibson's (Huntsville, AL), cornbread, deviled eggs and even a red velvet wedding cake.
Overall not only was the day about the two of us but we wanted to celebrate two great families coming together and celebrating their history while looking towards our future together.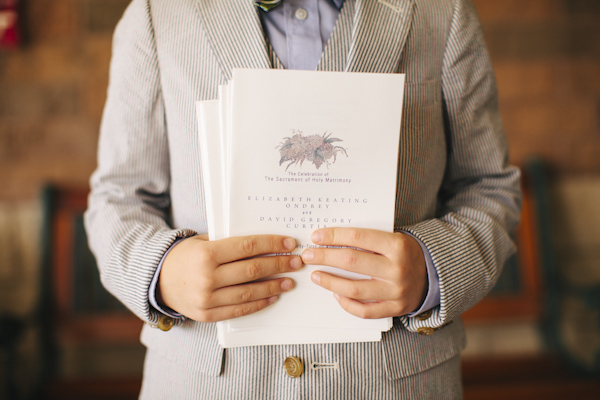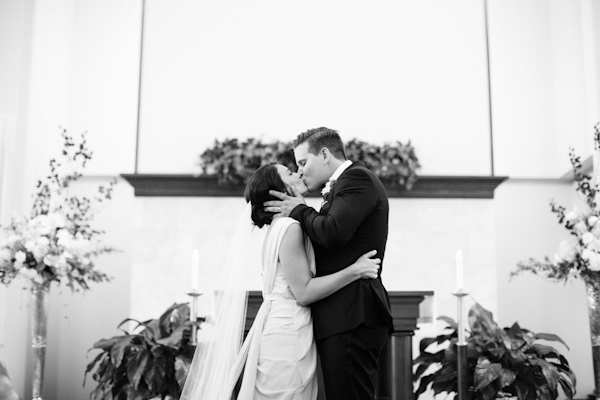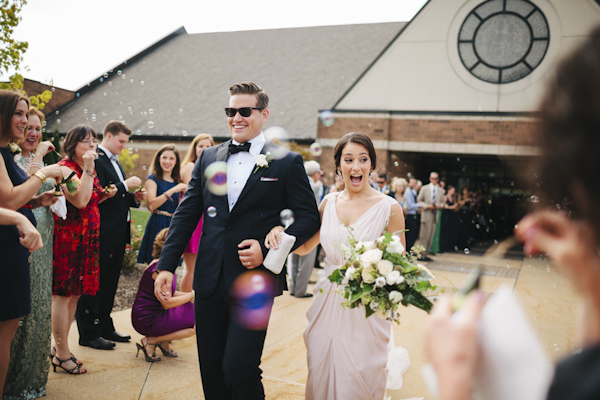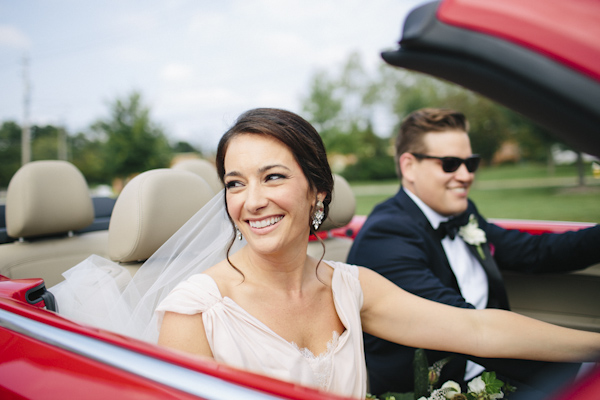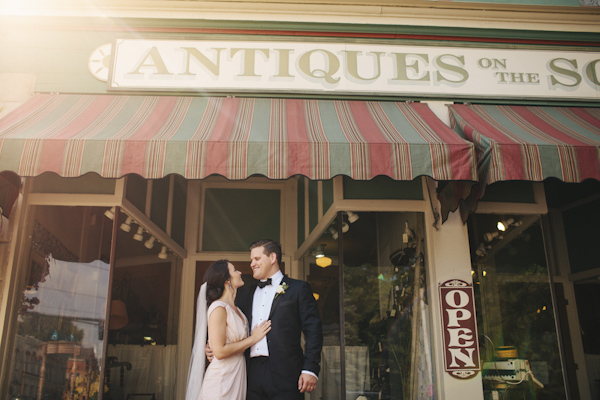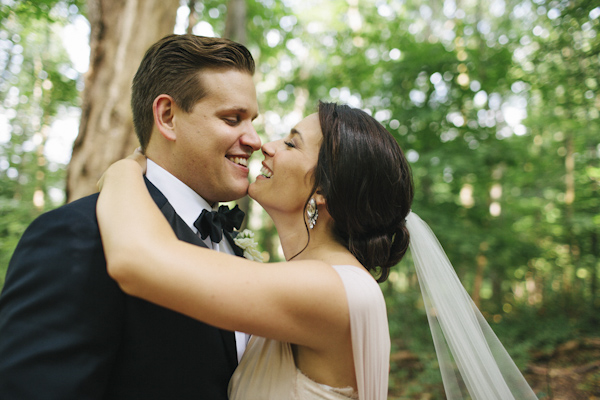 The Location: We were married at the Catholic Church I grew up attending which was very special. The fact that the reception took place outside in my childhood home's backyard made the day even more memorable. We would not have had it any other way.
The Design: This was a true DIY wedding day. From my jewelry, to my dress, to the menu, to the flowers and the decor – our extended families generously accepted the challenge to help design and execute our vision. It's one of the benefits of coming from a large and very talented group of people.
One of our favorite elements of the day was where our signature drink and escort cards were placed. We wanted to create an impactful entrance to the reception. We ended up turning my parent's detached garage (which once was the carriage house) into a Southern Parlor. We decorated it with vintage pieces all gathered from my extended family which included an oriental rug, candles/lanterns, my great grandfather's armoire, my family's old kitchen table, and most importantly, all the framed black and white photos of our parents, grandparents and great-grandparent's on their wedding days. Not only did the room look amazing it was also the most meaningful to us and our families.
Our flowers were designed by a close friend of my grandmother's, Tom Bryant. Tom is in a league of his own when it comes to event and floral design. My Aunt Sarah also played a heavy hand in making our floral arrangements as beautiful as they were. We borrowed all her vintage silver pieces to complete the look and she worked her magic to provide florals that looked as if they were plucked effortlessly from the garden – They were not, it tooks days (and a lot of blood sweat and tears) to get them to look that way!!!).
One of my favorite projects of the wedding was the designing of my dress. I was not having any luck finding a gown I loved while shopping at the bridal boutiques in Chicago where I live. I came across the oh-so-talented Veronica Sheaffer. We hashed out the gown while we sat in her chic Chicago studio and the rest is history! She created the most beautiful gown I could imagine and I felt so special and unique the moment I slipped it on.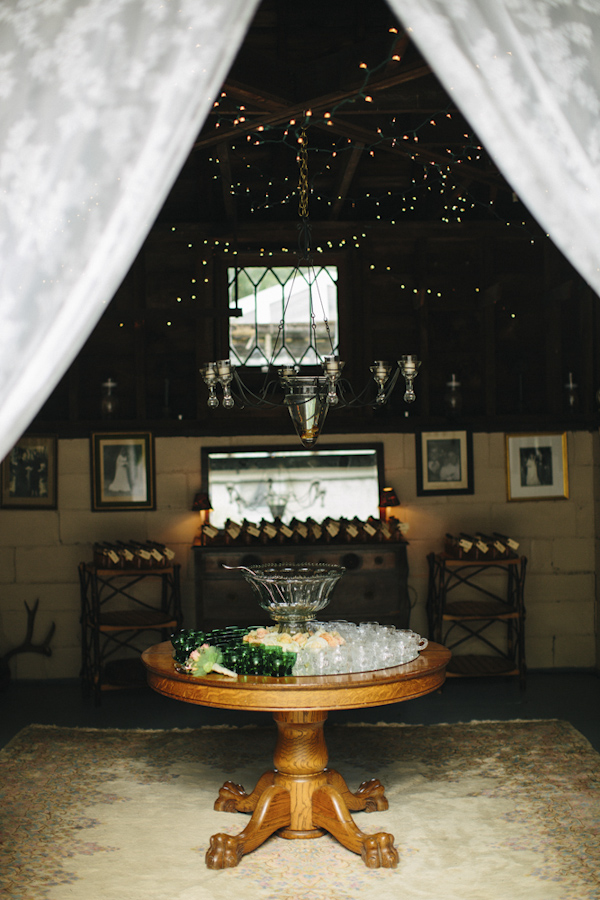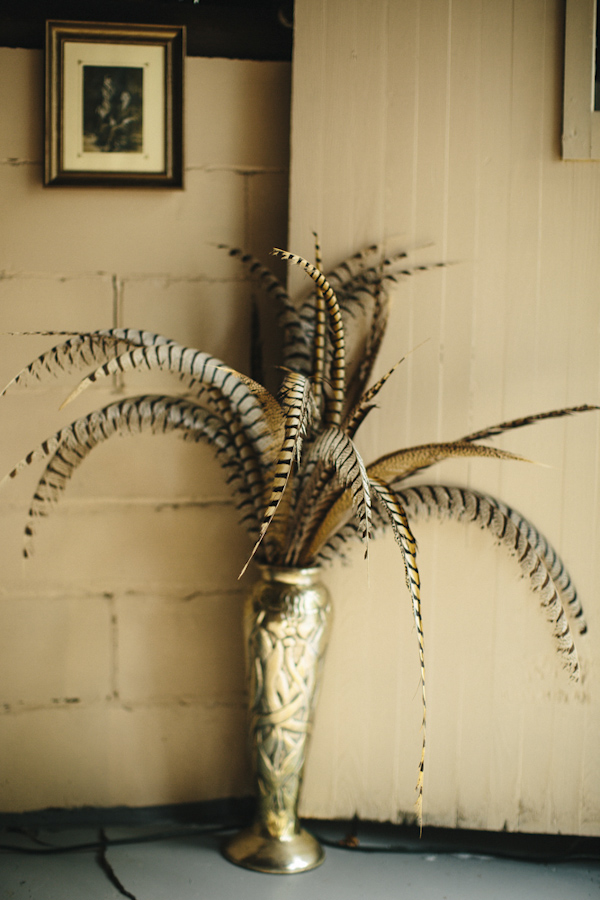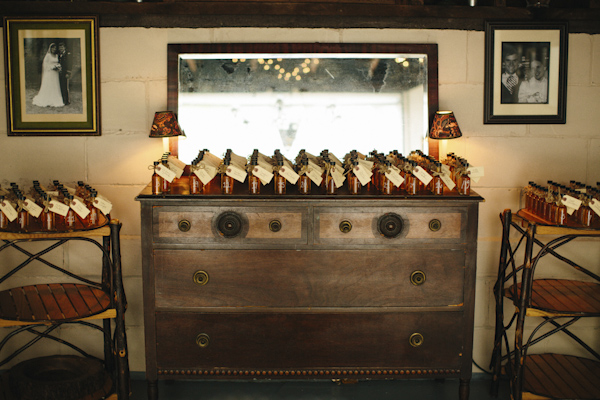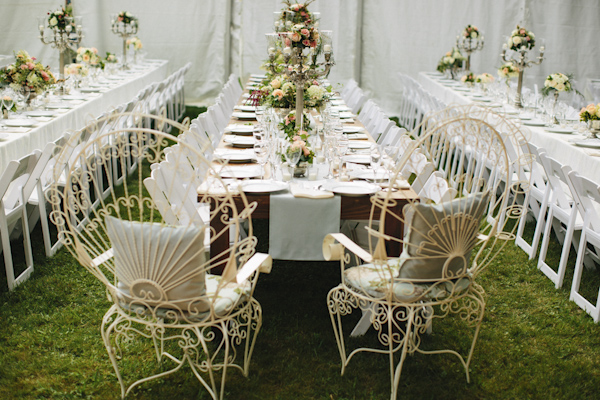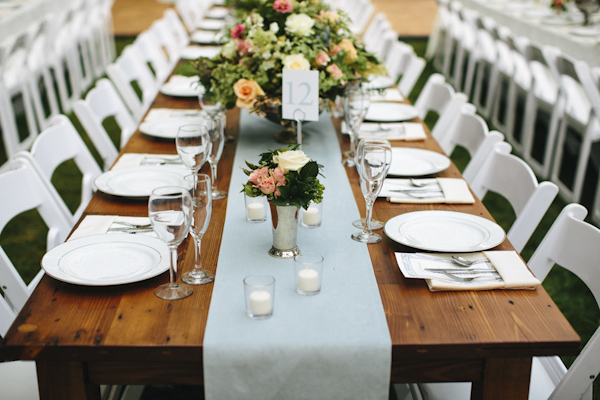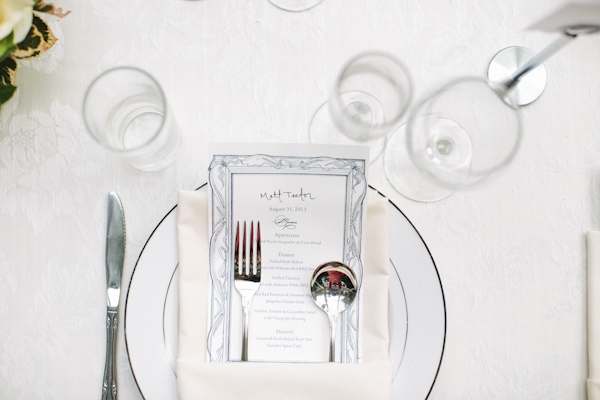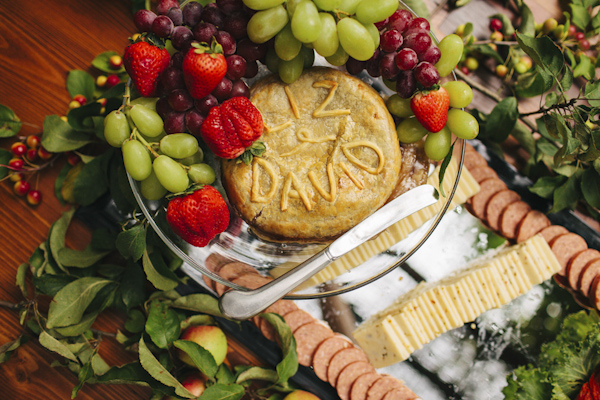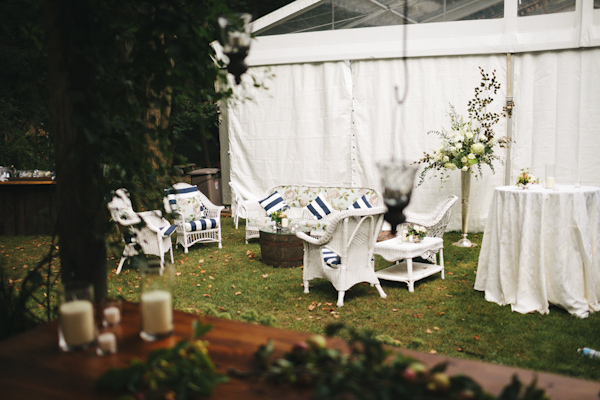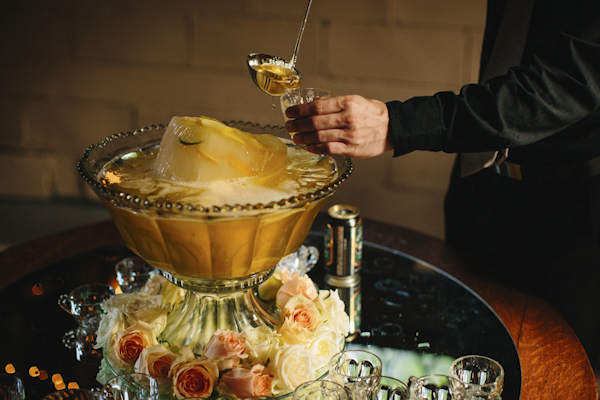 The Moments: As a couple, one of the things we enjoy most is cutting a rug on the dance floor. David has moves like none other, which usually makes me laugh uncontrollably. Lucky for us our band, MojoFlo, was bringing down the house that night. The stressful parts of a wedding day were behind us, and now it was time to kick back and relax. The most memorable part of the day was when my father broke it down on the dance floor to "Lose Yourself to Dance" by Daft Punk. We've never seen him move like that!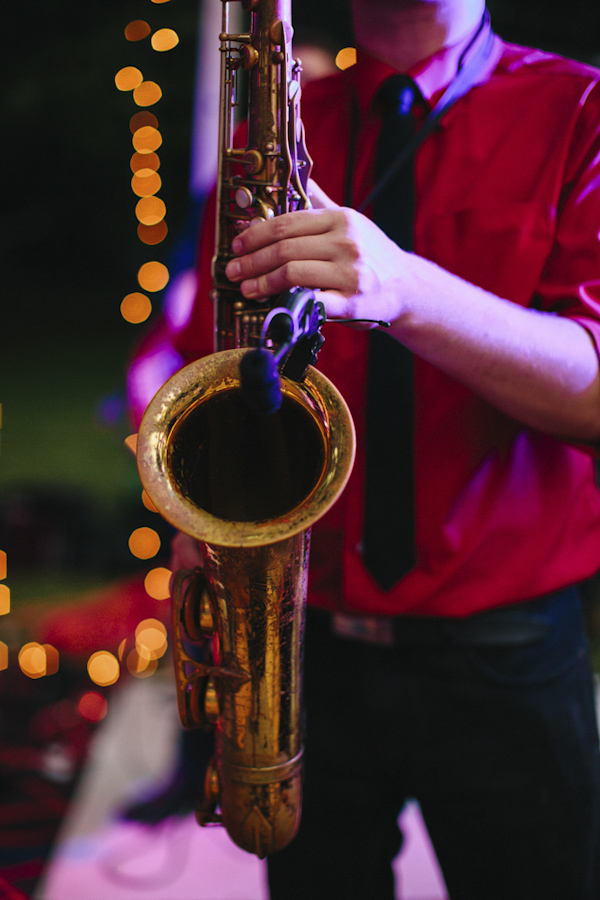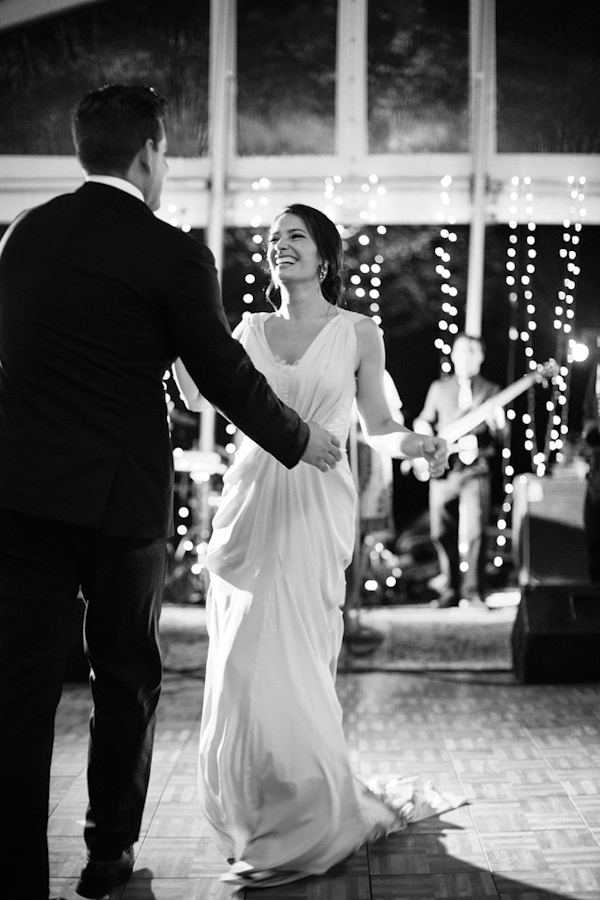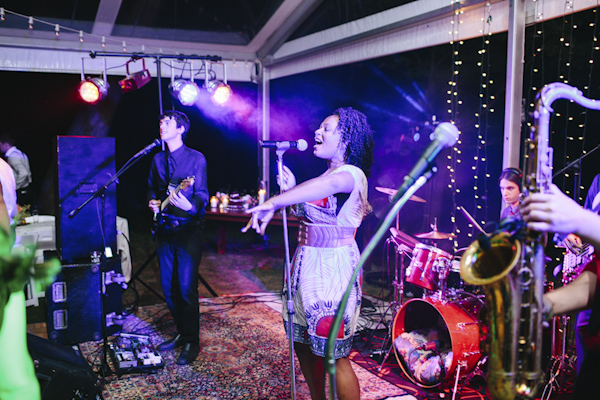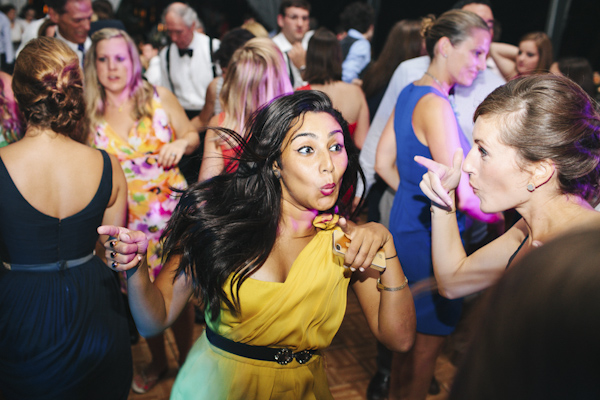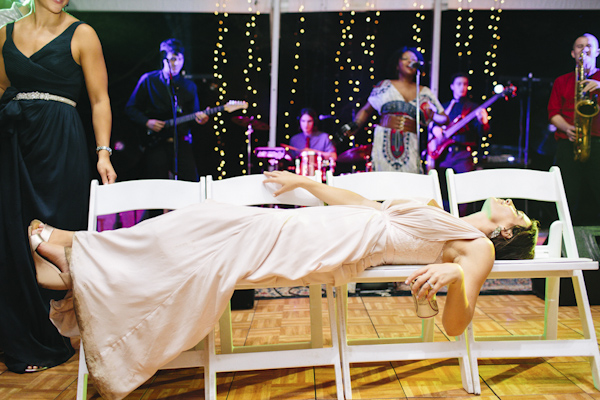 The Advice: Our favorite decor idea was to turn the garage into a reception room. We wanted to create an initial "destination" for when our guests entered the reception. This room was to set the decor tone for the rest of the evening. Everyone loved that room, and it was so special to the families because it showed our wonderful separate histories coming together.
Finally, if you think you want to do a backyard wedding, you should definitely do it! Even though it can be much more stressful, it pays off ten-fold in the end with the memories you make that live on forever in your own backyard. Who else can say they had their first dance with their husband on the same ground where they learned to ride a bike? Just be sure to hire a day-of coordinator, we would have been lost without Leigh Perrino of Heidzillas.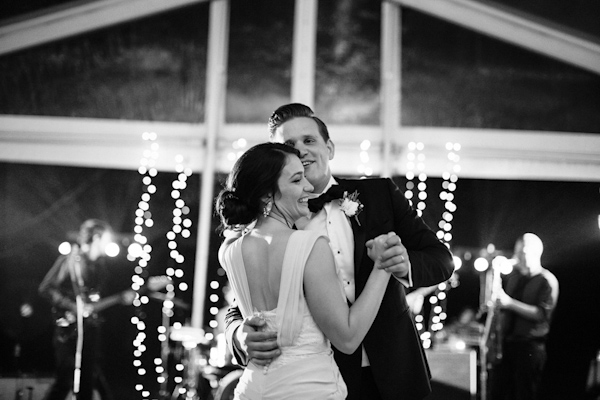 Thanks Liz and David for sharing your beautiful garden wedding with us!
The Wedding Team:
Photographer: Ely Brothers
Event Planner: Bride & Mother of the Bride
Day of Coordinator: Leigh Perrino of Heidzillas
Ceremony Venue: The Church of St. Mary
Reception Venue: Bride's family residence
Officiant: Fr. Dan Redmond
Invitation Designer: Bride and bridesmaid, Lauren Stiebler
Catering: Bride's aunt, Mary Jahnke
Bartenders: Libations
Florist: Bride's family friend Tom Bryant and bride's aunt, Sarah Ihlenfield
Wedding Dress: Custom gown by Veronica Sheaffer
Bridal Accessories: Etsy
Bridesmaids' Apparel & Accessories: Dress – J.Crew "Heidi", Belts – Anthropologie, Earrings – Etsy
Groom's Apparel & Accessories: Suit Supply Chicago, TheBlackTux, Warby Parker
Groomsmen's Apparel & Accessories: TheBlackTux, Warby Parker
Hair & Makeup: Bride's family friends
Live Music: MojoFlo
Transportation: Precious Cargo
Favors: Chardon, Ohio Maple Syrup, bottles and labels by the bride
Rentals: Aable Rental, Borrow Rentals, Event Source
Rings: James & Sons Jewelers, Chicago, IL