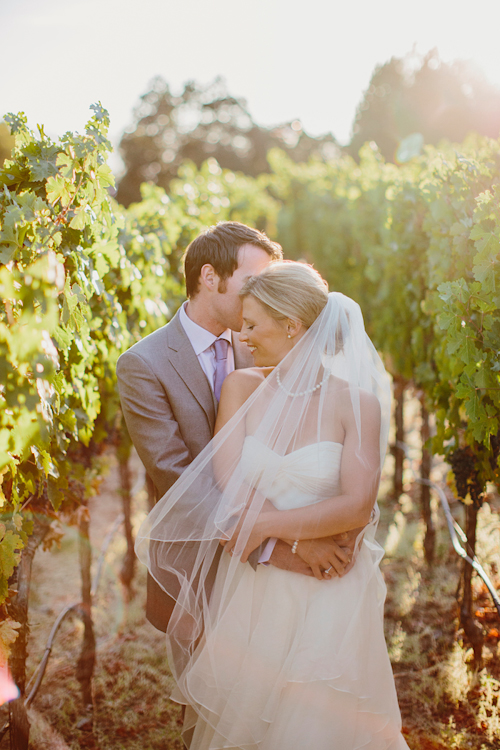 Lindsay and Guillaume's wedding day at Calistoga Ranch in Napa Valley had us completely weak in the knees! We're all pretty big Napa fans here at Junebug (sunshine, wine, beautiful views, a relaxing vibe…what's not to love?!). So take one of our favorite places, mix in pretty textural floral design, fashion inspired by Audrey and Grace, and gorgeous photography from Perspectiveye and you've got this absolute stunner!
The Goals: We are both very passionate about food, wine, and travel as well as the wine country lifestyle. Because we love California wine country so much, we wanted to share this area with our guests and give them an event to attend that would also allow them to have time together in a beautiful place. We wanted our guests to have a classy and elegant relaxed evening full of good food and wine, stunning locations, and great music. Because I am Canadian and Guillaume is French, we decided to have our wedding in neither of our home towns but in a place that we feel very at home. I was determined to be married outside and for that to happen we had to choose an area that has consistent weather. Napa Valley and Calistoga Ranch satisfied all of the criteria!
The Vision: I envisioned our wedding day adorned with all the goodness of the region. This included lots of herbs and greenery, local food, and local wine. The ceremony was held outdoors on the lawn in front of a small lake (called Lommel Lake) surrounded by nature. Right after the ceremony, the cocktail was held in the same location while the sun went down.
My style is very classic elegant, and I wanted that to be portrayed in every detail of the wedding from the music, food, wine, flowers, dresses, etc. For the flowers, I started with inspiration from another wedding I saw online at Calistoga Ranch. I asked Martha Andrews, of Blooms, to base our floral arrangements around classic white flowers that were in season combined with lots of fresh herbs and lavender for colour and aroma. For stationary, I chose a classic caligraphy in gold with ivory stock designed by Alissa from Plush Invitations.
For the menu, we decided to keep things as simple as possible. I didn't want guests to be overwhelmed with flavors, nor so full from the meal that they would feel uncomfortable after. We choose an asparagus and trumpet mushroom for the first course, followed by a roasted shrimp and farro salad with cucumber and feta. For the main course guests, had chosen either roasted halibut with white beans and chorizo ragout, or beef tenderloin with vegetables and bordelaise sauce. For the cake, I stayed quite classic and chose a white chocolate and berries theme. I loved the look of smooth icing with fluffy flowers, and thought Calistoga Ranch did an amazing job!
The Look: I have always loved the "princess" style dresses but when I started trying them on I didn't think that I would find one that was right. The right one did come along, and of course it was the very last dress I tried on after visiting the same store, S2 Bride in Calgary, for the second time. I have a photo of Grace Kelly and Audrey Hepburn preparing to attend a ball that I snipped out of a magazine a long time ago and that was my style inspiration for my wedding day.
The Moments: For me, the ceremony was the best part of the day. It was just so beautiful having all our friends and family standing there in California before us while we said our vows to one another. I also loved the first dance! It was perfect!
The Pros: For details on the talented team of professionals that helped create Lindsay and Guillaume's wedding day, please visit their page in our Real Wedding Library!