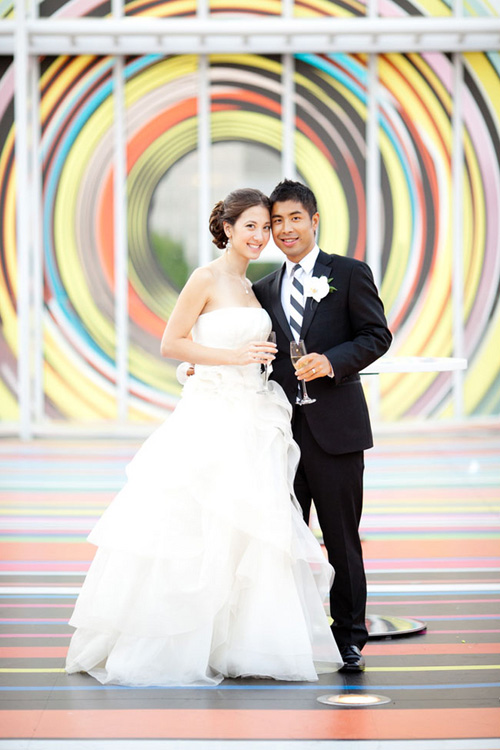 Oohhh, so crisp, clean and modern! Lauren and Stephen's fabulous Downtown Chicago wedding, photographed by the talented Caroline Tran, is an absolute treat for the eyes as well as the heart!
Happy weekend dear readers!

The Goals: Lauren and Stephen's wedding planning goals were to host an elegant, joyful and relaxed wedding and to ensure that all of their guests had an amazing time celebrating with them. The couple chose to hold their ceremony at the Alice Millar Chapel on the Northwestern University campus, where Lauren attended undergrad and grad school, and their reception at Terzo Piano, the restaurant located in The Modern Wing at The Art Institute of Chicago. What stunning locations for their guests to enjoy!

The Design: Keeping with gray, white, and yellow wedding colors for the simple, elegant, and warm feeling that they imparted, Lauren and Stephen worked the fresh color palette into the bridal party attire, the flowers from Heffernan Morgan, and in the table linens, table numbers and escort cards. The wedding cake was decorated with a yellow, white, and black whimsical design and several live orchids, and their cake designer Mary Winslow of Take the Cake also made little truffles that were given out as wedding favors. With the help of her bridesmaids, Lauren made all of the escort cards and table numbers which included photos of Stephen and Lauren at the age the of the table number (table 1 = 1 year old, etc). What a fun idea! Lauren also wanted to incorporate something of her Japanese heritage, so she and her mother made over 100 colorful origami cranes, which they strung together and used to decorate their rehearsal dinner and the morning of the wedding.
The Look: Dressed in a Vera Wang wedding gown, Lauren looked gorgeous and felt as though she had found exactly the elegant and romantic wedding dress she had been hoping for. For her bridesmaids she chose the color gray and let them choose the Jenny Yoo designs they were most drawn to. The groomsmen looked sharp in black suits with yellow ties, and I simply love Stephen's black suit, striped tie and white orchid boutonniere combination. Handsome!

The Moments: One of the most sentimental and meaningful parts of Lauren and Stephen's wedding day was their ceremony, and the Alice Millar Chapel created the perfect atmosphere, both visually and emotionally, for that to happen."Neither Stephen nor I subscribe strongly to a particular religion, but we wanted our ceremony to have a spiritual aspect to it. We also wanted a somewhat traditional, but intimate and relaxed feel. We were thankful to find a chapel and clergy that allowed us to achieve all of these things." Lauren and Stephen also loved the toasts that were given at their reception. "The best man gave an unexpectedly funny toast that had everyone laughing, and the toasts by both of our mothers, Stephen's brothers, and two of my bridesmaids were so warm, heartfelt, and touching!"
The Pros: To learn more about all of the many talented wedding professionals who helped create this Chicago wedding day, please visit Lauren and Stephen's page in our Real Wedding Library!

Thank you Lauren and Stephen! What an incredible wedding!
Readers, to plan your own wedding in Southern California or Seattle, check out our Plan Your Wedding Hotlists, and to find a dream wedding photographer for your wedding anywhere in the world, don't miss our World's Best Wedding Photographers Hotlist!