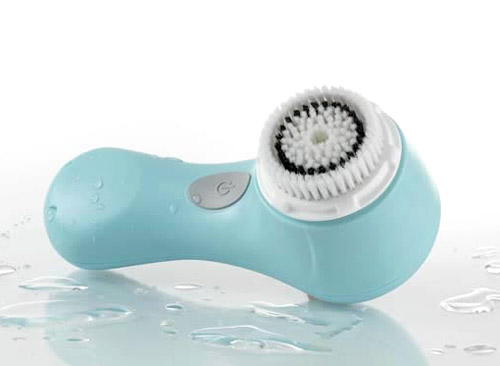 If you've been reading What Junebug Loves! for a while now, you probably know that I loooove a good beauty product, and more specifically I'm just a tiny bit obsessed with cleansing and exfoliating. So when I received one of these amazingly cute blue Mia Sonic Skin Cleansing Systems from Clarisonic to try out I was in beauty heaven! The combination of the super soft bristles with the sonic vibrations gives you a deep, deep clean with no harshness what so ever, and leaves you with the smoothest skin that moisturizer and make-up glide over easily. I am officially hooked, and I'm so grateful to Clarisonic for offering one of their new "Something Blue" Mias to a lucky Junebug reader for today's giveaway! Thank you Clarisonic!

To enter to win, just leave us a comment here telling us about your own skin care routine, your favorite tips, tricks and products, and why the Mia would be a great tool to help you reach your skin care goals. With your wedding day coming up, it's a great time to revisit your skin care routine to be sure it's delivering for you, and adding in the the Mia Sonic Skin Cleansing System can really boost the effectiveness of the products you're using. We'll accept entries all week long and choose a winner next Monday, October 11th.
Good luck everyone! I can't wait to read all your entries!