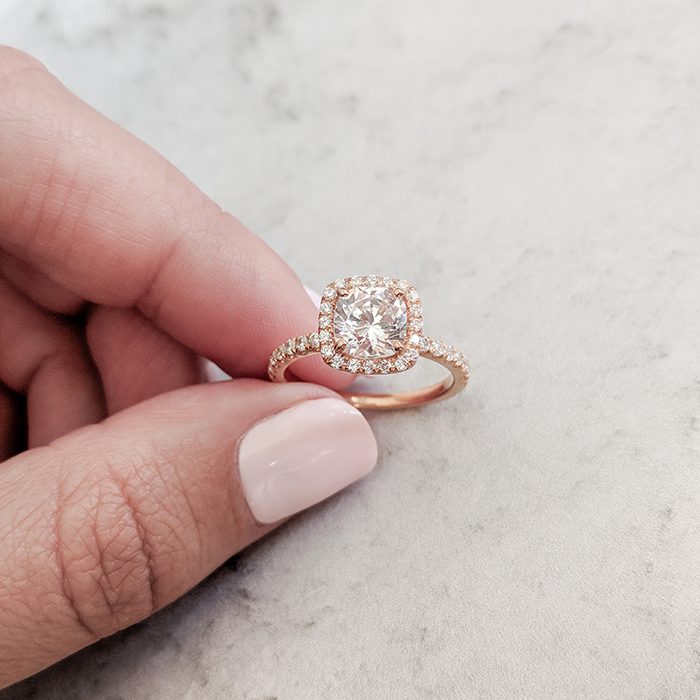 Selecting a diamond can be challenging, especially with so many factors to consider. From color and carat to size and price, narrowing down what's most important to you is only the first step in finding The One! With so many options to choose from, RockHer is making it easier than ever to find the best diamond for your budget using technology you thought only existed in the future.
Meet ROSI – the world's first digital diamond expert using a mix of algorithm and artificial intelligence to analyze millions of currently available diamonds to find your perfect match. Combining the technology of IBM's Watson and over a hundred years of diamond buying expertise, ROSI takes care of the hard work in seconds, making shopping for your diamond engagement ring simple so you can get on with saying "I do!"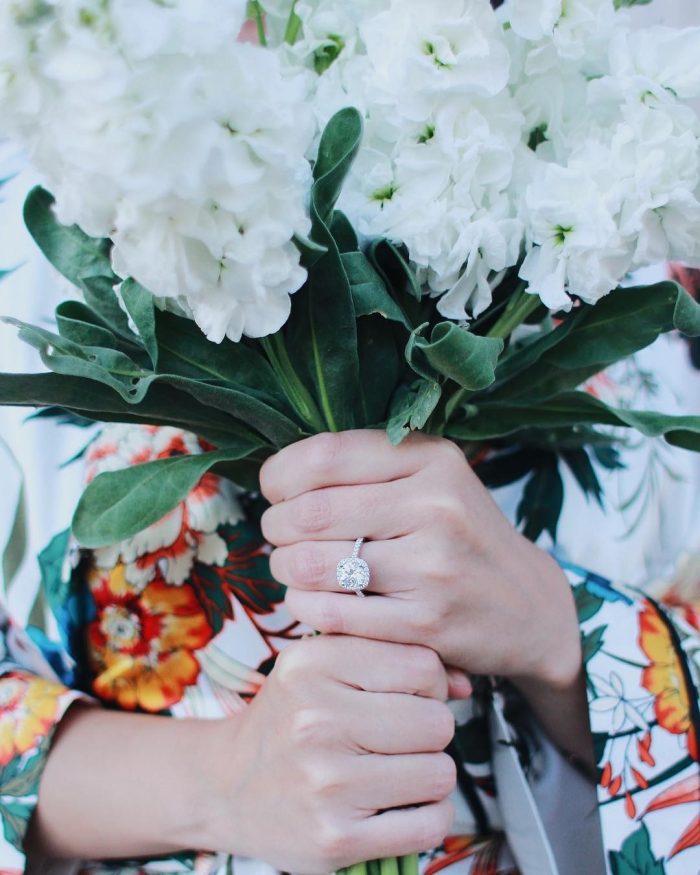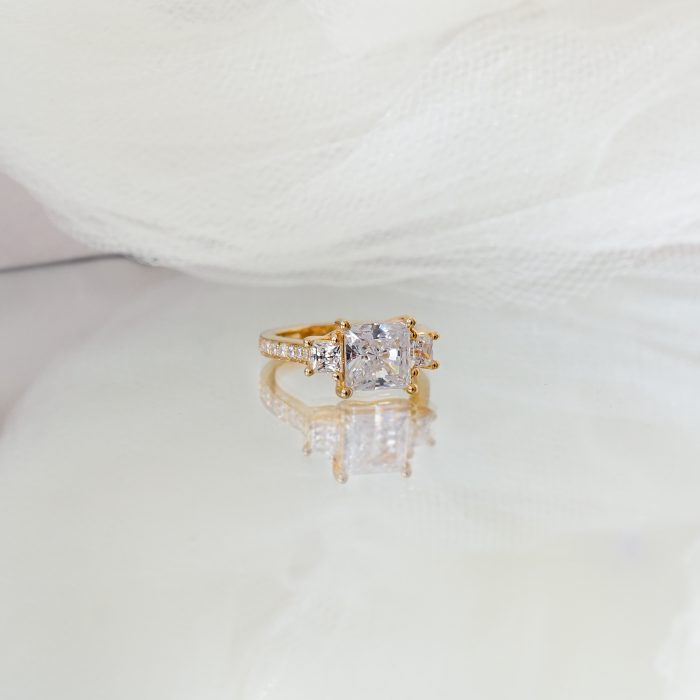 The Best Diamond For Your Budget
In addition to ROSI's ability to search across the globe for the best diamond for your budget, you can shop diamond engagement rings curated by ROSI directly from RockHer. Besides hosting the amazing technology of ROSI, RockHer.com is also an online wholesaler that carries all possible diamond sizes, cuts, styles, and more, specializing in selling luxury engagement rings and fine jewelry. The diamond of your dreams should take your budget into account and thanks to ROSI you can browse the highest quality diamonds at your price point to find the specifications and ring that meet your needs.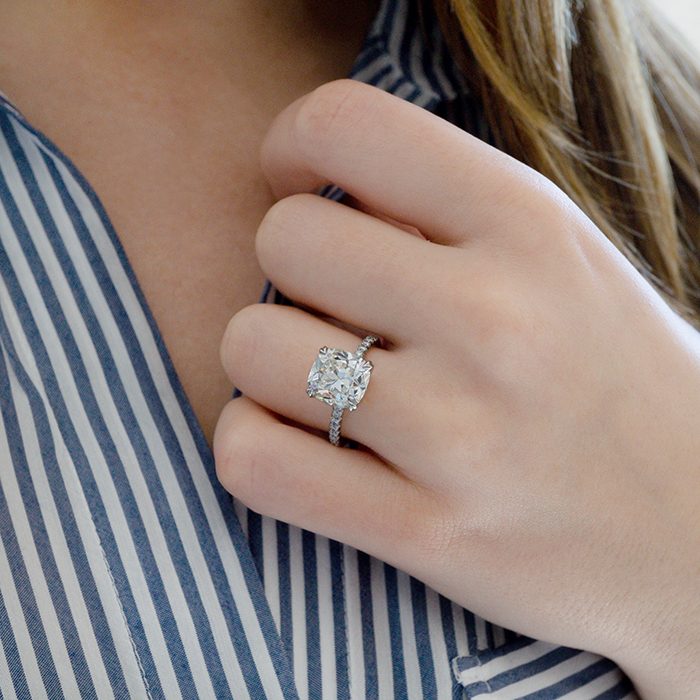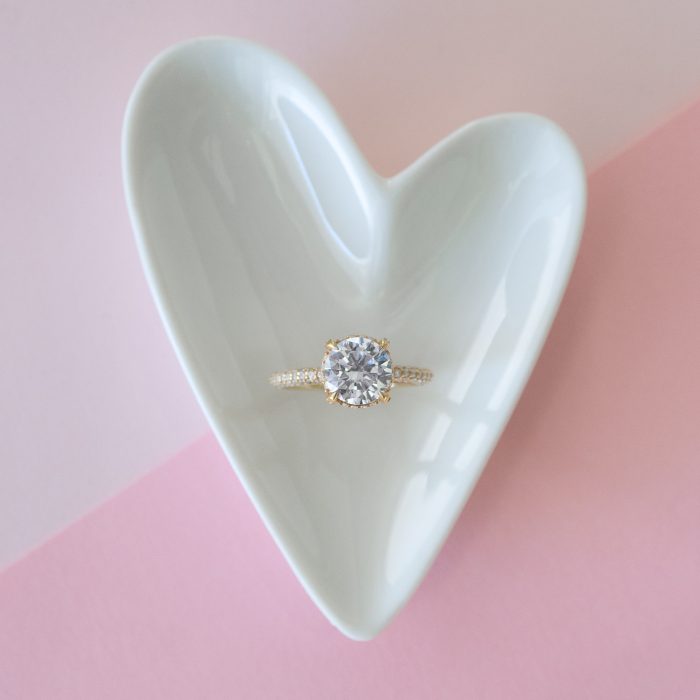 Build Your Own Engagement Ring
Shopping custom made RockHer engagement rings is as easy as selecting a setting, diamond, and ring size. Start with a setting, like asscher cut engagement rings, classic emerald cut diamond engagement rings, or white gold princess cut engagement rings. Next, browse RockHer's incredible variety of diamonds, like ethically sourced conflict-free diamonds selected by diamond search engine ROSI or RockHer exclusive Cushion Brilliant diamonds featuring hearts and arrows facet patterns. Looking for something boldly different? RockHer also specializes in gorgeous sapphires that stand out in a number of settings. Learn more about each of these brilliant settings below as you begin to create the perfect engagement ring for you!
Asscher Cut Engagement Rings
For next level sparkle, consider RockHer asscher cut engagement rings, which capture more light from all angles due to their wider corners. Asscher cut diamonds are designed to shine with maximum brilliance created by additional rows of facets to the bottom of the stone that maintains the classic look of the diamond while appearing more dynamic than ever. The distinct square pattern makes this standout cut an extraordinary choice for your diamond engagement ring.
Emerald Cut Engagement Rings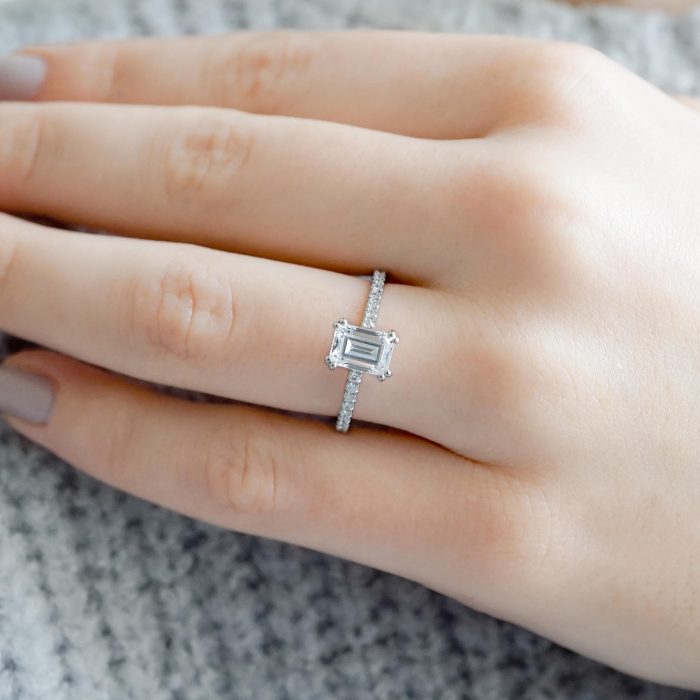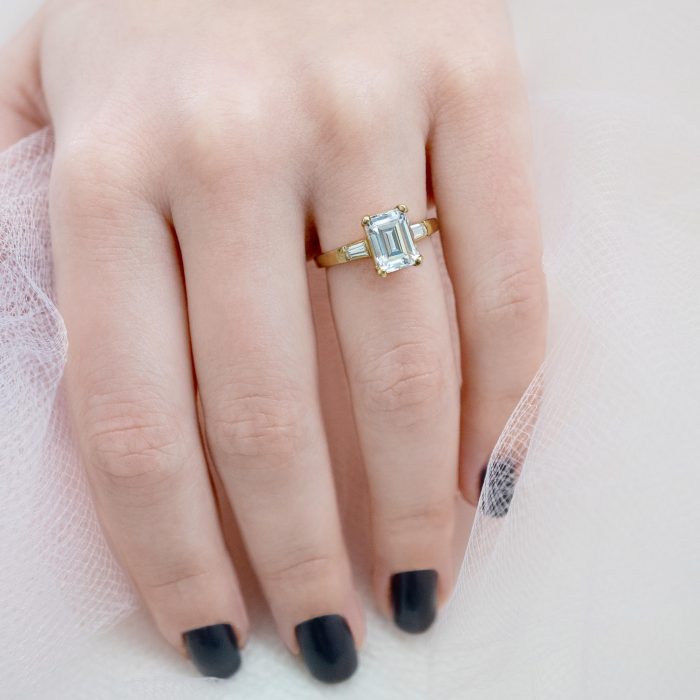 Classic emerald cut diamond engagement rings are popular for a reason: not only does the emerald cut diamond have increased clarity than your average diamond engagement ring, it also has 5% greater surface area. When compared to another cut of the same carat, the top surface of an emerald cut diamond will look larger. This elegant cut sparkles brilliantly due to its flashes of white light that contrast the dark planes throughout the stone.
Princess Cut Engagement Rings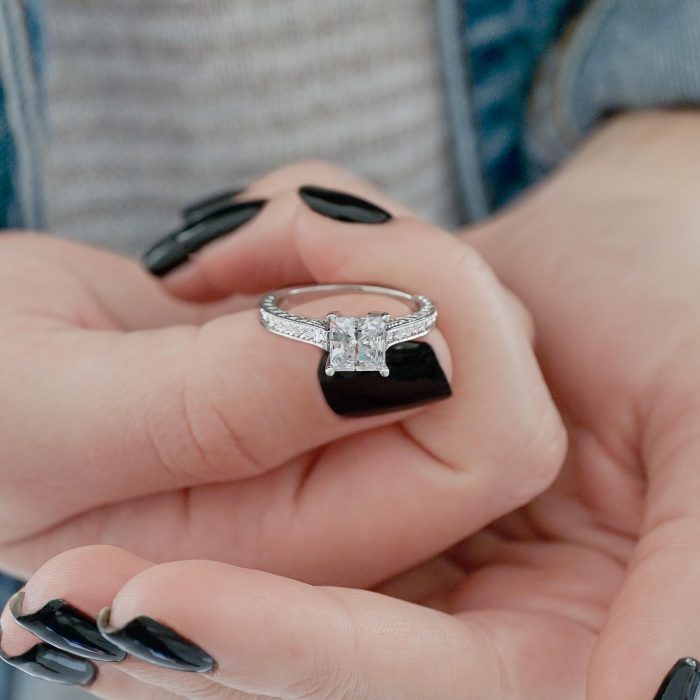 Princess cut engagement rings are revered for their chic square shape, which stuns in a variety of settings. This versatile stone adds a modern touch to antique-looking engagement ring styles while also being the perfect vintage flair in an elegant modern setting. When compared to a round diamond of the same weight, RockHer's princess cut will appear larger. This means that even at a smaller carat, the diamond will pack the same punch as a greater carat in another cut at a fraction of the price, making it a top choice for the best diamond for your budget. We're especially obsessed with white gold princess cut engagement rings, which are eye-catching and elegant no matter in a solitaire or three-stone setting.
Cushion Brilliant Engagement Rings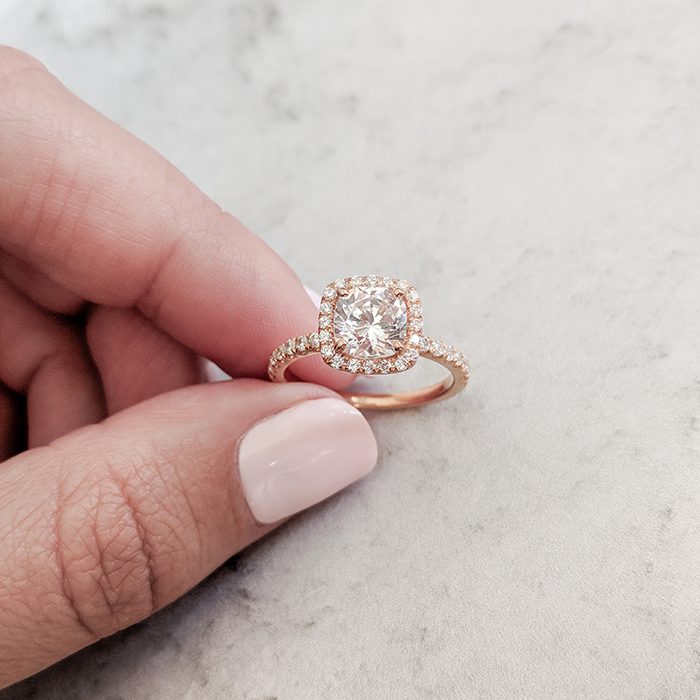 Exclusive to RockHer, Cushion Brilliant diamonds blend the antique-looking charm of a cushion shape with the modern ideal-cut round diamond. The Cushion Brilliant diamonds feature hearts and arrows patterns with incredible precision that is notably brighter and whiter than standard cushion cut diamonds. Because fancy shapes are priced lower per carat, The RockHer Brilliant Cushion also offers more breathtaking beauty for your budget than a hearts and arrows Round Brilliant Diamond.
Sapphire Engagement Rings
Looking for something beautifully unique that's just as timeless as a diamond with a little something extra? Popular diamond alternatives are gorgeous sapphires in white gold settings. A sapphire engagement ring is ideal for bold brides-to-be with an affinity for vintage styling calling back to the '20s when the blue-colored gemstone rose in popularity.

Ready to find the best diamond for your budget with ROSI and shop the engagement rings of your dreams on RockHer? Don't miss the Spring Sale to save 20% off all engagement ring settings now! We've also partnered with RockHer to provide you even bigger savings with an additional 10% off the sale using code JUNEBUGWEDDINGS, making your total savings 30% off ring engagement ring settings!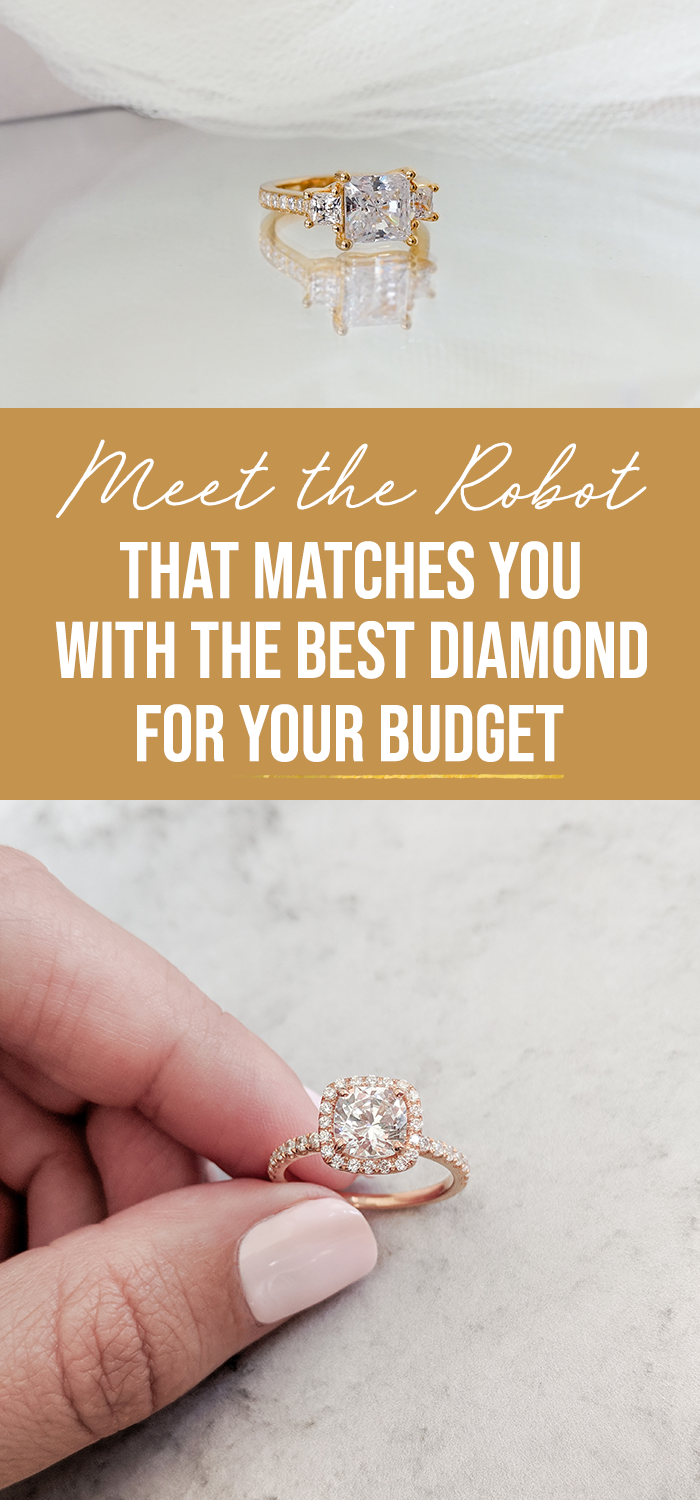 *This post is sponsored by RockHer!