Pulling off a surprise proposal and engagement party is quite a feat, but the results can be amazing! One of our dear friends and member photographers, GH Kim Photography, recently captured one such surprise proposal (from their very own nephew, David) and the results were, naturally, nothing short of adorable.
Throughout their relationship, David and Christina had been crossing the US-Canadian border to see each other, so it was fitting that the proposal happened on middle ground at the Peace Arch border crossing. The surprise didn't end at the proposal though. Back at home, all of the the couple's friends and family were waiting, unbeknownst to Christina, to help them celebrate their special occasion. Check out how it all unfolded, straight from the couple themselves…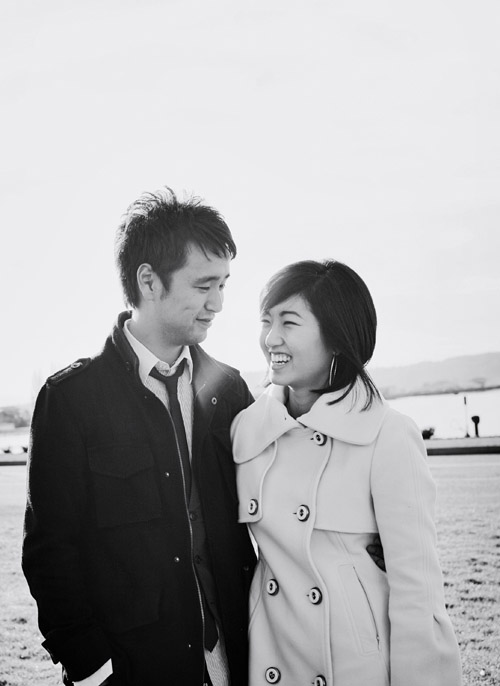 How it all happened…
David:
I had told Christina that we were taking a day trip to Canada with my family (including my brother, sister-in-law, and Grace and Hun of GH Kim Photography) for my brothers birthday. The premise was that GH Kim offered to take pictures of my brother and sister-in-law somewhere cool and different. They also "offered" to take pictures of Christina and myself. I emphasized that no one ever declines an offer from GH Kim, and that was the story that got her to the border. When she arrived, we had GH Kim strategically pretending to take photos of Paul and Gloria. Standing off at a distance, I motioned Christina to come over to me and that's when I sang to her, confessed my love for her, and proposed as GH Kim captured every moment!
Christina:
That day, I was expecting to meet David and his family at the Peace Arch border as the first stop to our day celebrating his brother's birthday. I knew they were going to take a couple shots of me and David as well but didnt expect us to be the main focus of the day. When I got to the Peace Arch, the scene looked pretty normal – Paul and Gloria had their photo shoot going on, off on the side, and David was in front of the arch with his guitar in his hands. I thought to myself "oh boy, of course David would bring a prop to a photo shoot". He told me he wanted to play the song he wrote for me, and he started singing and playing. It was really sweet but I felt confused as to why he was doing it in front of everyone. After the song, he took my hand and gave a very genuine and thoughtful speech, and as soon as I heard the words so I talked to your parents… I knew right away and was unbelievably shocked that this was really happening. I faced the others and even had to ask them if this was real. I was so overwhelmed by joy that I felt like I was walking on clouds the whole day.

Looking back, what stood out most that day was…
David:
I remember her walking toward me at the border and thinking that my heart couldn't have pounded any harder. I remember singing to her with everything I had in me. I vividly recall her taking – precisely – up to 3 minutes to answer my 'will you marry me?' question. After she realized I was serious (knee covered in mud), I remember the look on her face when she said yes and when I placed the ring on her finger. Also, the moments as I was guiding Christina up to the front door (blind-folded) and feeling the level of excitement of her friends who were watching was something I'll never forget.
Christina:
I remember most vividly how surprised I felt to see my close friends gathered in one place to surprise me and congratulate us. I remember their happy faces – some with tears of joy.
After what we are sure was a joyous whirlwind of a day, the couple can now look back on these sweet photos and reminisce about all the moments the GH Kim captured. And of course, they each have their favorites. David loves the photos that show him, as he says, "singing to the love of my life, a song I wrote, and confessing that I wanted to grow old with her". Christina's favorite is the one where she can see the exact moment that she "realized David was asking me to spend the rest of my life with him and it completely overwhelmed me with joy".
Love it! Check out GH Kim Photography's blog for more darling images and information on this creative surprise proposal.