Couples everywhere are asking how to host unique weddings. But where do you start? That's easy! The best way to ensure your wedding is unique to you is to support small businesses. Turning away from mass-produced items for everything from wedding decor to invitations will ensure there's no other wedding like yours. With personalization and small businesses in mind, we're here to introduce you to a family-owned Etsy shop we love—Made Nala.
Why Shop With Made Nala
Made Nala is based in Los Angeles and specializes in bridal party gifts. However, they can personalize basically anything for your wedding celebration. You don't just have to take our word for it. With over 13,500 sales and thousands of 5-star reviews, it's easy to see why everyone loves them and their unique creations for wedding celebrations.
Get Ready To Personalize
If you don't see what you're looking for on their Etsy store, send them a message. Their love of adventure extends into their love of customization. They can create everything from monogrammed compact mirrors to themed coaster sets.
Check out their Pinterest for more inspiration or see their work in action on Instagram.
Bridesmaid Proposal Gifts
Looking for unique and personalized bridesmaid proposal gifts? They have perfect accessories—like this diamond ring pen—that won't break the bank for you to ask your bridal party to join you for the big day.
Personalizing Weddings Since 2014
Made Nala joined Etsy in 2014 and is excited to continue serving bridal parties well into the future. Find wedding favors and reception decor in their online shop.
Bridesmaid gifts like the ones from Made Nala will improve your bridal party experience—including everything from your bridesmaid proposal gifts to your getting ready photos. They also open the door for fun group shots during your bachelorette party and beyond.
Our Six Favorite Made Nala Bridal Party Gifts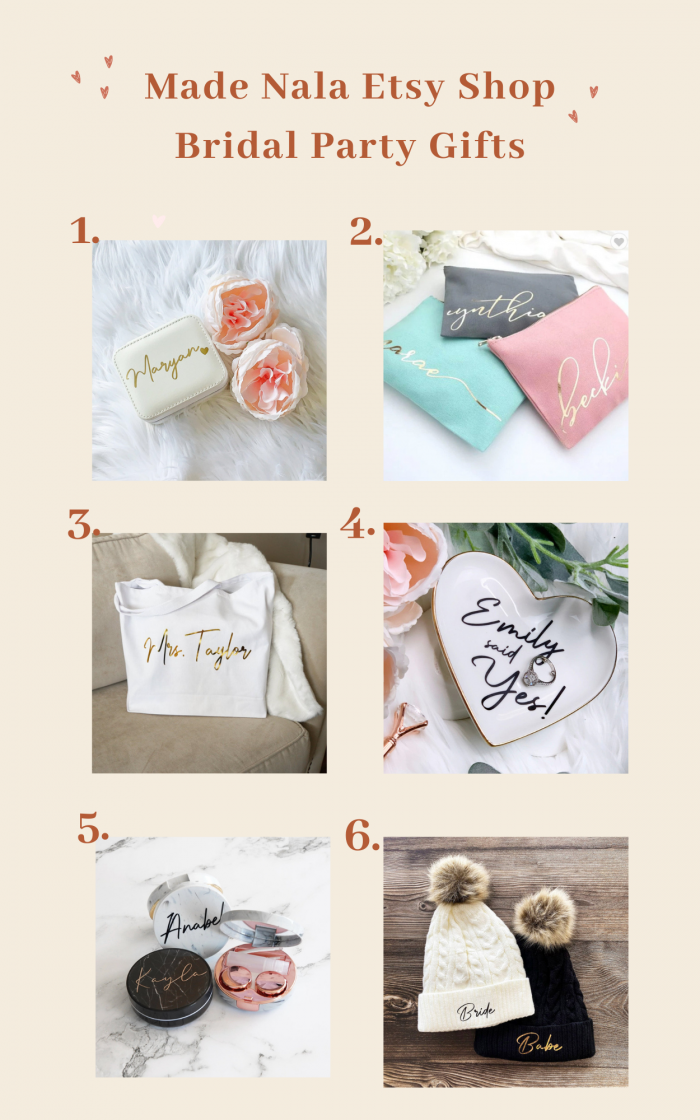 Whether you're looking for bridal party proposal gifts or event decorations to gift to your wedding guests, get started on their Etsy shop to wow your friends and family.