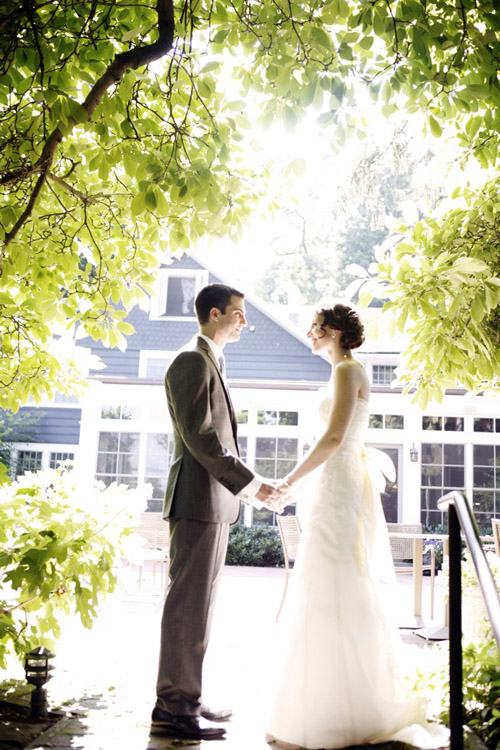 The Couple: Romy and Jesse
The Wedding: 06.19.10 – Buttermilk Falls Inn, Milton, New York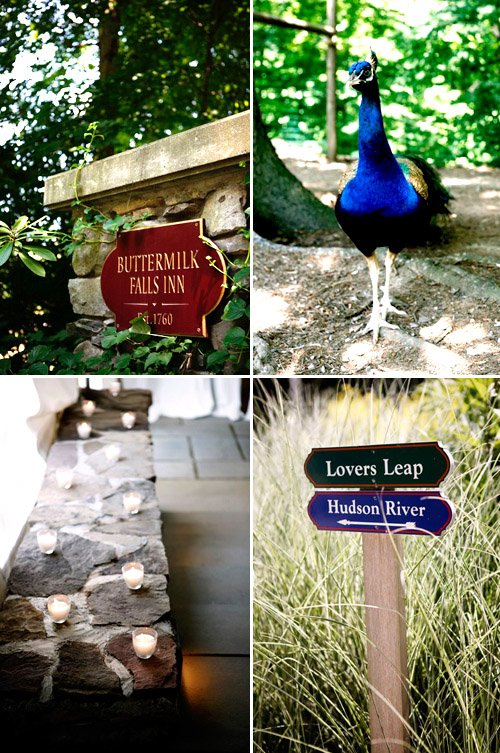 What three adjectives best describe your wedding? love-filled, natural, and fun
What inspired your personal wedding style, and how did you incorporate your style and personalities into your big day? We wanted the wedding to be appropriate to the place where we were getting married. It was going to be outside in the Hudson Valley at this beautiful and quirky inn, that also has a small farm on the grounds. We wanted it to feel like it made sense there. Karen Bussen, our wedding planner, incorporated a lot of things we love on the tables, including fruit and beeswax candles as well as summer flowers, giving it a general country feeling. We wanted there to be a lot of color and a lot of music, so that people would dance and have a good time.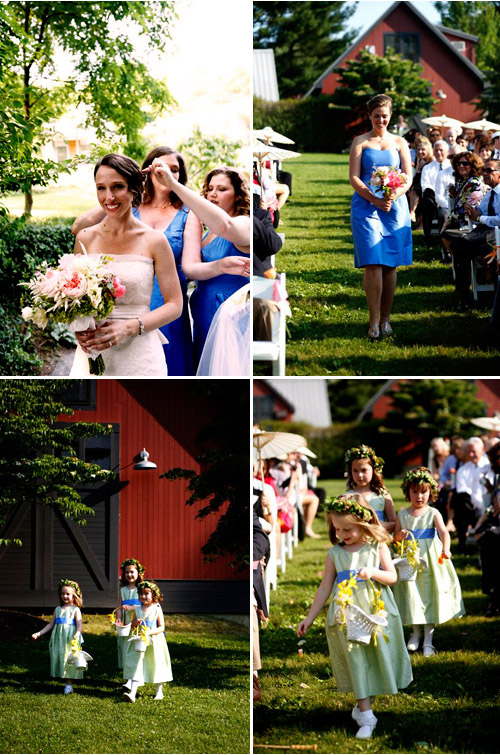 Looking back, what are the moments, decisions or memories that you love the most about your wedding? My husband said from the start that he wanted to get married under a tree, so we set out to find the right tree for the occasion. We found this beautiful hidden spot in a small town in the Hudson Valley that was perfect. It has a working farm, with a small orchard and an inn that is filled with charm. We felt like we just wanted to stay there forever. We decided to take a lot of time with the save the dates and invitations. We wanted something whimsical, but with a vintage touch that captured the place where we were getting married and the feeling we wanted the day to have. We also wanted to make sure that we showcased the incredible food available in the Hudson Valley in the summer. In terms of the aesthetic details, I loved having beeswax candles and fruit on the tables, as well as colorful summer flowers, like snapdragons which have been my favorite flowers since childhood. I felt that the colors and smells matched the place and how we were feeling. In terms of the ceremony, we decided to write our own vows and not to read them to each other until the ceremony. But, we agreed that we would each end on the same line. I loved how this allowed us to surprise each other with our thoughts and feelings, but it also allowed us to feel unified in what we were saying to each other.
Wedding color palette? We had a lot of colors at our wedding. The invitations were green and golden brown, the bridesmaids wore cornflower blue (the groomsmen wore a similar color tie) and the flowers were summer colors including pinks, yellows, oranges. We didn't really want to be restricted to just one or two colors and I think it worked!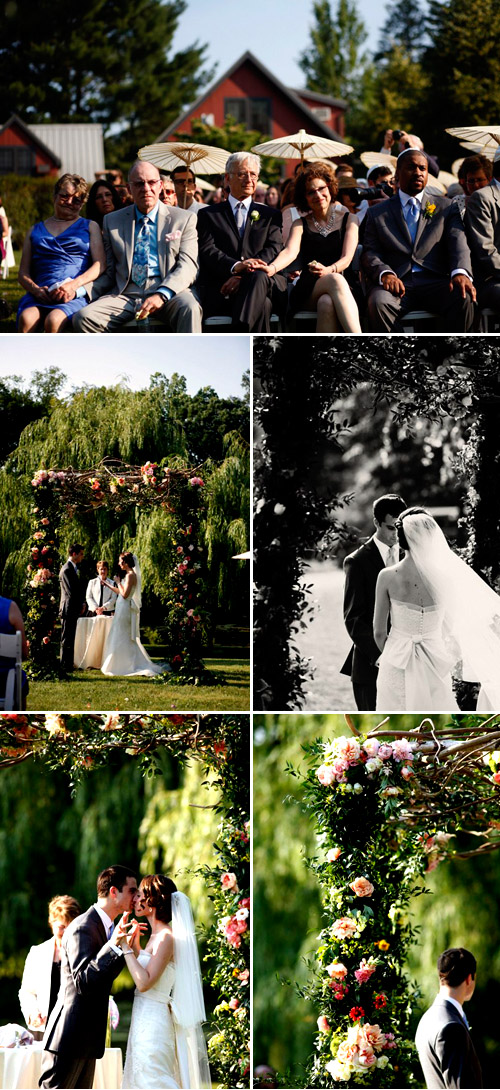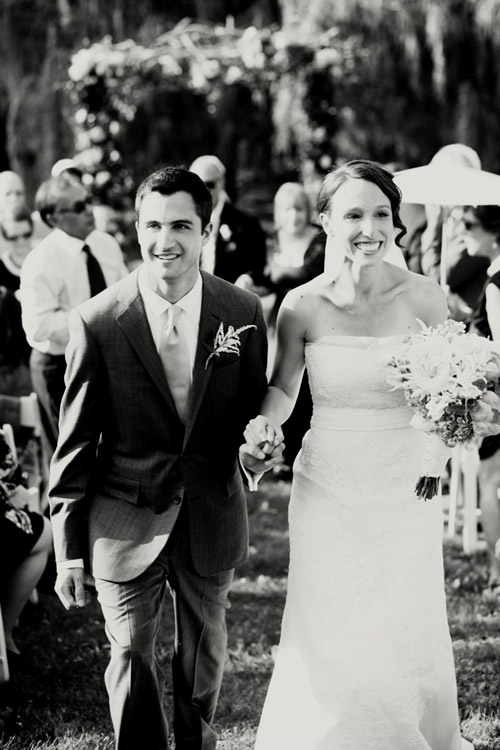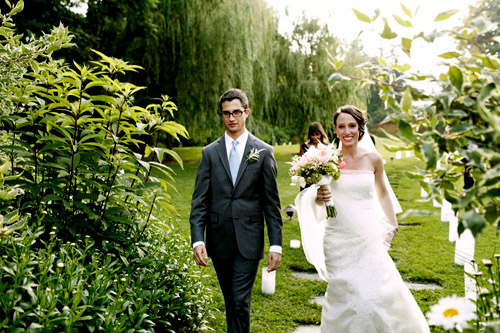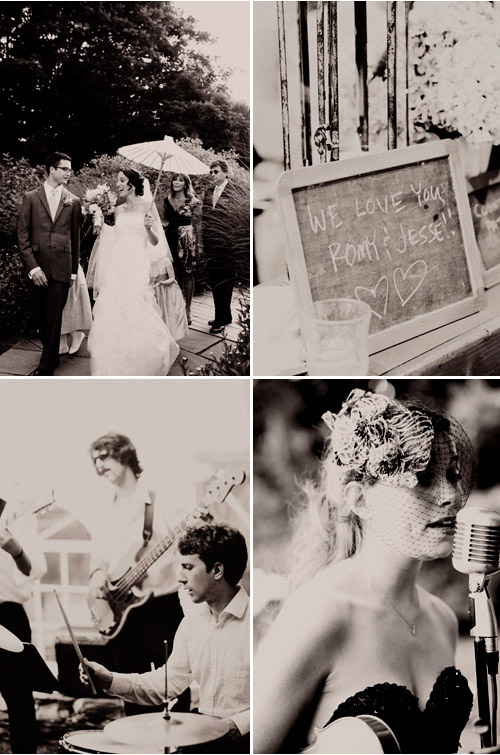 The Wedding Team:
Photographer: Belathee Photography
Event Planner: Karen Bussen
Ceremony and Reception Venue: Buttermilk Falls Inn and Spa
Videographer/Film Maker: Rock Melon
Officiant: Rabbi Joy Levitt
Invitation Designer: A Day in May
Catering: Main Course Catering
Florist: Karen Bussen
Wedding dress: Jenny Lee
Bride's Shoes: Manolo Blahnik
Hair: Giulia Heiman
Makeup: Anita Nouryeh
Ceremony Music: String Quartet from Elan Artists
Cocktail Music: Bon Musique
Reception Music: Truth Groove
Dance instruction: Laurie Shayler
Favors/Escort Cards: Homemade peach jam with tags from A Day in May
Thank you for sharing your gorgeous day with us Romy and Jesse! It feels like a breath of summer!
For more country estate wedding inspiration, check out our wedding inspiration gallery!