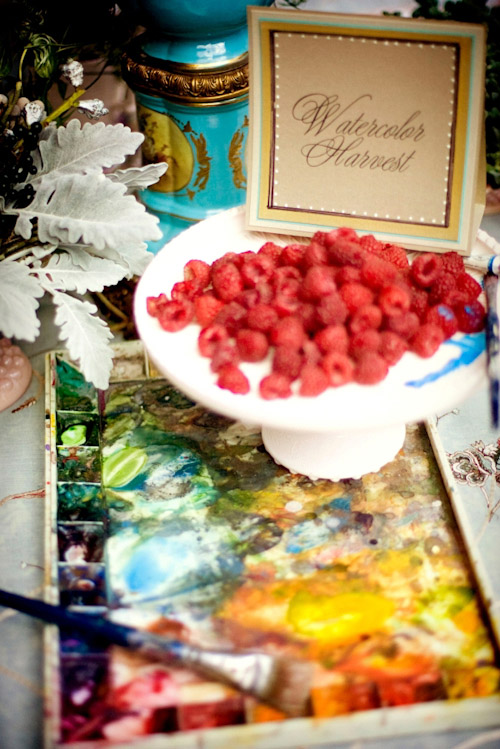 I was so happy when this little gem showed up in my inbox…I LOVE the elegant jewel-tone color palette, touches of gold and berries, and Kristy Rice's sweet watercolor illustrations. (It might be time to enroll in an art class. I'm noticing a watercolor trend in my loves this week.) The pretty paint tubes, palettes, paintbrushes, and art books are a charming, quirky touch for any art lover out there planning a wedding!


From Kristy Rice of Momental Designs: This shoot was inspired by one simple but powerful concept…watercolor palettes. With my much loved and well-used watercolor palettes as the focal point, a rich medley of color and fanciful combination of decor elements resulted. Watercolor palettes as decor elements are a quick and cost conscious way to enliven any celebration table. Smaller palettes are about $5.00 each and student grade tubed watercolors (cheap at any craft supply) can be squeezed onto each. Add a touch of water and a swish of the brush and voila, you have an affordable styling detail!
The stationery suite I designed included invitations, table numbers, petite folded menus and tri-fold programs. I used two different elements in the design; watercolor raspberries and hand painted dots. Together, they created a sweet look of spirited sophistication.
Our table design featured richly colored berries and grapes in addition to blooms. Berries pack a huge visual punch and can be thrown in a pretty bowl easily and affordably. We added moss to the tablescape to create an authentic garden vibe, and to play off the moss covered surroundings at The Cottage. Paintbrushes, used through out as decor, added a fun artistic quality, and the seating plan was presented in vintage gold frames, all stacked amongst more art books and watercolor palettes.


The artful theme was carried onto the cake design as well. Truly Scrumptious created a simple three tiered confection. We then took hand-torn strips of watercolor paper and painted them in shades of blue and soft yellow, allowing the two colors to bleed together a bit. After dry, we wrapped the tiers in the watercolor strips. A cluster of new paintbrushes bundled together created a quirky cake topper. The finishing touch?…A stack of art books as a cake stand!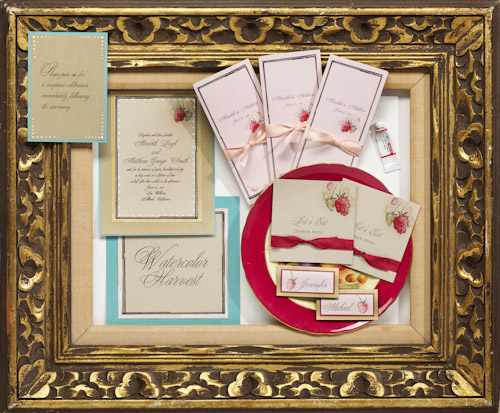 The Photo Shoot Team:
Table Design and Stationery: Kristy Rice of Momental Designs
Photographer: Daniel Lanton of Darker Shades of Brown Photography
Floral Design: Central Park Flowers
Cake: Truly Scrumptious
Venue: The Cottage at Hillside Farms
Paper Hearts, Bouquet Charm: Palomas Nest
Linens: LaTavola Linens