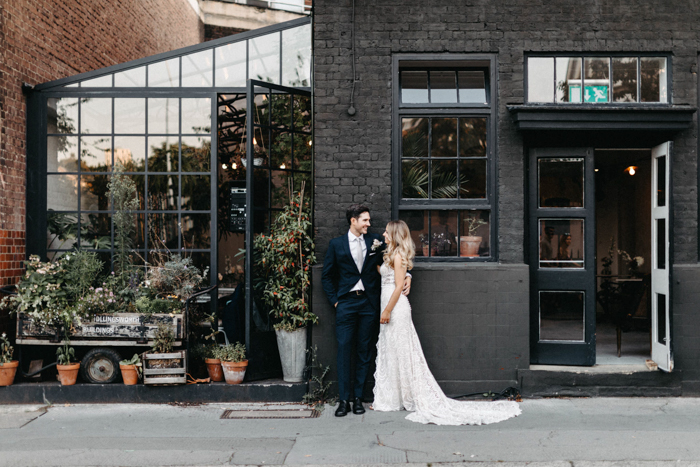 Laura and Andy set out to create a wedding that felt natural and timeless. And, some cheers are in order, because we've seen greenhouse vibes before, but never quite as elegant and vintage-esque as their day at The Bourne & Hollingsworth Buildings in London! There are five words you should know about their reception dinner space: pastel, banana leaf printed chairs. We never knew we could feel such a love for a reception chair! If that's not enough, just wait until you see the detail on Laura's Made with Love Bridal gown and how stunning her 'maids looked dressed in silk, champagne colored slip dresses. Prepare your hearts, babes, because Natalie Pluck captured every moment of this sweet day with total perfection!
The Couple:
Laura & Andy
The Wedding:
The Bourne & Hollingsworth Buildings, London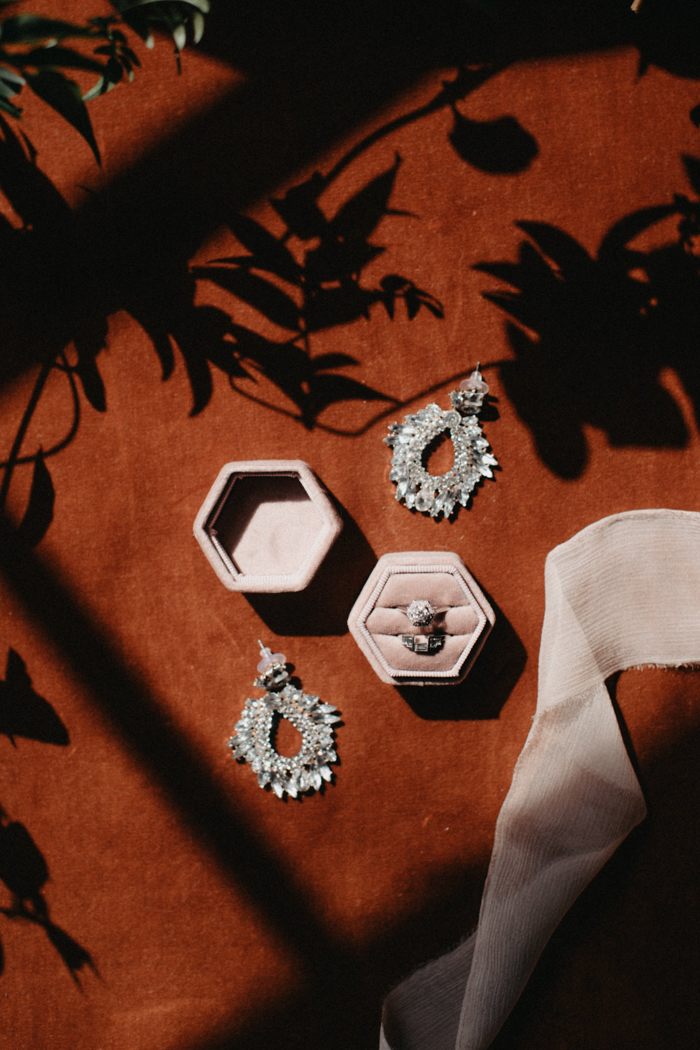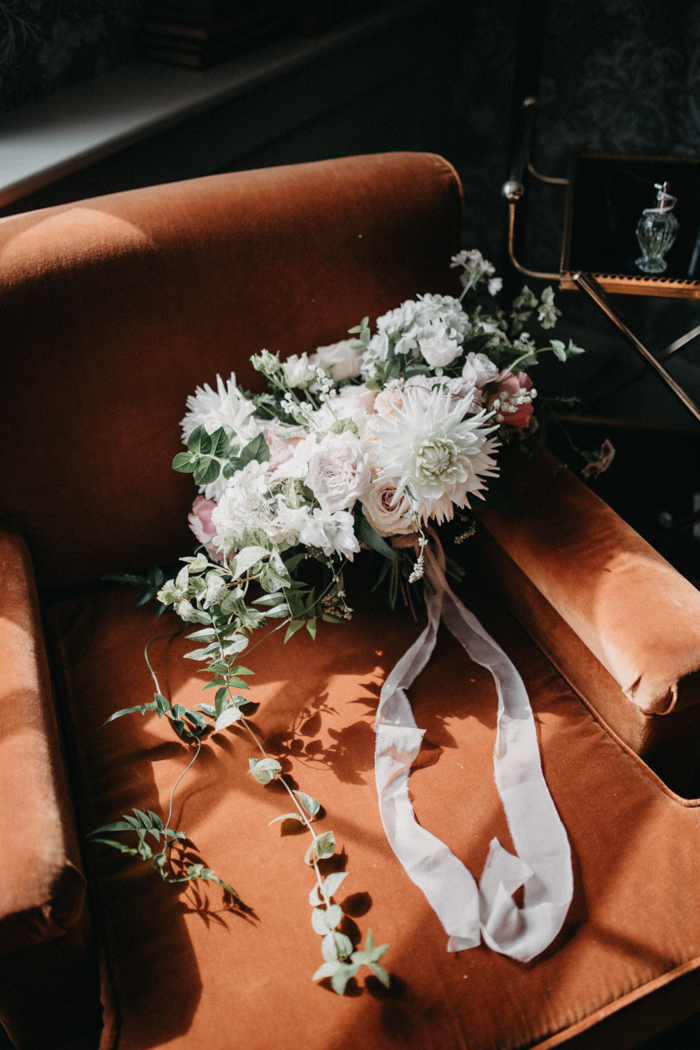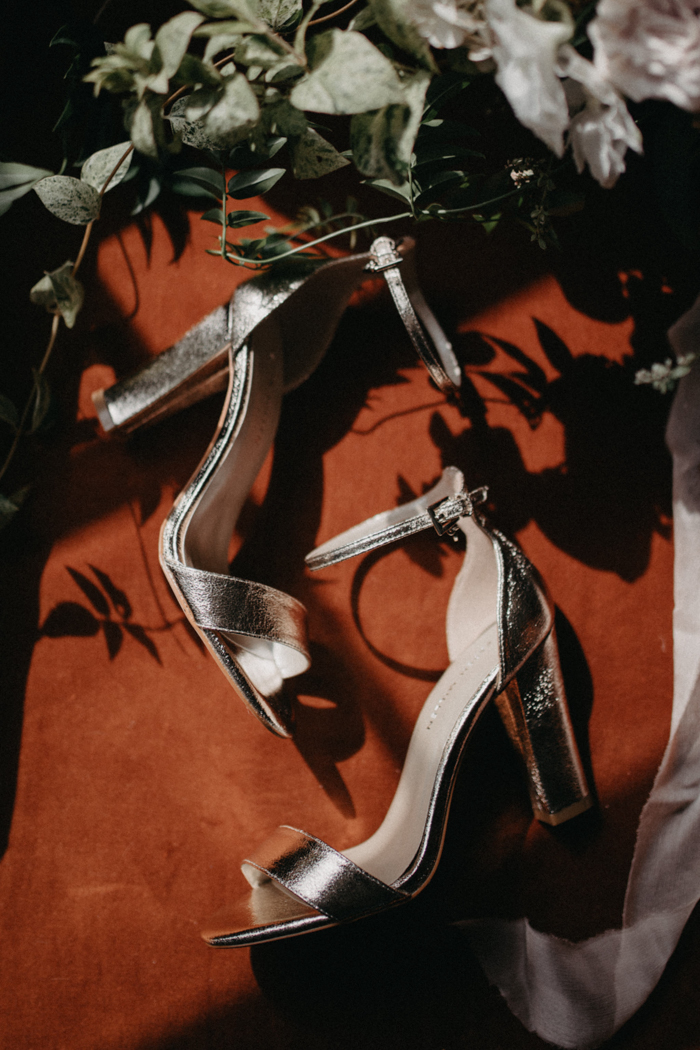 SHOP THIS LOOK: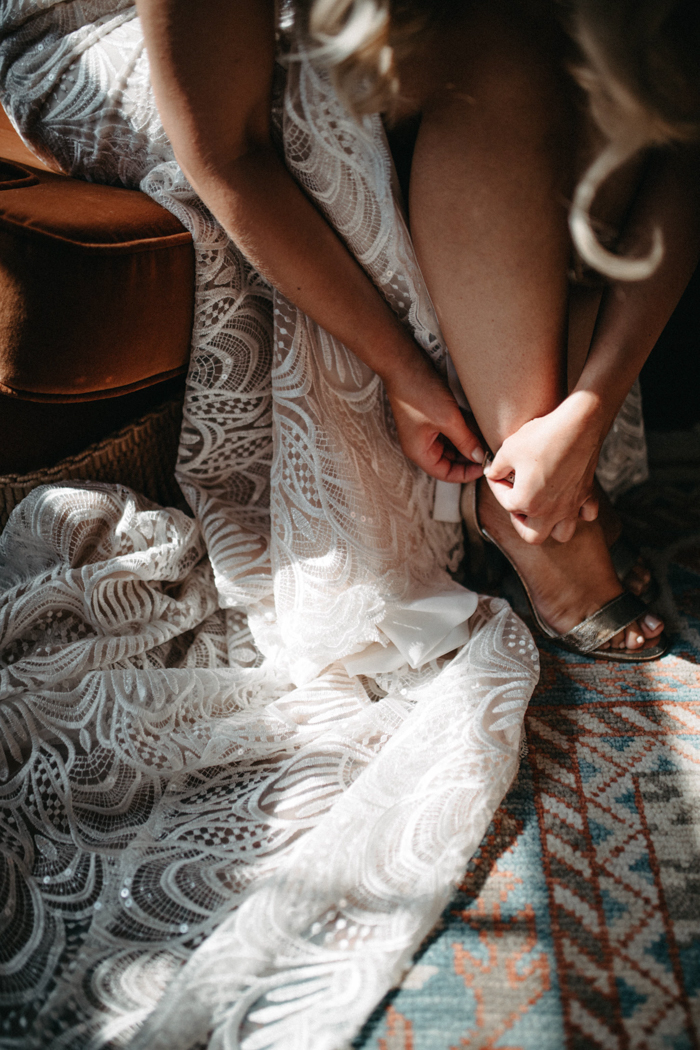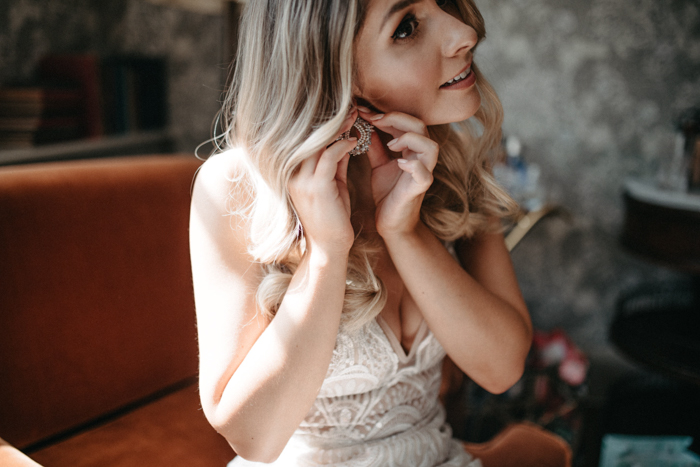 We wanted to try and create a wedding which felt quite timeless, so wanted to try and incorporate that into my look on the day. Because of this, I knew I would want a dress which had slight vintage feel, but at the same time I didn't want to feel like I was in fancy dress! I loved the scalloped design in the lace of my dress, which had a slight nod to the 1920s but the cut and shape still felt very modern.
For the rest of my look I wanted to keep it feeling quite relaxed. I never wear my hair up day to day, so felt it was important to feel myself on the day, so went with loose, big waves. I couldn't decide whether I wanted to wear a veil, and was debating it pretty much up to the day! In the end I decided to go with wearing a pair of statement, chandelier earrings and not wear anything in my hair.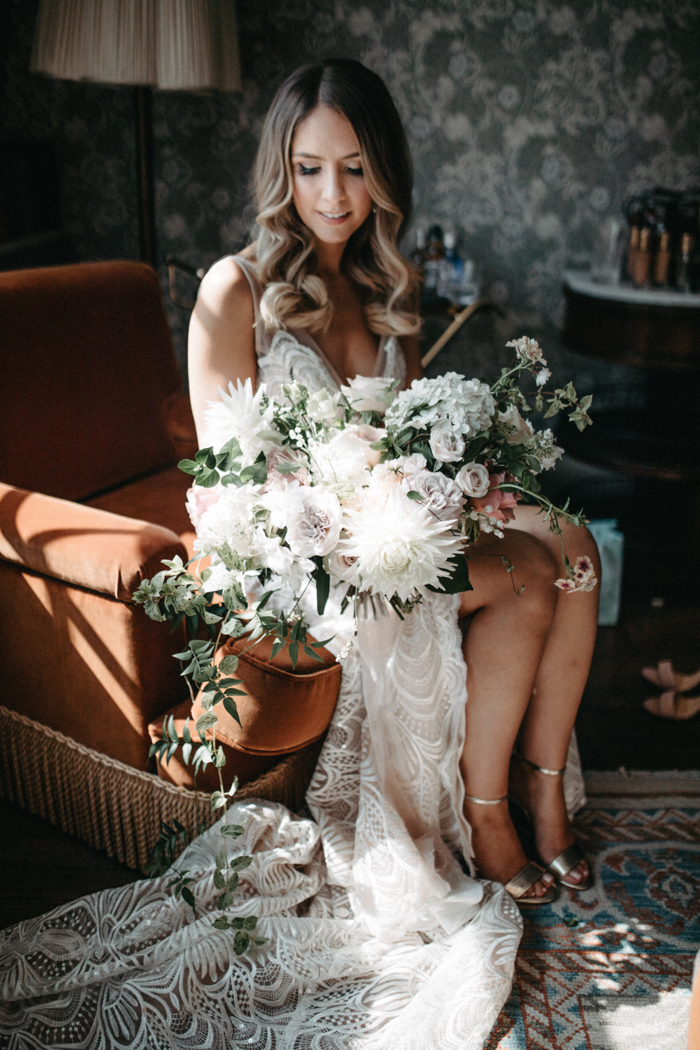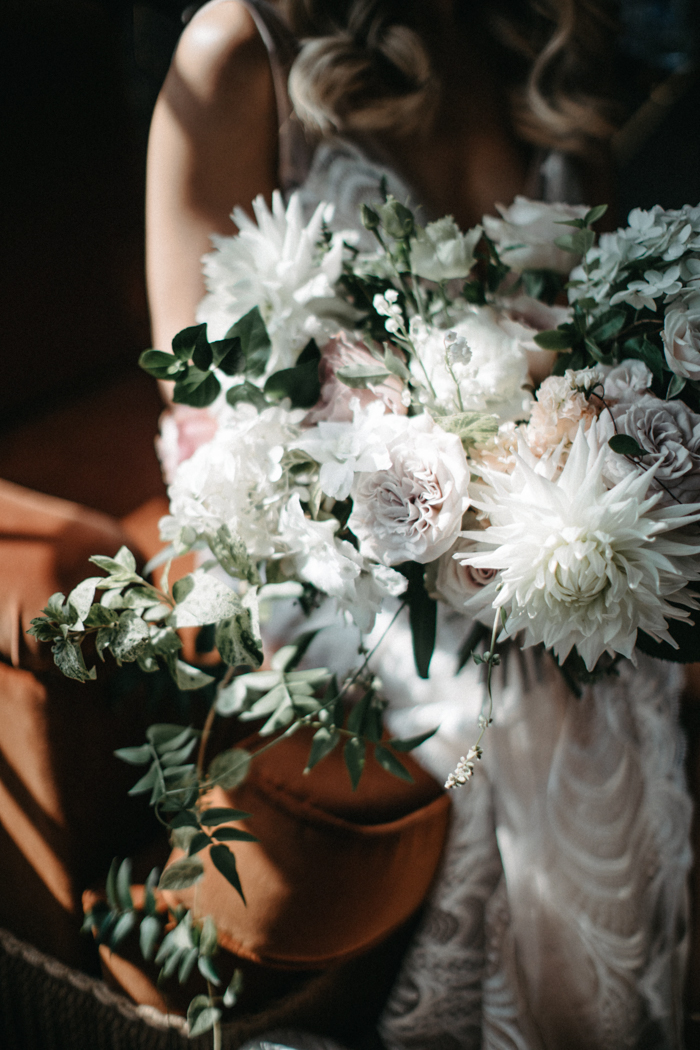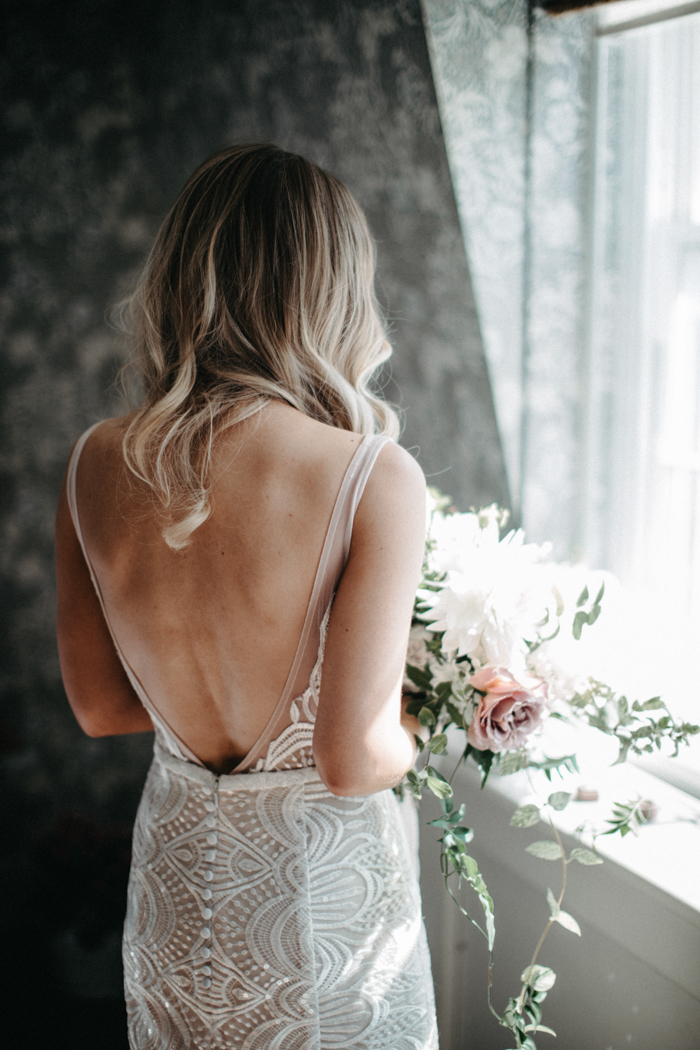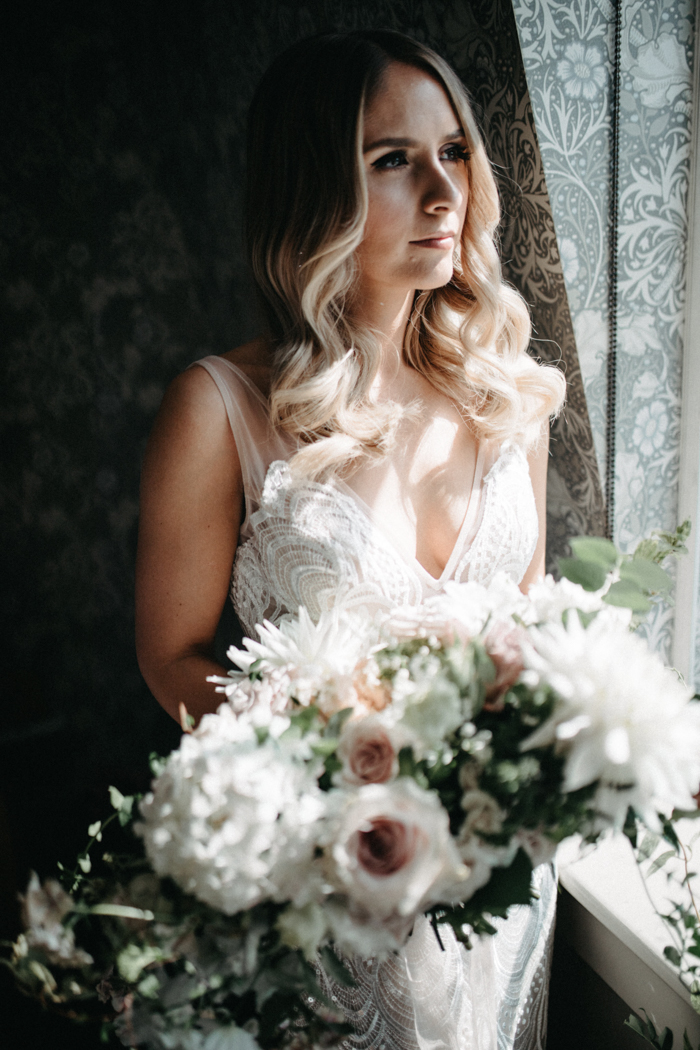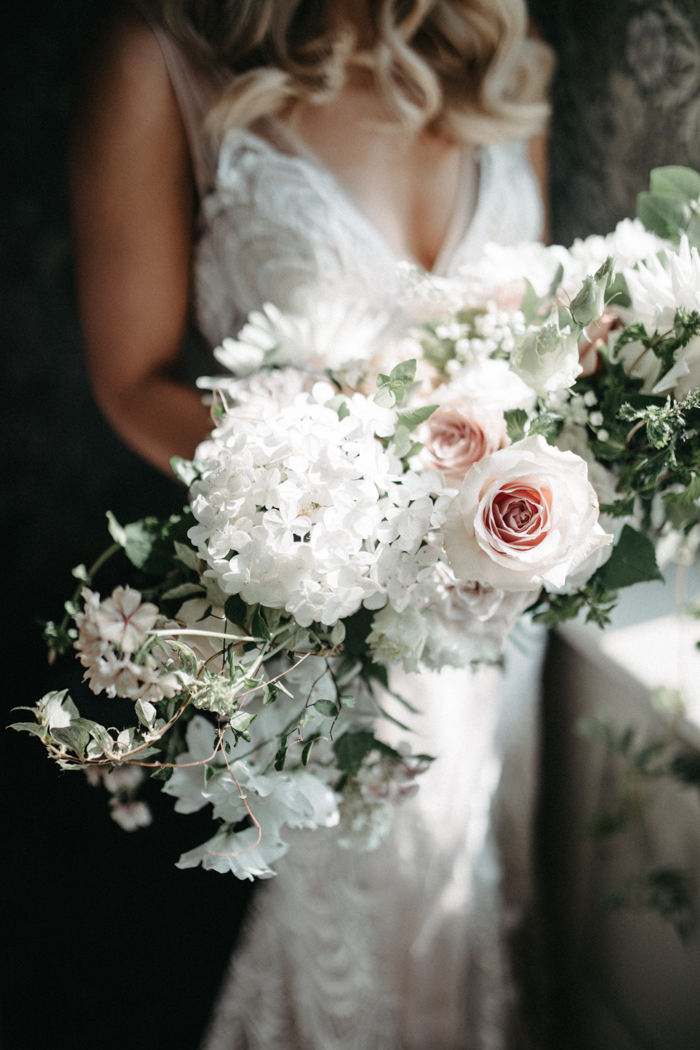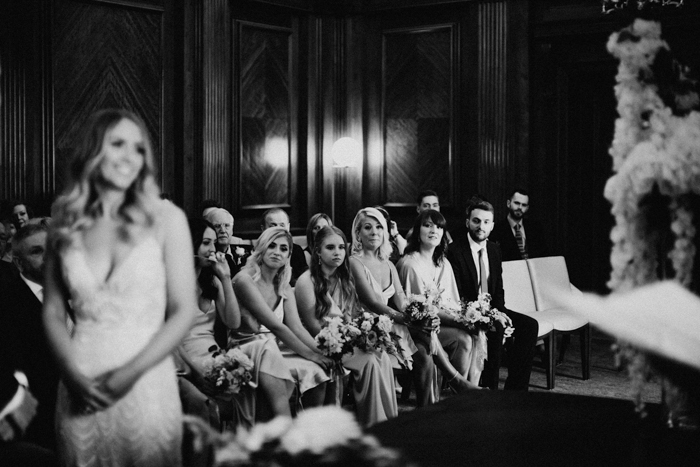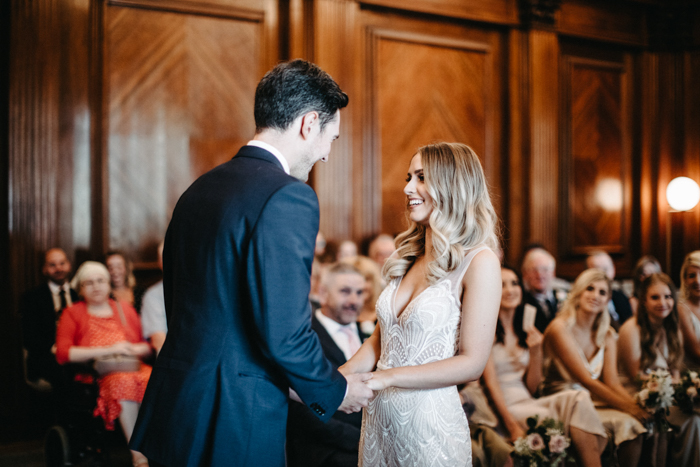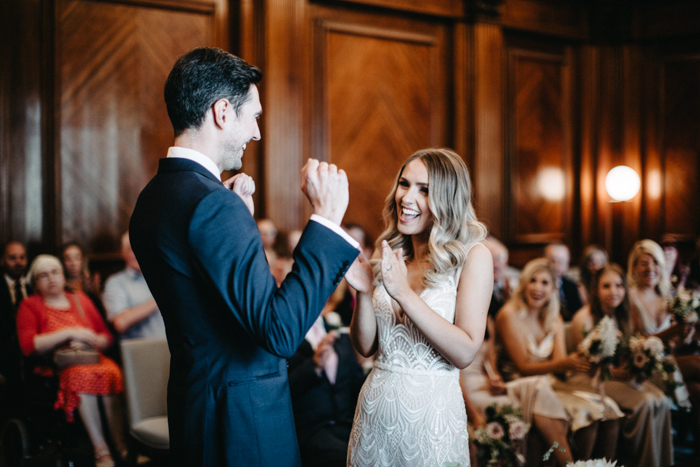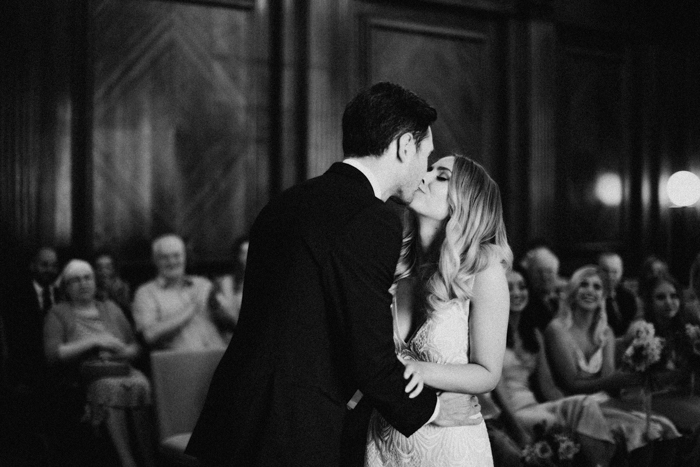 Natalie Pluck, our photographer, was amazing. Not only did she manage to capture the feeling and emotions on the day with some beautiful shots, she was also just such a pleasure to have there on the day. She was so lovely, helping me with my dress when none of my other bridesmaids could figure out the train, to keeping me calm in the car on the way to the venue. Her calm and warm personality put me and Andy completely at ease throughout the day.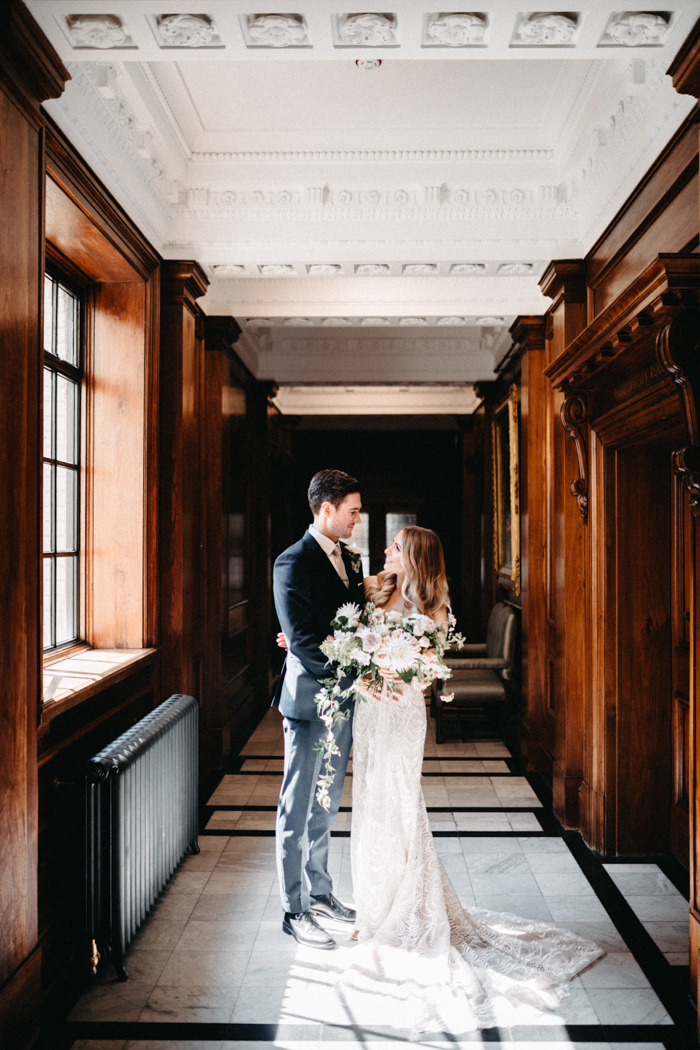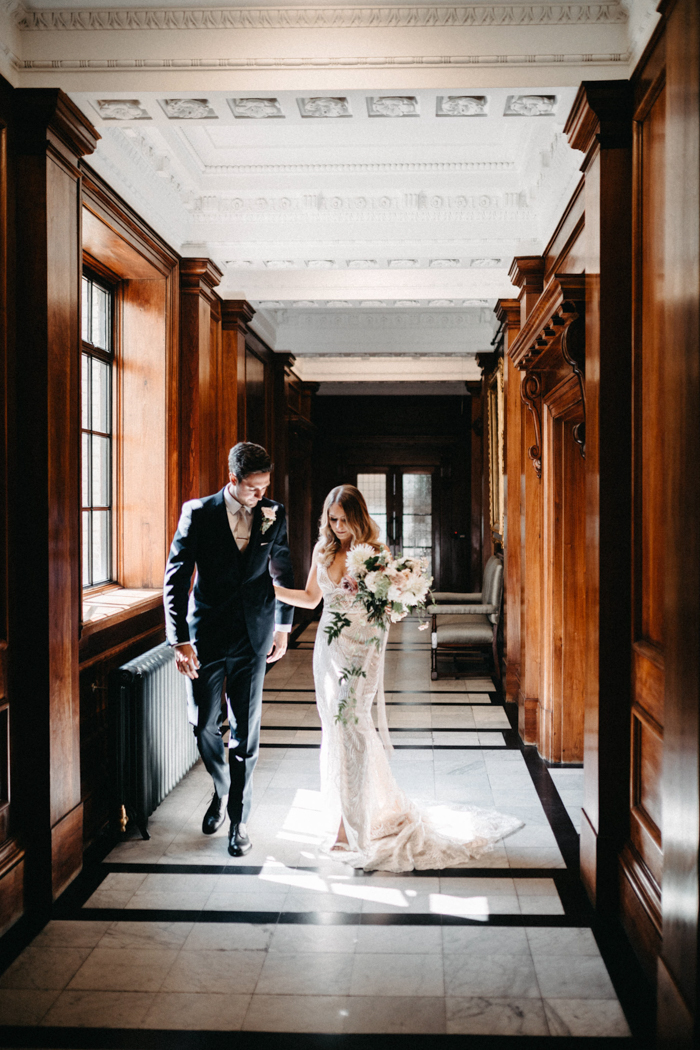 The most memorable part of the day was walking out of the town hall right after our ceremony and having our confetti throw as we walked down the iconic steps of the Old Marylebone Town Hall. Walking out of the ceremony, just married, seeing all the faces of everyone we loved, gave us the most overwhelming sense of happiness and excitement.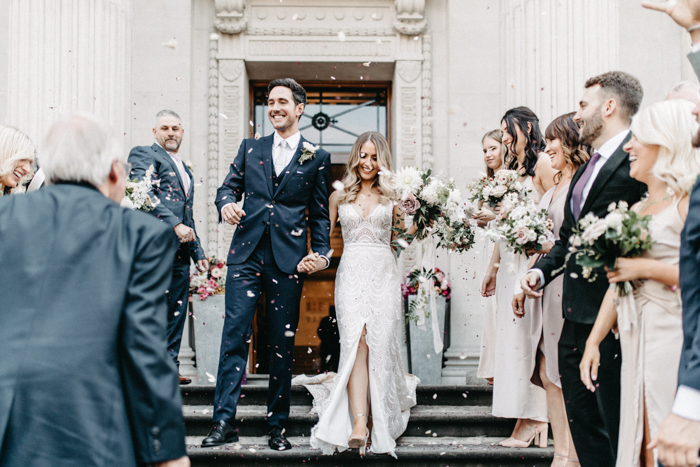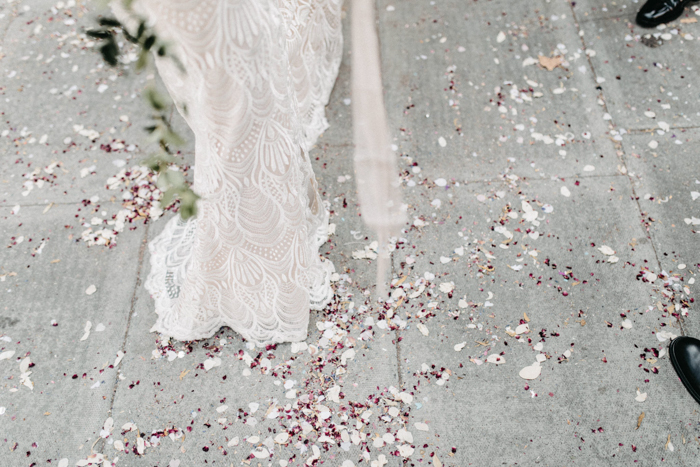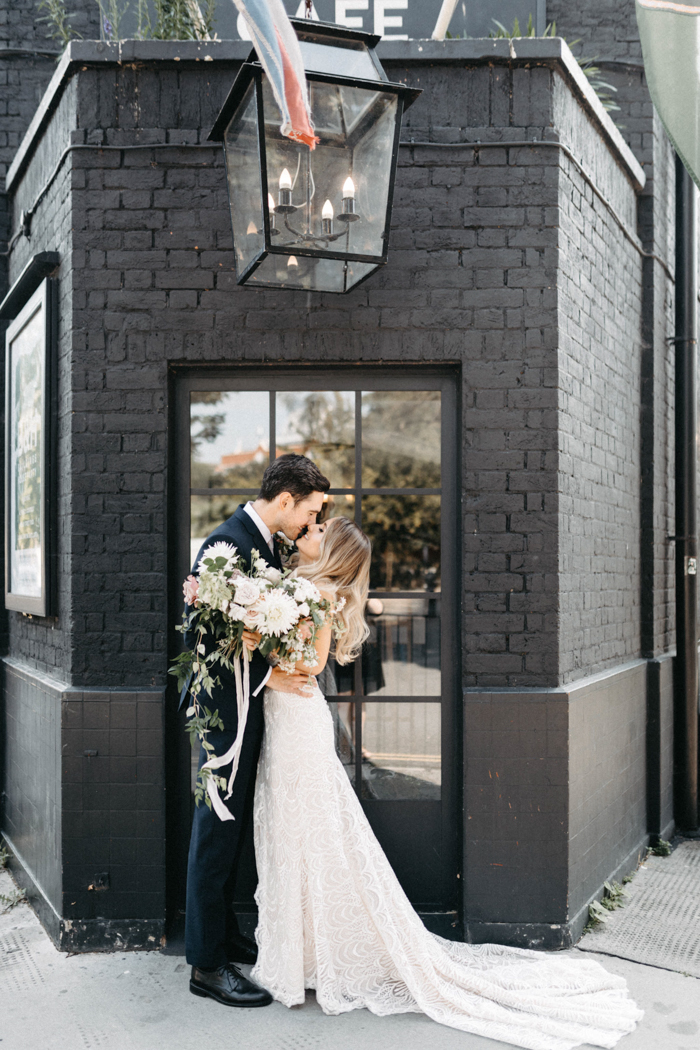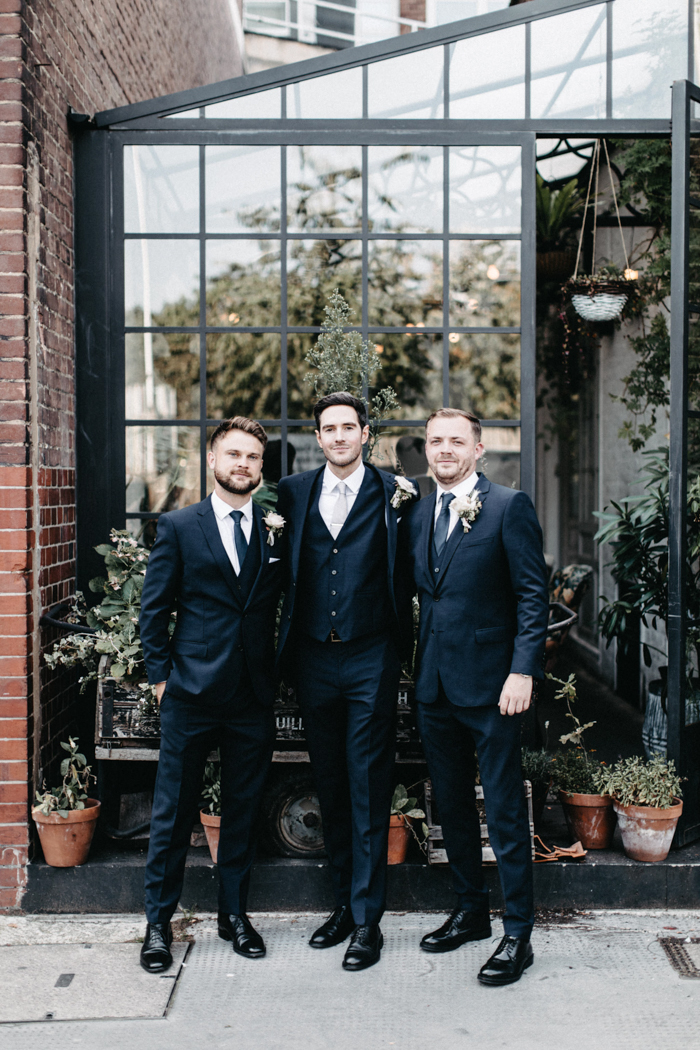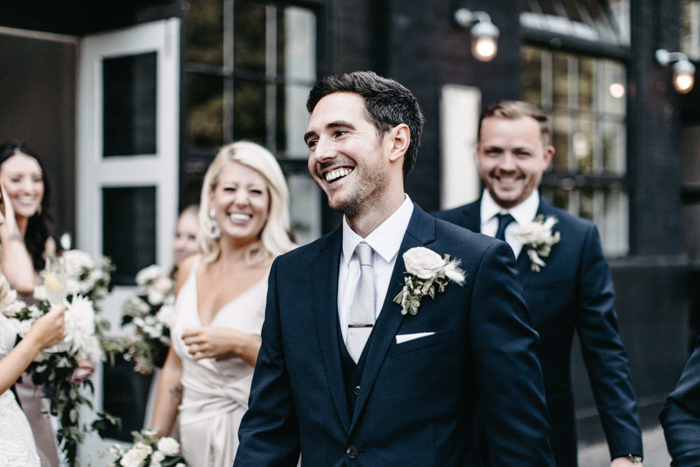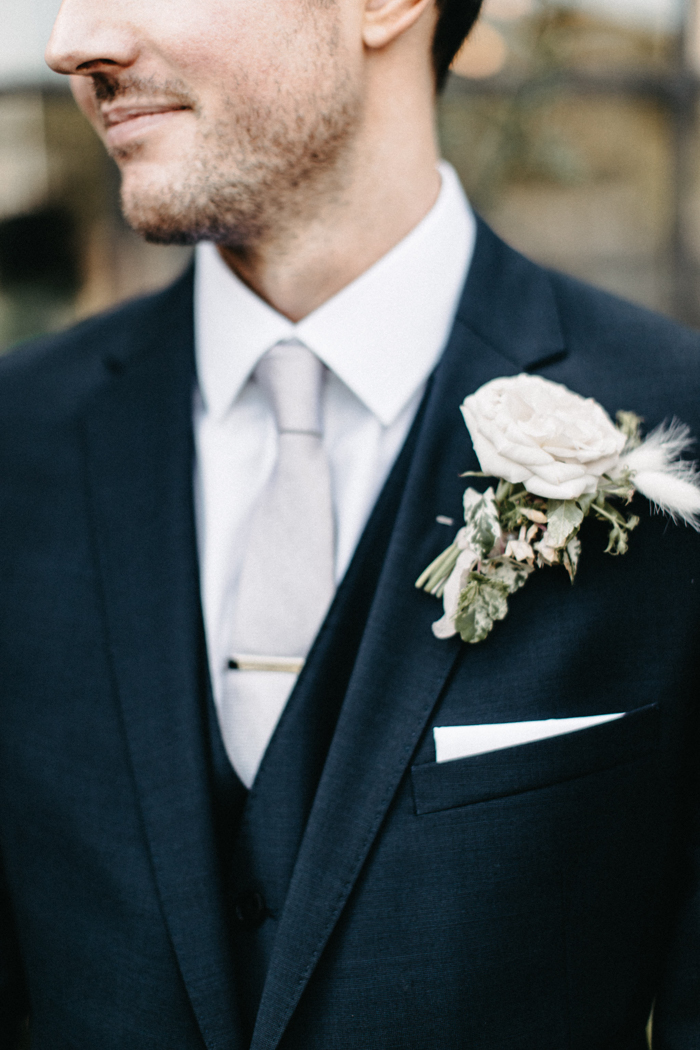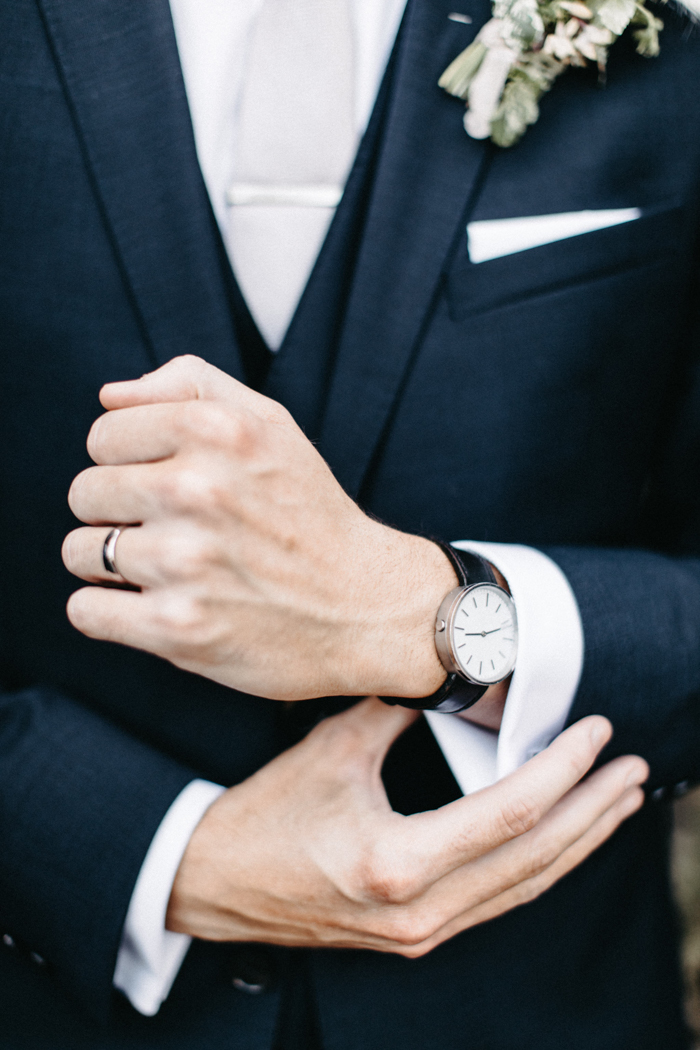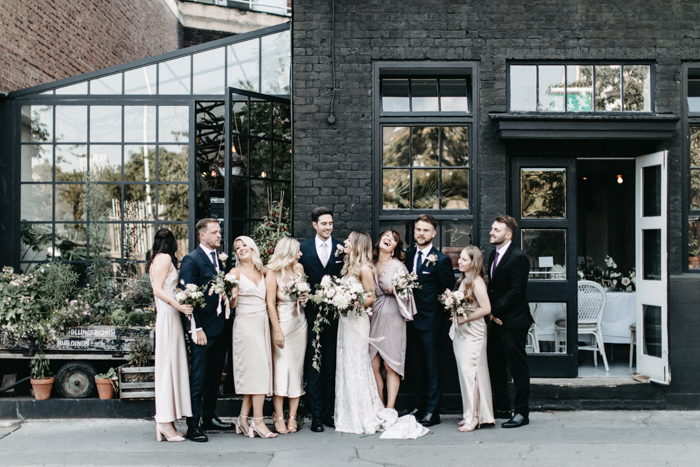 With the bridesmaids we decided everyone would wear different dresses, providing they tied into the colour palette of very muted pastels and neutrals. We thought this would be easier than trying to find a dress which would suit everyone's body type, however trying to find five individual dresses which everyone likes but also works together probably ended up being more difficult! It was also very difficult to co-ordinate as most of the bridesmaids live in different parts of the country, so we hadn't actually been able to have all the bridesmaids in one location trying the dresses on altogether, so it was a bit of a risk but it totally paid off on the day.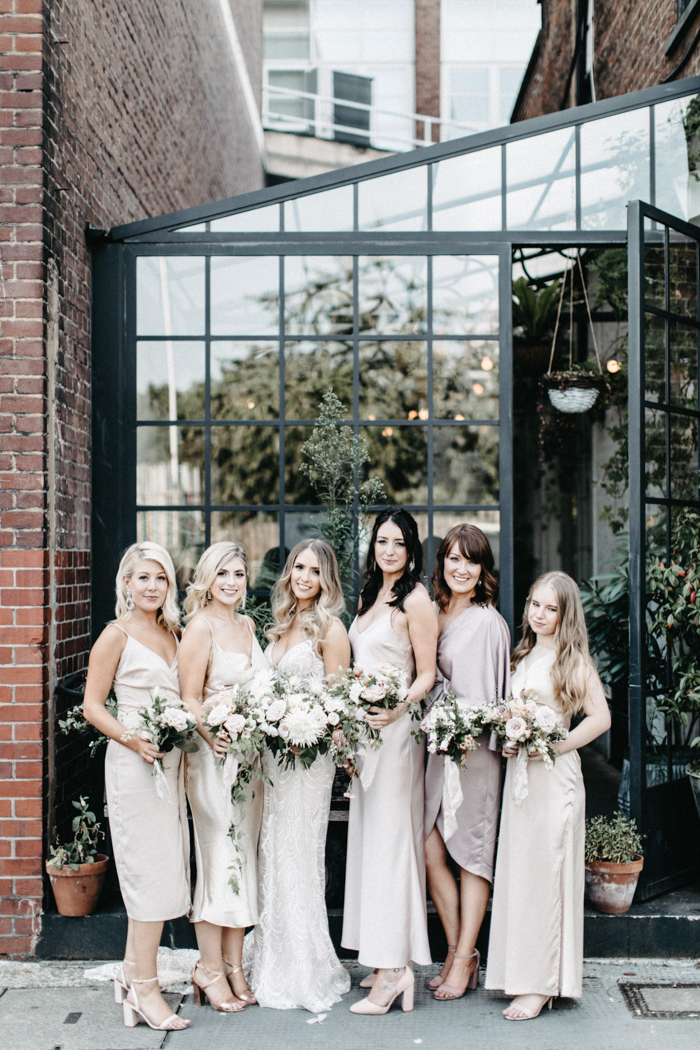 SHOP THIS LOOK: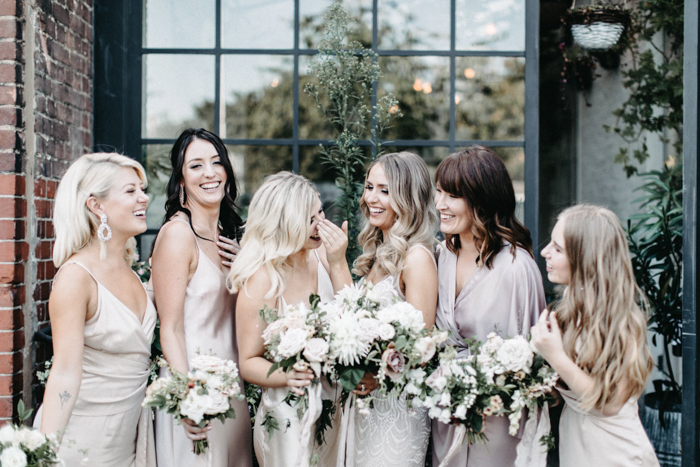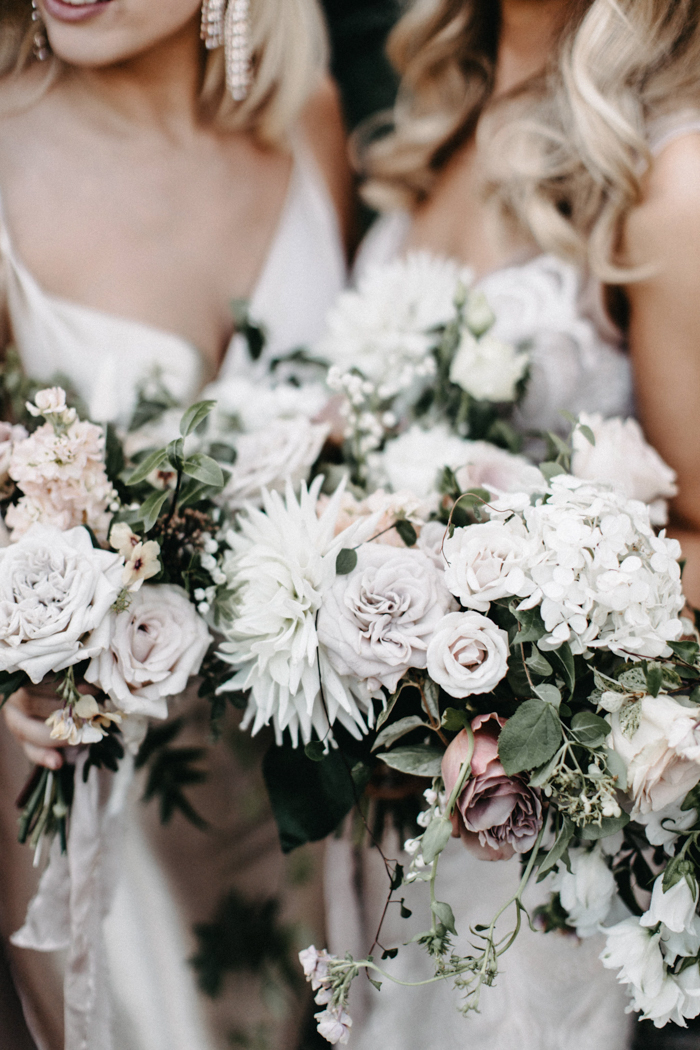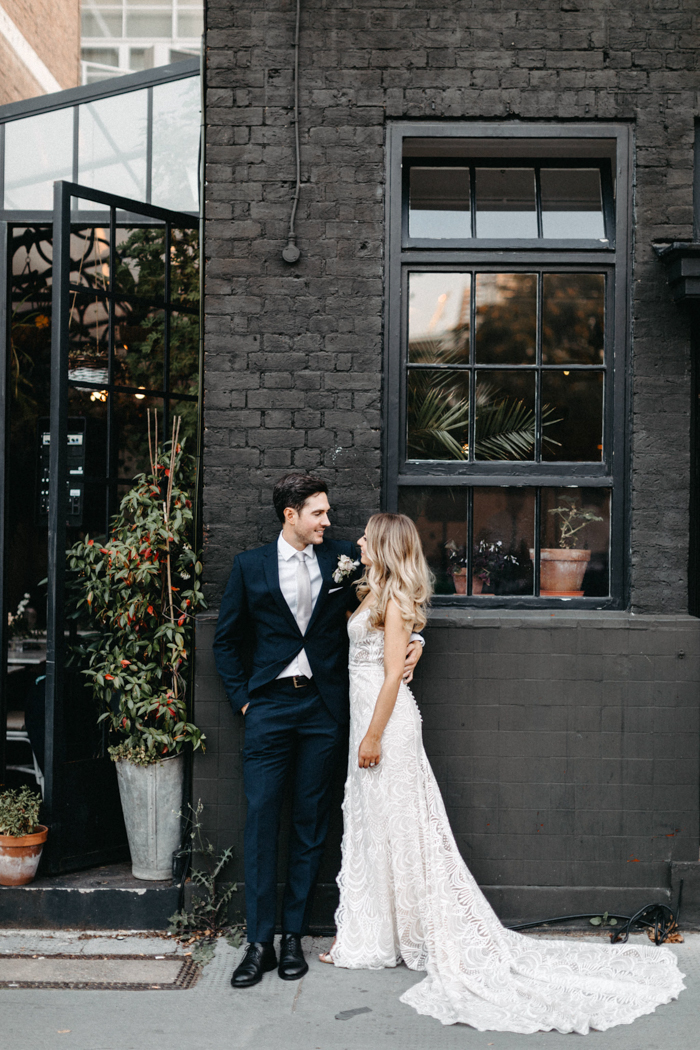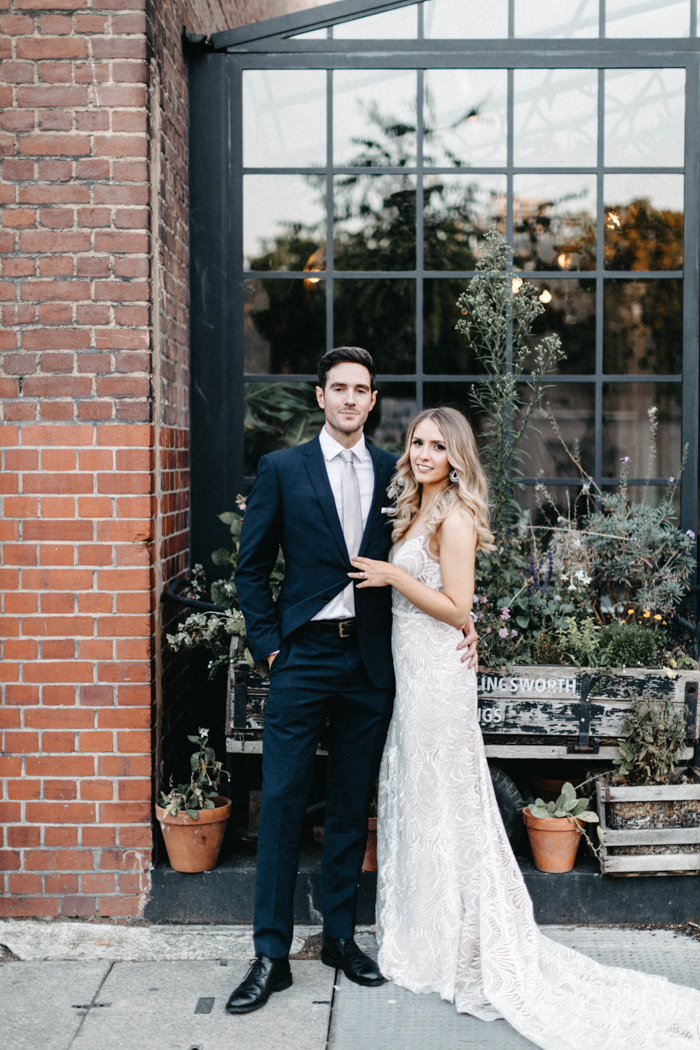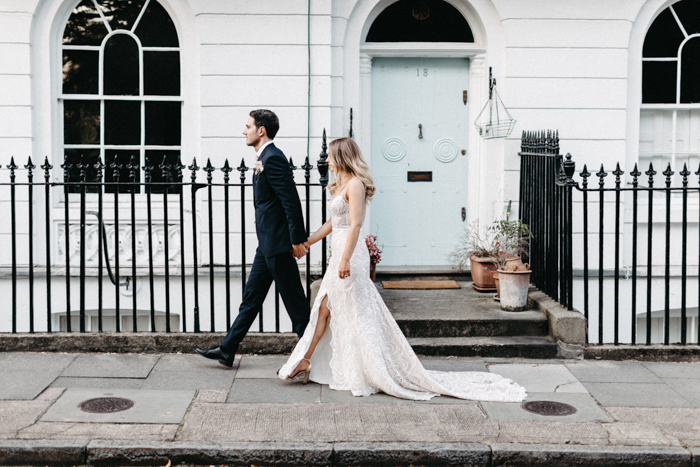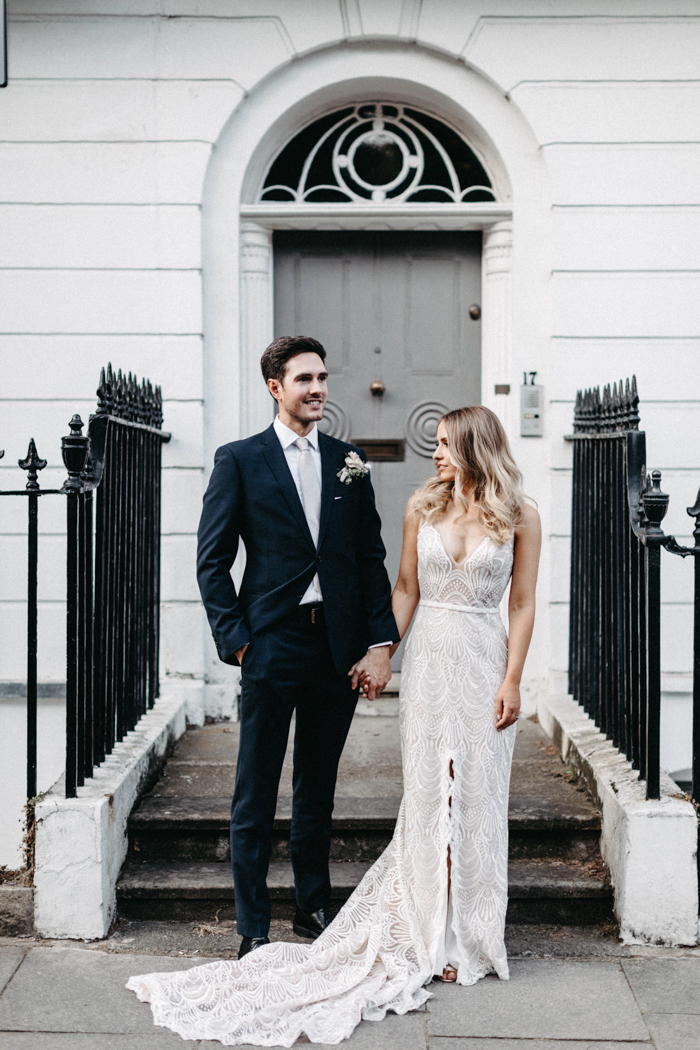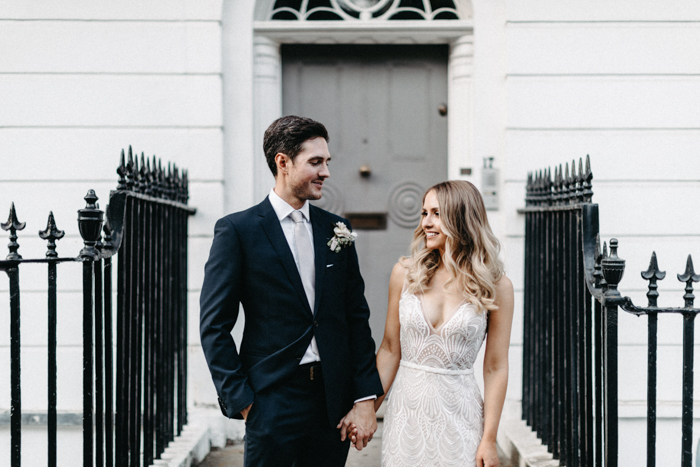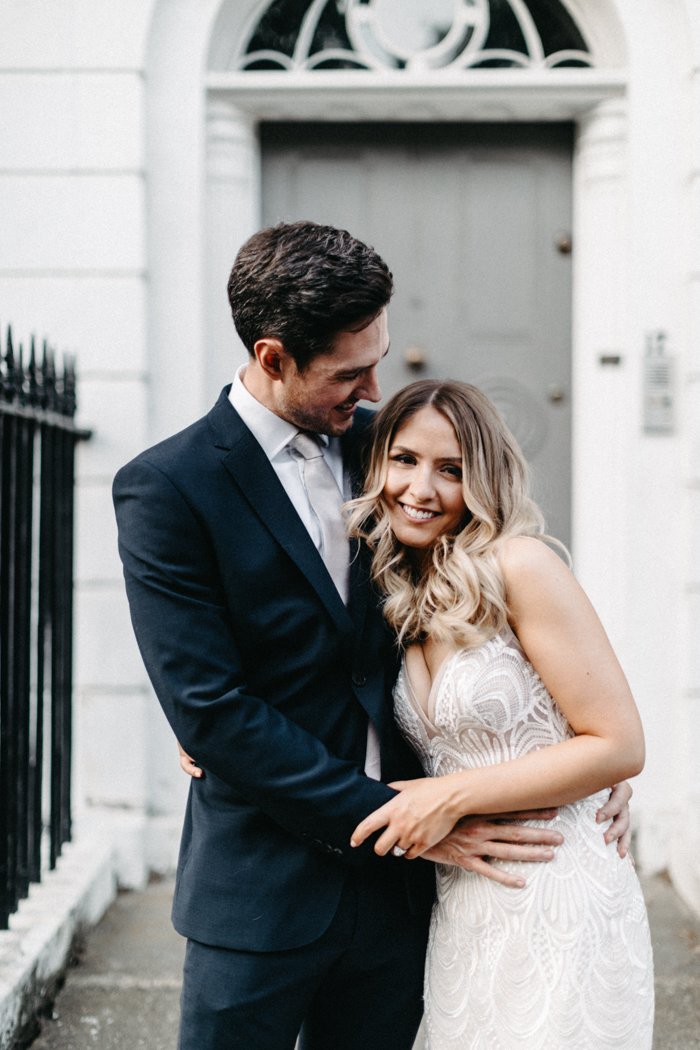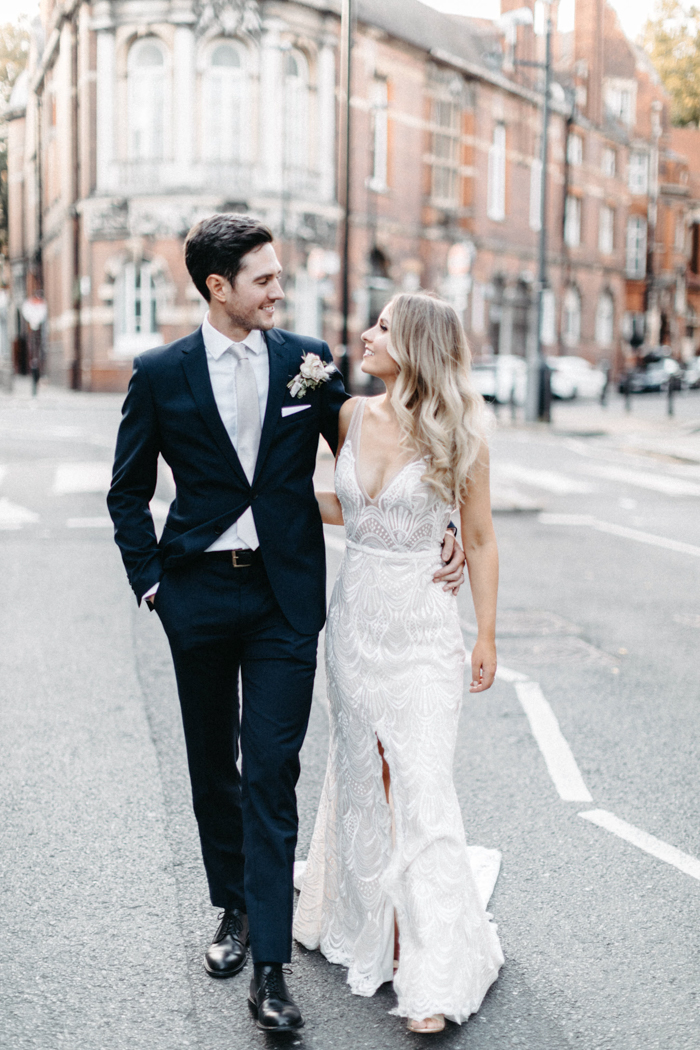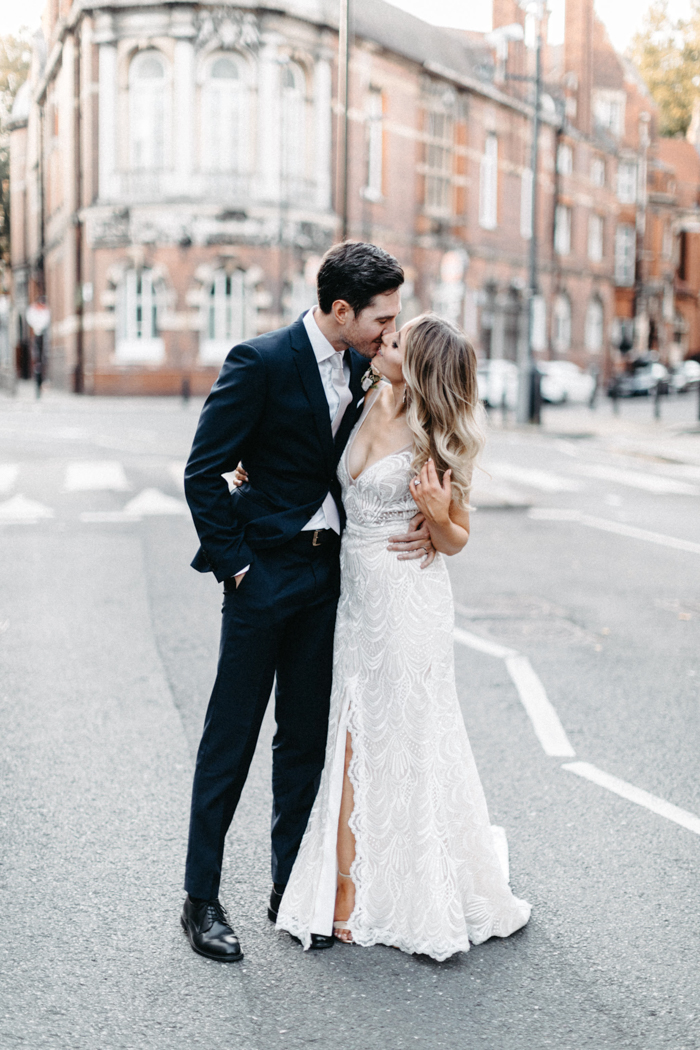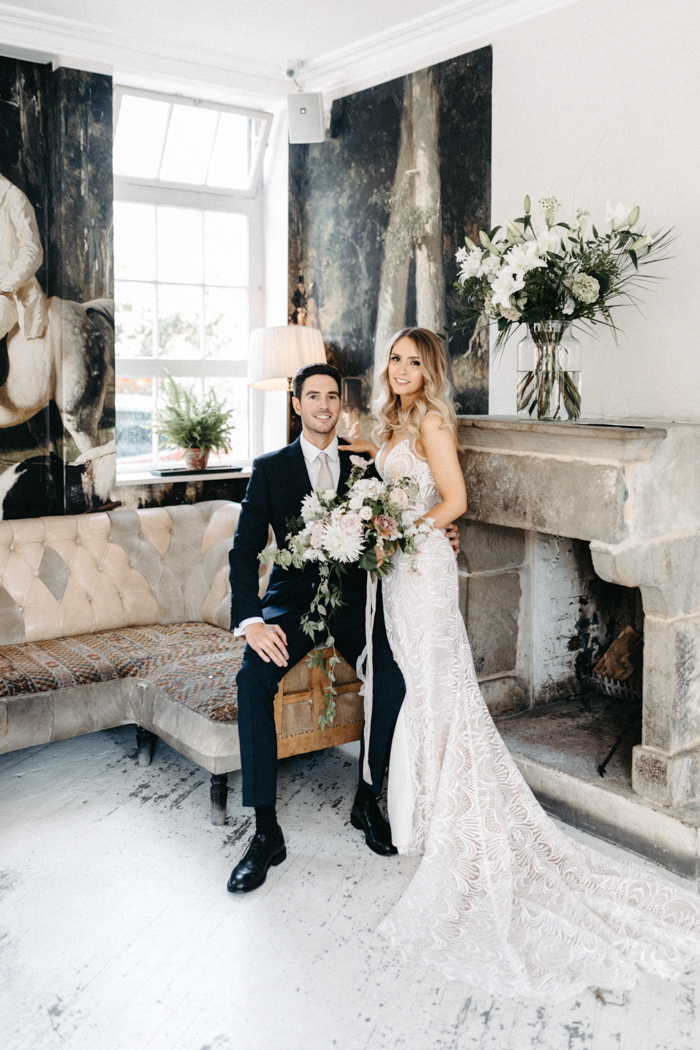 Wedding planning advice from the couple: Everyone will tell you before the big day how quickly it goes, and it really is so true! We also didn't appreciate how much of the day you spend apart, trying to greet and mingle with as many guests as possible. We were really lucky our venue provided a private room which we used to just pause and catch up just the two of us, a couple of times throughout the day. Taking just a small amount of time out, just the two of you, makes you take a step back and take everything in. It's the most special, amazing day, which will pass by in a flash, so try and squeeze in some time to appreciate the moment.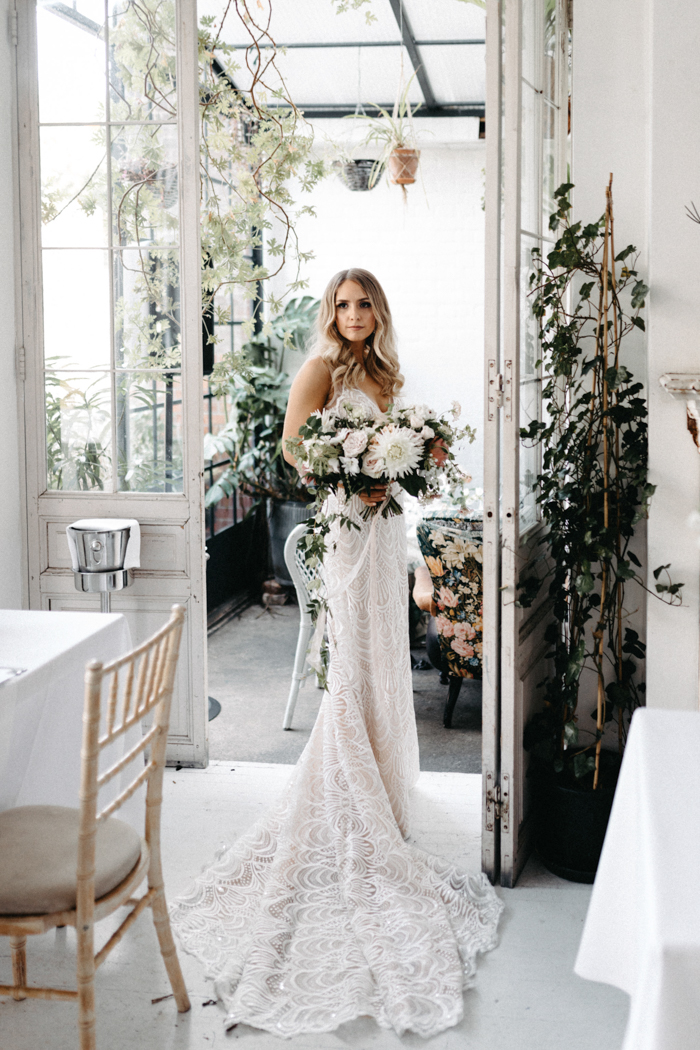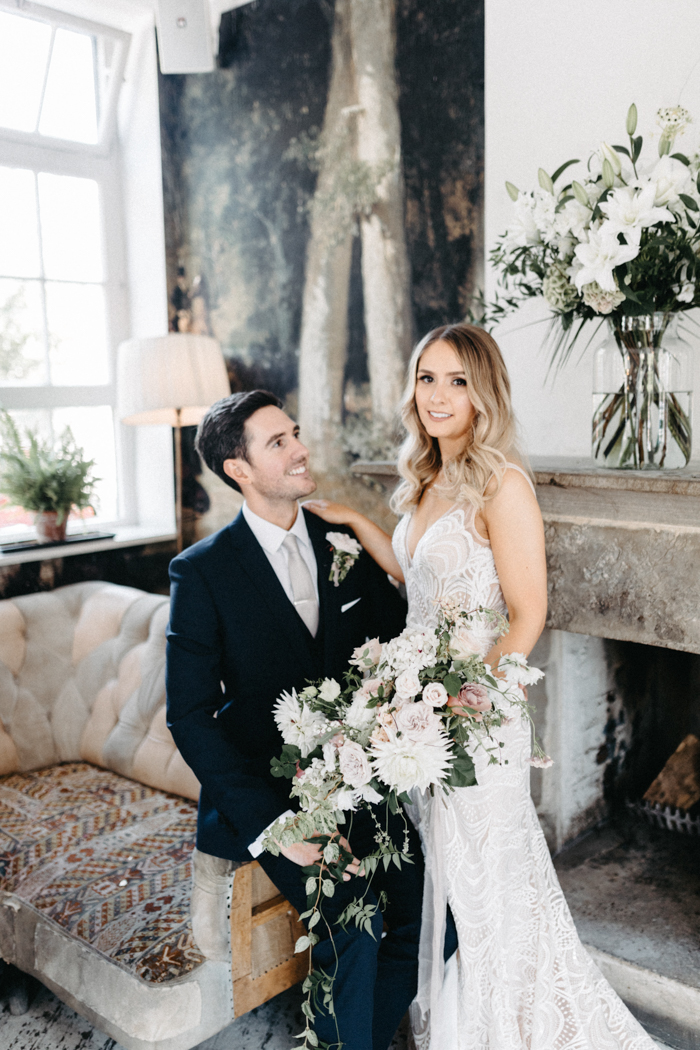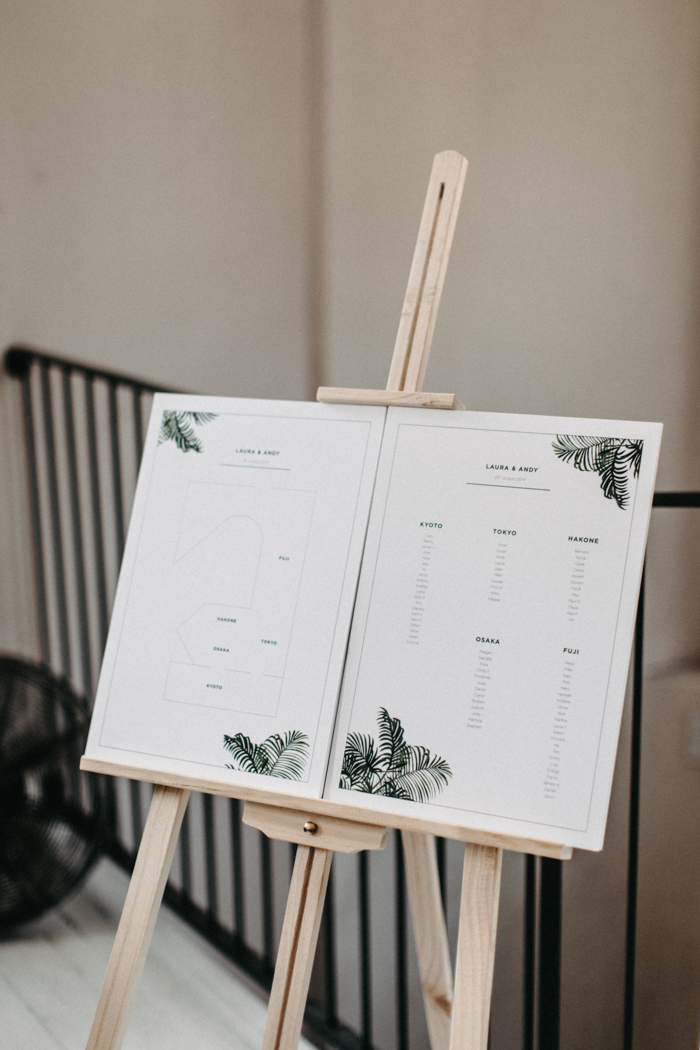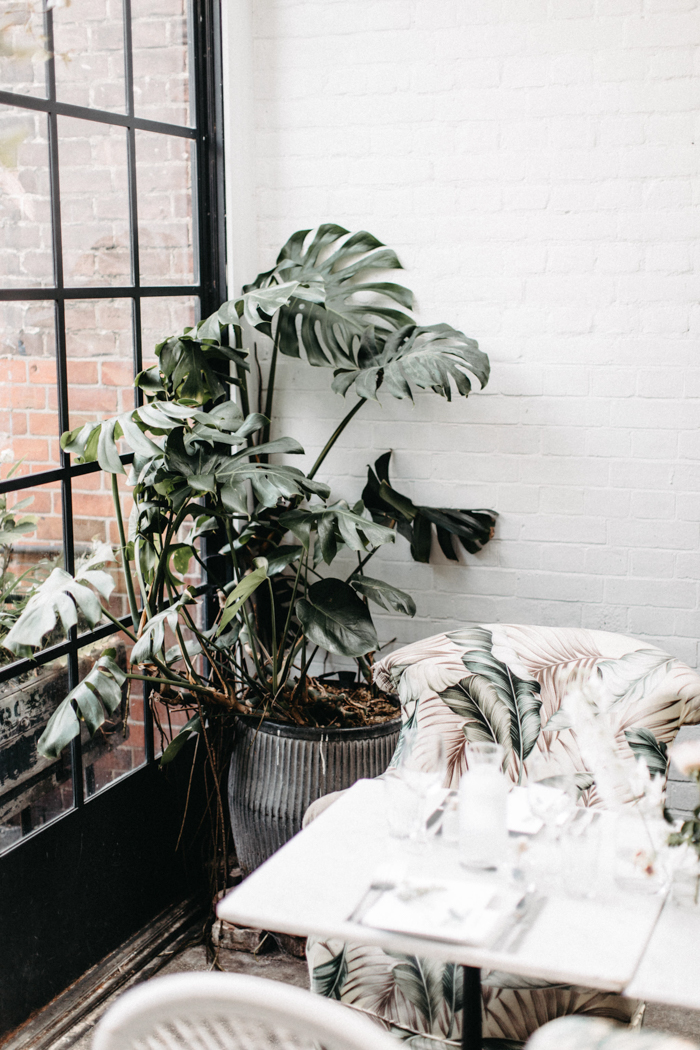 We instantly fell in love with The Bourne & Hollingsworth Buildings. We went to view it on a beautiful summers evening, and was blown away by the bright, airy space filled with character. It has a really elegant, understated glamour, filled with chic antique furniture and the most amazing conservatory full of beautiful greenery. It's all the little details of the venue which also makes it so special, from its stunning vintage ceiling fans, to mis-matched chairs and huge vintage mural, it just encapsulated the kind of timelessness we wanted to try and achieve for the look and feel of the day.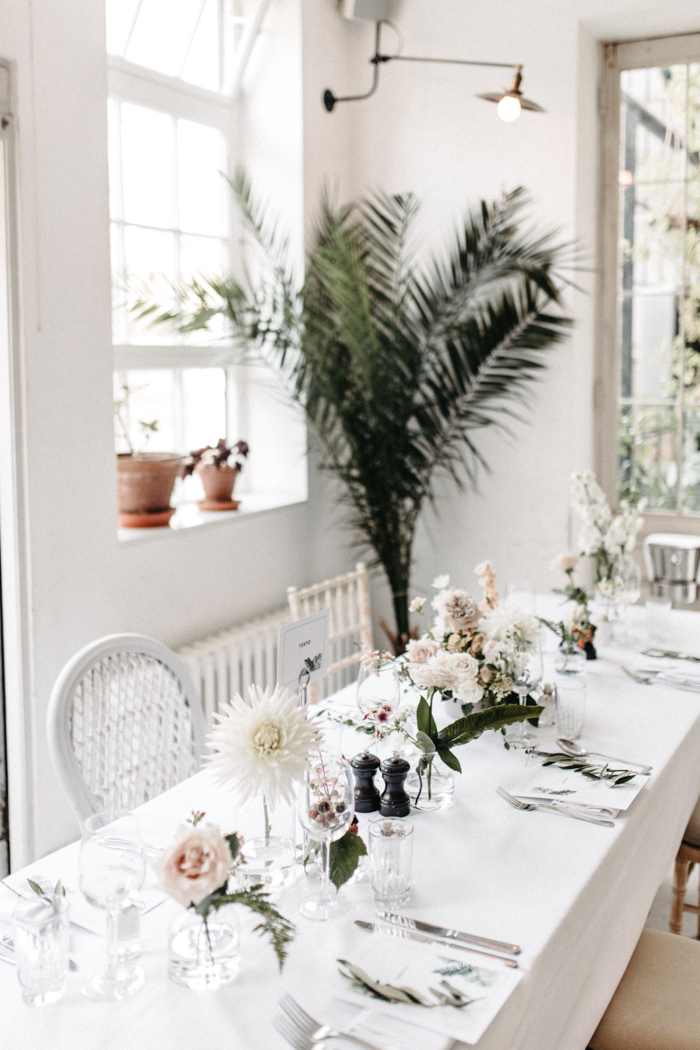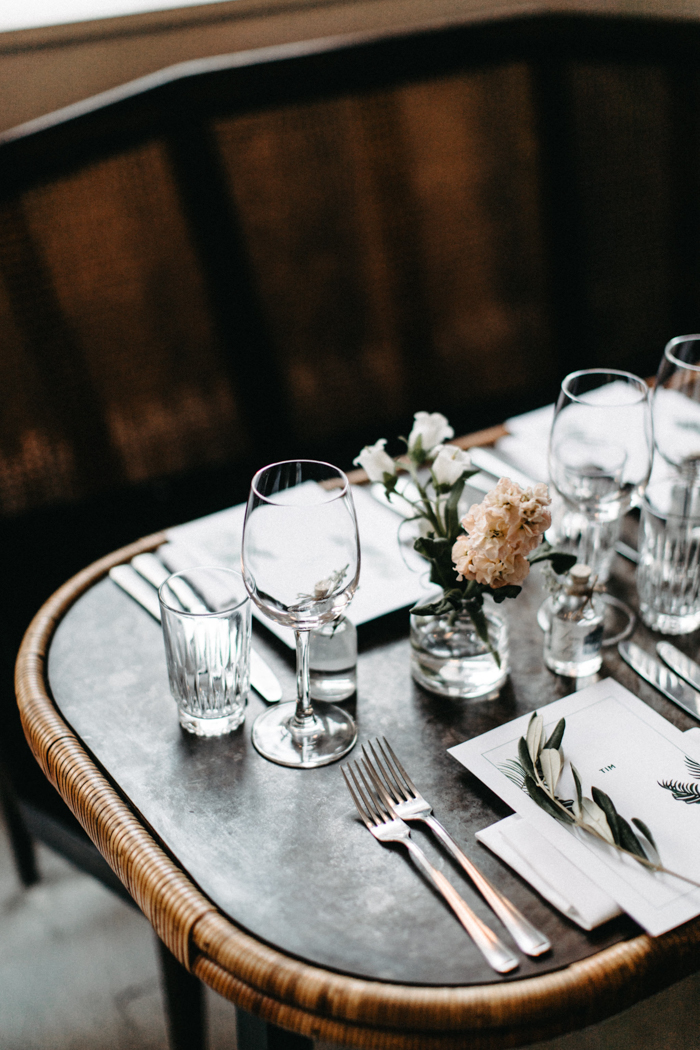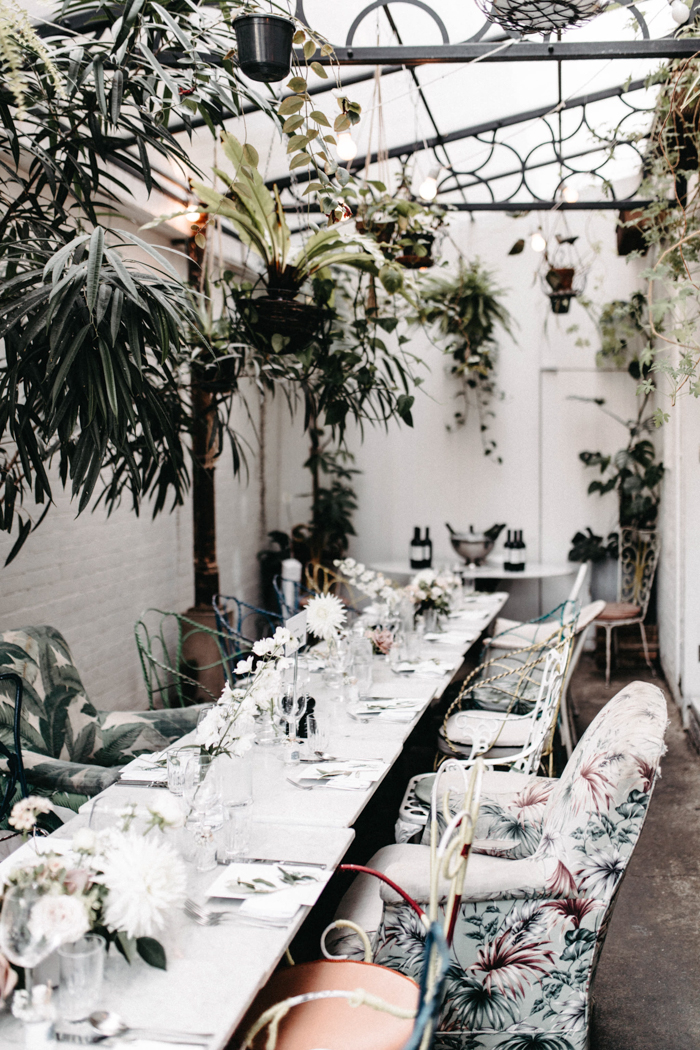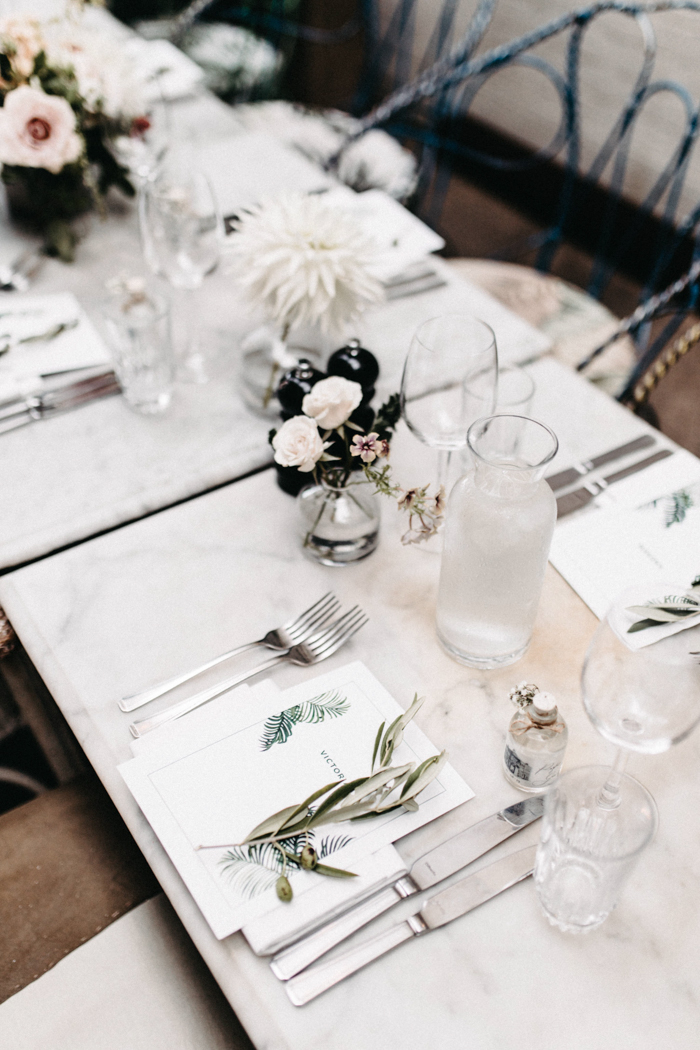 We were lucky our best man co-owns a gin bar and small-batch distillery in London called Jim and Tonic. He very kindly offered to bottle up miniatures of their Parfum Gin, which is made using lavender and bergamot oils to create a really distinctive and aromatic gin, for our favours. We then asked Andy's dad to create a watercolour painting of our venue for the label. It was one of my favourite details on the day, as it felt like it was something very personal to us.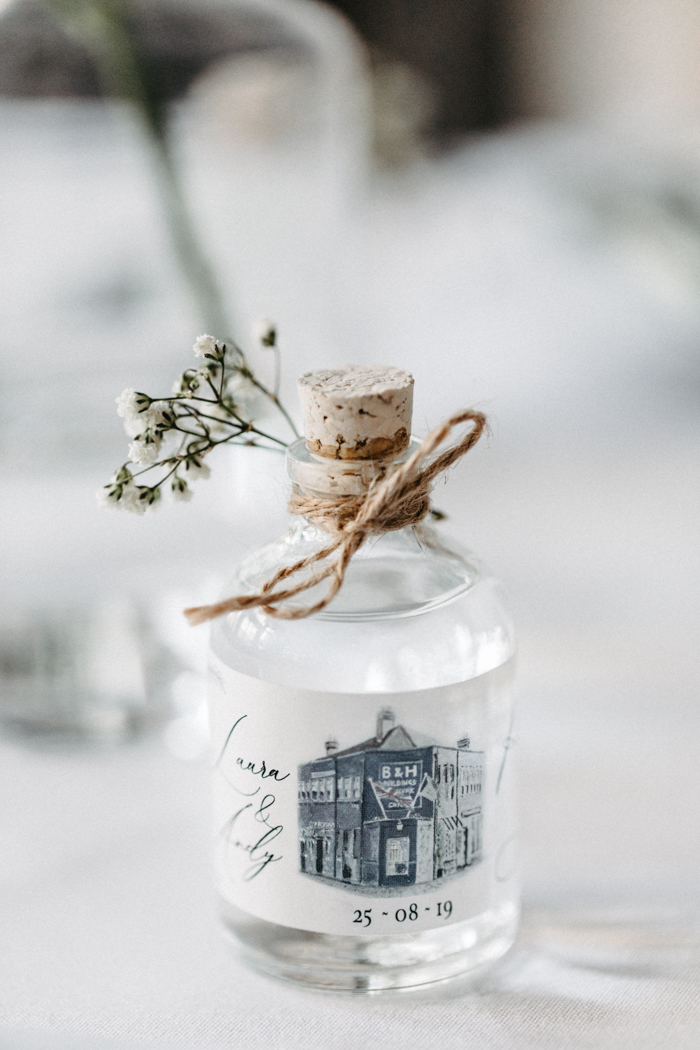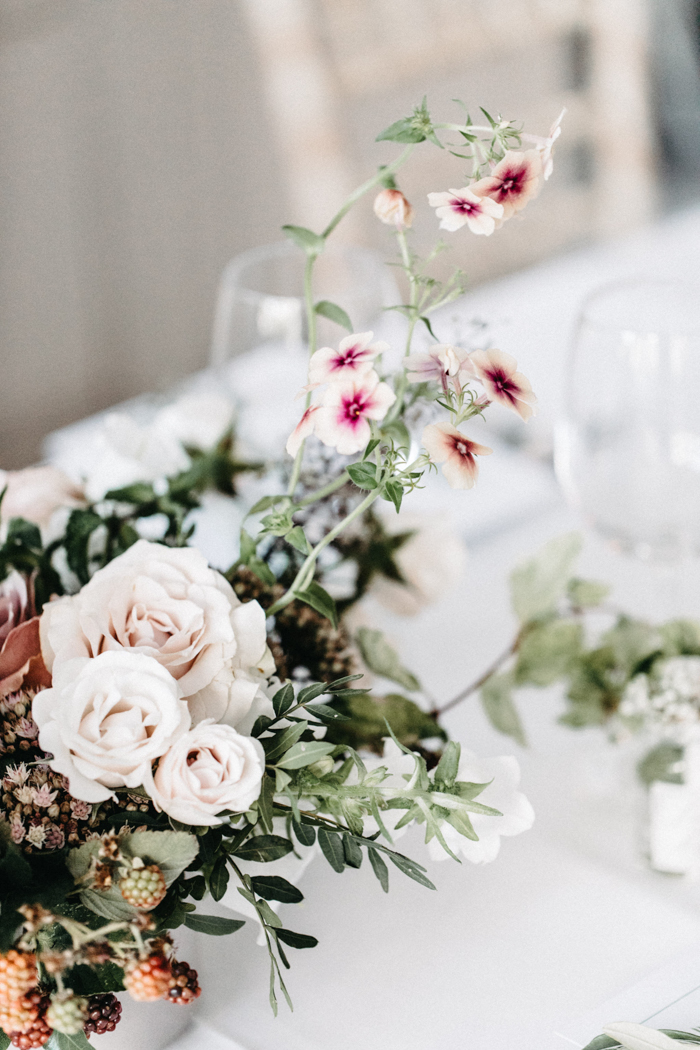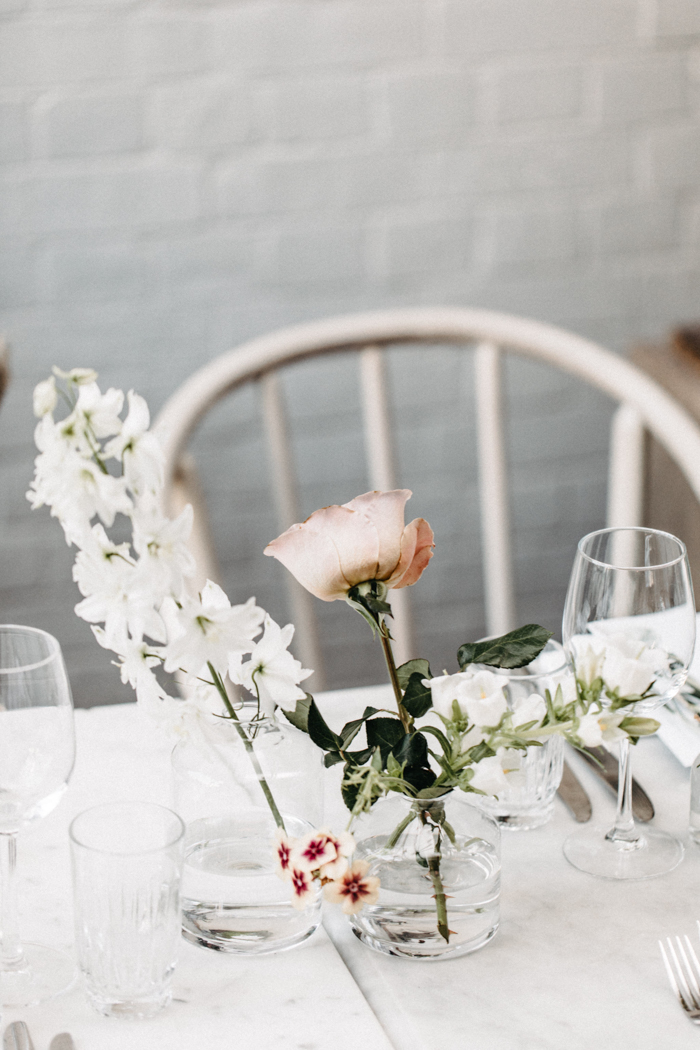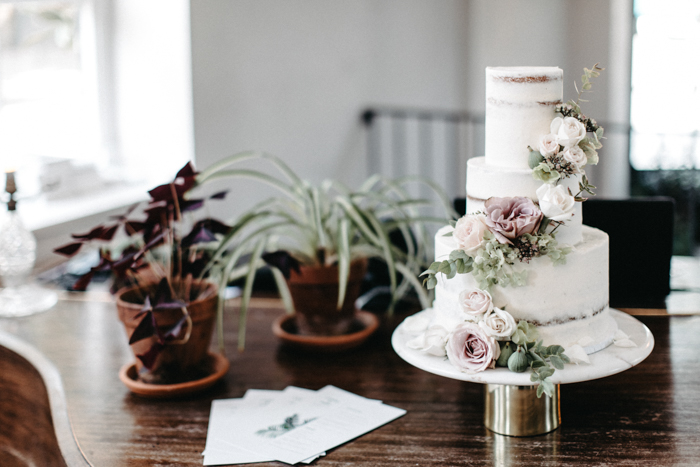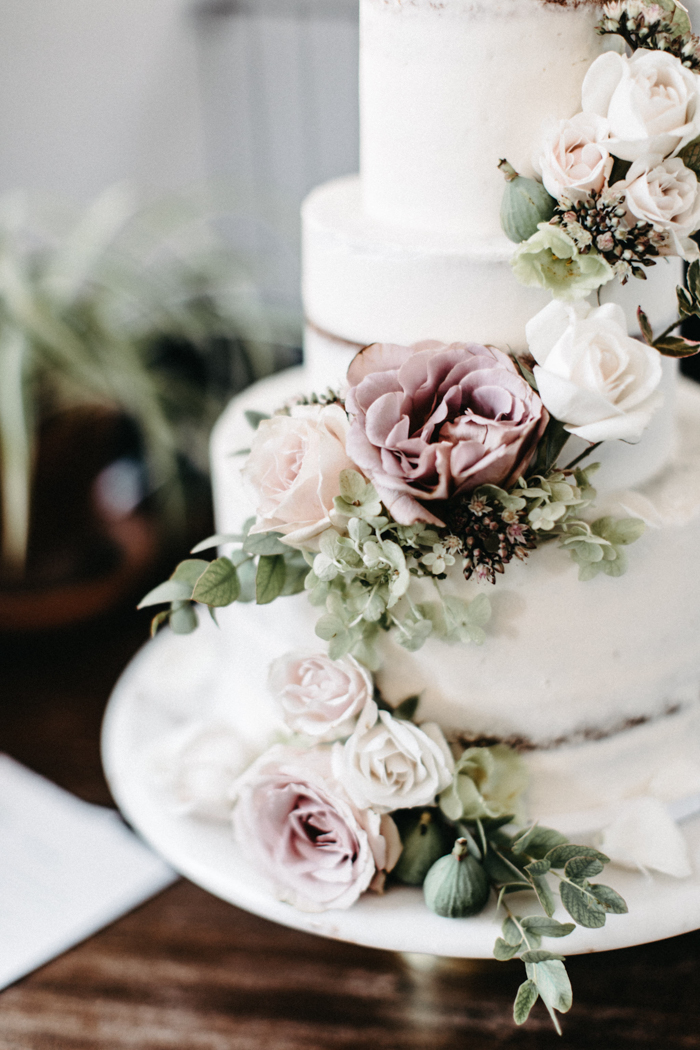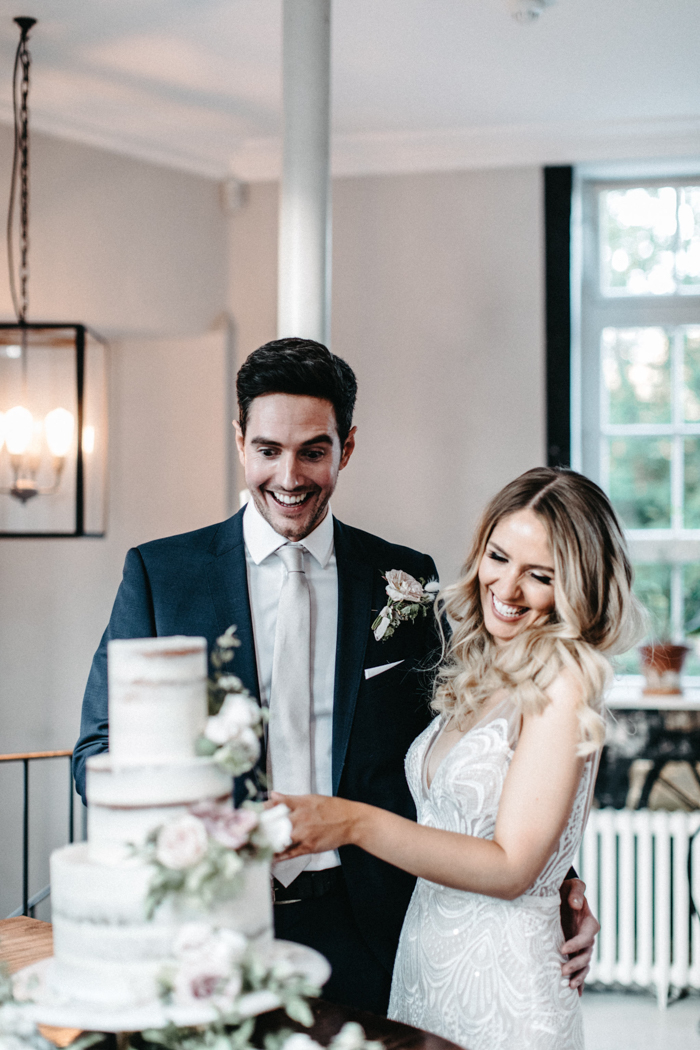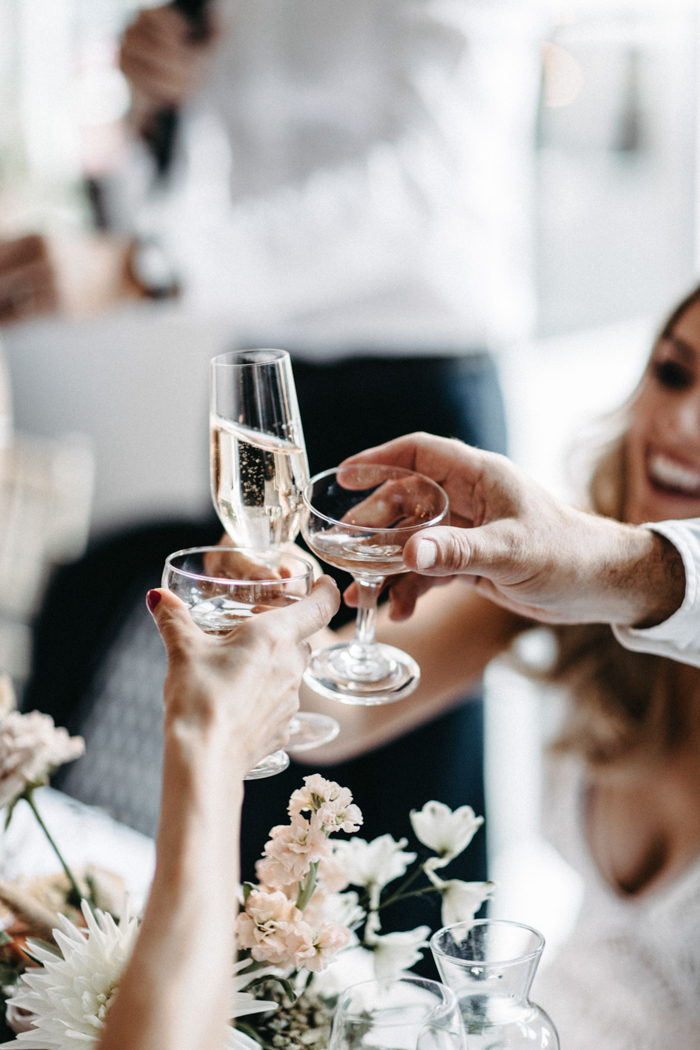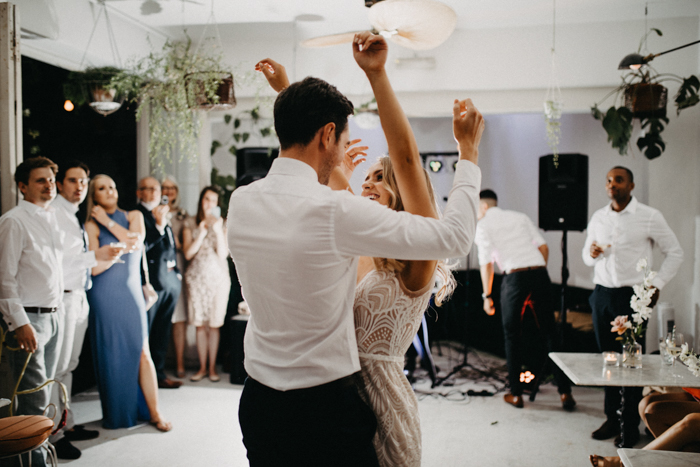 We wanted to ensure guests felt relaxed and had fun! Particularly when the party started, we wanted guests to really feel they could let their hair down. We chose our band as we'd seen them at a friend's wedding last year and loved how much energy they had, we knew our guests would love them. They were really interactive with the crowd, singing and dancing with guests, which I think really helped get the party started!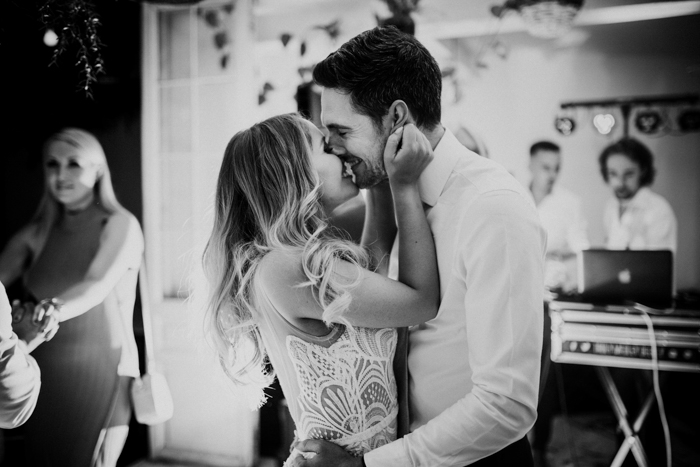 Cheers and congratulations, Andy and Laura! We're feeling lucky to have Junebug member Natalie Pluck, who shared their timeless day at The Bourne & Hollingsworth Buildings with us! Loving Natalie's work? Be sure to check out her page in our vendor directory of the world's best wedding photographers.