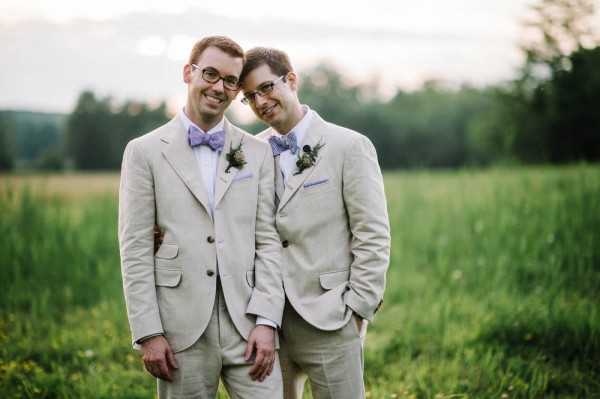 We love that New York weddings can take on a completely different look in different parts of the state. Jordan and Chris' lavender and sage wedding in upstate New York took place at old Grasmere Farm. The modern rustic theme was achieved with an array of farm fresh food, a couple of stylish grooms, and a subtle succulent motif. Hudson River Photographer Diane Stredicke masterfully captured the pair throughout their sweet wedding.
The Couple: Jordan and Chris
The Wedding: Grasmere Farm, Rhinebeck, New York
The Inspiration: "We were married at an old, abandoned farm in upstate New York, which lent itself to a "modern rustic" theme. We tried to reflect this theme in as many of the wedding details as possible. The invitation suite featured our favorite farm animals, and the catering was also farm-focused. We designed the cocktail hour to look and feel like a farmer's market, with a central market table and several tasting stations featuring locally-sourced foods. The "farm-to-table" dinner was served at communal tables inside the barn. As for the fashion, we went for a bit of a rustic, "gentlemen farmer" look, with vintage-style, matching cotton/linen suits and coordinating bow ties."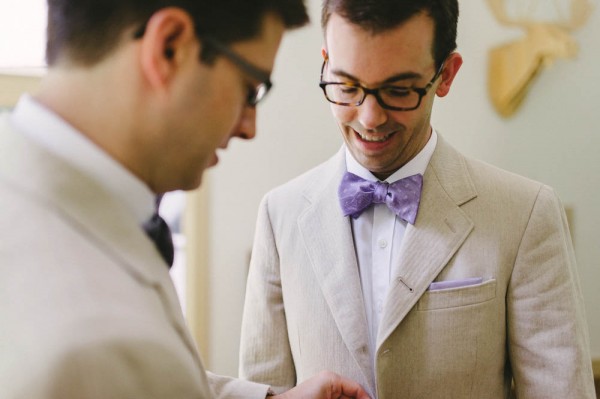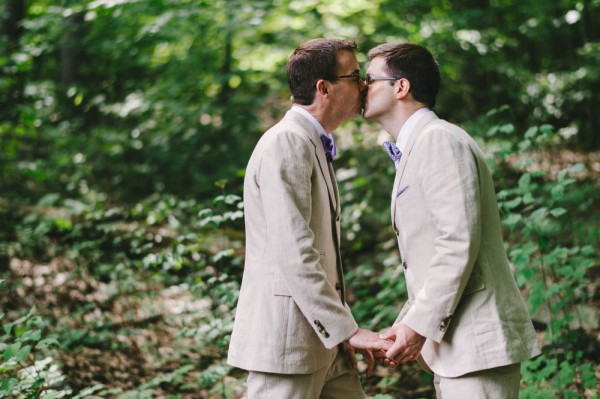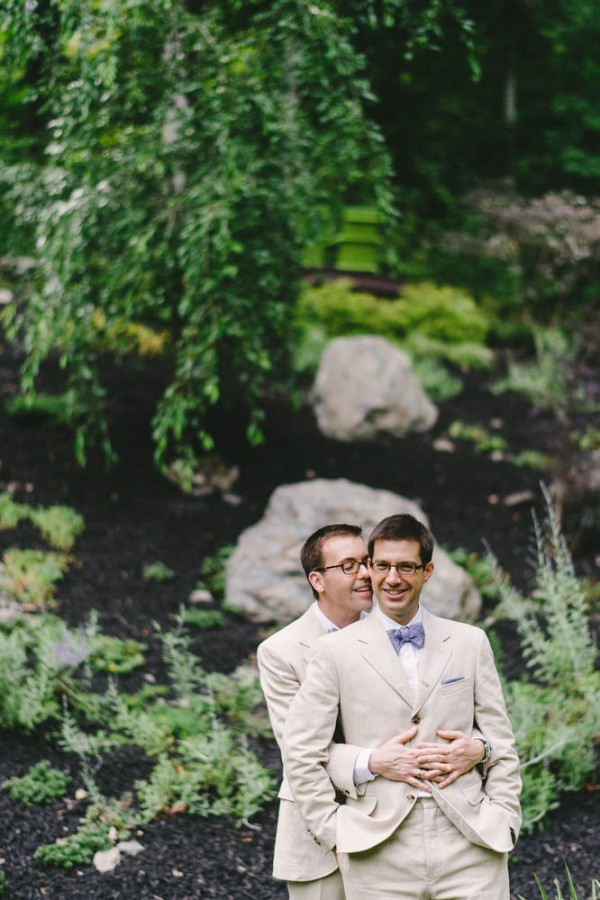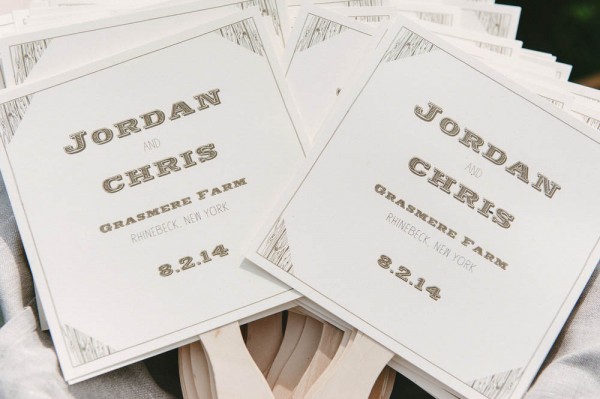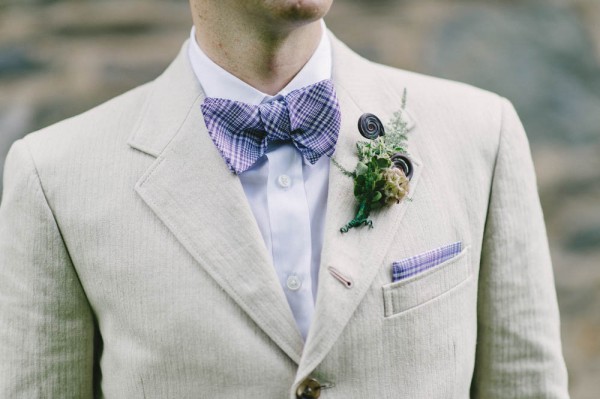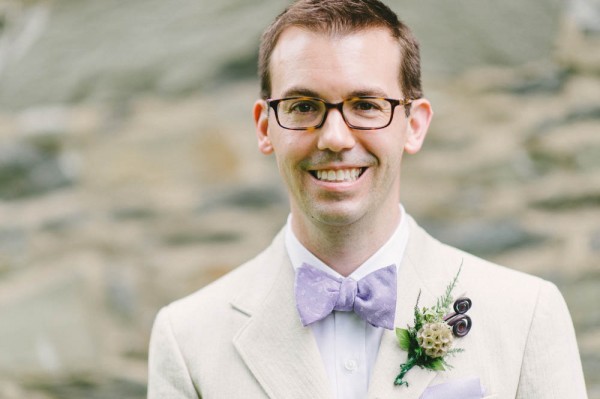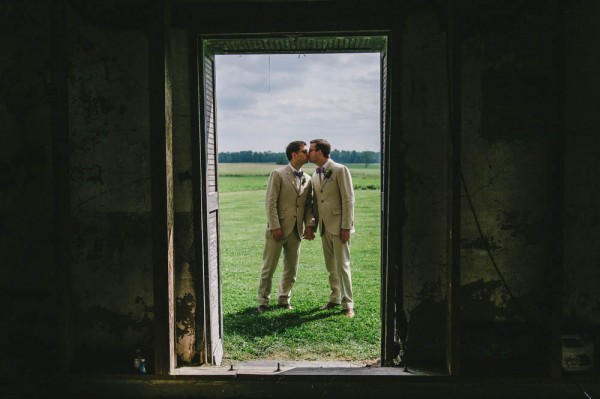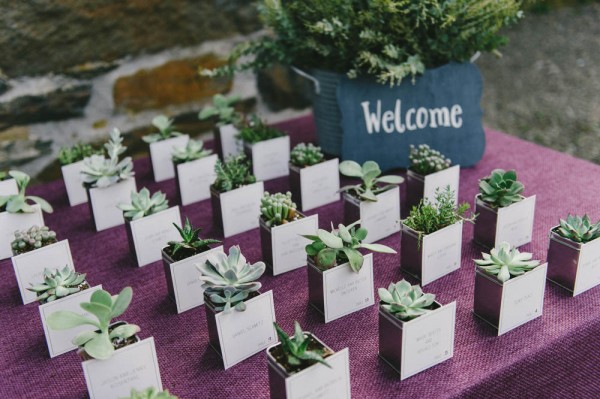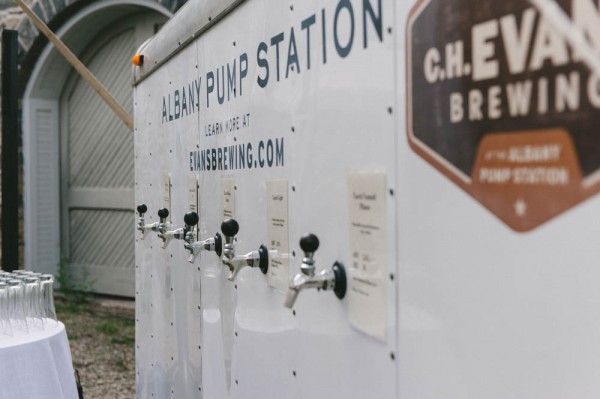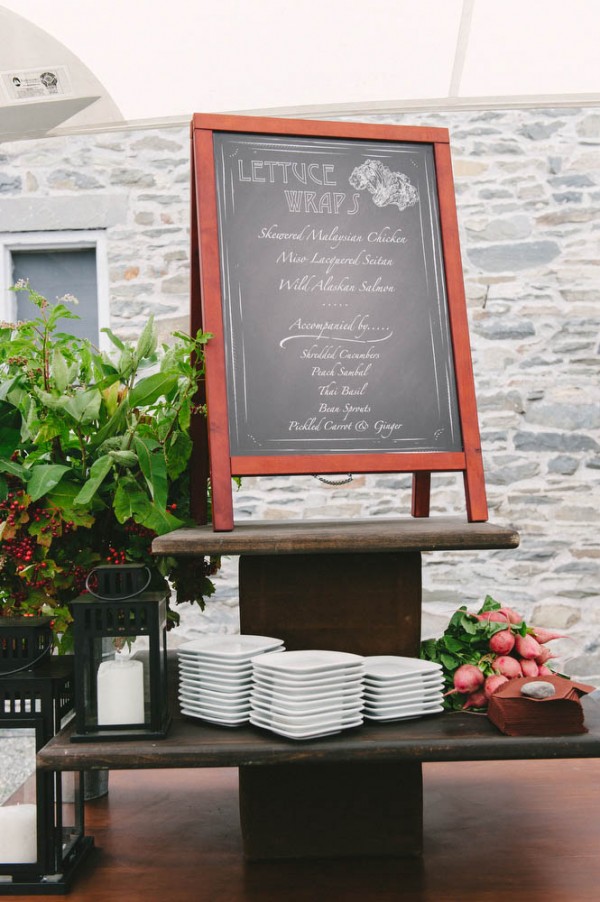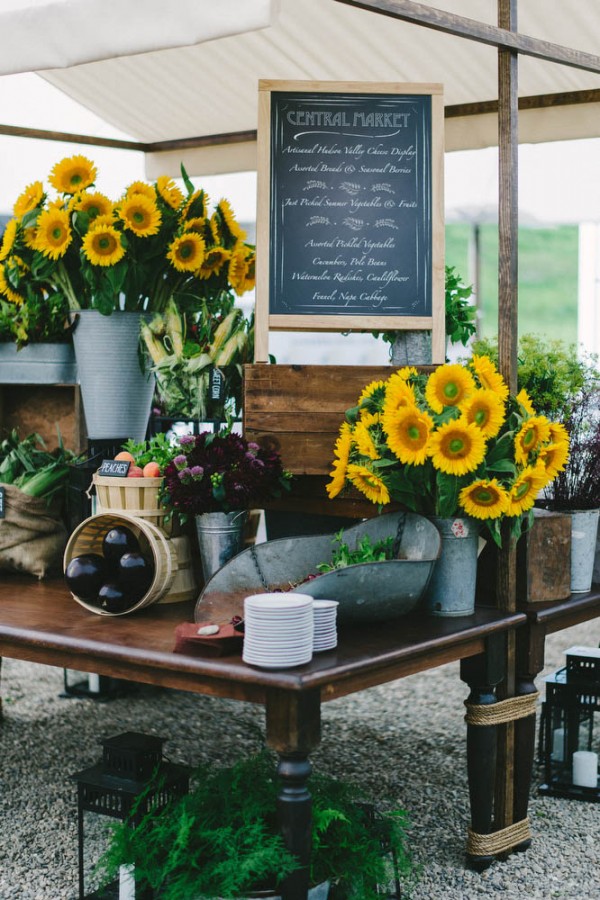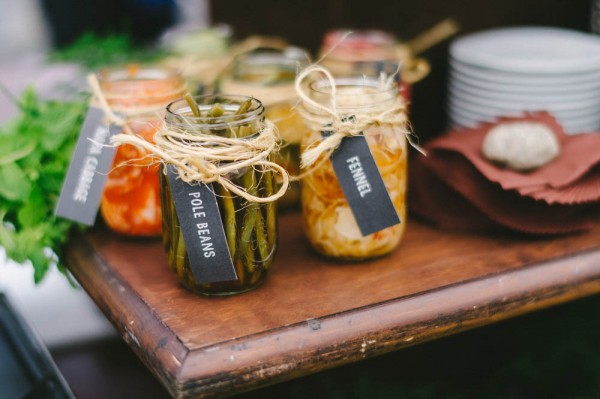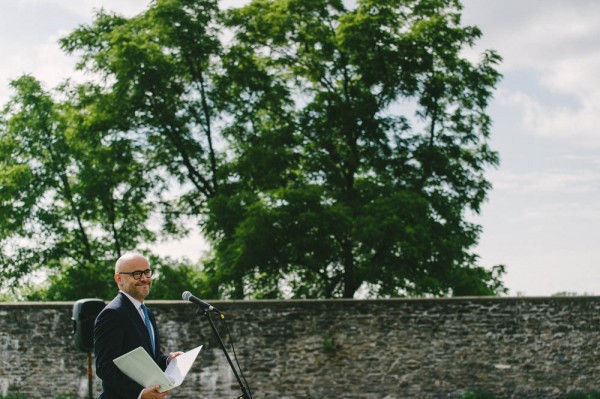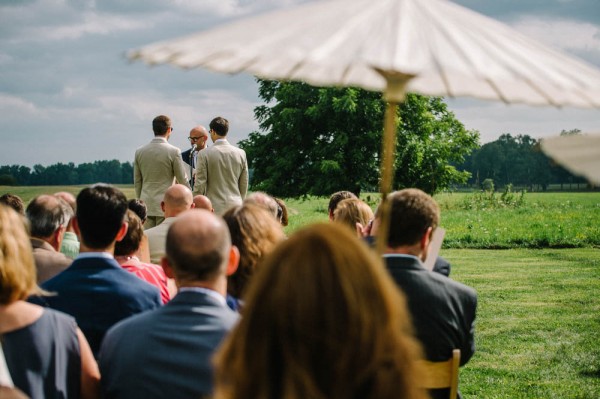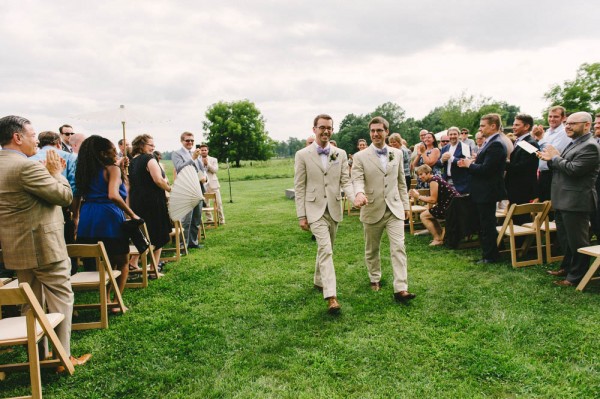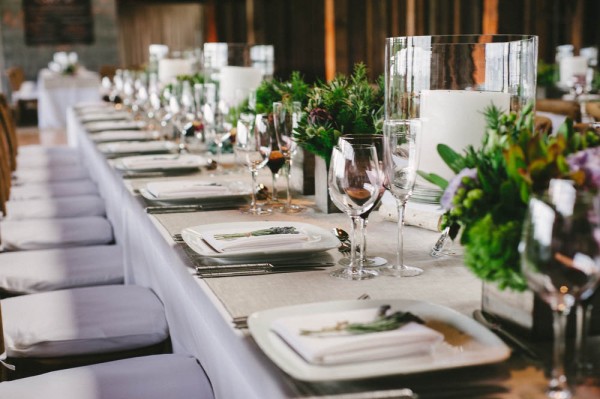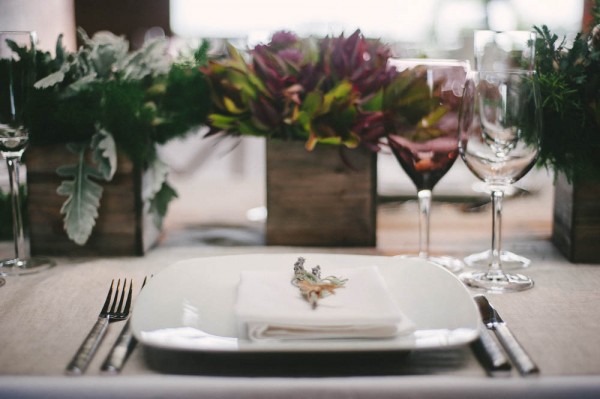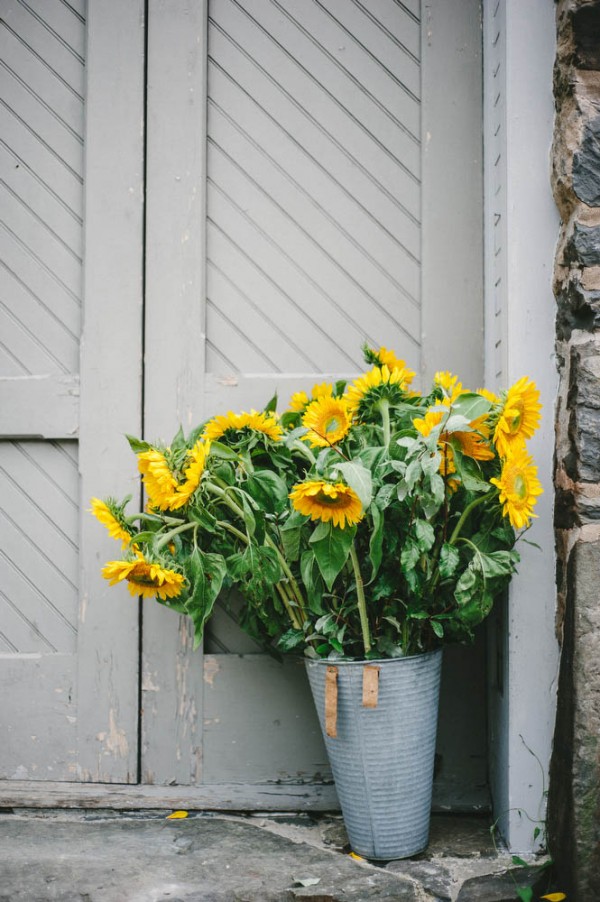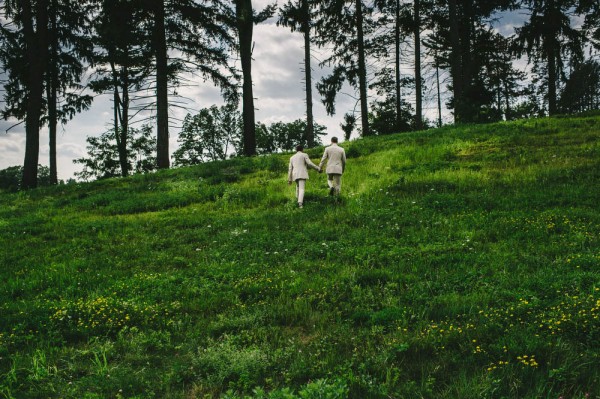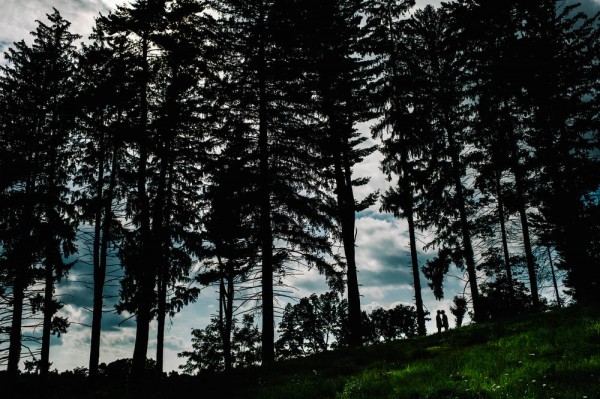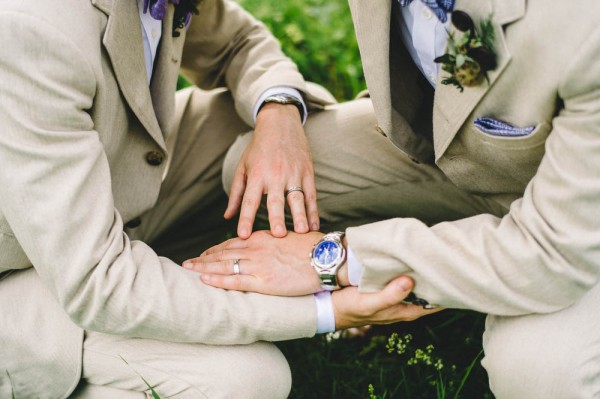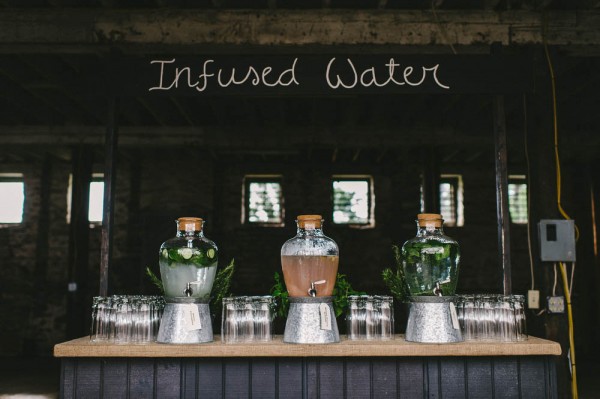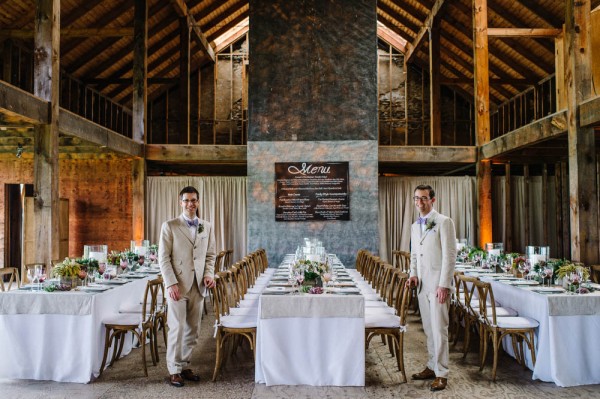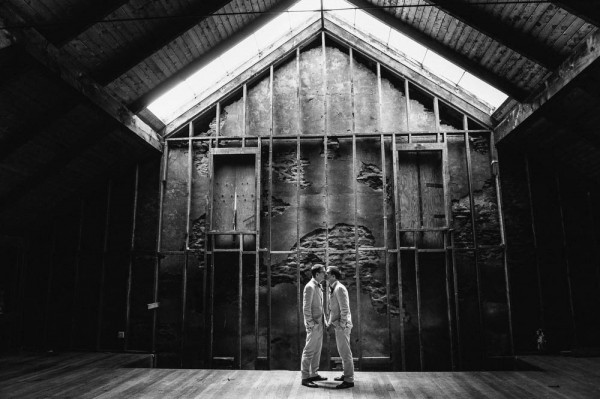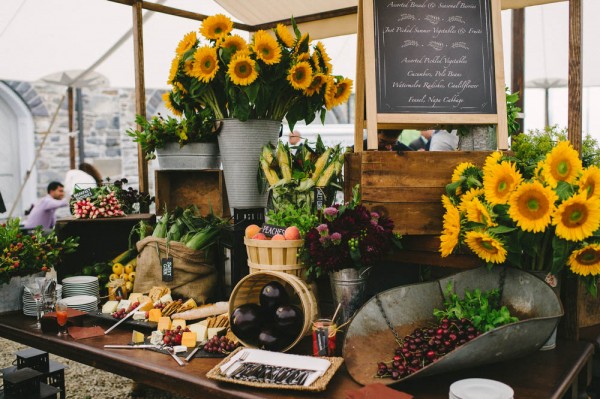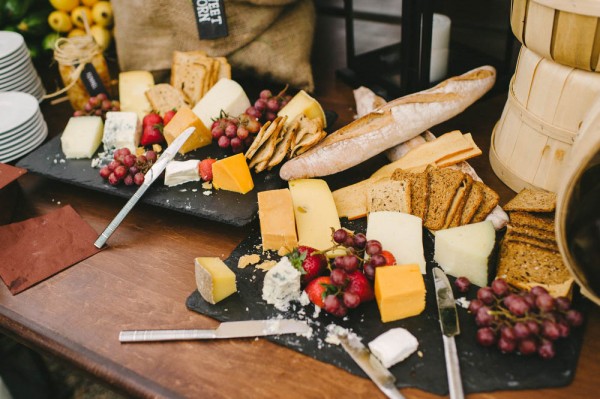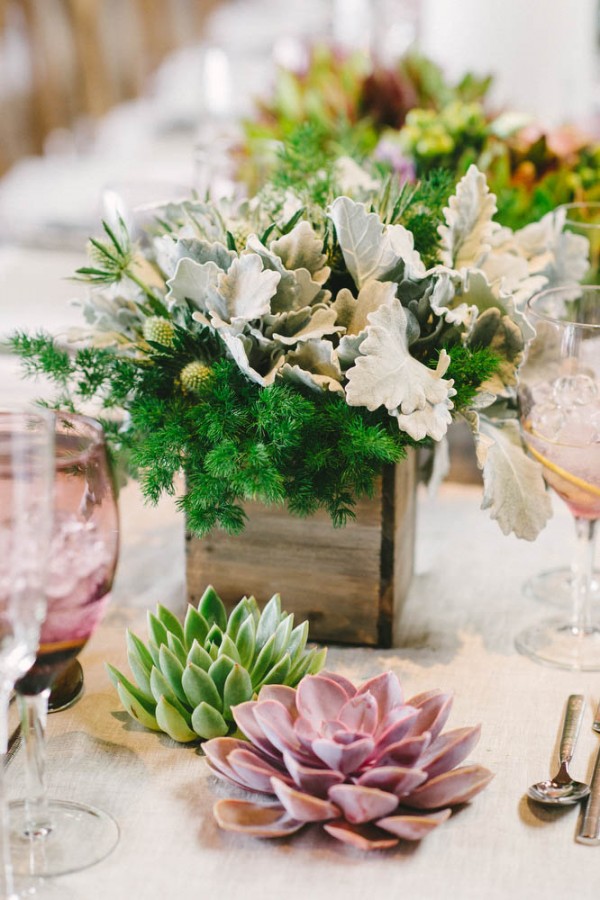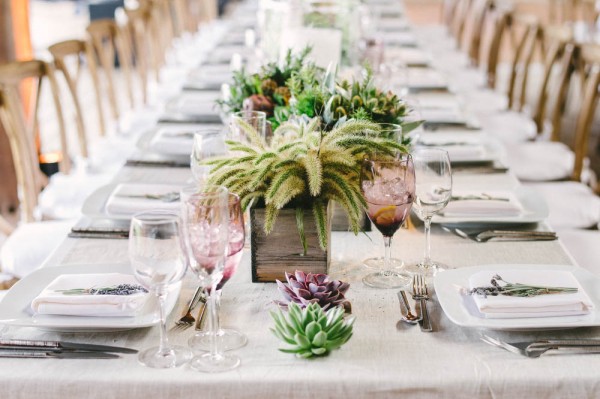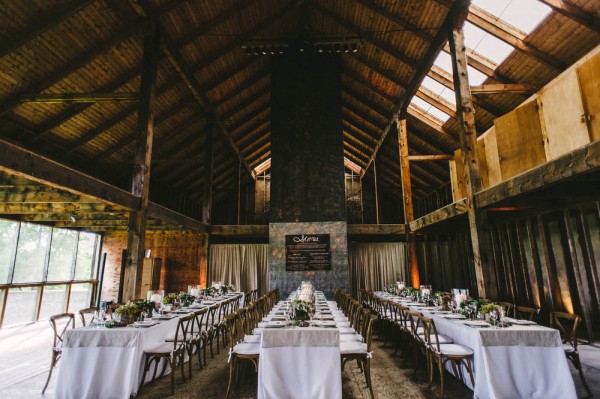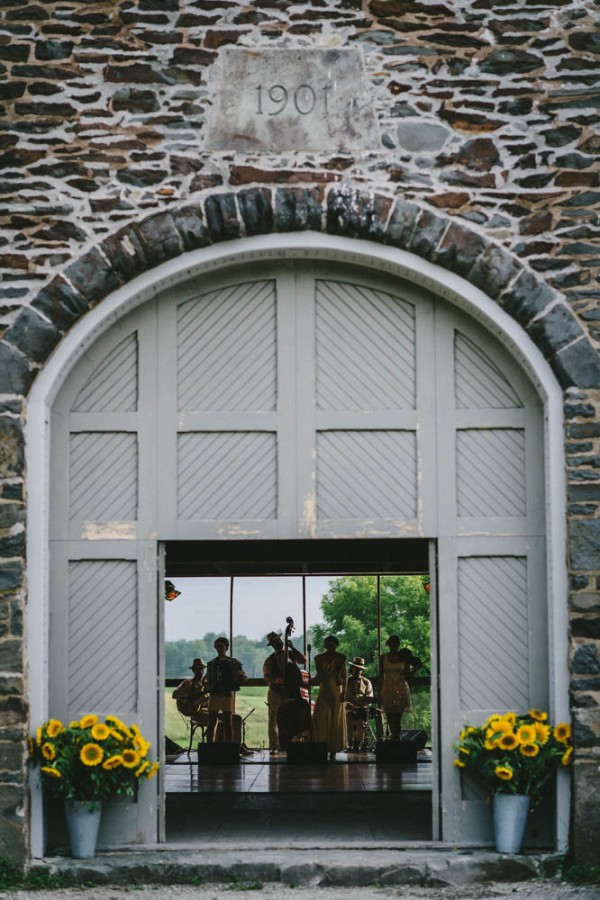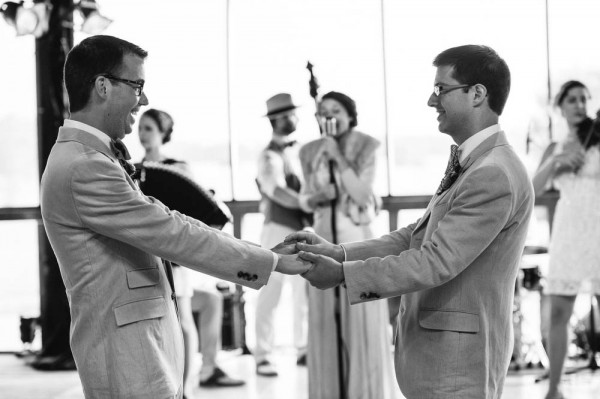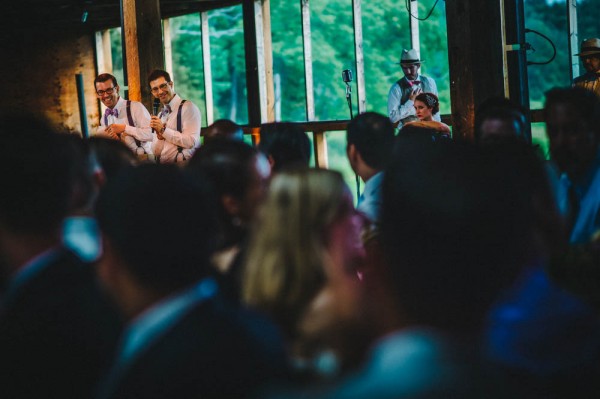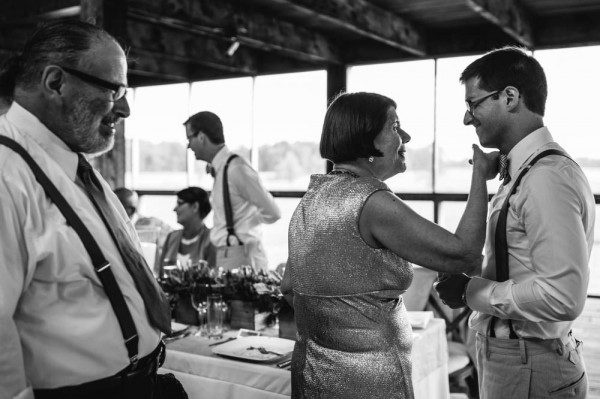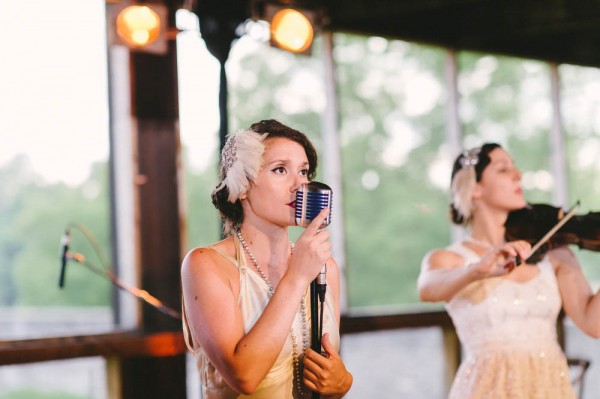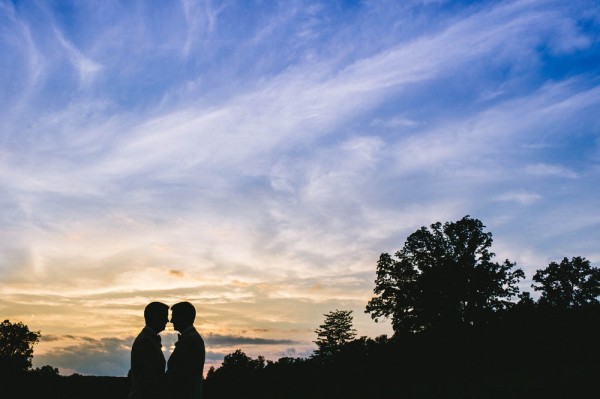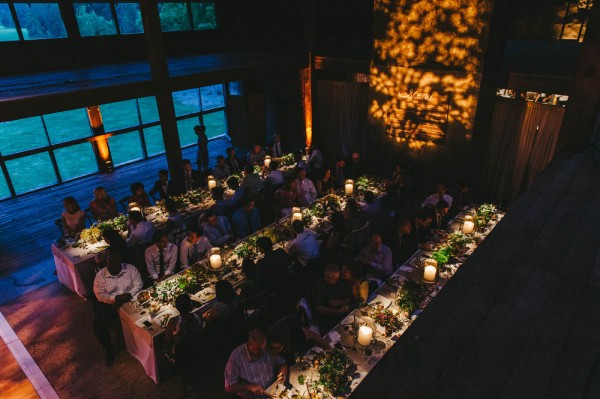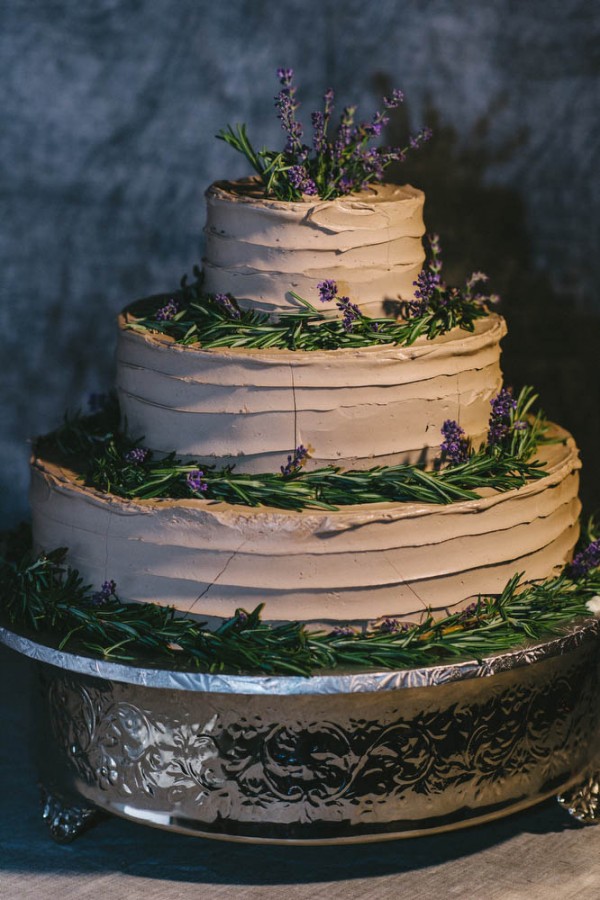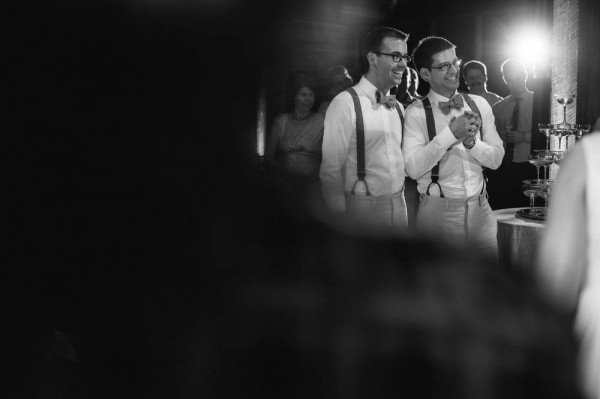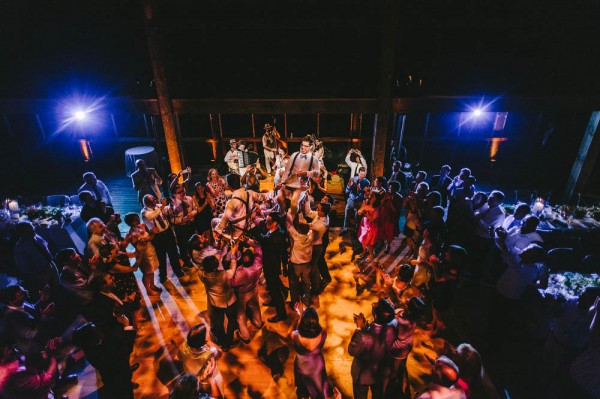 The Moments: "Our favorite moment was just after the processional up the aisle to "Somewhere" from "West Side Story" as we waited for the ceremony to begin. In that moment, we could pause to reflect on the fact that the rain had held off, and we were about to enjoy this amazingly beautiful, sun-filled day with our loved ones, and this would forever be the memory of how we would start our lives together as a married couple. After that, the wedding was one big, fantastic, chaotic blur, and we loved every minute of it; but we never had another opportunity during the rest of the day to just be present in the moment."
The Couple Recommends: "We had an amazing staff of professionals who helped us with our wedding. Our wedding planner, Lydia Bailey, helped guide us through all of the difficult decisions and was sure to bring every possible detail to our attention to make sure that we had input on every aspect of our wedding. She was in constant communication with us and shouldered as much of the burden of planning as she could. And no matter what we asked for, she made it seem like anything was possible. Our photographer, Diane Stredicke, was a delight to work with. She makes you feel very much at ease very quickly so you have no problem appearing natural in your photos at all times. She also knows how to show the beauty of the moment and has a great eye for capturing the right shot. Our caterers, Main Course (chef Bruce Kazan), were so warm and genuine, and they really encouraged us to make the menu about what we wanted and not only what they could do. Not only that, but absolutely everything was delicious and the staff was extremely courteous and professional. The wedding design and florals of Frank Alexander were incredible. We gave him very general ideas of what we wanted, and he was able to create an event that was more beautiful than we could have imagined on our own. The execution was memorable and flawless. Finally, the wedding band, Carte Blanche, was just fantastic. The music was not the traditional pop music that you hear at many weddings. Instead, they have a vintage, jazzy feel that went perfectly with the rest of the event."
The Wedding Team:
Photography – Hudson River Photographer
Event Planning – Charmed Places
Venue – Grasmere Farm
Floral Design – Frank Alexander
Catering – Main Course
Cake – Calico
Officiant – The Honorable J. Paul Oetken
Live Band – Carte Blanche
Invitations – Village Invites
Grooms' Apparel – Ralph Lauren
Thank you to Diane Stredicke for sharing such sweet photographs from Chris and Jordan's celebration. For more New York wedding inspiration, check out Kasey and Jake's classic New York elopement.