It's day two of our holiday giveaway week, and boy are we having a blast reading all the comments from yesterday! Lucky for us this is just the beginning! Get ready to keep your comments coming because today's theme is a fun one… Wedding Craft and Decor Accessories! Whether you're a DIY gal through and through or you're best at delegating craftiness to those around you, we've got some supplies here to add a little pizazz to any style wedding, engagement party, bridal shower or rehearsal dinner. One lucky winner is going to walk away with a gift bag including:
– A limited edition gold print "To Have and To Hold" tote bag from Melangerie
– Two spools of bright and colorful Divine Twine baker's twine from Whisker Graphics
– A personalized wedding logo from our pals Travis and Kristin at Love Letters Logos
– And a gift certificate for 50 graphic print cupcake wrappers (plus a few fun sample packs) from Bella Cupcake Couture
To enter to win, leave us a comment and tell us all about the fun wedding decor ideas that you're bouncing around. What's your wedding style all about? What are your inspirations? Are you incorporating any fabulous details that you simply adore? Just like yesterday's contest, we'll take submissions all week long, wrap it up on Sunday night, December 20th, and announce all our winners on Monday the 21st. Good luck!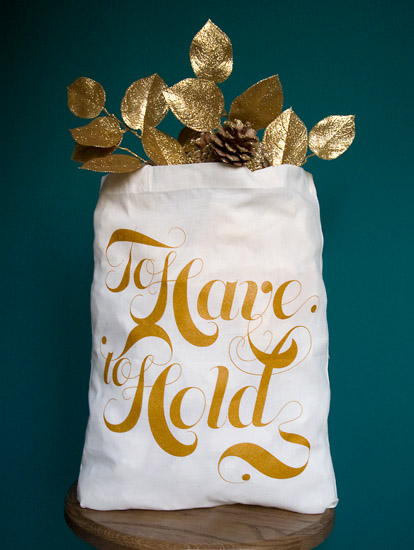 Designer Elana and her crew at Melangerie create gifts, favors and event accessories for celebrations big and small. We love their creative wedding genealogy charts and think this "To Have and To Hold" tote bag would make the perfect carrier for all your wedding planning and craft supplies. And making it even more perfect for both the holiday season and the wedding world, they've printed it with limited edition metallic gold ink! (Because couldn't use a little more sparkle in their lives?)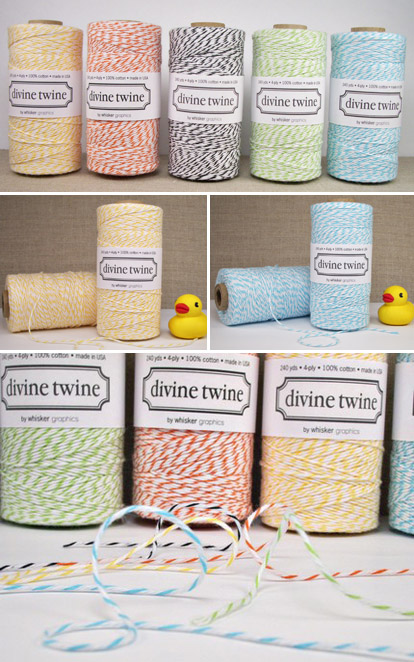 Divine Twine by Whisker Graphics is the most fabulous baker's twine around! It's 100% cotton, it's wound in nice big 240 yard spools, and it comes in 5 fantastic colors. Licorice, orange, lemon, green apple and aqua, they're all lovely! Our lucky winner will get to choose two spools in the colors of their choice.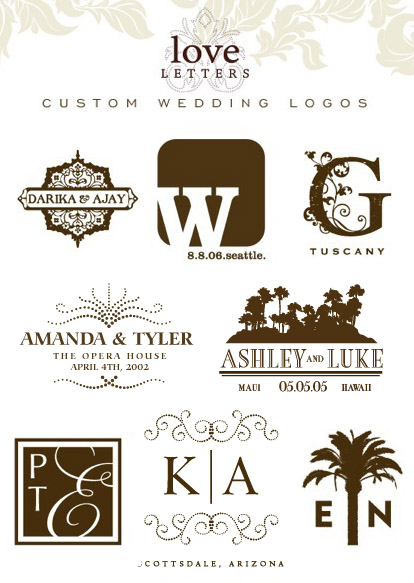 A personalized logo for your wedding is a genius way to solidify your theme and carry it through from your save-the-dates all the way to your take home favors. Love Letters Logos makes the process super easy and has gorgeous designs in every style that you can customize to make your own.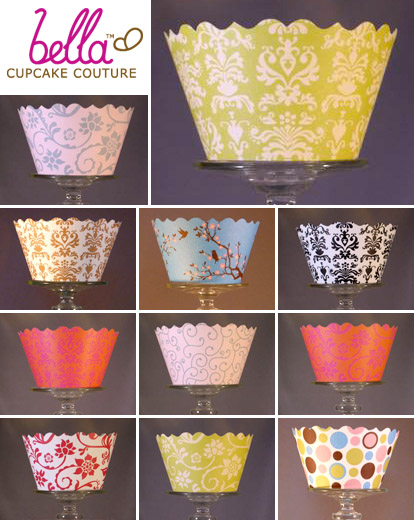 If you thought that cupcakes we cute already, you ain't seen nothin yet. Bella Cupcake Couture's designer wrappers slip simply around cupcakes to cover up that paper cup and make the base as pretty as the frosted top. They come in regular and mini-cupcake sizes, in loads of colors and designs, and are printed with soy based inks on recycled paper. Even if you don't win this one, don't fret! Designer Carrie Middlemiss was generous enough to offer a special treat for all Junebug readers- 20% off all orders through Dec 25th! Thanks Carrie! Simply enter in holidays at checkout.
A big thank you to each of the businesses participating in this giveaway! Be sure to visit their websites to learn more about their products and services.