This post was fun as it pulled wedding inspiration from an unusual source, and resulted in a simply stunning wedding color combination of Mediterranean influenced blue, red and cream. Originally published on May 16, 2008, this one's a stunner!

While looking around for more inspirational images from famous fashion photographers, I was so excited to find the knockout portfolio of fashion and documentary portrait photographer Norman Jean Roy. I love the rich tones and the emotional depth in his photos, and couldn't resist creating an inspiration board out of one of my favorites. Its saturated creams and blues sent me into wedding idea heaven, and I just had to add red to the color palette mix for that true eclectic Mediterranean feel.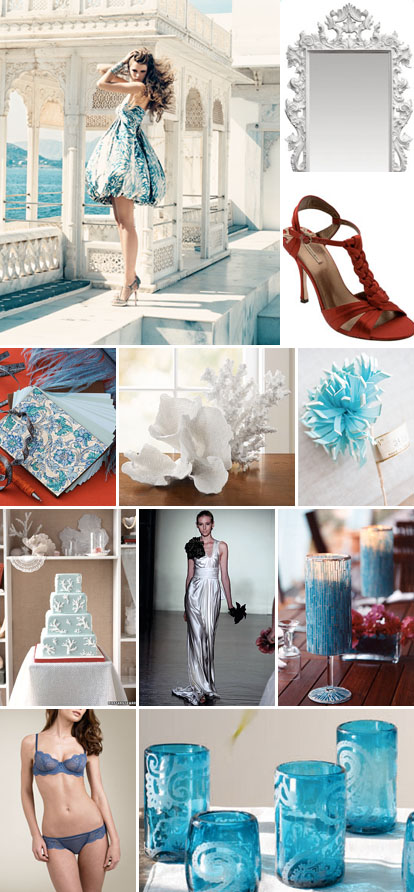 Top row:
Photo by Norman Jean Roy
Lilly mirror from Maison Luxe
MAXSTUDIO 'Sidewinder' sandal from Nordstrom.com
Second row:
Stationery from Michelle Rago
Resin cast decorative white coral from The Pottery Barn
Blue flower from Rebecca Thuss
Third row:
Coral cake from MarthaStewart.com
Dress by Vera Wang via Inside Weddings
Table decor from Michelle Rago
Bottom row:
Le Mystere 'Isabella' bra and thong from Nordstrom.com
Blue Darjeeling glasses from Rosanna
See more red wedding color ideas in our wedding photo gallery!