Another excerpt from the wedding planning book we recently authored for Globe Pequot Press. The following section on men's wear was one of my personal favorites to research. I love learning anything and everything to do with fashion, and it was fun to get down to the nitty gritty differences between traditional men's formal wear options. The pages that follow this in the book go on to discuss alternative men's wear like beach wear, national dress and military uniforms, and how to finish your look with fun accessories and extras.
Chapter 7: Groom 101- Tuxedos and Suits
Formal, casual, or in between, suits and tuxes make for a modern and stylish wedding day look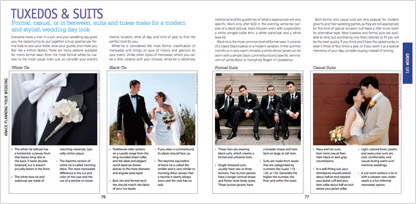 Everyone loves a man in a suit, and your wedding day gives you the opportunity to put together a truly spectacular formal look to woo your bride, wow your guests, and make you feel like a million dollars. There are many options available for mens formal wear, from the most formal white-tie tuxedo to the most casual linen suit, so consider your events theme, location, time of day, and time of year to find the perfect look for you.
White-tie is considered the most formal classification of menswear and brings an aura of history and glamour to your event. Unlike other styles of menswear, where you can be a little creative with your choices, white-tie is extremely traditional and the guidelines of what is appropriate are very specific. Worn only after 6:00 in the evening, white-tie consists of a black tailcoat, black trousers worn with suspenders, a white winged-collar shirt, a white waistcoat, and a white bow tie.
Black-tie is the most common level of formal wear. It consists of a classic black tuxedo or a modern variation. In the summer months or in very warm climates, a white dinner jacket can be worn with a simple black cummerbund and bow tie, reminiscent of James Bond or Humphrey Bogart in Casablanca.
Both formal and casual suits are very popular for modern grooms and their wedding parties, as they are still appropriate for this kind of special occasion but leave a little more room for alternative style. Most tuxedos and formal suits are available to rent, but purchasing one thats tailored to fit you will be the best quality. If you think youll have the opportunity to wear it three or four times a year, or if you want it as a special memento of your day, consider buying instead of renting.
White-Tie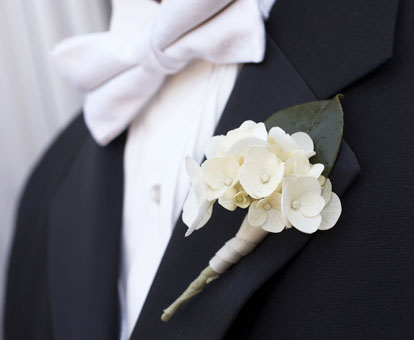 The white-tie tailcoat has a horizontal, cutaway front that leaves long tails in the back. It looks double breasted, but it doesnt actually fasten in the front.
The white bow tie and waistcoat are made of matching materials, typically cotton pique.
The daytime version of white-tie is called morning dress. The most noticeable difference is the cut and color of the coat and the use of a necktie or cravat.
Black-Tie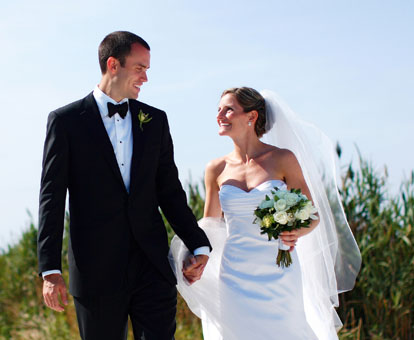 Traditional collar options on a tuxedo range from the long rounded shawl collar, and the sleek and elegant notch lapel (as shown above) to the more dramatic and angular peak lapel.
Bow ties and formal neckties should match the fabric of your tux lapels.
If you wear a cummerbund, its pleats should face up.
The daytime equivalent of black-tie is called the stroller and is very similar to morning dress, except that a necktie is nearly always worn and the coat has no tails.
Formal Suits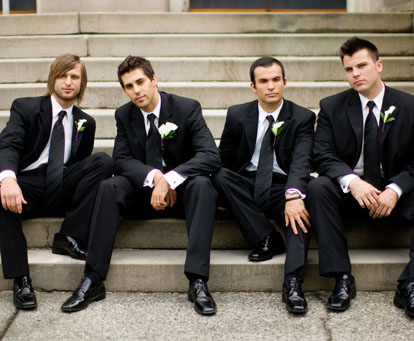 These men are wearing black suits, which creates a formal and cohesive look.
Single-breasted suits usually have two or three buttons. Two-button jackets have a longer vertical shape and flatter most body types. Three-button jackets have a broader shape and look best on large or tall men.
Suits are made from wools that are categorized by numbers like Super 110, 120, or 150. Generally the higher the number, the finer and softer the wool.
Casual Suits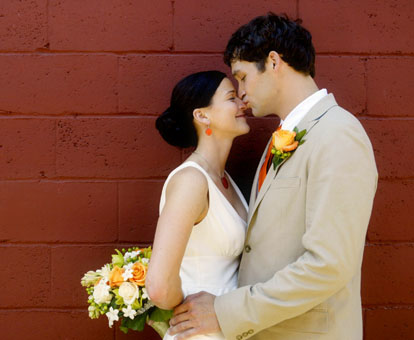 Navy and tan suits look more casual than their black or dark gray counterparts.
In a well-fitting suit, your shirtsleeves should extend about half an inch beyond your jacket cuff and your shirt collar about half an inch above your jacket collar.
Light-colored linen, poplin, and seersucker suits are cool, comfortable, and casual during warm summertime weddings.
A suit worn without a tie or with a sweater vest underneath is a fun informal menswear option.
(Excerpted from the book Planning Your Wedding: A Step-by-Step Guide to Creating Your Perfect Day. Real Wedding images by: 1- John and Joseph Photography, 2 and 3- GH Kim Photography 4- Yours by John Photography)