Today we're sharing more of the wedding planning book Blair, Kim and I recently authored for The Knack Series published by Globe Pequot Press. This chapter was a fun one to research, write, and especially to photograph! We borrowed the amazing rings from Isadora's Fine Antique Jewelry and set-up a studio right in Kim's living room to get the perfect shots of each style. In between set-ups we tried on every single ring (of course!) and got giddy over all that bling. Giving them all back afterward? Not an easy task!
Chapter 3: With This Ring- Antique and Vintage Rings
Family heirlooms, antiques, and vintage rings are romantic and sentimental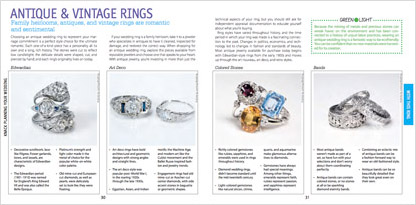 Choosing an antique wedding ring to represent your marriage commitment is a perfect style choice for the ultimate romantic. Each one-of-a-kind piece has a personality all its own and a long, rich history. The stones were cut to reflect low candlelight; the delicate details were shaped, cut, and pierced by hand; and each rings originality lives on today.
If your wedding ring is a family heirloom, take it to a jeweler who specializes in antiques to have it cleaned, inspected for damage, and restored the correct way. When shopping for an antique wedding ring, explore the pieces available from reputable jewelers and choose one that speaks to your heart. With antique jewelry, youre investing in more than just the technical aspects of your ring, but you should still ask for independent appraisal documentation to educate yourself about what youre buying.
Ring styles have varied throughout history, and the time period in which your ring was made is a fascinating connection to the past. Changes in politics, economics, and technology led to changes in fashion and standards of beauty. Most antique jewelry available for purchase today begins with Edwardian-style rings from the early 1900s and moves up through the art nouveau, art deco, and retro styles.
Eco Friendly Tip:
Because the mining of metals and precious stones can wreak havoc on the environment and has been connected to a history of unjust labor practices, wearing an antique wedding ring is a fantastic way to be eco-friendly. You can be confident that no new materials were harvested for its creation.
Edwardian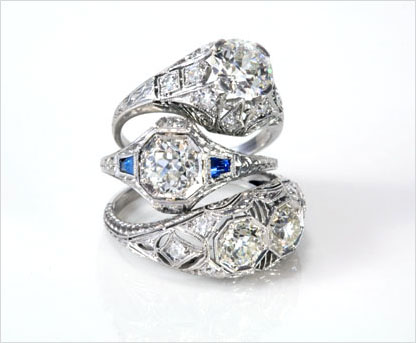 Decorative scrollwork, lace like filigree, flower garlands, bows, and tassels, are characteristic of Edwardian designs.
The Edwardian period (1901-1910) was named for Englands King Edward VII and was also called the Belle Epoque.
Platinums strength and light color made it the metal of choice for the popular white-on-white color palette.
Old mine-cut and Europeancut diamonds, as well as pearls, were delicately set to look like they were floating.
Art Deco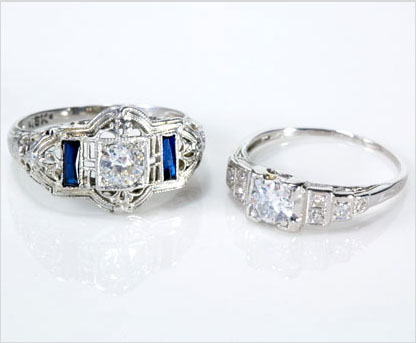 Art deco rings have bold architectural and geometric designs with strong angles and straight lines.
The art deco style was popular postWorld War I, in the roaring 1920s through the late 1930s.
Egyptian, Asian, and Indian motifs; the Machine Age; and modern art like the Cubist movement and the Ballet Russe inspired fashion and jewelry trends.
Engagement rings had old mine-cut or Asscher-cut center diamonds, with side accent stones in baguette or geometric shapes.
Colored Stones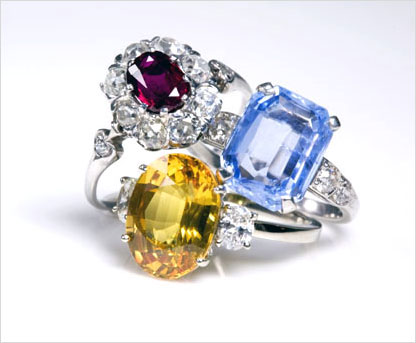 Richly colored gemstones like rubies, sapphires, and emeralds were used in rings throughout history.
Diamond wedding rings, didnt become standard until the mid-twentieth century.
Light-colored gemstones like natural zircon, citrine, quartz, and aquamarine make glamorous alternatives to diamonds.
Gemstones have always had special meanings. Among other things, emeralds represent faith, rubies represent passion, and sapphires represent intelligence.
Bands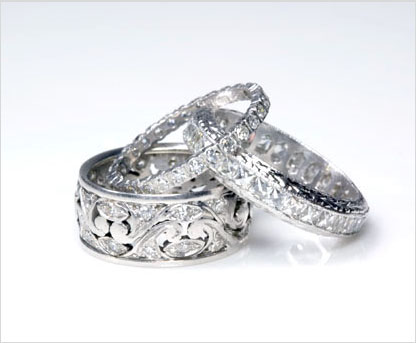 Most antique bands werent made as part of a set, so have fun with your selections and dont worry about them coordinating perfectly.
Antique bands can contain colored stones, or no stones at all or be sparkling diamond eternity bands.
Combining an eclectic mix of antique bands can be a fashion-forward way to wear an old-fashioned style.
Antique bands can be so beautifully detailed that they look great even on their own.
(Excerpted from the book Planning Your Wedding: A Step-by-Step Guide to Creating Your Perfect Day. All rings borrowed from Isadora's Fine Antique Jewelry, photographed by Junebug Weddings)