Claire is a bride doing some rather long distance wedding planning (from Europe to Chicago!) and she wrote to Junebug looking for a little guidance on her accessory choices. "What color accessories should one wear with the popular champagne and gold dresses of the day? I am wearing a pale gold dress with a slightly vintage look and I am stumped on hair accessories and jewelry. I am always trapped between loving all that is modern and simple, versus adoring vintage. I want to look fresh and current, but with a bit of a vintage twist and something a little out of the ordinary. Please help me and other champagne-wearing brides figure out how to accessorize to play up the retro look!"


Images: Sanctus wedding gown by Justina McCaffrey, purple bouquet via Project Wedding, Cake by April Reed, bridesmaids dress by Lazaro, chair from John Gandy Events, Flowers by Decisive Moment Photography via TheKnot.com, boutonniere via Project Wedding and rose from Do a Little Floral.
Claire's wedding will be an evening affair in an urban park with a reception for 130 in an historic library. Her champagne colored Justina McCaffrey wedding dress has some romantic and vintage inspired ruching up the back, and she's paring it with an off-white elbow length veil and a bouquet of 25 white cymbidium orchids with pink throats surrounded by a collar of snowberries. Her bridesmaids will be wearing navy blue Lazaro gowns with bows and broaches at the hip, and carrying bouquets of purple blue veined vanda orchids with berries as a collar. Gorgeous!
I love the look of layering metallics together, so I think that any jewelry tone, whether silver or gold, creamy or bright white, would look lovely and bridal with a champagne colored dress. The trick is going to be keeping it consistent so there's not too much going on. The vintage vs. modern issue is something I can totally relate to as well, so I looked around and came up with a few different options for accessories that would look great with her wedding style…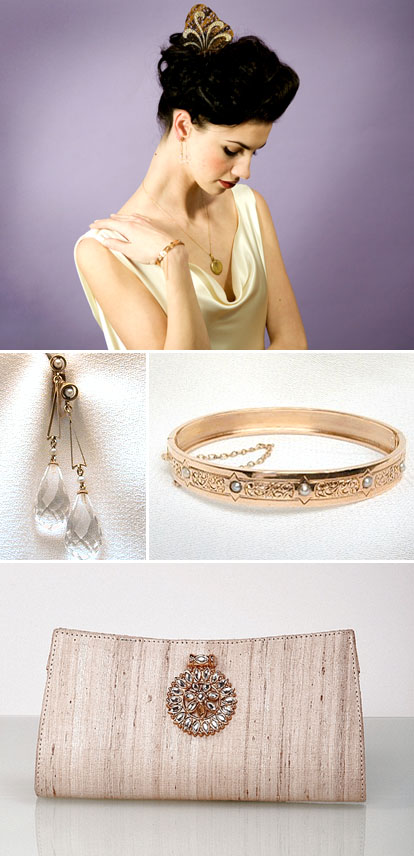 She could go for an authentically antique look with pieces like the Edwardian vintage crystal earrings, vintage hair comb and Victorian rose gold and seed pearl bangle from Isadora's that we photographed for our wedding planning book and Fashion Report, and this lovely vintage inspired raw silk clutch from Lukab and Motwani…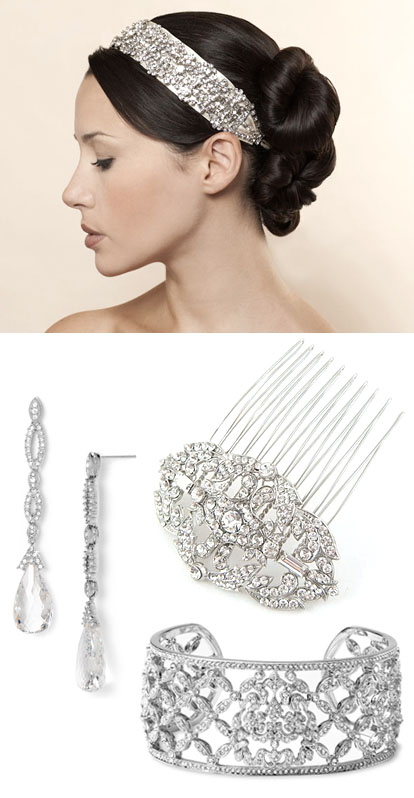 An old Hollwood glamour girl look with this sparkling rhinestone and silk Belinda headband from Jennifer Behr, Nadri briolette drop earrings and woven pavé wide cuff bracelet from Nordstrom.com, or this rhinestone hair comb from Regina B…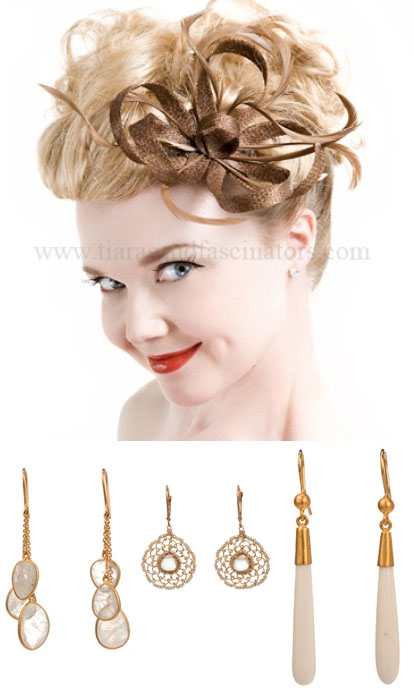 A more modern and playful look with this amazing handmade fabric and feather Jane Fascinator from Pink Tigers Den on Etsy.com and any of these gorgeous gold and white earrings from Twist: the Pippa Small triple stone Colette earrings, the Dana Kellin woven drop earrings, or the Yossi Harari white bone earrings…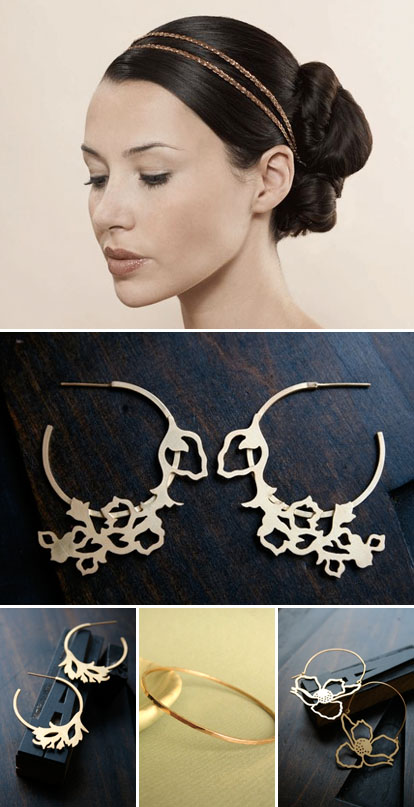 Or a super modern but feminine look with this metallic gold braid Delphine tiara from Jennifer Behr, one of the super chic sets of hand pierced gold earrings from Abagail A. Percy on Etsy.com, and a simple shiny gold bangle like this one from Kate Szabone on Etsy.com.