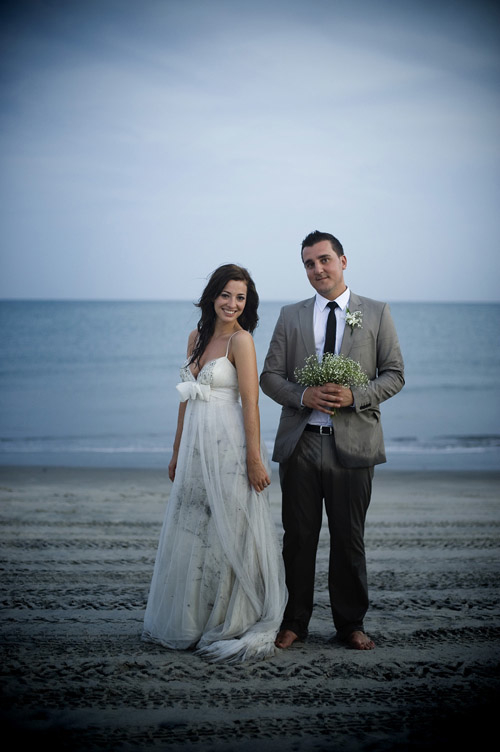 After months of wedding planning that just wasn't working out, Frances and Jimi decided to "run away" to get married and they had an ultra- romantic wedding for two at the Nikki Beach Resort in Panama. Focusing just on their love for each other, their wedding day was stress-free, intimate and full of joy! These wonderful photos by Davina + Daniel show us the beauty and fun of a true elopement!

The Goals: Frances and Jimi's decision to elope was probably their biggest challenge. Originally they had planned for a destination wedding with family and friends in Mexico, but due to unforeseen circumstances, many of their loved ones wouldn't be able to attend. "Our budget was calling for some major breathing room, stress was mounting, and our wedding started to feel like fitting a square peg into a round hole. This wasn't what I imagined planning my wedding would feel like. Even though eloping was always something we considered, it wasn't an easy decision. We took turns throwing our hands up and exclaiming 'That's it! We're eloping, period!' only to change our minds the next day. Luckily, both our families had expressed total support whatever our decision. Ultimately, we took a deep breath and threw the whole thing into the wind. And right along with it, stress and anxiety just vanished."

The Design: Since it was just the two of them at their wedding, Frances and Jimi didn't focus much on details, but they splurged on a few of the priorities that were important to them. Frances found the wedding dress of her dreams, they chose the beautiful Nikki Beach Resort, now the Royalton Playa Blanca Spa & Resort, as their location, and they arranged a lovely honeymoon. With Frances' own experience as a wedding photographer, having her wedding captured on film was also "non-negotiable," and being friends of the talented photographers Davina + Daniel, they were the perfect people to shoot her special day.

The Moments: Because of foreign legalities, Frances and Jimi found themselves enjoying a two-part ceremony! "On a Friday we had our legal ceremony on our rooftop in Panama City, Saturday we traveled to the resort, and Sunday we had what we considered to be our real ceremony, with a friend officiating, the dress, our vows and rings. We didn't expect to love this arrangement but having our wedding extended this way just made for more amazing moments."
On the wedding day itself, Frances and Jimi had breakfast together and then headed separate ways to prepare. Frances went off to hair and makeup, and for Jimi it was all about relaxation. "My wedding day was the most relaxing and beautiful day of my life. After breakfast I chose to start my day off with a nap. From there I woke up and walked along the beach shore, beer in hand, reflecting on what a lucky man I was. After my walk, I swam in the ocean for a while, floated on my back, nothing but peace. The combination of sun and salt water was the perfect appetizer for another beer, followed by another nap. I felt like I could really savor this incredible day as my excitement grew for our big moment."
Frances recalls, "Being laid back about details can lead to some glitches. What the stylist did to my hair was terrible (I brushed it out), the bouquet was atrocious (lovingly fixed by Davina – photographer of many talents), and the sound system gave out right before I was to walk down the "aisle" (they fixed it), but the minute I saw my fiance standing there, it all melted away, time slowed, and I was overcome with joy."
During the ceremony under a large tree on the beach, Frances and Jimi walked down the isle together, hand in hand, to their song, "Just Breathe" by Pearl Jam. Their mutual friend, Greg, performed the ceremony with his iPad, and Davina and Daniel multitasked like mad and in between shots filled in as anything needed, including emergency florists, makeup artists, hair dressers, messengers, beer drinkers, wedding party members and friends. "Davina + Daniel's gorgeous photography depicts moments that both friends and family can reflect on as if they had been there! They are superheroes with massive talent, a passionate work ethic, unabashed generosity and huge hearts. We still can't believe how lucky we are to have had them there." After the ceremony they had dinner in the resort's wedding gazebo and then "spent the rest of the day just being together, exuberant. Eloping gave us what was most important to us on our wedding day, front and center: each other."
The Pros: To learn about the many wedding professionals who were a part of this incredible day, please visit Frances and Jimi's page in our Real Wedding Library.

Thank you Frances and Jimi for sharing your intimate wedding with us! We are so in love with your story!
To plan your own Southern California or Seattle area wedding, browse our Plan Your Wedding Hotlists! And to find a dream wedding photographer for your wedding anywhere in the world, be sure to check out Junebug's World's Best Wedding Photographers Hotlist!