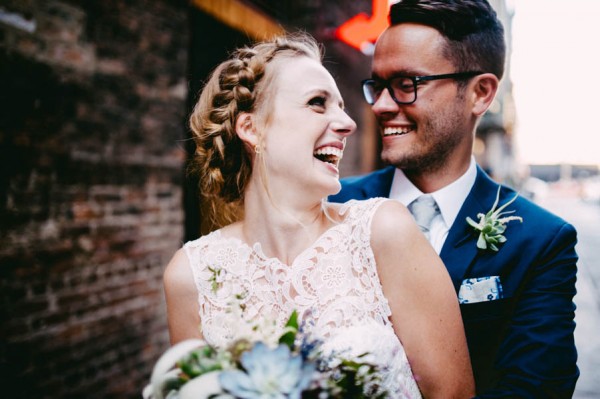 This intimate Chicago rooftop wedding is so sweet and full of quirky details! When Ashley and Mike were planning their wedding, they knew Little Goat Diner's gorgeous rooftop and view of Chi-Town's skyline was the perfect spot for them. Once they decided on Amanda Marie Studio's amazing photography skills to capture the day, the other wedding decisions fell into place and felt completely natural. We love how they kept the decor light-hearted and fun with gold dinosaur figurines scattered throughout tablescapes and even a Cheez-It encrusted chocolate ganache wedding cake! Ashley wore a stunning Sarah Seven gown with an ivory lace top and billowing champagne skirt, which created a totally ethereal bridal style once paired with her amazing Twigs and Honey gold hair piece.
The Couple:
Ashley and Mike
The Wedding:
Little Goat Diner, Chicago, Illinois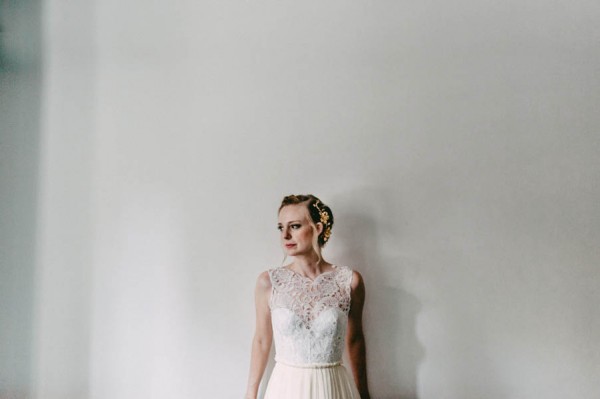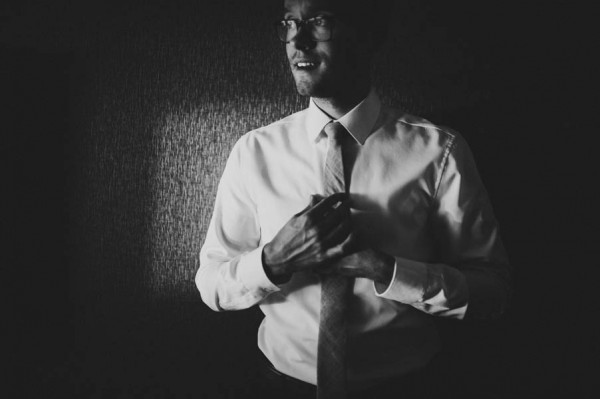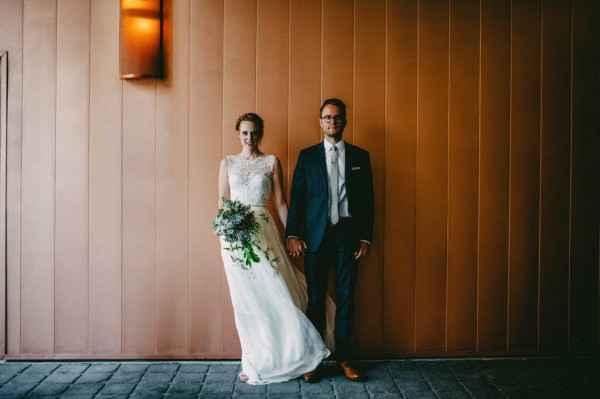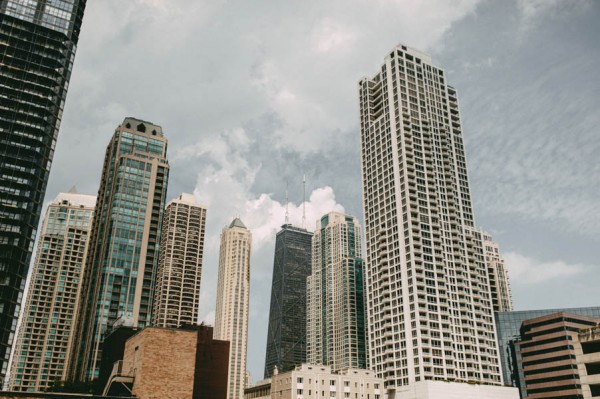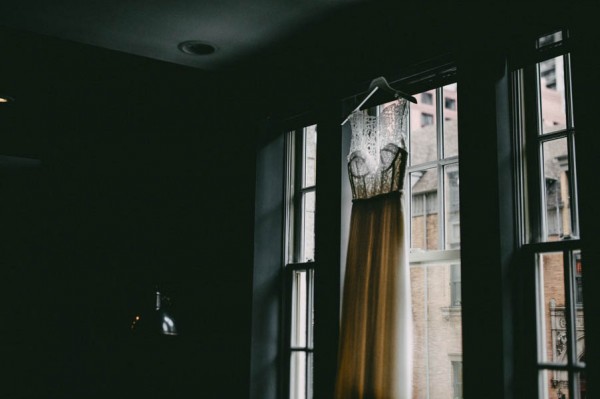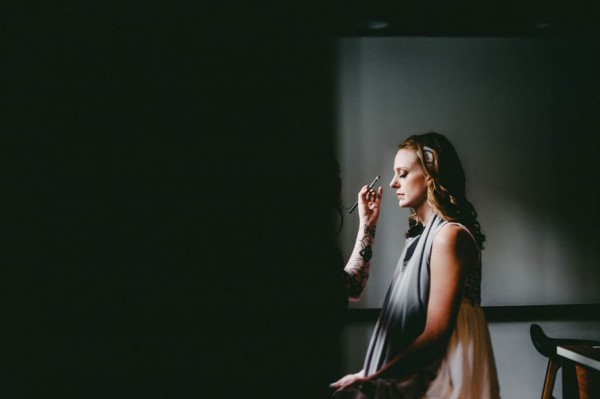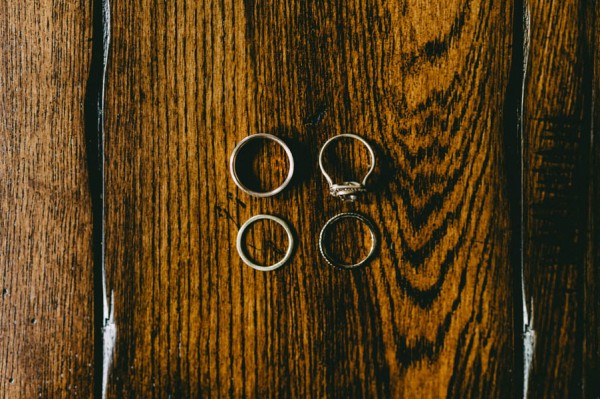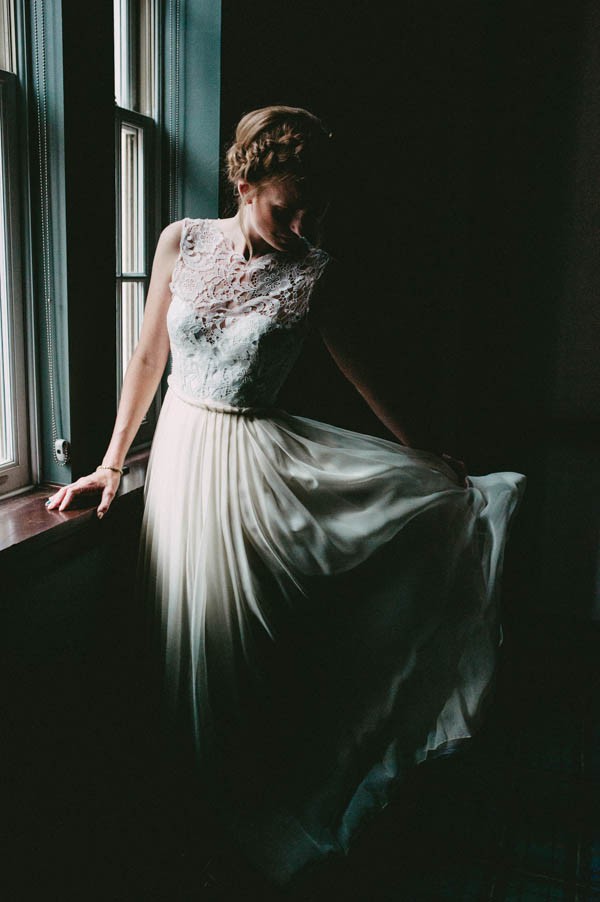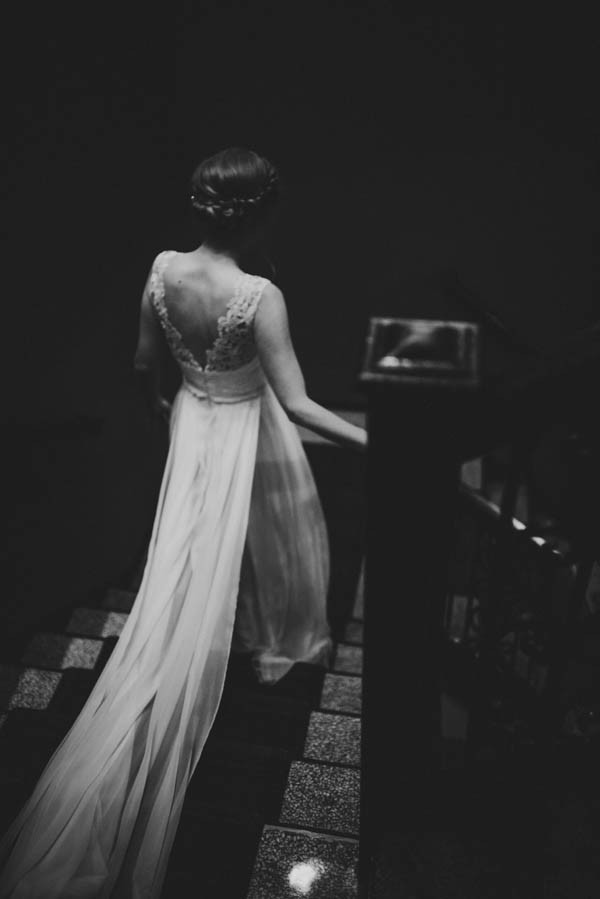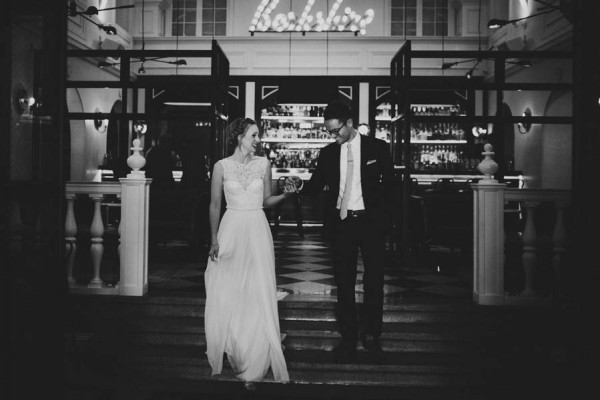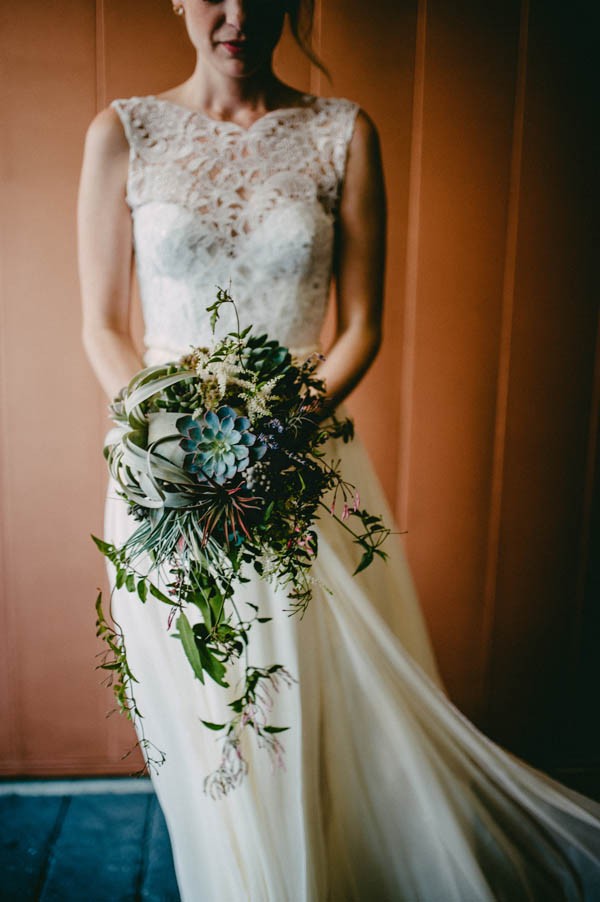 I wanted to feel ethereal and natural. I loved my dress because it was the most unique ivory lace on top with a champagne skirt separated into panels that flowed beautifully in the breeze. For my hair, I needed to have it up (it was a HOT Chicago summer day after all) so I opted for an updo with statement braids and integrated a gorgeous Twigs and Honey gold hair piece that was a special gift from my stepfather.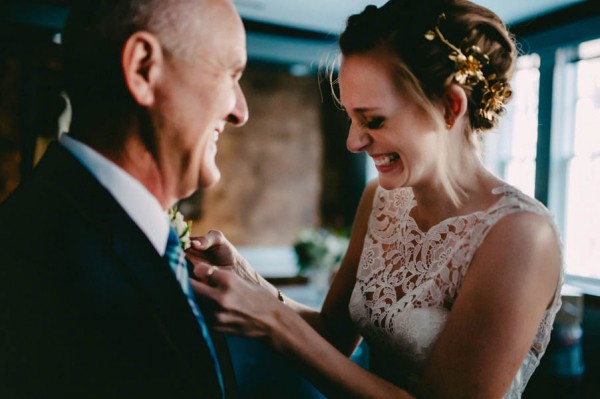 Pick one or two things that are most important to you and prioritize your budget accordingly — it helps manage stress leading up to the big day and really helps you hone in on curating the overall wedding vibe. For us, having a great photographer/photos and amazing food were our big splurges. And consequently, those things are also what our guests most fondly remember about our wedding day!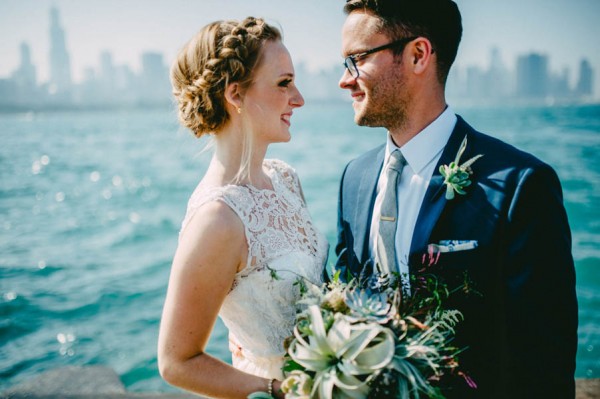 The goal of our wedding was to have our family and friends walk away from the weekend in beautiful Chicago having eaten great food, mingled with amazing people, and gotten to know us a little bit better as a couple.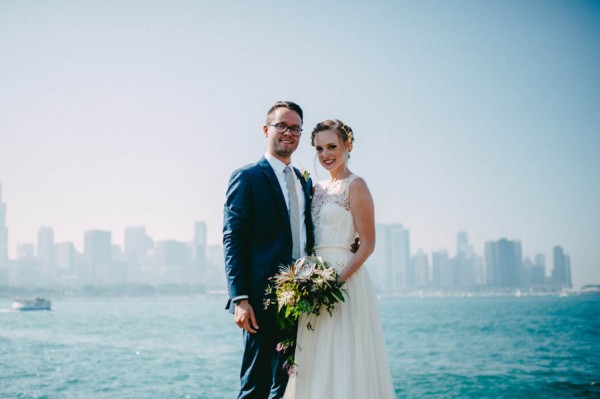 We felt very strongly about not taking ourselves too seriously throughout this whole process and prioritized integrating unique touches of us. From the gold dinosaur figurines as decorations to the Cheez-It chocolate ganache wedding cake, to having our friends pick surprise readings that we heard the first time during the ceremony — the vibe of the whole day was relaxed, full of love and a ton of fun.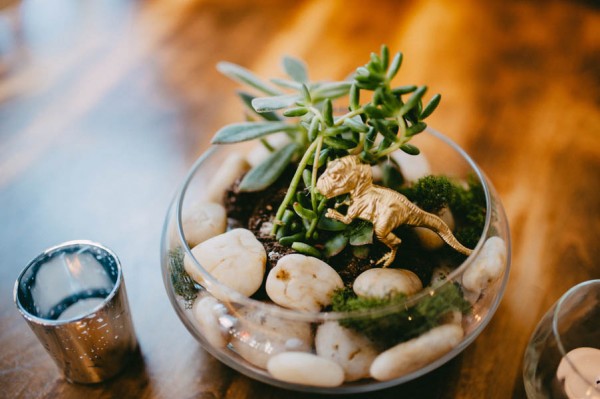 We chose the rooftop of Little Goat Diner in Chicago because it was one of our favorite restaurants in the city and we loved how the space felt intimate and fluid. Choosing this venue also allowed us to keep the venue, food/booze bundled, which kept costs low and logistics to a minimum. The best part of the space were the inside/outside areas that allowed people to move around, mingle and even watch the chefs prepare the amazing meal right in the middle of the space. It felt like a fun dinner party, which is exactly what we were looking for.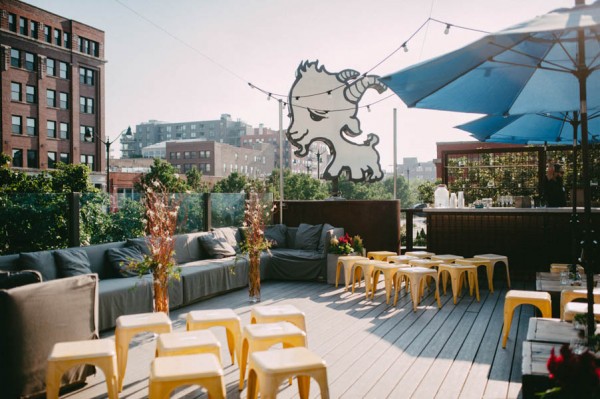 The ceremony was officiated by Mike's father, Ed. The minute I met him, I knew he had to be the one to marry us. He's a charismatic storyteller and the brightest light in the room. We worked together with him to write the ceremony the way that Mike and I wanted to get married, and in the end, the ceremony felt like a super intimate celebration of our love story. Ed even went a little rogue during the ceremony and started working the room and talking to our guests, which really upped the personality of the event.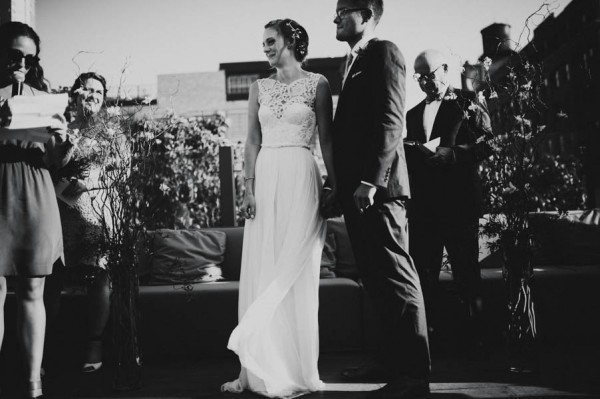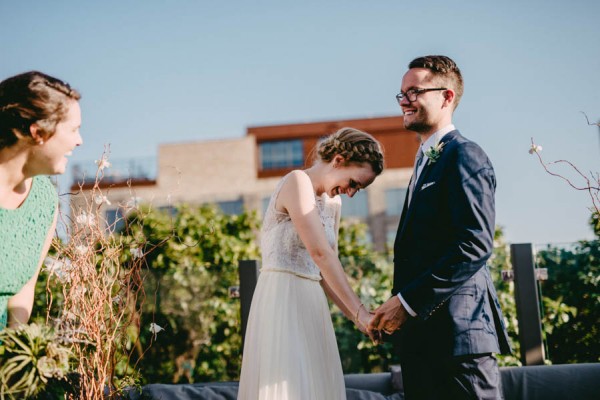 From Ashley: Hands down the most memorable part of the day was how surprisingly emotional I got reading my vows. Before the wedding I was convinced that I would keep it together, but when the time came, I completely lost it. Mike and I wrote our own vows, and there were definitely a few unplanned expletives in there due to how much I struggled to get through them!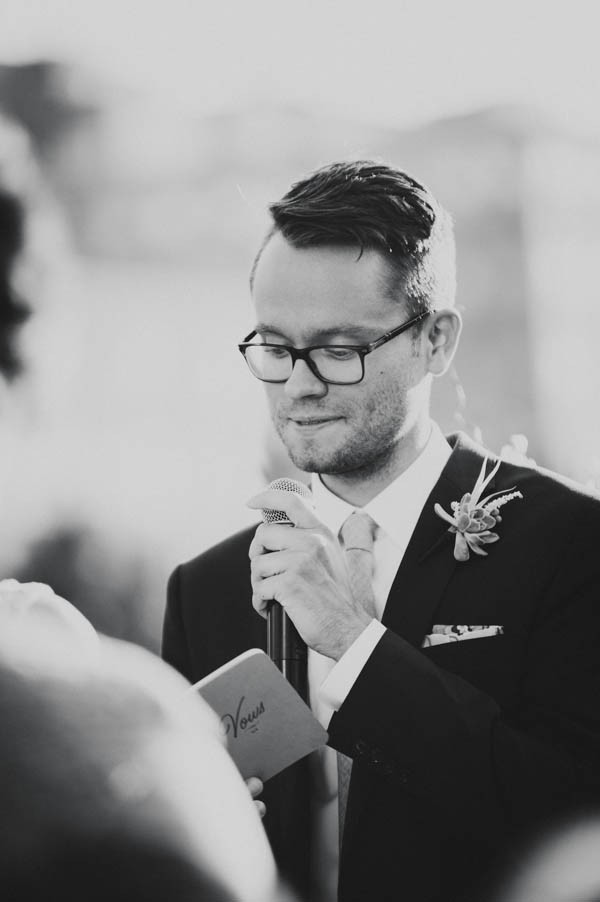 We went into wedding planning wanting the whole day to feel completely authentic to our relationship a taste of the things we love most in our daily lives. We prioritized intimacy in venue/guest list and fabulous food so that the big day felt like a fun dinner party where we got to toast and dance with all of our favorite people.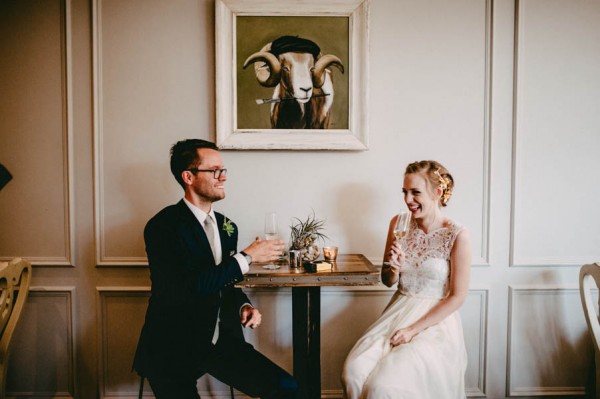 Mike knows exactly how to make me laugh, so any of the candid photos where we're in-between posing and giggling to ourselves are the ones I go back to when I want to re-live the feeling from that day.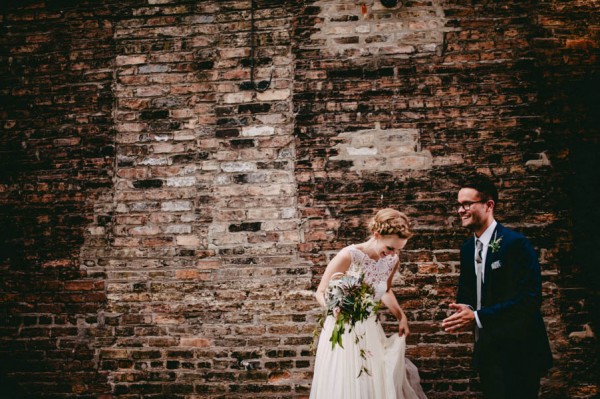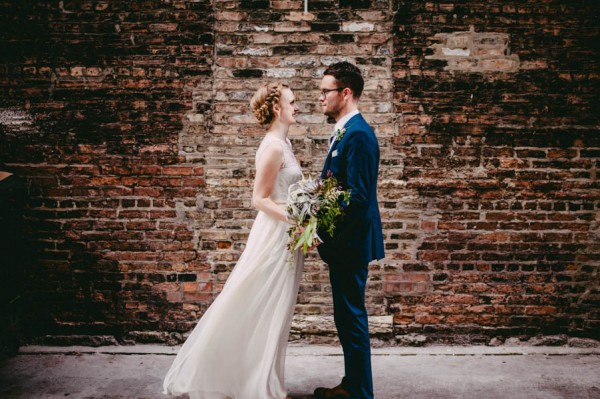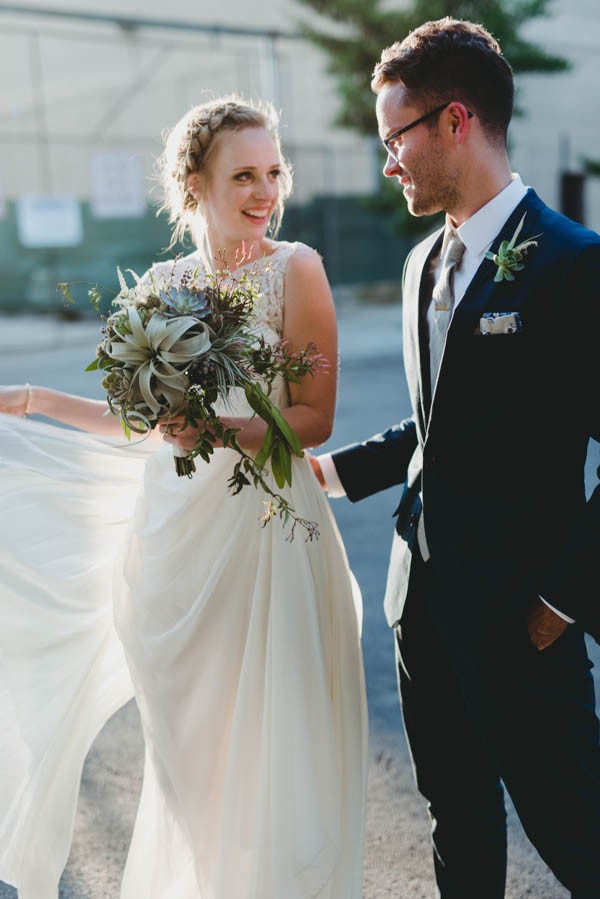 Our photographer was THE BEST. Amanda was my spirit animal throughout the big day. She took charge of wrangling the family, kept things fun for everyone and did a great job at integrating herself into the ceremony and reception. I could not have made it through the day without her- she was truly an integrative part of the wedding day magic.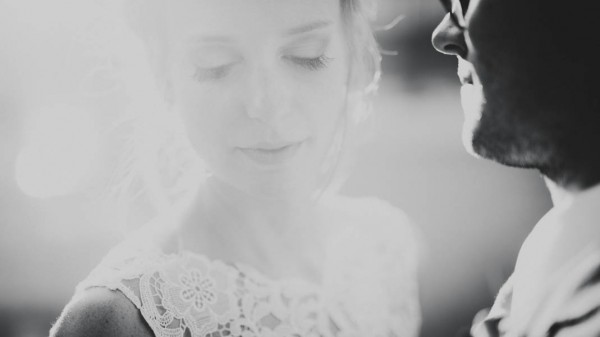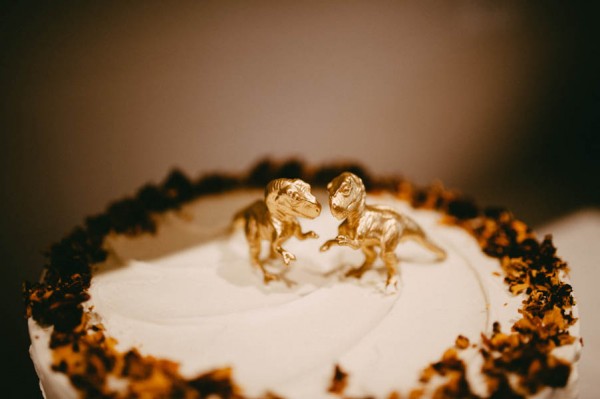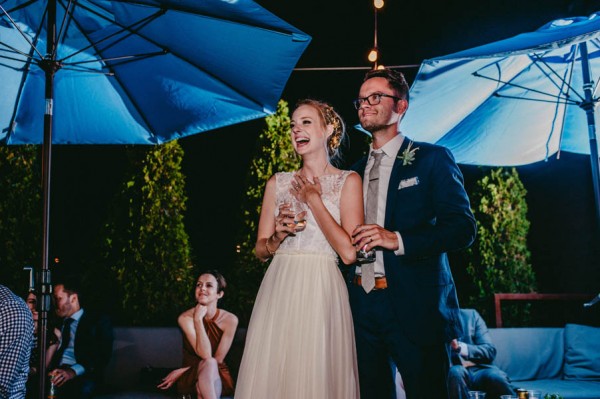 From Mike: Honestly, and this may seem a bit vague, I most remember how unmistakably "us" the wedding felt. From the fabulous food, the beautiful views of our city, the smallness of the venue that really let us interact with our family and friends in intimate ways… it reminds me of all of my favorite memories with just a touch grander scale.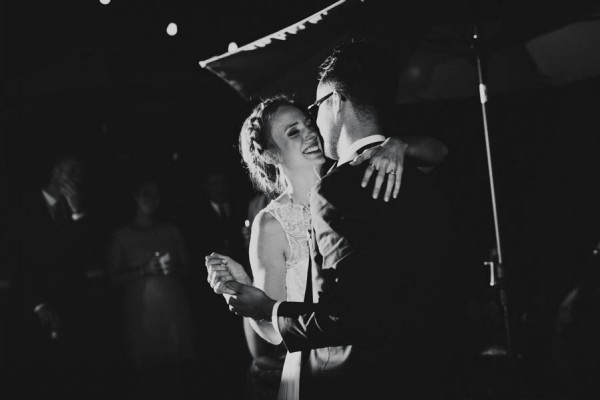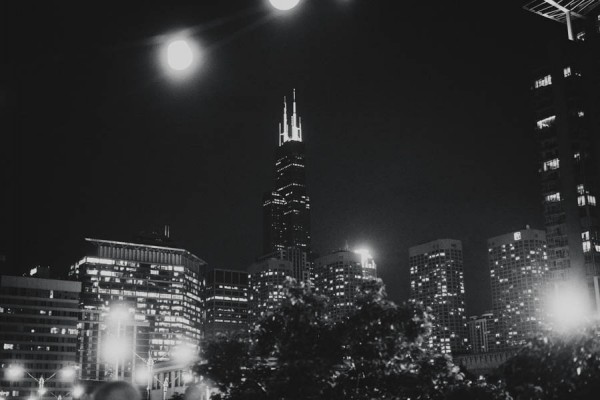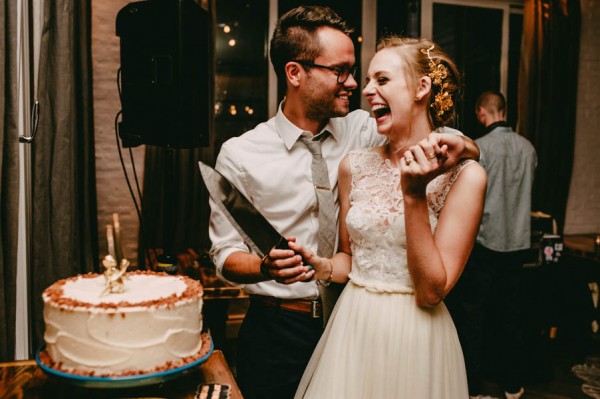 Congratulations to Ashley and Mike, and a big thanks to Amanda Marie Studio for sending this beautiful wedding to Junebug! Love the idea of a city skyline wedding? Check out this New Jersey Garden Wedding at Liberty House Restaurant!