Today we are featuring the stunning work of design talent Christiane Zweifler of Flora Nova Floral and Event Design, her take on wedding flowers, and how to incorporate local blooms into your wedding design, in Seattle and far beyond! Christiane's beautiful work never ceases to amaze me; she is a master at blending colors and textures, and she can do it equally well in modern, romantic, natural, or sleek designs. One of my favorite things that she does is take local Northwest blooms and make them look fresh and new! Planning a wedding, but not in the Northwest? Christiane has some great ideas for how you can use local materials wherever you call home!

(Photos above by Stephanie Cristalli)
What do you find most inspirational in the Pacific Northwest? The beauty of Northwest nature is quite inspirational to me: for example, a walk through the Northwest forest in the fall, or a stroll through a city park in the spring brings out my admiration for nature each and every time! The lush greens and beautiful local blooms inspire my designs in many ways. Whether it is moss covered lichen branches combined with orchids, or ferns with lush garden roses, my creative combinations can change spontaneously depending on what I see around me.

(Photos above by Stephanie Cristalli)
What are your favorite local materials to use? Oh, I must say I have a long list of favorite local materials! Our relatively cool and wet climate offers an abundance of mosses in all shapes and colors, ferns in all sizes, fun greens and branches, tulips, callas, and peonies in spring, dahlias in the fall, berries and foliage in winter. Furthermore I love using river rocks, moss-covered bark, driftwood, pods, sponge mushrooms all fabulous materials which add so much character and detail to a Northwest-inspired design. Just a few months ago, when we went for a day hike in the mountains, I couldnt resist and started foraging; fortunately I had brought a bag and started collecting droppings off the forest floor. I found large chunks of bark, cool shaped branches covered with different colored mosses, mushroom covered bark, and fern curls. I ended up incorporating all these materials for an event I had scheduled for the next weekend. It ended up looking spectacular!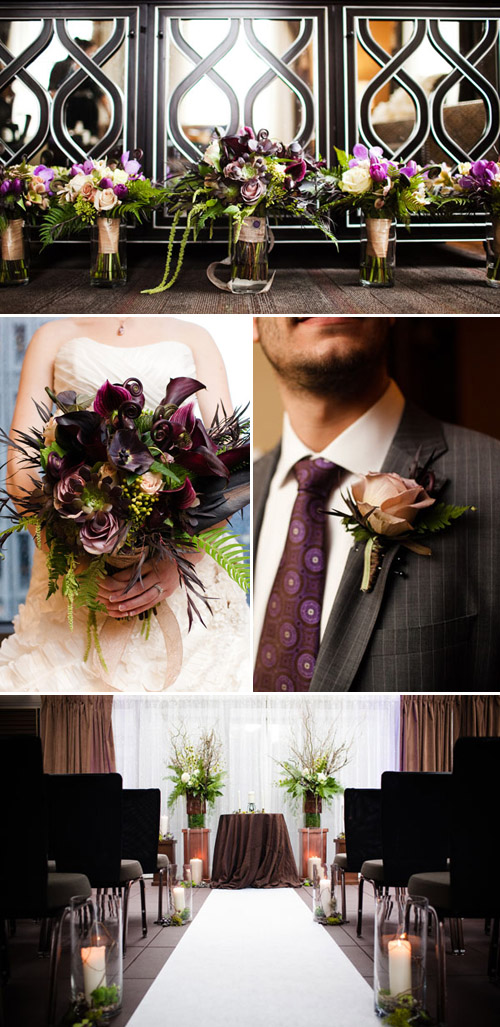 (Photos above by The Popes)
As a floral designer, what else are you inspired by? What are your other favorite design styles? Actually I see myself as an event designer which goes far beyond just the floral aspect of an event. I look at an event as a whole: the venue, the event space, the floor plan, existing décor, linens, chairs, lighting, color scheme, etc, etc. I take each of them into consideration when designing a floral arrangement. For example, I cannot create an arrangement without knowing the linen color or the size of the ballroom. Each piece is part of a grand plan. My ultimate goal is a harmonious and unified look and feel of the event space as a whole. I can be inspired by many different design styles. I love clean and modern creations in their simplicity as much as a large lush romantic garden design. It can be a single flower or a particular container that can inspire an entire event.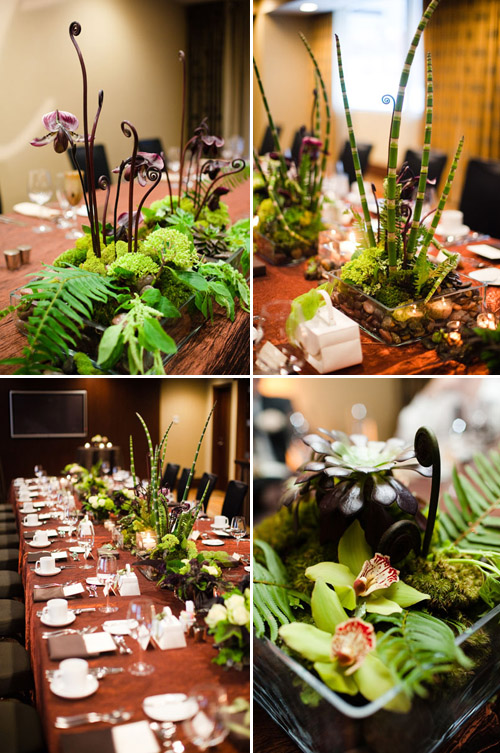 (Photos above by The Popes)
How would you suggest brides from other regions incorporate local flora into their wedding decor design? Just start looking around you. What is blooming in your backyard? What is naturally growing in your local park? What is native for your area? Is there an art style typical for your region? It is typically those native elements that add personality and a uniqueness to your wedding day. Just because things are growing in your backyard doesnt mean they are boring or too common. Correctly combined with other flowers and decor elements, these designs can be super elegant and beautiful.


(Photos above by Daniel Usenko)
Thank you so much for sharing your beautiful Northwest-inspired work with us Christiane, and all of the great insight into event decor! To see more of Christiane's work, be sure to visit her website, Flora Nova Design, and her blog full of current work. And, there is even more floral inspiration in our Wedding Photo Gallery!