This is it readers! It's the final day of our Holiday Giveaway Week, and last but certainly not least we have some darling wedding decor items for one lucky winner…
– An adorable and super versatile White Beaded Cake Stand from Sweet and Saucy Shop
– A set of ten Paper Crinkle Fans from BHLDN
– A custom Silhouette Wedding Cake Topper in your choice of acrylic or wood from Simply Silhouettes
– Three rolls of Washi Tape and one roll of Divine Twine, all in your choice of colors, from The Washi Shop
To enter to win leave us a comment here and tell us about the wedding decor styles you love the most, and any fun design ideas you're incorporating into your own wedding day. We'll accept entries all day and over the weekend, and choose our winner randomly on Monday, December 24th, 2012. Read on to learn more about each fabulous item and creative company!
What makes a gorgeous wedding cake even more lovely? Being presented on a stunning cake stand! Cake stands can often be an afterthought to the actual wedding cake, but they are an important finishing touch to transform your cake into an iconic centerpiece of your reception. Knowing better than anyone how to present a modern-looking wedding cake is California's Sweet and Saucy Shop. In conjunction with their ever-popular California bakery locations, Sweet and Saucy Shop sells gorgeous cake stands and entertainment pieces through their accessories shop, Sweet and Saucy Supply. Today's giveaway winner will be fortunate enough to receive one of Sweet and Saucy Supply's new White Beaded Cake Stands!
If you live in the California area or are planning a wedding there, be sure to check out Sweet and Saucy Shop's new location in Newport Beach's Crystal Cove Promenade for wedding cakes, cake pops and all sorts of treats. You can buy and rent select cake stands in store, or you can also order online at www.sweetandsaucysupply.com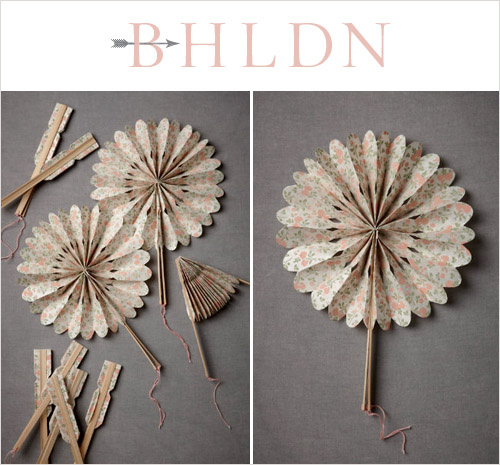 You already got a little taste of BHLDN earlier in the week when we gave away the beautiful Catkins Headband, and today we're excited to offer another exciting giveaway opportunity from Anthropologie's bridal line, this time from their wedding decor collection! Not only does BHLDN feature gorgeous wedding gowns and accessories, but this unique bridal shop also includes fun and whimsical wedding decor options to elevate your wedding and add touches of creativity. Today BHLDN is giving away a set of 10 adorable Crinkle Fans – how you use them is entirely up to you, but these vintage-inspired fans are sure to add a sweet surprise to whichever wedding element they dress up.
BHLDN is your go-to resource for unique and beautiful wedding decor and fashion finds – be sure to check out their wedding decor collection as well as their bridal accessories page for inspiration.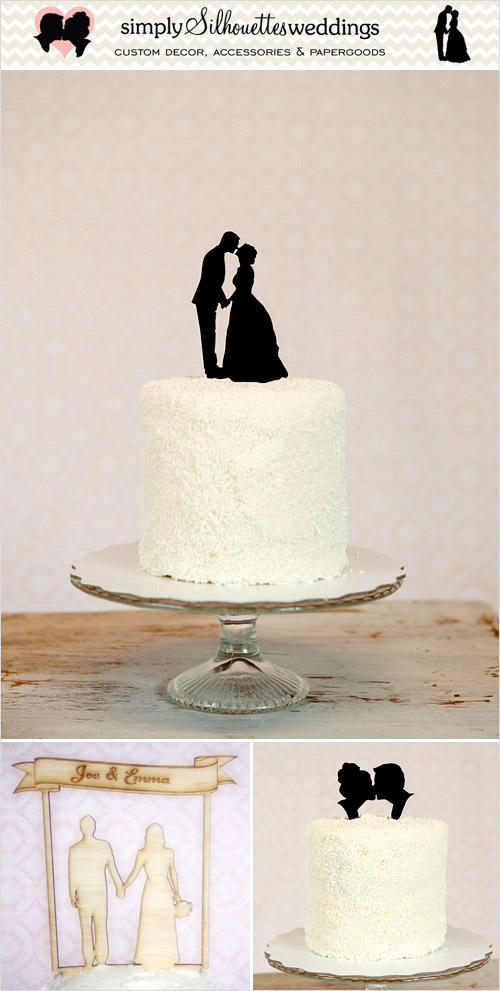 We love a wedding cake with with a bit of personality, and these custom silhouette wedding cake toppers from Simply Silhouettes definitely fit the bill! Adding personal flair to wedding cakes, Simply Silhouettes creates elegant cake toppers from photos of couples themselves, making each customized silhouette unique. The lucky winner of today's decor giveaway will receive their very own personalized Simply Silhouettes cake topper, in your choice of acrylic or wood!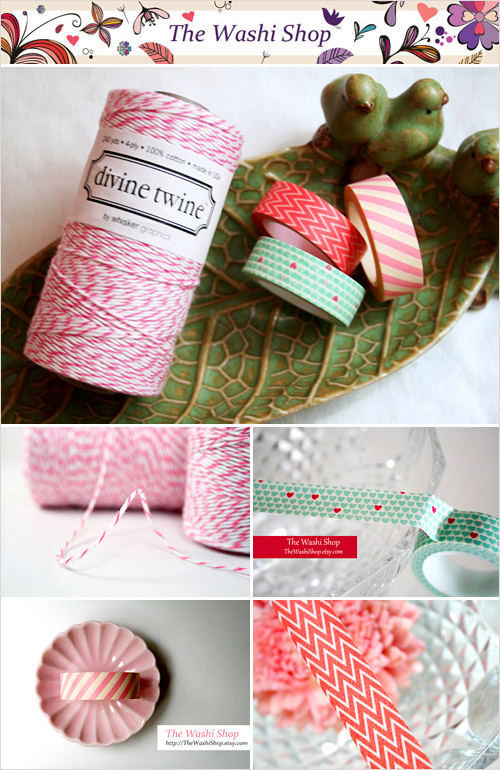 When it comes to weddings, adding in a bit of your own creative flair is always welcome! Washi tape – the colorful Japanese masking tape made of rice paper – is so much fun to experiment with and has an endless number of uses. Kate from The Washi Shop fills her etsy store to the brim with the fun craft tape in every color and pattern imaginable. Today's winner will get to pick out three colors of Washi Tape from The Washi Shop and one roll of Divine Twine by Whisker Graphics, the best baker's twine around!
Thanks for entering everyone! Don't forget to check out all the giveaways from the entire week – you've got until Monday to enter them all! Bridal Fashion, Groom and Groomsmen Gift Ideas, Bridesmaid Gift Ideas, and Creative Custom Wedding Designs!