We're continuing the holiday fun today, and this time it's all about the boys! For day two of our holiday giveaway week, we have a collection treasured gift ideas for your groom, or his guys. We think the men in your life will love these ideas, because who couldn't use a little spoiling this season! The winner of today's "gifts for the guys" giveaway package will receive:
– A Pinstripe Shirt, Light Pink Tie and a pair of Pink Large Stripe Socks from The Grunion Run
– A Whiskey Stones and Flask Kit from Polar Stones
– A Men's Shaving Kit from Dirty Deeds Soaps
Read on to learn more about each item, and to enter to win just leave us a comment here telling us what your guy will be wearing on your wedding day! We'll accept entries all week long, and choose our winner randomly next Monday, December 24th, 2012. Happy Holidays everyone!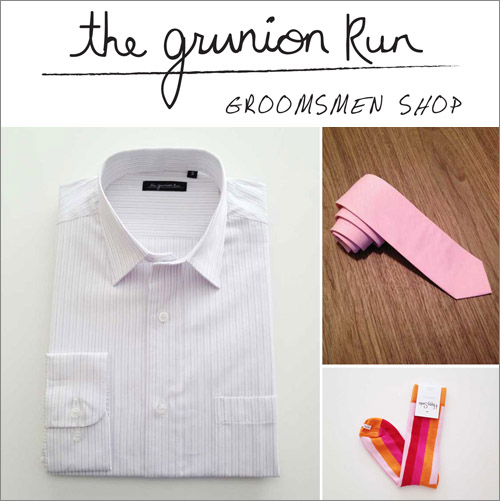 Looking fantastic on your wedding day isn't just for the bride! Specializing in creative, less traditional wedding looks for men, The Grunion Run is a fantastic online shop where you can find super stylish looks for all the men in your wedding. Having noticed that there were already plenty of options out there for brides and bridesmaids but not nearly enough for the guys, husband and wife team Kevin and Yun set out to create a shop specifically designed for the stylish groomsman! The lucky winner of today's giveaway will receive three amazing items from The Grunion Run: a lightweight white cotton dress shirt with elegant purple and gray pinstripes, a modern pink cotton tie, and to top it off, a pair of fun pink, red and orange striped socks by Happy Socks.
To make sure the men in your wedding look their very best, check out The Grunion Run's trend-setting designs in their lookbook and in their online shop!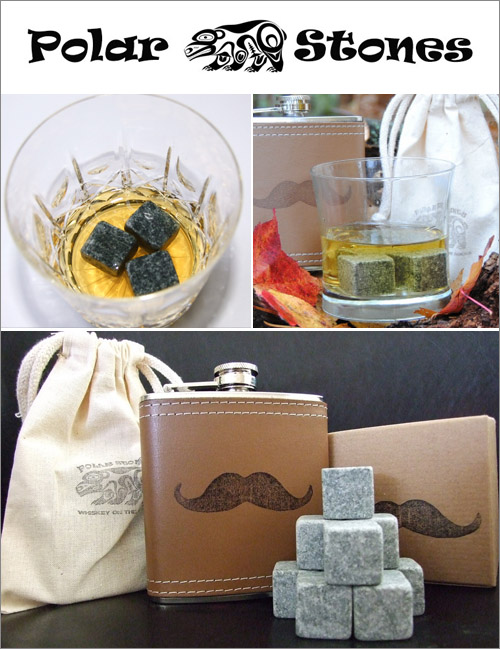 What man likes sipping on a watered down drink? No man – and that's why we adore the genius husband and wife team at Polar Stones! For a groomsman gift that your guys will use time and time again, Whiskey Stones are perfect – they chill your drink to the perfect temperature without diluting it, and are made from a non-porous soapstone material, giving them no odor or taste. In addition, Polar Stones also offers stainless steel flasks wrapped in leather, which you can have customized with your groomsman's initials. The winner of today's giveaway will receive one groomsman set, which includes a set of whiskey stones and one personalized leather flask. Cheers!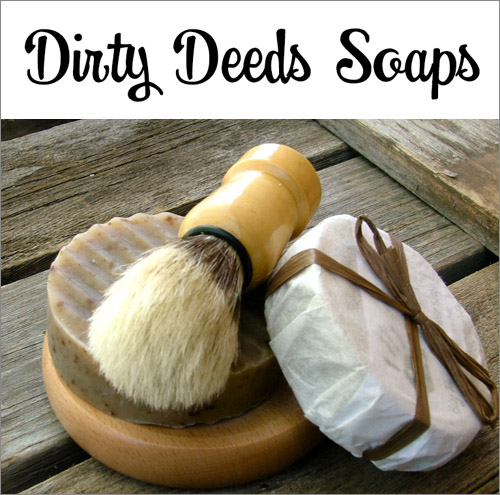 Most guys seem to go crazy for a good shave, and the family-owned business, Dirty Deeds Soaps, knows just how to create wonderful men's soaps and shaving products that will have them looking (and smelling!) great. Each Dirty Deeds bar of soap is cut by hand, and one variety in particular that makes them popular with the guys is their masculine beer soap! Today's winner will receive a Dirty Deeds men's shaving kit, which includes one round wooden soap dish, one shave soap, one starter boar bristle brush and one "The Art of the Manly Shave" instructions.
To see more Dirty Deeds handmade soaps and shaving products, check out their website, etsy shop and facebook page.
Remember, all you have to do to enter is leave us a comment about what your groom will be wearing on your wedding day. And don't forget that we have a new giveaway each day this week!