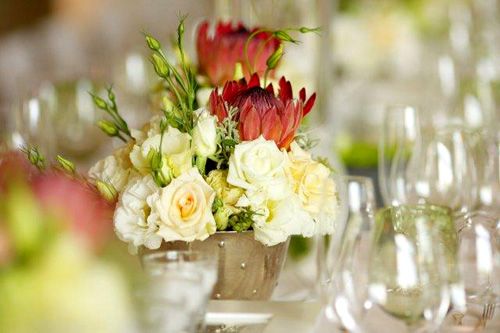 Today we wish we could transport ourselves back in time (and from Seattle to South Africa!) to attend this ultra-sophisticated and incredibly chic Cape Town wedding. Photographed by the amazing Jean-Pierre Uys and coordinated and designed by the talented team at Wedding Concepts, this lovely couple's wedding look was simple, modern and elegant all at once!

The sunny outdoor wedding ceremony was followed by a five-course feast to honor the couple's great love of gourmet food. Crystal chandeliers were strung above the long banquet tables and a mix of roses, orchids and indigenous flowers were placed in varying heights of clear and white glass vases on the table tops. Each place setting had a beautiful menu to match the white and sage green wedding color palette, and modern white dining chairs added a sleek look to complete the event's fabulous decor. Gorgeous! See why we wish we could have been there?
Thank you for sharing this wedding with us Wedding Concepts! What a treat!