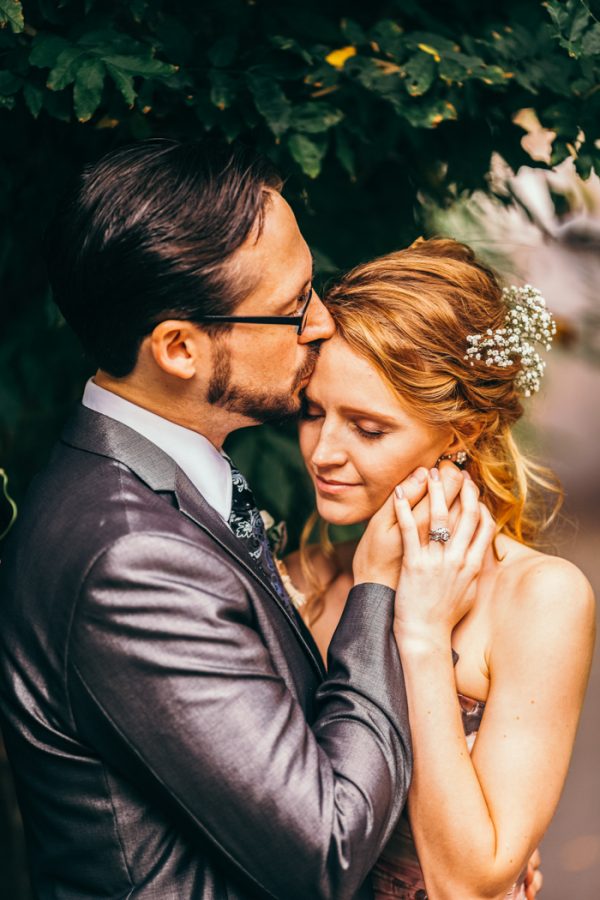 This New Hope, Pennsylvania wedding features eclectic bridal style, gorgeous garden-inspired details, and an intimate reception dinner! We think Abigail's non-traditional floral bridal gown from Wendy Makin Bridal Designs adds the coolest touch of quirky garden party vibes to her wedding's style! Abigail and Charles met each other while working as scare actors at Field of Terror, so when they were picking locations to take post-ceremony wedding portraits, they knew exactly where to go – sans spooky costumes, of course. The Markows Photography captured every moment of Abigail and Charles' day beautifully, including their incredibly personal reception at Blue Moose.
The Couple:
Abigail and Charles
The Wedding:
St. Vincent de Paul & Blue Moose, New Hope, Pennsylvania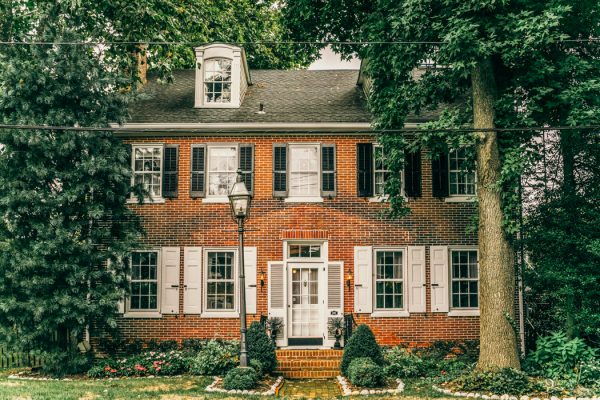 For us, the most important thing was getting married. For everything else on our wedding day, we wanted it to be elegant, simple, fun, and centered on what really mattered to us, and what has made us into the couple we are.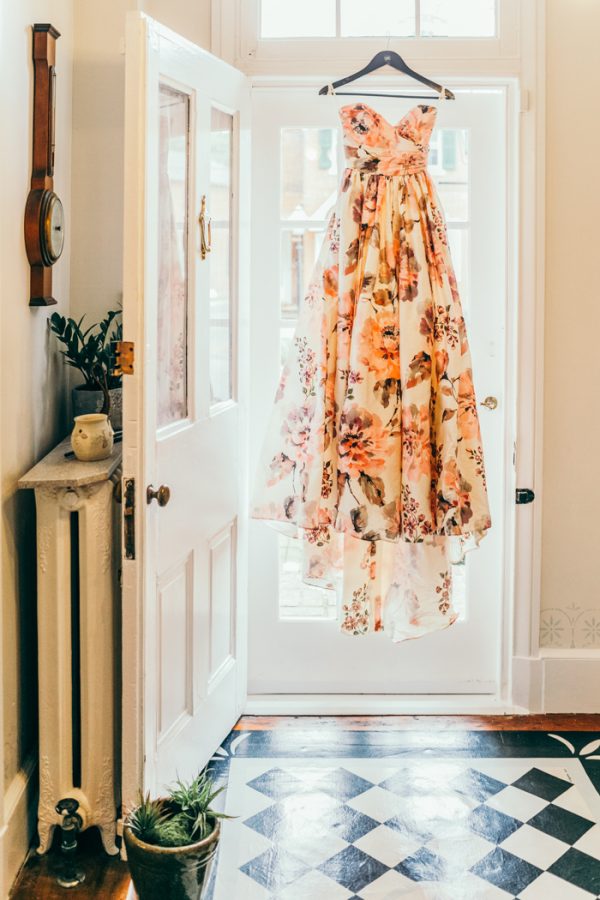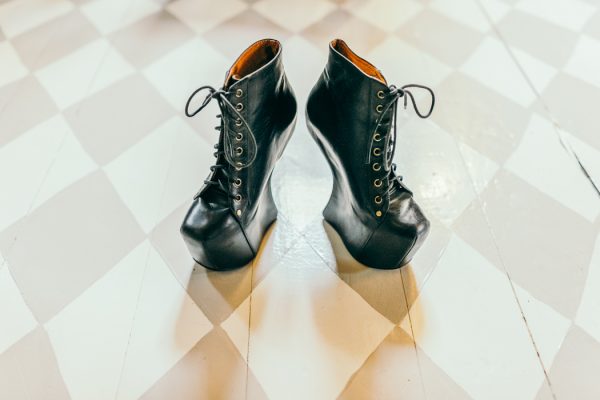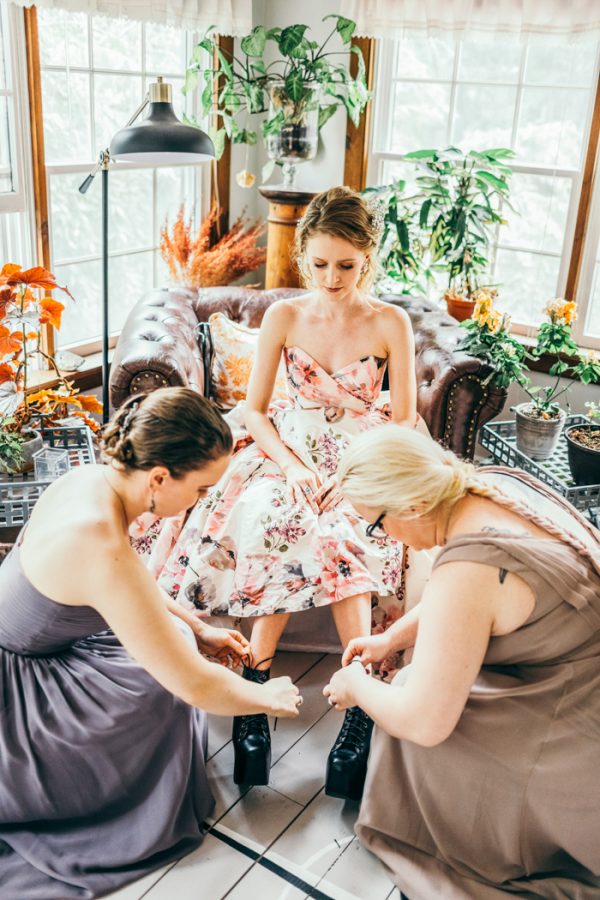 I hated dress shopping. Every dress store looked like a sea of bedazzled, frothy, white dresses. Why wear a run of the mill white dress when I had a whole world of unique, gorgeous dresses to choose from? Why not stand out? For my hair, I wanted to look like I rolled out of a wildflower field. Since my dress and hair was so bold already, I kept my jewelry to a minimum with my mother's pearl and crystal earrings and no necklace.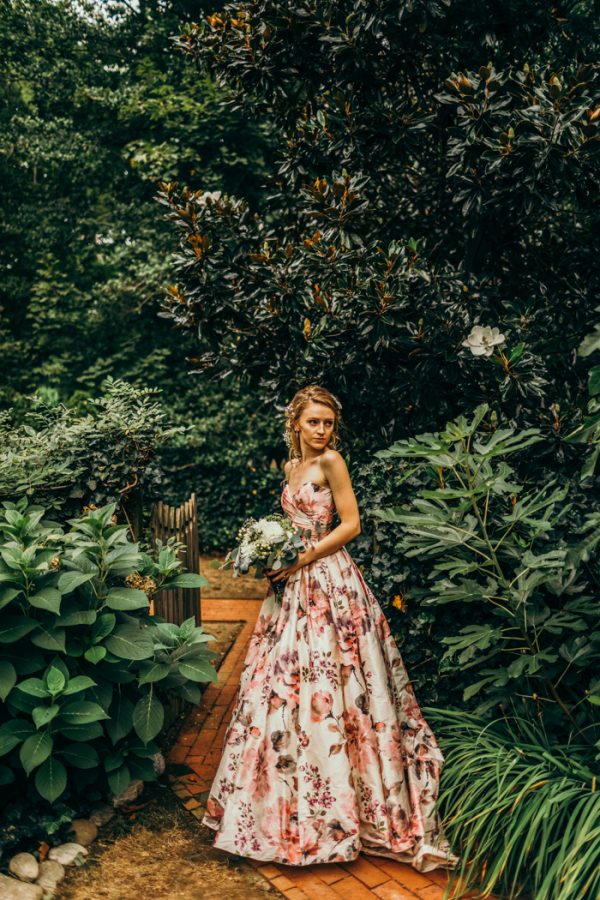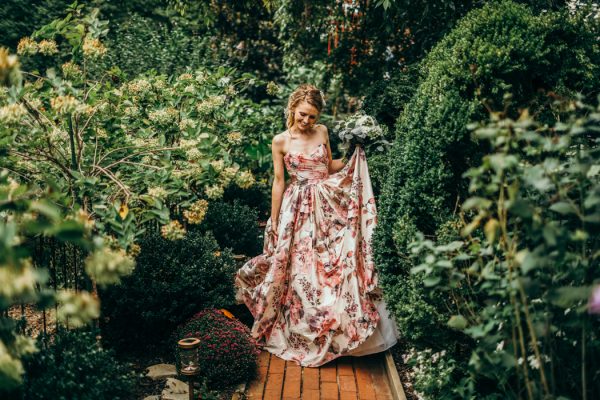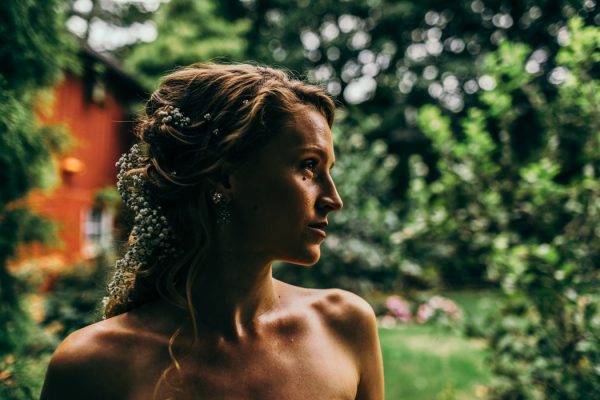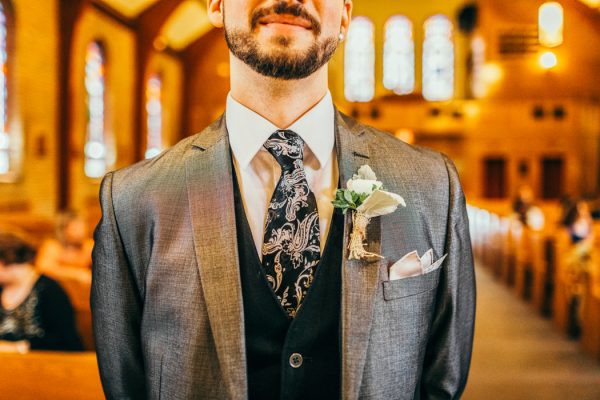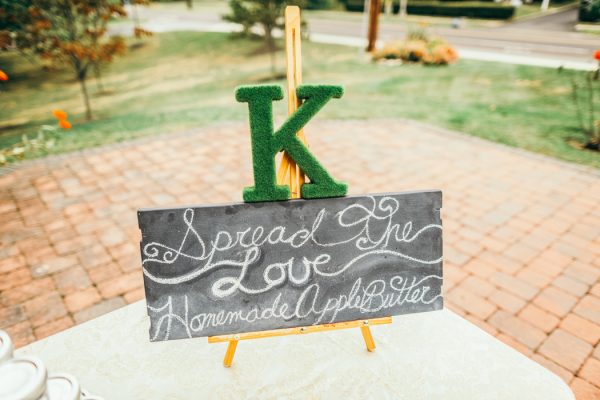 We religiously go apple picking every autumn at a local orchard, and we even had our engagement photos taken there, so we wanted to incorporate that somehow. So we gave our guests homemade apple butter! Charles made the apple butter itself, and I decorated the labels.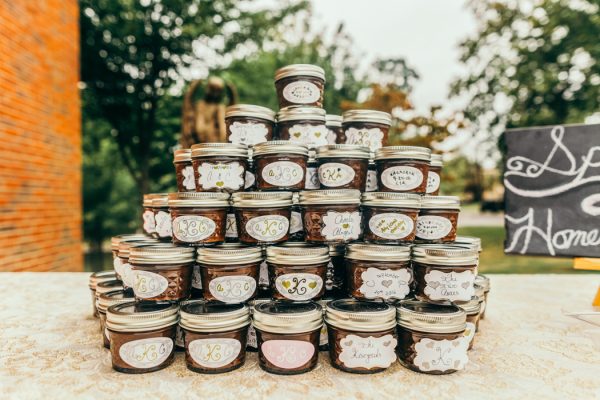 For both of us: the marriage ceremony was the most memorable part of the day.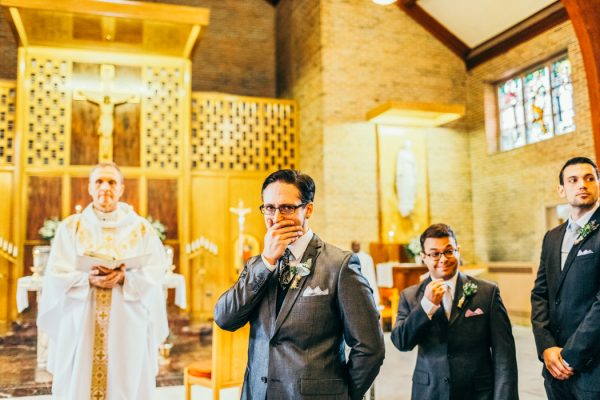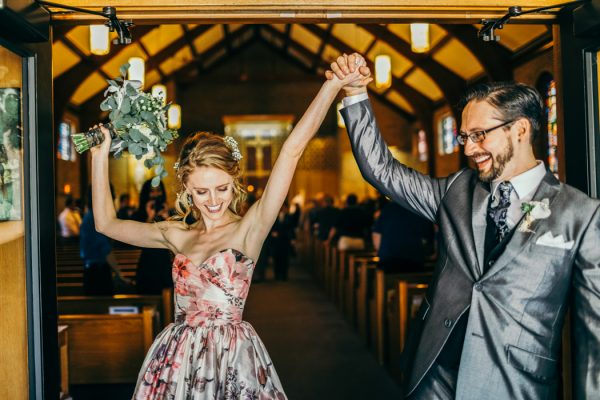 For the Matron of Honor and bridesmaids, I gave them the most neutral color from my dress – taupe – and they were free to choose a dress which suited their body type. I wanted my big sister to be distinguished from the other girls, and she chose the most lovely shade of dusty lavender. All together, they made an unintentional ombre!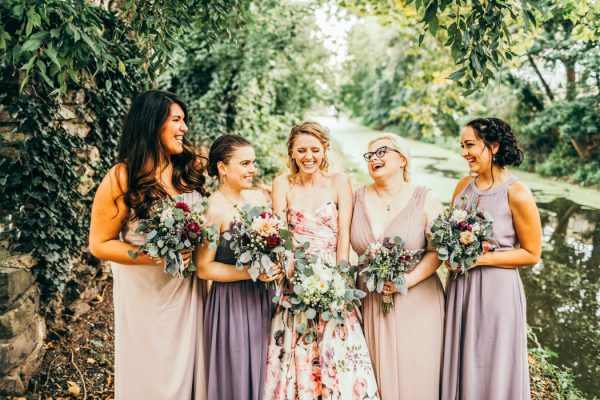 The groomsmen wore a charcoal gray suit of their choosing with matching silver paisley ties and purple pocket squares.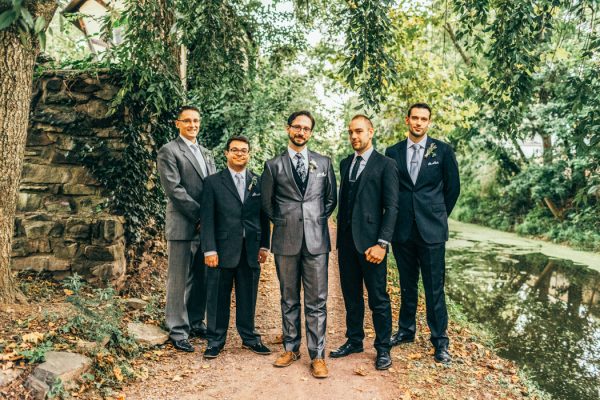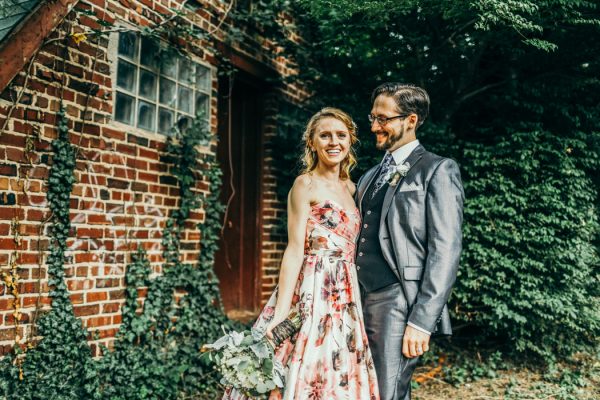 From Charles: My second most memorable part was taking our first pictures alone with my wife in the quiet of the woods. It was the first intimate moments we had together as a married couple, and it was a feeling of completeness.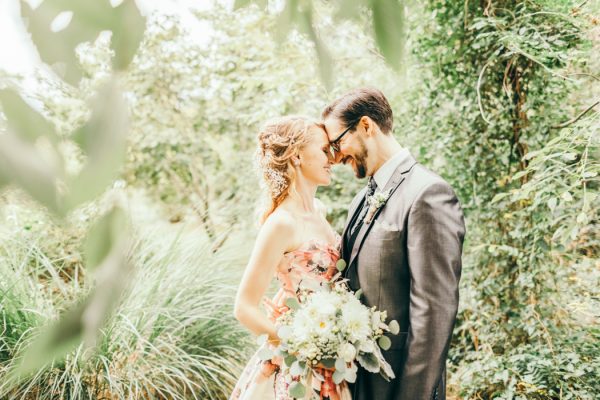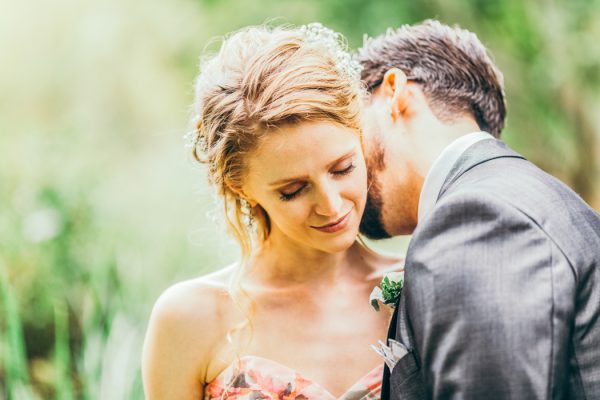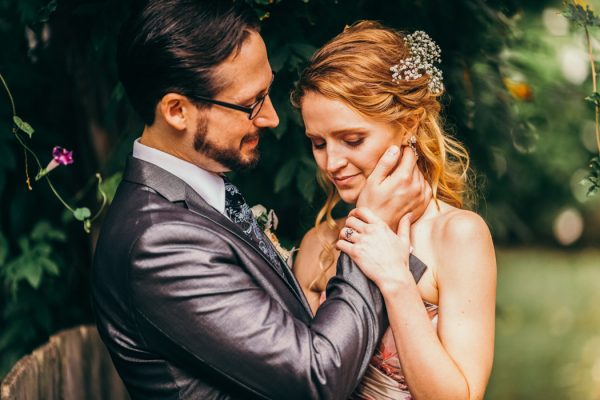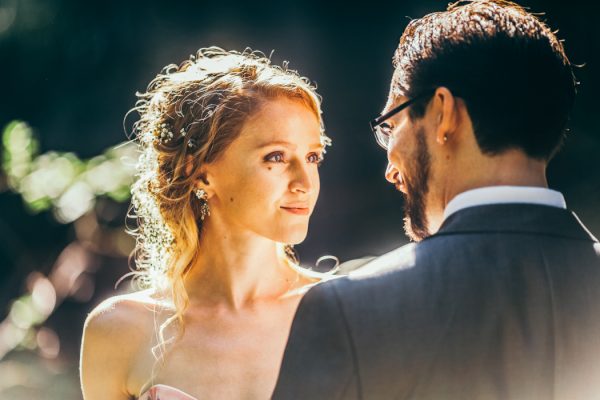 Field of Terror is the place where we initially met as scare actors! For our wedding day, K&S Farms was generous enough to allow us to enter the grounds to achieve awesome and unique photographs.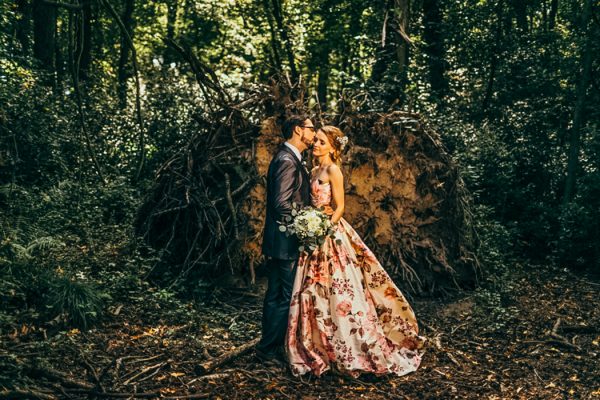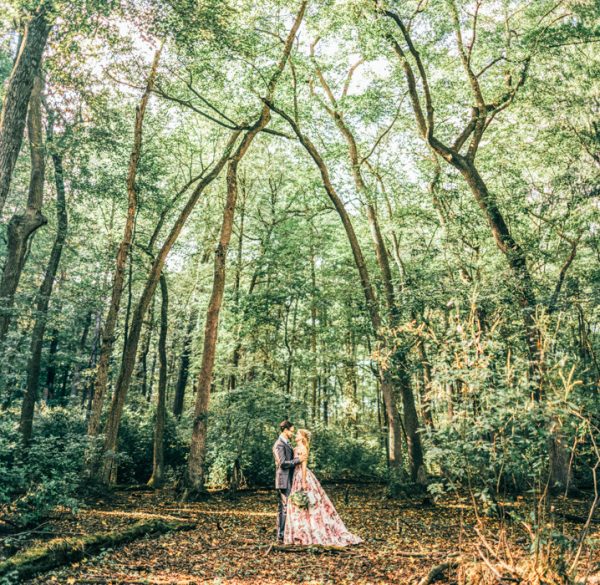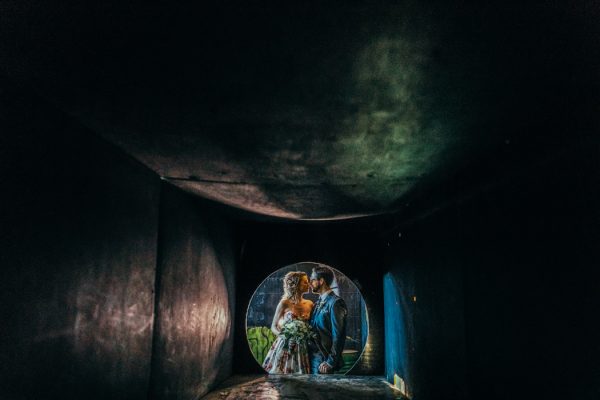 The Markows are such talented photographers. They made us feel at ease and definitely not posed in any way. They captured moments we weren't even aware of happening, and since we gave them creative license to take shots they wanted, too, I think overall it was an amazingly successful collaboration. They gave us wonderful memories to look back on for the rest of our lives.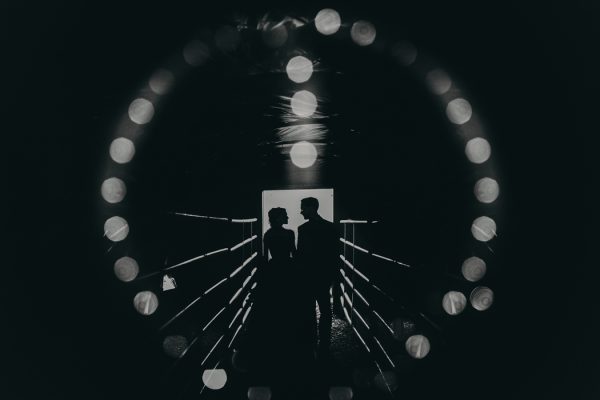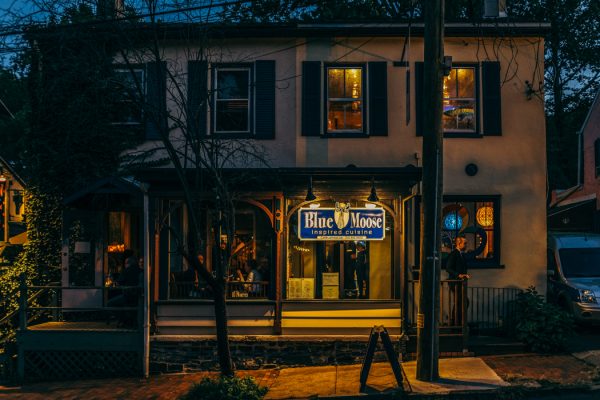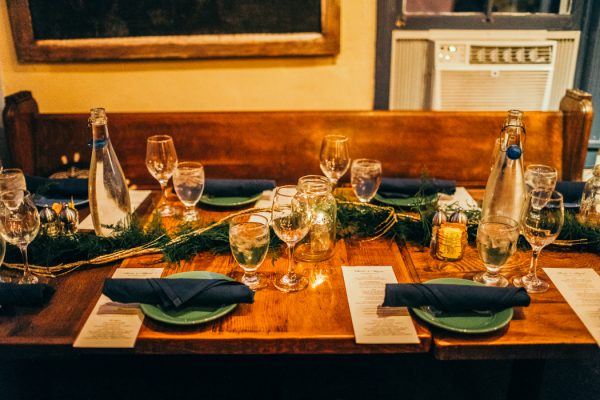 My second most memorable part was when we were eating dinner, and taking in the moment. I was surrounded by friends and family who love us both as individuals and as a couple, and it made me eternally thankful for the life I have been blessed with. In that moment, I felt completely at peace. I would not change my life for anything in the world.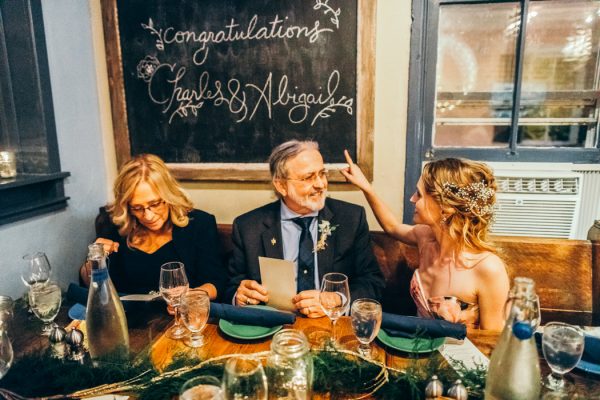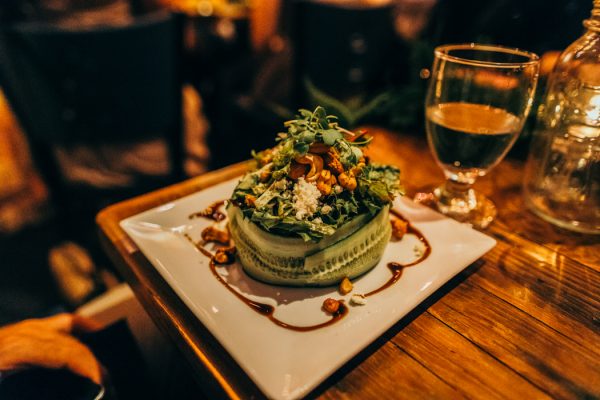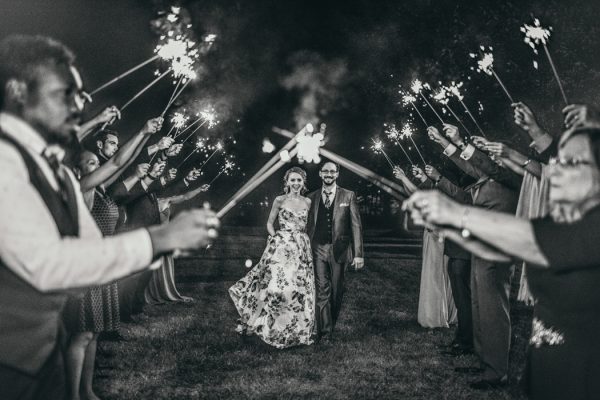 Do what is important to you and your future spouse! If you want a large party, do it. If you want to elope or have a smaller reception, do it. Try not to feel pressured into doing the traditional if it isn't your thing. We had an unconventional reception and we do not regret it. At the end of the day, it is about you and the person you love.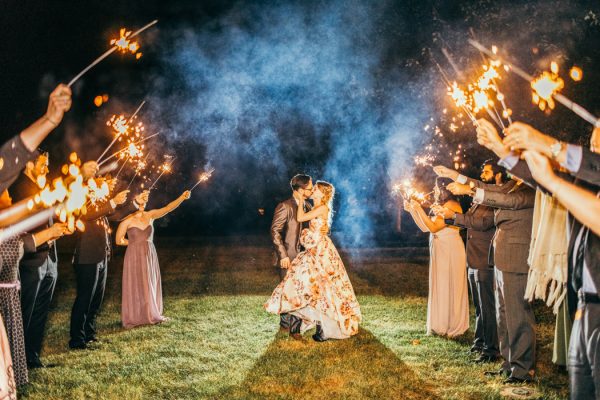 Congratulations to Abigail and Charles, and a huge thanks to Junebug member The Markows Photography for sharing their wedding with us. Love the eclectic vibes of this couple's Pennsylvania wedding? Then you've got to see this eclectic Hill Country wedding at The Wildflower Barn!