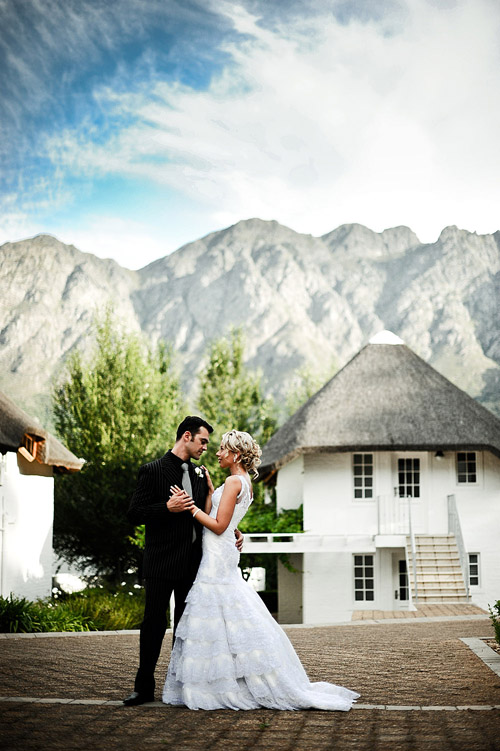 From the bride's shoes to the design of the reception, this week's Real Wedding was a highly glamorous and stylish affair. Jeanette and Adrian's wedding, photographed by Eric Uys Photography on a picture perfect day in South Africa last November, combined both classic and modern elements, creating a dazzling atmosphere that simply makes us swoon!

The Goals: Jeanette and Adrian wanted a garden wedding with a fresh, clean, romantic look. Searching for a venue that was surrounded by vineyards and mountain views, there was only one place that perfectly fit the bill, and that was Le Franschhoek Hotel and Spa. The idyllic, landscaped gardens with views of the Franschhoek mountains were perfectly situated for the outdoor ceremony Jeanette had been dreaming of, and the garden theme could continue during the reception at the on-site Le Verger restaurant. Its glass enclosed dining area with an open floor plan flowed out toward glass conservatories scattered among fruit trees.

The Look: Jeanette's dress was a couture masterpiece that took nearly 400 hours to complete! Made by Charlene Sauerman Couture, the Duchess satin and Spanish lace dress was designed to have simple lines with the surprise element of luxurious cascading frills in true couture style. Swarovski crystals were added to the dress to give it a "white diamond" color, and a touch of black was hidden in the petticoat – an extra element that the bride says, "people are still talking about." Jeanette fell in love with her pink-soled shoes when she first laid eyes on them, and from head to toe, she was one chic bride! The groom was equally stylish in his pinstriped suit from Fabiani and his own eye-catching red-soled shoes.
The Moments: The wedding was a very sentimental affair for Jeanette, whose mother had passed away from ovarian cancer the year before. In tribute, many of the event's details were inspired by her, including the location, which had been one of her mother's most beloved places. Jeanette carried a bouquet of King Protea, her mother's favorite flower, and the day after the wedding she visited her grave, where she left the wedding bouquet as a gift. Jeanette even wore her mother's favorite scent, Chanel Chance, to keep her memory close.

The Design: The couple chose a color palette of black and white with touches of silver and damask. They combined varying shades, textures and prints to create the glamorous atmosphere they were looking for. Tables were covered with crisp white linens overlaid with black and white damask print table runners, and rustic silver and glass vases were filled with velvety white roses banded with black ribbon. Silver candelabras also decorated the reception and were covered with crystals and candles to make the space sparkle!
The Details: During the reception guests dined at one long banquet table, a choice both the bride and groom enjoyed because all of their guests were able to interact with one another. Among the delectable treats guests feasted on were 40 chocolate mini-cakes wrapped in white chocolate collars and ribbon, in place of one large wedding cake.
The Pros: To learn about all of the wedding professionals that helped to make this wedding a reality, please visit our Real Weddings section.

Thank you so much for sharing your sweet wedding with us Jeanette and Adrian!
If you're planning a wedding in Seattle or Southern California, don't miss our trusted Plan Your Wedding Hotlist!