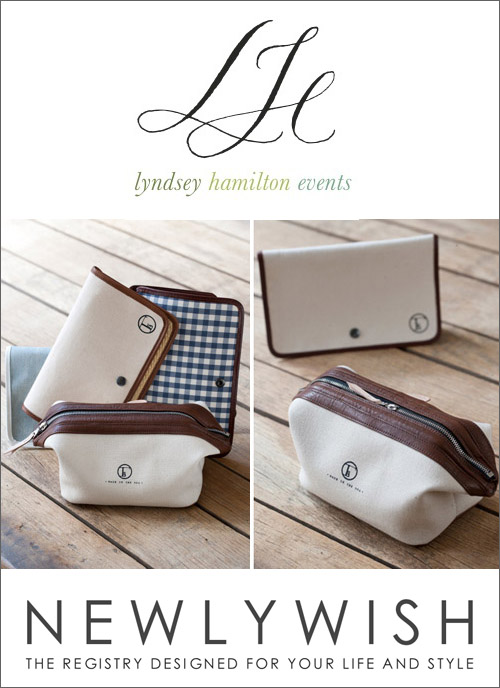 It's giveaway day here on Junebug, and we're so excited about this one! Lyndsey Hamilton, wedding planner extraordinaire and member of our World's Best Wedding Planners Hotlist, has partnered with Fleabags and NewlyWish to create stylish, luxurious bags for couples and their wedding parties to use on a perfectly accessorized wedding day! Lyndsey and NewlyWish are generously giving the gift set pictured above, which includes a gorgeous Adirondack Clutch for her, and a handsome Adirondack Kit Bag for him, to one lucky Junebug reader! See the instructions below for more information on how to enter to win!
As an accomplished wedding planner known for creating impeccable events, Lyndsey saw a need for beautiful, unique gifts for bridesmaids and groomsmen that were useful on, as well as after, the wedding day. She was inspired by one of her couples who had custom bags made for their wedding in the Adirondacks. Lyndsey loved the quality of Fleabags, and partnered with them to create several bags that are available exclusively through NewlyWish.
Lyndsey says, "Our goal was to be able to provide brides with a chic, sustainable, and useable gift option for her bridesmaids. This limited edition line was designed specifically for the bridal market using materials inspired by the various locations that often produce weddings: from the Hamptons to Malibu, with the signature kit being named Adirondacks, representing the location where the collaboration was inspired."
And if you haven't visited NewlyWish yet, now is the time! NewlyWish is an online registry that strives to help couples create personalized and truly unique registries. The website has a network of over 50 shops that feature a wide range of gifts, from kitchen and tabletop items, to linens and decor, and even food, wine, artwork, classes, and sporting event tickets. All of your numerous and varied selections are compiled in one easy registry list to make shopping and gifting simple for your guests. Brilliant!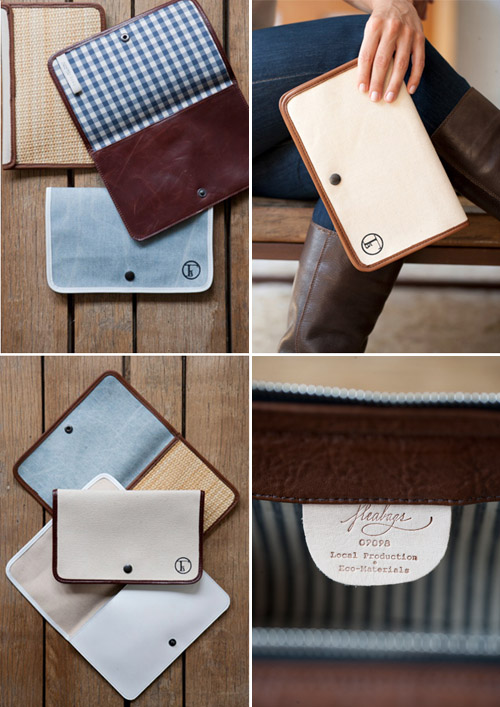 Such great bags, right?! To enter to win, all you need to do is visit newlywish.com and check out their selection of great goods! Then, please leave us a comment here telling us what you'll be stashing in YOUR bag on your wedding day. What are the most important must-have items that you're sure to have with you? We'll accept entries all week long, through Sunday, January 13th, and then randomly choose a winner on Monday, January 14th, 2013.
Good luck everyone! We can't wait to hear what you'll be keeping with you on your wedding day!