Kemper and Kevin were married on a gorgeous summer day and then threw a truly fabulous Southern garden party for their guests at the dreamy Atlanta Botanical Gardens. The decor was romantic and classic, including a beautiful monogram by Hi Note, the bridesmaids wore slate-colored Amsale gowns, and the bouquets and boutonnières that included soft white cotton, hand-picked by the bride's Grandfather at his nearby farm. Vue Photography captured elegant images of the prettiness, emotion and all the dancing!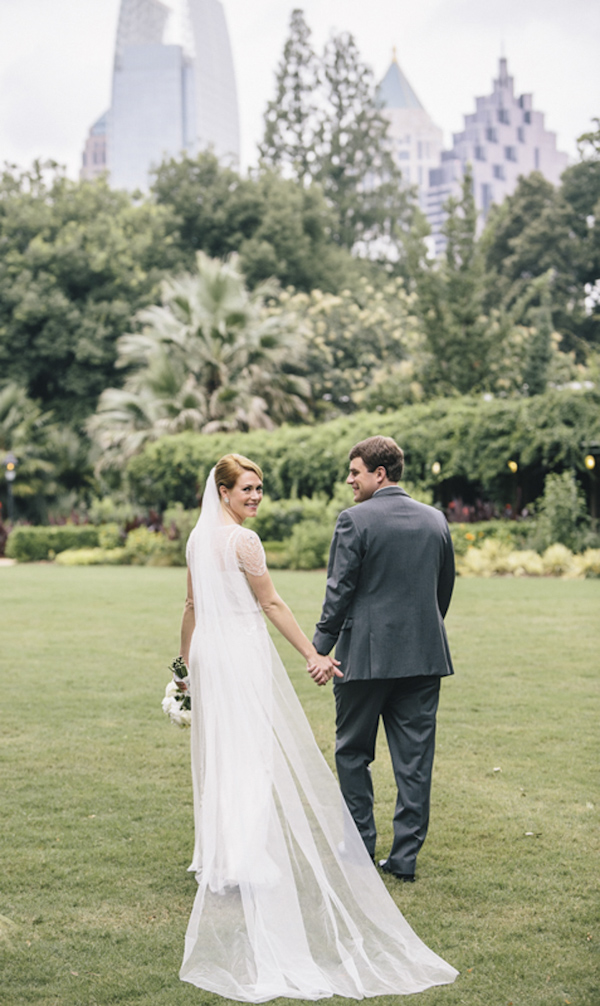 The Couple: Kemper and Kevin
The Wedding: 7.13.13 – Atlanta Botanical Garden, Atlanta, GA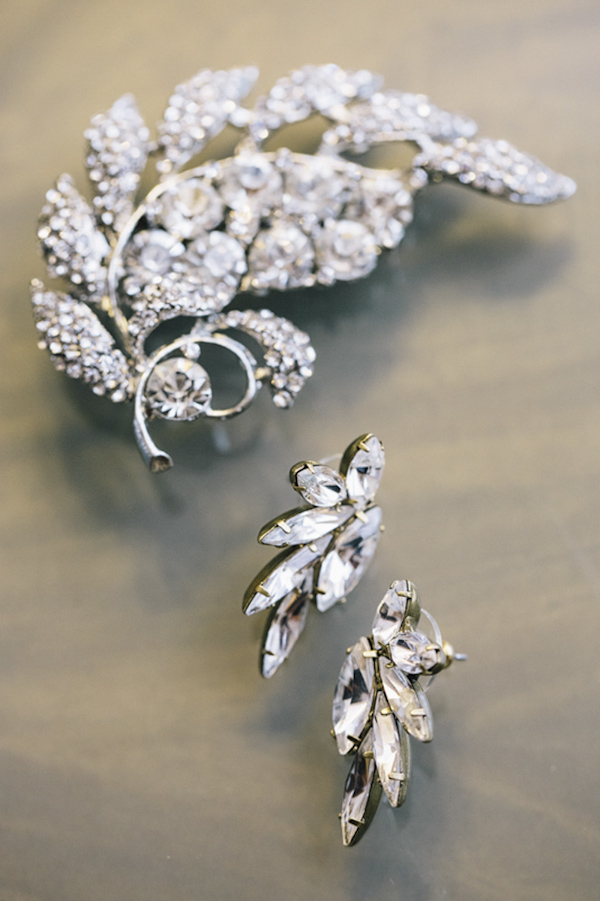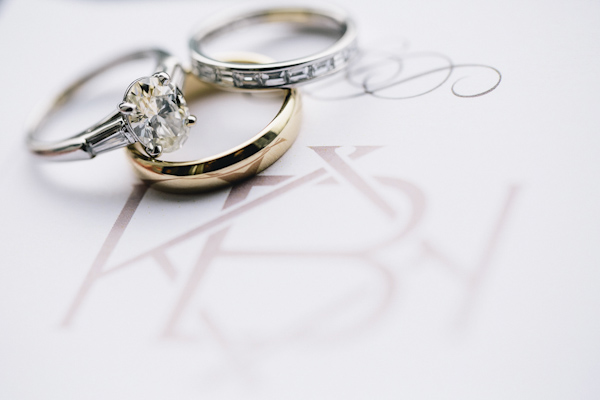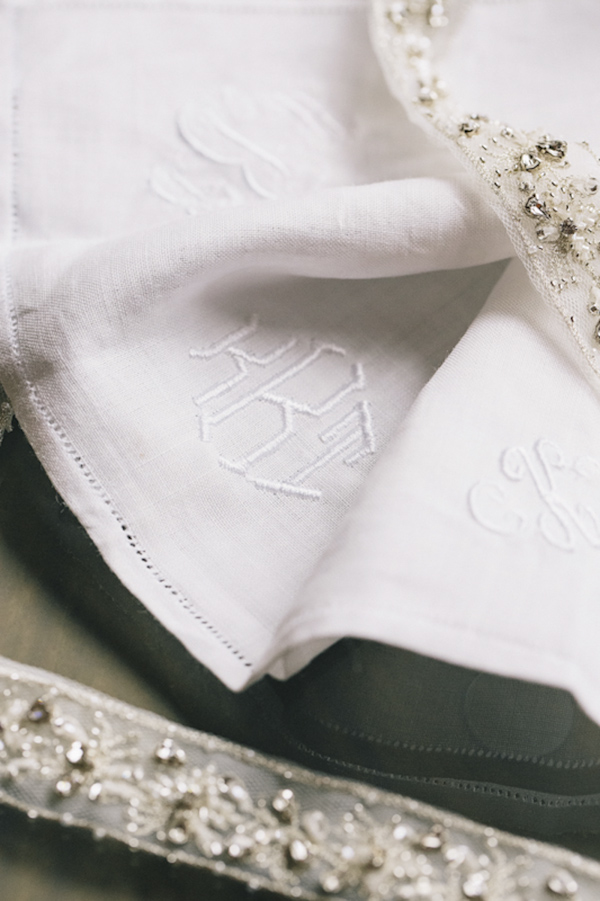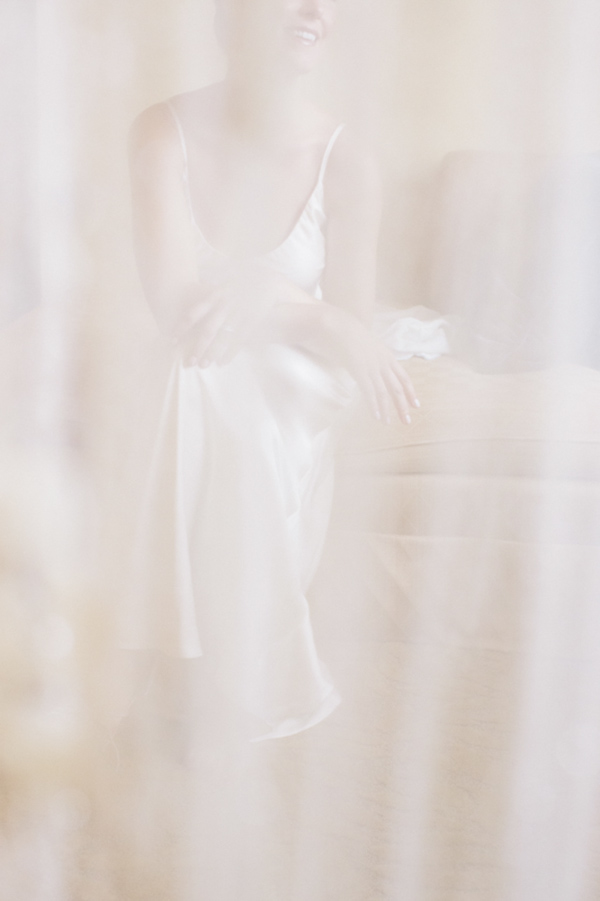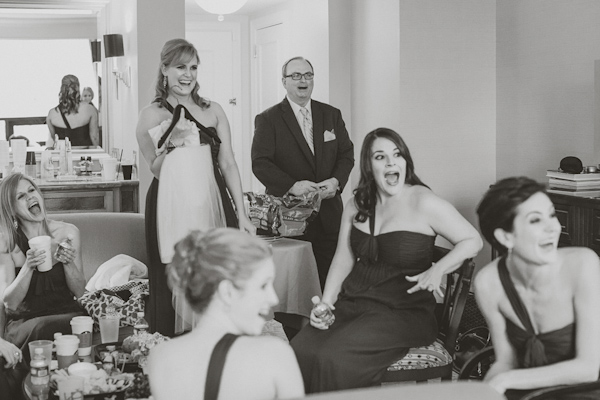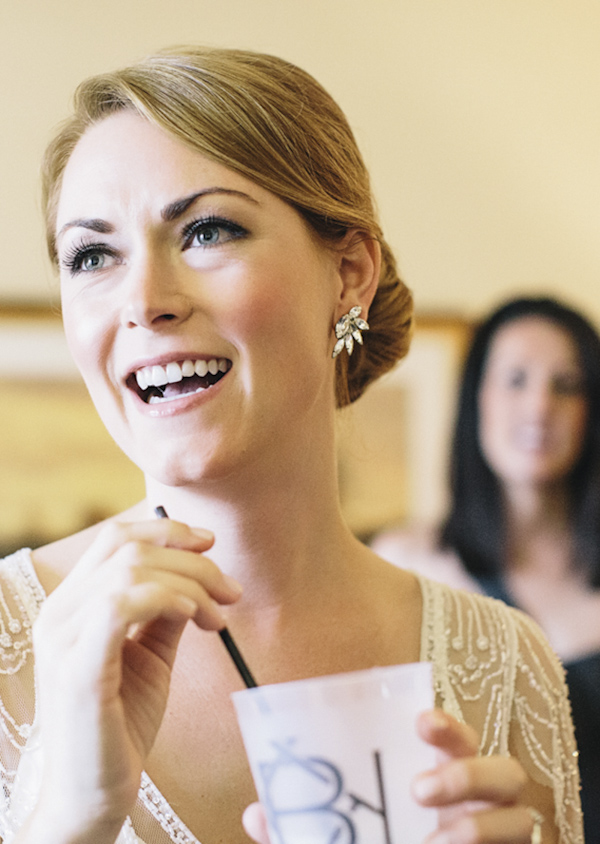 The Goals: We were together for seven and a half years when we got engaged. After attending the majority of our friends' weddings, I knew exactly what I wanted. Kevin trusted my judgement and put in his two-cents. As a couple, our priorities were good food, good booze and a killer band. We wanted this celebration to be an extension of who we are and what we love – Southern food, good libations (specifically bourbon), friends and family, and music that makes you get out of your seat. This was the party to kick off our new life together and it was one hell of a party!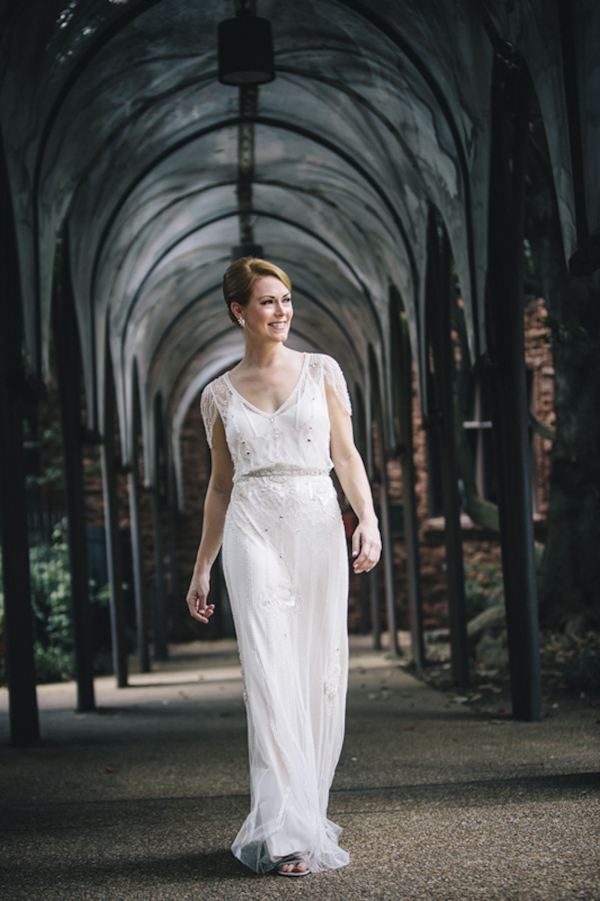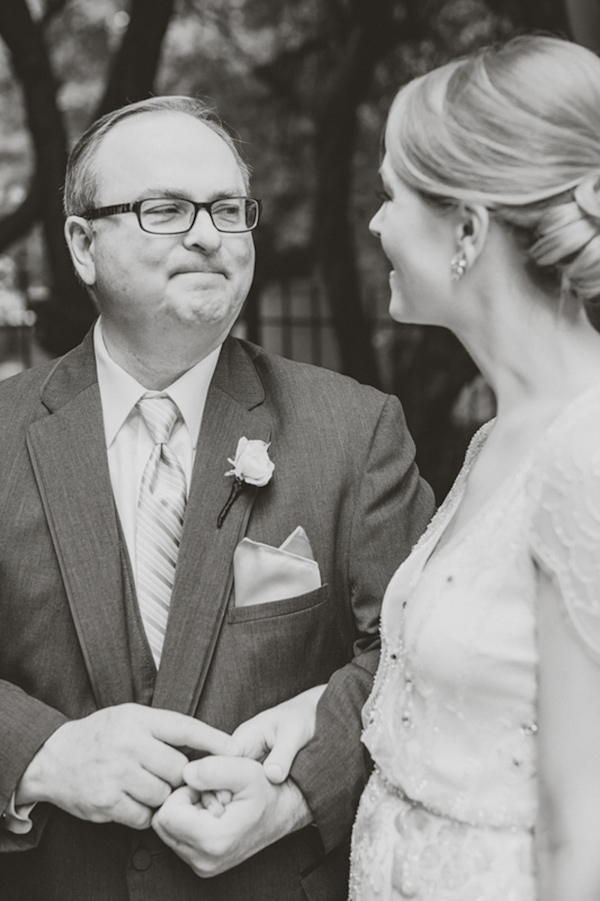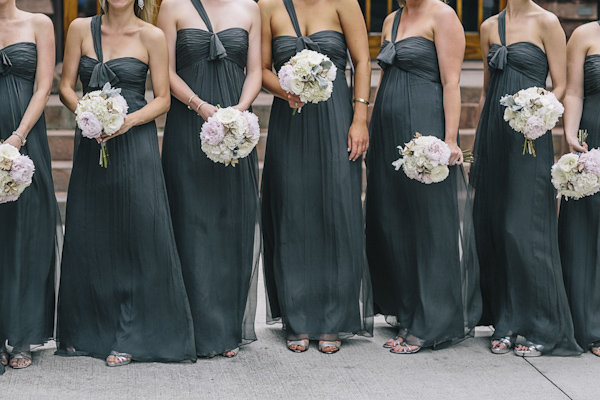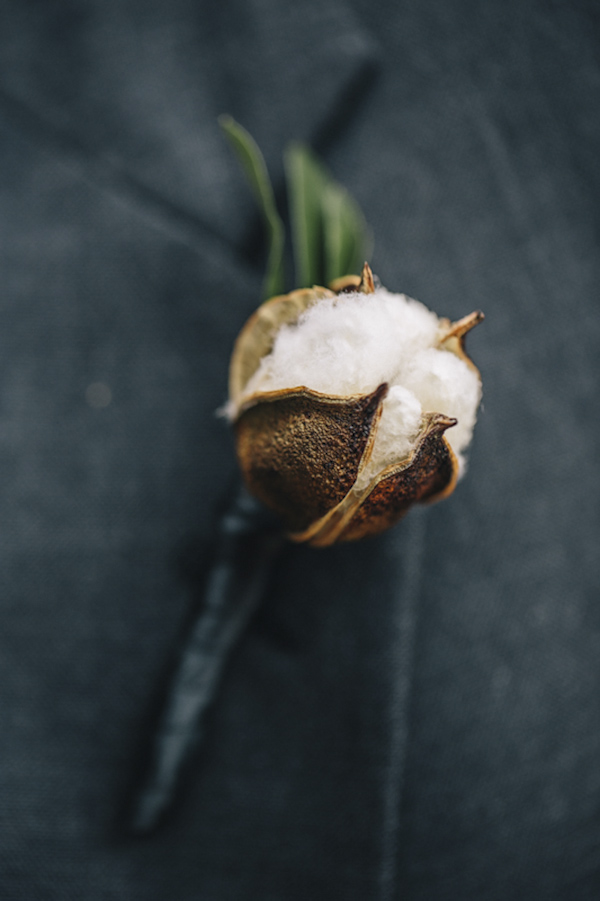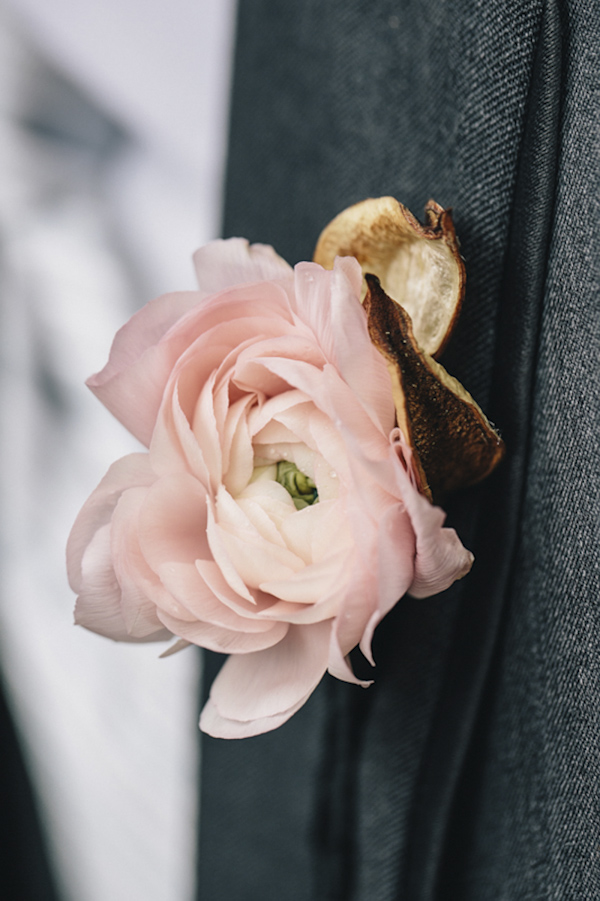 The Design: We are both summer babies, so it was only fitting that we got married in the summer. We went into this planning a Southern garden party because of the incredible venue with which we fell in love. The Atlanta Botanical Gardens allowed us the perfect backdrop. Our color theme worked well in all aspects from stationary to floral to clothing. Our monogram was brought into all printed material to create a brand for the weekend. We opted for a delicious Southern spread that was complemented by the cotton we wove into the table and floral decor (picked from my Grandfather's farm.) The dance floor was flanked by two crape myrtle trees that we will plant in the yard of our first home. We wanted the dance floor to be a center focus point (I love to dance and barely left the dance floor all night!) We truly wanted to tie everything together so it flowed perfectly. We lucked out with the only non-rainy Saturday this past July. As fate would have it, the weather was perfectly overcast to ward off rain but keep away the smoldering summer heat.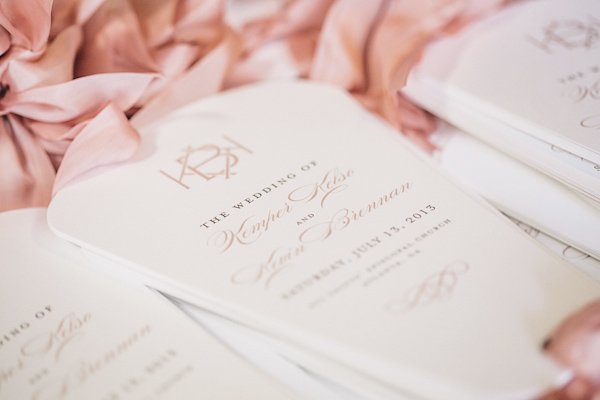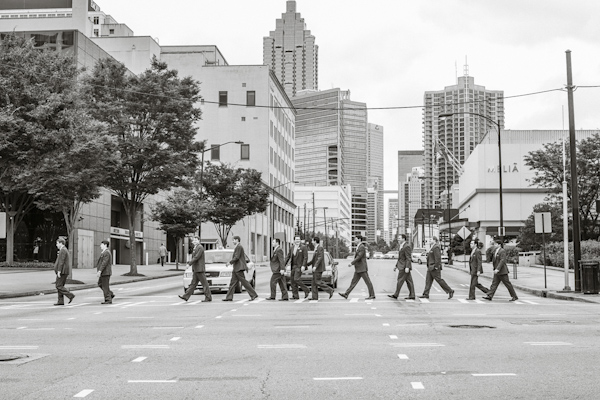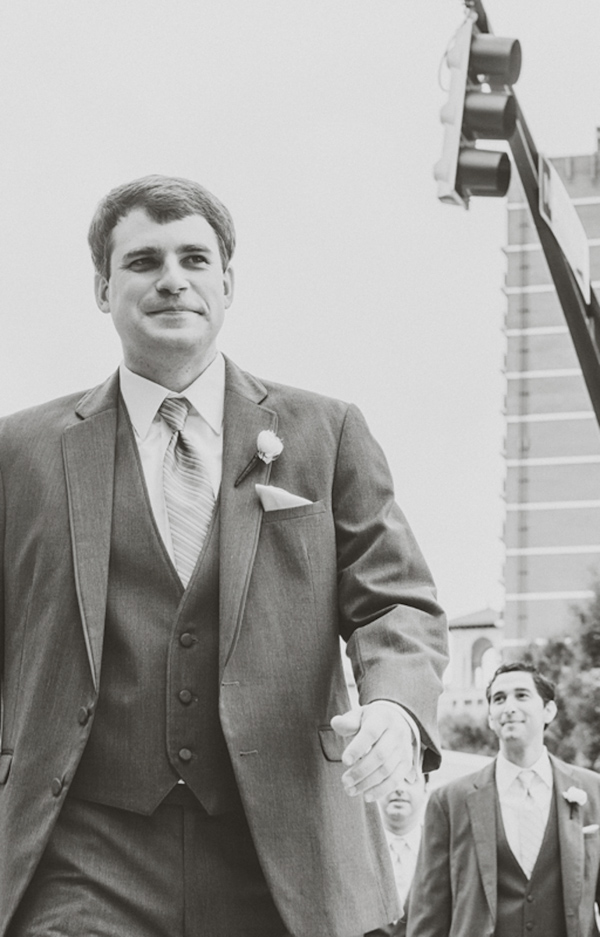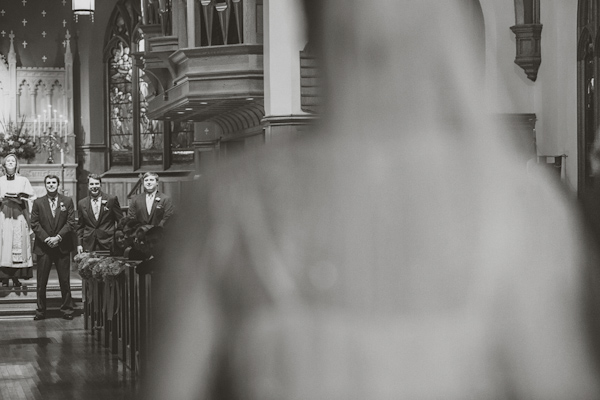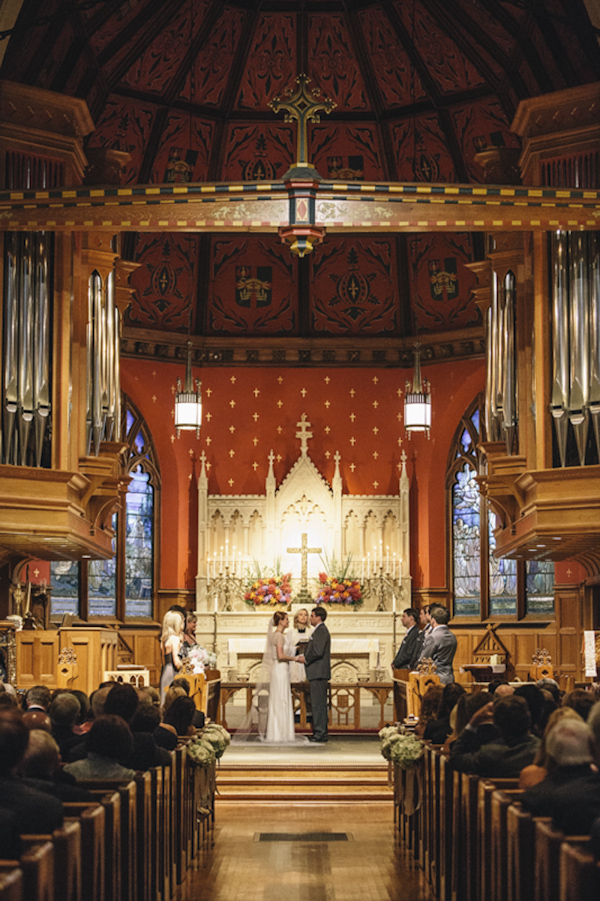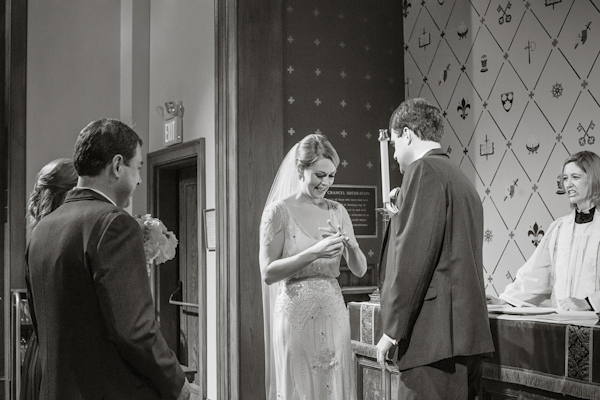 The Look: I have always been a fan of vintage clothing and style and have tried to weave that into momentous life events when possible, such as wearing a white tea dress that belonged to my great-grandmother on my bid-day at UGA. My style icons are Jacqueline Kennedy-Onassis, Grace Kelly, Audrey Hepburn and my Great-Grandmother. I wanted a vintage inspired gown for my wedding day – something timeless. When I put on the Jenny Packham creation, I was hooked. I went for a classic look with my hair and makeup. I am not particularly dramatic in my everyday attire, so I wanted a look that wasn't too far from my personal brand – formal and defined yet a clean, not-overly done appearance. I wanted to be the best version of me, not anyone else.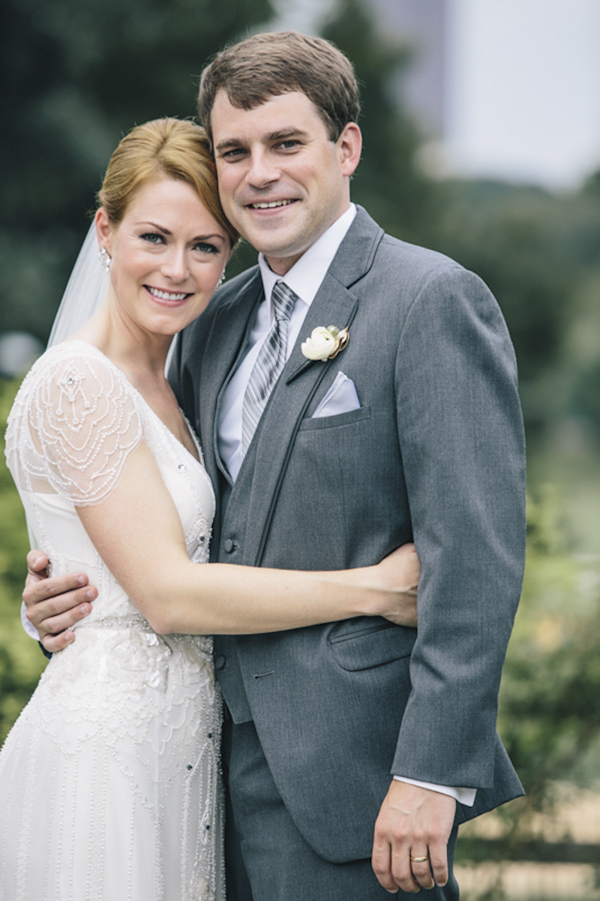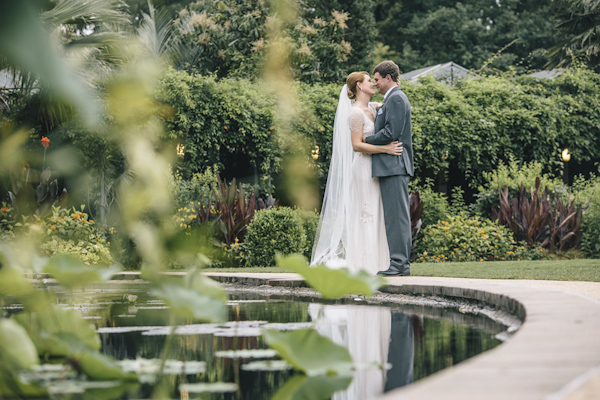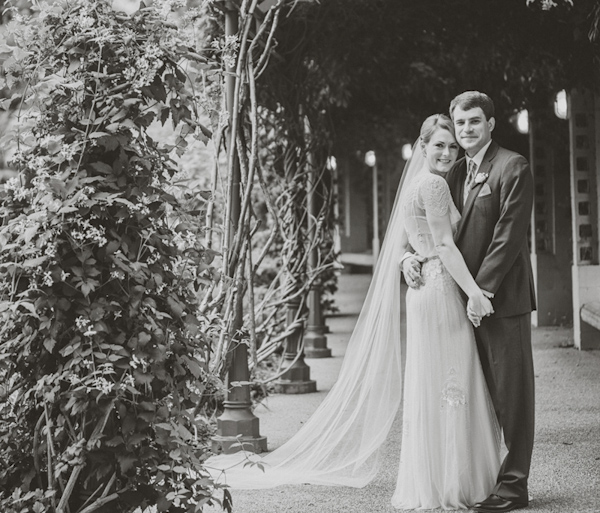 The Moments: One of my favorite moments would be when I walked out of my dressing room and all of my bridesmaids, my brother, mother and father were there to be the first to see me in my gown. Their reactions were so heartfelt and made me feel like the most beautiful woman.
The ceremony is incredibly memorable. Walking down the aisle towards Kevin was very emotional and at the same time so empowering. We were taking such a huge step together in front of all of our friends and family. It felt amazing to finally say our vows after 8 years. Walking back down the aisle as husband and wife was truly awesome. It was such a rush of emotions and a feeling of we did it!
I loved taking pictures all over the botanical gardens while our guests enjoyed cocktails prior to the reception. We could escape everyone and have time to ourselves in this beautiful setting before starting the party. It was nice to catch our breath.
We ended the night by making our exit in a vintage car. Being driven around Atlanta at night with a glass of champagne is so romantic. We were on such a high from the day and the emotions. We loved having a final few moments to ourselves as the day ended.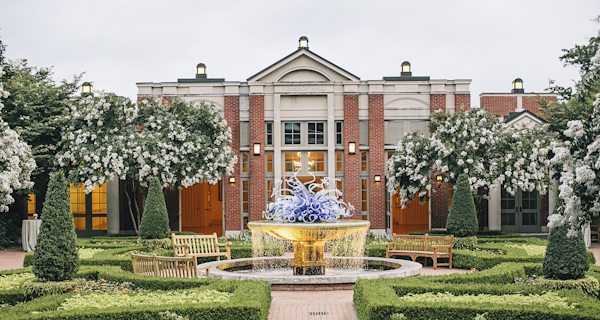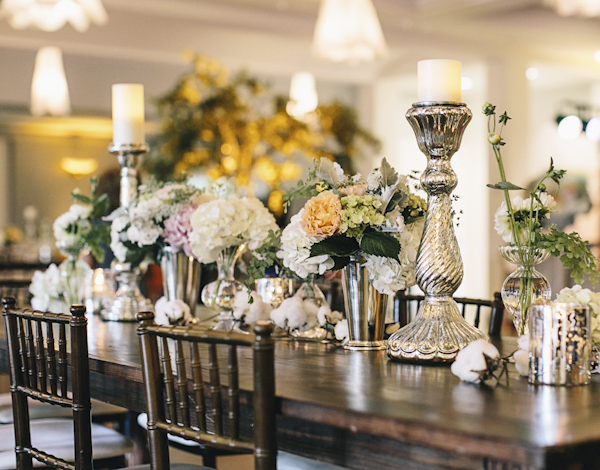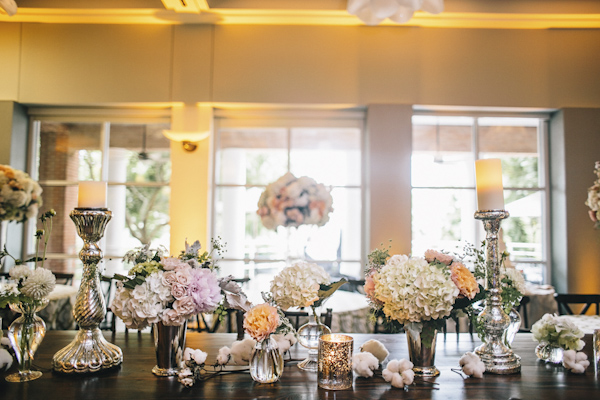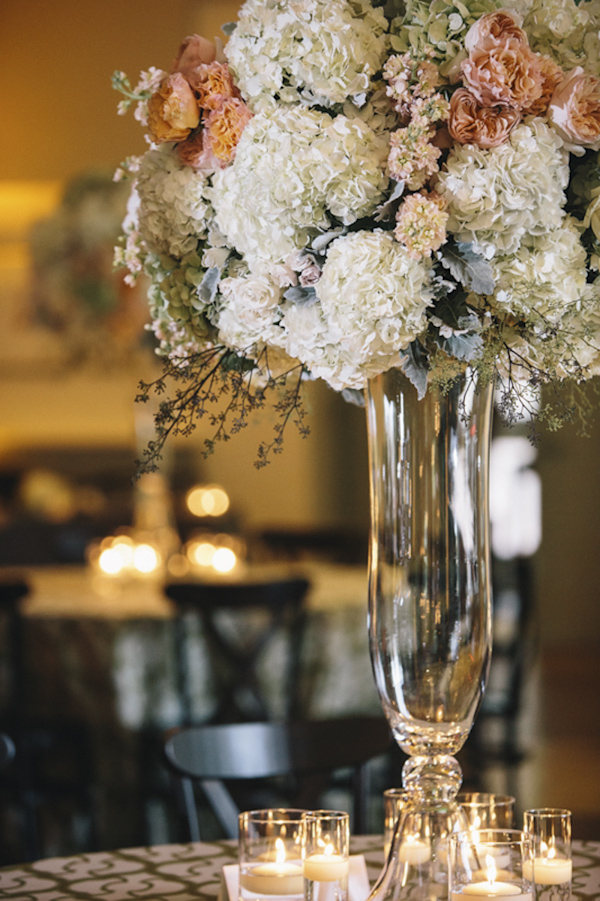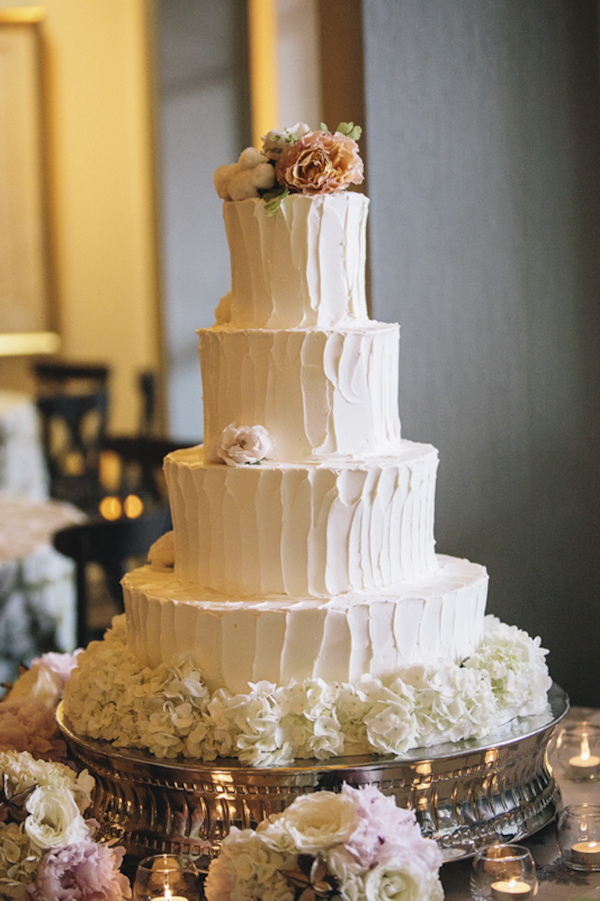 The Advice: Plan a wedding that fits you and your fiance's personalities. This day is about the two of you, your journey and your love for one another. Everyone involved is there to support you and celebrate with you. Enjoy, take mental photographs, create memories, eat and drink well, dance the night away, hug those closest to you (everyone else will seek you out), be merry and have the night of your life!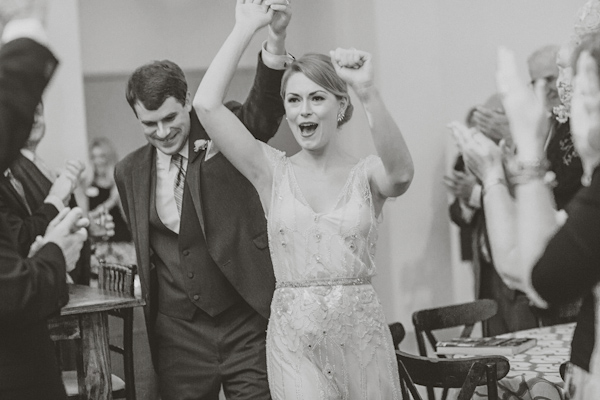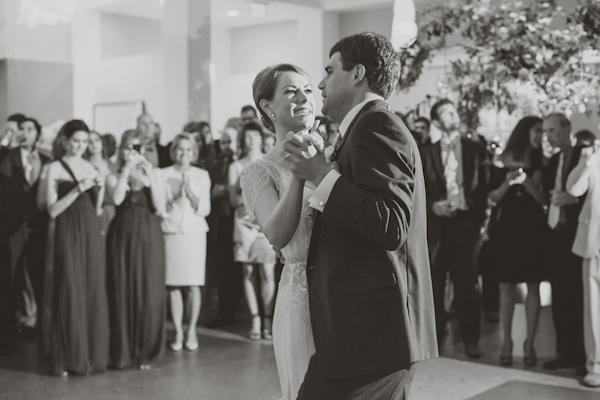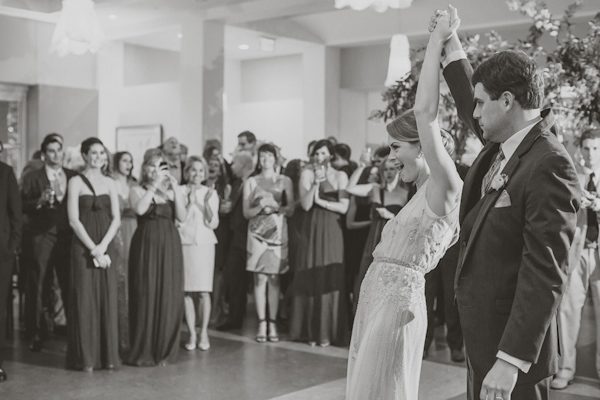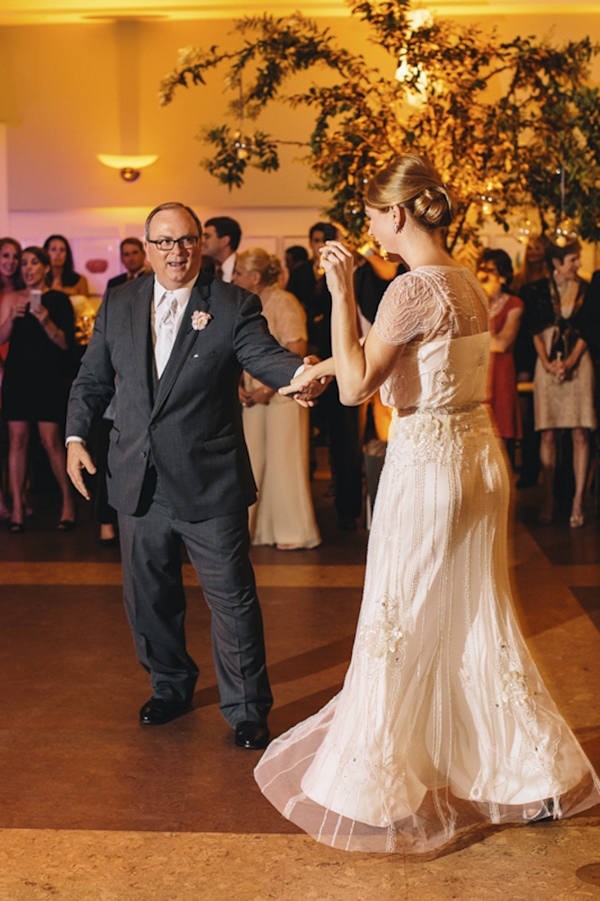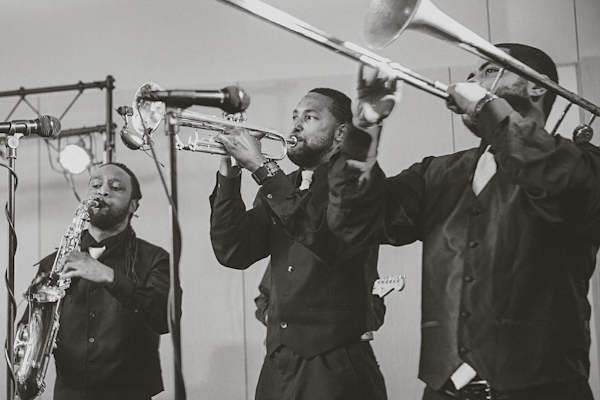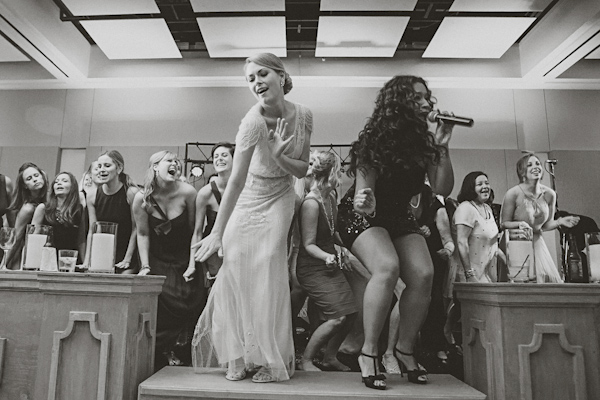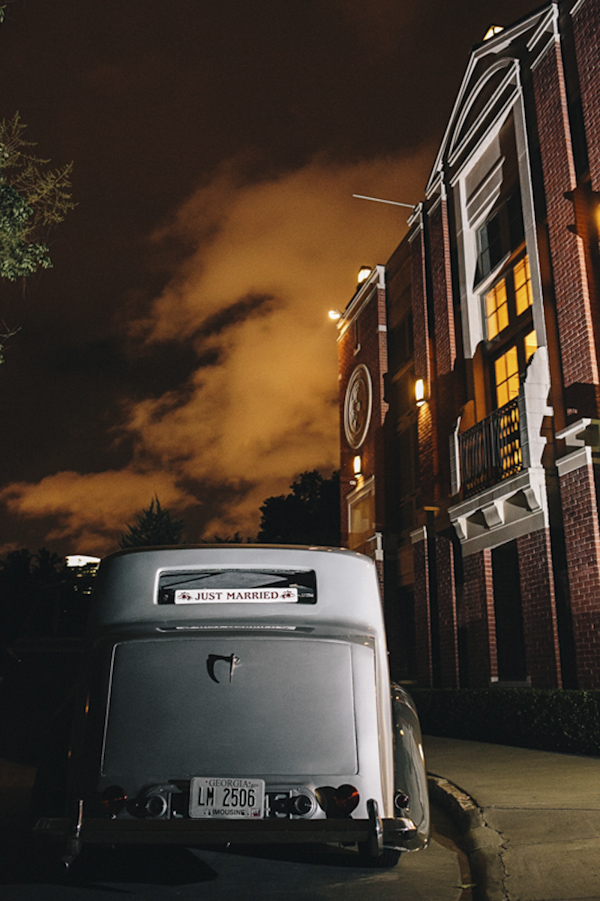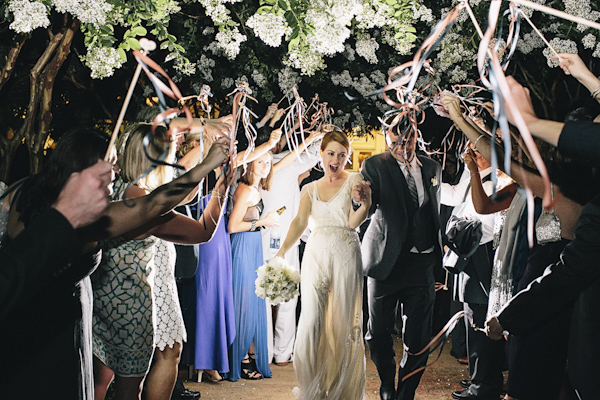 The Wedding Team:
Photographer: Vue Photography
Event Planner: Lindsay Pitt, TOAST Events
Ceremony Venue: All Saint's Episcopal Church
Reception Venue: Atlanta Botanical Garden
Officiant: Elizabeth Shows Caffey
Invitation Designer: Monogram, Programs, Welcome Booklet: Hi Note, RSVP, Save the Dates and Invitations: RSVP Stationers
Catering: Bold American
Florist: Jackson Durham
Cake: Frosted Pumpkin
Wedding Dress: Jenny Packham, purchased at Kelly's Closet
Bridal Accessories: Shoes – Stuart Weitzman, Earrings – Elizabeth Cole, Hairpiece – Amanda Judge
Bridesmaids' Apparel & Accessories: Amsale, purchased at Bella Bridesmaids
Groom's Apparel & Accessories: Savvi Formalwear
Groomsmen's Apparel & Accessories: Savvi Formalwear
Hair & Makeup: The Moore Agency
Live Music: The Atlanta Allstars
Transportation: Atlantic Limousine & Transportation
Dance Instruction: My Dad and I have been dancing at every Father/Daughter dance since middle school. No instruction needed! That's what happens when your father attends Ole Miss in the 1960's – fraternity parties had amazing bands and great dance moves. The man can dance.
Favors: Ribbon Wands Etsy.com
Rentals: I Do Linens, Classic Party Rentals
Rings: David at Knox Jewelers
Cotton: My Grandfather did one hell of a job collecting cotton from his farm that we used in everything from bouquets, to boutonnieres to the floral design at the reception.
Absolutely lovely! See more Southern weddings by Vue Photography on their blog!