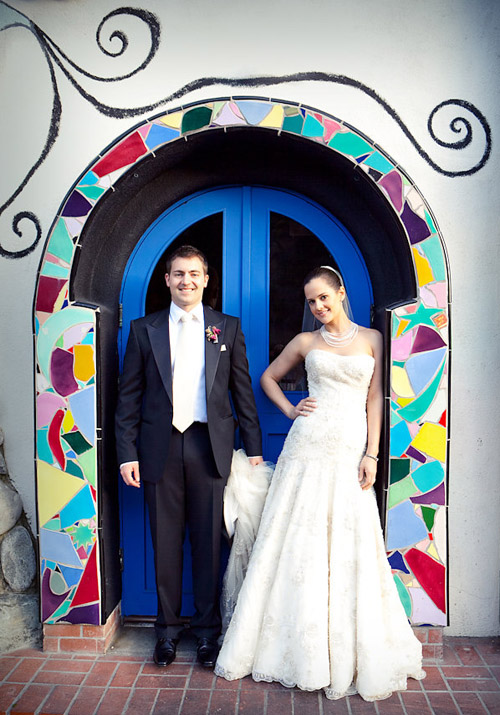 Amanda and Stephan's spring wedding, coordinated by the team at Sterling Engagements and photographed by the incredible Callaway Gable Photography, was a true incorporation of their shared lives and backgrounds. Filled with sweet personal touches, family heirlooms and meaningful details, and held at [seven degrees] Art Gallery in Laguna Beach, the couple created a celebration where they were reflected in each and every choice.
The Goals: Amanda says that "hands down", the most important consideration was making sure their guests understood their own significance. "We made sure to connect the guests with one another and remind them time and time again, that this day was a function of bringing together the people that make up our hearts and our memories, all together in one location."
After that, came the music. Amanda and Stephan needed a DJ who could effortlessly transition between German party music (the groom grew up in Frankfurt!), American club music, and country tunes – a very eclectic mix. Their choice was DJ Nitelife, who they fell in love with at an L.A. nightclub. Each song he chose fit who Amanda and Stephan were as a couple, one hundred percent.
Finally, the venue. Amanda and Stephan wanted a location that would stay open late into the evening and give them creative flexibility with their reception. [seven degrees] Art Gallery turned out to be the ideal space. The director of the gallery invested in their vision for the big day and gave the couple room to grow and experiment, to find their perfect fit.

The Design: The ceremony was held at sunset on the rooftop terrace and officiated by a close friend of the couple. Relatable and personal, the ceremony included advice on married-life from a book created by the women at Amanda's bridal shower, and the German tradition of signing the marriage contract during the ceremony. When it was all said and done, Amanda and Stephan opted not to walk back down the aisle together, but had waiters bring out trays of champagne for each guest for a big group toast.
Amanda and Stephan wanted their reception to feel welcoming and sophisticated with a dash of a "party-animal" vibe. The color palette for the wedding combined aubergine and sage with silver accents like photo frames and chargers, creating a beautifully warm, rich backdrop for the festivities. Floral arrangements from French Buckets were styled with a modern blend of "bohemian, cool and architectural" details, and Amanda, who had studied world religions in college, brought in two Buddha statues, one in ivory and one in silver, for the head table.
In lieu of place cards, the couple placed framed photos of themselves with each of their guests, around the dinner tables, which served as favors and gave their event the personable, welcoming feel they were aiming for. The silver and crystal frames proved to be a real conversation starter around the tables. For the few guests, like significant others, that Amanda and Stephan had not yet met, their frames were filled with a personalized note saying how the couple looked forward to making memories with them that night.
The decadent wedding cake was the first of its kind, created by Linda Geffenney of The Confectionist. Christened Le Gateau Lavende, the French butter cake was filled with lavender whipped cream and fresh blackberries, and decorated with silver sugar pearls and a chocolate branch design. Topping the cake were branches, both chocolate and real, which were decorate with live cymbidium orchids in purple and green.

The Look: Amanda wanted a look for her wedding day that would stand the test of time. She wanted to feel classic with a little bit of a bohemian twist, and most of all, she wanted to feel like herself. Her ivory, hand-beaded, embroidered silk organza gown by Lazaro was accessorized with diamond drop earrings, a multi-strand pearl necklace and an heirloom blue crystal, pearl and silver bracelet. And let's not forget the shoes – a pair of stunning gold lace slingbacks from Stuart Weitzman. When the reception arrived, the blushing bride changed into a dancing dress by Aidan Mattox and one-of-a-kind Boot Star white cowboy boots. The boots were an anniversary present from Stephan, who knew his future bride would want to wear white cowboy boots at her wedding, and had arranged for her to custom design a pair well in advance of even the proposal!
Stephan looked sophisticated and sharp in a black one-button tuxedo and silk ivory necktie by Hugo Boss, and a boutonniere of unbloomed ranunculus. The couple didn't have a bridal party, but asked their brothers, both clad in black tuxedos, to serve as witnesses. The bride's best friend, a classical singer, wore a floor-length aubergine gown while she sang during the ceremony.
Woven into the handle of the bride's bouquet were several trinkets and meaningful pieces from family members, including a locket from the bride's great-grandmother and namesake, a necklace and rosary from the bride's grandmother, and a seashell fossil, which held a deep personal meaning to the bride herself.

The Moments: Dancing the night away was one of the most memorable parts of the day according to Amanda. "I've never experienced such unleashed joy with a group of people I have loved more. The slow, sweet dancing where it seemed like we were suddenly all alone, and the wild, jumping in unison, singing at the top of our lungs, in the biggest arm-over-shoulder circle of friends you could ever imagine, to Sweet Caroline. Even my mother danced with me. I promise you I have never seen my mother dance a day in her life!"
But far and away the most romantic moment of the day? Walking down the aisle. "I was so overwhelmed with joy that I bawled the entire way down the aisle, stopping to hug one friend, squeeze another friend's hand, hug and kiss my grandpa, hug my mom, hug my mother-in-law. It was just sheer joy and emotion. I didn't plan on hugging anyone, I just couldn't help it – the place was exploding with love!"
In a surprise moment during the reception, Stephan's parents presented the bride and groom with a German wedding tradition. Two friends were holding a giant white canvas painted with a red heart and the couple's names and wedding date. Says Amanda, "this thing was enormous. It was taller than us and wider than the two of us standing next to each other with our arms extended!" The couple was handed teeny tiny nail scissors and had to cut the heart out from the canvas together, a moment that everyone found very entertaining!

The Pros: To learn about all of the incredible wedding professionals who helped to make this wedding a reality, please visit our Real Weddings section.
Thank you so much for sharing your amazing wedding with us, Amanda and Stephan!
If you're planning your own wedding in Southern California or Seattle, don't miss our trusted Plan Your Wedding Hotlist!