Recently we at Junebug started what we think will be a fabulous addition to our collection of wedding planning ideas, Flickr Inspiration Galleries! With our Flickr profile we created groups of inspirational wedding images and invited amazingly creative photographers, crafters, designers, couples and Flickr users from all over the world to take part. At the moment we have galleries like wedding dresses, bouquets, men's wear, invitations, veils, cakes and the one I'm featuring here today, save-the-dates.
We want these galleries to be fun, encouraging and super useful for you, so go check them out and have fun absorbing all the great ideas. If you're a Flickr user, join the groups, submit your own photos and share ideas with other brides on each group's discussion board. We're always adding more photos to the pools and welcoming great new on-line friends who are doing the same, so check back often and enjoy!
Here are just a few of the creative save-the-dates you'll find in our gallery…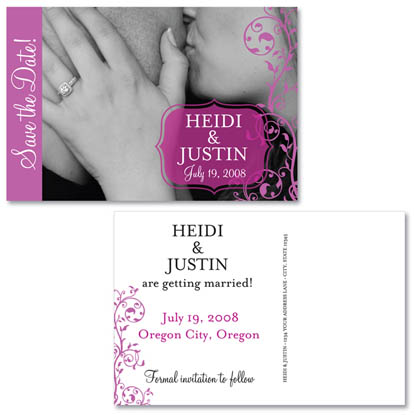 Heidi and Justin's save-the-date started with a desire for something a little bit different. Heidi told me, "I had a series of photos that I had taken myself that I thought could be kind of cool but didn't want something as cheesy as just a picture of me and my fiancé. I worked with Lindsay Zogas at Linzmarie Designs to create something a bit funky. I had a zillion ideas and she helped me narrow it down. We are continuing the vine flourish theme throughout our wedding as well as the orchid color. She was an awesome designer and totally exceeded our expectations."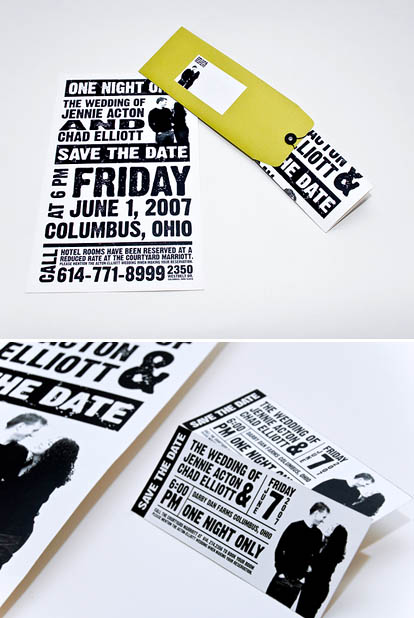 Graphic designer Marit Hanson from Columbus, Ohio created these fantastic concert poster save-the-dates that helped launch her business into the wedding invitation design field. "My friend Jennie was getting married on a Friday, rather than the typical Saturday. I chose to play up that angle. Her wedding was already an event, but I really wanted it to FEEL like an event you didn't want to miss. The poster contained all the necessary information for the wedding and was accompanied with 2 tickets—one for each guest." How cool!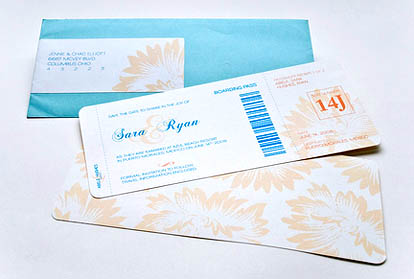 Marit also designed these boarding pass save-the-dates for a destination wedding taking place in Mexico. "If a wedding has a unique angle, I always try to play with it. Obviously, since this big day required a day of travel, what better way to show it than with a boarding pass! We chose a bright blue and a pretty coral color to play off the Mexican feel. The graphic flower that appears in the corner is carried over to the back in a bold pattern. I also created matching address labels and a custom stamp to tie it all together. These save the dates fit perfectly in a #10 envelope that comes in an array of colors and styles."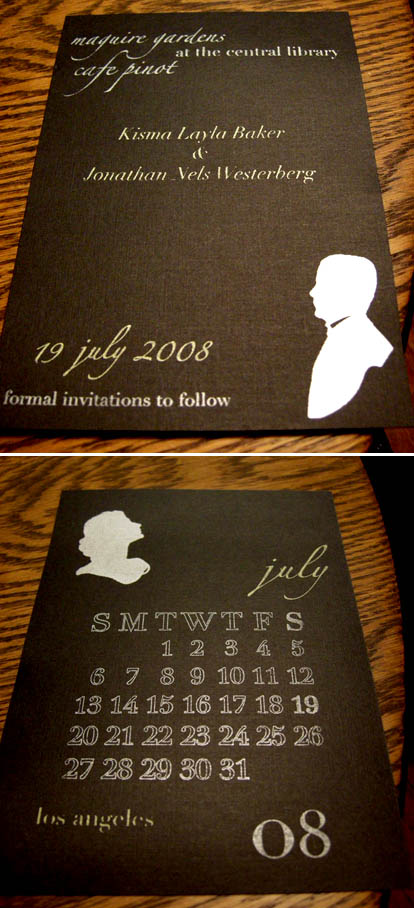 DIY guru Kisma used a Gocco to create these black and metallic save-the-dates for her upcoming wedding. An avid fan of silhouettes and vintage style, Kisma looked to the art in her home for wedding inspiration. "I decided to take cues from the interior of our home for the theme and palette of our upcoming wedding. What could possibly be more comfortable and more of an extension of our personalities than one's own home." To carry the theme through the big day, she even hired an artist to cut silhouettes of her guests throughout her wedding day. Love it!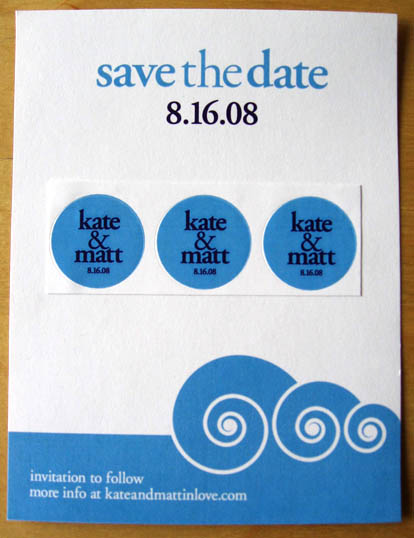 Matt created save-the-dates for his upcoming wedding to the lovely Kate that included stickers for guests to mark their calendars with. He began by designing everything in Illustrator, ordering card stock and sticker sheets on-line and then having them printed at a local Fedex Kinkos. The inspiration for the design came from the wedding's location, Cape Cod. "I liked the spiral shell design and found that the spiral shape was also found in the waves at the beach. So I combined them. The colors of our save the date card (and the wedding) are inspired by the light blue and purple hydrangeas that grow all over Cape Cod." He also carried the design through to their custom wedding website.

Amber and Jimmy's save-the-date was inspired by a photo booth picture they took a long time ago and loved. To mimic the old photo booth look, they had a photographer friend take the photos, then a designer friend put it all together in Photoshop. "We decided to leave the photos in black and white, and let the aqua and red stand out, which are our colors for the wedding. We printed them on our home printer on photo paper and mounted them on black corrugated board for a nice presentation. They mailed out in a red envelope. They were a huge hit with our friends!" So fun!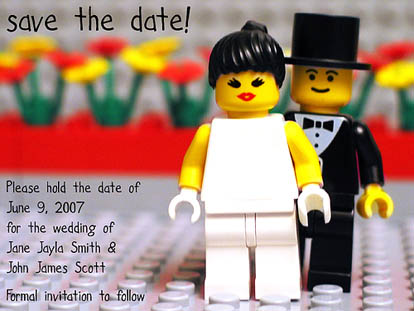 Last but not least, the Lego save-the-dates. I adore these! Created by Rachel Perez Rumpf, photographer, designer and owner of Perez Sisters Photography, these unique cards were a labor of love made especially for her own wedding. "I had always wanted to do a variation on the old "Dick and Jane" books (which my grandfather had bought me when I was a small child) but I wanted to incorporate my fiance's personality as well. The more we talked about it together, the more we knew we had to do something with Legos. We both love Legos, they were a part of both of our happy childhoods, and as a couple we had often spent a Sunday afternoon building majestic Lego towns in my fiance's living room." Rachel went on a Lego shopping spree to collect all the figures she needed for her save-the-dates and invitations, and now thanks to Flicker and the magic of the internet, she has also designed custom Lego wedding invitations for couples all over the world. Such a great idea Rachel! Thanks for sharing!