From Groombug , May 2007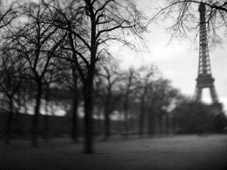 Five Perfect Days in Paris
Paris is every bit the unforgettable romantic adventure that you imagine it is, and a much easier place to navigate and enjoy yourselves in than rumors may tell. To wow your new wife with a truly incomparable Parisian honeymoon, all you have to do is arrive with
these 15 memorized phrases of French
, your
Paris museum pass
and
Paris Visite transit pass
, a curious attitude, and an itinerary that guarantees romance from Day 1.
Day 1: Walk, and fall in love with Paris!
Start your morning with espresso and croissants from a nearby boulangerie, then head to the
Luxembourg Gardens
where youll feel right at home next to all the other couples in love. Take your time strolling through the Latin Quarter, down Rue St Michel and across the bridge to the cathedrals of
Notre Dame
and
Sainte Chapelle
. Youll want to catch the evening concert at Sainte Chapelle, so call ahead for details. Finish off your first day in Paris with a
cruise down the River Seine
, an ultra romantic way to see the city of lights, or head to the oh so Parisian jazz bar
La Bilboquet
. First drink prices at no cover jazz clubs are stunningly priced, so be ready to splurge.

Day 2: The Louvre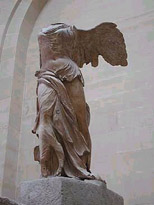 Nothing can prepare you for the majesty of the
Louvre
. Even if youre not that into museums youll be absolutely blown away. With so much to see it can be overwhelming, so choose just a few things you would both like to see before going to lunch. We suggest the sculptures in the Richlieu wing and the large wall sized paintings in the Denon Wing as good places to start. Take an afternoon break and pick up a fabulous picnic at
Les Délices de Verneuil
, 42 rue de Verneuil, 01/42-61-24-12, to eat on the nearby pedestrian bridge,
Pont des Artes
. Return to the Louvre to see the next few things on your list. Dont try to see it all, just savor every moment. If you still have energy, go for dinner at the trendy
Restaurant Georges
in the Pompidou Center
(call ahead for reservations) and enjoy a gorgeous view of the city.
Do be aware that the art of the pickpocket is also thriving in European tourist centers.

Day 3: Versailles
Take the RER-C train to
Versailles
Rive Gauche, not Versailles C.H. to this utterly decadent, luxurious, and grand palace. Versailles was the envy of kings when it was built and remains the epitome of royal indulgence to this day. Only 45 minutes from Paris, it is well worth the excursion. Do visit on a weekday, take your museum pass and be sure to see the
Hall of Mirrors
. Dont forget to get outside the palace to enjoy the magnificent gardens, which are as impressive as the lavish interiors.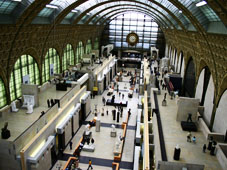 Day 4: Musee d'Orsay, Montmartre and Sacré Coeur

After a light breakfast head to the
Orsay Museum
, this is truly one of the most memorable museums in the world. Housed in a beautifully restored train station, the architecture alone is worth the trip, but its the stunning collection of impressionist art that makes the Orsay world-renowned. Leave the Orsay around 2pm, (14:00) for the Montmartre area and
Sacré Coeur
cathedral. Youll want to go up into the dome of the cathedral before it closes to see a view of the city, unrivaled even by the Eiffel Tower. For dinner, youre off to nearby
Le Basilic Montmartre
where youll dine on delicious French country fare. End your evening sipping wine at an open-air café on the square at
Place du Tertre
. Here youll find a vibrant art scene that has been a cornerstone of Parisian life for centuries.

Day 5: The Marais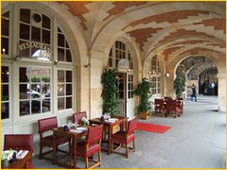 Begin at
Hotel deVille
and make your way on foot to one of the most picturesque squares in Europe, the
Place des Vosges
. On the way youll find yourself surrounded by stunning medieval architecture and a million irresistible places to shop. It is easy to spend the whole day and night in the Marais, and we suggest that you do. For a beautiful musical treat youll want to stop in at St. Gervais Cathedral, just kiddy corner from the Hotel de Ville and find out when their music program begins. When day turns into evening, get a table for dinner at
Ma Bourgogne
, très romantique!
The "must have" resources to help you get around on your five perfect days:
PRINT THIS ARTICLE AND YOUR
15 PHRASES
AND TAKE THEM WITH YOU TO PARIS! Or hang onto the link so you can reference them at an internet cafe (ask your hotel concierge where to find one.)
Pick up the latest copy of
Rick Steves Paris
. His travel store is in Edmonds and it has all the info you need to travel in France.
Use Google Maps:
http://maps.google.com/
. The directions given are not always the most efficient, but the maps are great and allow you to clearly see where you are and where you want to go.
Visit the Paris Regional Transit site:
http://www.rapt.fr/
for great transportation information.
Special thanks to our friend, French translator, and Parisian insider, Michelle Bailat – Jones for her support with this article and our 15 french phrases. Check out her website at http://www.bailatjones.com/.