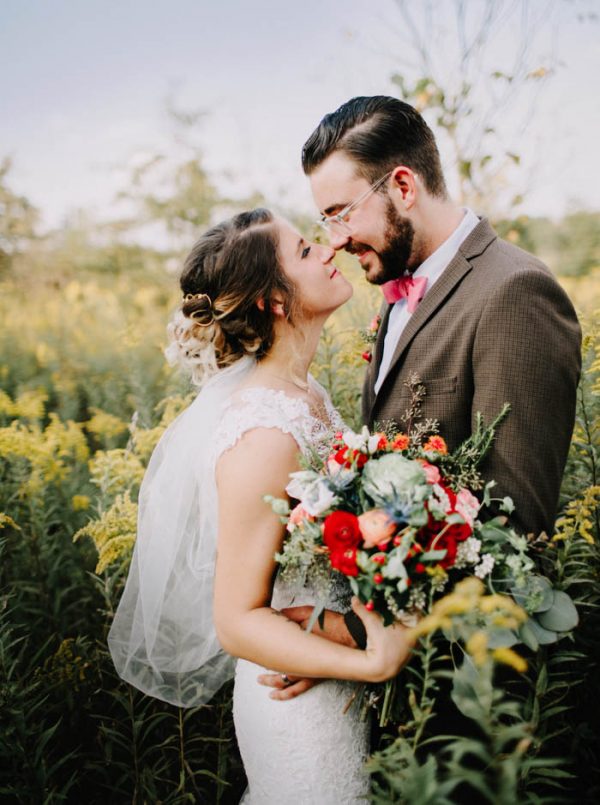 We're pretty confident in saying that Jamie and Lucien's floral wedding is one of the most charming we've ever seen! Think: rustic garden party with a hip, bohemian flair. After falling in love with a friend's land, the couple took DIY to a whole new level and did everything from mowing down the ceremony site to building the reception tables and dance floor to creating all of the décor. Jamie looked absolutely flawless in a lace mermaid gown and intricate braided updo, and Lucien was equally dashing in a brown twill suit and pink bow tie. Our absolute favorite part was their entrance into the reception: riding mopeds and wearing custom "Just Married" denim jackets. We're on cuteness overload from these photos by Deidre Lynn Photography!
The Couple:
Jamie and Lucien
The Wedding:
Private Residence, Carlock, Illinois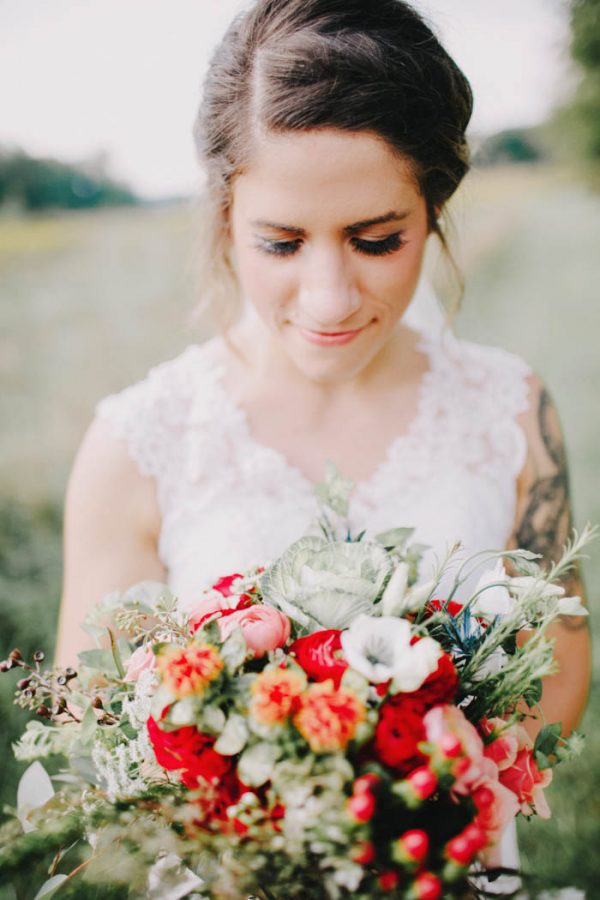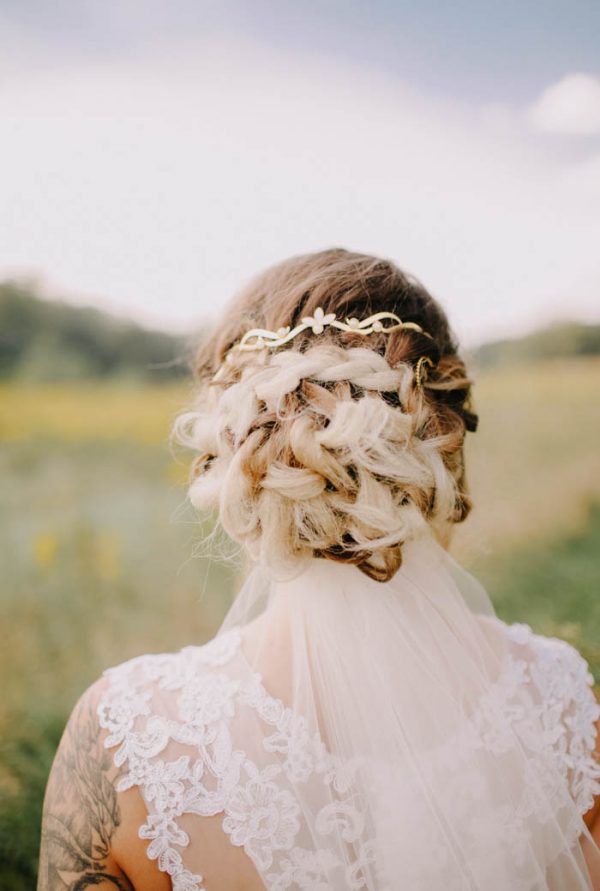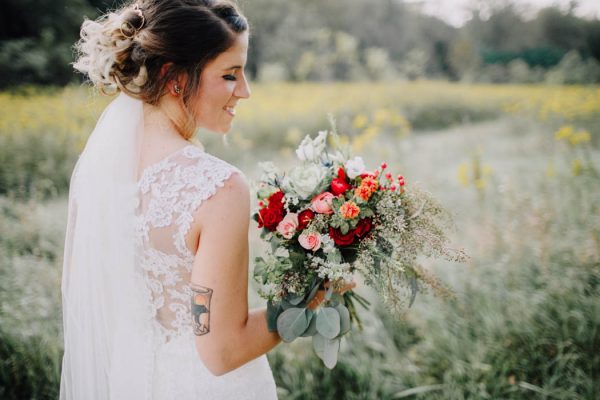 Shortly after getting engaged, we went out to our friend Alex's house in the country for a Halloween party. We had never been to their house before, so on our drive out there, I couldn't believe my eyes…the scenery was stunning! Illinois country around us is flat fields and corn, but not here. Alex's house sits in the heart of hills full of beautiful trees and fields of wildflowers. A little slice of heaven in the midwest. He agreed to let us have the wedding on his property. We can't thank him enough for allowing us to have a beautiful outdoor wedding!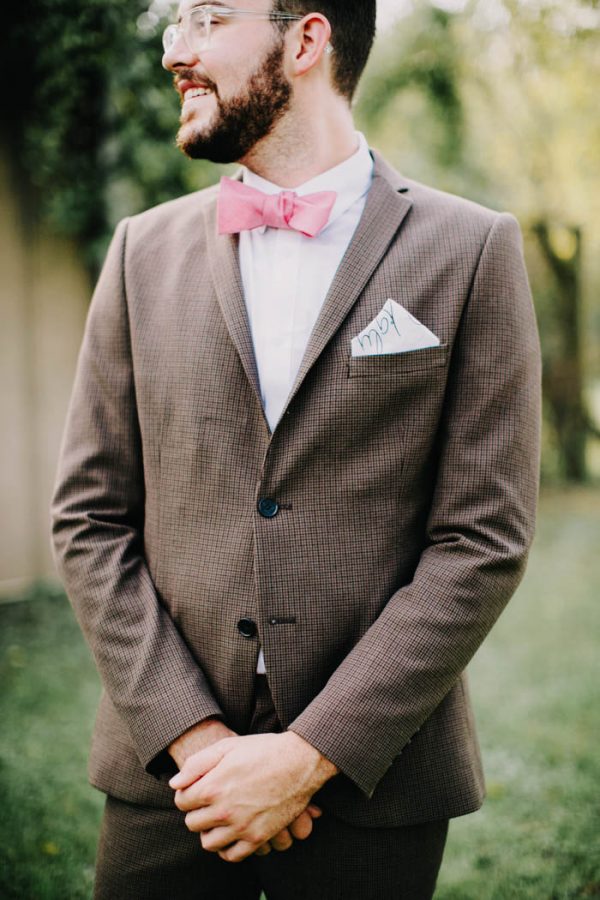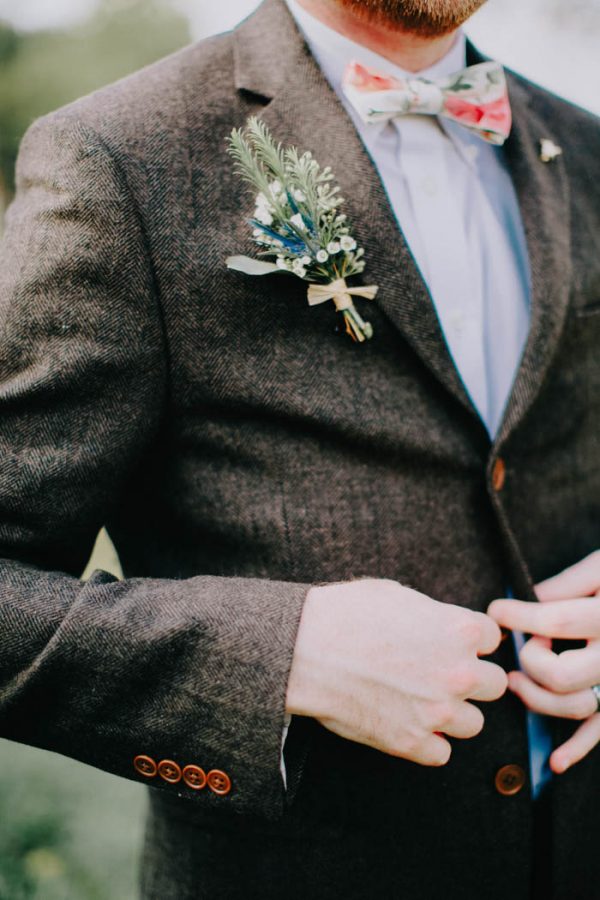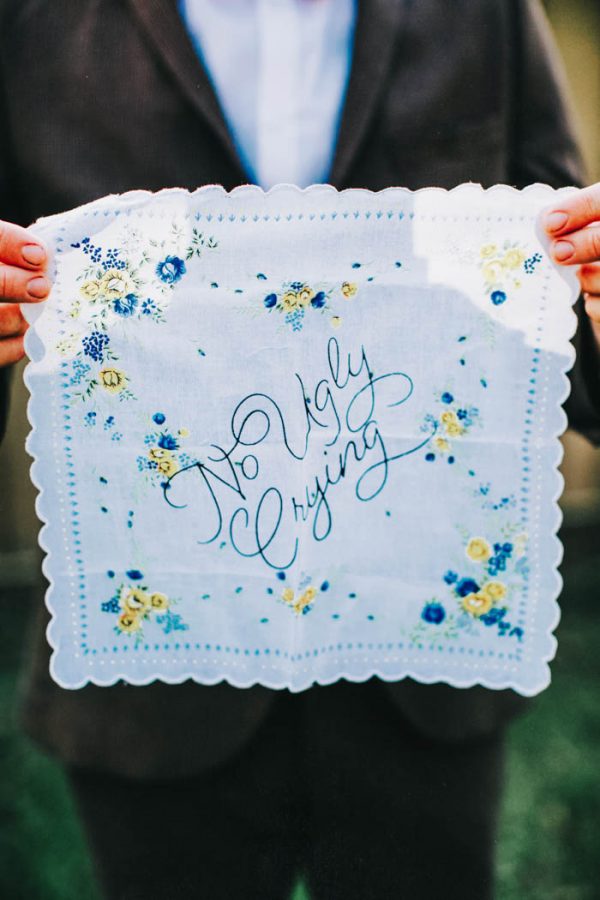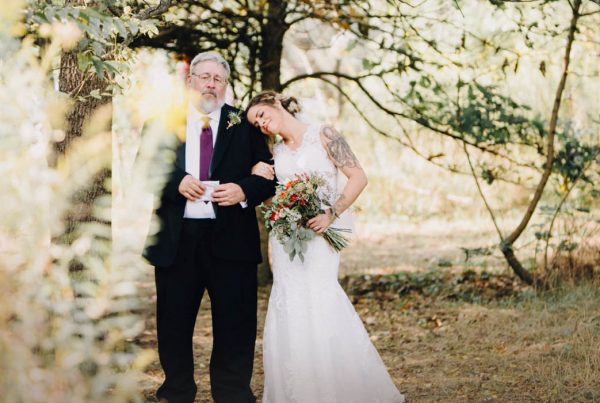 From the groom: Thinking back on the big day it is hard to reflect on which is my favorite part. The day was truly amazing in its entirety. All of the stress from the day before had been wiped out of my consciousness with a good feeling that everything will just be as it is. It sounds clique to say that my favorite memory would inherently be the first sight of my beautiful bride walking down the isle, but I have to say that this moment takes the cake. I think she is gorgeous when she wakes up first thing in the morning without makeup and disheveled hair. At that moment, having nearly drenched my suit in sweat waiting for everyone to arrive and take seat, the moment of relief when the music started was much needed. I saw her walk down the aisle all doe eyed and sparkly, and was truly amazed. My heart was racing with excitement. I literally just wanted to jump up and down.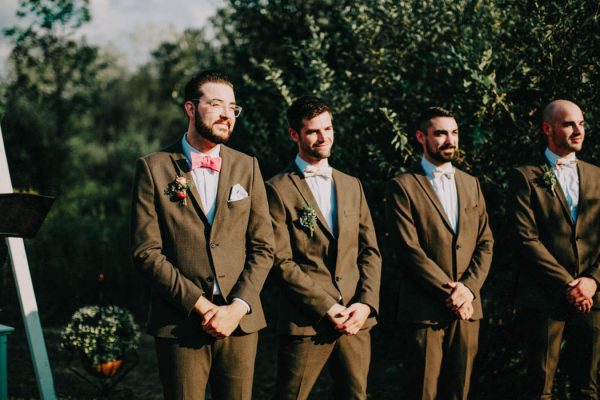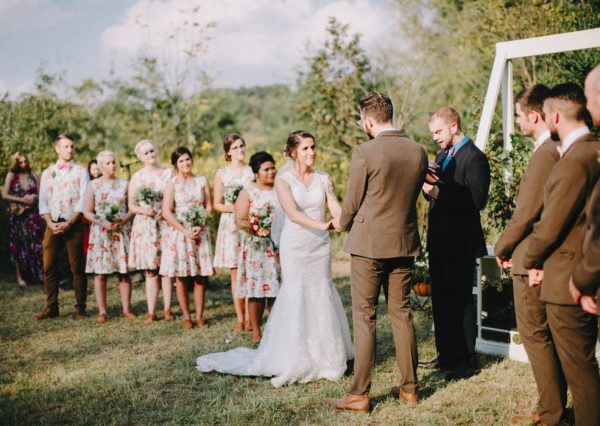 We wanted more of a celebration of our love than what most would consider a "traditional wedding". Even though we both come from religious backgrounds, neither of us practice any particular religion and including religion would have felt out of place for us. The readings were not prayers or verses, but quotes and refection of what it really means to fully love someone forever.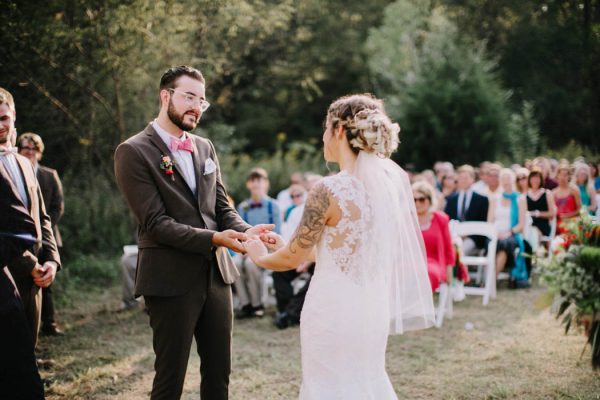 We still had traditional aspects, like a unity ceremony, but made it significant to us by making a black and tan beer to represent the joining of our lives together.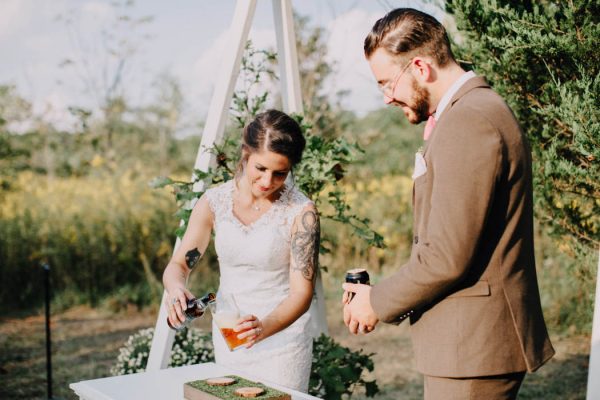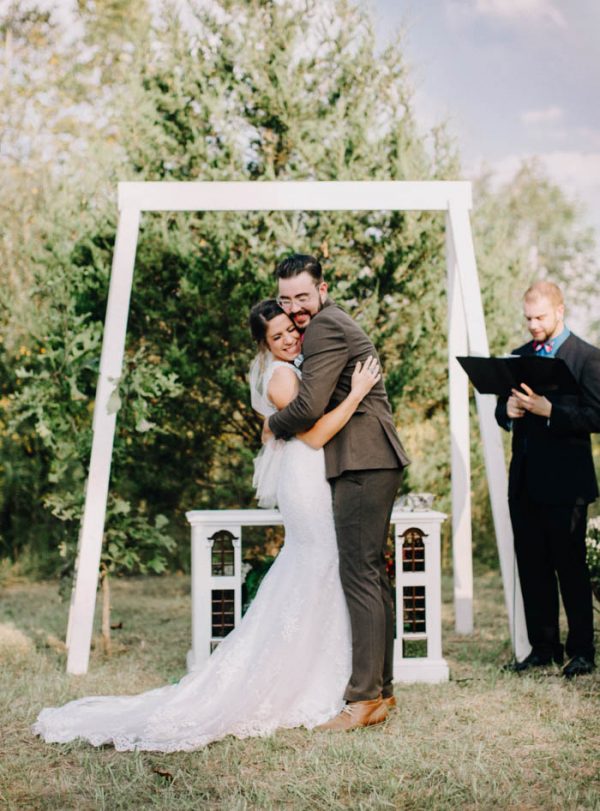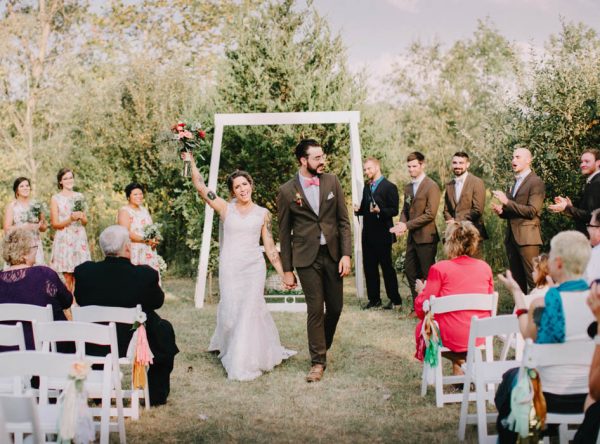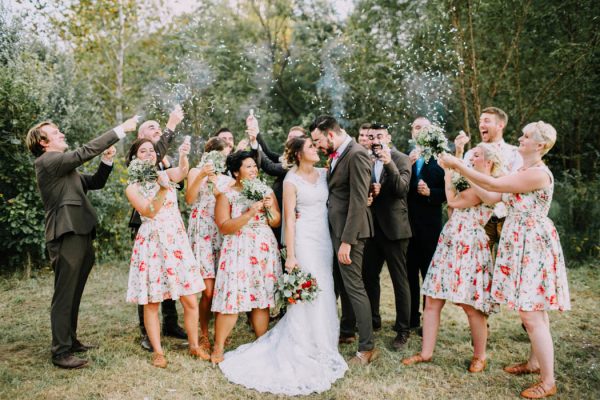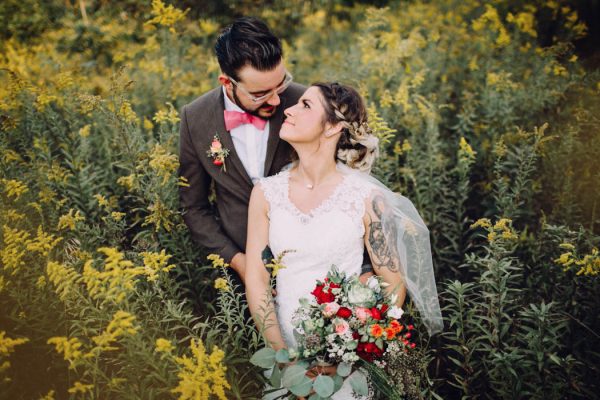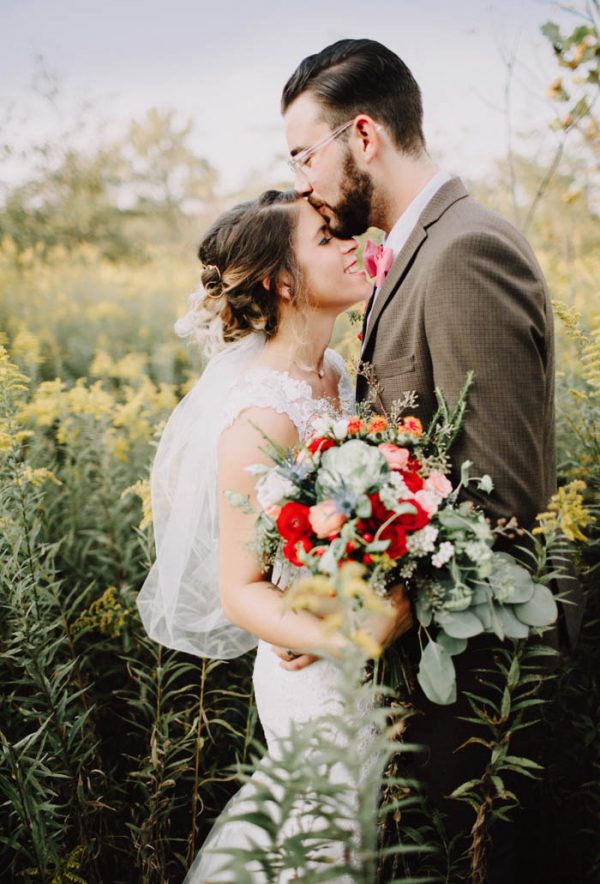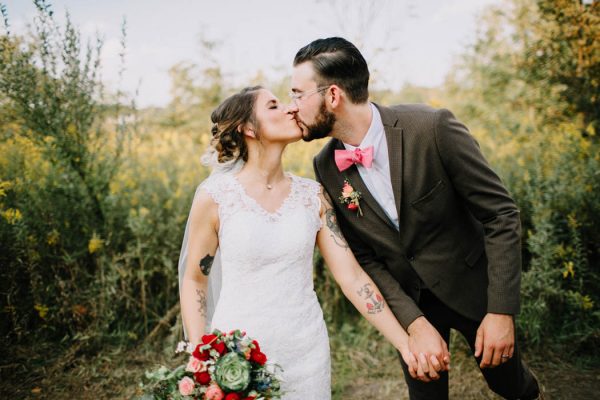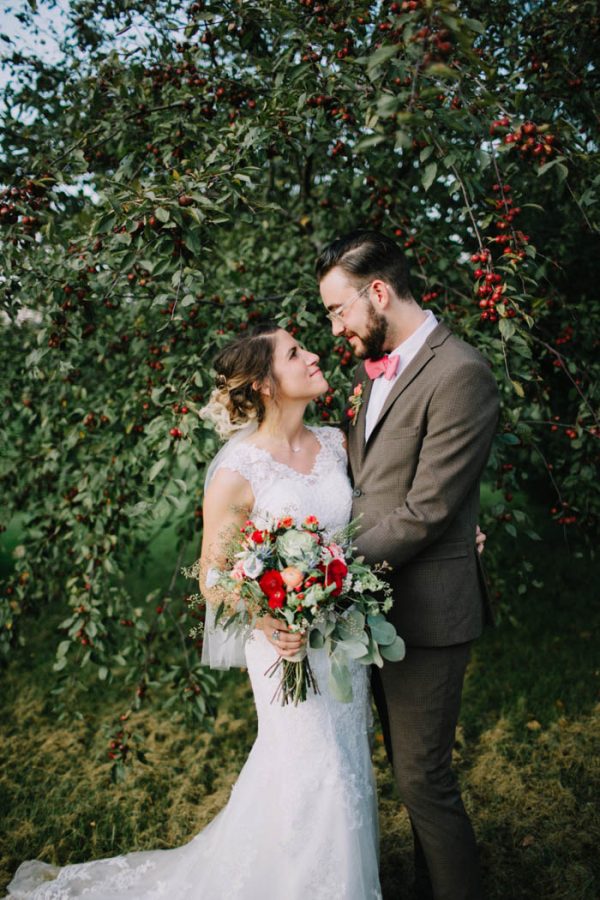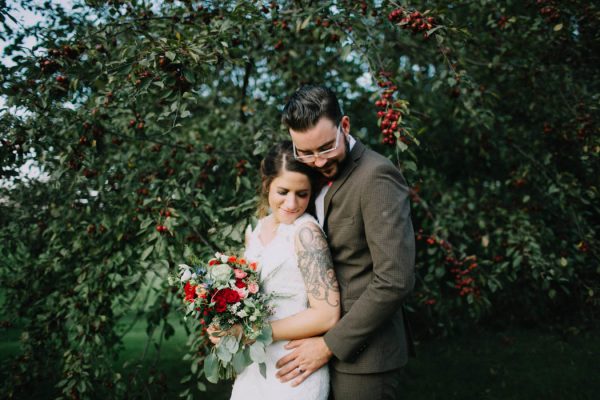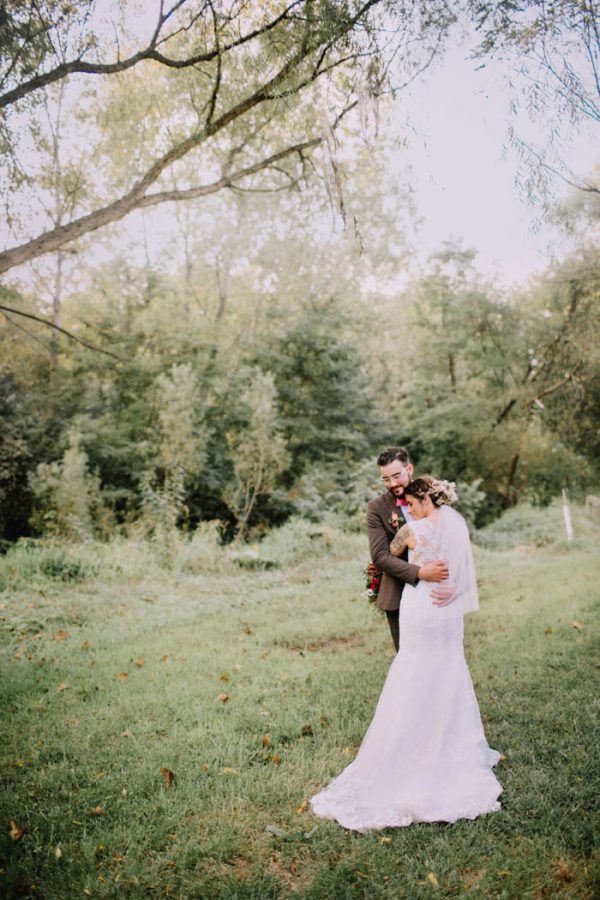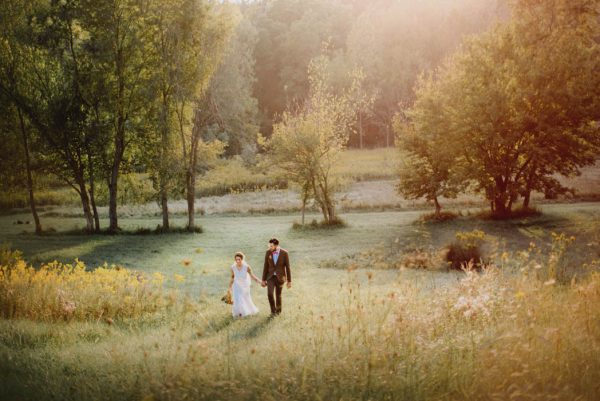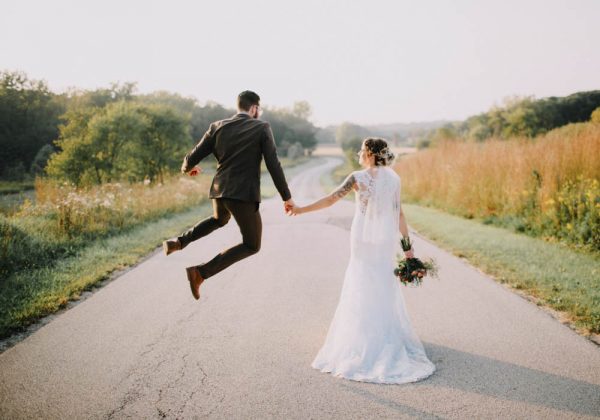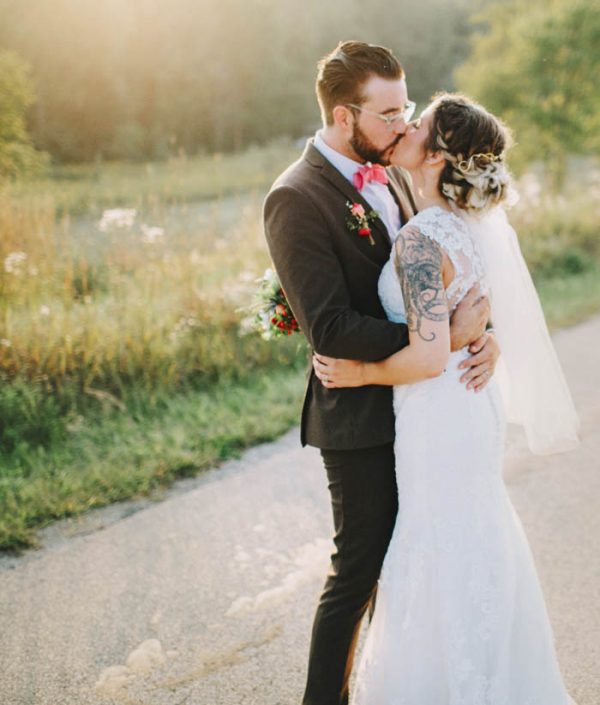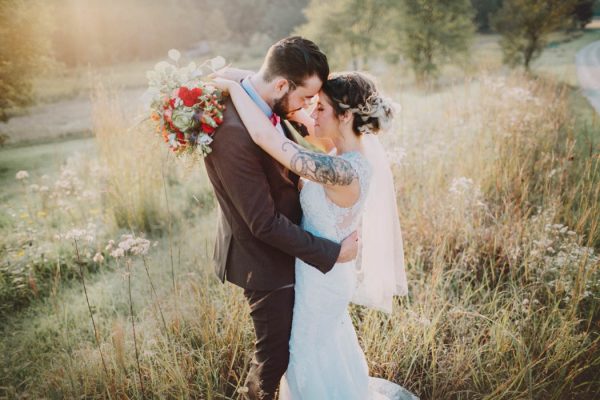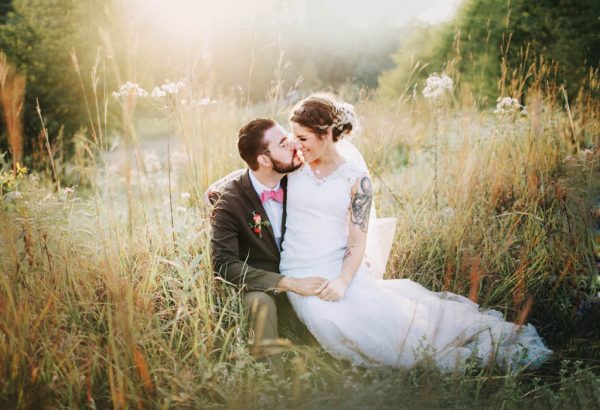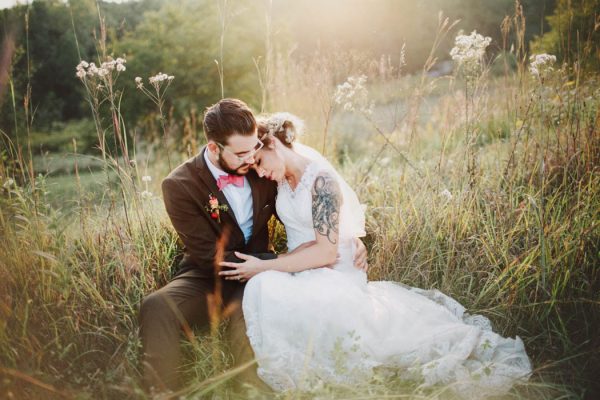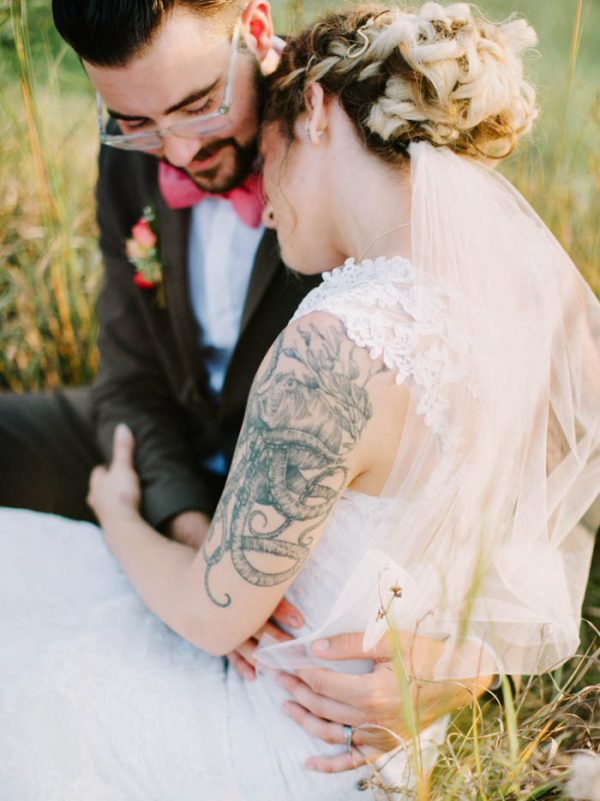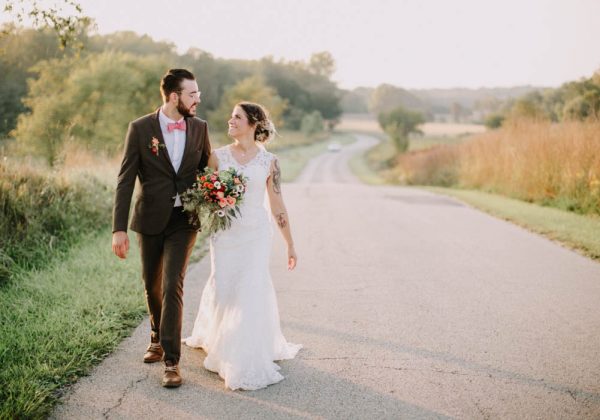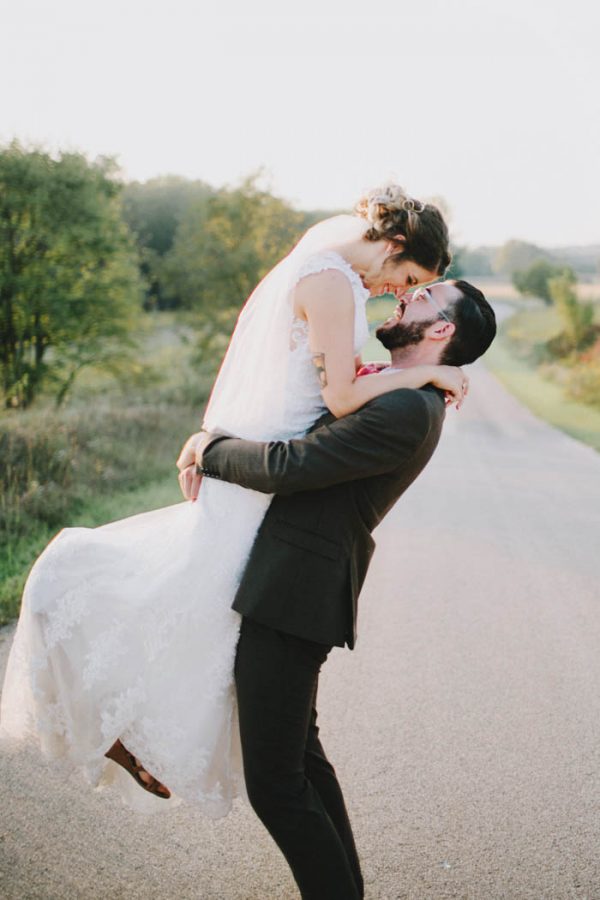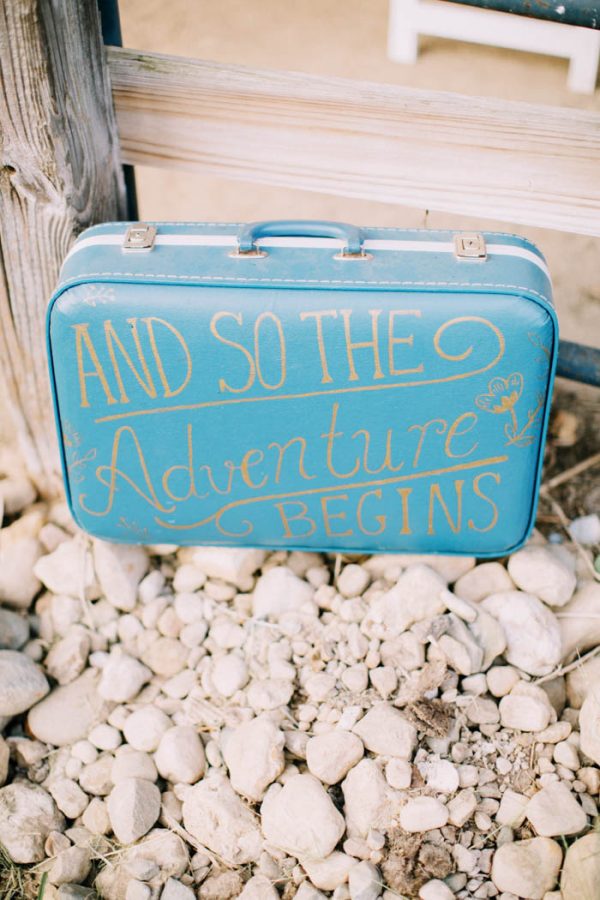 From the photographer: The tent scene at the ceremony site was where the couple actually camped after their reception!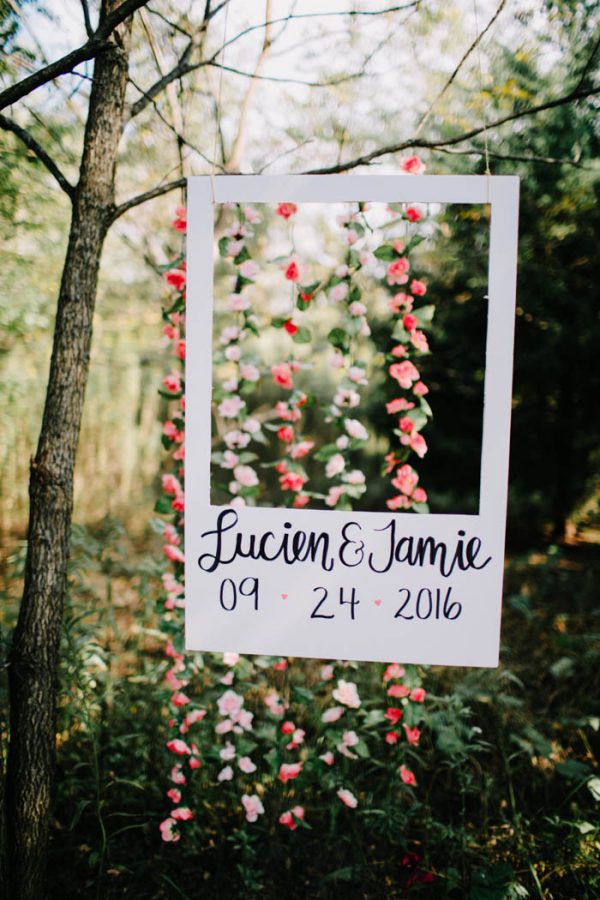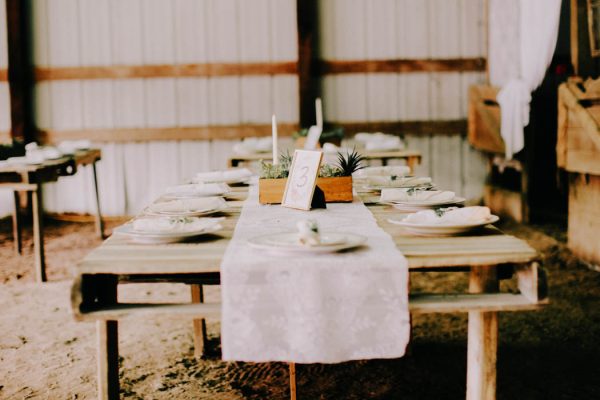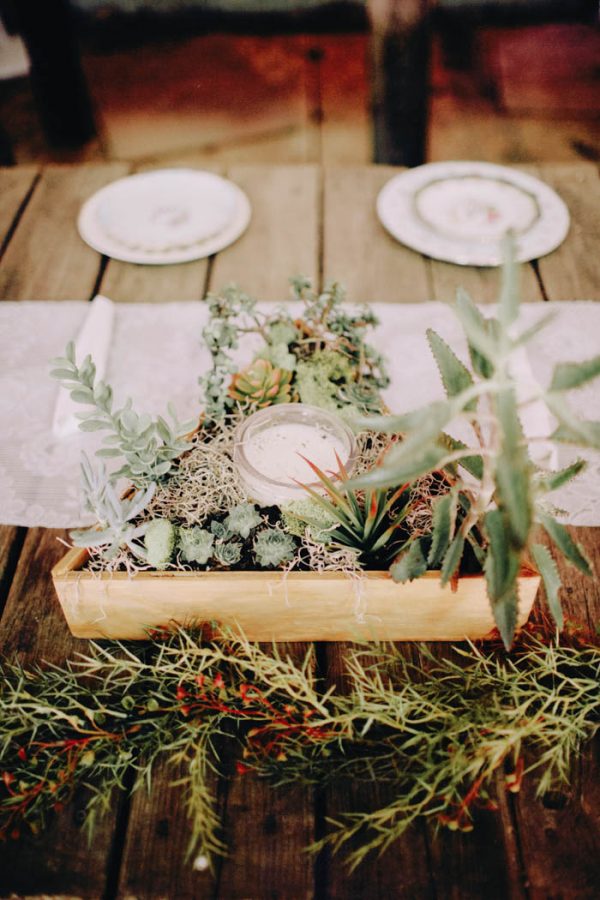 We think our guests had a great time with our wedding favors! We're both littered in tattoos from head to toe, so we thought it would be fun for our guests to get "tatted up" at the reception. We ordered personalized tattoos with both of our faces, names, and the wedding date. Pretty much everyone was sporting them that night!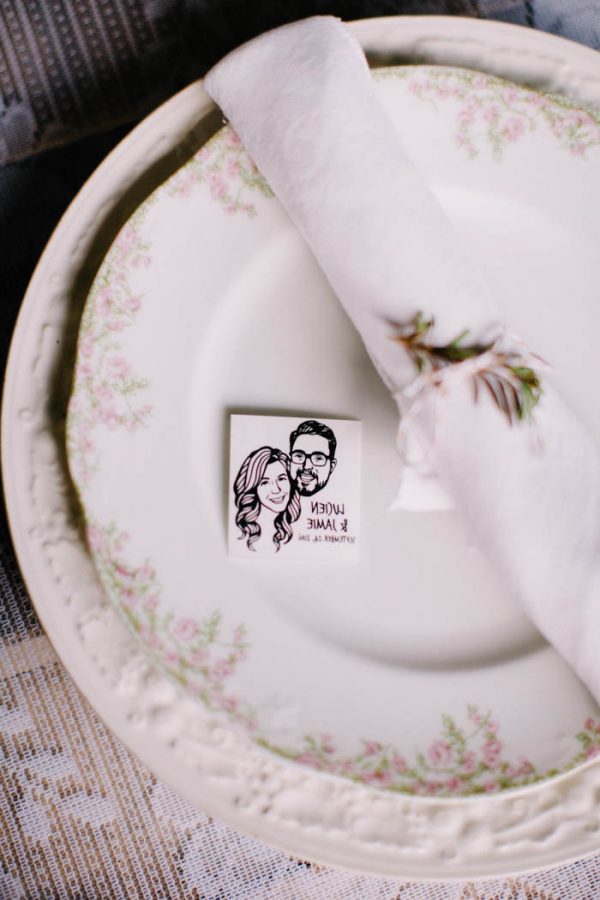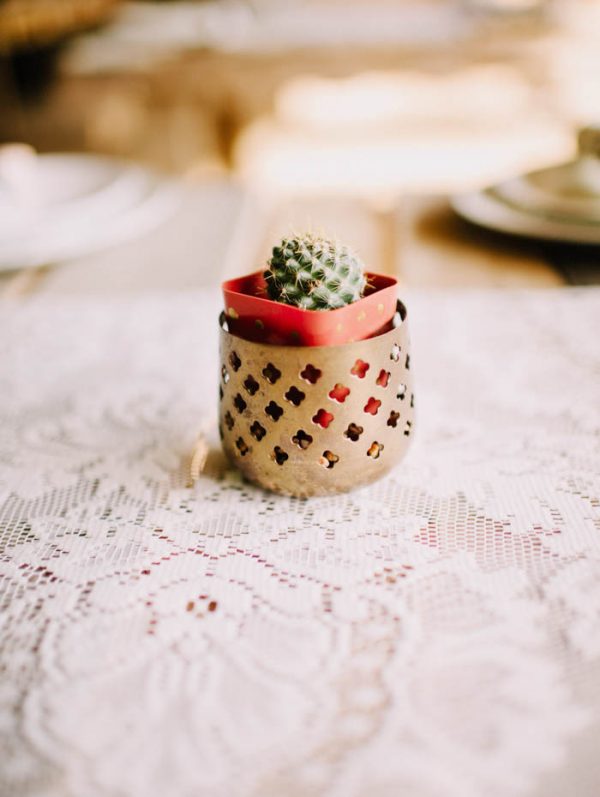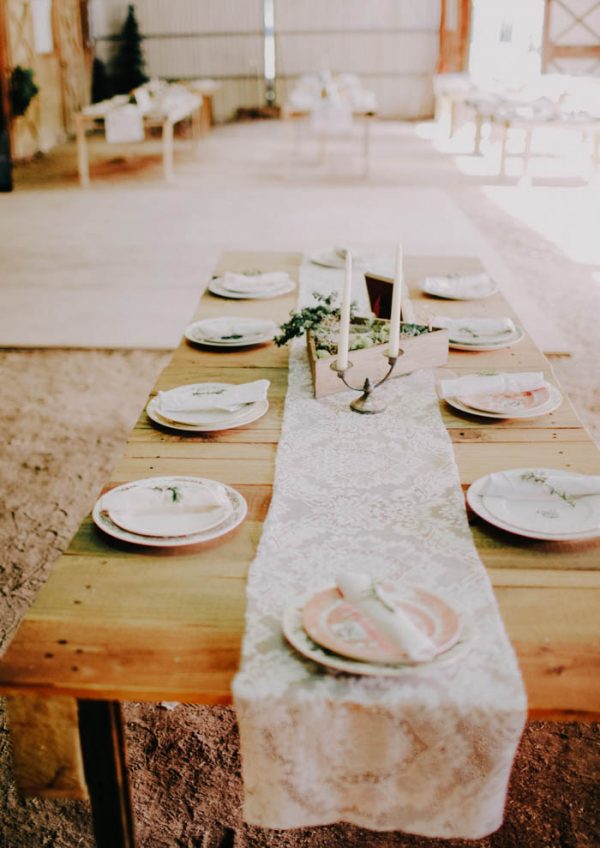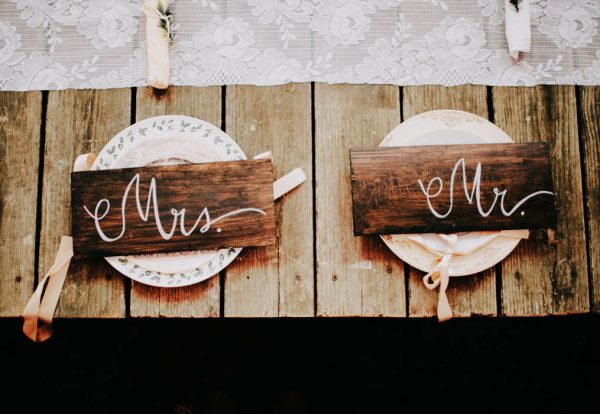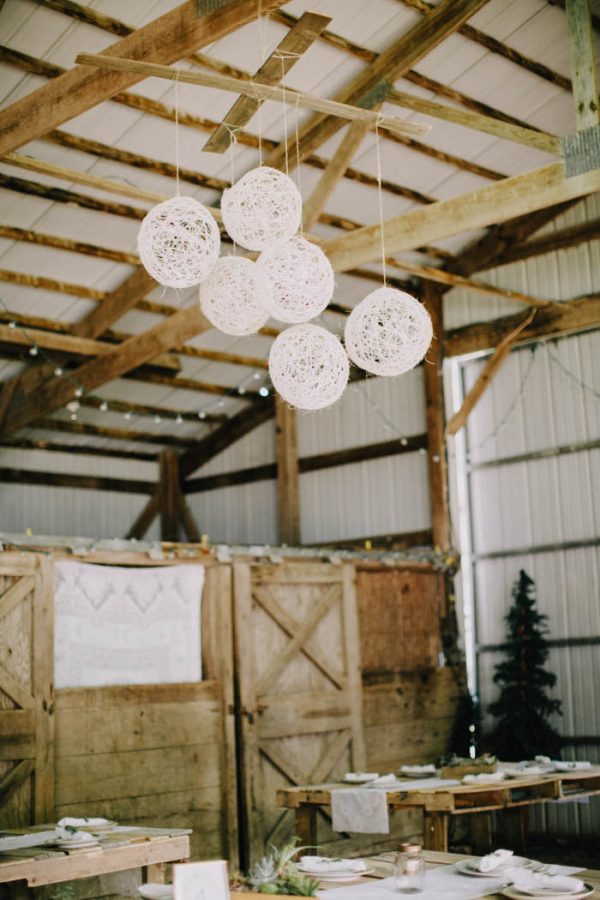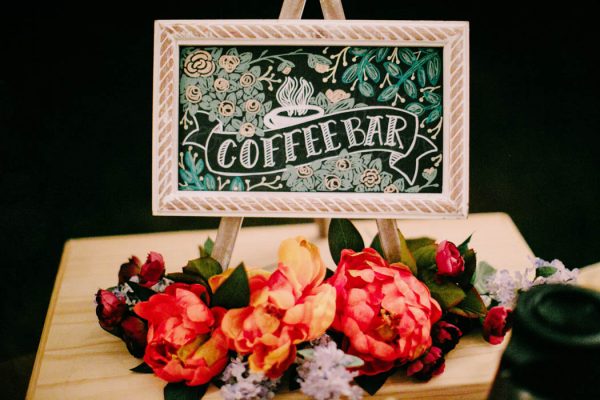 Lucien and I originally started hanging out because we discovered that we both had mopeds and got them running together. For our reception entrance, we both hopped on our bikes and zipped around the corner to the opening of the barn in our denim jackets that had just married painted on the back.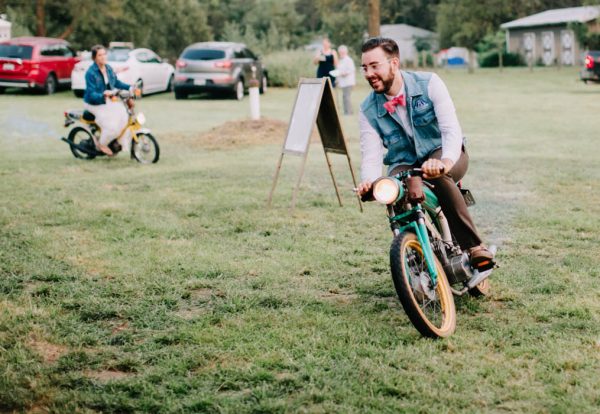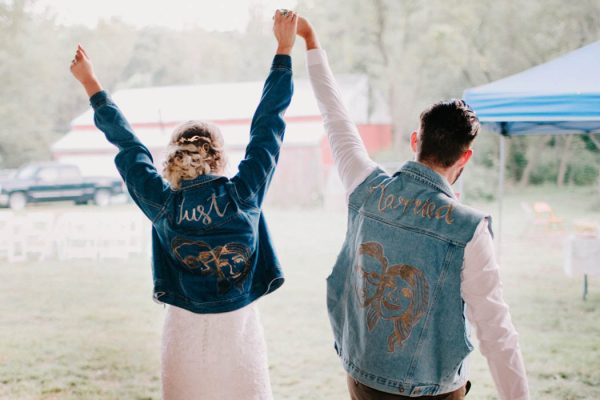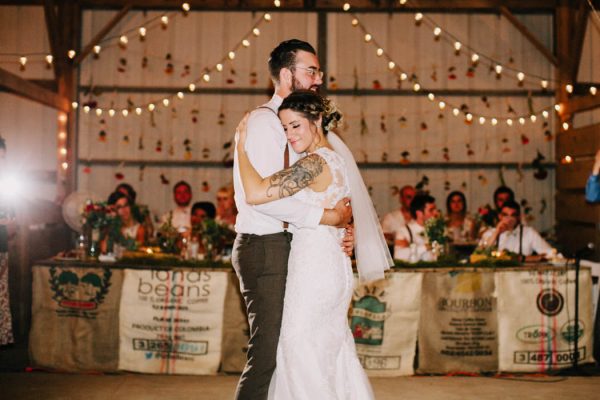 From the bride: The most memorable moment for me came later during the reception. The barn was not air conditioned and I left the dance floor to go cool off at a fan behind the head table. Once I cooled off, I turned around to head back, but stopped dead in my tracks as I looked out over the reception. The dance floor that my brother and I built in the middle of the barn was completely full. Family, friends, all dancing their hearts out to Wild Cherry's "Play that Funky Music". It was hilarious, but also filled my heart with so much joy. I stood there through the entirety of the song with the biggest smile just watching everyone let loose. I've been to weddings where nobody wants to dance, so it made me extremely happy to see so many people having a great time.
Congratulations to Jamie and Lucien, and a special thanks to Deidre Lynn Photography for sharing this super sweet wedding! Looking for more backyard wedding inspiration? We think you'll love this colorful handmade backyard Surrey wedding!