Editor's Note: This gothic wedding inspiration photo shoot in this post from last January is pure eye candy – food for your imagination! And what could be better than that for during the magic of the holidays? Enjoy!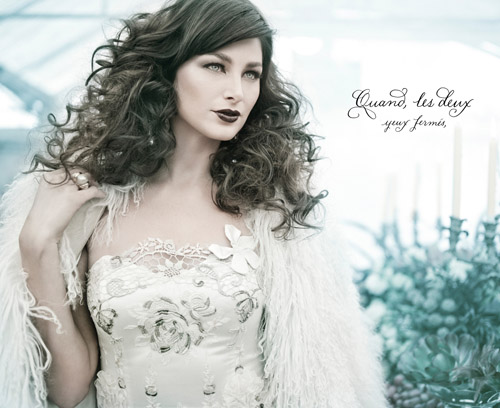 With the urge to create wedding inspiration unlike anything she had seen before, photographer Joan Allen joined forces with wedding planner Merryl Brown, florist Camilla Svensson Burns and a dream team of other talented wedding professionals to create a beautiful yet dark and mysterious series of images, and ooohh what fun for us that they did! Sprinkling lines from the French poem "Parfum Exotique" by Charles Baudelaire throughout the images (in gorgeous calligraphy by Laura Hooper) these images evoke a wonderfully romantic and gothic atmosphere, and could bring lush wedding fashion, floral, tabletop and decor ideas and inspiration to any bride planning a wedding on the sultry side of things. Enjoy!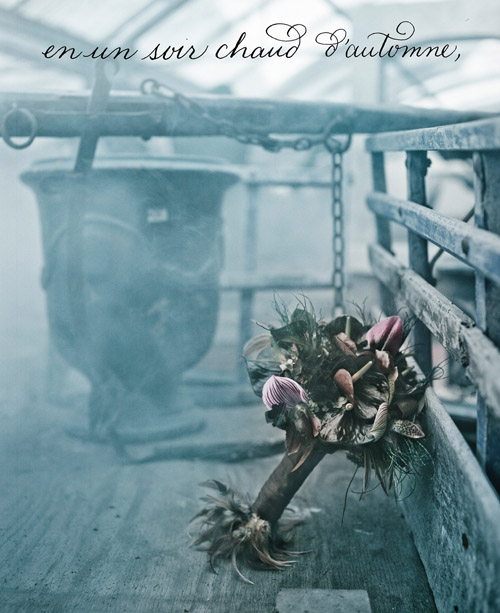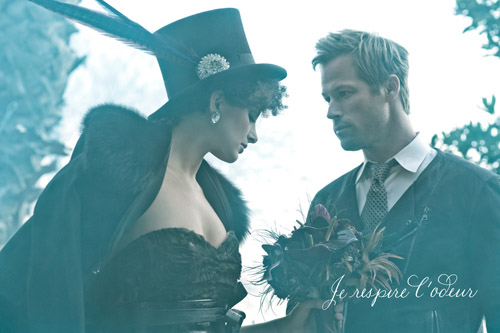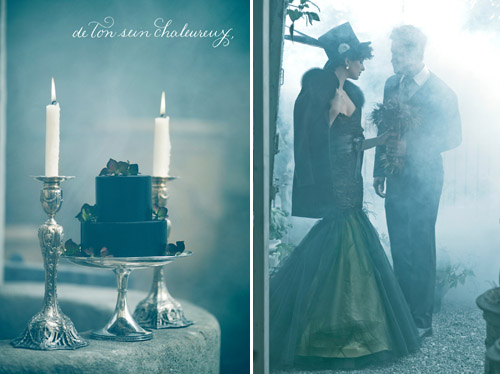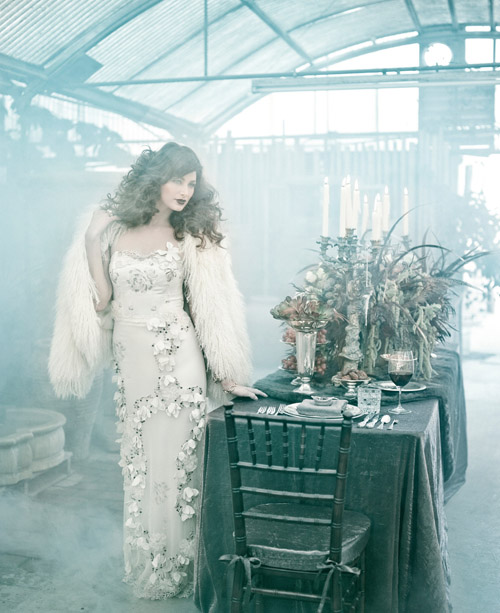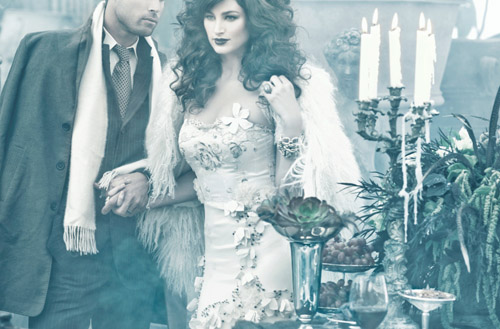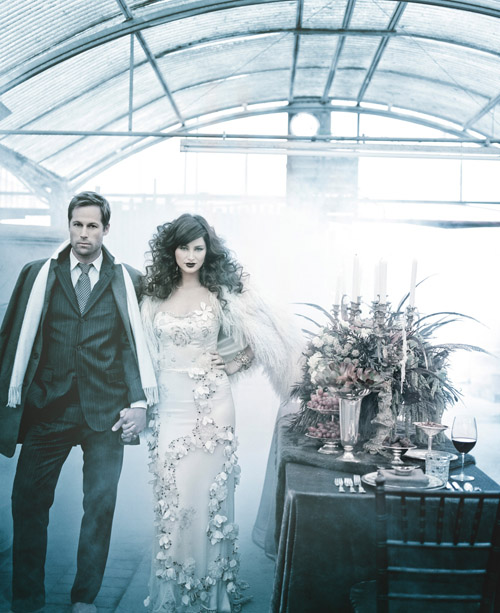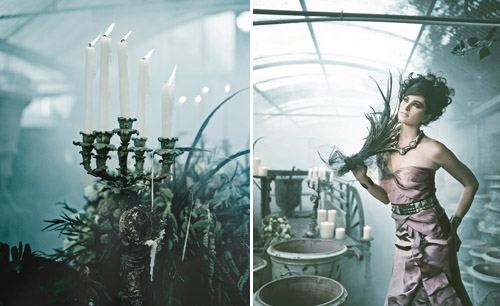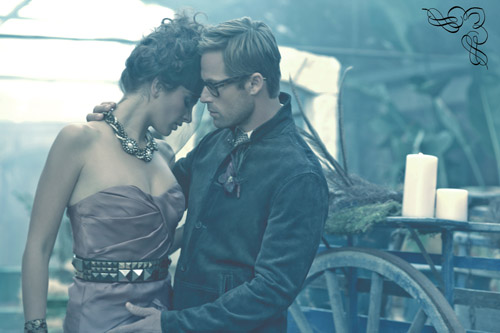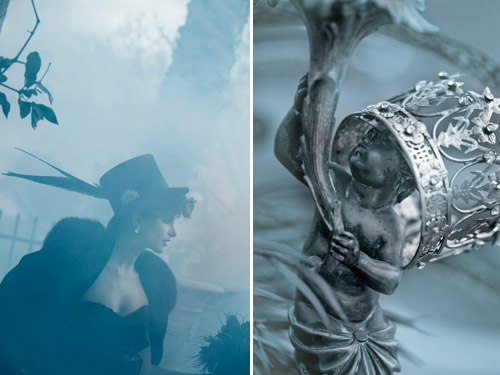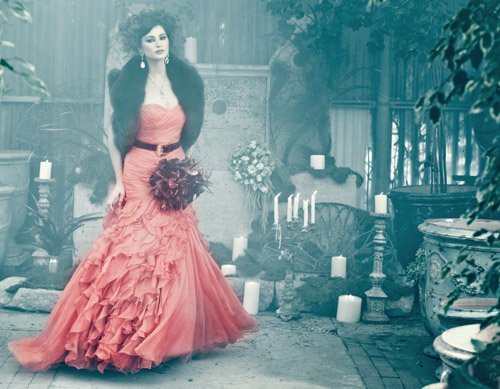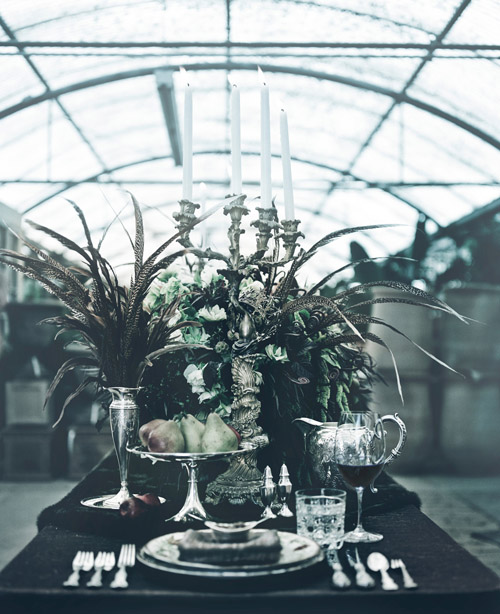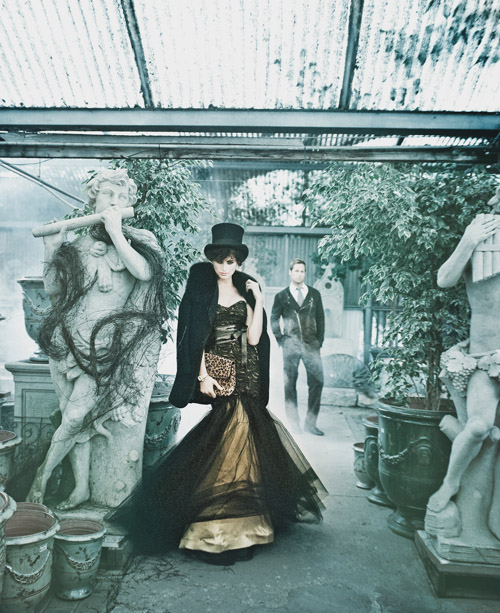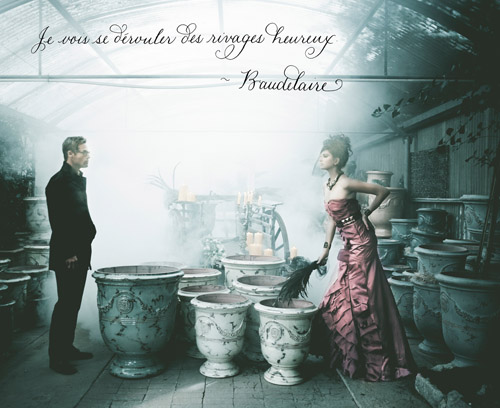 Photo Shoot Credits:
Photo Shoot Production/Design: Merryl Brown Events
Photographer/creative Director: Joan Allen
Location: Eye Of The Day- Garden Design Center, Carpinteria, CA
Cake/pastry Chef: Elizabeth Gottfried
Calligrapher: Laura Hooper-Leader of Laura Hooper Calligraphy
Florist: Camilla Svensson Burns
Hair Stylist/artist: Rick Farber
Jewelry: 33 Jewels
Linen: La Tavola Fine Linen
Makeup Artist: Christine Nguyen
Models: Bride: Leigh Yeager- Wilhelmina Models
Groom: Braden Brunick
Prop Stylists: Merryl Brown and Adrienne Carrere
Wardrobe Stylist And Designer: Katy Ladin
Wardrobe Provided By: Chic Little Devil Stylehouse
*a Special Thank You To Rebecca Raskind, Caity Dariotis, Michelle And Kate.
Wardrobe Designers:
Anne Barge
Chloe
Claire Pettibone
John Varvatos
Junko Yoshioka
Tom Ford
Photography Assistance and Behind The Scenes Photos:
John Sanossian
Katelin Wallace Journigan
Post Production/color Effects And Retouching: Digitalfusion Digitalfusion – Hugh Milstein And Kathryn Sands
Photographic Equipment: Screaming Broccoli – Ed And Declan
Cameras And Film:
Canon
Fuji Film: Pro 400, Fuji Film Fp-3000b And Fp=100c
Kodak: Portra 800
Mamiya Rz 6×7
Thank you so much fo sharing this shoot with us Joanie and Team!
Readers, be sure to check out our Wedding Photo Gallery for more wedding fashion and wedding decor inspiration!