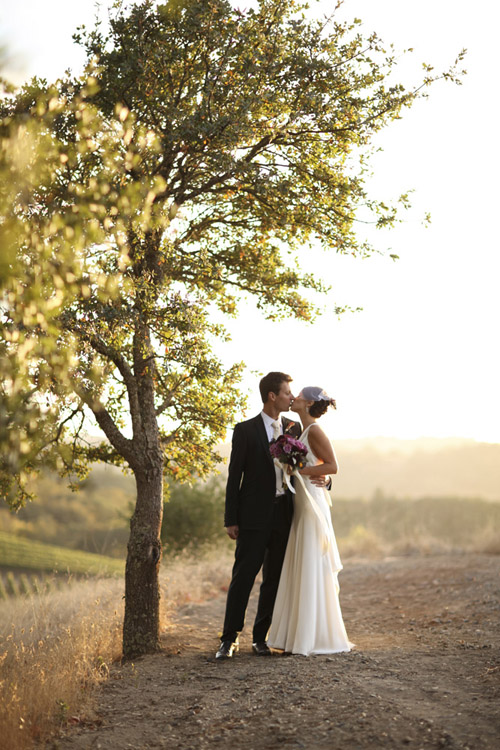 Filled with the perfect balance of sleek modern and glamorous vintage elements, this super personal vineyard wedding of Sarah and Andrew has us head-over-heels in love! We hope you enjoy their story and gorgeous images from photographer Michele M. Waite just as much as we do.

The Goals: For Sarah and Andrew, a wedding that was a true party was what they were looking for! They wanted their own personal style to shine through, for their guests to have a fabulous time, and for everyone to enjoy their favorite things – wine, local food and house music. "To us this meant it would be intimate, not too structured, a little luxurious and fun!"

The Design: Sarah and Andrew were thrilled to hold their wedding at the Lancaster Estate, a vineyard and private home in Sonoma County, California. Their wedding ceremony took place outdoors beneath a huge old oak tree. "It was the perfect ceremony site. The tree gave a sense of history and a future, with deep roots and lush branches. The surrounding vineyards set a gorgeous backdrop and also create wine that we love." The intimate reception took place inside the proprietor's spacious home which had spectacular views and expansive living spaces that provided an ideal environment for their 100 guests.
A wedding color palette of plum, ivory, soft green, black and gold was chosen to blend with the fall colors and the earth tones of the landscape, but also to add a little glamour to the celebration. The wedding invitations were designed by Dolce Design to highlight the vineyard theme in an utterly modern and creative way. They featured a wine stain graphic with beautiful script, sexy marbled paper and a custom wax seal. So brilliant! The wedding cake was a small and simple lemon chiffon cutting cake with home-made cake toppers of the Disney characters Wall-E and EVE, and guests were offered a dessert buffet of cupcakes, cookies, brownies and biscotti along with coffee and liquers. Traditional wedding favors didn't feel like Sarah and Andrew's style, so instead they made charitable donations to the Sea Shepherd Conservation Society. As a late-night snack, Sarah and Andrew flew in their favorite treat – the unbelievably yummy mac n' cheese from Beecher's Handmade Cheeses in Seattle. A couple after my own heart!
The Look: Sarah's bridal look was stunning – a modern take on vintage glam. She adored her art-deco inspired Ulla-Maija Couture gown, and added a vintage crystal brooch to its back that had a complementary art-deco design. Other stylish accessories included vintage-style crystal jewelry, a birdcage veil accented with feathers and a brooch, purple satin stilettos and a vintage fur shawl for nighttime. She wore her hair in a low side chignon to keep the look clean but playful.
The bridesmaids wore plum dresses with asymmetrical necklines from Victoria's Secret along with purple feather hairpieces, crystal bracelets and gold accessories. The groom wore a tuxedo with a vintage-inspired cut from Ted Baker and his groomsmen wore classic black tuxedos with plum colored ties and socks.

The Moments: Sarah and Andrew will never forget their wonderfully romantic first look in the vineyard, the kiss after their first dance, or how they were brought to tears reading their self-written vows during the ceremony. Another special moment happened between the ceremony and the reception. "We shared a private glass of wine in the wine cave waiting for our guests to settle at the reception site. It was such a special moment to toast our new marriage."
The Pros: To learn about the many talented wedding professionals who contributed to this wedding day, be sure to visit Sarah and Andrew's page in our Real Wedding Library!

Thank you so much for sharing your wedding with us Sarah and Andrew!
To plan your own Southern California or Seattle area wedding, check out our Plan Your Wedding Hotlists, and to find a dream wedding photographer for your wedding anywhere in the world, don't miss our World's Best Wedding Photographers Hotlist!