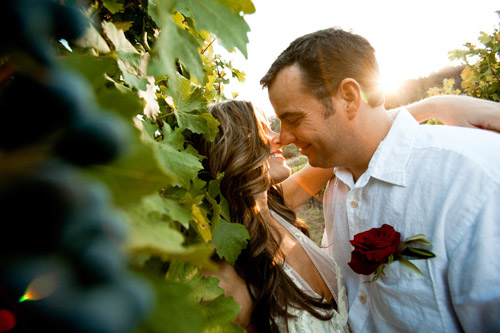 The Couple: Kirsten and Bryon
The Wedding: 10.10.10 Private Residence Napa Valley, CA
How would you describe your wedding day: The best of the best people, magical and amazing wine and food.
What inspired your personal wedding style, and how were your personalities incorporated into your big day? I always wanted our wedding to be small and intimate, and centered around our children, our favorite people and our favorite wine and food, surrounded with candles and small twinkling lights. It was an image I saw while on a trip to Italy where Bryon proposed. I wanted our wedding to feel like you were in our backyard – the backyard of my dreams on my dream day! Nothing stuffy but quite elegant, and of course, one really long table. No matter what, that was my sticking point.

Looking back, what are the moments, decisions, or memories that you love the most about your wedding? I loved that our children gave me away. Our decision to make them a central part of our wedding was important to me so that they felt the joining of our families. I loved that we threw tradition aside, we asked a long time friend to become ordained in order to marry us, no one else would suffice. I walked down a side entrance, no center aisle. My bouquet was made of large dahlias that each child presented to me. Our nearest family and friends were there to support us and celebrate our happiness. The groom, Bryon, fell in love with a cake that was anything but traditional. It was his fingerprint on that detail that everyone loved.
Color palette: Neutral fall colors

The Wedding Team:
Photographer: Jennifer Kloss Photography
Event Planner: Suzy Berberian
Ceremony and Reception Venue: Personal friends home
Officiant: Justin Carlson
Invitation Designer: Bride and Grooms own creative talents
Catering: Elaine Bell
Florist: Amelia Barad Humphries
Floral Cake Designer: Amber McKenney at Sweet on Cake
Wedding dress: Les Habitudes
Linens and Coverings: Classic Party Rentals
Bridal accessories: Steve Madden wedding sandals
Flower girl: Custom made dress of silk chiffon
Groom and groomsmen apparel and accessories: Linen pants and shirts from Tommy Bahama and Island Importer
Live music: Carl Vast, Solo Guitarist
Transportation: Eclectic Tours
Favors: PayDay candy bars (a surprise tribute to the groom as it is his favorite candy bar and it was pay day after all)
Thank you so much Kirsten and Bryon!
To find more inspiration for your our personal wedding style, don't miss our all new and gorgeous wedding image gallery!
All images above by Jennifer Kloss Photography