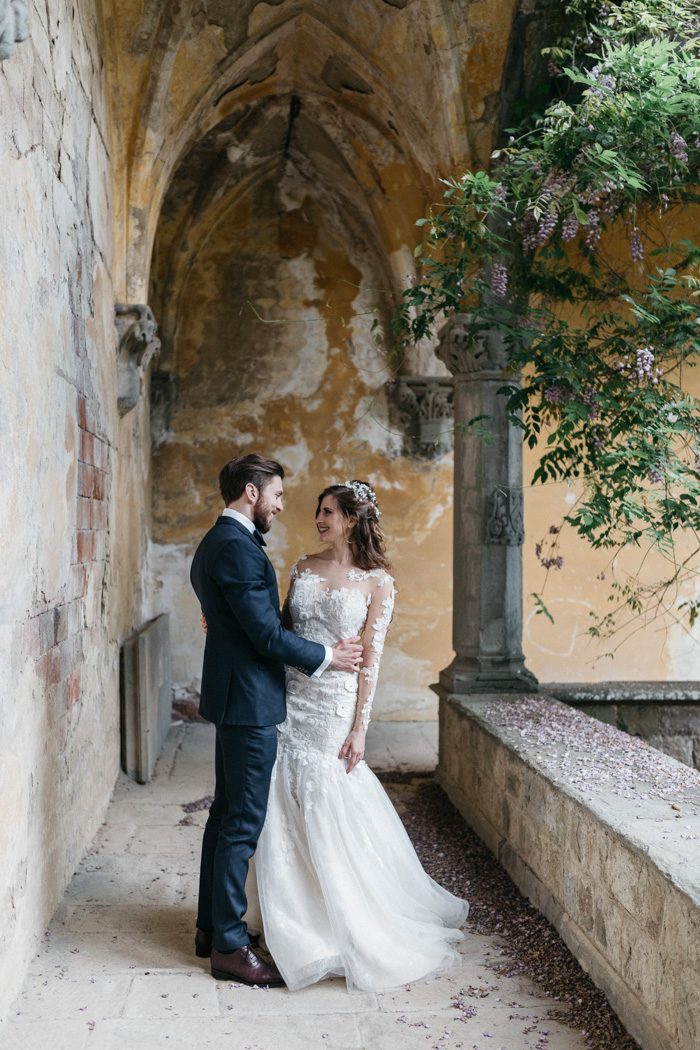 Tiffany and Carlos' wedding at Castello di Vincigliata was truly a real-life fairytale in the heart of Tuscany! From the castle venue to the ethereal floral design by Flowers Living to the bride's custom designed ballgown, every detail of this wedding had us swooning. The couple infused aspects of both their religious and cultural traditions into not only the ceremony with 3 unique unity ceremonies but also into the reception with signature cocktails that represented their respective backgrounds and dance floor surprises for their guests that we're certain they will never forget! Photographer Stefano Santucci went above and beyond in capturing the quiet, romantic moments alongside the energetic party moments to show off the couple's unique love story and unforgettable wedding day!
The Couple:
Tiffany and Carlos
The Wedding:
Castello di Vincigliata, Florence, Italy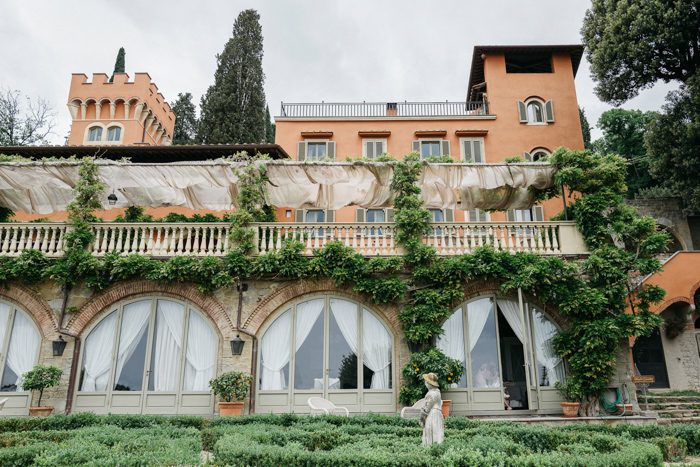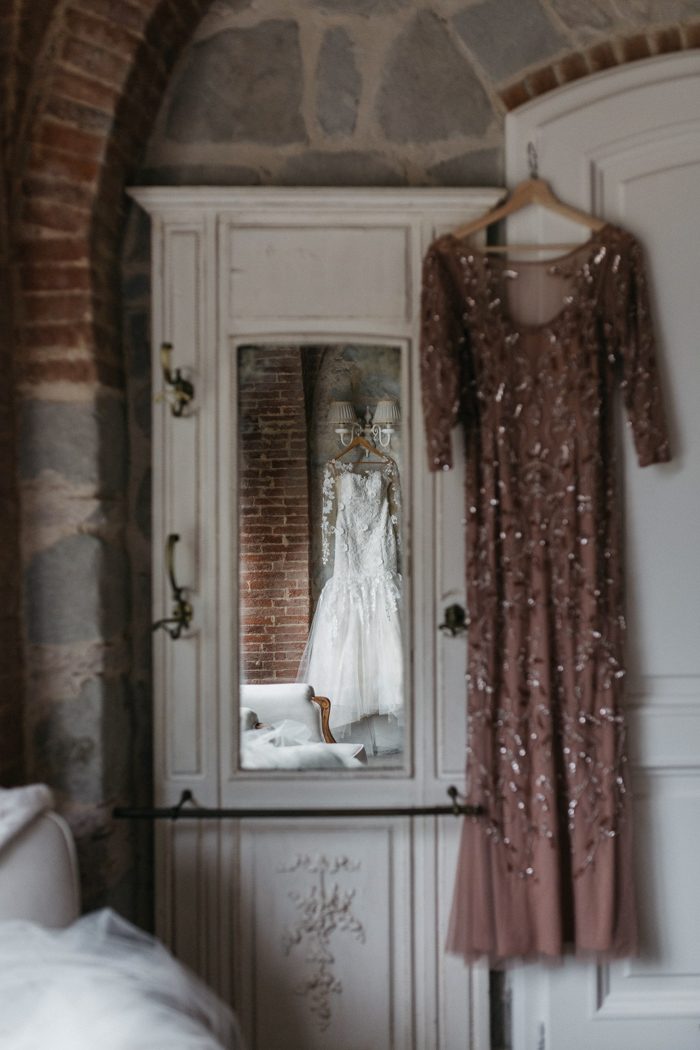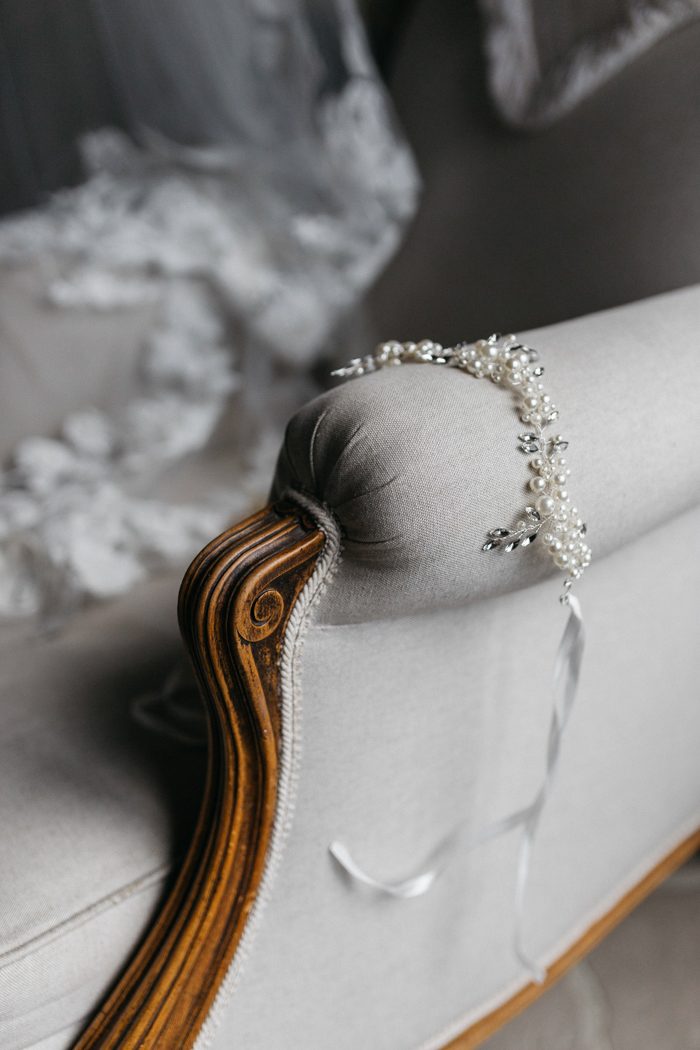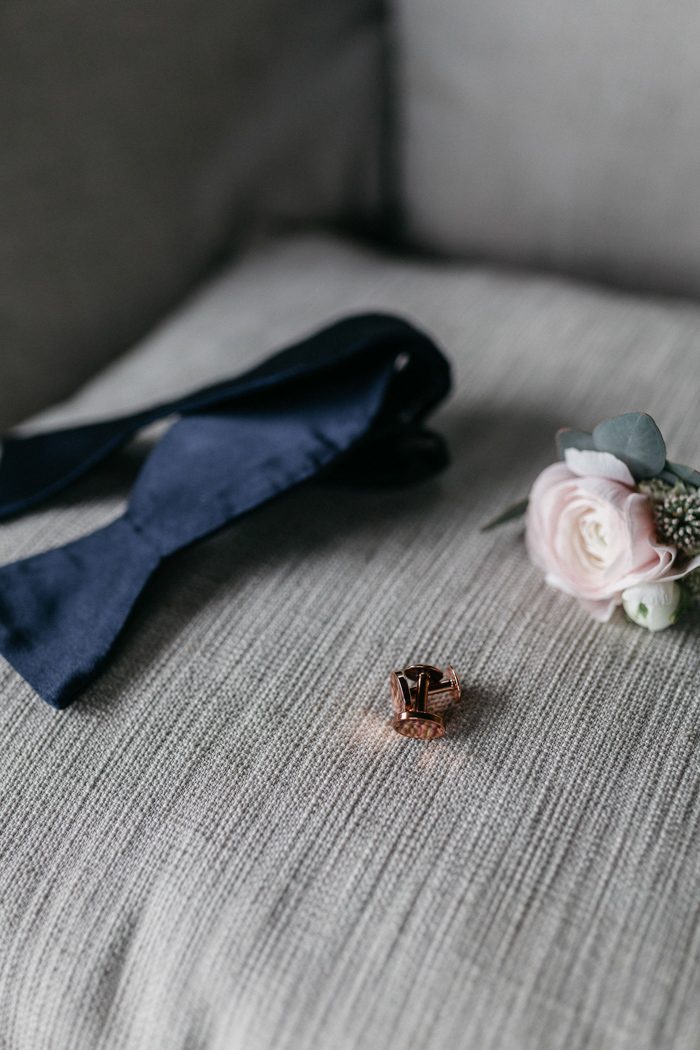 Planning a wedding involves a lot of decision making, and we made sure that we both worked together as a team to bring out our personalities in every choice we made. From the beginning, we knew we wanted a lot of things done a certain way. We were both very passionate about different aspects of the wedding, and in the end, we wanted to guarantee that our personalities both emanated through every moment of that day.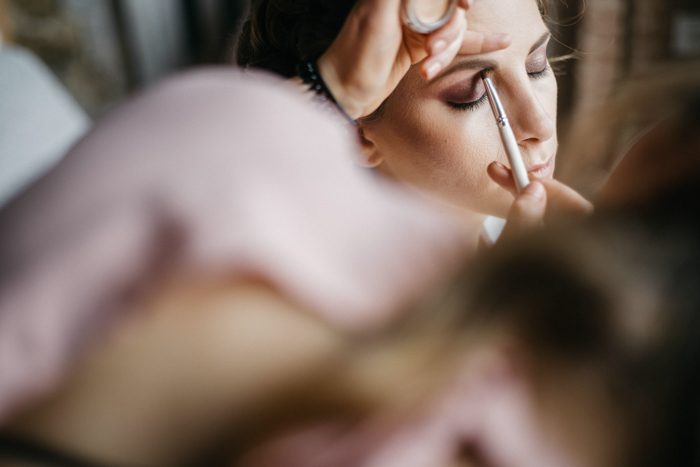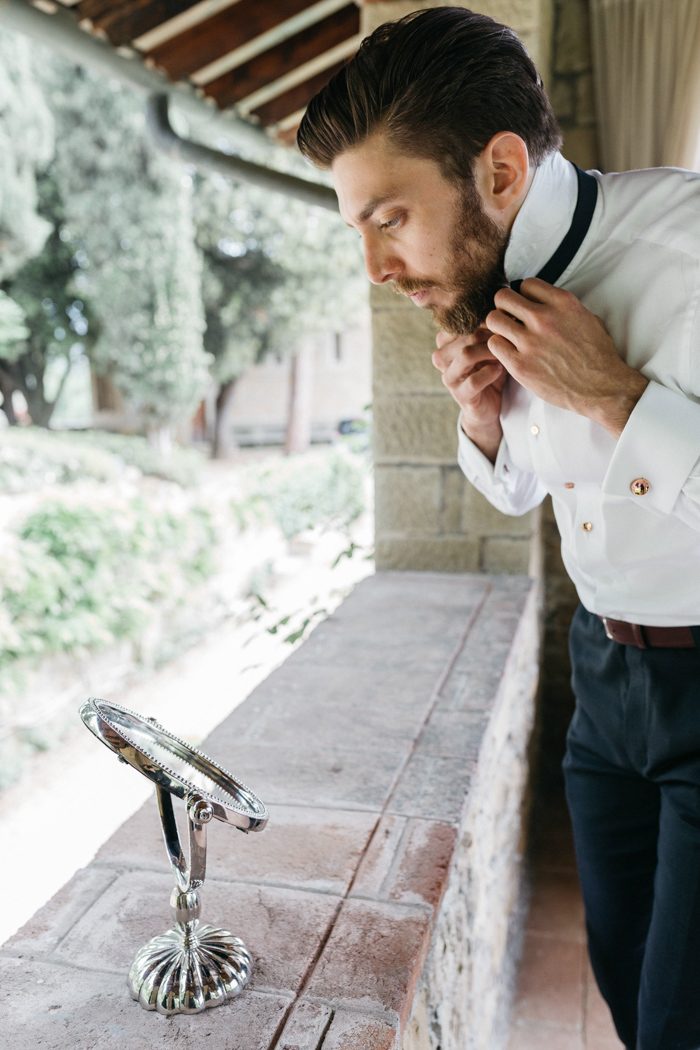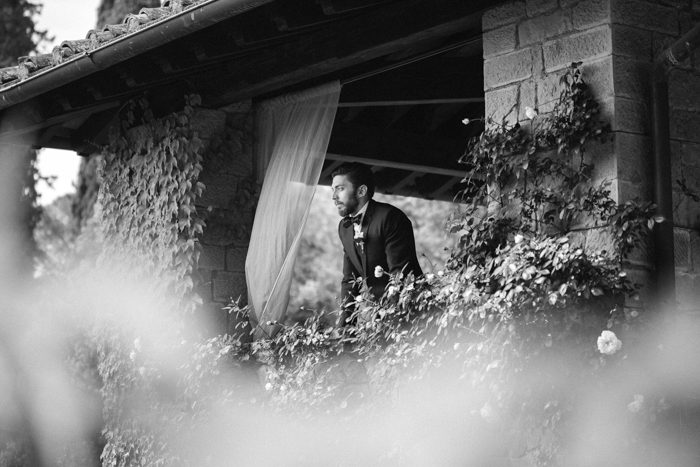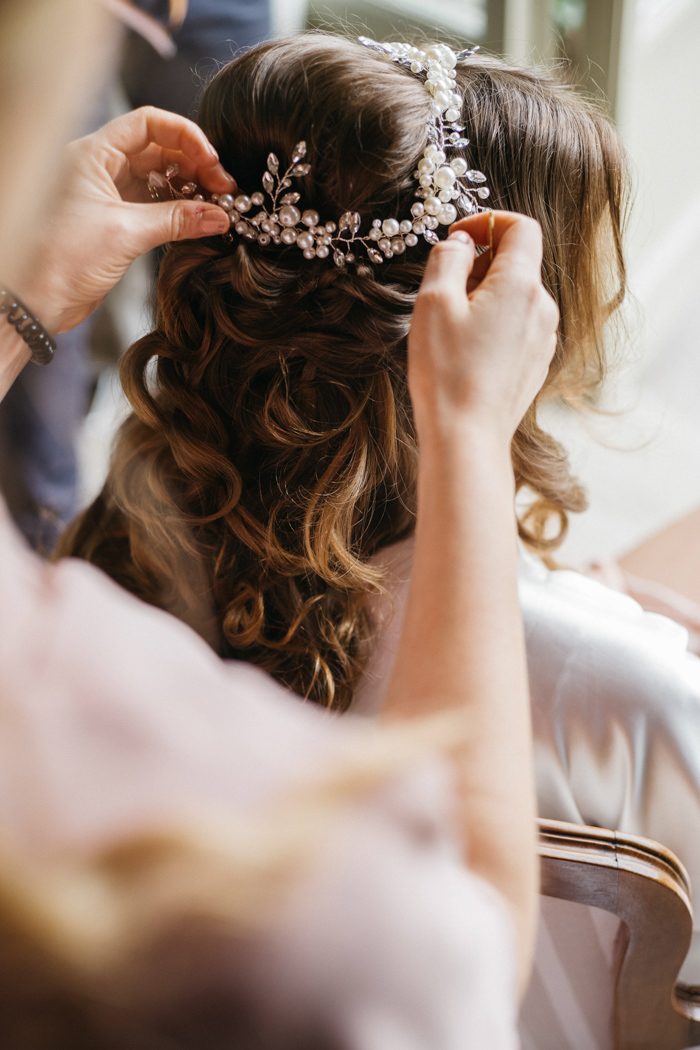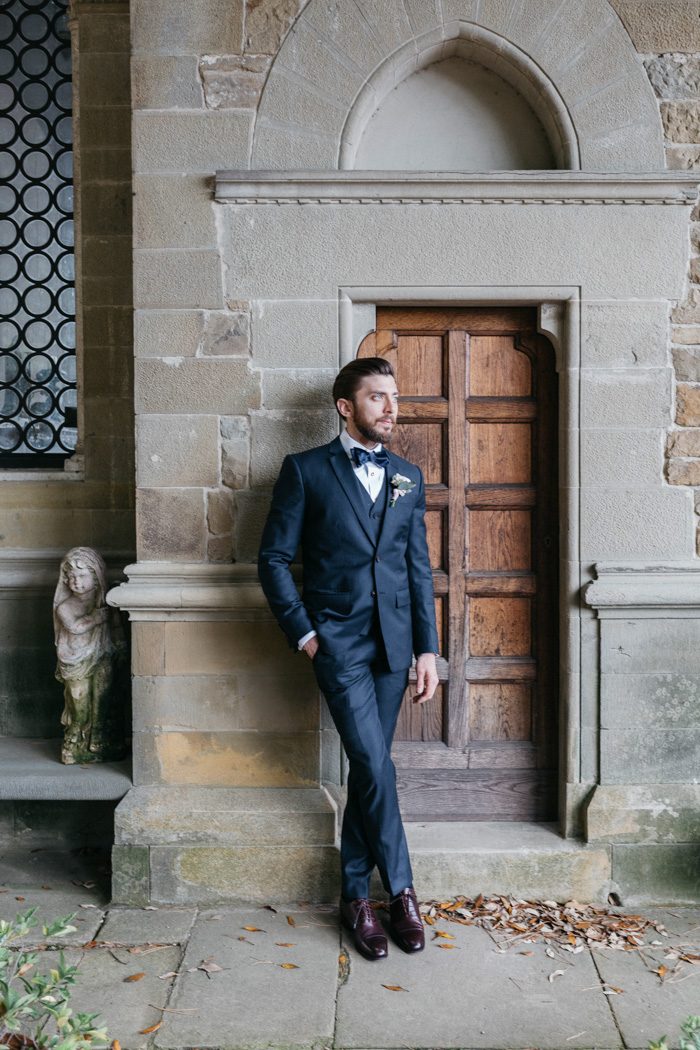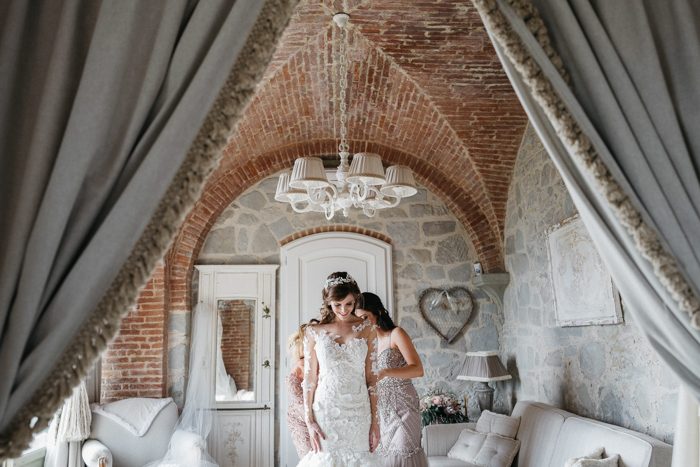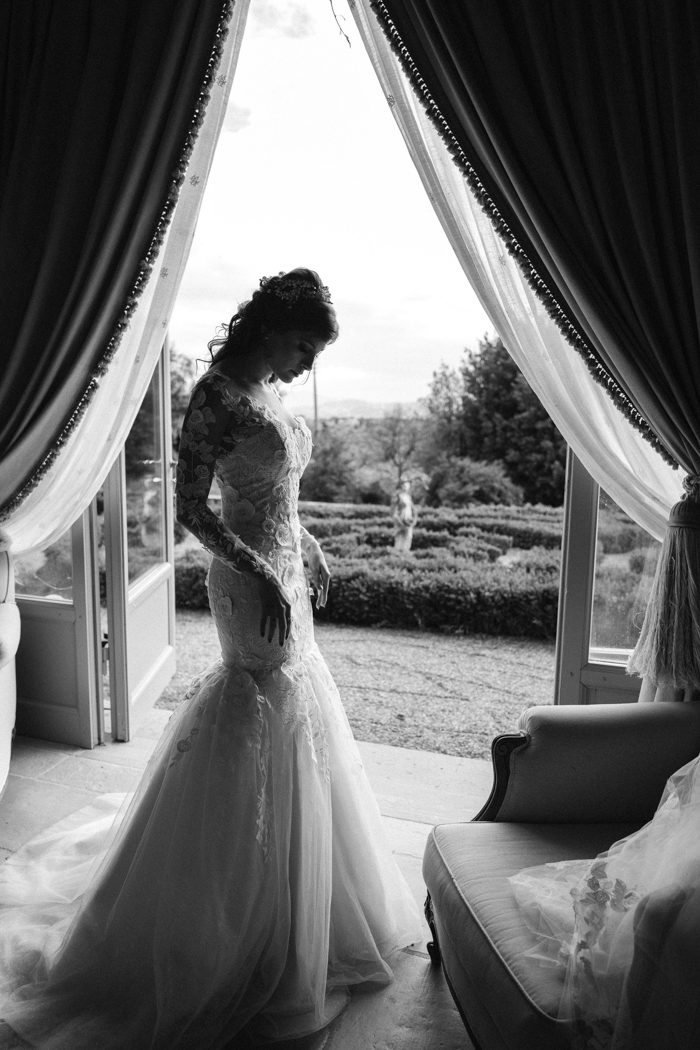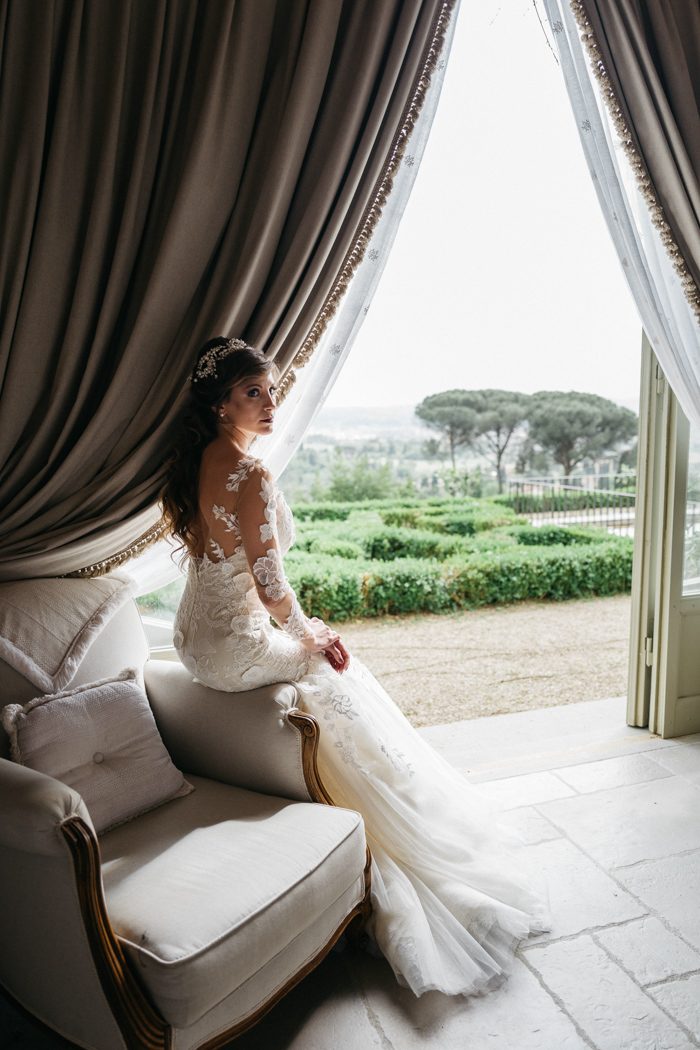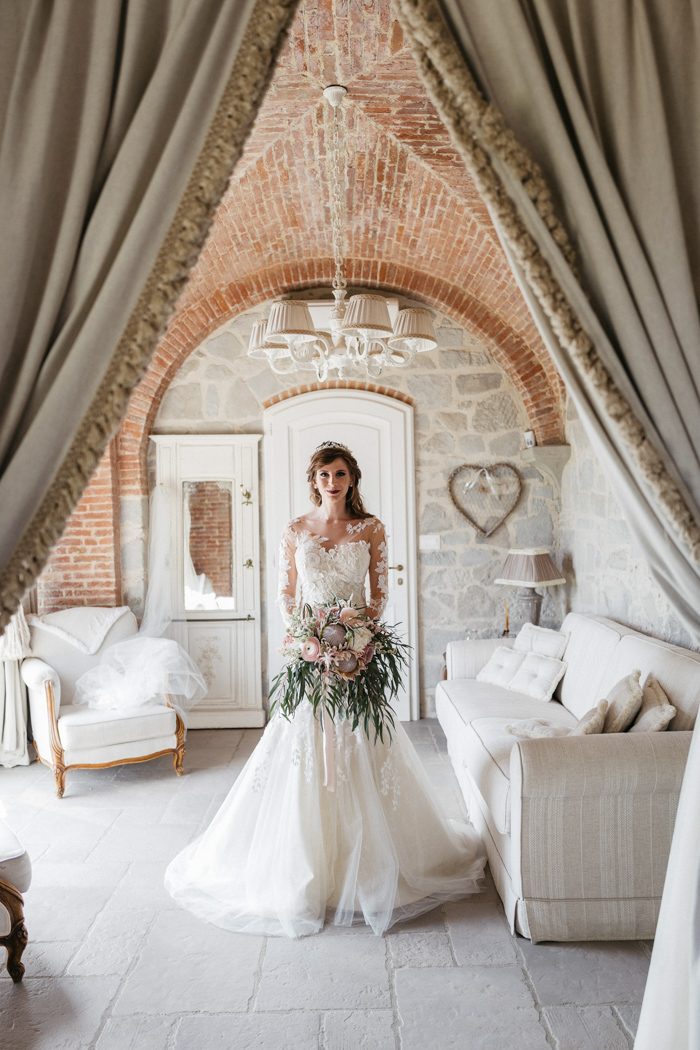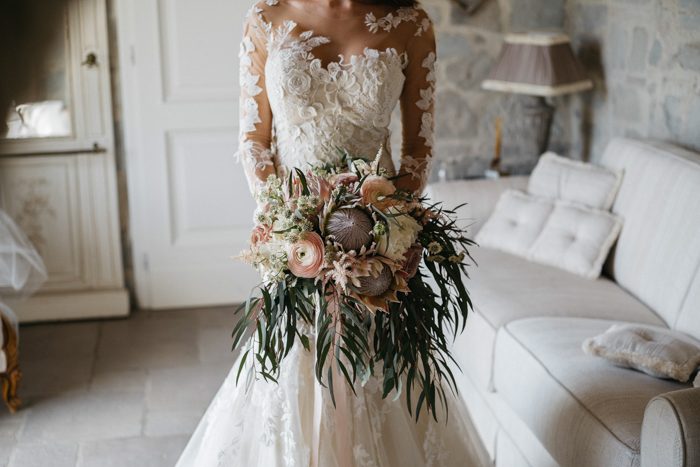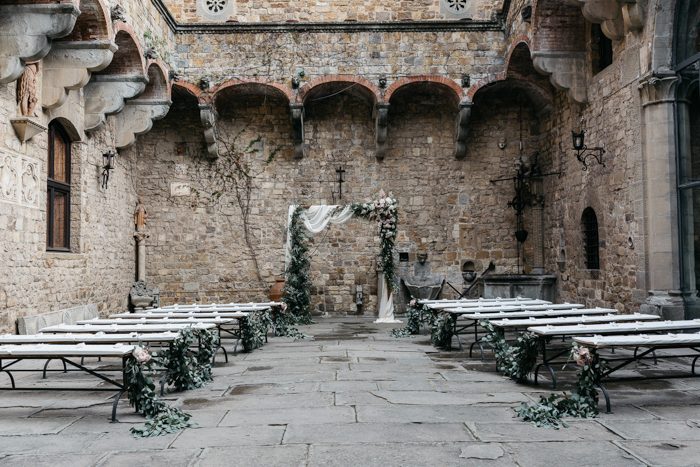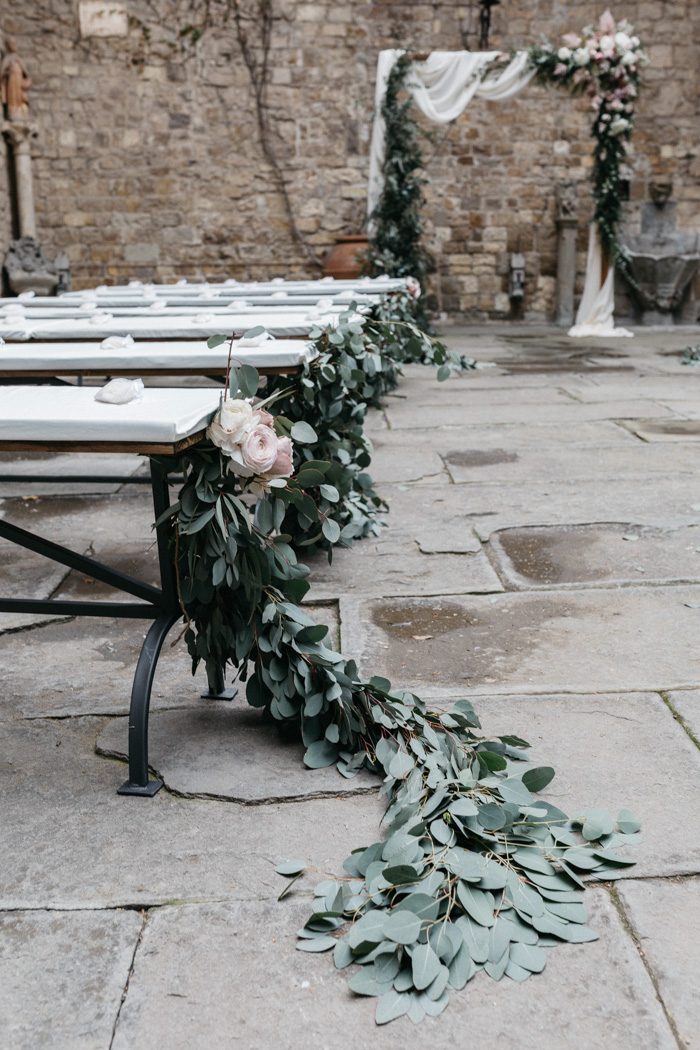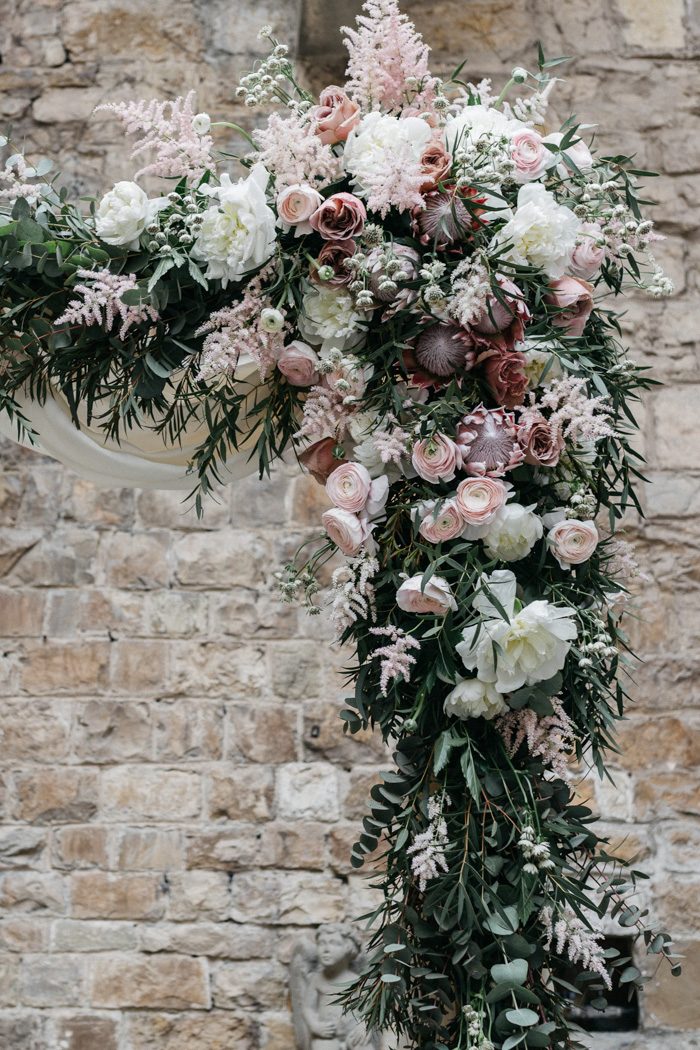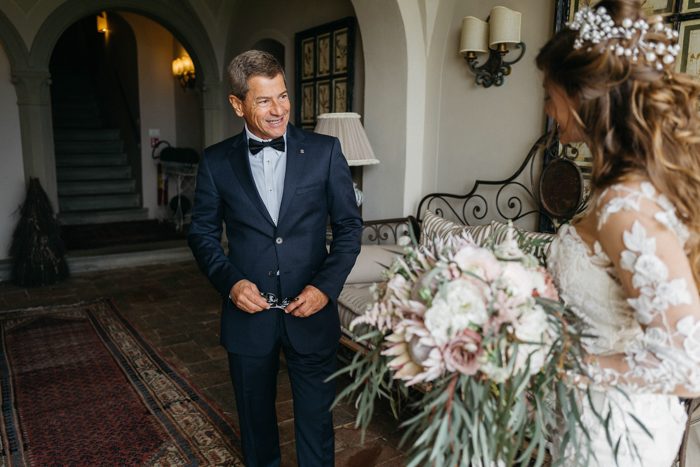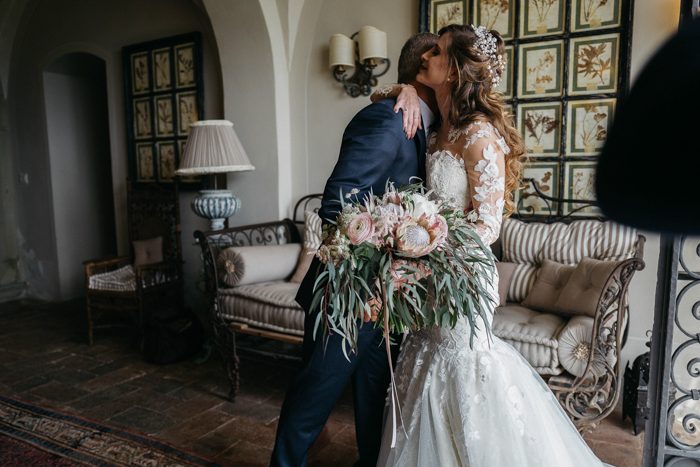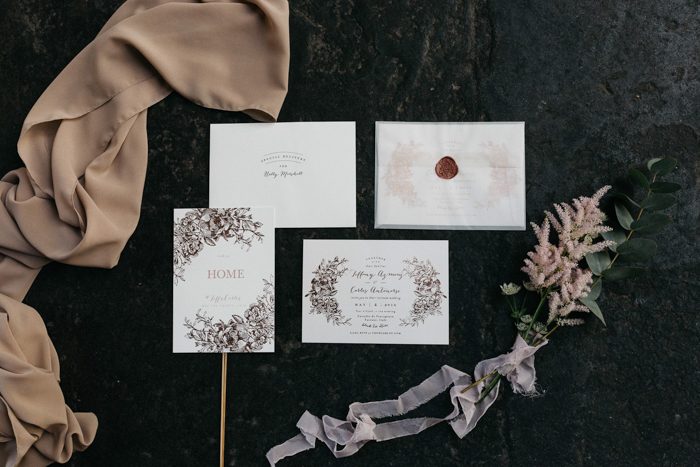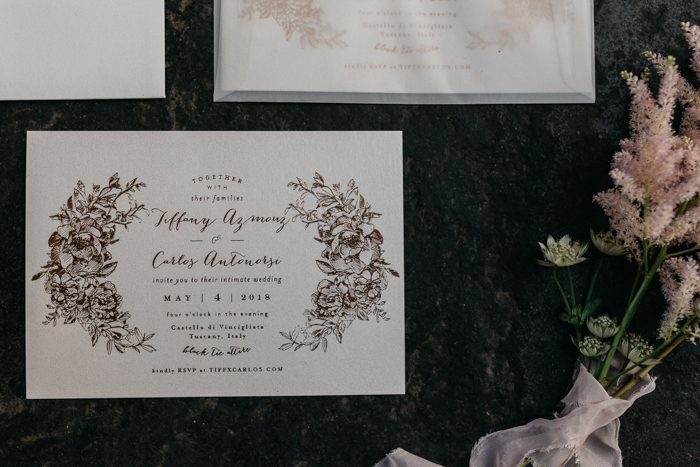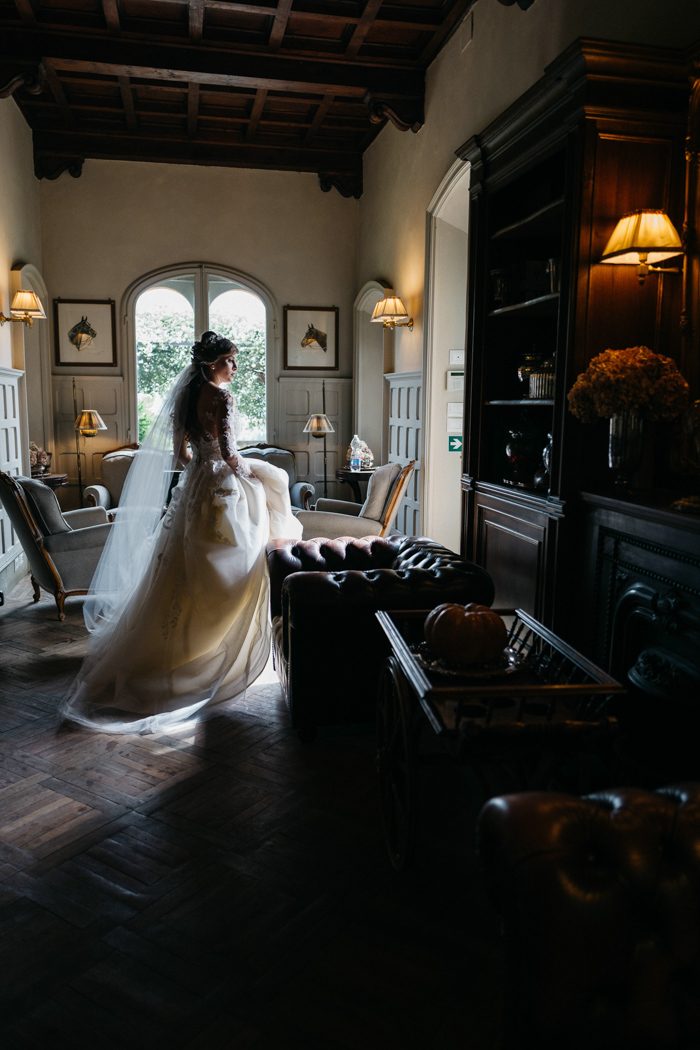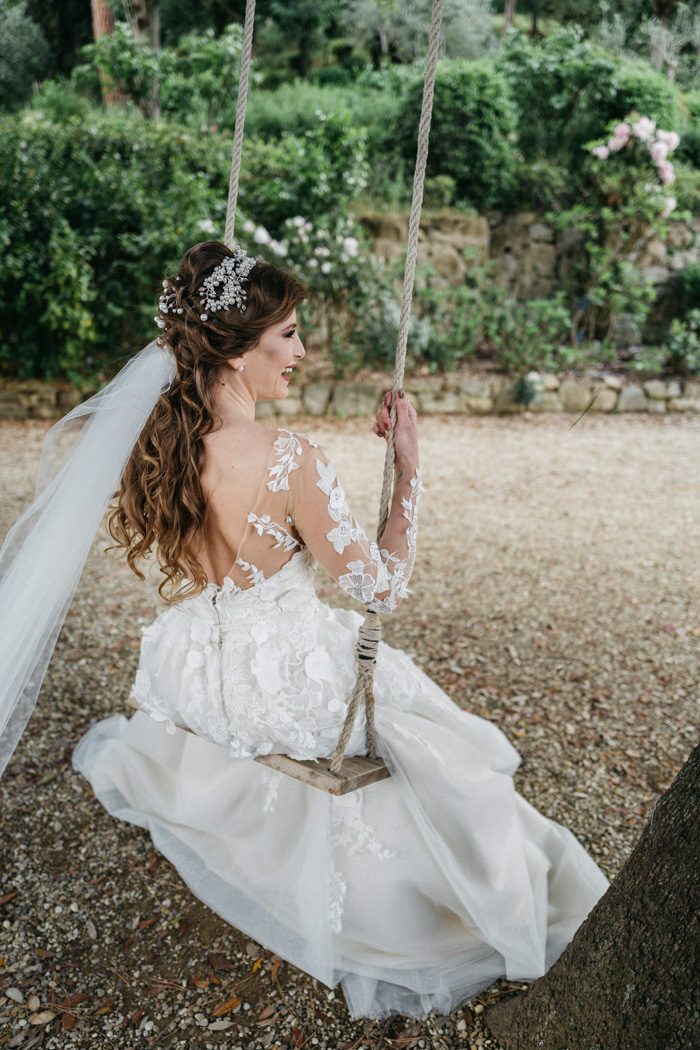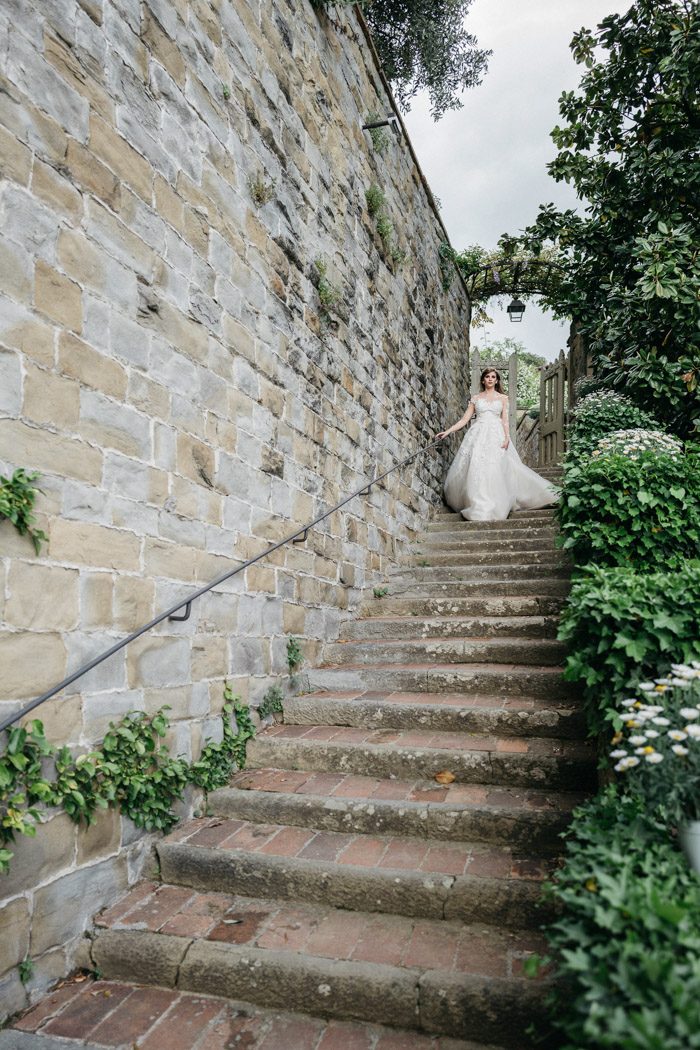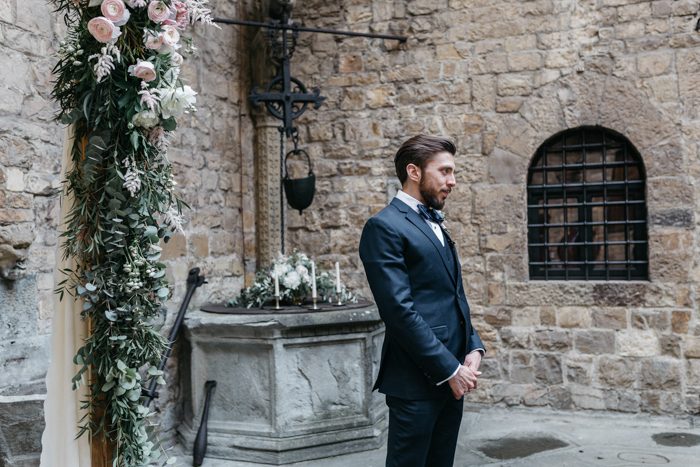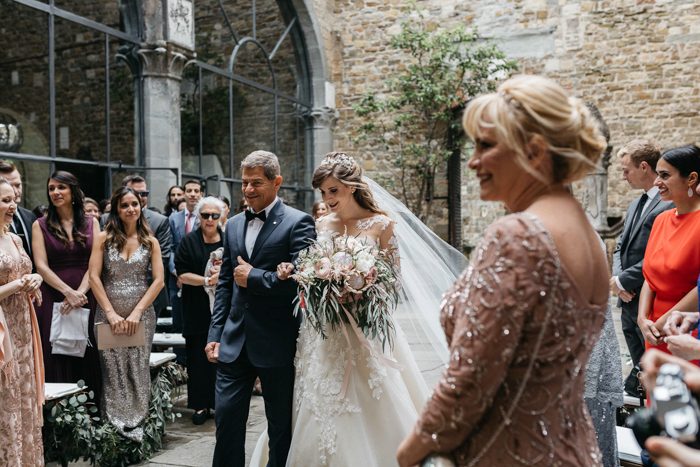 We decided not to have a religious ceremony but a symbolic one since we are not of the same religion and neither of us wanted to convert. So, to personalize the ceremony, we decided to include three rituals that we felt were more in line with our beliefs as a couple. In the first ritual, we each lit a candle and then between the two of us together lit up a third candle, which will lead the way in new our relationship as a married couple.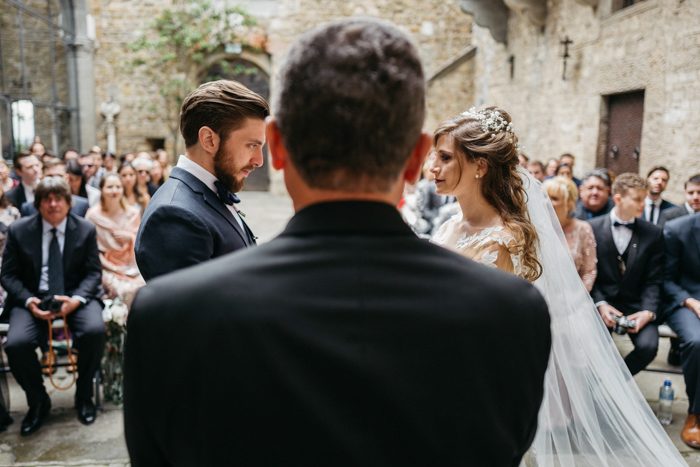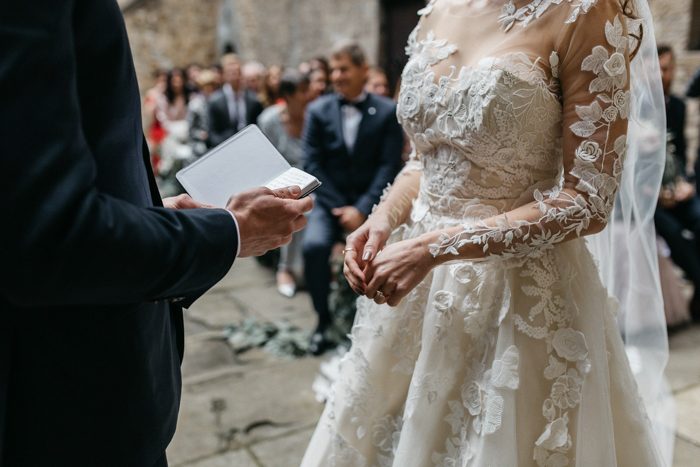 For the second ritual, we each poured a glass of wine and then, together, poured them into a shared glass to represent the future union of our blood into our offspring.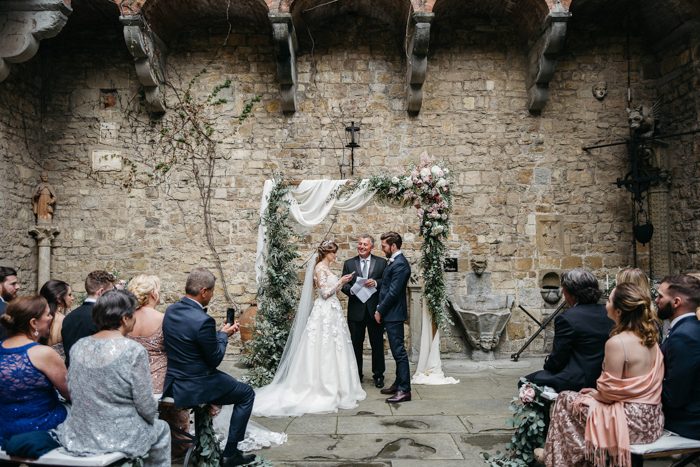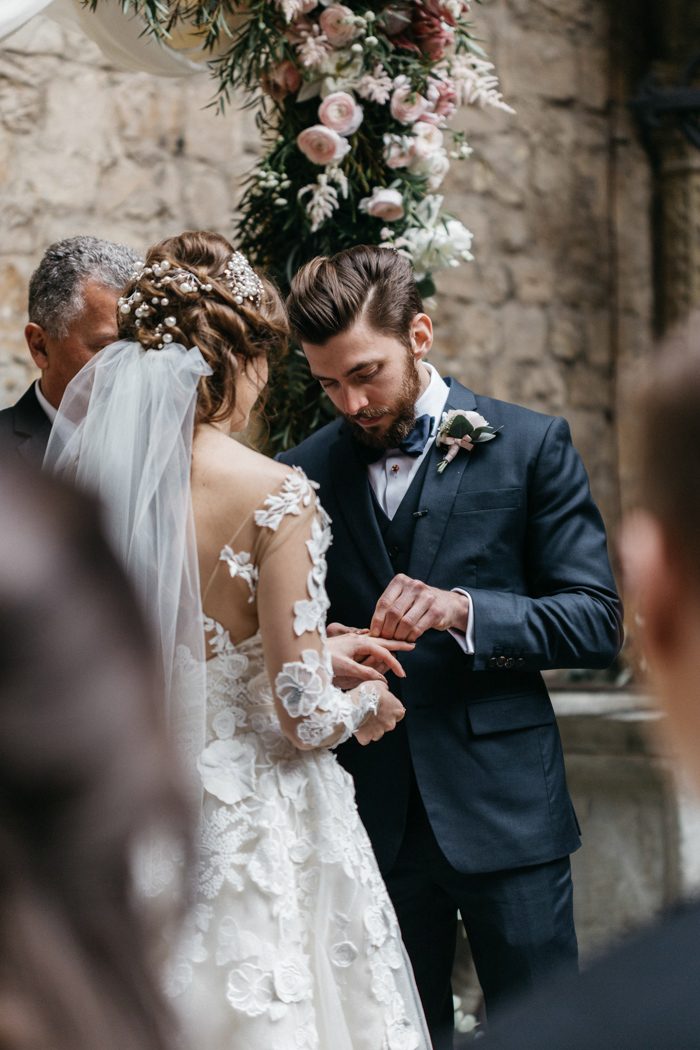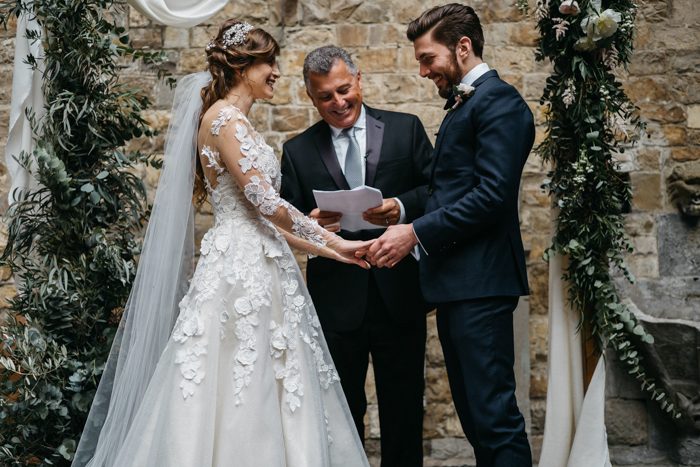 For the third ritual, we wanted to pay homage to Carlos' Greek heritage by performing a crowning ritual that is often used in Greek orthodox ceremonies. We were both crowned as 'King and Queen of our household' with crowns made of eucalyptus and olive branches, which were then exchanged three times between our heads to symbolize our new union as a couple.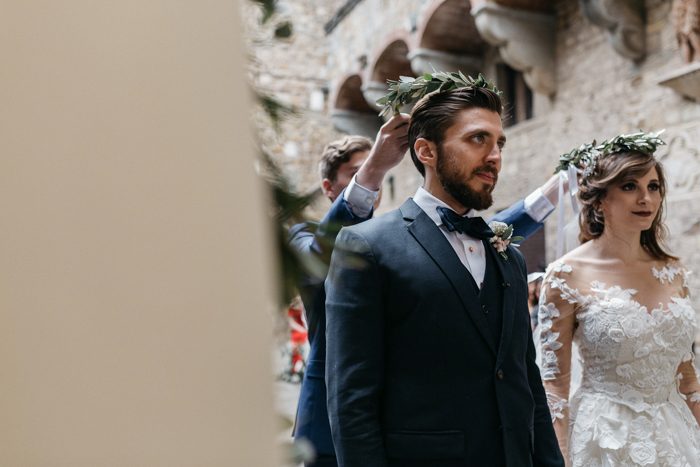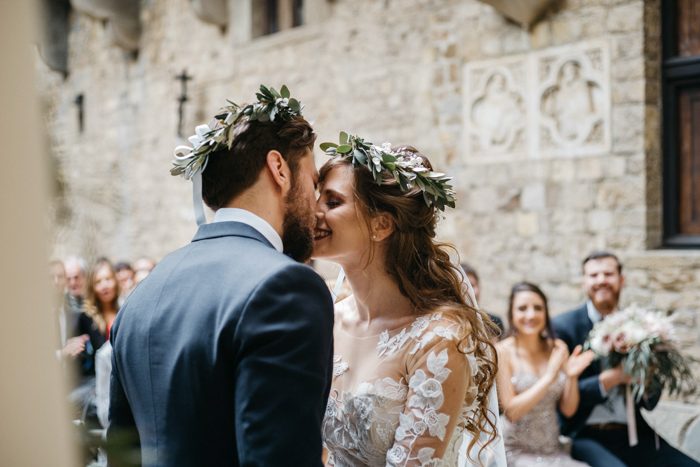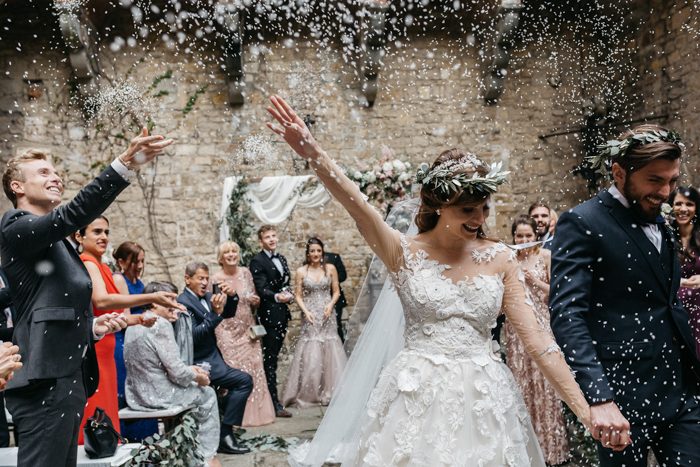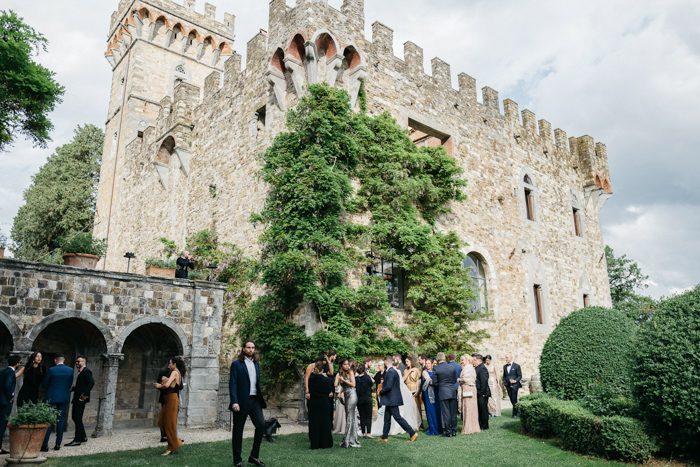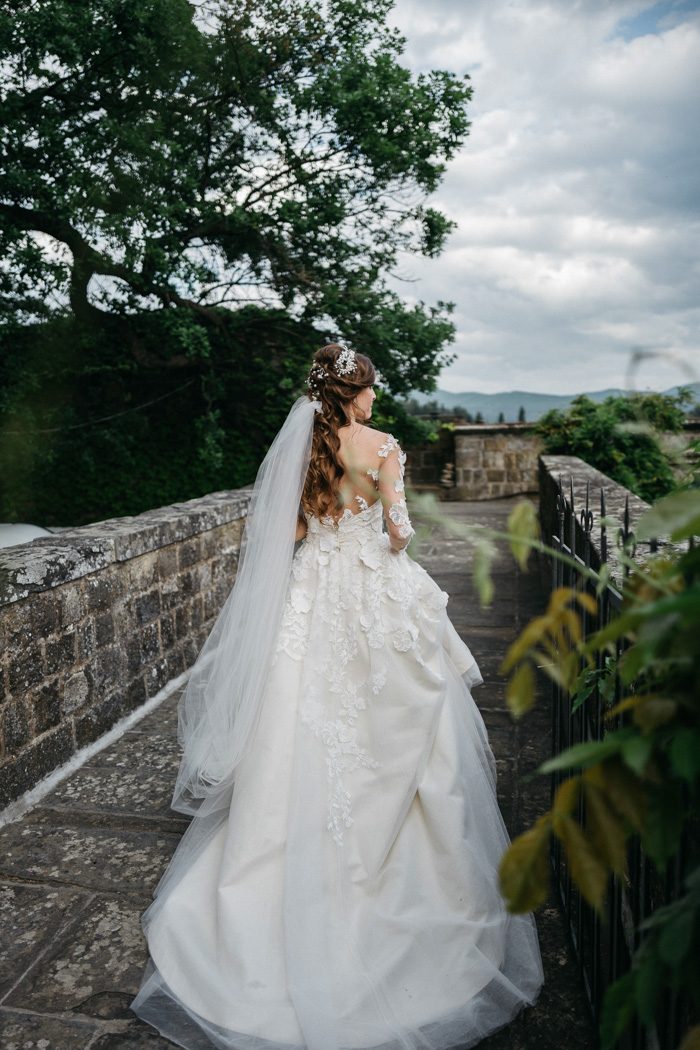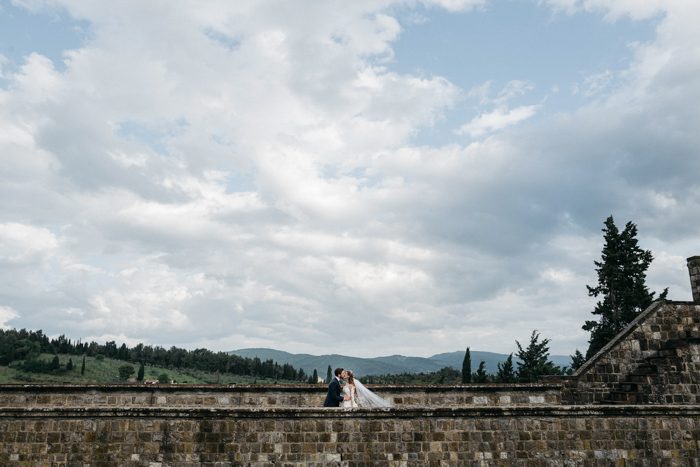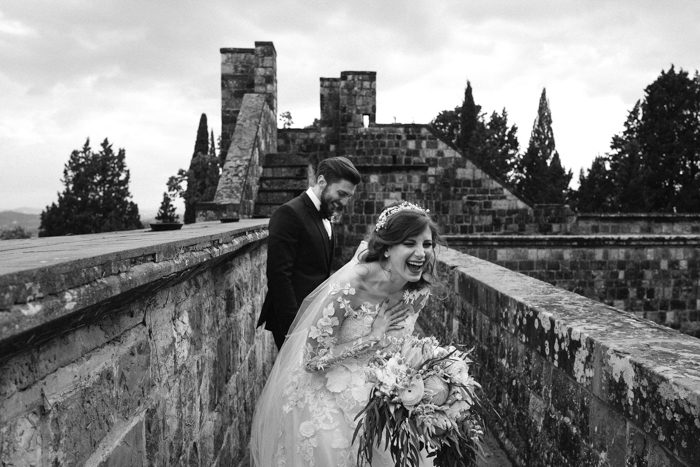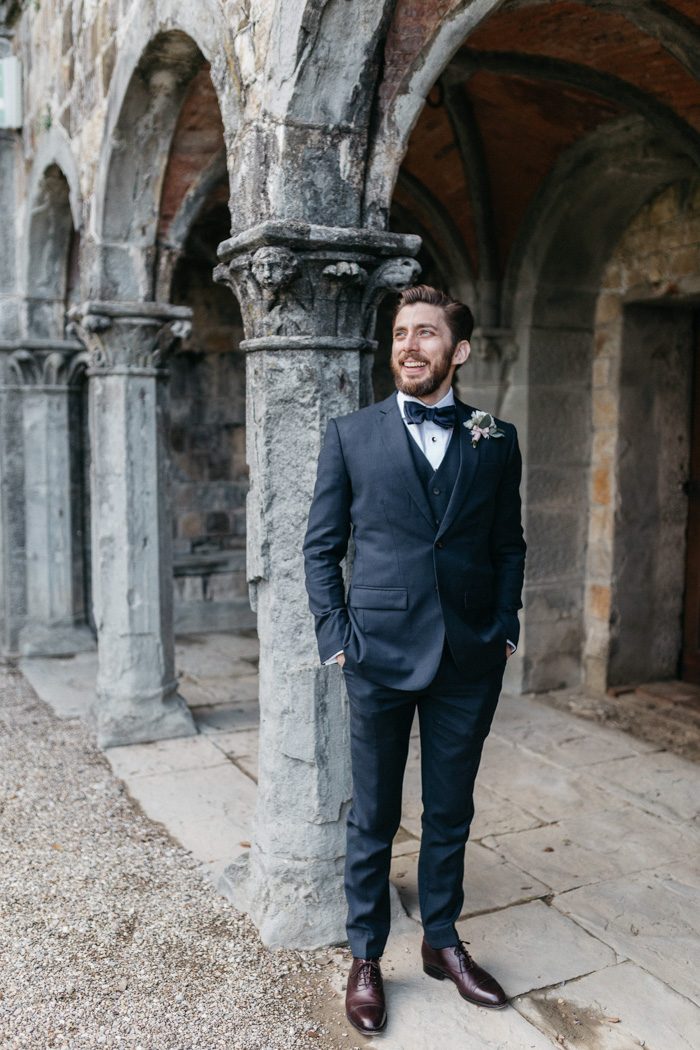 Being a stylist and image consultant for the past 10 years, it was quite a challenge for me to find the perfect look for such an important day of my life. After trying on a couple (hundred) dresses, I decided to take on the mission of designing my own wedding dress! It was a collaboration between me, my mom, and my dad, who are both in creative fields. After I drew the sketch of the dress, my parents visited me in NY and we all went fabric shopping. We ended up hunting down a Valentino fabric that I fell in love with, which ended up being the accent fabric, layered over a fantastic glittery tulle. I shipped the fabric to my mother's seamstress in Venezuela, who has sewn for my family for many years. To be completely honest, I did not love how the dress turned out; I'm too much of a perfectionist and it didn't come out exactly how I had in mind. Nevertheless, it is the most special garment I have ever worn because it is the first thing I have ever created in collaboration with both of my parents.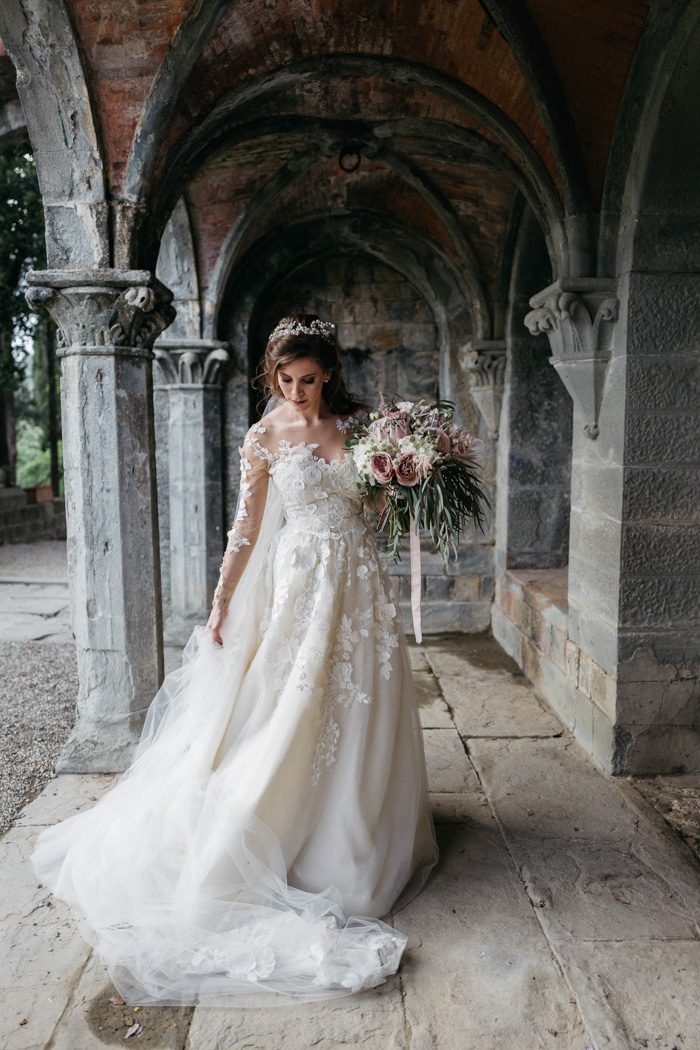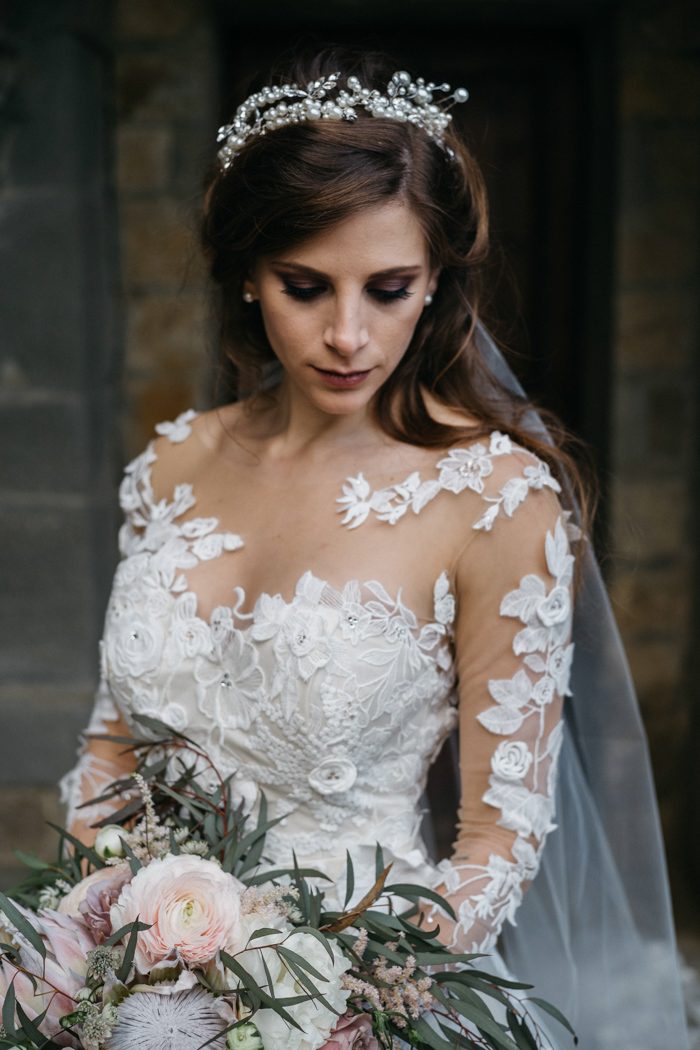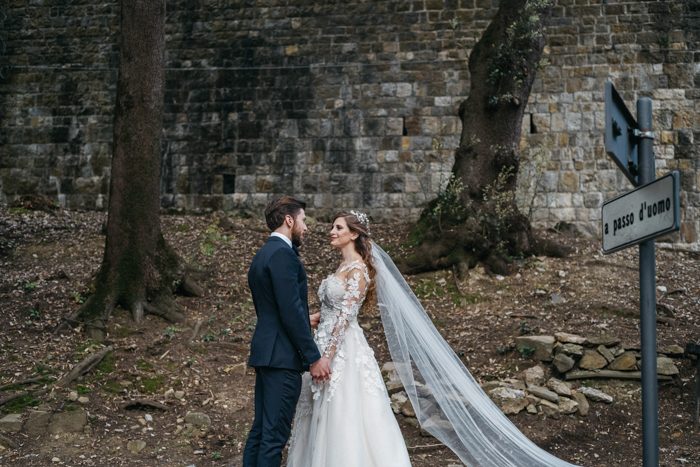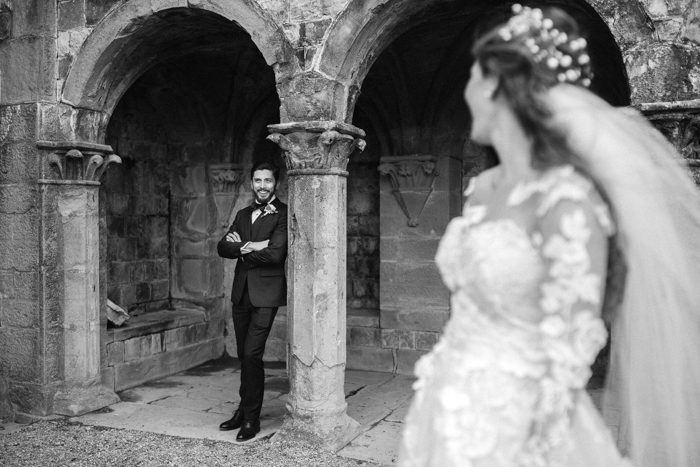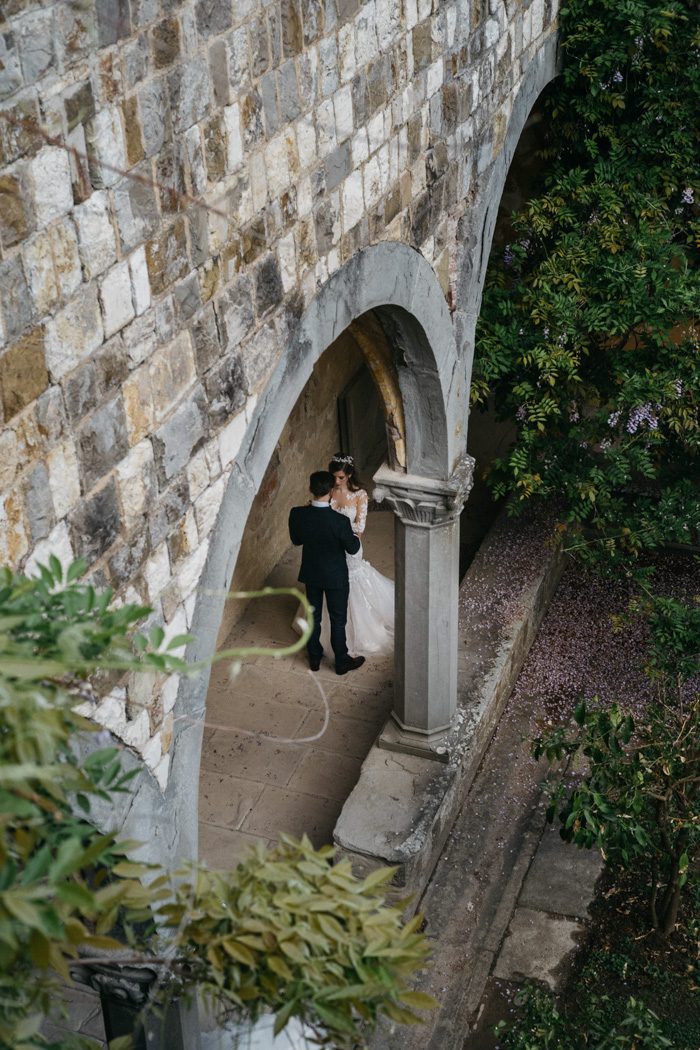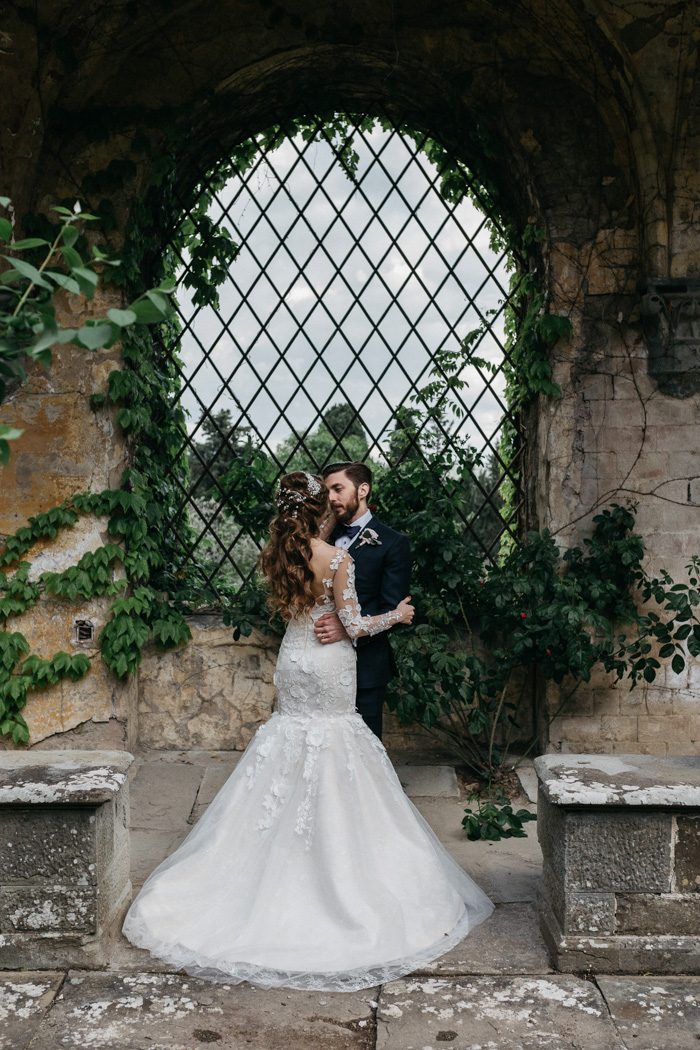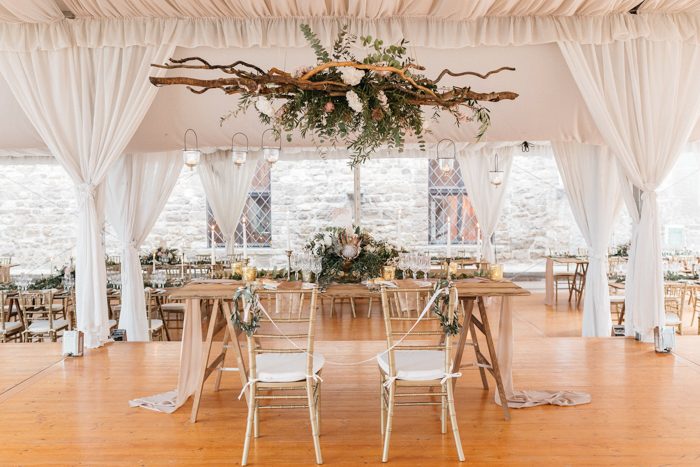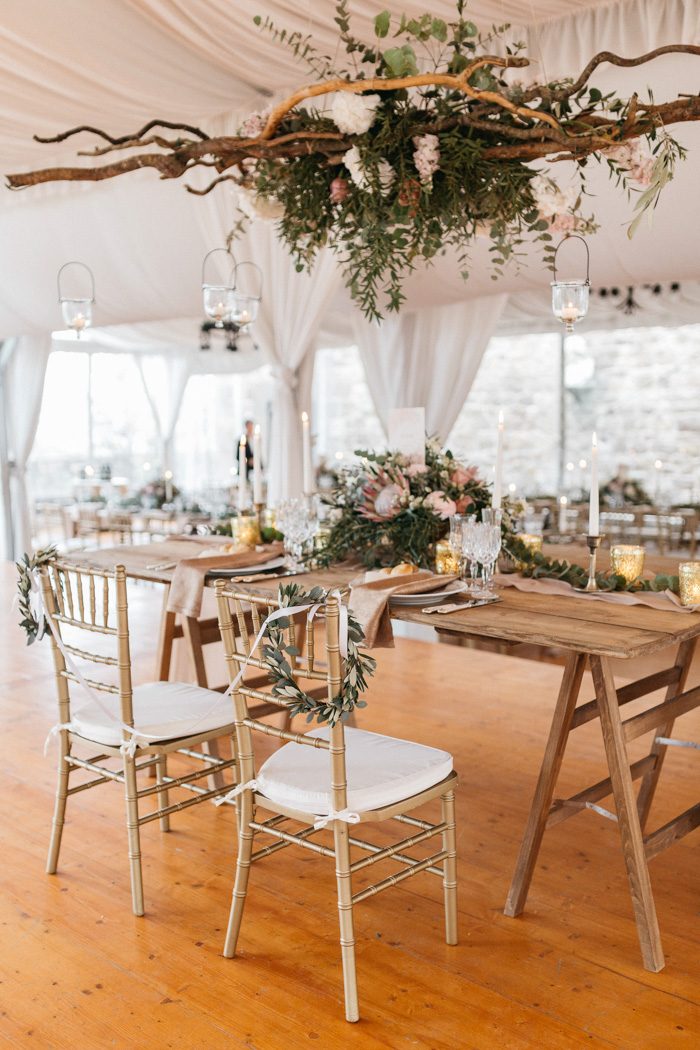 Start out with an idea of what sort of mood you want your special day to evoke. Understand that there will be compromises throughout the entire process, but remember that only you and your significant other will know of them. Communicate as much as possible with your significant other, and share every responsibility to make sure you are both on the same page. Lastly, think of small details you can incorporate — they are what make weddings, and any other special event, truly memorable.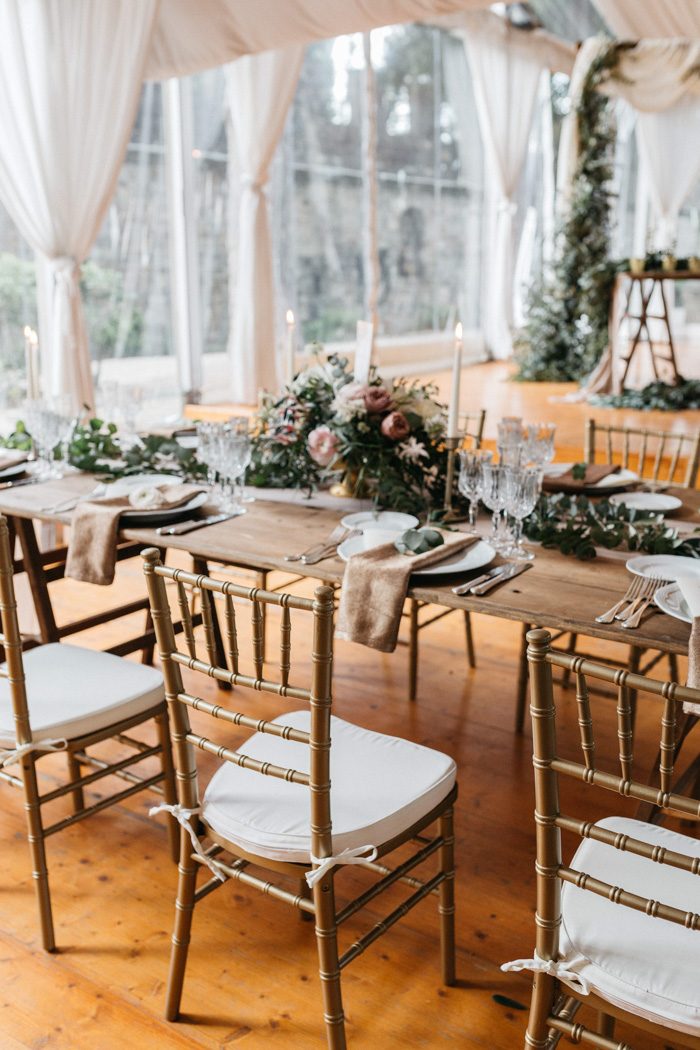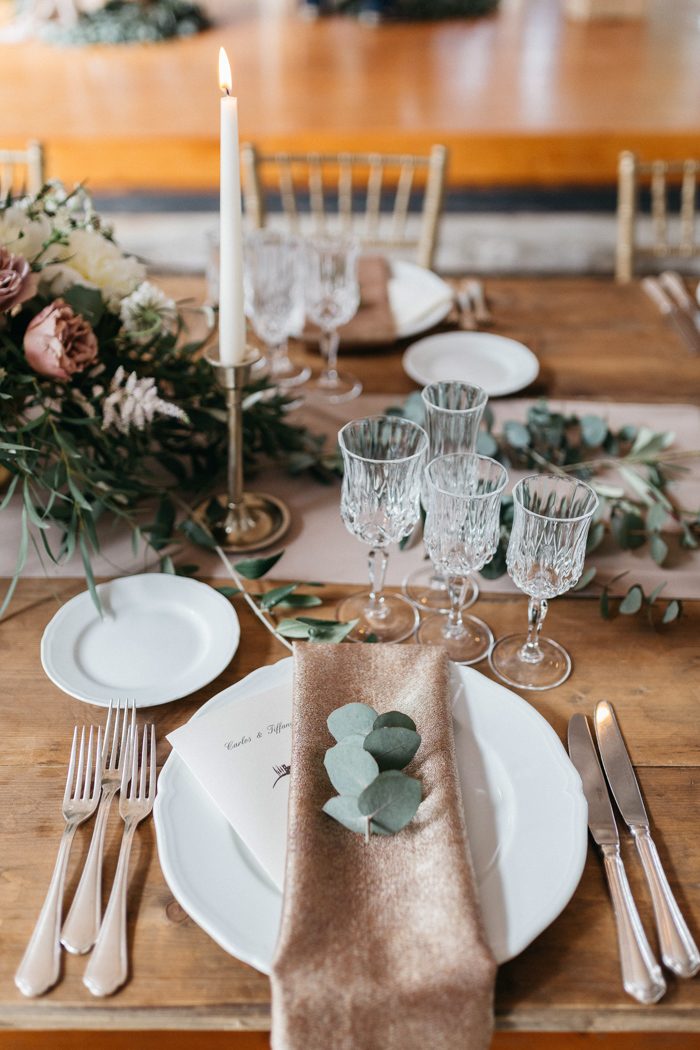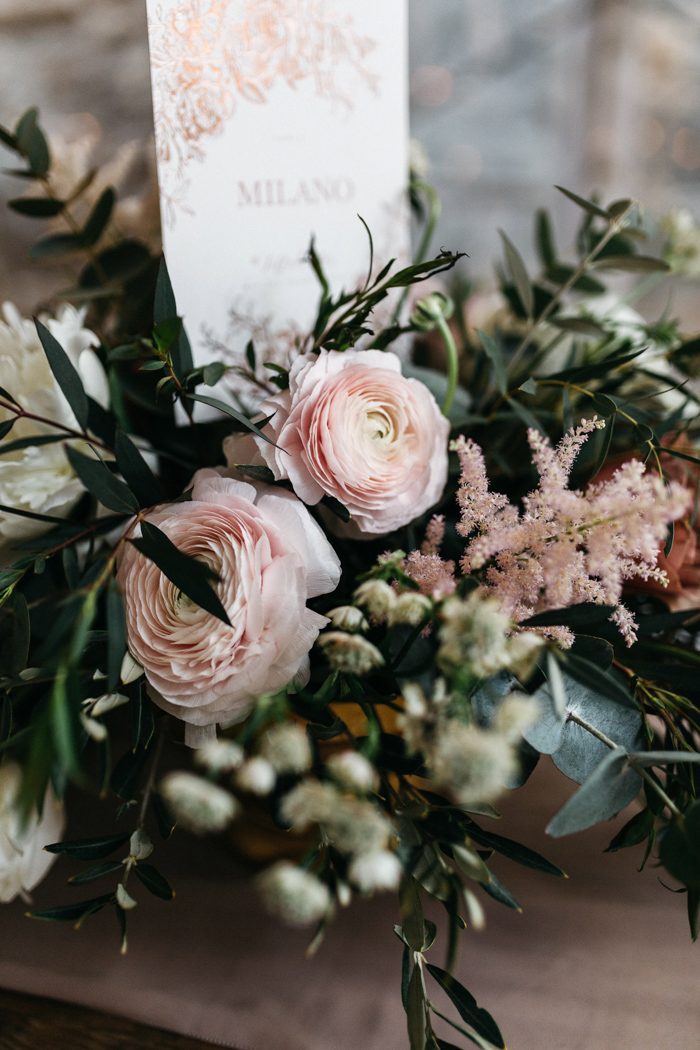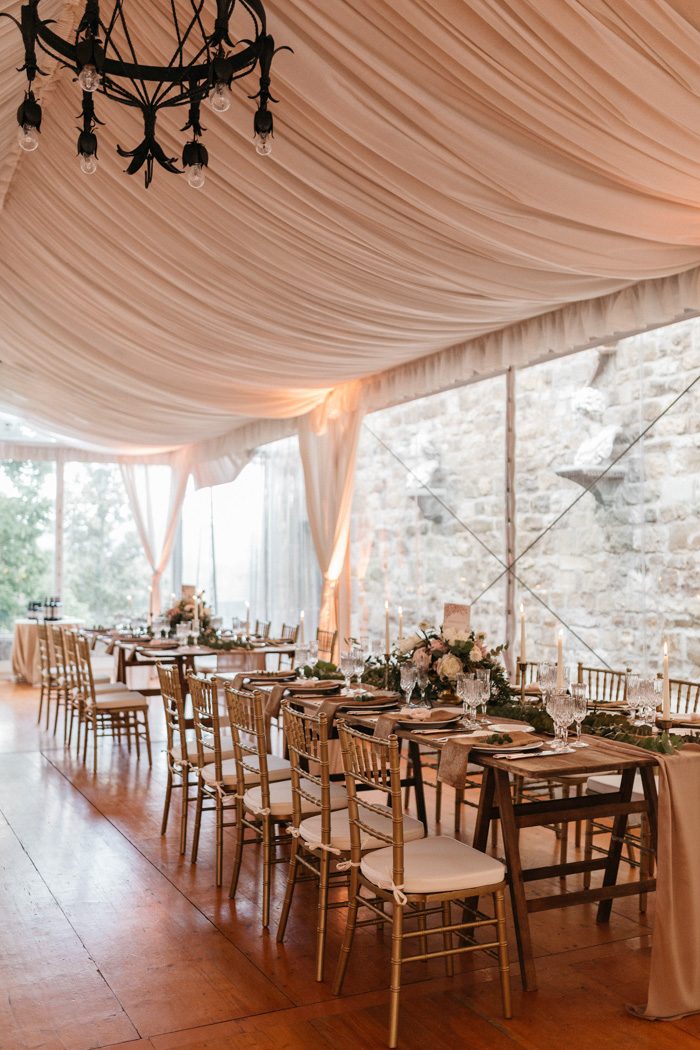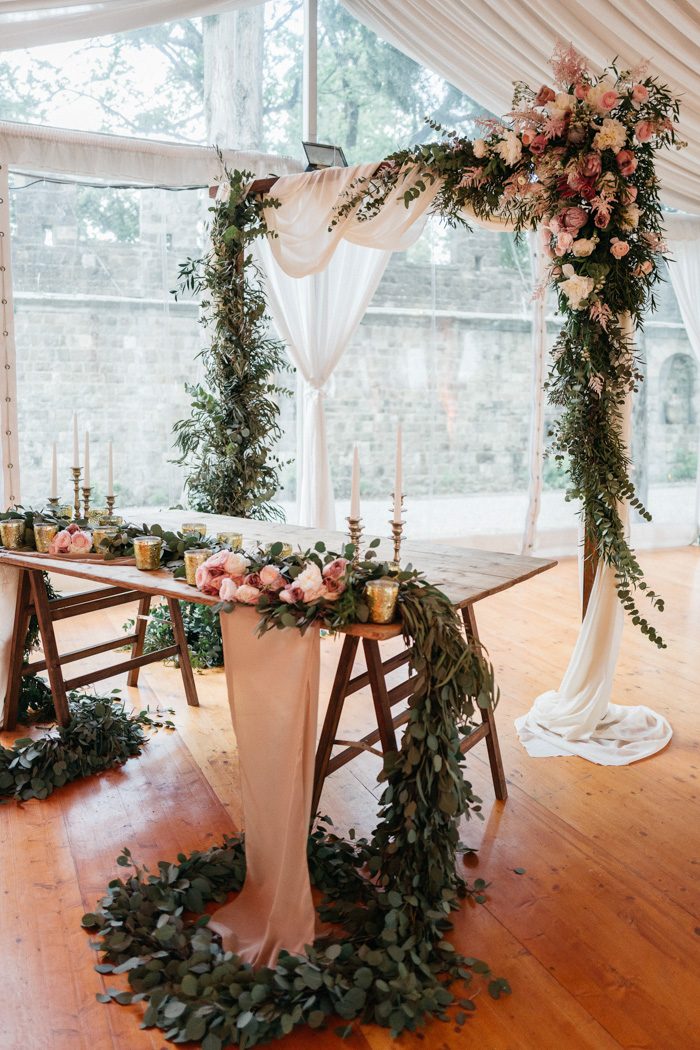 Carlos is a cocktail enthusiast and an Amaro collector, so for the end of the dinner meal, he made an Amaro from scratch (and later smuggled three litters of it to Italy in water bottles) to serve to our guests after dinner. The Amaro was a mix of our favorite flavors, including star anise, cardamom, and Szechuan peppercorn, among other things. He also created two signature cocktails to serve during the party, each of which incorporated ingredients that we love and represent our heritage: one showcased ouzo (a typical Greek liqueur), bergamot and mint, while the other featured Vin Santo (a typical Tuscan dessert wine), Mirto, and cognac.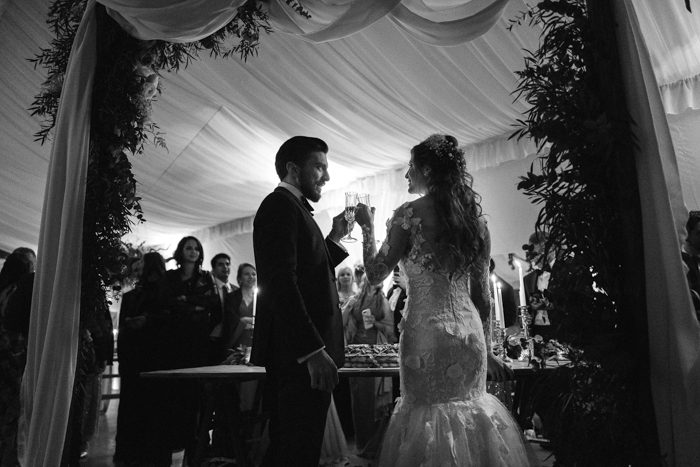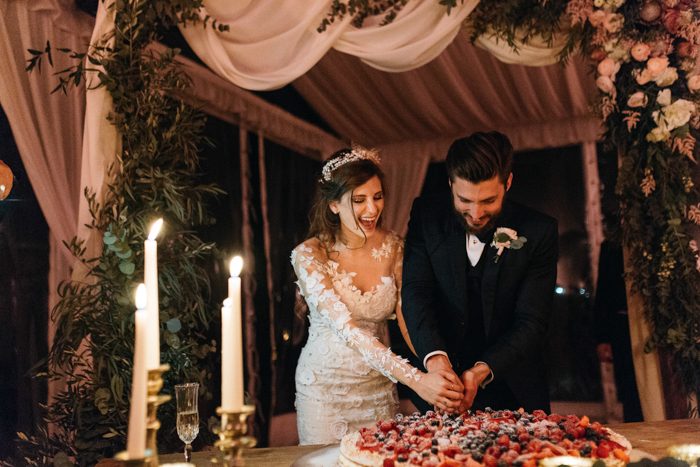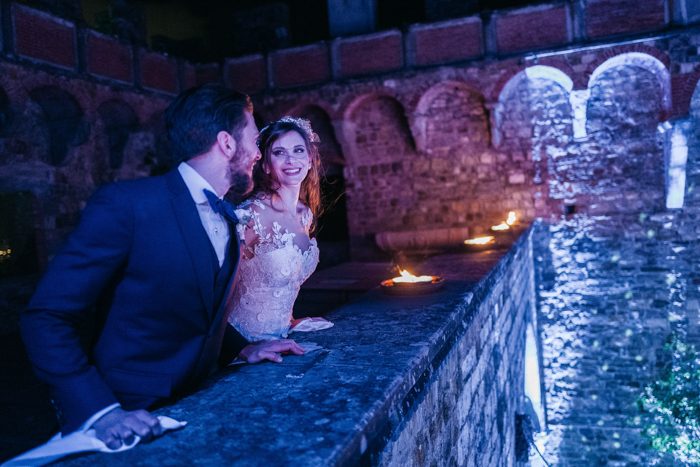 For our first dance, we decided to do a typical Greek dance. We were introduced by our master of ceremony and came walking down the castle's courtyard stairs, as a live Greek band played a traditional Greek song from the '70s. We had waiters pass out empty plates to all of our guests as they were watched us dance. Towards the end of the song, we each got one plate and with all the energy and adrenaline of the moment, raised them and smashed them into the floor. I will never forget the look on our guests faces when they realized they too could smash their plates. It was an incredible first dance!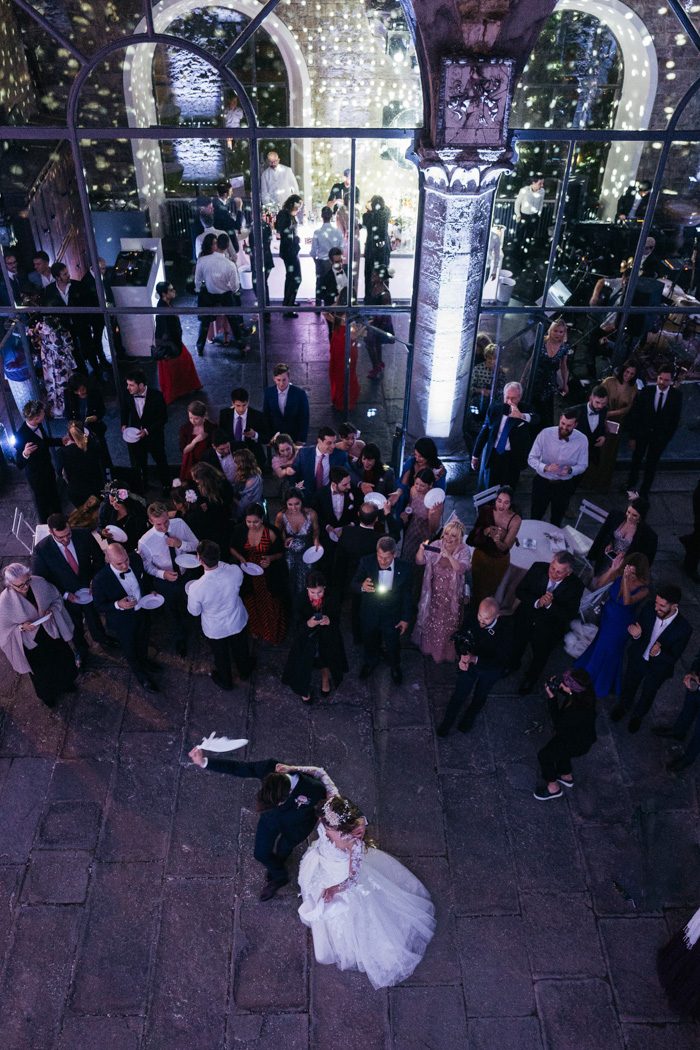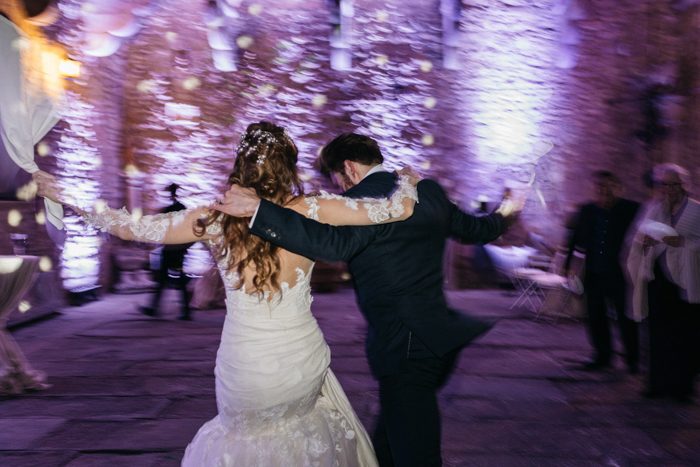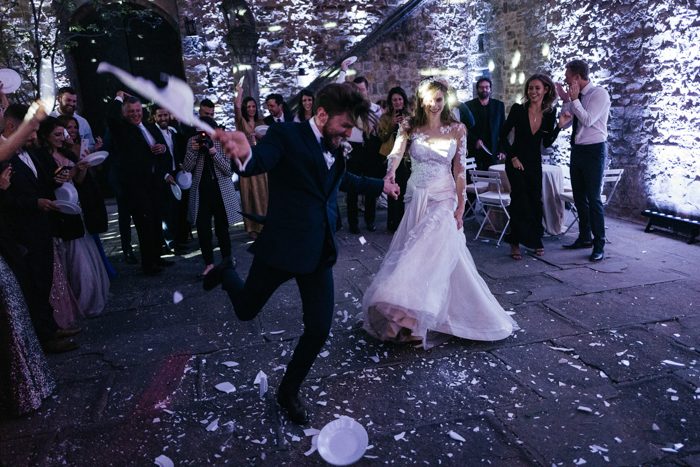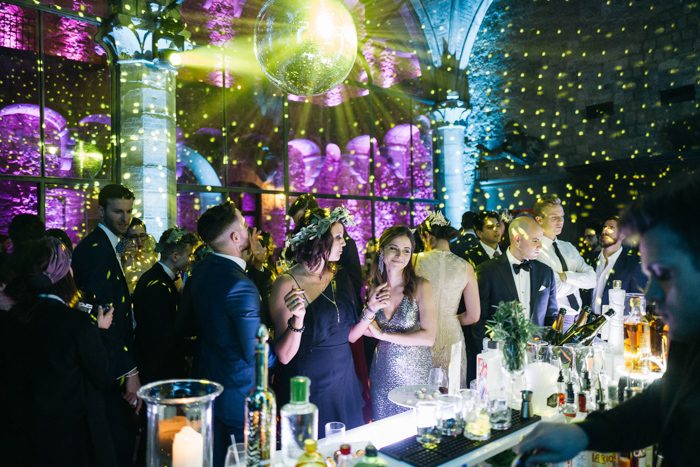 Congratulations to Tiffany and Carlos, and a special thanks to Stefano Santucci for sharing this fairytale wedding at Castello di Vincigliata with Junebug! Can't get enough dreamy castle wedding inspiration? You'll love this romantic Portuguese castle wedding at Pousada Castelo de Obidos!