I love a wedding that blends all of the history, traditions and passions that make a couple who they are, and Erica and Robert's LA wedding did just that! From honoring their Mexican, Persian and Jewish cultures to celebrating their love of Los Angeles and their spirit of environmental responsibility, they blended what makes them, them, into an event they'd never forget. Of course we have to shout out to all of their wedding team, and especially wedding planners Modern LA Weddings, the urban chic venue AT&T Center, and photographers extraordinaire Callaway Gable, who will be teaching at our upcoming Fashion Forward Wedding Photography Workshop in just a couple of weeks! If you're looking to learn how to shoot like this, don't miss it! It's going to be a truly extraordinary 2 day event. www.junebugworkshops.com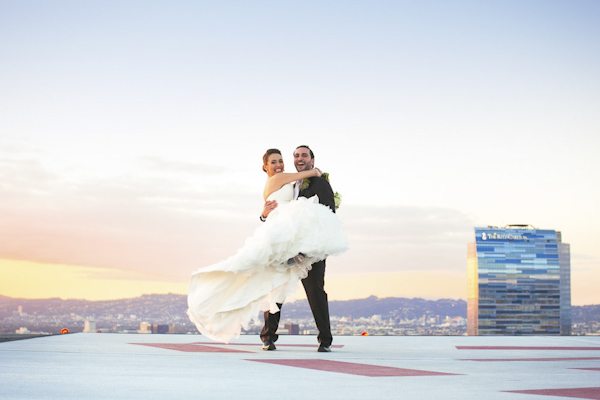 The Couple: Erica and Robert
The Wedding: 2.9.13 – AT&T Center, Los Angeles, California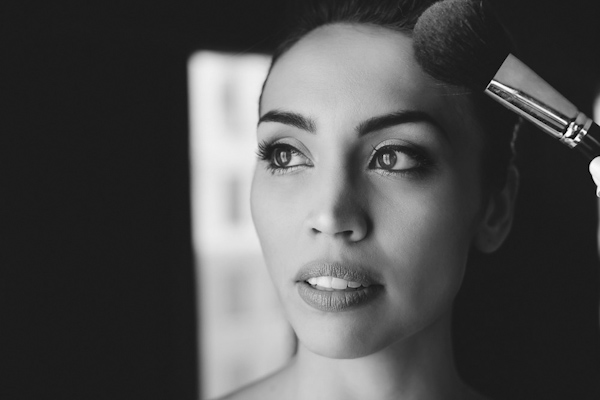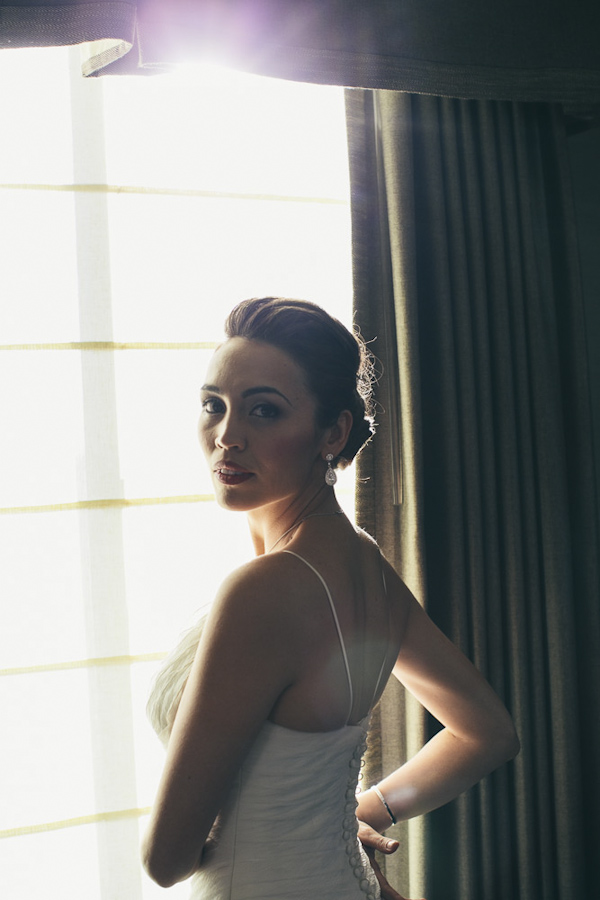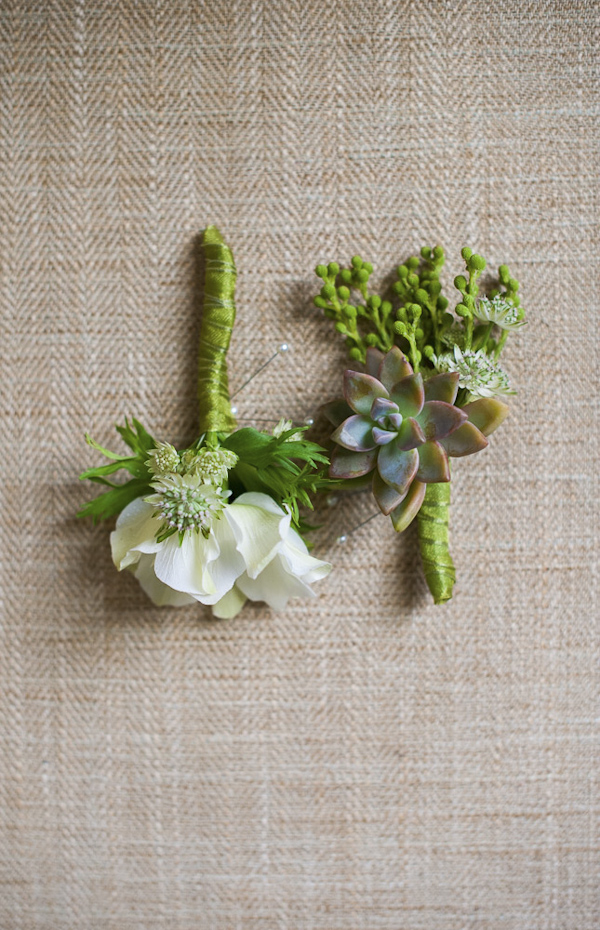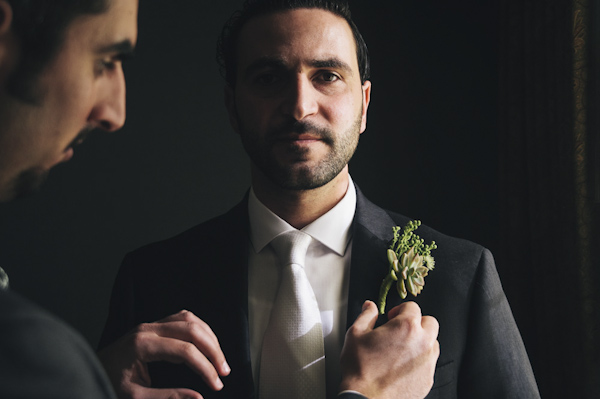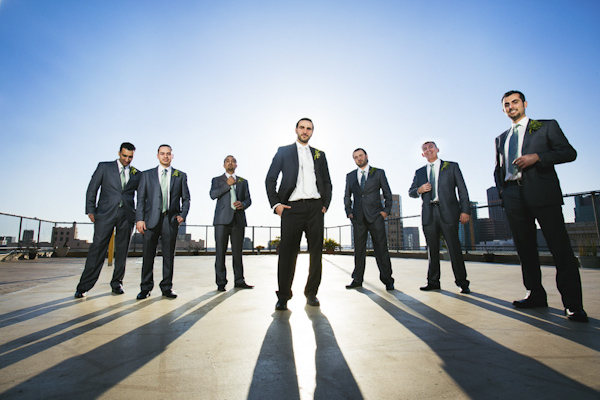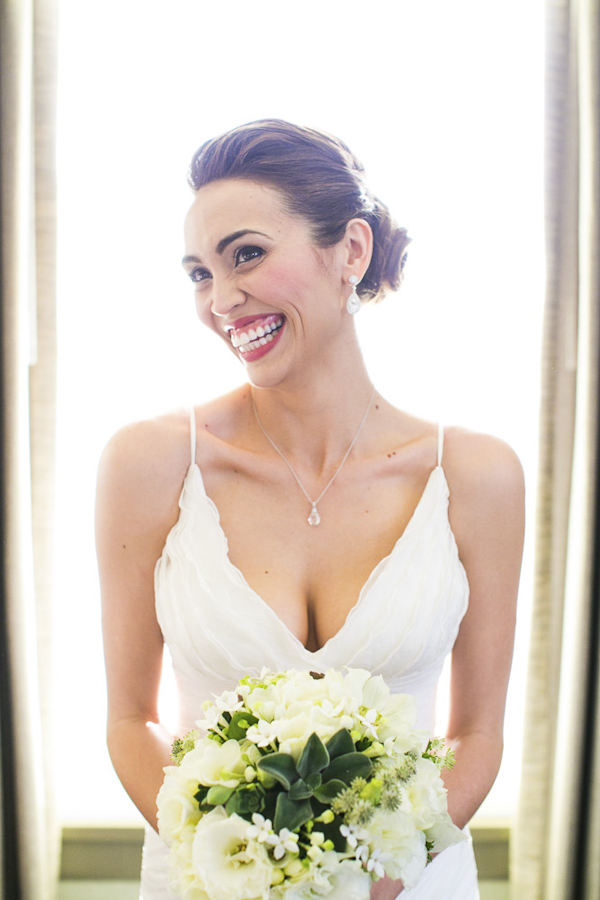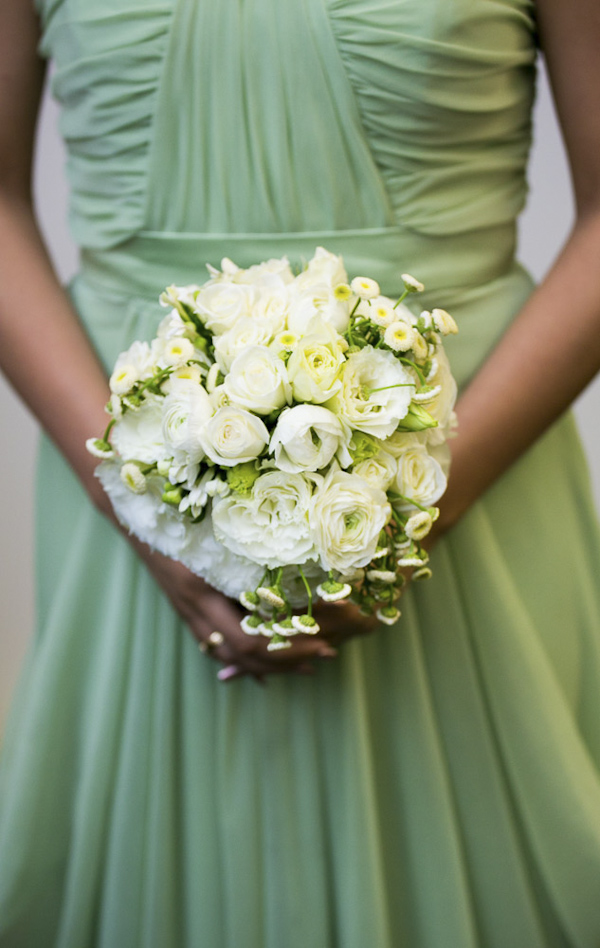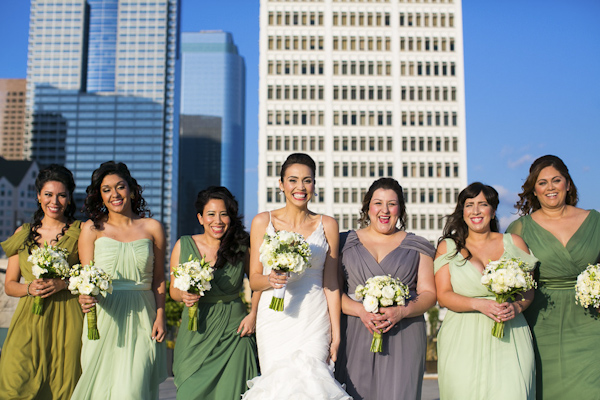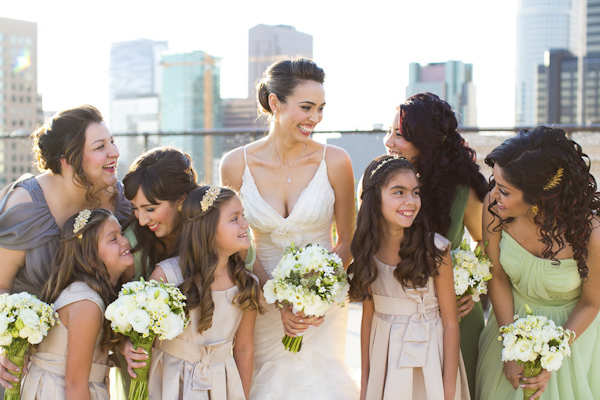 The Goals: We wanted it to feel like the perfect combo of both of our sensibilities and cultural backgrounds. We were both born and raised in LA but Robert is Persian, I'm Mexican and we had a Jewish wedding so there was a big melting pot coming together. On top of all that, it was important that the wedding be as planet friendly as possible and that everyone have an awesome time! We wanted every part of the wedding to be an experience for all of our guests. This meant the ceremony was intimate, the view was breathtaking, the food was a full out Persian feast and of course the drinks were flowing all night.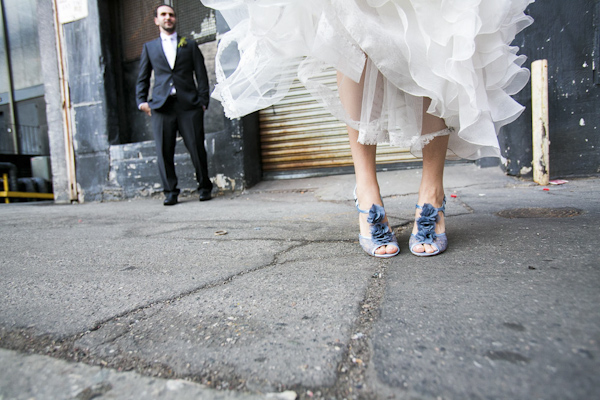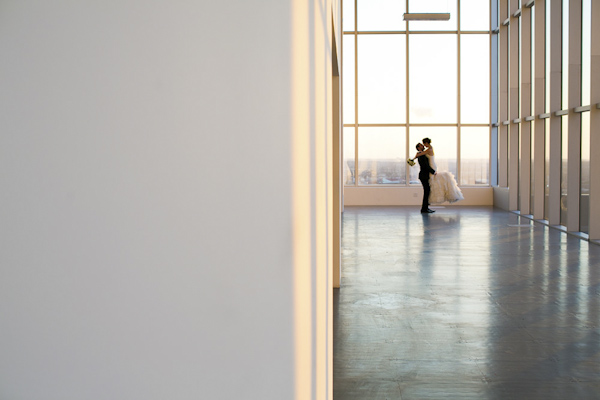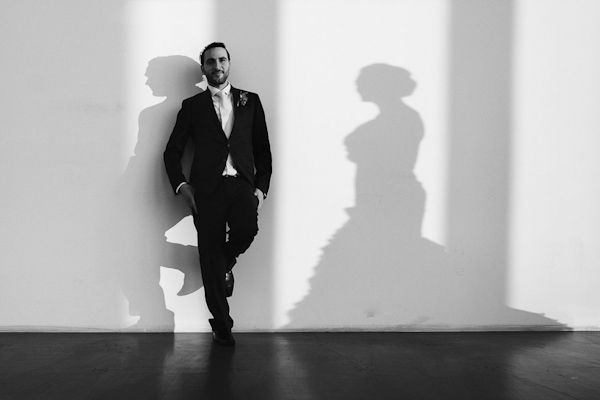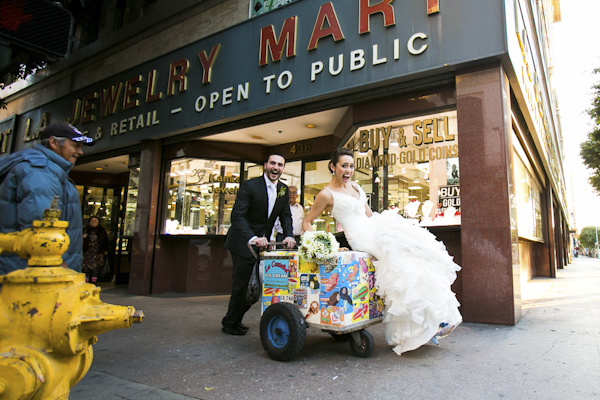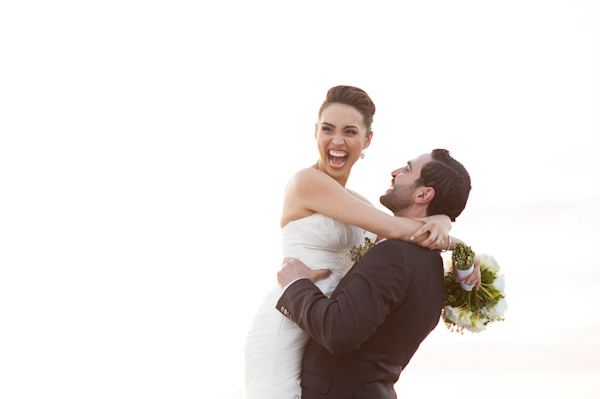 The Design: Our goal was eco-urban. We wanted to capture the LA spirit but with an environmental twist. We found the perfect venue at AT&T center which is in the heart of Downtown LA, is LEED certified and has a killer view of the LA skyline. We worked with our awesome wedding planner to make sure the rest of the components of our wedding were eco-conscious. This translated into paper flowers for all of our ceremony decor (to be recycled or re-purposed later), all of our invites and programs were printed on 100% recycled paper, long lasting succulents were used for our centerpieces (some of our guests have them planted in their garden now!) and we opted to skip the things we felt weren't absolutely necessary, like party favors.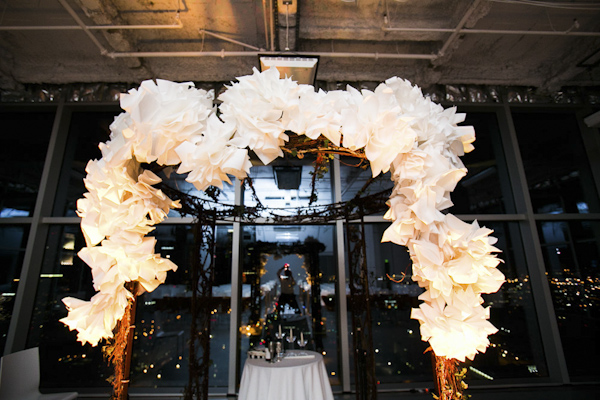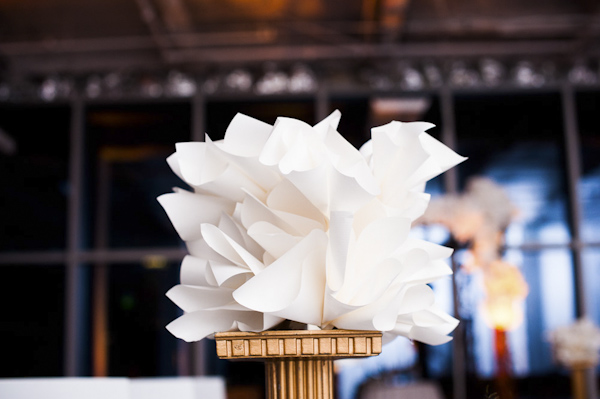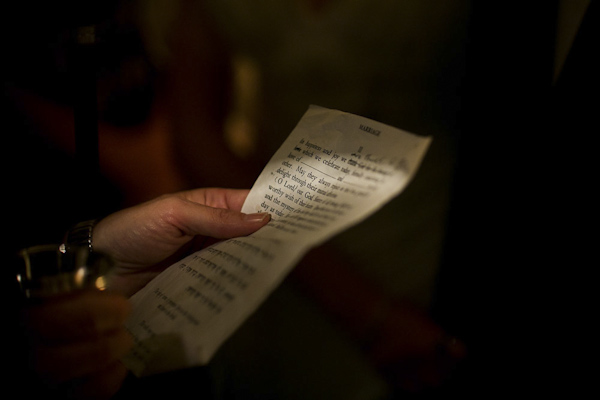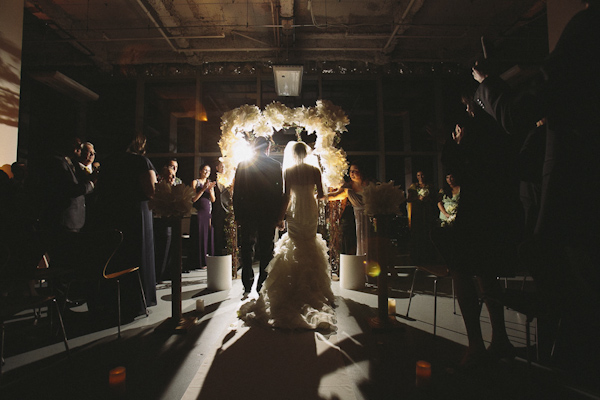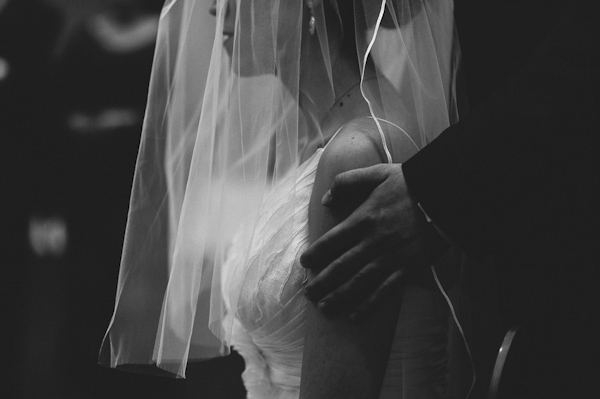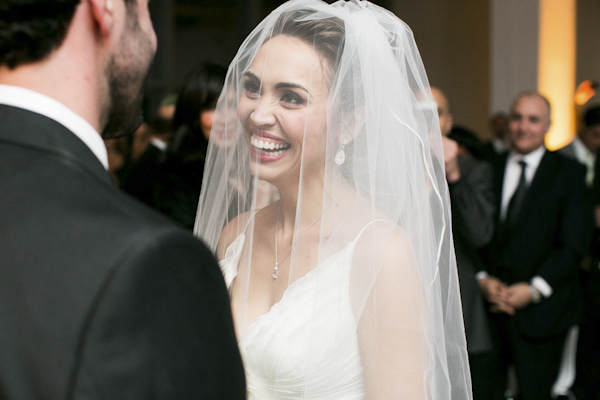 The Look: I just wanted people to feel beautiful and comfortable. I loved that my dress hugged my body but didn't feel like a suit of armor. My shoes were an ode to "something blue" but more importantly the heels were less than two inches; a definite must when you want to be dancing all night, which I did! The bridesmaid dresses were all different shades of green to match our eco theme.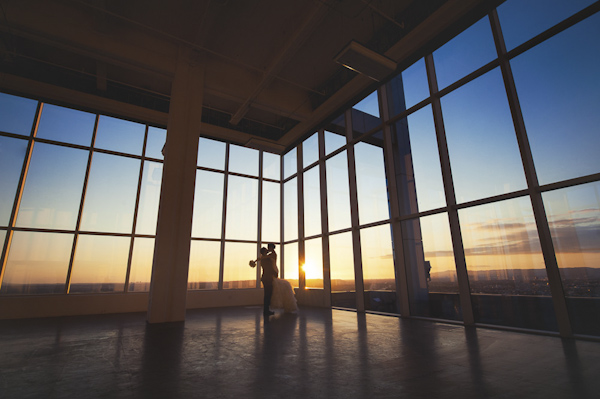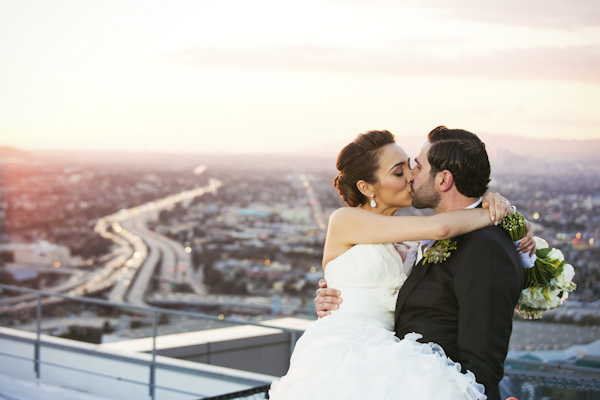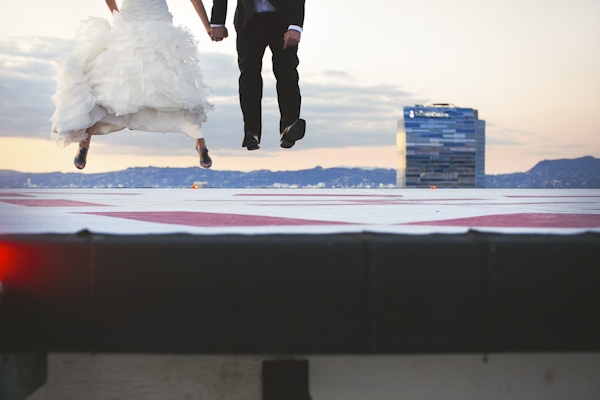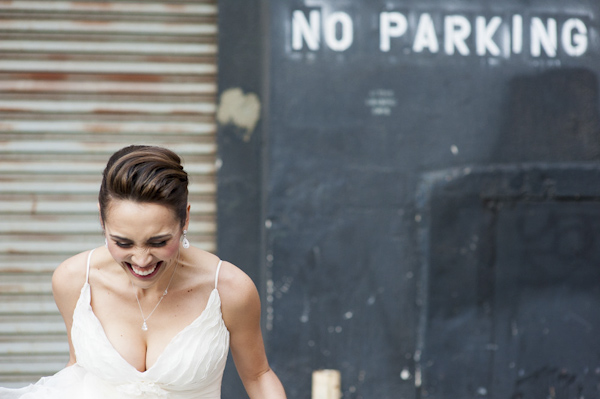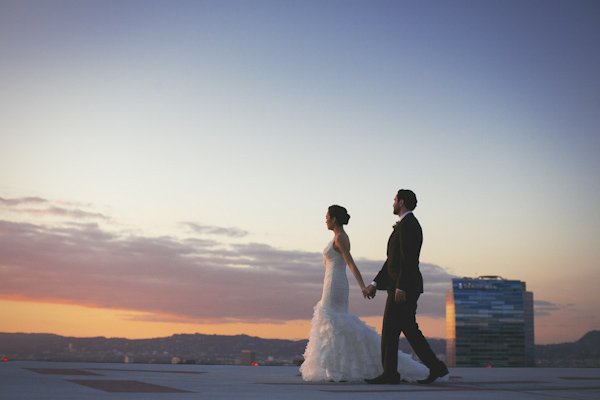 The Moments: To be honest, it wasn't so much about a moment as it was the entire experience. Every single moment felt special because we knew it was part of our wedding day. From the most mundane (e.g. I'm brushing my teeth on my wedding day!) to the most profound (e.g. reciting our surprise "what I love about you" during our ceremony) every single moment was special because it was happening on the day that we were getting married.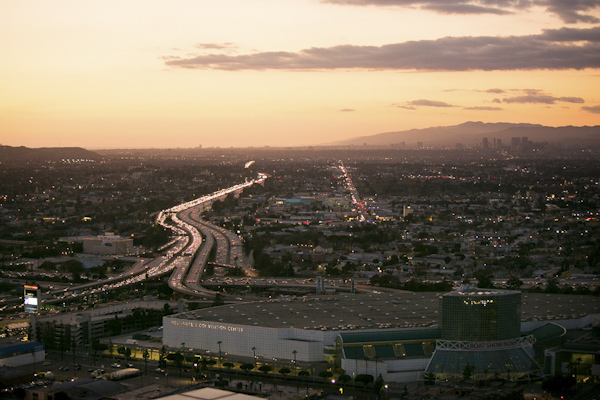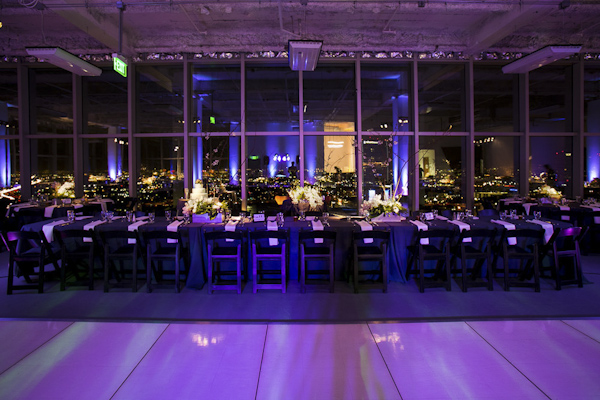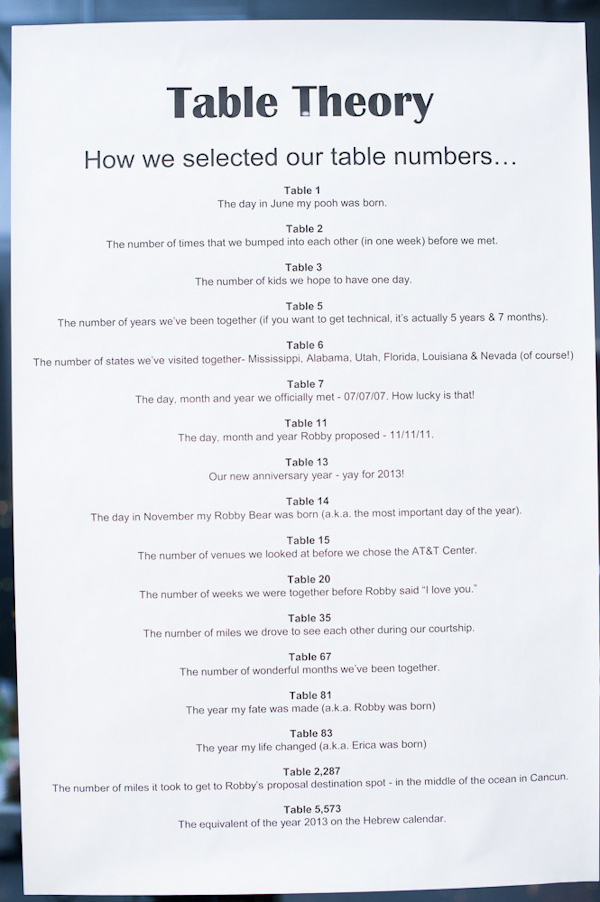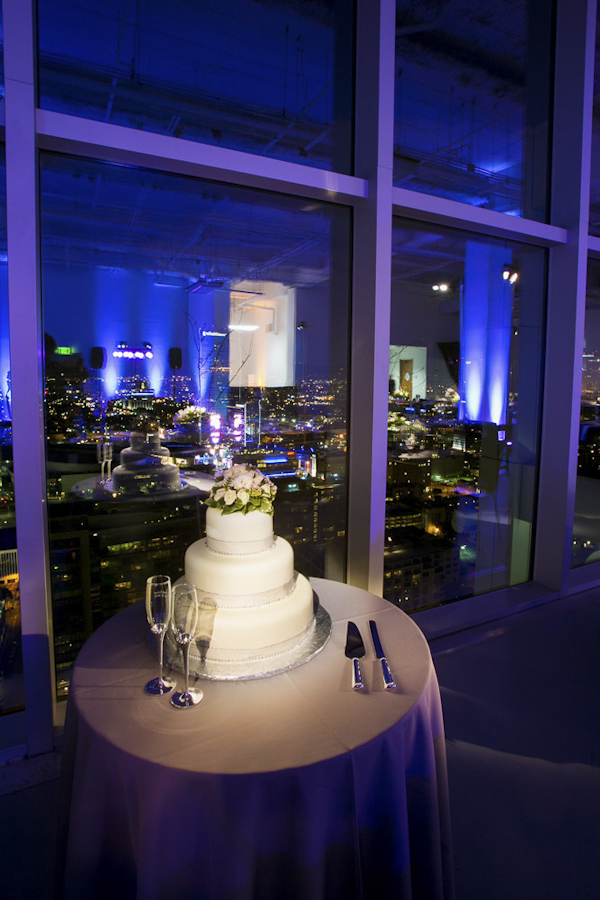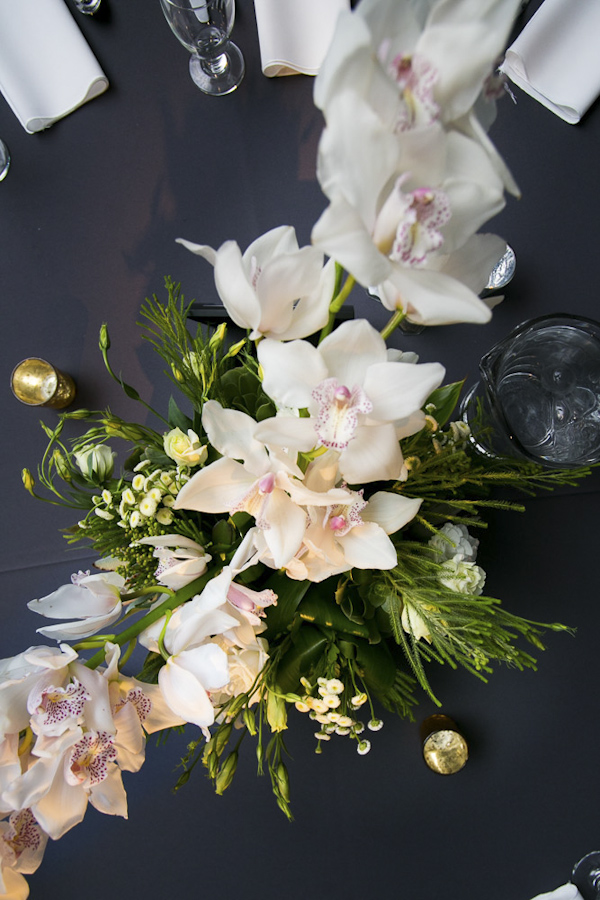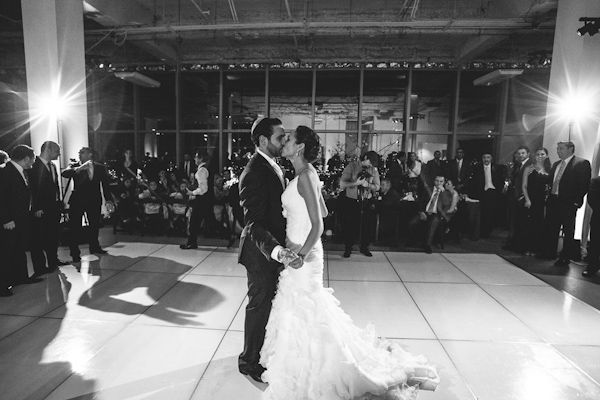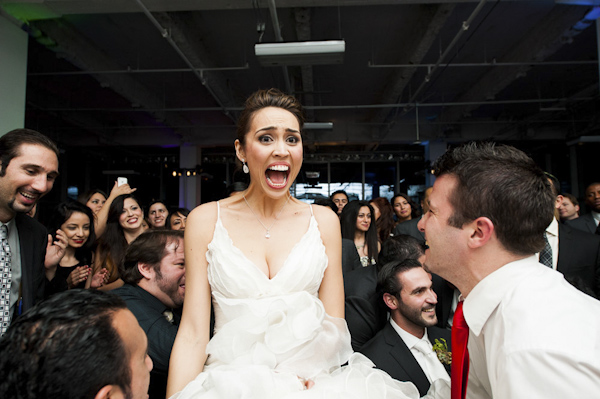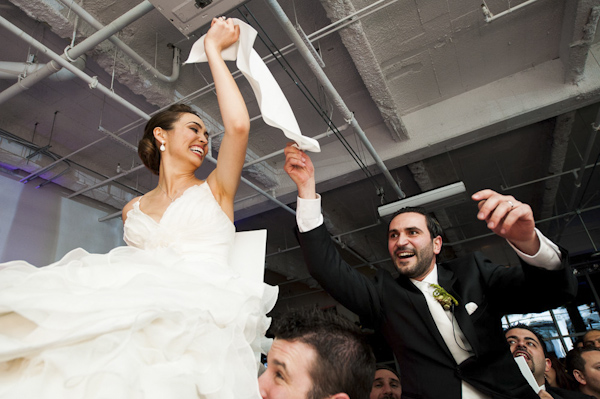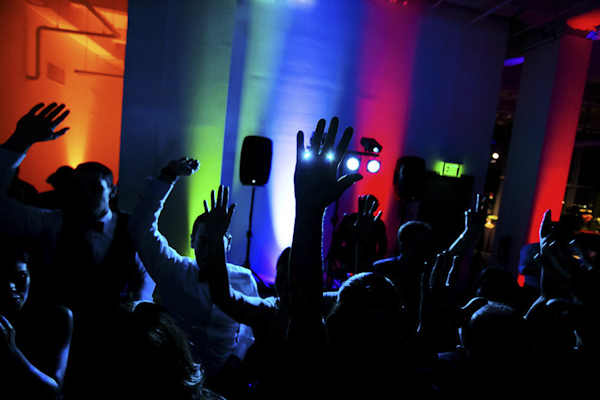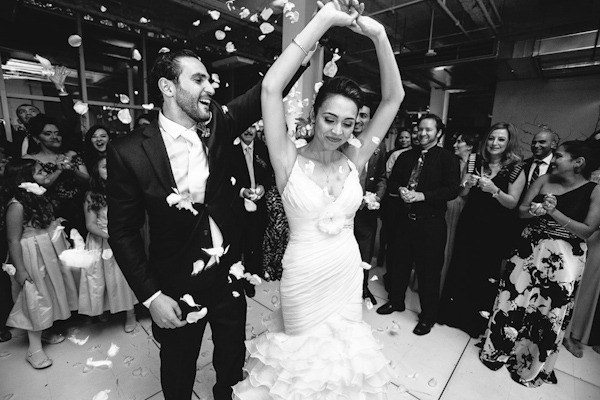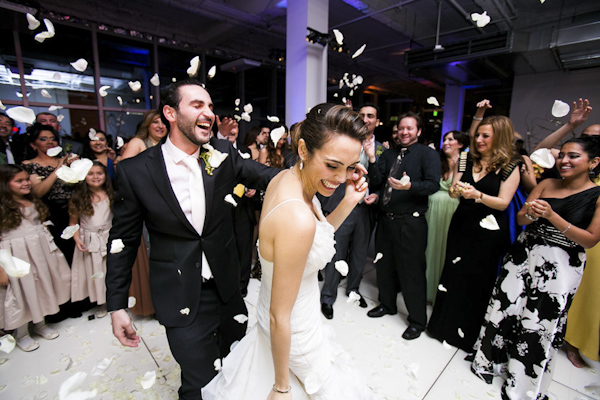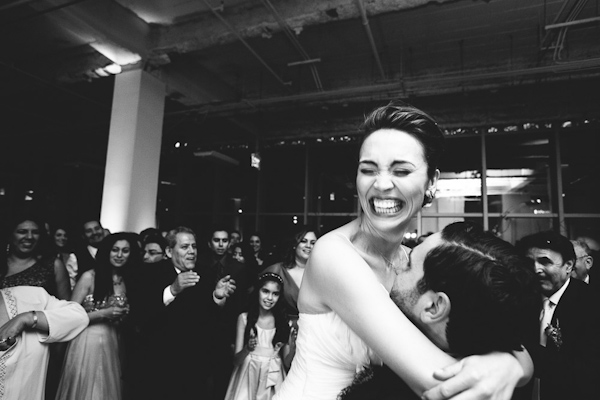 The Advice: Treat your wedding day like what it is. It's a day that marks a new chapter in your life. It's not a fairytale, it's not a perfect day…it's an experience. Henry David Thoreau once said "It's not what you look at that matters, it's what you see." This applies to life as much as it applies to your wedding day. If you want to have a good time you're going to have a good time no matter what happens (a family member actually fainted at the altar right in the middle of our ceremony) and if you want to nit pick and complain about how things are not going the way you want them to go then you're going to spend the whole day nit picking. You have the power to choose how your wedding day turns out. Make the choice to have a wonderful, fabulous day and treat everything that happens as an experience. That's what we did and boy did we have a blast!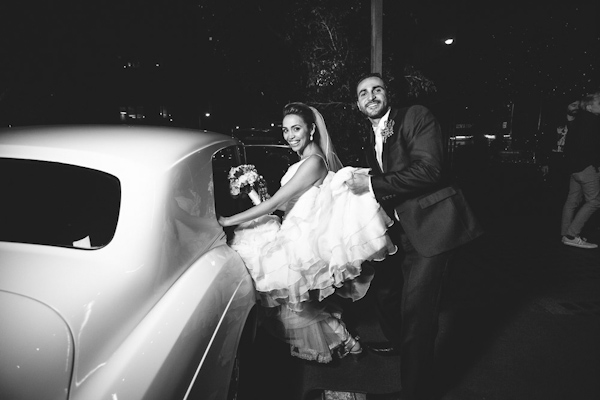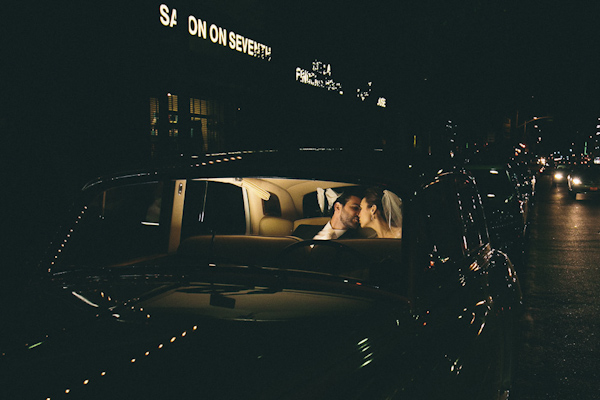 The Wedding Team:
Photographer: Callaway Gable
Event Planner: Modern LA Weddings
Ceremony & Reception Venue: AT&T Center
Videographer/Film Maker: Stereo Waltz Films
Officiant: Rabbi Neal Weinberg
Catering: Sason Catering
Florist: James Underwood Designs
Cake: Hansen's Beverly Hills
Wedding Dress: Pronovias
Bridal Accessories: Shoes – Seychelles, Earrings – Nadri
Bridesmaids' Apparel & Accessories: Lela Rose, Vintage hair clips from Etsy
Hair & Makeup: Yana Beauty Studios
Live Music: Hey Mr DJ and Bella Femme Mariachi
Lighting: OC Audio Visual Solutions
Rentals: Dolphin Party Rentals
Thank you Erica and Robert! What a celebration!