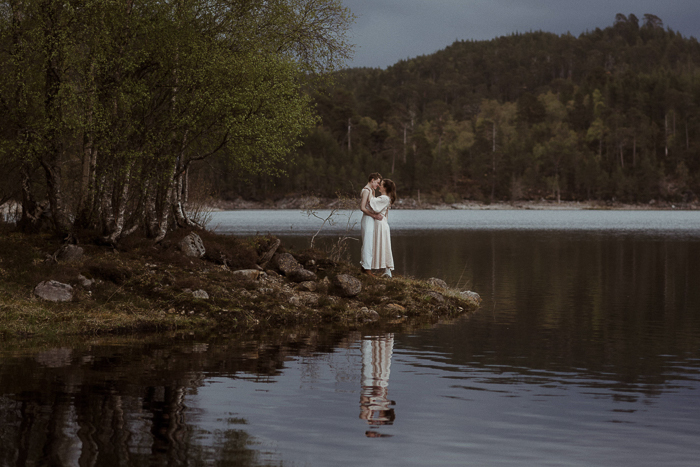 A lakeside ceremony, portraits in the mountains of Scotland, and a post "I do" swim–what more could you ask for in an adventure elopement? After visiting the loch in Glen Affric a couple of years prior, Emily and Alba decided on a mini-mony once COVID-19 hit. Despite being a small, simple celebration, the day was full of raw emotion and a whole lot of love.
Photographer and Junebug member The Caryls did an incredible job capturing every intimate moment between the two newlyweds. So much so that we're currently packing our bags and scoping out flights to our next romantic adventures. If you're looking for a guide on how to ditch the big wedding and opt for something a bit more venturesome, keep scrolling!
The Couple:
Emily and Alba
The Wedding:
Glen Affric, Scotland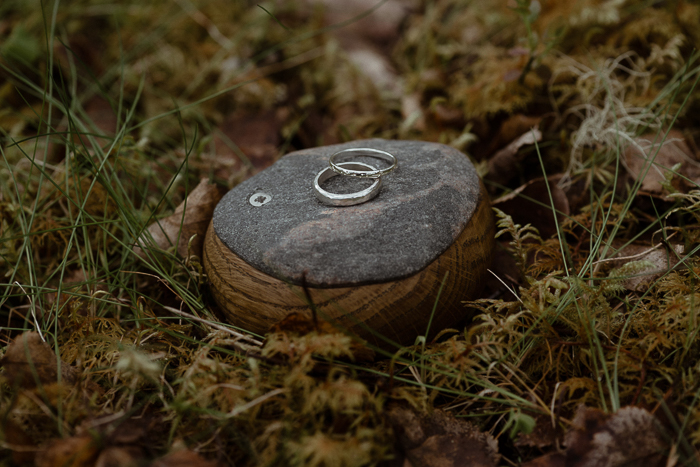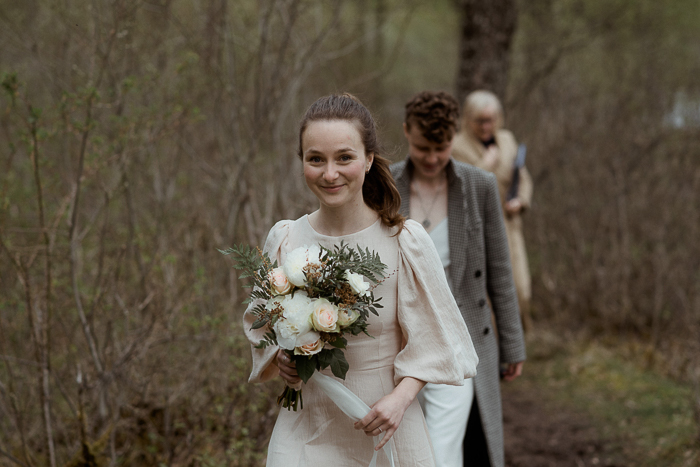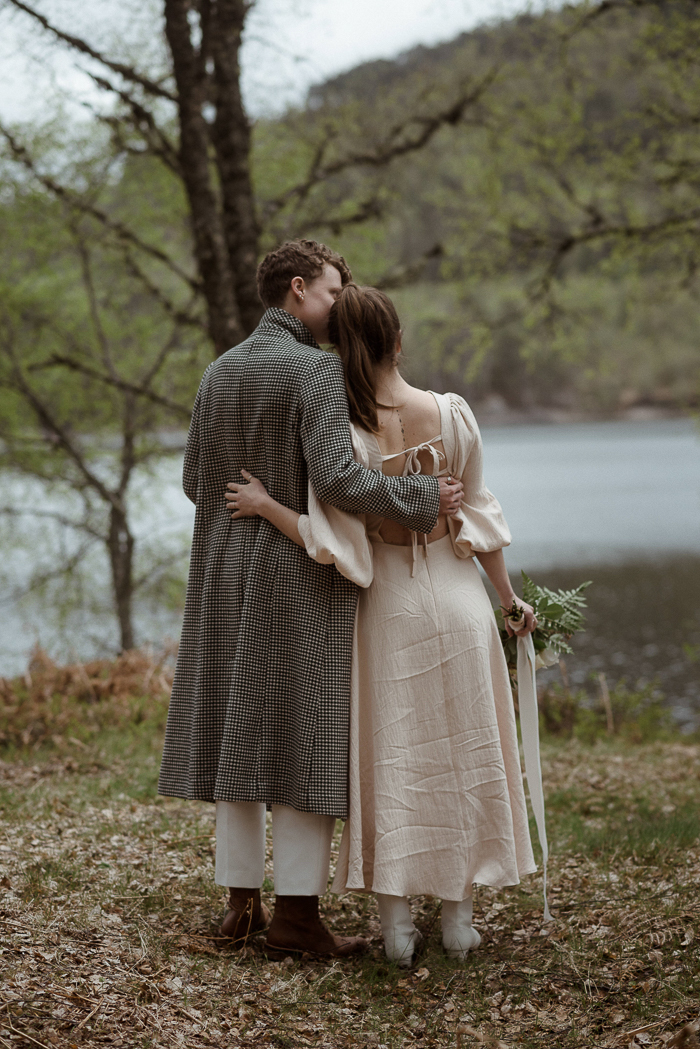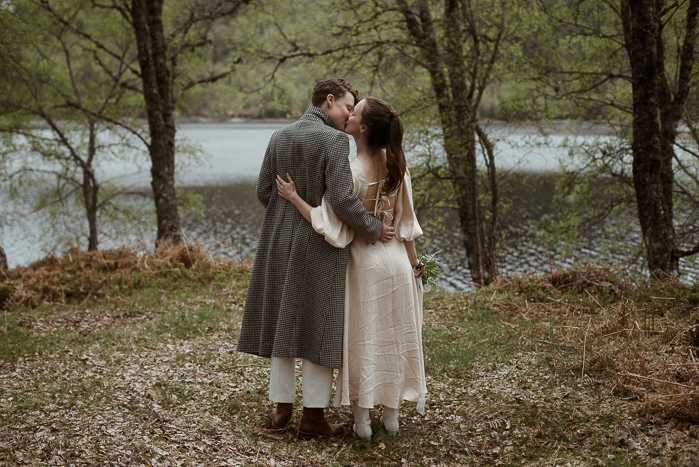 Why A Glen Affric Elopement
We wanted our wedding to be a natural and joyful day where we felt like ourselves and were a part of the beautiful and dramatic landscape around us. Aesthetically, we created our looks to fit with the nature around us, the stunning colors and textures of Glen Affric, and this particular loch–the water, the trees, the mosses, the mountains, and the weather!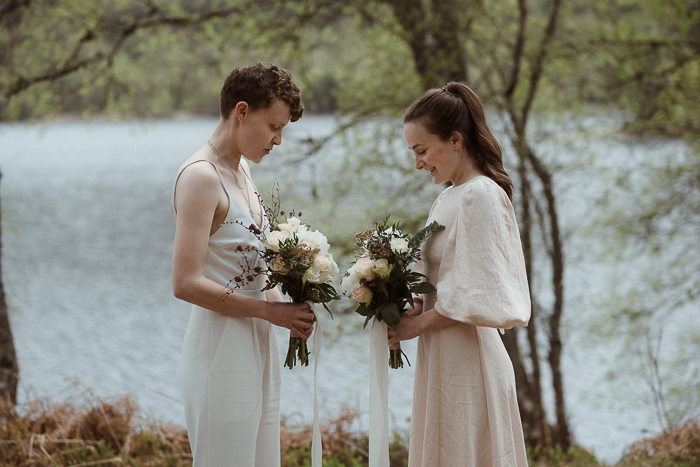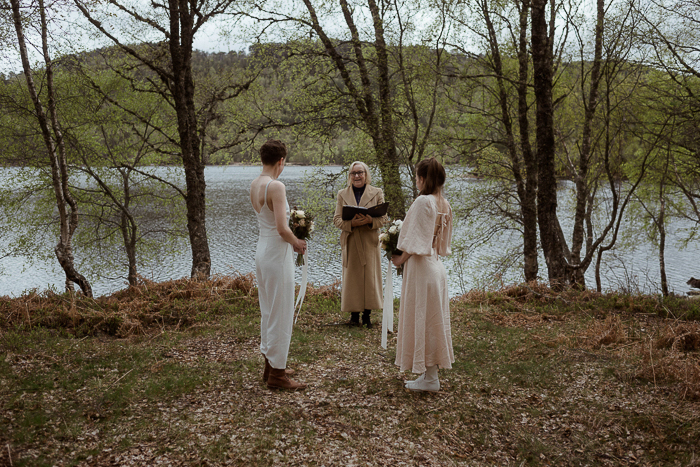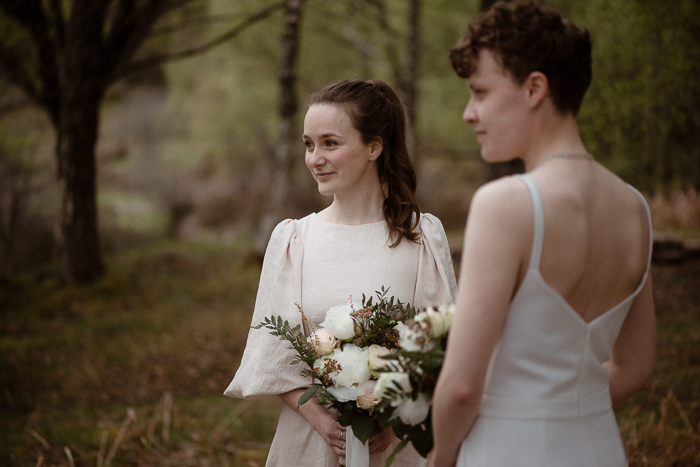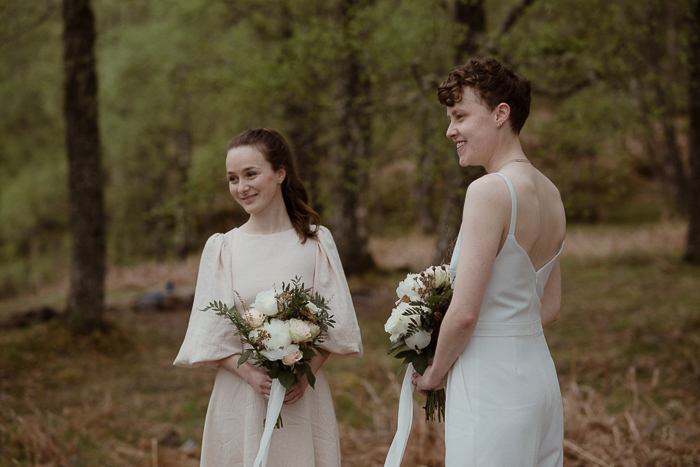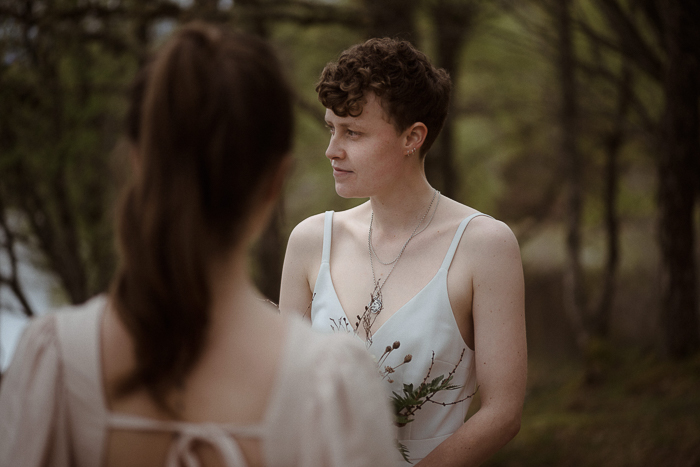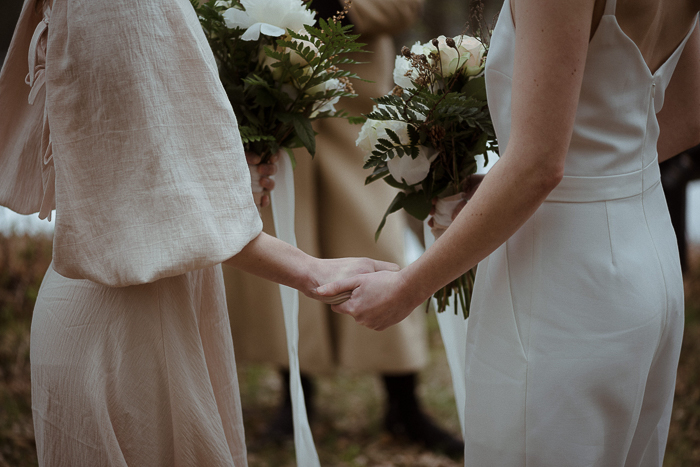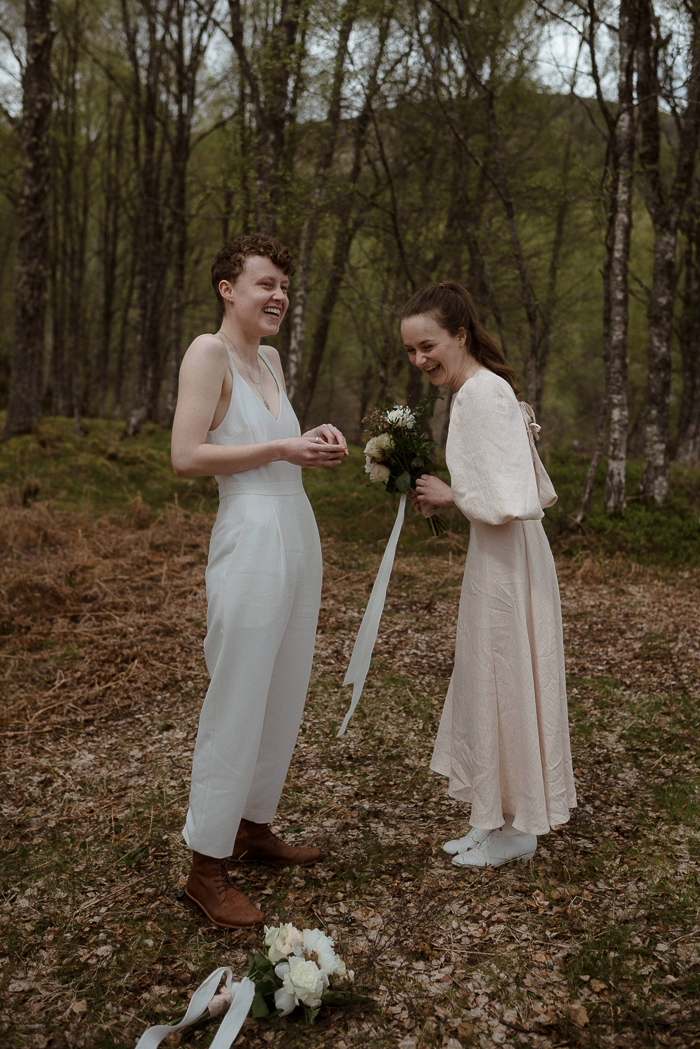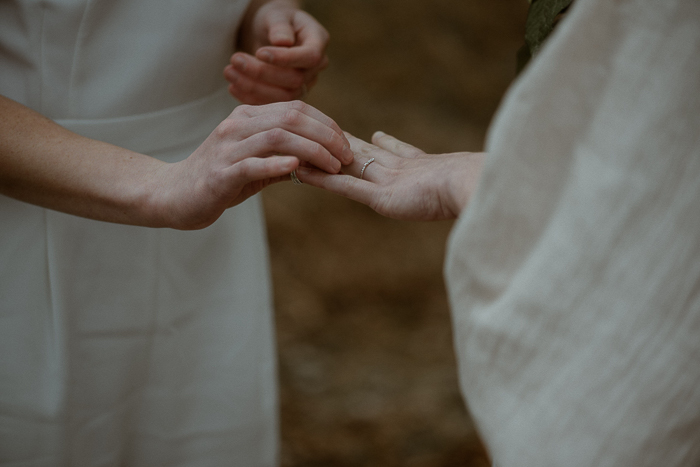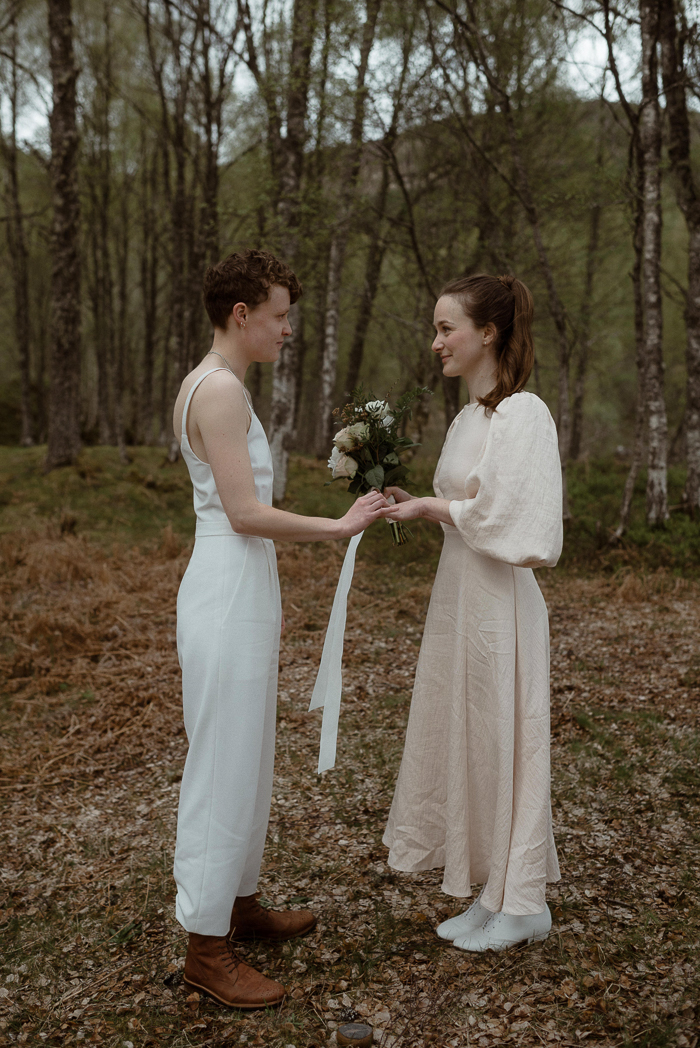 DIY Bouquets By Emily
Emily loves doing flowers, so it seemed natural that she made our wedding bouquets herself. We collected branches and greenery on a walk the day before and purchased peonies and roses locally. She combined these with our garden's flowers and seed heads and bound the bouquets in the pink linen offcuts from her dress and long velvet ribbons. Sitting in the garden creating the bouquets the night before the wedding was very peaceful and calmed any final wedding nerves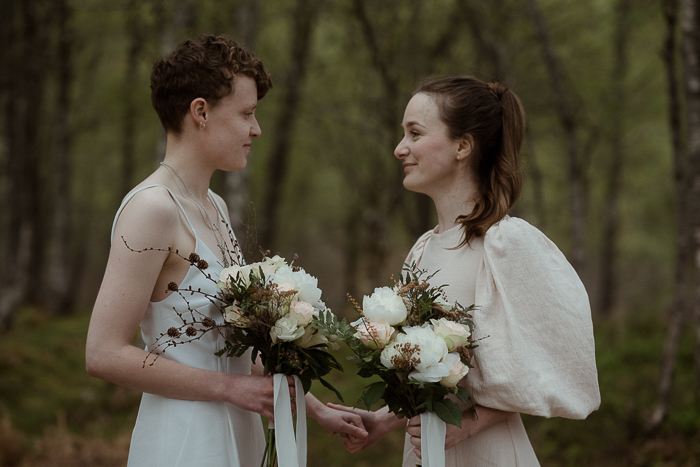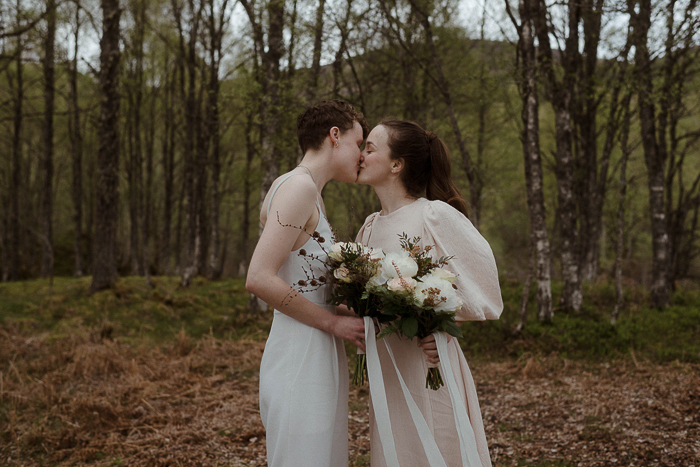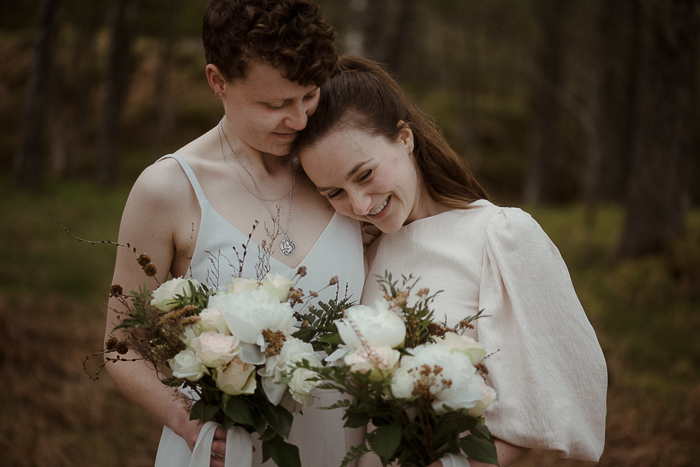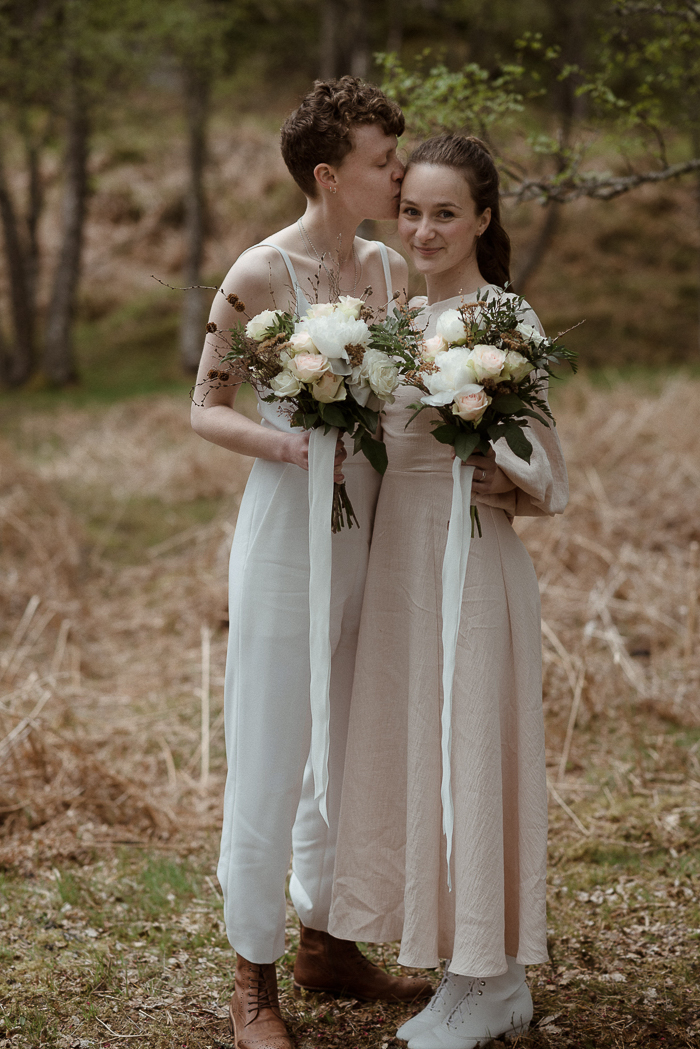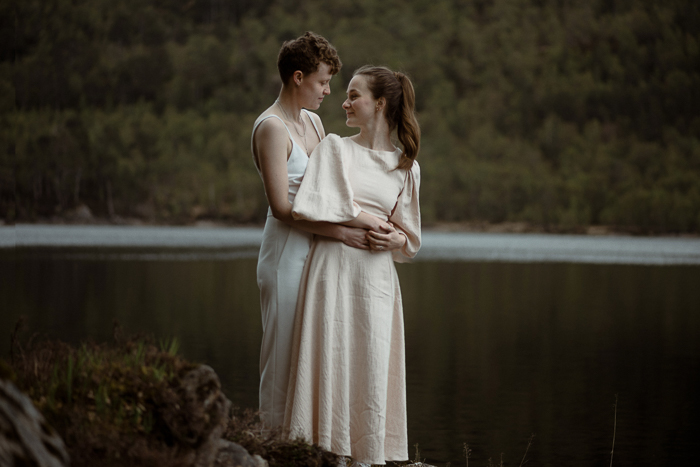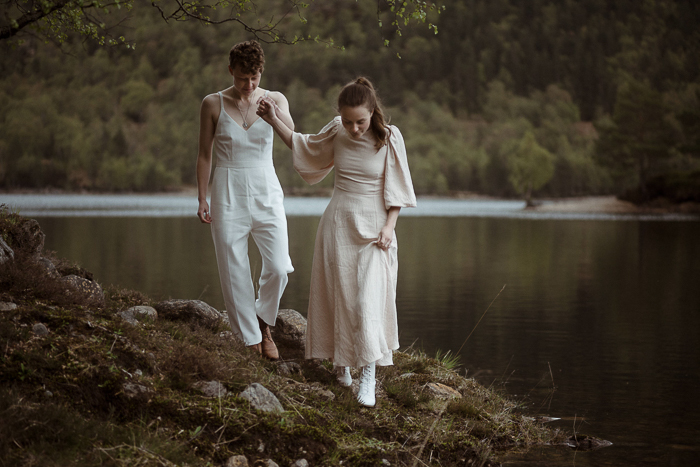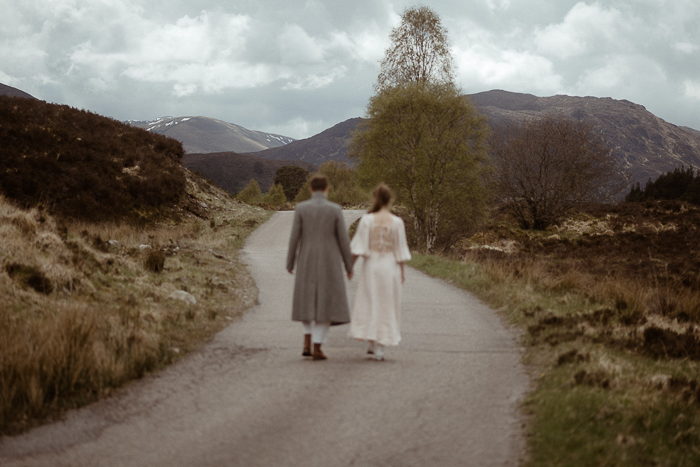 Choosing Scotland For Their Special Day
In Scotland, you have the freedom to get married anywhere outside and are not limited to registered venues which means we could choose a place close to our hearts and our love of the outdoors. We found and fell in love with this loch in Glen Affric a couple of years before and spent hours there swimming and exploring. It felt like the perfect place and reflected us as a couple so beautifully.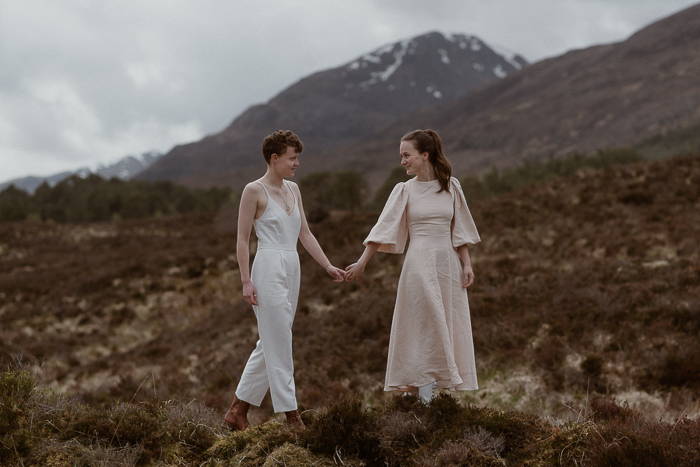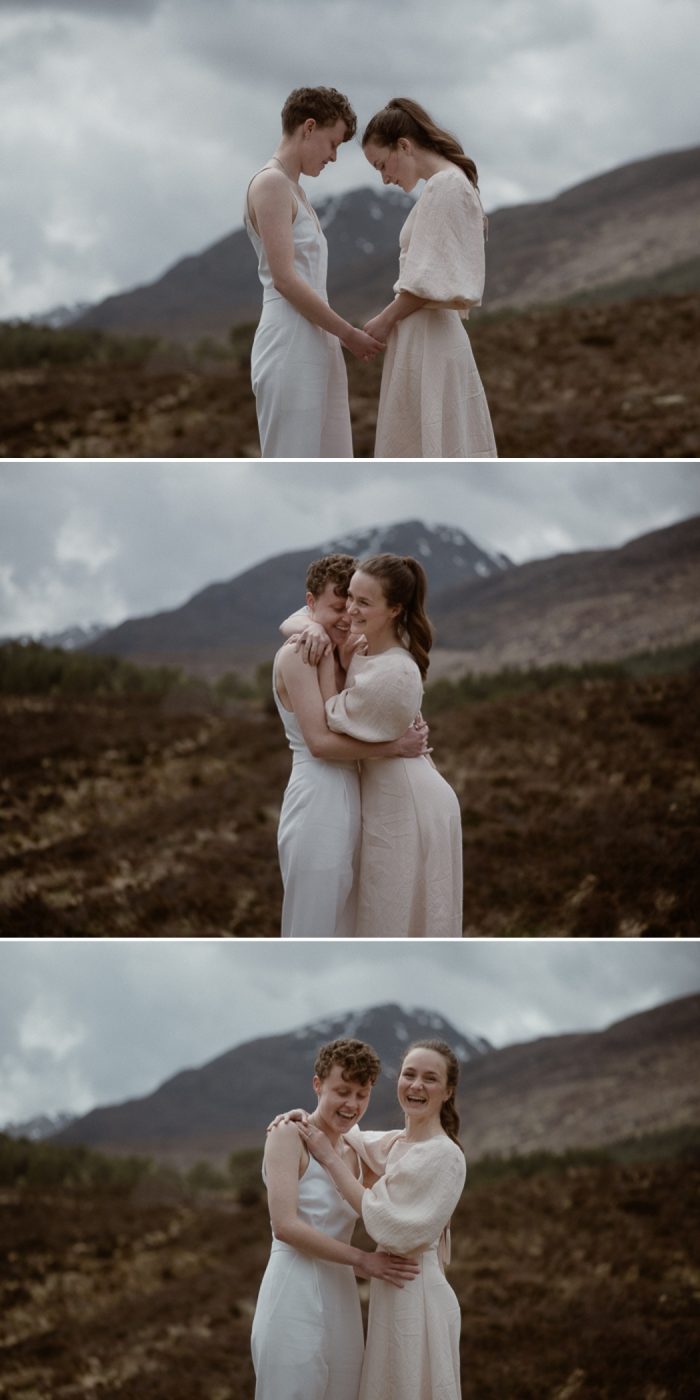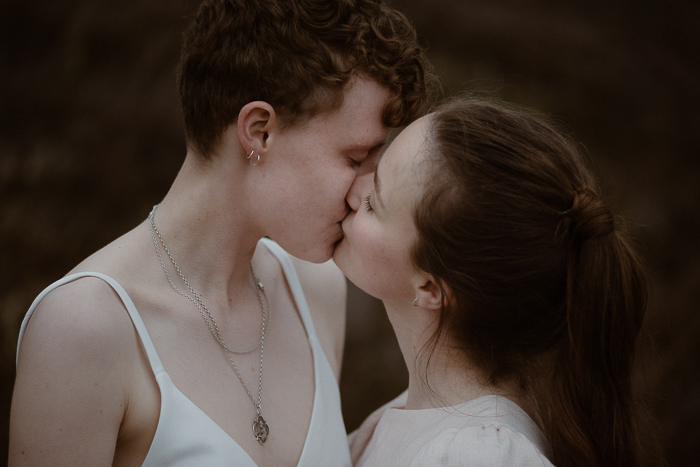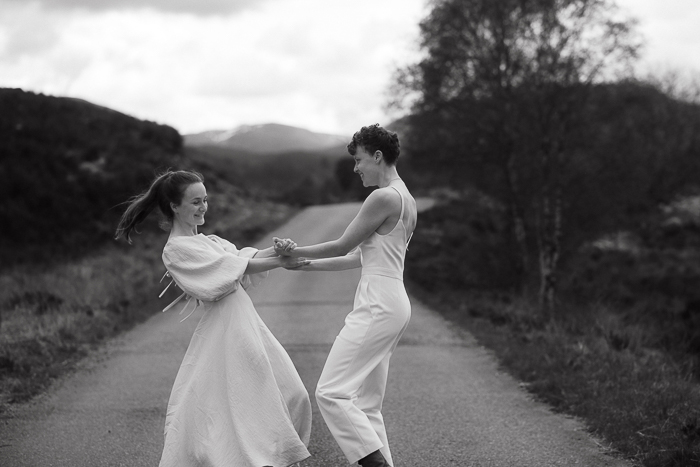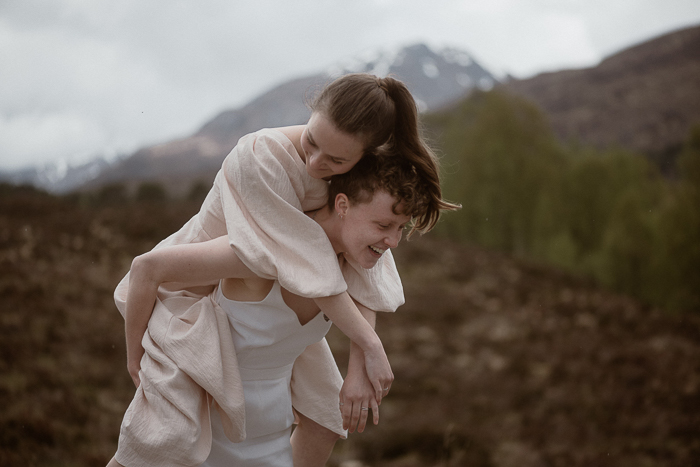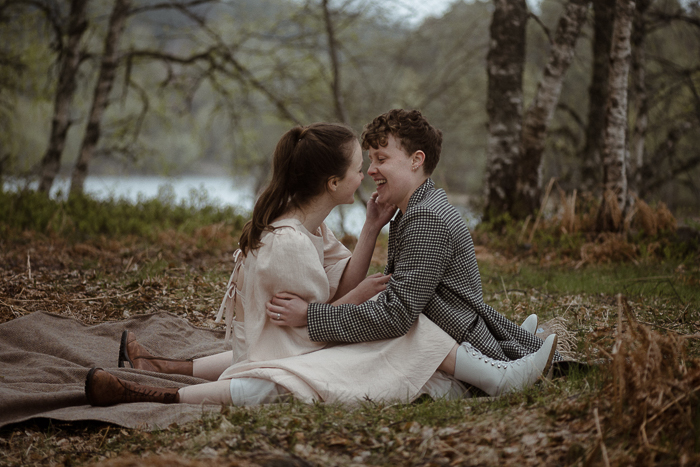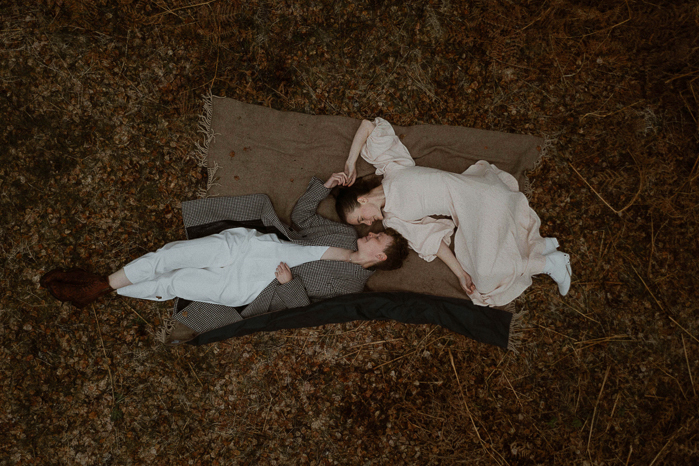 An Unforgettable Post Ceremony Swim
The most memorable part of the day was our first swim as a married couple. We chose this place because it is the most beautiful spot for swimming we have found. So it felt so joyful and momentous to get in for a swim after the ceremony. It was a really peaceful moment for us both being out there in the water, looking out to the snowy mountains beyond. The water was as lovely as ever–even if it was a little colder than we had hoped!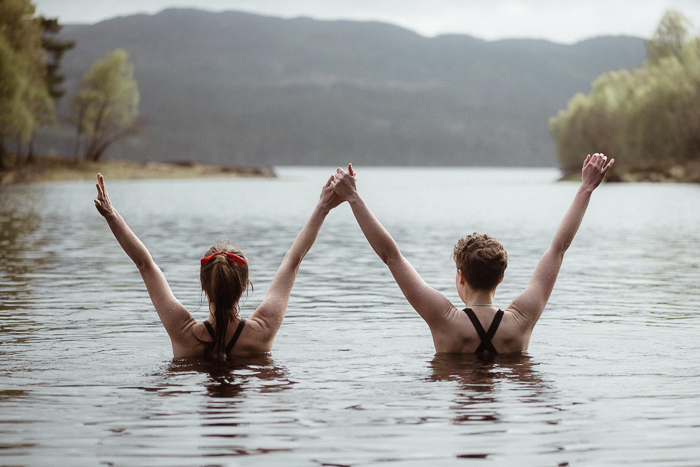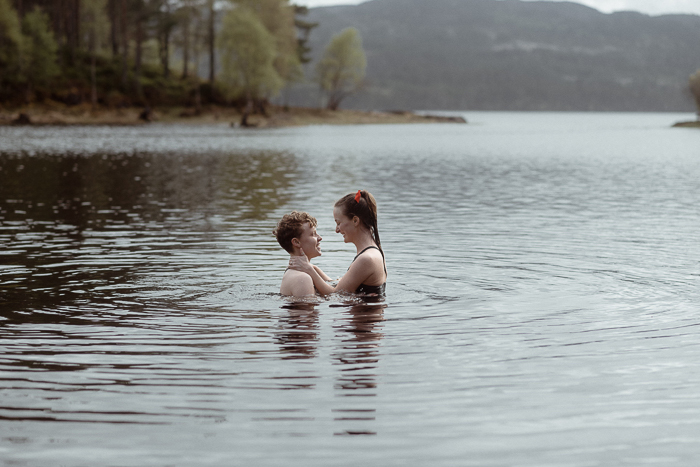 Congratulations again to Emily and Alba on their Glen Affric elopement! We're so thankful that Junebug member The Caryls was there to capture every romantic detail. To see more of their work, check out their profile in our directory of wedding photographers from around the globe!