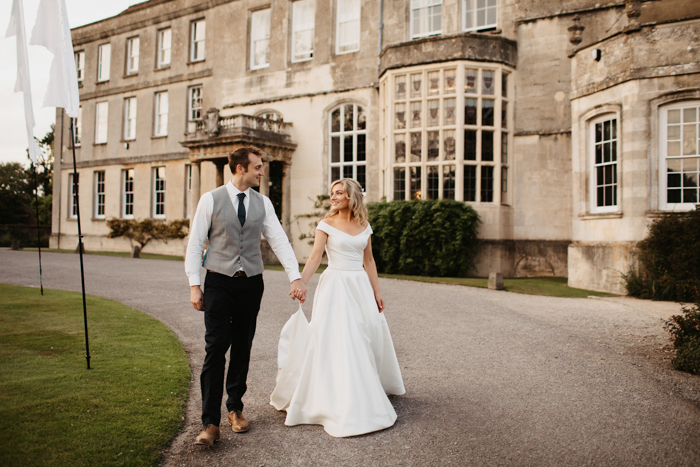 Alexa and Tim described their dream wedding vibe as "chilled out festival in the English countryside," and we are feeling all the feels with how they pulled it off! Their elegant, yet fun, day was complete with games on the lawn at Elmore Court, acoustic music by Laura's PaperHeart playing in the background, and the coolest gin bar. If you love grand florals, just wait until you see the masterpiece floral designer Amber Persia created to totally transform the tiny parish church ceremony space. Get ready to fall in love, because Steph Newton Photography documented this day so you truly feel like you're in every moment!
The Couple:
Alexa & Tim
The Wedding:
Elmore Court, Gloucester, England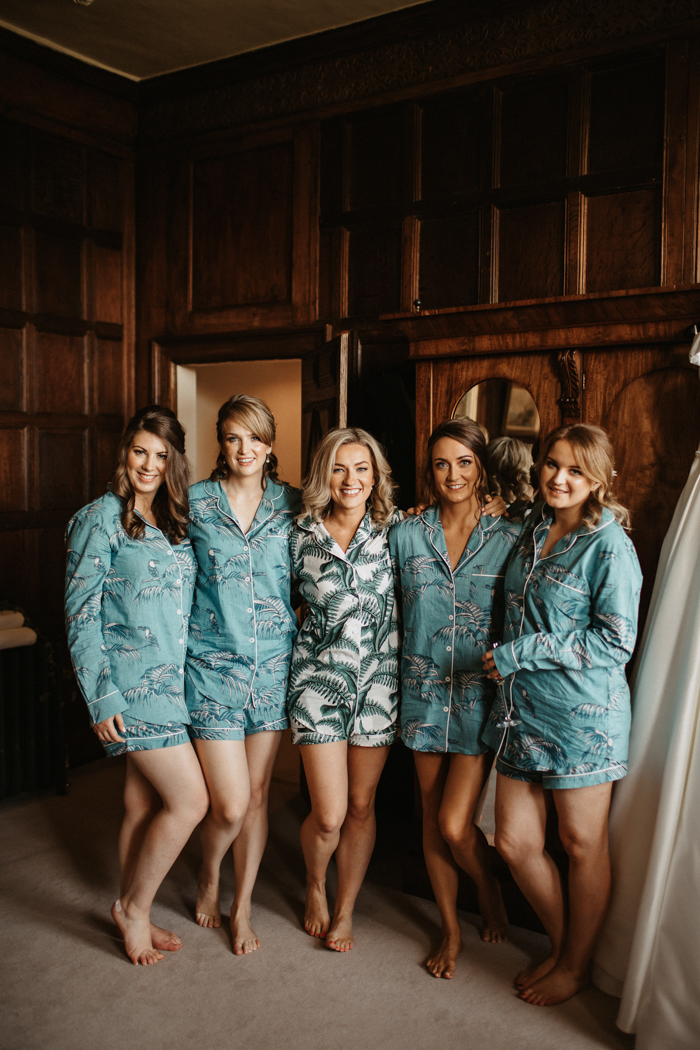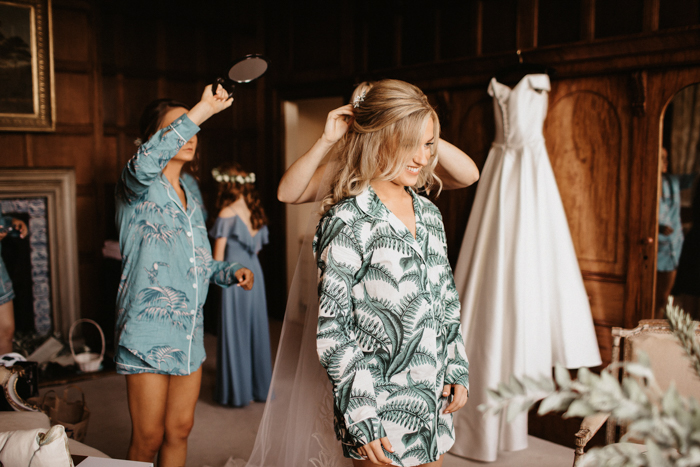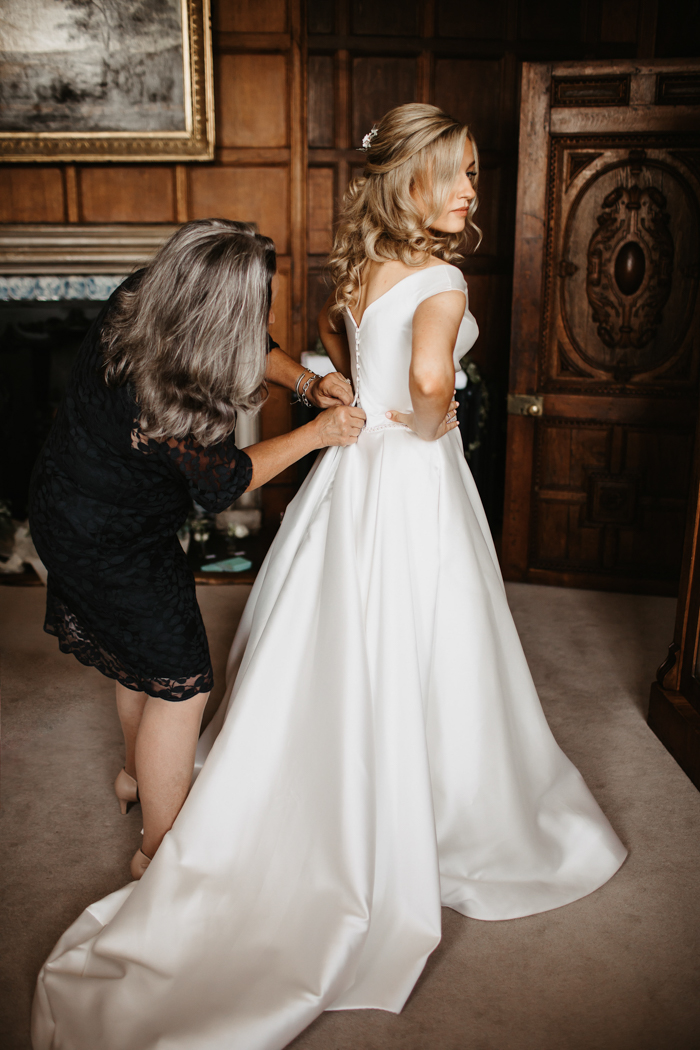 Wedding planning advice from the bride: Don't follow tradition for the sake of it. Early on, you and your partner should sit down and think about what are the three things that you really care about and what are the three things that you don't really care about. We did this, and it helped massively in terms of planning where we invested our time and our budget.
For us, the quality of the food and drink, the church setting, and the flowers were important—so we worked hard to find the perfect suppliers there.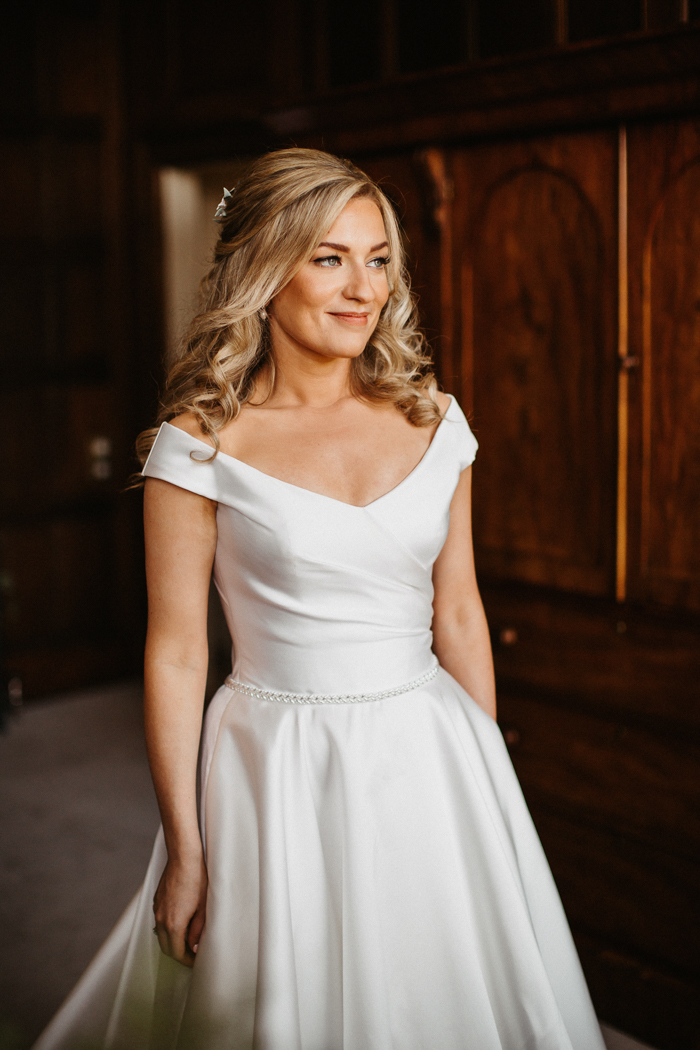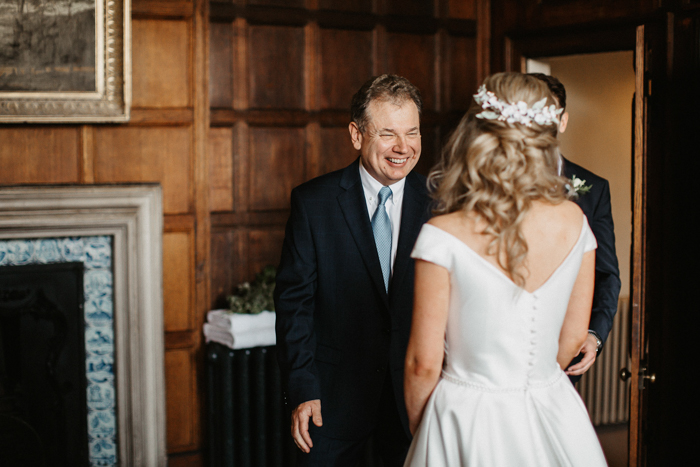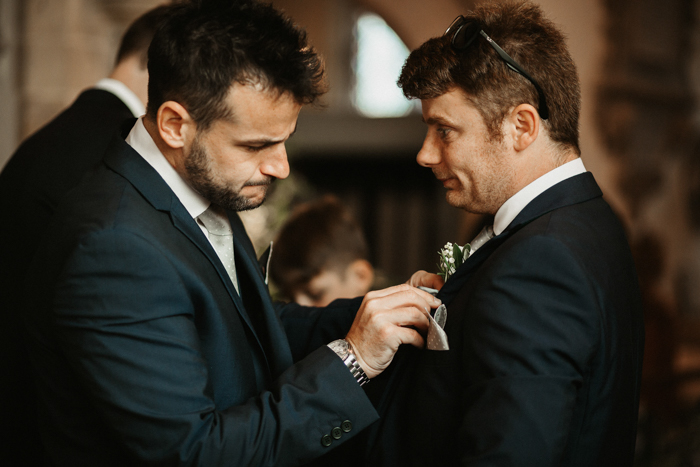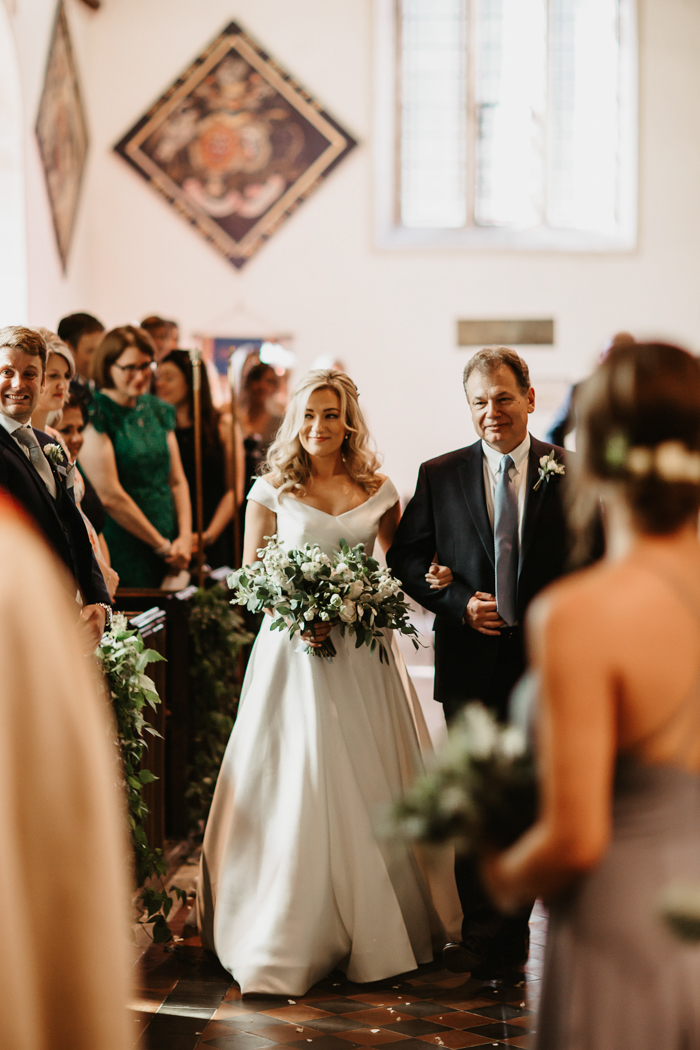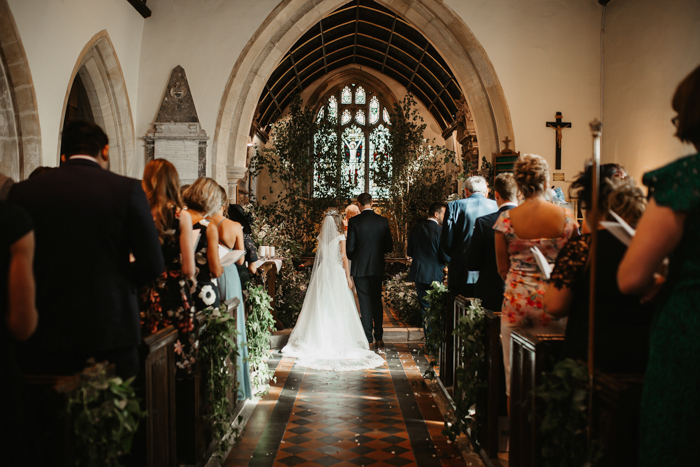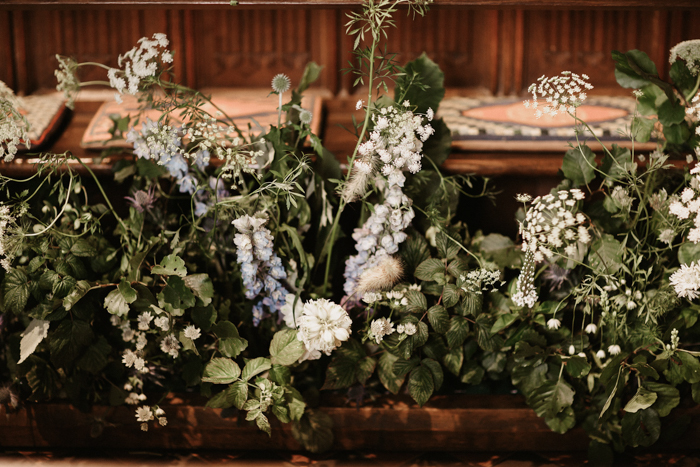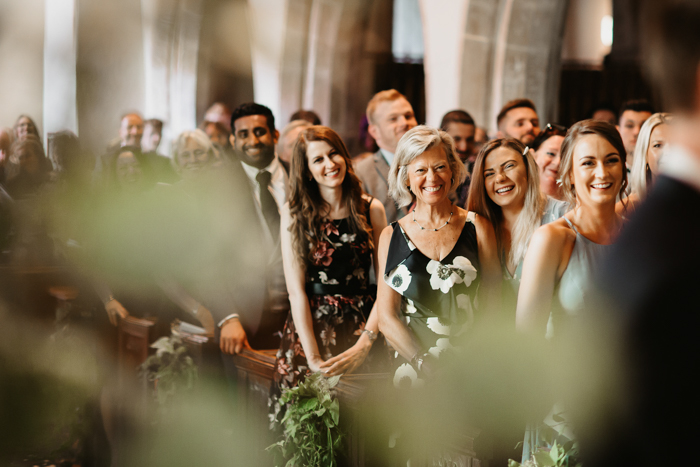 We wrote our own vows. It was important for us to get married in the Church of England, and we did say the traditional vows which felt serious and helped lend weight to the commitment we made to each other. We complemented this with vows which we wrote ourselves. We wrote them separately only a few days before the wedding.
We heard each other's vows for the first time in the ceremony, and it was a delight to hear and say our honest words of what we loved and valued about one another — we even told the same joke about our favorite kebab shop! We were laughing and crying, and so was the congregation. It was a truly special moment and sealed our commitment to one another. Lots of our friends and family have actually asked us afterwards to send them our handwritten vows — I wish I'd used neater handwriting!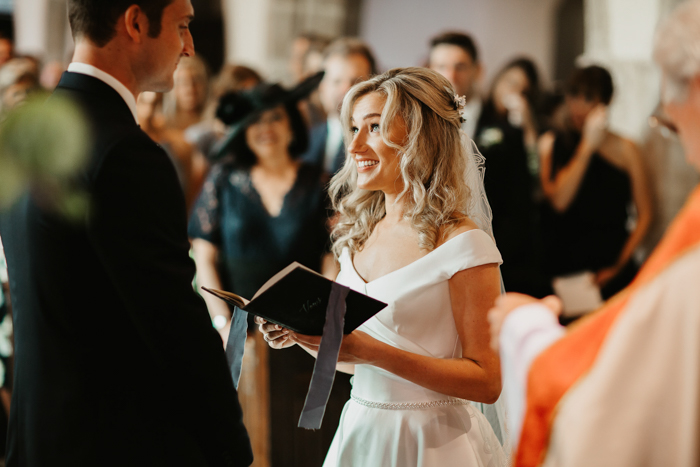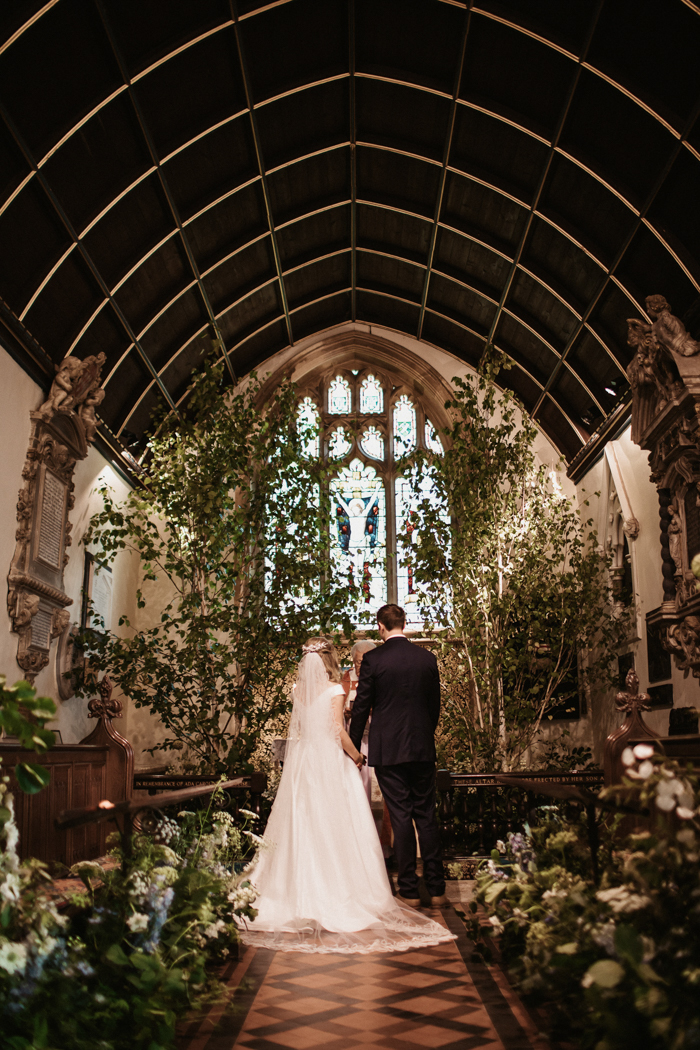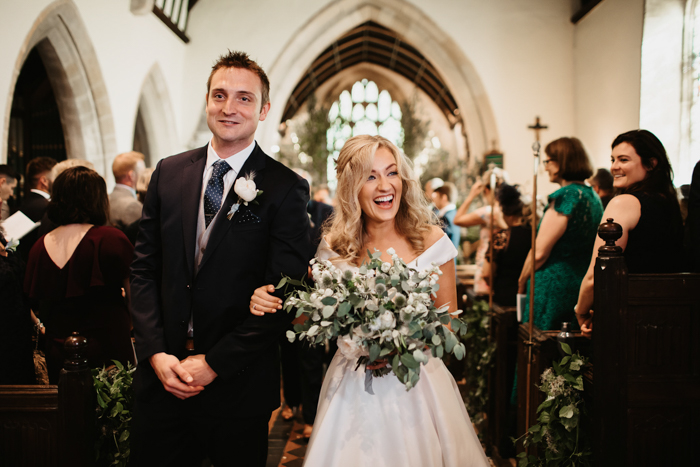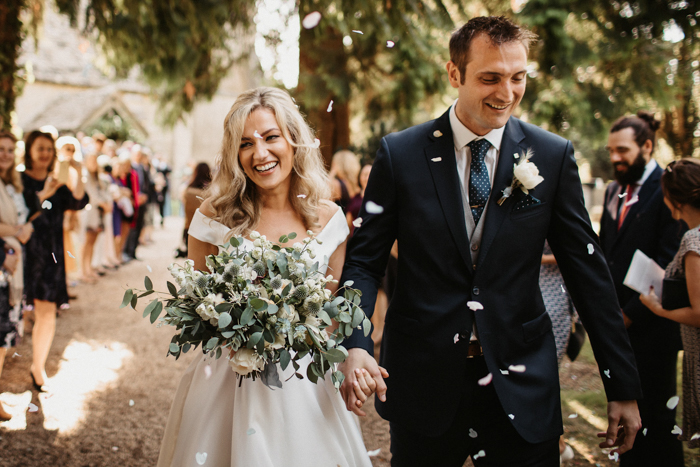 When it came to planning our wedding it was important that it felt personal to us. We didn't want to follow tradition for the sake of it and wanted to be involved in all of the key decisions. It was also important that we got to know our suppliers better — going for a pint with our videographer, in person visits to the venue, and long phone conversations with our florist. This helped us to understand their style and blend it with our own to create something unique on the day. I loved working with people who were passionate about their craft. It made the wedding planning process an absolute joy.
Although we organized most of it ourselves we were massively helped by our venue, Elmore Court, who were experts in bringing everything together while always seeking to understand specifically what we wanted rather than just defaulting to the standard.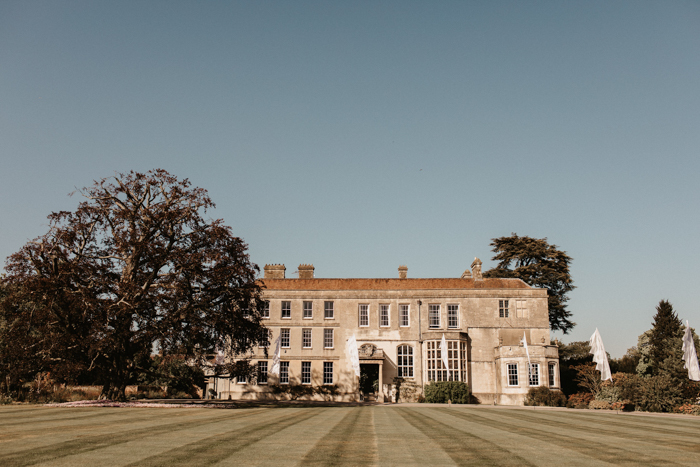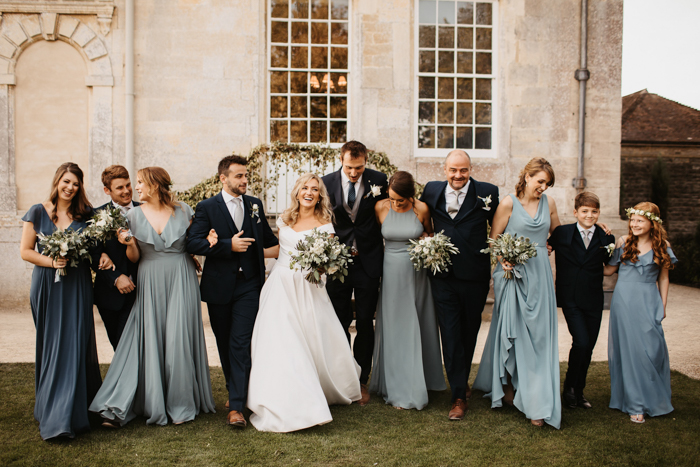 My bridesmaids all wore different Jenny Yoo dresses in slightly different shades of blue. My priority was that they felt comfortable in their dresses so that they could also enjoy the day. Tim and his groomsmen wore beautifully cut Ted Baker suits. We like Ted because the tailoring is great but the style is quite modern. From a beauty perspective the brief was to look like our best selves — so a very natural look but enhanced with a touch of shimmer!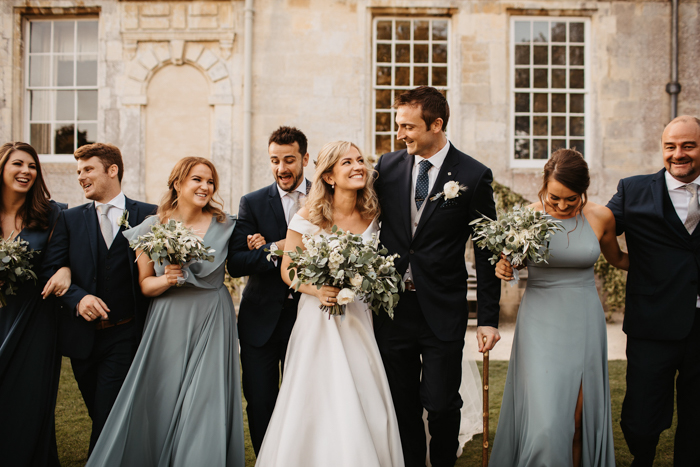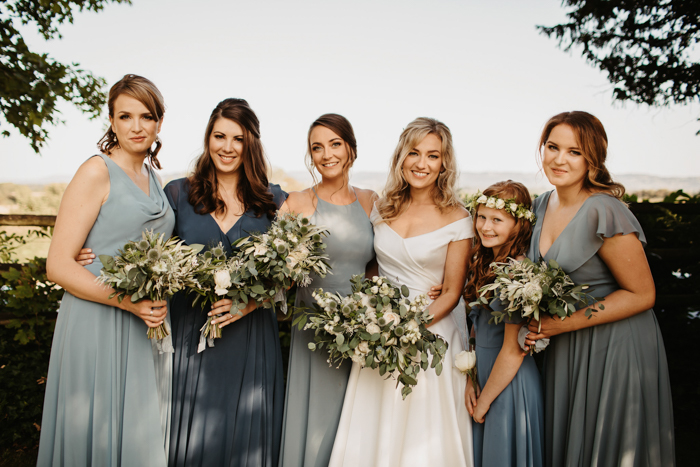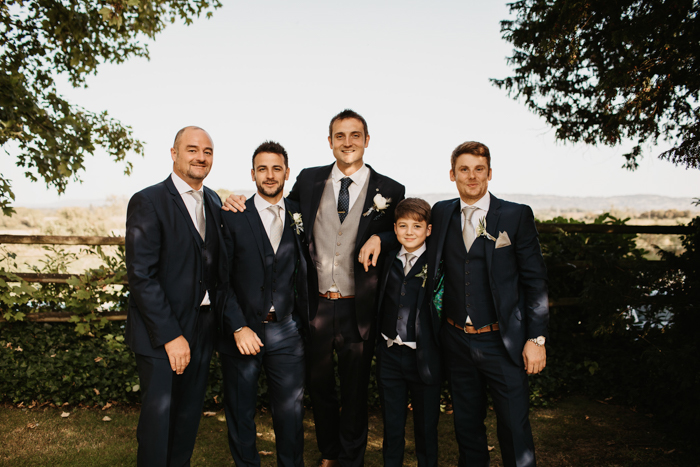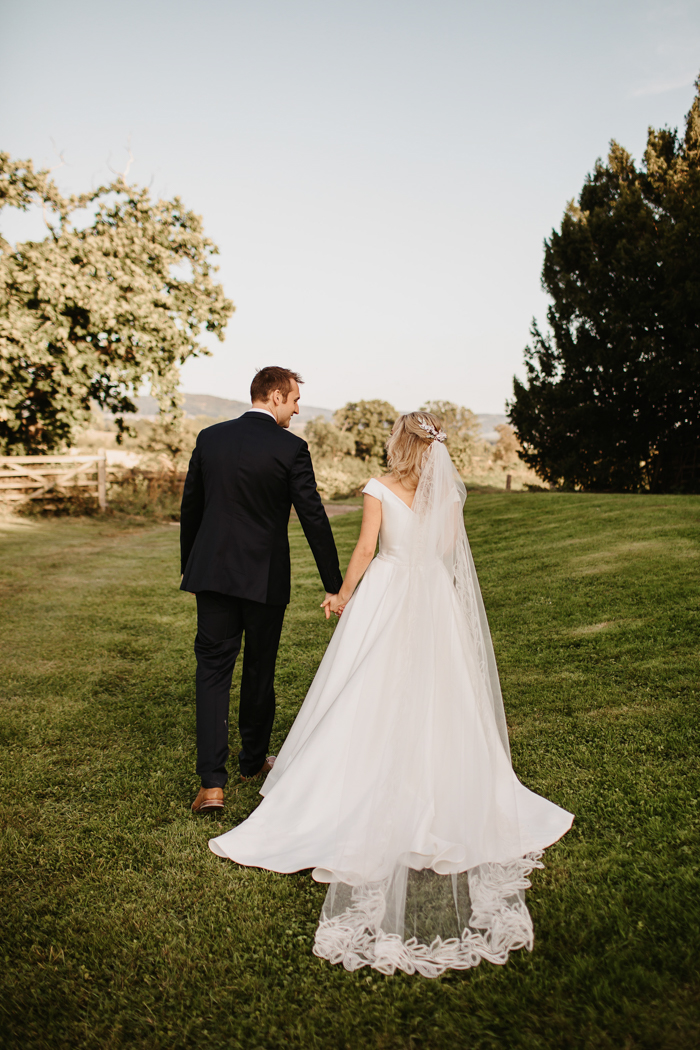 When it came to accessories my priority was to find real craftsman rather than buying something off the shelf. I visited AM Faulkner in her East London studio and was bowled over by her use of innovative fabrics and her ideas. She created for me a beautiful veil with an abstract leaf motif that brought my more traditional wedding dress up to date, without losing the timeless feel I was after.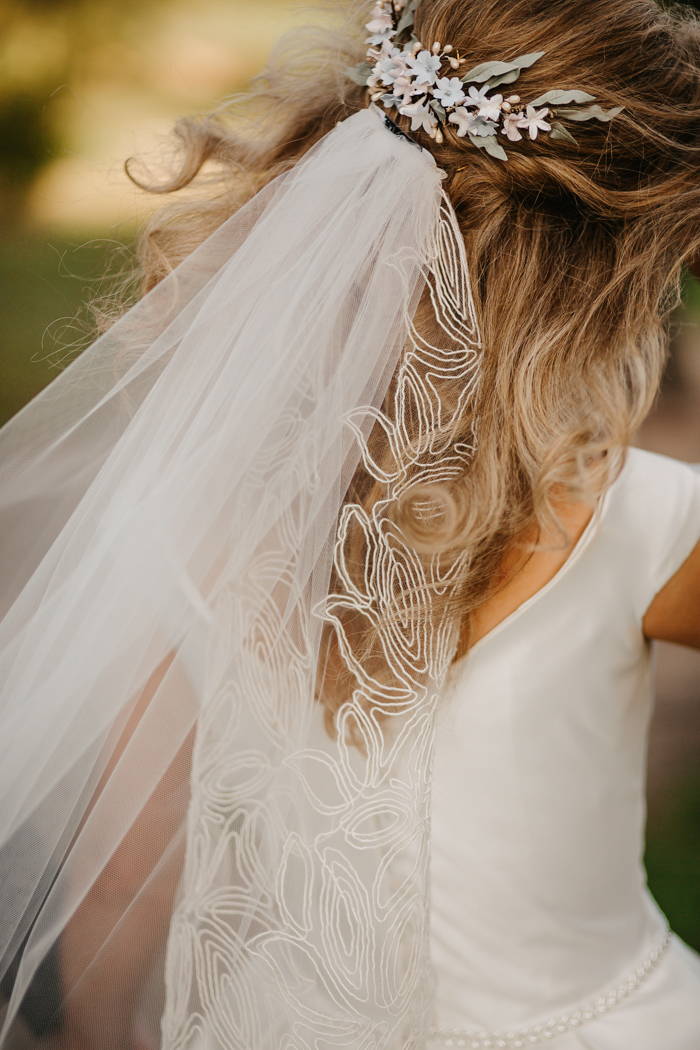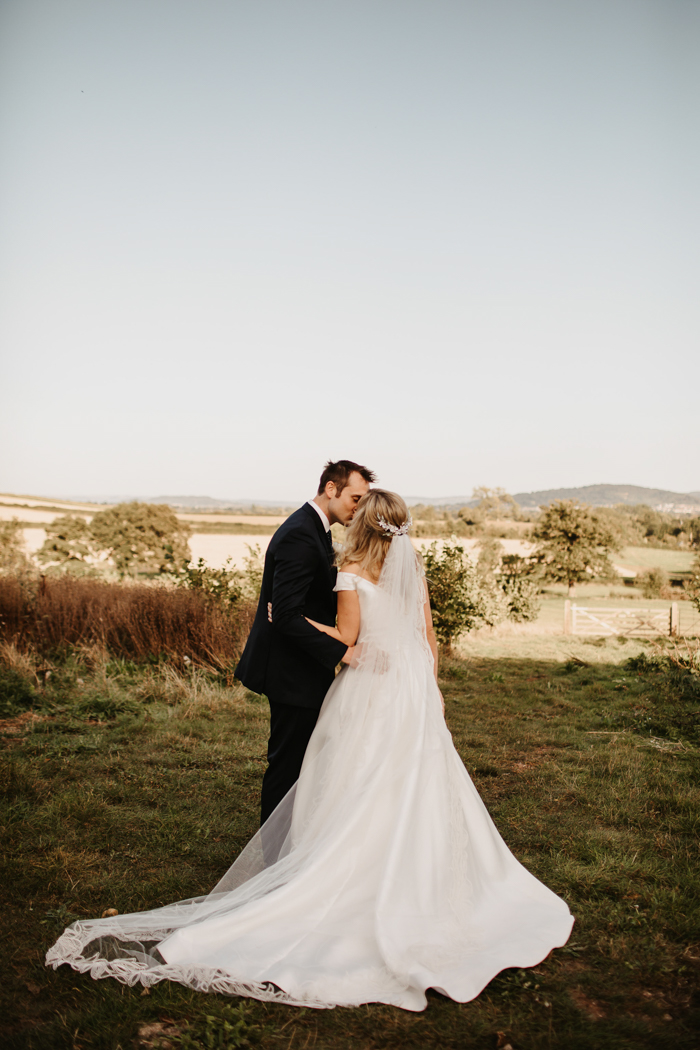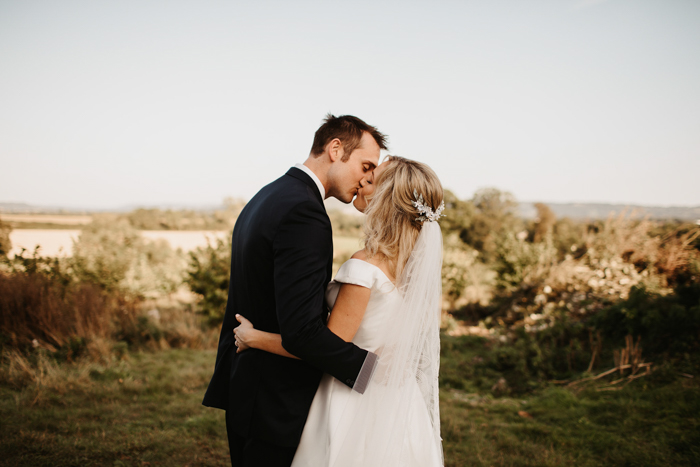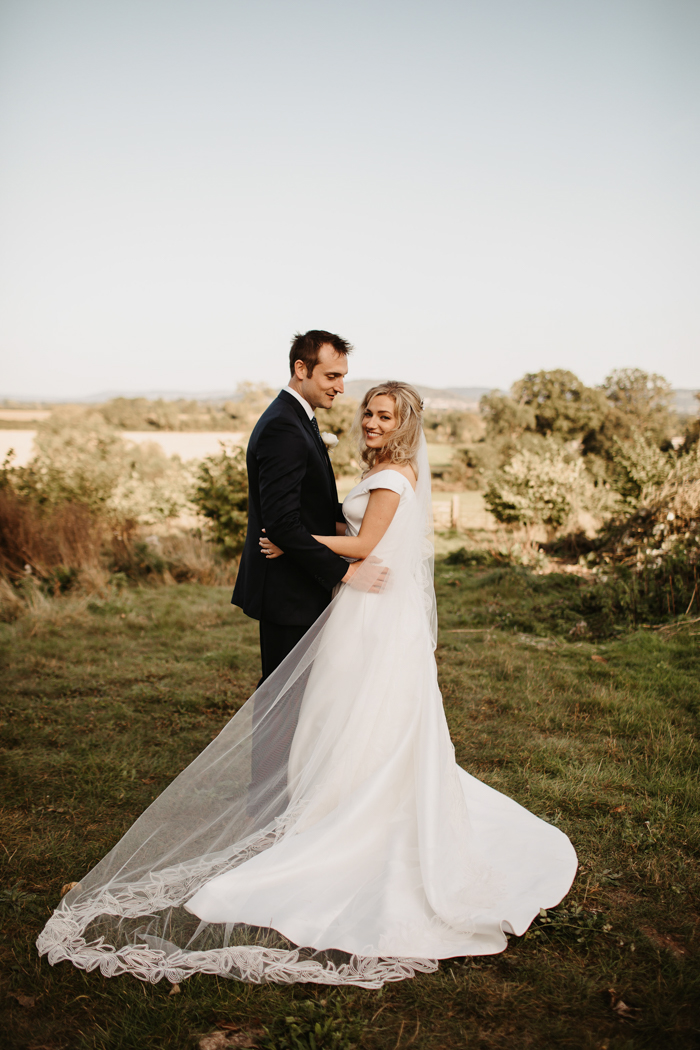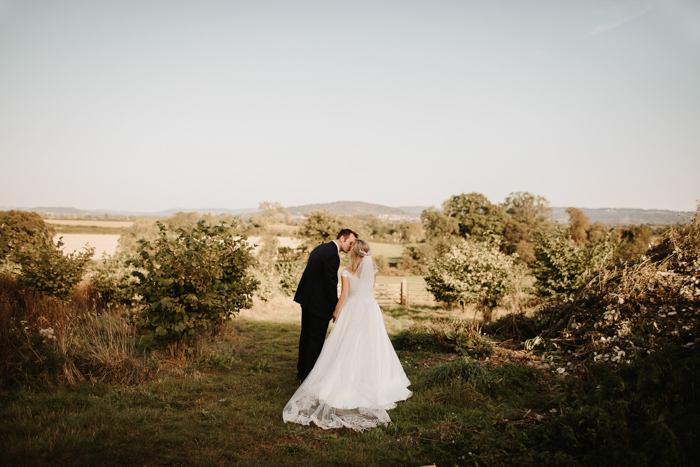 Steph Newton was brilliant in the run up to the wedding, making sure we felt comfortable in front of the camera at our E-shoot, exploring the venue ahead of the day to find the perfect spots and listening closely to our needs.
She really came into her own on the day of the wedding. She wasn't intrusive and took beautiful candid shots that caught people's true expressions and happiness on the day. When it came to the more styled moments she took control but had a warm manner which put everyone at ease. She felt like one of the wedding party almost and you could tell how keen she was to capture the spirit of the day rather than an artificial style. The result is a beautiful showcase of the day, exactly how I remember it.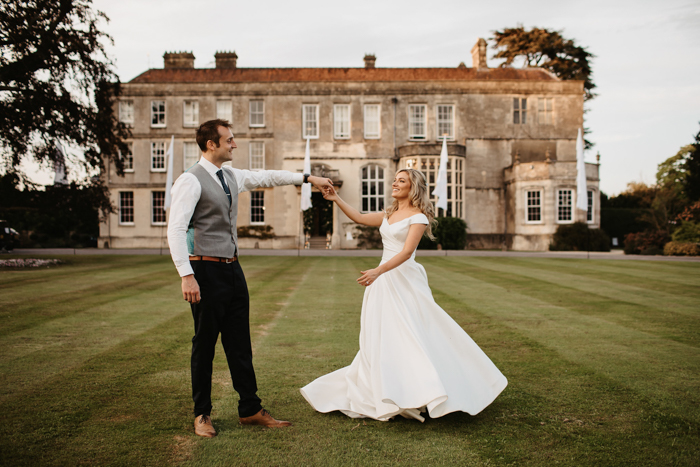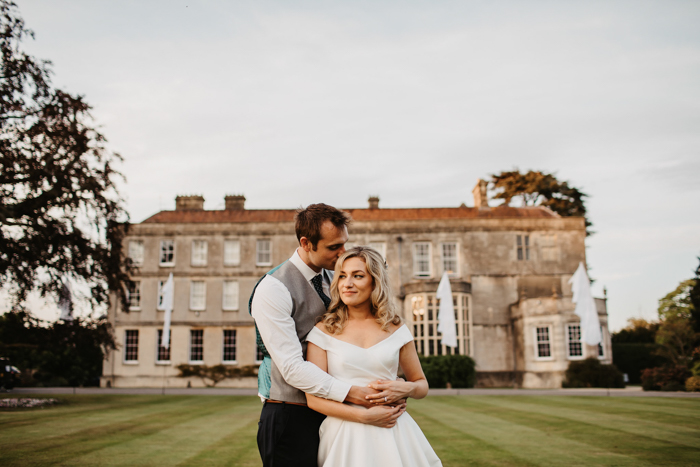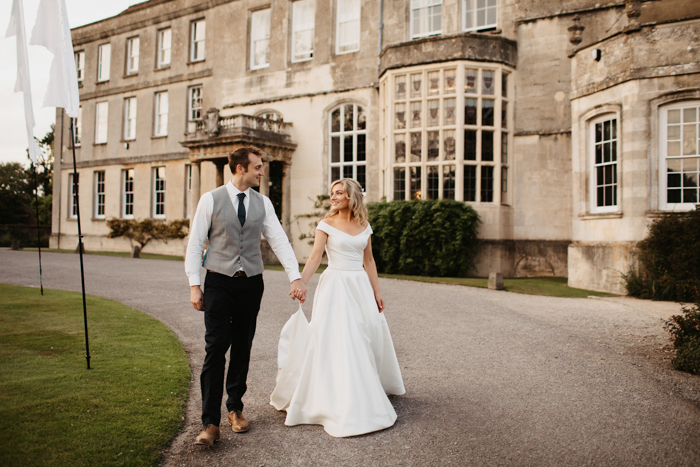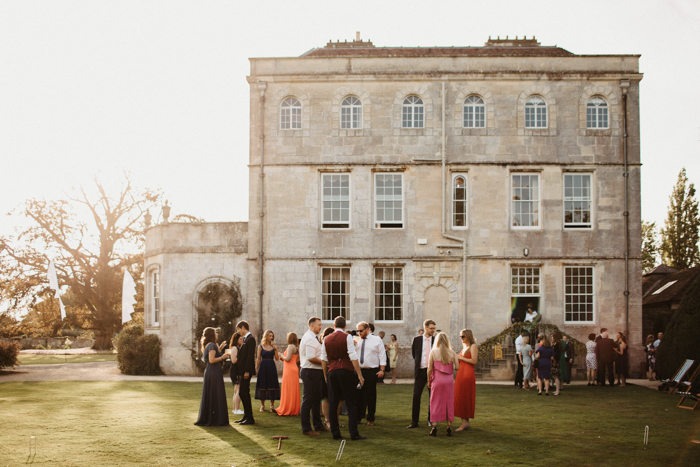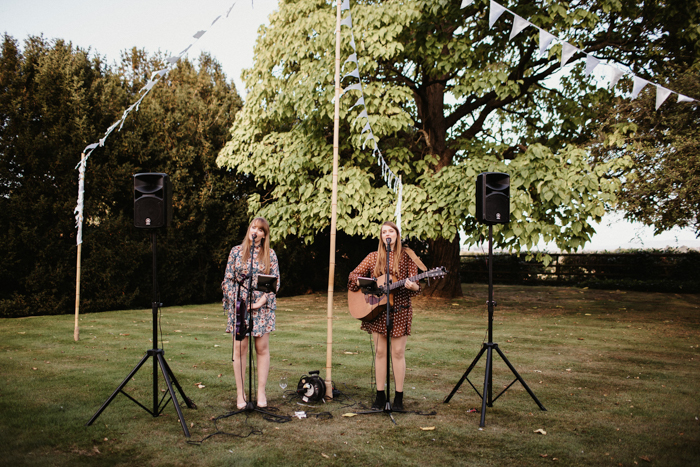 The brief we gave to suppliers was "chilled out festival in the English countryside." Like with any festival, it relies on good logistics and organization — buses to take guests to and from the tiny parish church, experienced staff who gently guide guests from the drinks reception on the lawn to the wedding breakfast. But there were no strict timings, canapés were unfussy, and the afternoon entertainment was great acoustic music, a beautiful gin bar, and lawn games which you could partake in if you so desired.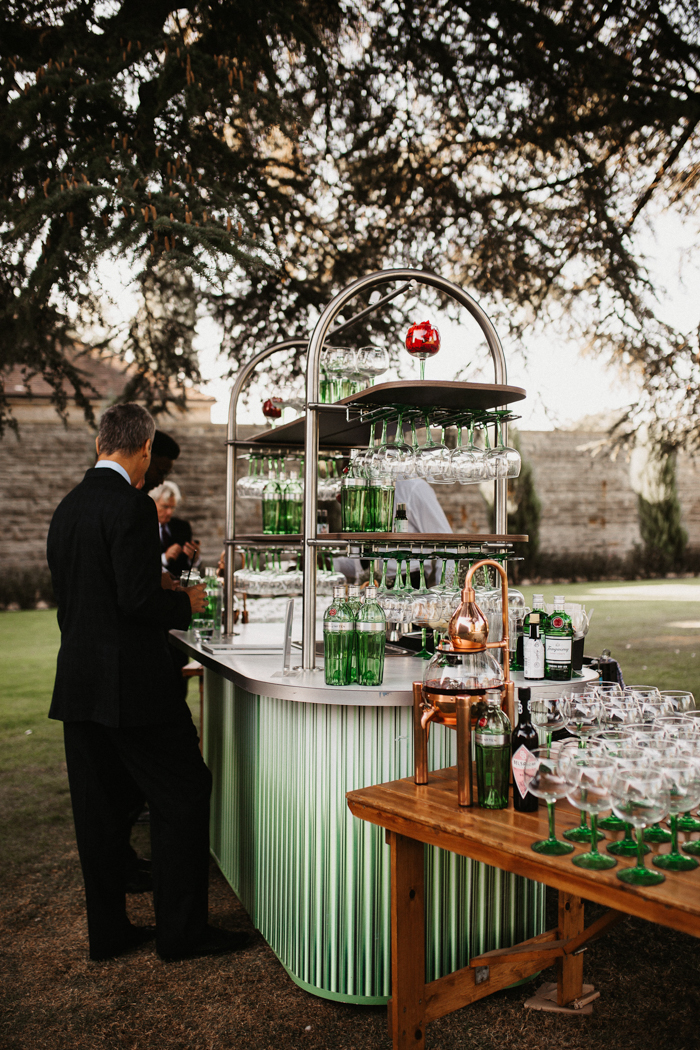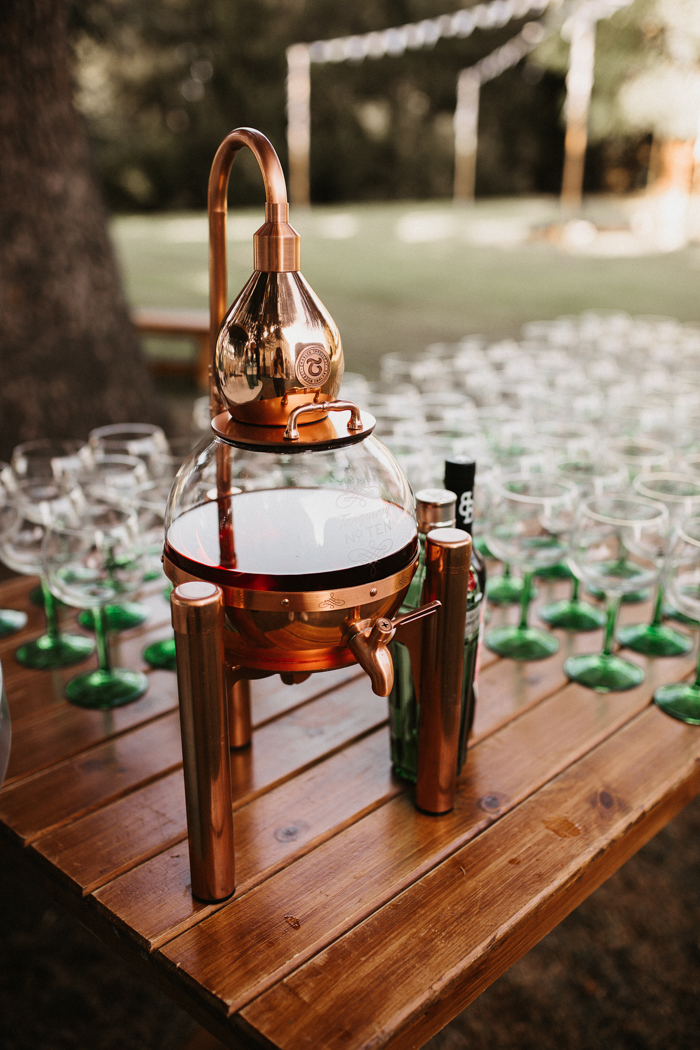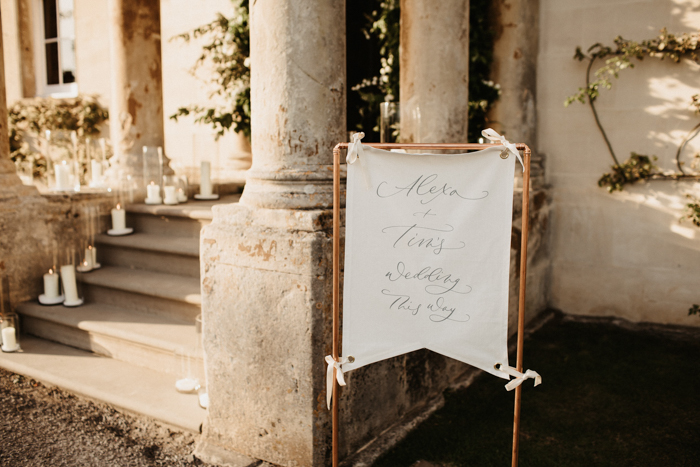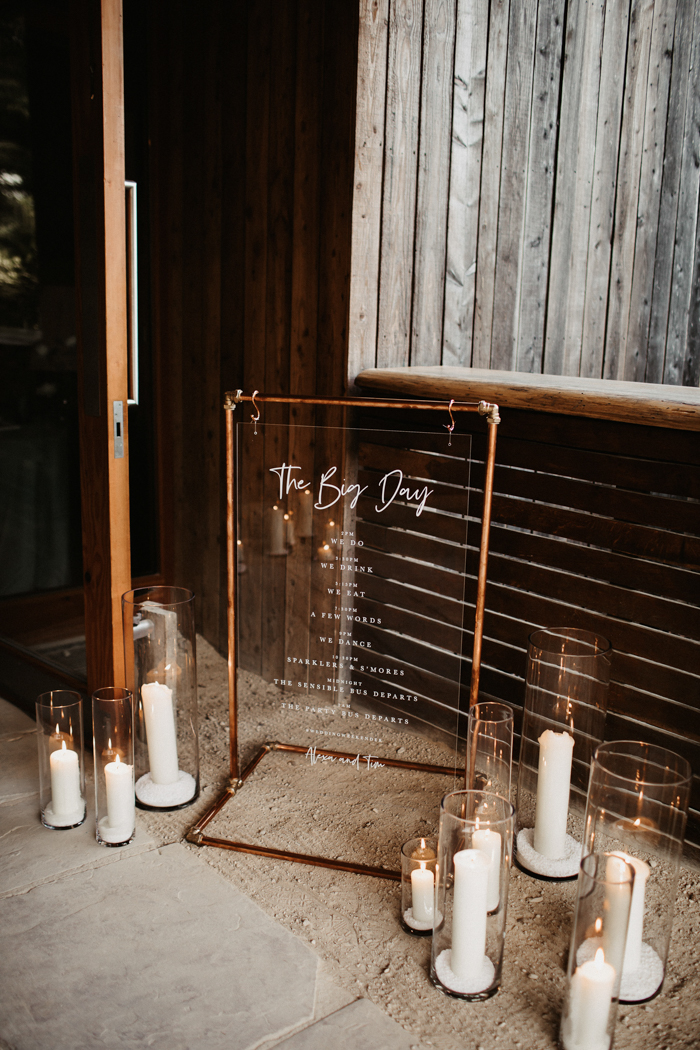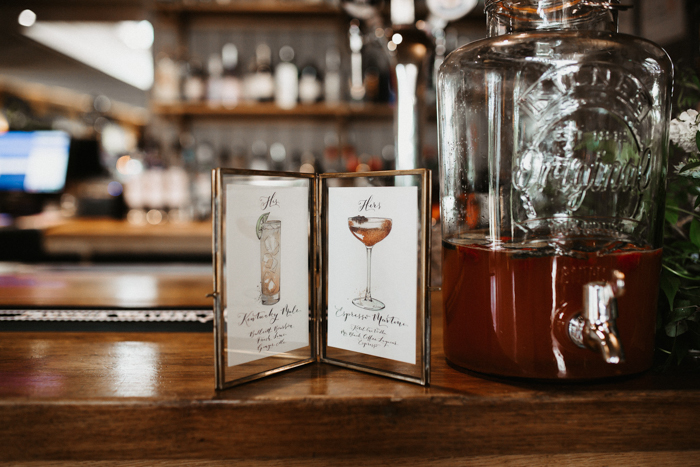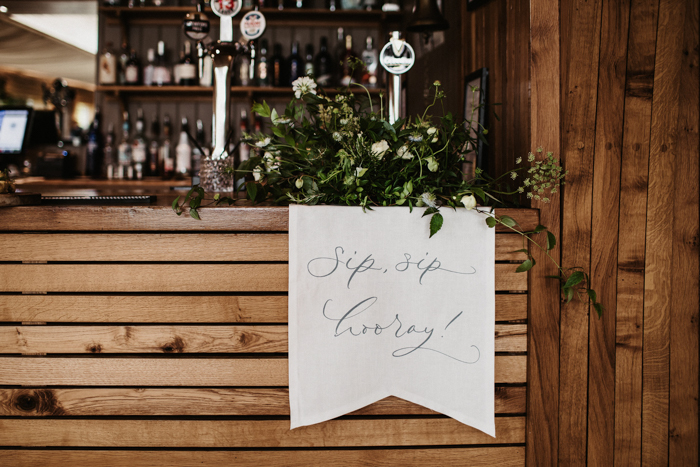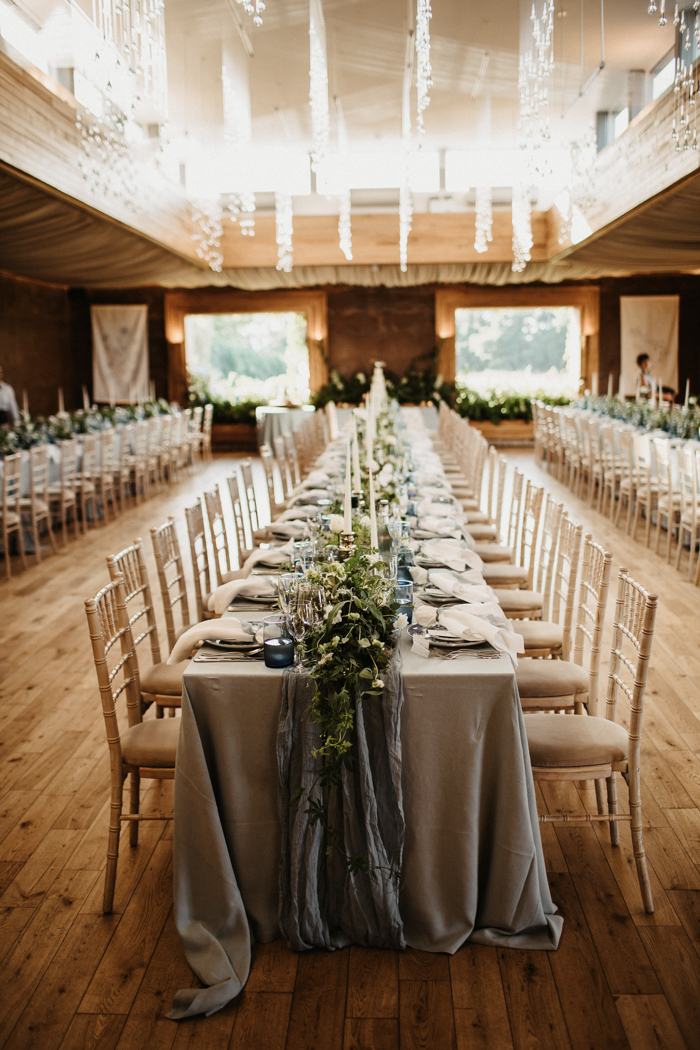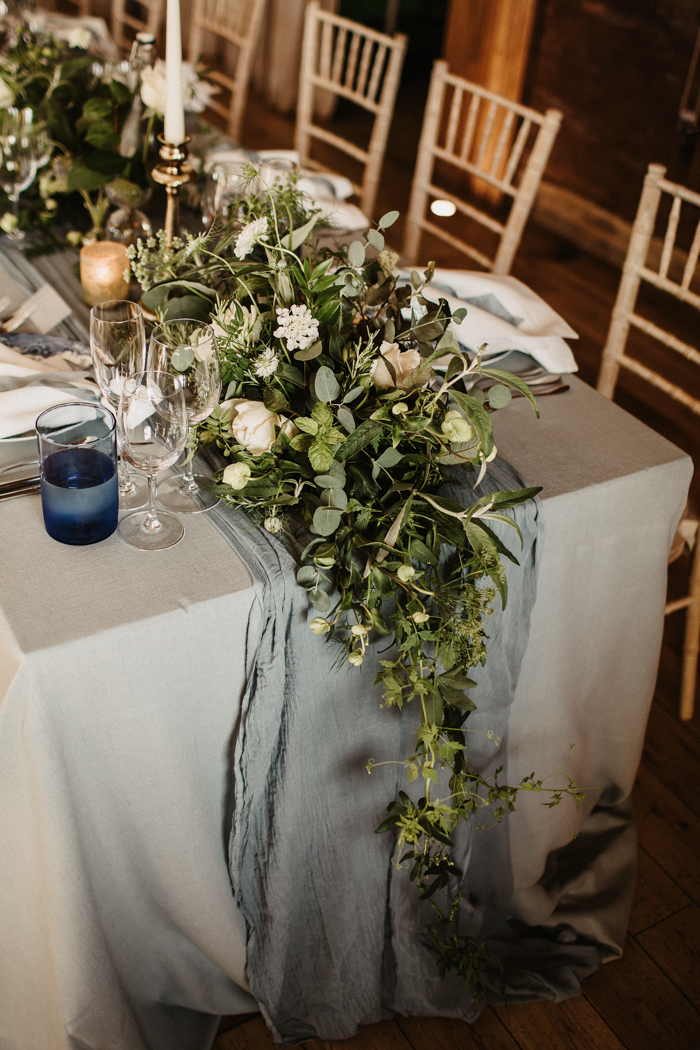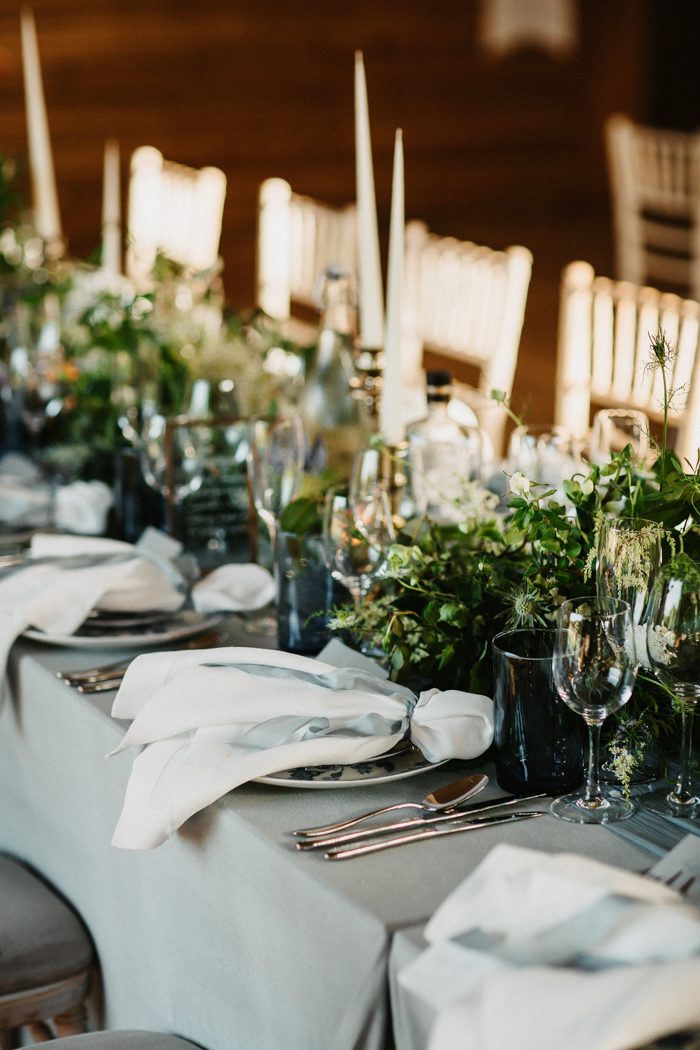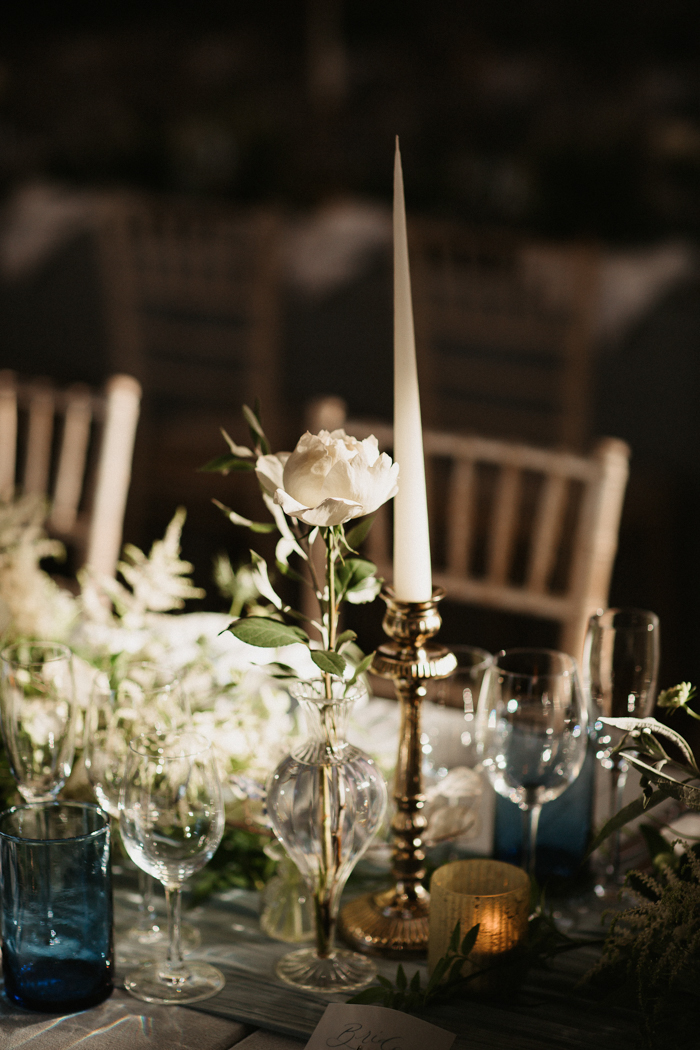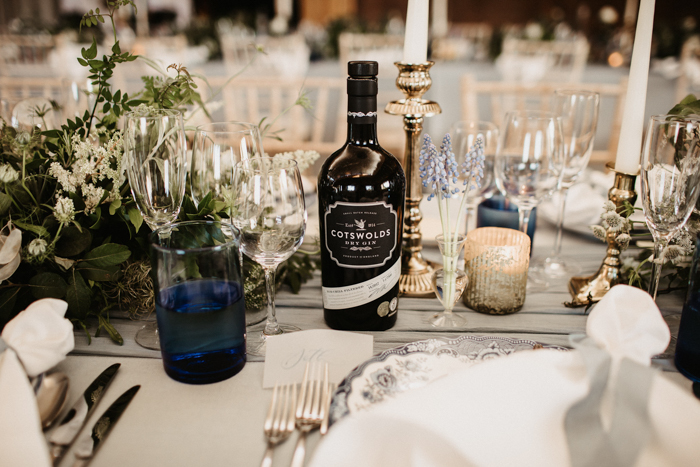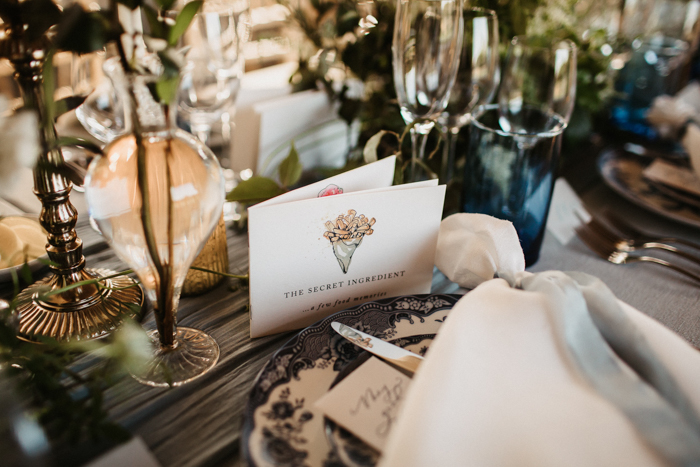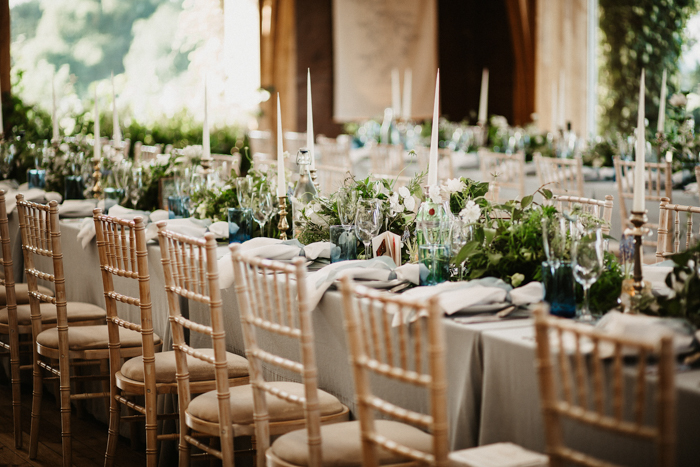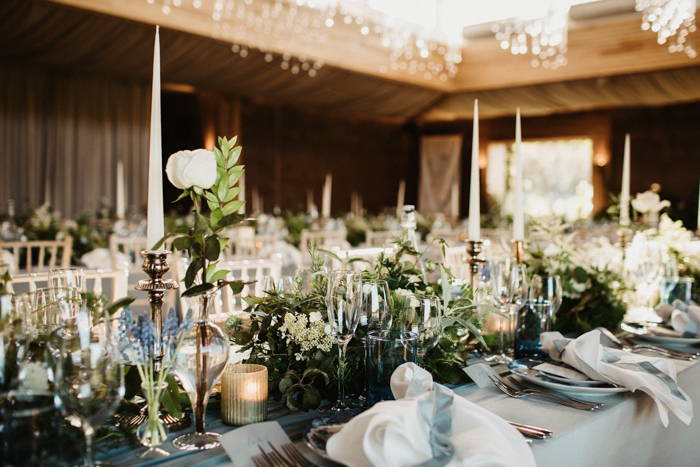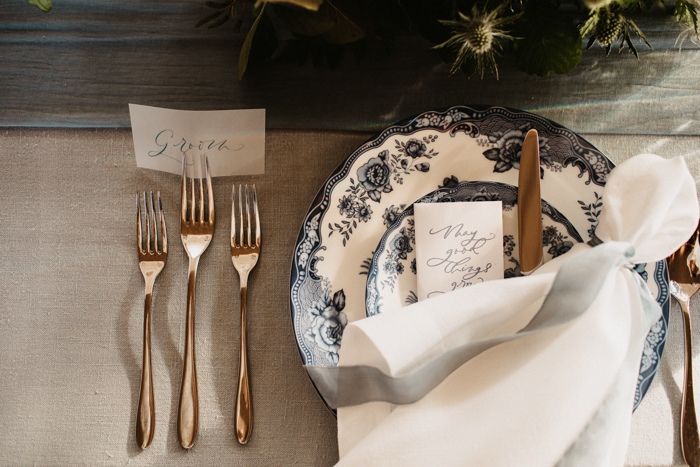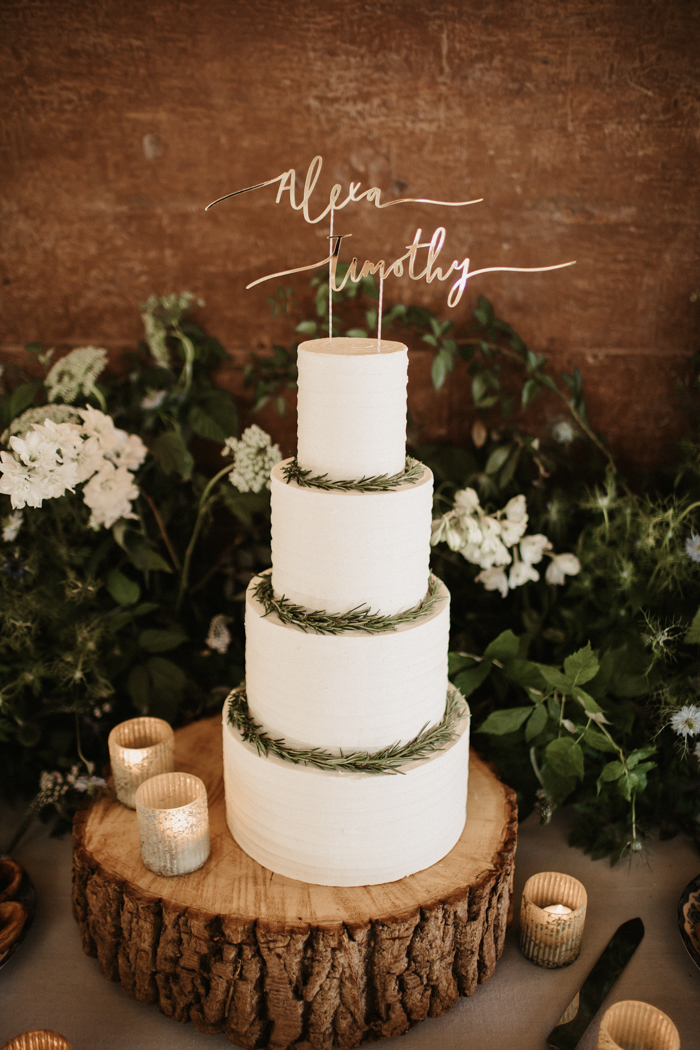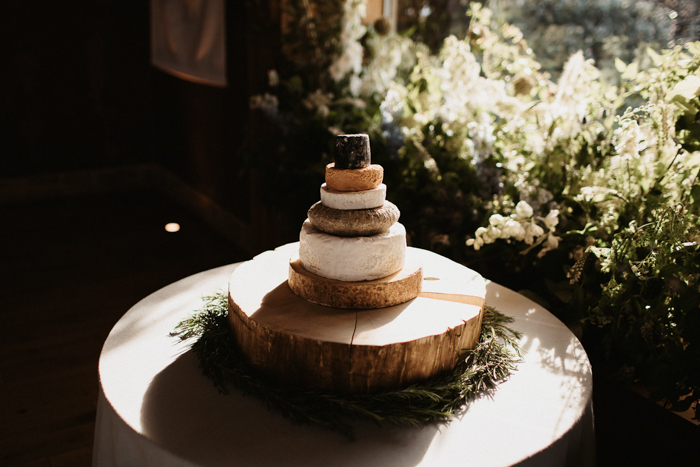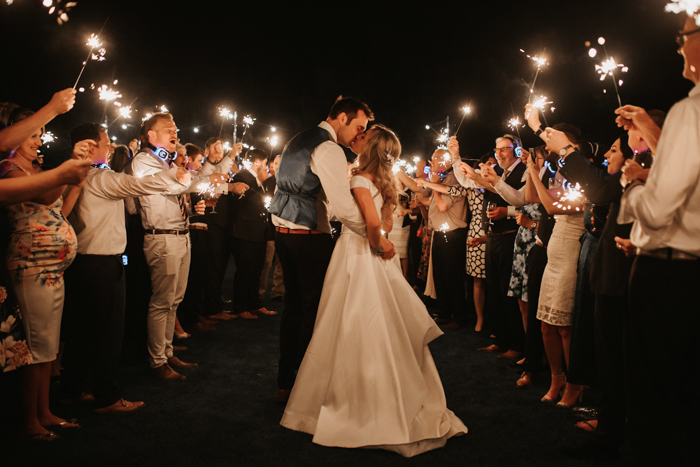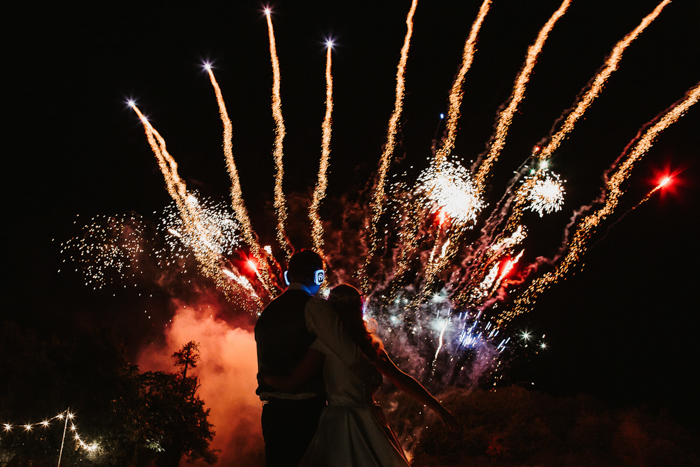 I had always wanted fireworks at the wedding but the venue is very rural and they only allow 'silent' fireworks (I didn't even realize that was a thing) because otherwise it upsets the local farm animals. So we ruled fireworks out quite early on. However, my mom persisted in trying to find a way to make it work. She eventually found a company that would do fireworks to music using silent disco headphones. It was a total surprise on the day and such a thrill to see how much all the guests, headphones on, bopping away to the music, their faces lit up by the beautiful fireworks. It was a real crescendo to an already incredible day.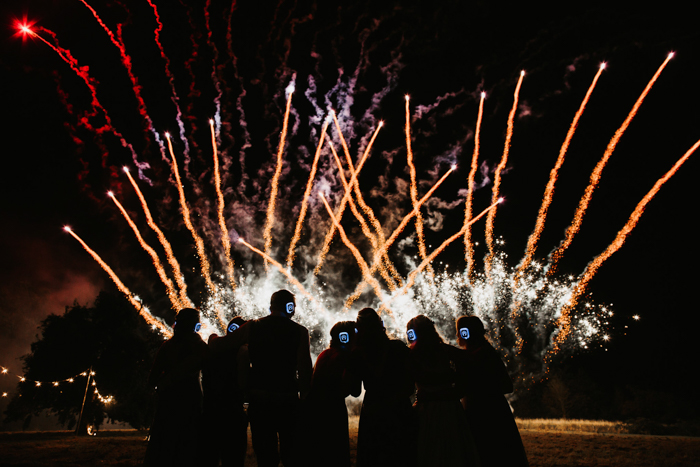 Congratulations, Alexa and Tim! We're feeling thankful Steph Newton Photography shared their day at Elmore Court with Junebug! If you were inspired by this wedding day, this colorful villa wedding in the South of France is sure to make you smile.