Ooooohhhh! I love this one! Beverly and Banjo describe their nuptials at the spectacularly scenic HammerSky Vineyard as a rustic wedding, but it is just so much more! The sunny, soft shades of yellow mixed with the palest smoke grey was sophisticated. The gorgeous summery flowers were lush and romantic, and the sunset over the vineyard, captured by Mike Larson, perfectly ethereal. All of it combined? Elegant, natural, and oh-so-happy!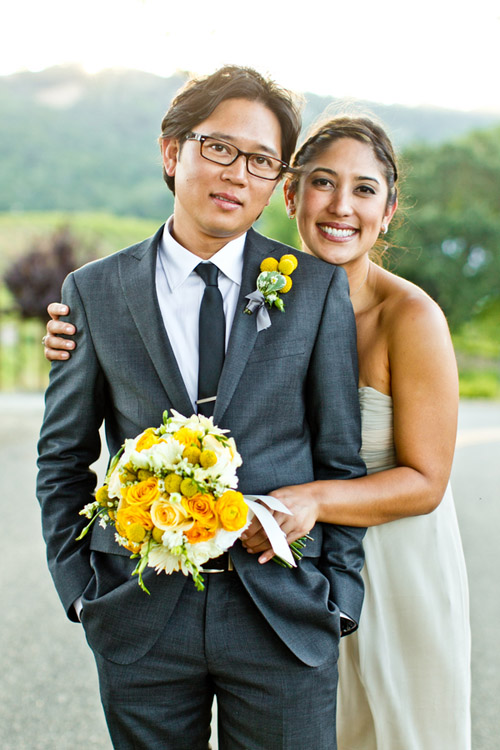 The Couple: Beverly and Banjo
The Wedding: 9.4.11 – HammerSky Vineyards – Paso Robles, CA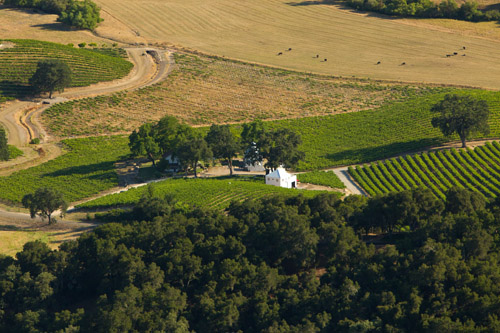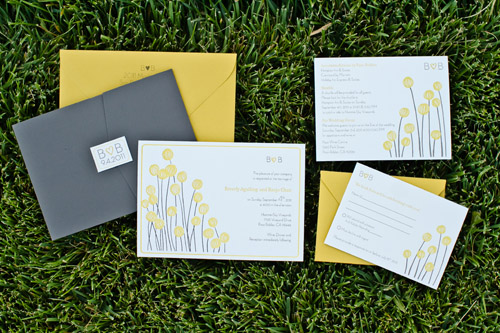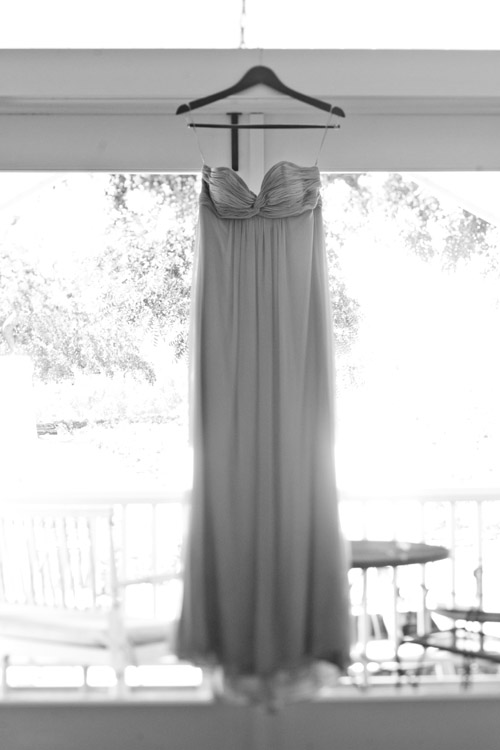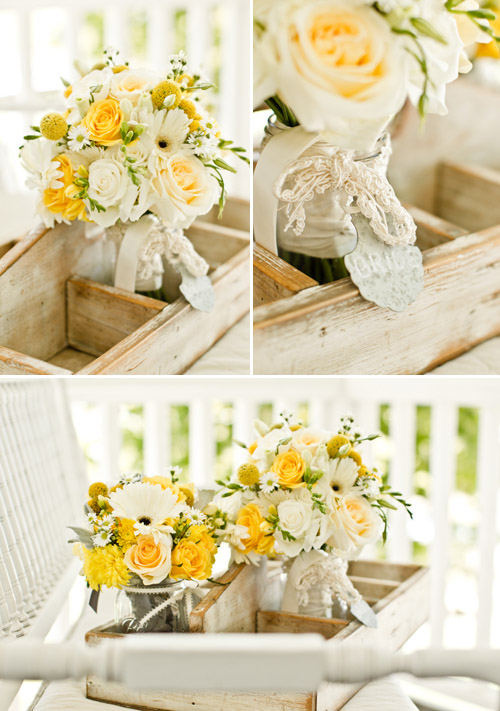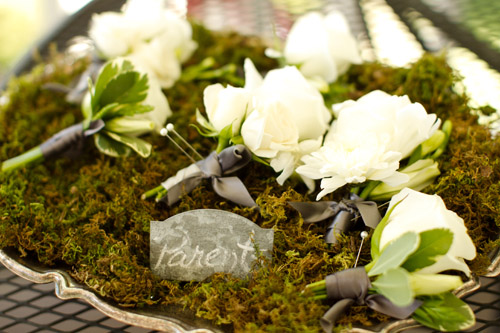 What three adjectives best describe your wedding day? Rustic, Memorable, Amazing
Was there a decor theme that ran through your wedding? What was the inspiration for that particular idea and how did it reflect you as a couple? We definitely wanted to go rustic and have a homey family backyard affair with a few romantic notes. The exposed long dark wooden tables set the tone for the whole theme and brought the look of the reception area together. We aspired for a relaxed affair with our closest family and friends.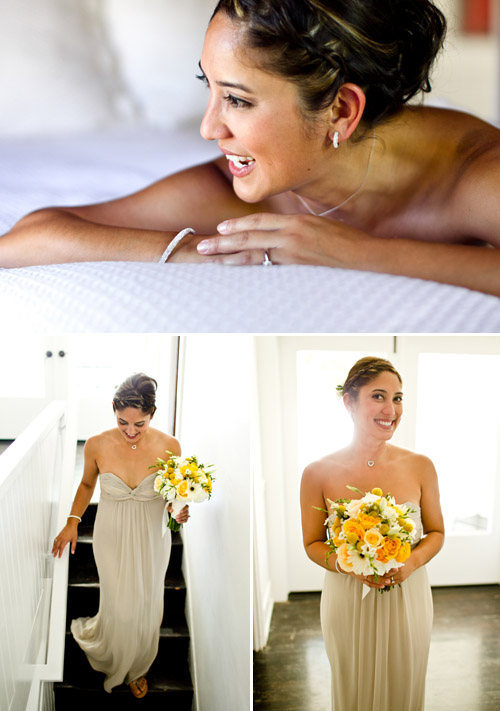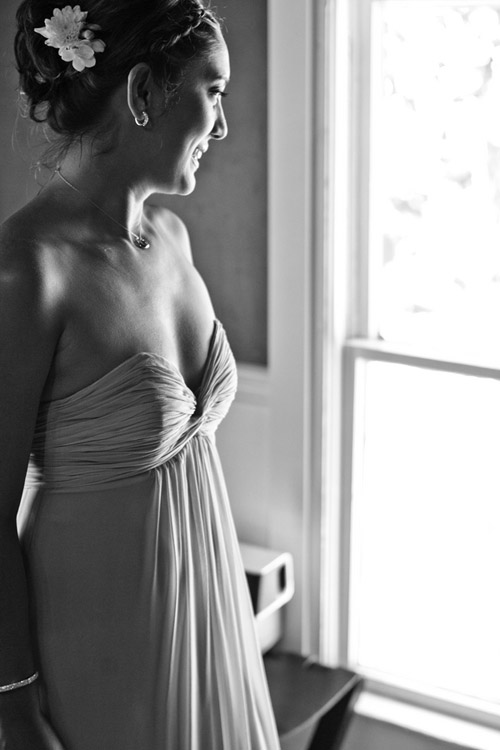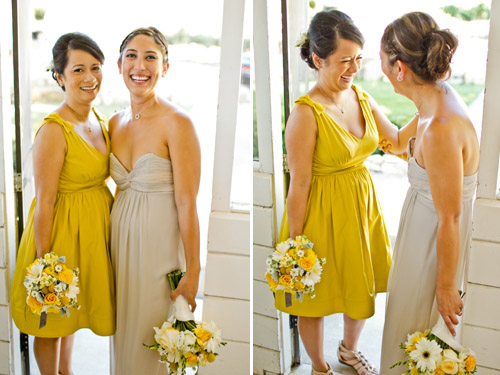 What were some of the different ways you used decor elements to create the beautiful, cohesive event you were envisioning? We used the color palette of grey and yellow to create a fresh and lively garden event in the midst of the vibrant vineyard. We used dark wood, bright flowers with a lot of succulents, and billy balls! We also added a last minute accessory of chandeliers to our ceremony which created a romantic backdrop along with the amazing view of the HammerSky Vineyards. The long market string lights that went across the reception table gave it an intimate feel and much needed ambient lighting. Paired with the spotlights around the vineyard that lit up after sundown, they made it feel like an enchanting event.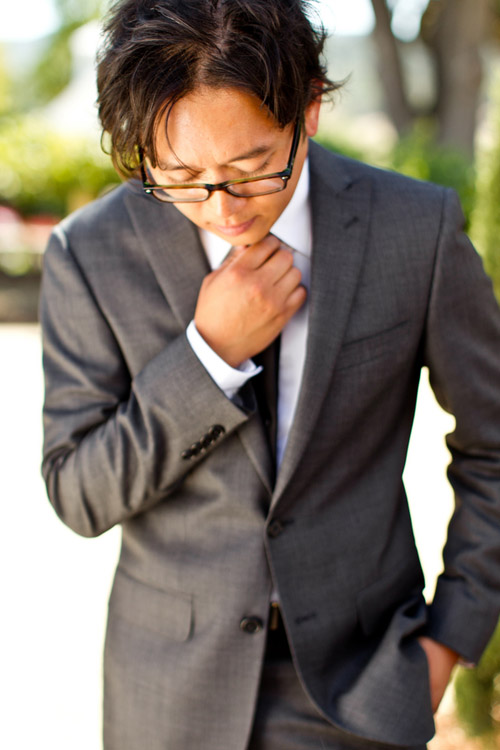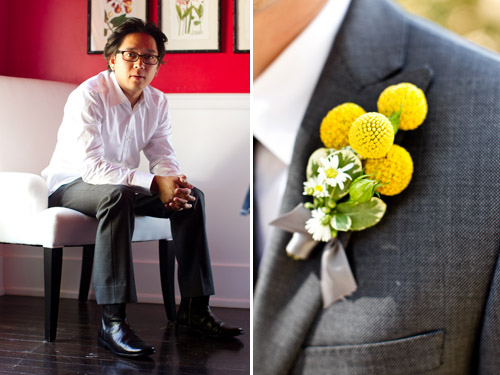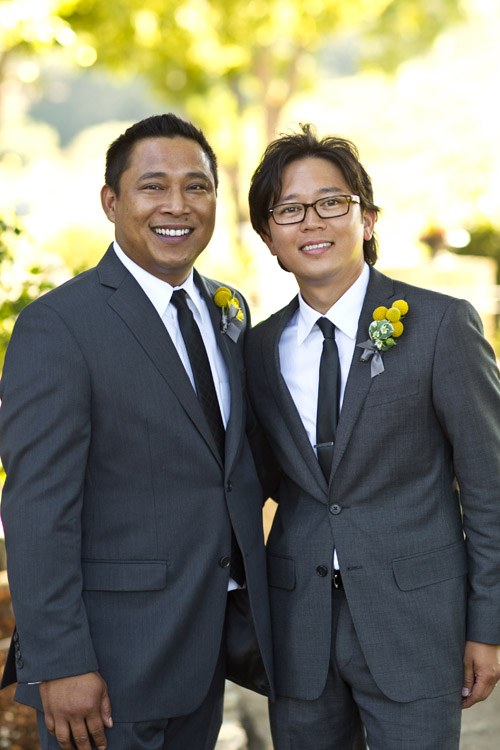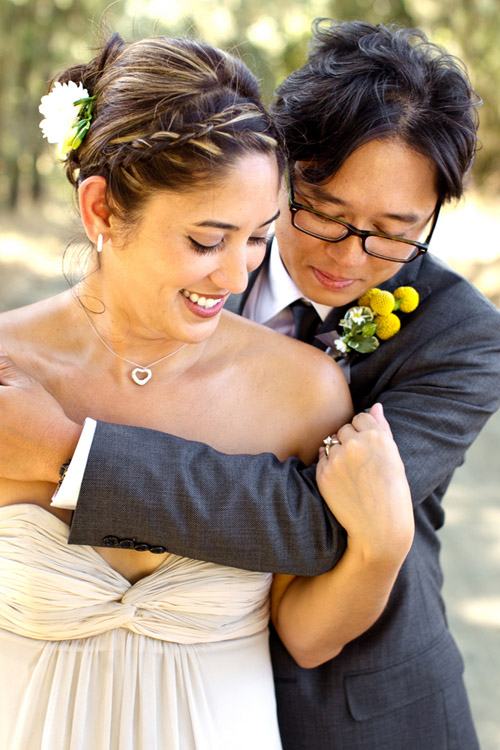 Where did you choose to hold your wedding, and how did the location influence your decor decisions? We chose HammerSky Vineyards because it was such a relaxed, quaint, unpretentious, and rustic vineyard location. It is what a vineyard should be! A barn and the beautiful rolling hills with old oak trees as a backdrop was the catalyst for the décor. Of course, this was all highlighted by a perfect sunset that rested along the rolling hills.
Beverly is from Southern California and Banjo from Northern California so the area of Paso Robles, in the middle of the state, was perfect for our destination wedding. We made our wedding a weekend event for our friends and family. A day of wine tasting in the country side to relax was just the perfect prelude to our wedding day. Onsite at the vineyard is a century old farmhouse that we stayed in with some of our close friends for the wedding weekend.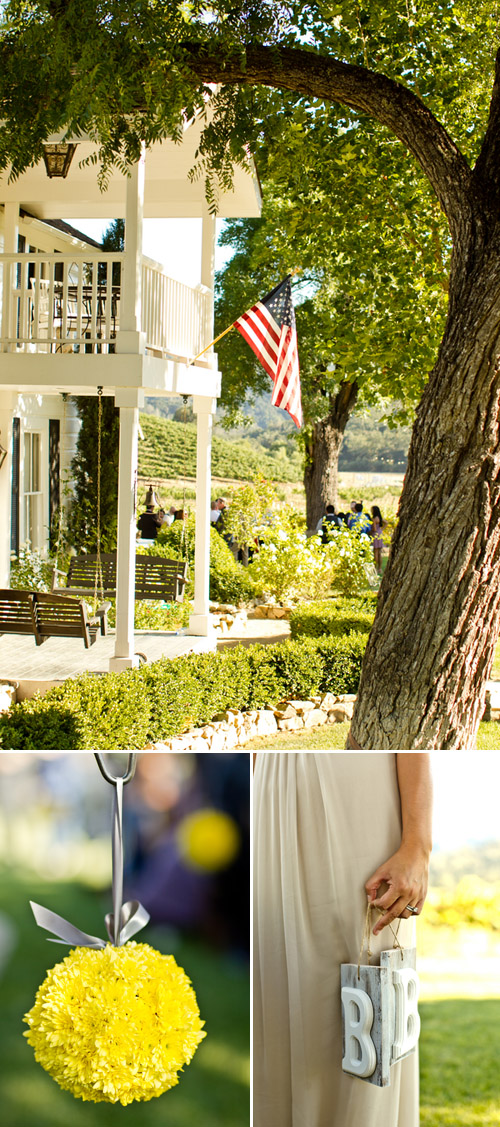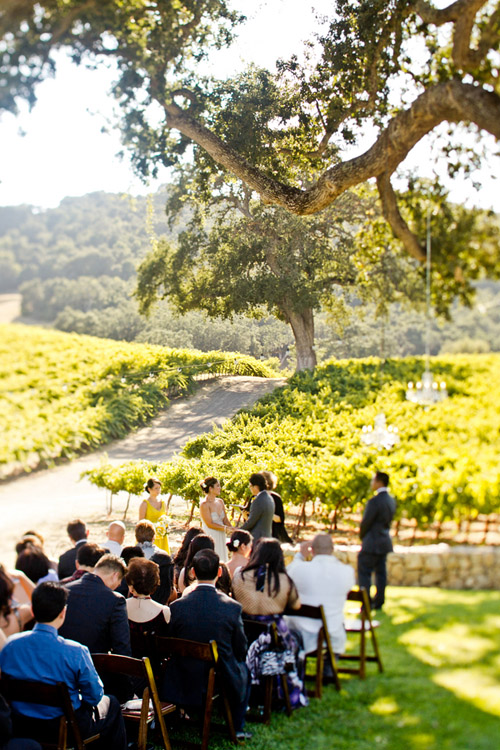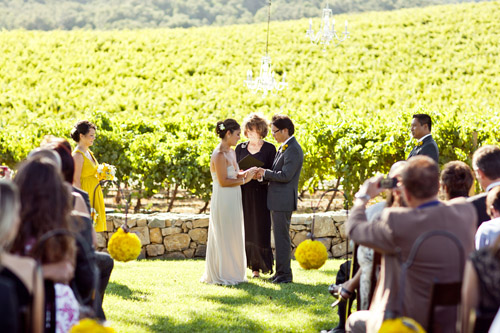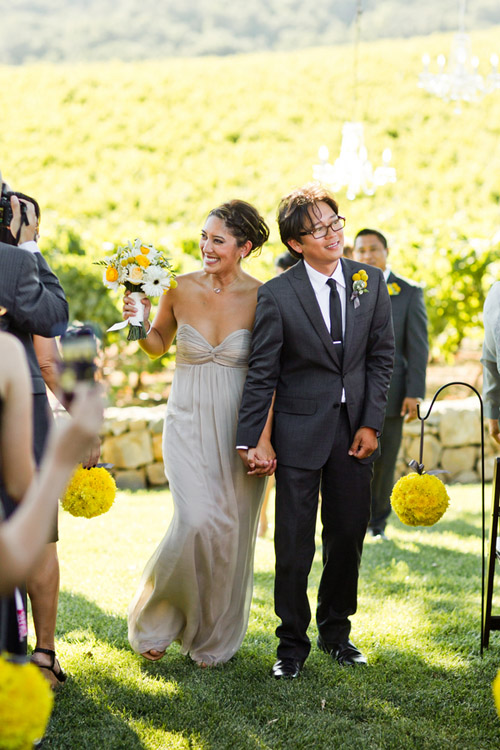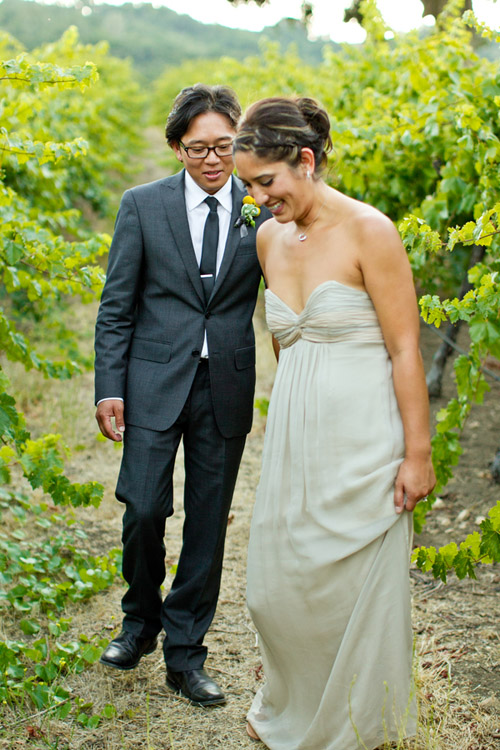 Looking back, do you have a favorite project or successful decor idea from your wedding? Tell us what you loved about it! It was definitely a huge project finding our wedding team since this was a destination wedding, but in the end we found the best people in the area who made us so comfortable in our wedding choices. Because of our amazing team we had such great response from our guests. They haven't stopped talking about how relaxed they were with the great company, beautiful vineyard, tasty eats, soulful music, awesome sunset, delicious wines and the all-around charming experience. Our photographer, Mike Larson, and his team along with videographer Joel Vanz, are the best in what they do. They captured our special day and the unforgettable moments leading up to it.
Our favorite project was the time spent together with Beverlys parents at Paso Robles early in the year on a rainy day to sample the cakes, taste the wine from different vineyards and pair them with Chef Charlies delicious creations. Food is our passion, and wine is our obsession, so it was a perfect day.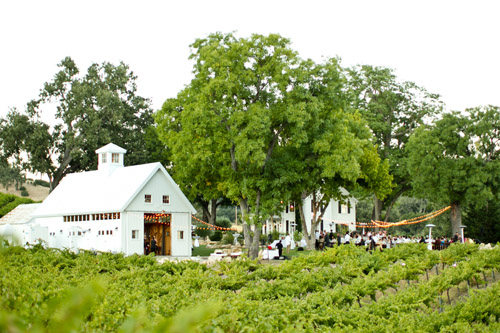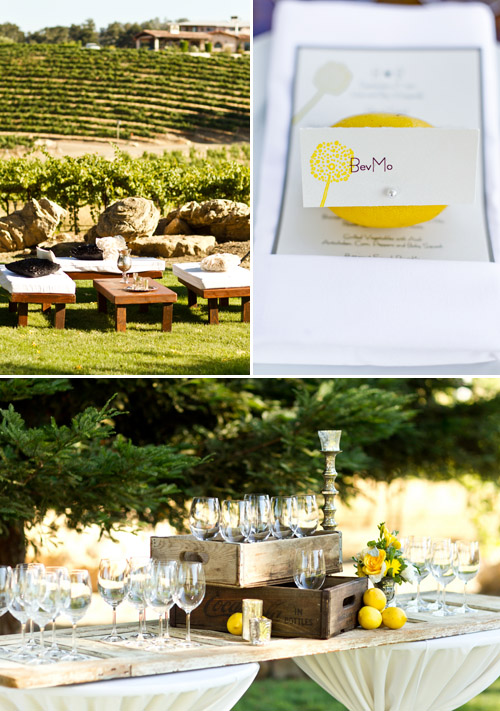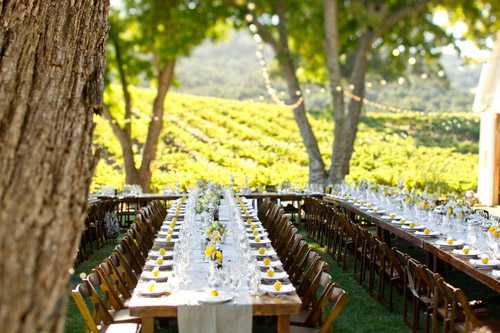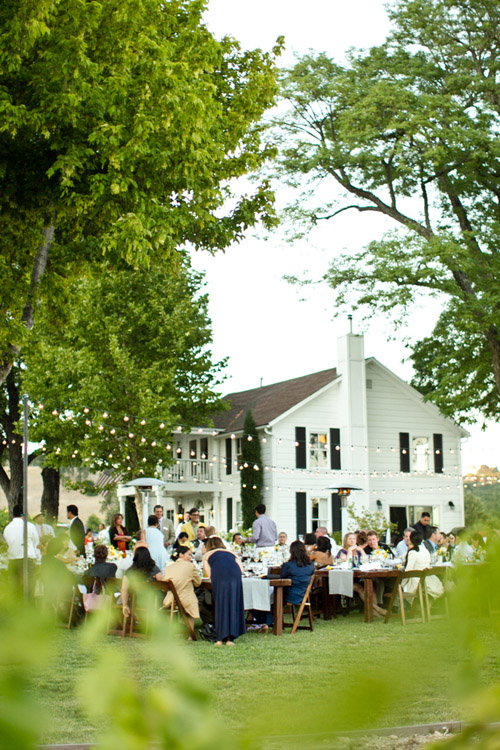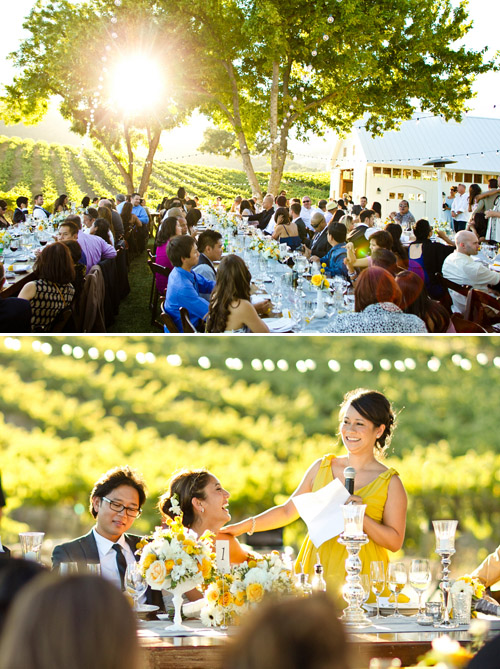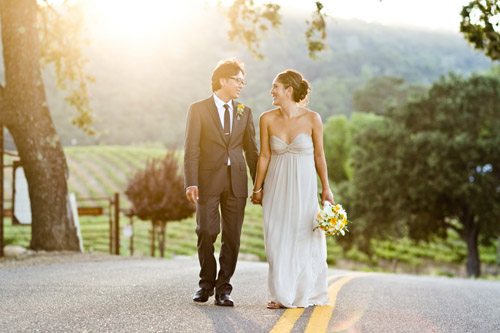 The Wedding Team:
Photographer: Mike Larson
Event Planner: Allure Event Designs
Ceremony and Reception Venue: HammerSky Vineyards
Videographer/Film Maker: Joel Vanz
Officiant: Barbara Koenig
Invitation Designer: Umbrella Tree Design
Catering: Chef Charlie
Florist: Allure Event Designs
Cake: The Cakery
Wedding dress: Nina Lamanna
Bridesmaids apparel and accessories: BHLDN
Groom and groomsmen apparel and accessories: John Varvatos
Hair and make-up: Isabel Nunez
DJ: DJ King James
Live music: Tini Grey
Transportation: Ride On
Dance instruction: Stella Collins
Rentals: Classic Party Rentals
Lighting: Kramer Entertainment
Thanks for sharing your lovely wedding with us, Beverly and Banjo!
Readers, be sure to check out our Yellow Pinterest Board and the yellow section of our Image Gallery for more of the sunniest color!